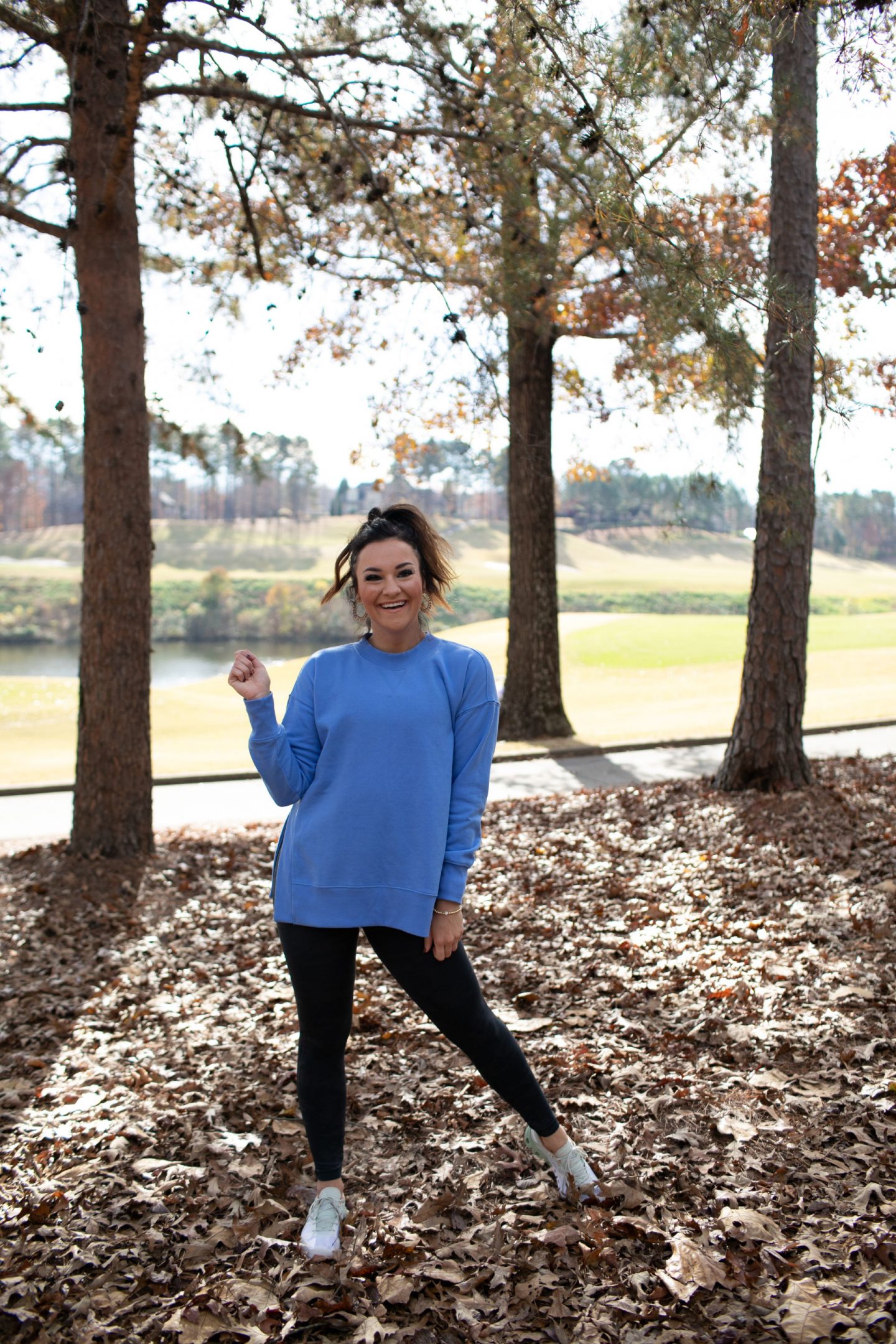 Keep Reading To Check Out The 2021 Best Sellers On My Life Well Loved
SHOP: My FAVE Aerie Leggings Currently 40% Off! // Sweatshirt
Wow friends, can y'all believe that 2021 is coming to a close? It seems that every single year flies by, and with January right around the corner, this year is no different.
Each year at the end of December, I love to take a deep dive and look at what YOU loved this year! When I look at what y'all purchase as a My Life Well Loved community, it helps me get to know you better! And in turn, I can serve you better as well!
Now, let's get to your 2021 best sellers! I've gotta say, these products are on my list of favorite things as well!
THE MY LIFE WELL LOVED 2021 BEST SELLERS:
1. Pure Liquid Collagen + Trim Bundle // My favorite supplement of all time, and it's quickly becoming yours as well! Y'all know I take Pure liquid collagen to help with hair, skin and nail strength. And my Trim to help reduce the appearance of cellulite and help inhibit fat storage. You can read more about liquid collagen and which formula is right for you HERE. And learn more about why I love Trim so much HERE! New customers can use code HEATHER to save $10 + it's on sale already through the end of the month!
2. Oxy-Powder Natural Digestive Cleanse // The poo pills we all need in our lives! These are a must-have for me especially when traveling!
3. Iconic Protein Powder // This is another favorite product of mine that I've used religiously for the past few years. I have HIGH expectations of my protein powders… I want low carb, less than 5 ingredients and good! Have y'all tried it in my coffee protein smoothie?
4. Nutpods Creamer // An intermittent fasting staple AND it's Whole30 approved! My favorite flavors are Hazelnut, Peppermint and I love that I can have it on Amazon auto ship.
5. MLWL Meal Planning E-Books // I poured my heart and soul into these meal planning ebooks! If you want to get started with the basic principles of meal planning, check out my original Meal Planning For The Busy Mom Ebook. Have kiddos at home? Don't miss my Healthy Meal Planning: Kids Edition, complete with the tips and tricks we learned from a dietician on how to get picky eaters to eat balanced meals! And of course, you can snag the bundle HERE! Thank y'all SO much for supporting me and purchasing my products this year! <3
6. Always Pan // The best multi-purpose cooktop pan with crazy good reviews! I have two and love that it washes clean in a flash and is non-stick!
7. Car Mount Phone Holder // Such a convenient car accessory! I use mine for IG stories, Marco Polo and everything in between. A prime find, it's hard to beat!
8. NYX Gloss // I can't even tell y'all how many times I've repurchased this gloss! It's under $5 + comes in tons of shades! Slick + not too sticky.
9. Candle // A dead ringer dupe for the popular Capri Blue Volcano candle! Walmart find so you know it's affordable!
10. Storage Bin // Y'all were all about organization this year! These bins are great for kids projects, arts and crafts, or even important document you need to keep track of! We added folders to section off by year for the kids.
11. Tricycle // A great toddler bike! Leyton got this last year for Christmas and Finn is constantly trying to steal it!
12. Revlon Hair Brush // The most affordable blow dry brush! I know y'all love this as much as I do! Just don't forget the heat protectant spray!
13. Cardigan // Leopard lovers unite, y'all are my people! This is super soft and a total Barefoot Dreams dupe!
14. Tru & Co Bra // No surprise here! This bra is C-O-M-F-Y! I have it + the V.S. dupe version. My favorite most comfortable bra, hands down.
15. Lululemon Swift Tech Long Sleeve // I'm so glad y'all love Lulu as much as I do! The quality is unmatched, this shirt will last you years to come!
16. Lululemon Running Shorts // Great shorts to run or workout in! I usually size up to a 6 and have them in several colors!
17. Spanx Faux Leather Leggings // Y'all always ask me when these are going to go on sale! I have them in moto, camo, and even the newer velvet ones. Check out this post for a complete style guide! And get the best dupes HERE!
18. Lululemon Align Leggings // Y'all instantly fell in love with these leggings. They are comfortable enough to wear all day long! No squeezing or pinching! A year after year favorite of mine. And check out my favorite dupe HERE!
19. Louis Vuitton Dupe // I know y'all always love to get the designer look for less, just like I do!
20. Apple Watch Band // This Apple Watch band is a My Life Well Loved favorite, for sure!
21. Sunglasses // I wear these oversized sunnies all the time, and I know y'all are matching with me! No pesky nose piece to get stuck in your hair, under $15 + prime shipping!
22. No-Show Socks // A closet staple for us all! My favorite pair from Amazon!
23. On Cloud Sneakers // So incredibly comfortable! Great for running! I have them in the middle style for running around with kids and the upper level for my Burn workouts!
24. Adidas UltraBoost // The shoes I always wear to Burn & overall favorite sneaker of all!
25. Leopard Star Sneakers // So dang cute! Perfect to pair with your favorite denim!
SHOP THE 2021 BEST SELLERS ON MY LIFE WELL LOVED HERE:
PIN THE POST HERE: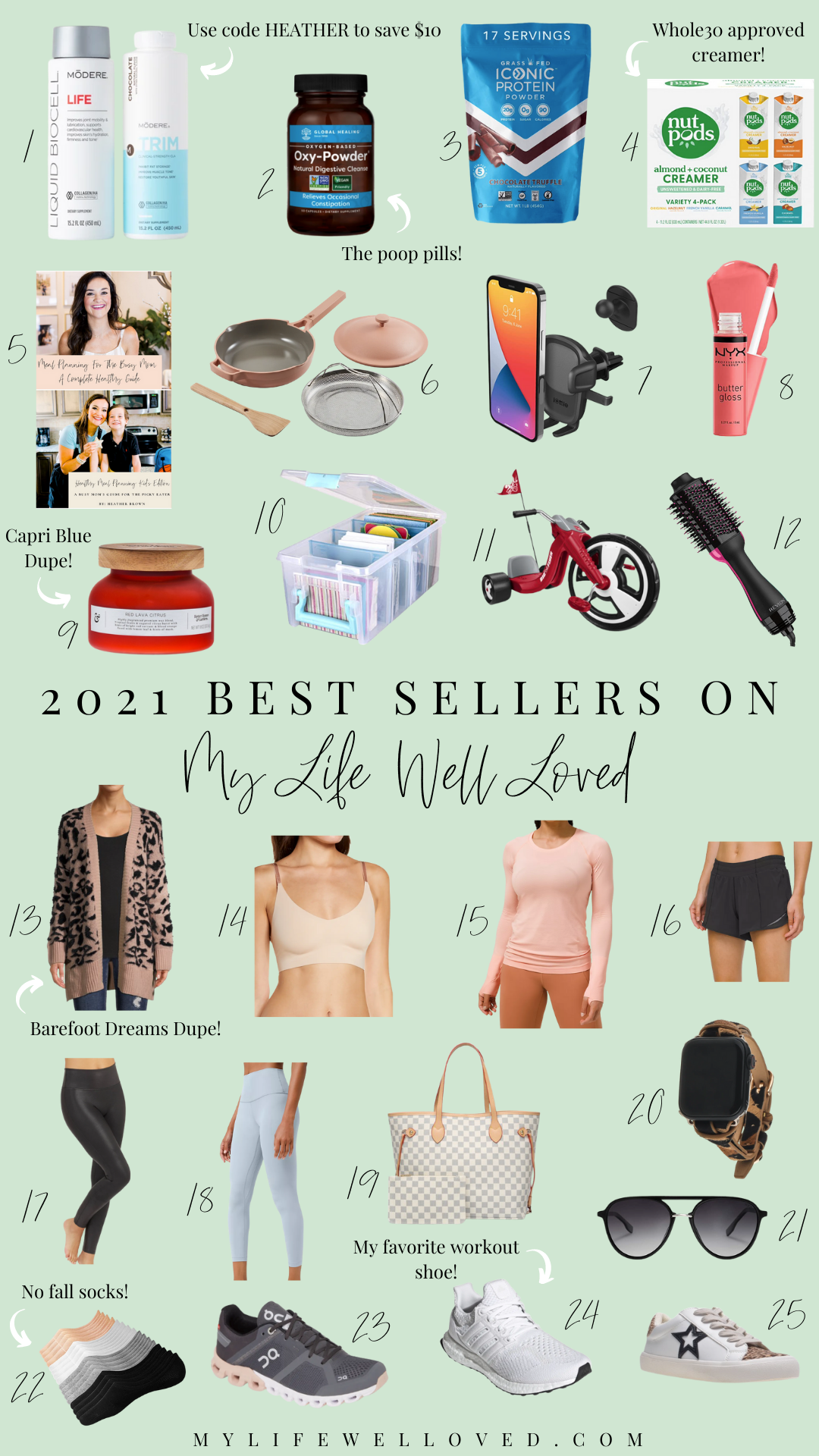 Heather Brown helps busy mamas of young littles who are caught in the hustle to find encouragement in their journey to true health, from the inside out, starting with the heart. Read her journey of learning to live a life well-loved
HERE!