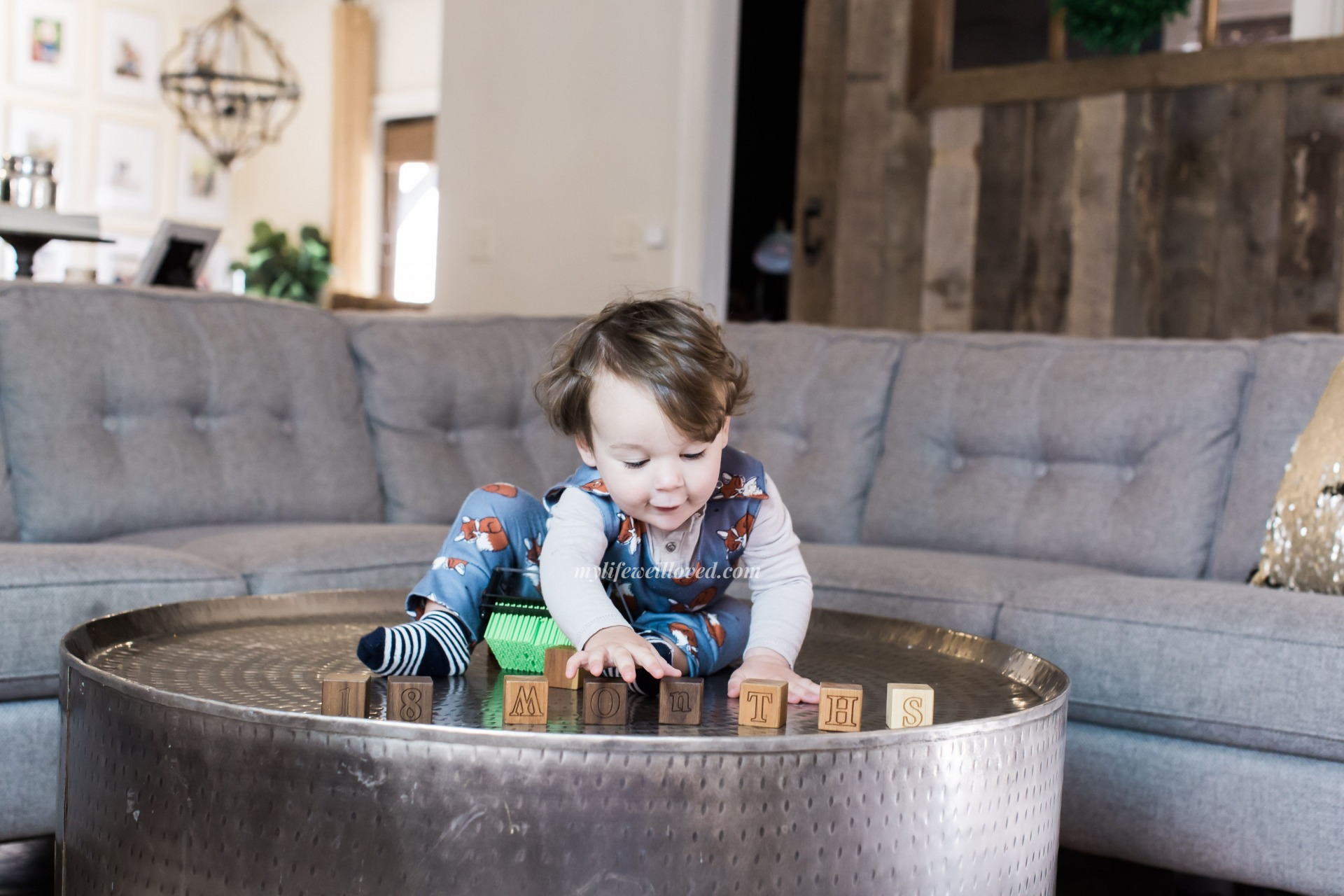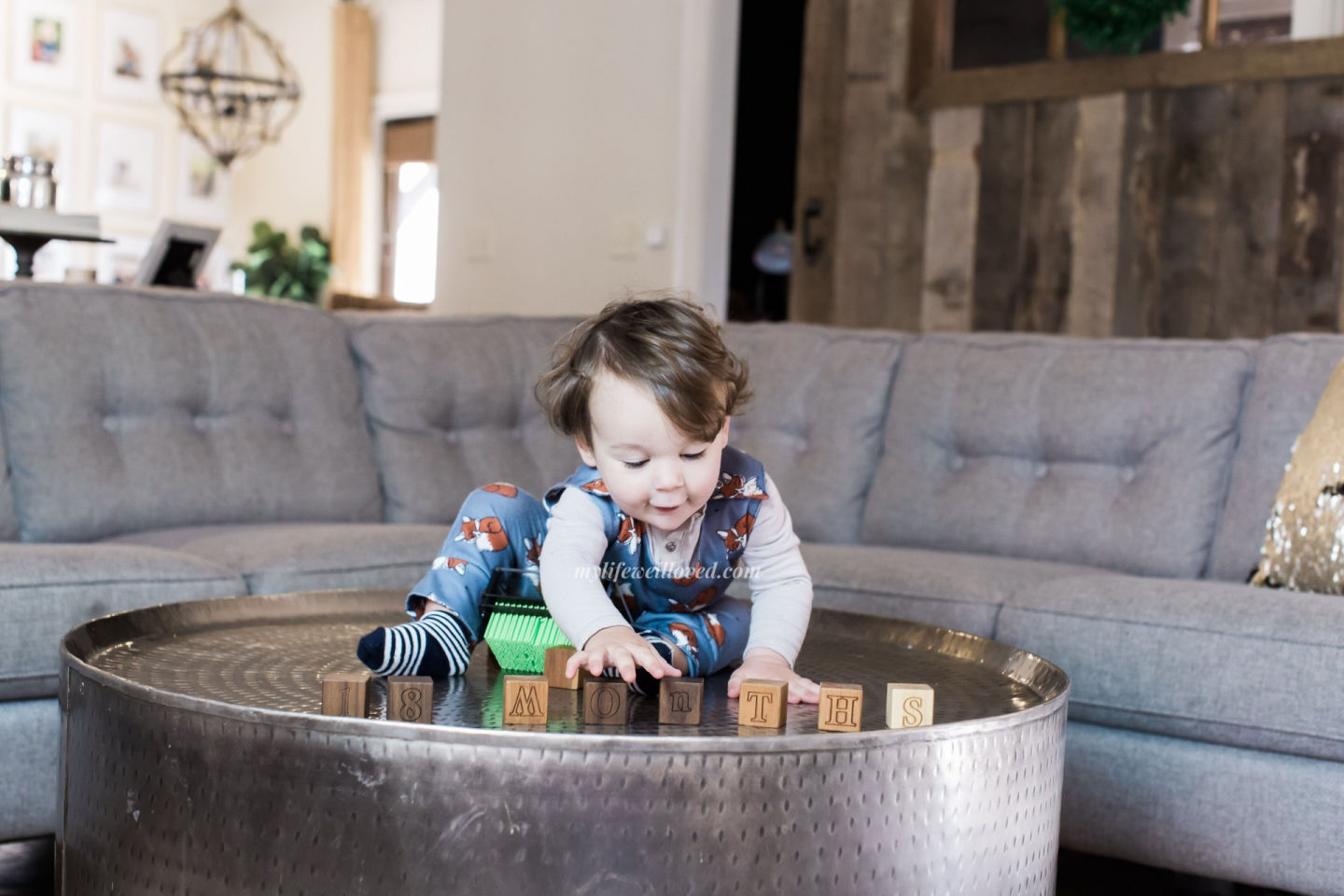 SHOP The 18 Month Old Milestones Photos HERE: Blocks // Coffee Table // Sofa // Barn Door // Modern Farmhouse Dining Room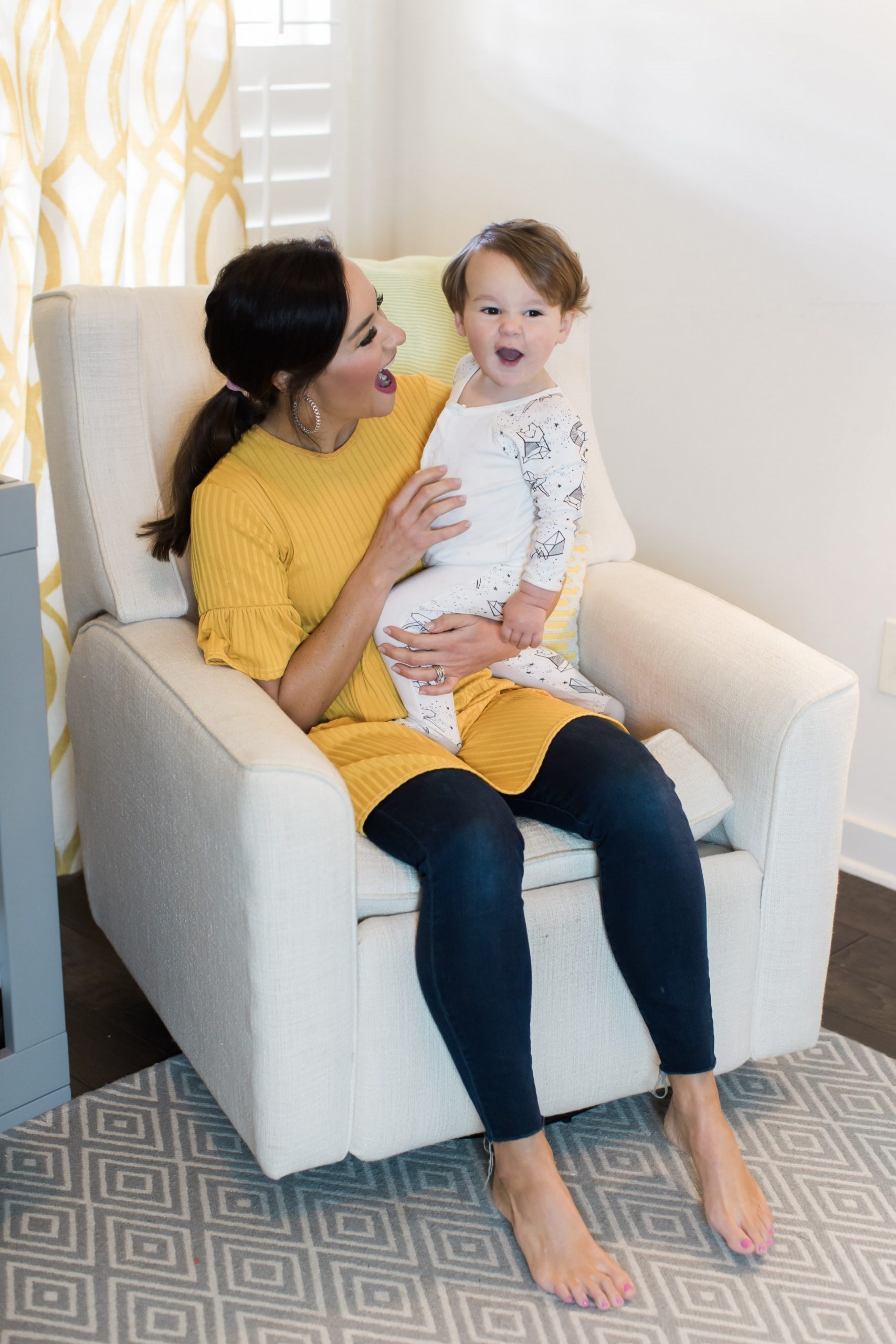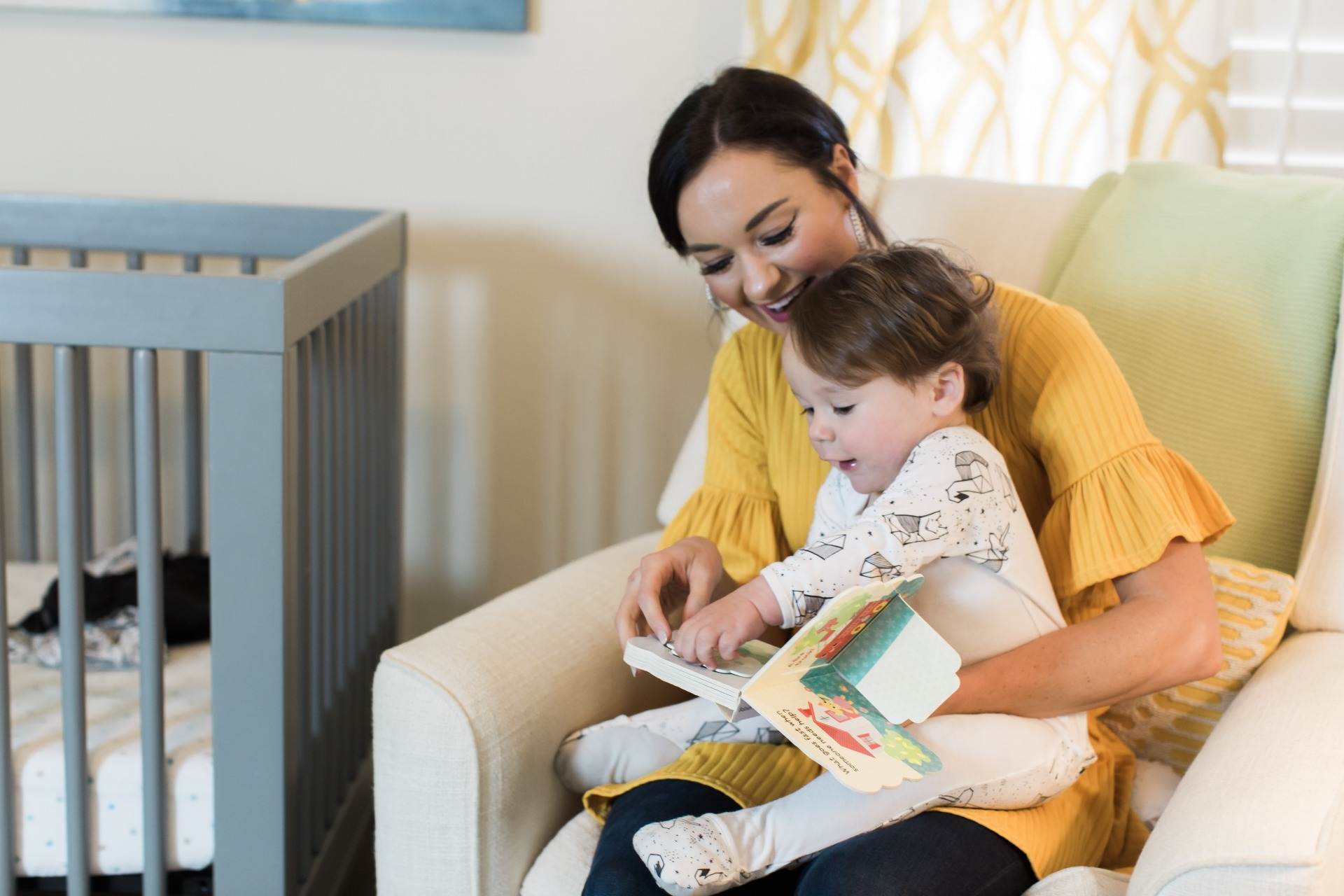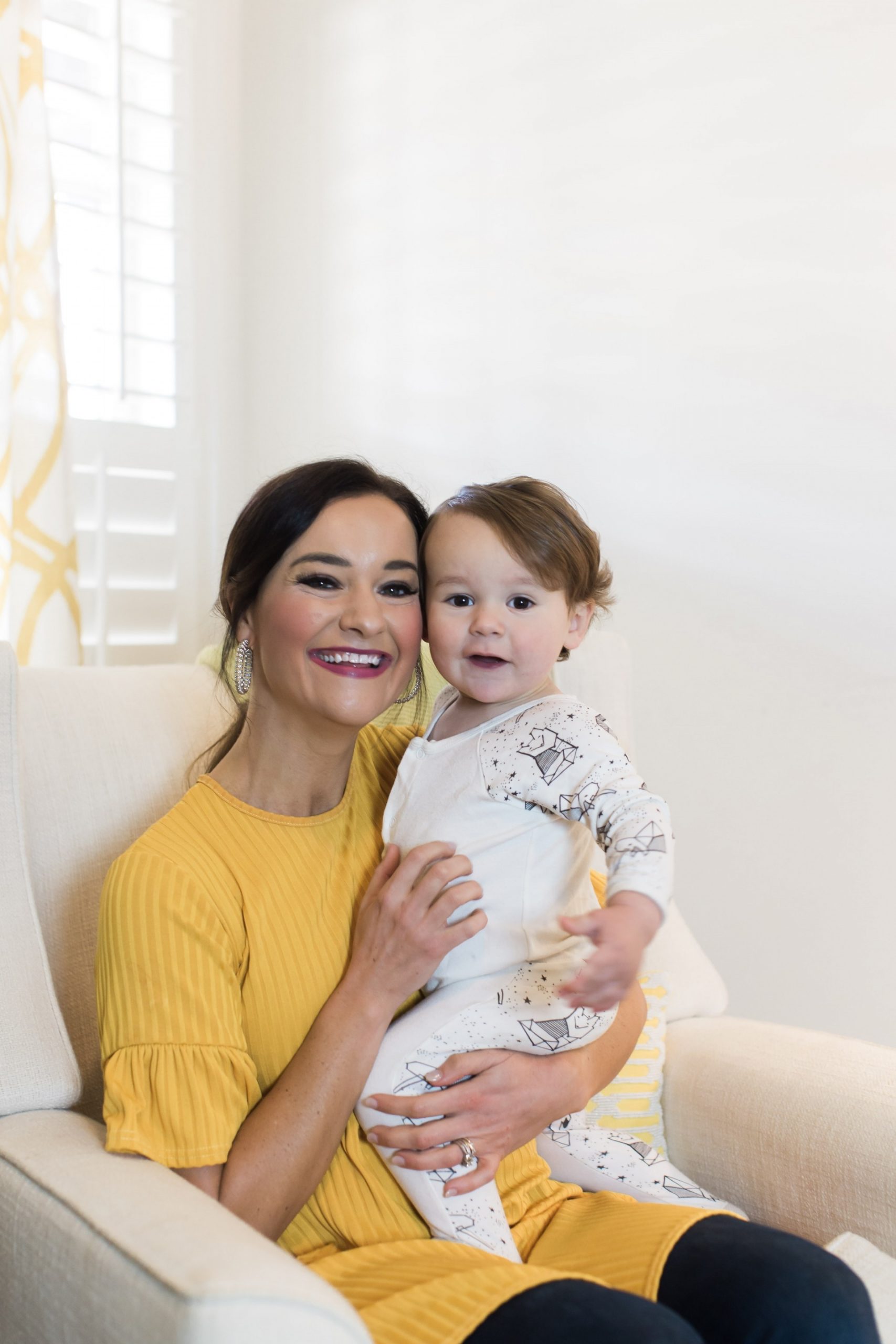 SHOP The 18 Month Old Milestones Photos HERE: Yellow Dress-TTS Small // KUT from the Kloth Dark Denim // Earrings // Lip // Finn's Goumi Kids Sleeper // Rocking Chair // Curtains // Crib // Throw Pillow // Humidifier // Changing Table // Changing Pad // Nautical Wall Decor // Rug
Dear Finnster,
You are one and a half?! Say what?! How is my baby growing up so fast?! The personality you are developing or should I say show-boating is QUITE rambunctious! You have gotten to the point where for some reason you find it more appealing to just SCREAM at the top of your lungs rather than even cry.
I'm currently listening to you holler at us from your bedroom refusing to take your afternoon nap. It's enough to make both your daddy and I say WOW every once in a while because you are emitting such high pitched and loud groans, screams, and grunts. You are our crazy baby, that's for sure!
Some of the things that are most quintessentially Finn to me right now are singing, "Oooooh baby baby, ohhhhh baby baby, oh little baby, ohhh baby baby" with Leyton to you! You wave bye-bye and blow kisses all the time and it melts my heart. When we pick you up from a nap or are about to put you down to bed or even when daddy or I get home from work, you want us to immediately pick you up and then you lay your sweet little head down to nestle into our shoulders.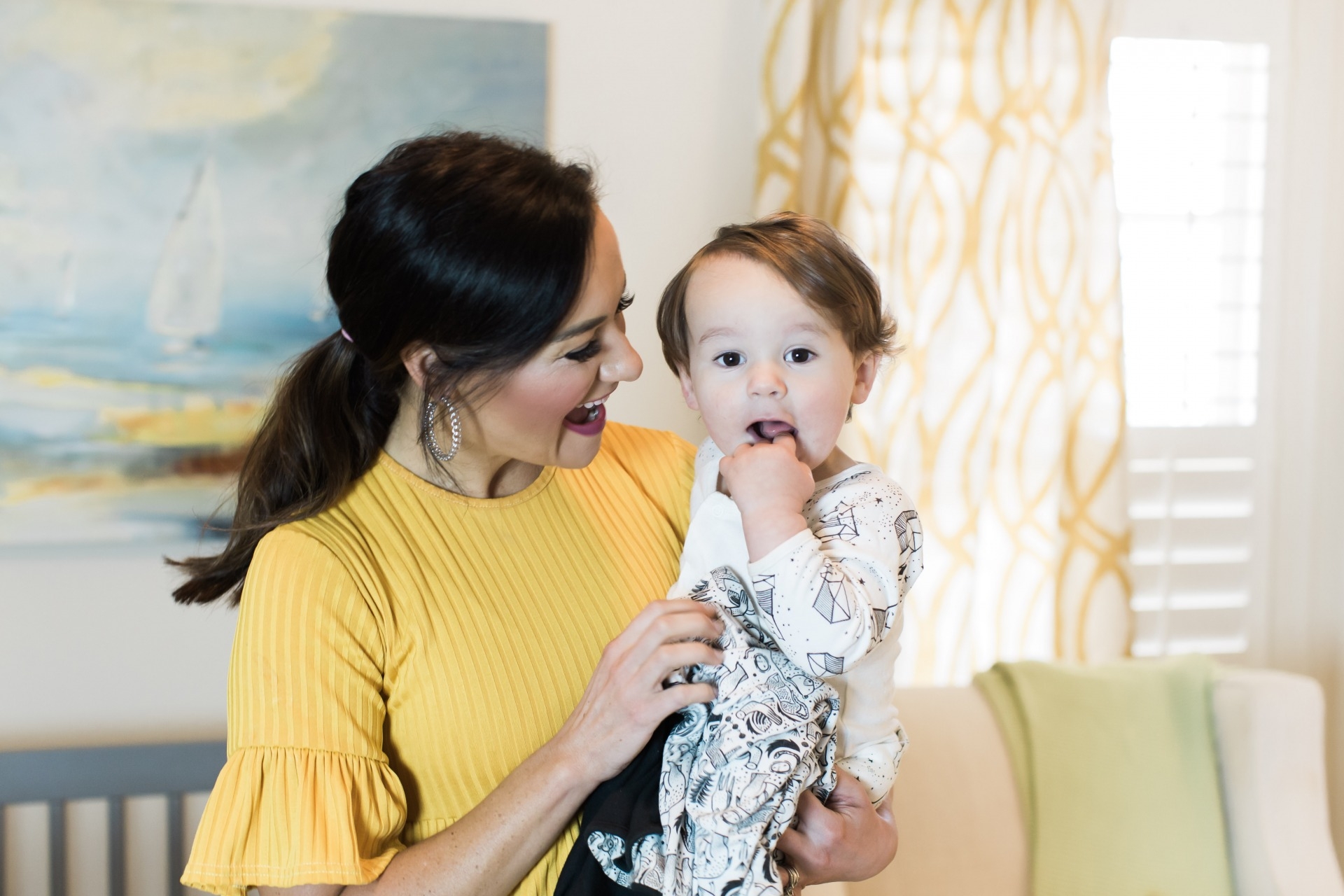 The latest trick you've mastered is trying to out-crazy mommy in the crazy faces contests we do. You'll make the awkward or EEK face with me and hold your breath and flex your neck and grit your teeth together like the emoji and it just makes me laugh so hard!
Also, you love to still suck your "corner kit" as Leyton used to call it with your thumb when you go to bed. Sometimes if you're not too tired, you think it's fun to pull said blanket over your face and play peekaboo though!
You are so full of life, spunk, and crazy #FinnFace as we call it! There is no fear in you, unlike your brother, and it takes a lot to make you cry out in pain. You even stumbled into a huge wooden train the other day face first and didn't even cry with multiple red marks on your face. Of course, to no one's surprise, you might give me a few near heart attacks, baby Finn!
You are working on your first few words. You say mama and dada fairly easily now and just this week you said "Ana" from Frozen while Leyton was watching it and have since said it twice when seeing that movie character in Target. At Burn Boot Camp, they told me you said "Thank You" this week! And I swear you are so close to saying, "What's that?!" It sure does sound like it when you point to things! Ha! You also announce dogs by saying "woof" especially as soon as you pull into Miss Lindsay's driveway.
You love to swing your Fisher-Price golf club around like a wild man, dump out all the puzzle pieces and matching game pieces and you've been banned from Leyton's room because you destroy his train table & mess with his sound machine every time, ha!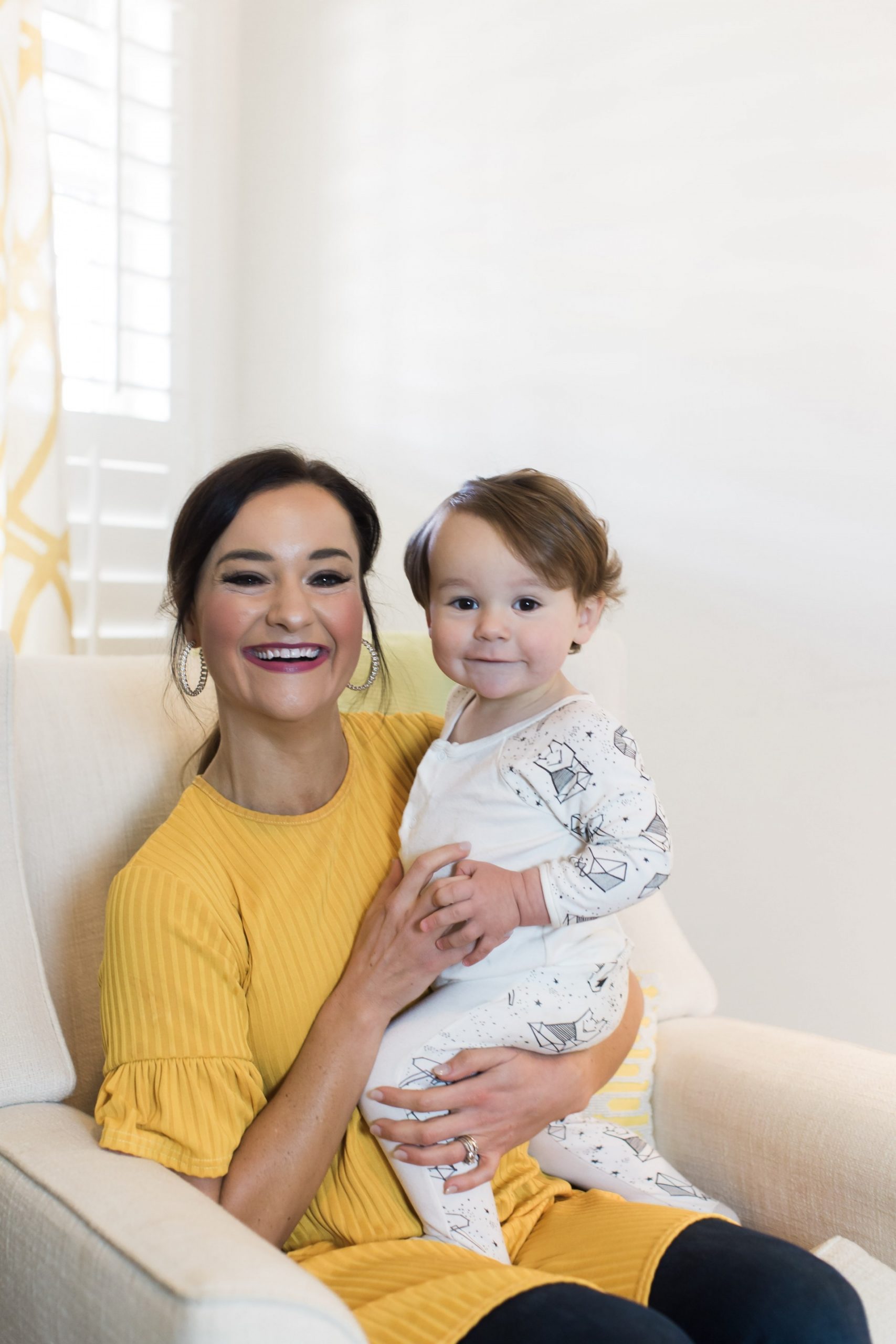 People always comment on how busy you are and that is the absolute truth! If I work on laundry or try to get anything done, you have made 10 messes and tried to shut every toilet in that time. You are a wild man but we wouldn't have it any other way! We love you and your brave spirit, Finnster! Let's see what 18 month old milestones you've reached so far!
Baby Finn's 18 Month Old Milstones:
EATING: You eat 3 meals a day with snacks in between. Favorites include bananas, Safe & Fair Granola (WELLLOVED10), beef jerky, yogurt, cuties oranges, apples, waffles, bagels, ice cream, Kodiak Cakes (Use code HEATHERBROWN20 for 20% off), gummies, cereal. You are nowhere near as picky of an eater as your brother was but you have gotten more finicky as you've gotten older.
NAPS: You take a morning nap for about an hour and sometimes an afternoon nap for 1.5 hours but lately you've started opting to just hang in your crib and scream at me during this time. 😉
LOVES: Being outside, ringing the doorbell, playing with your brother, singing bedtime songs, being mischievous and testing the limits, throwing your body around on the couch, swinging the golf club around, emptying the bucket of blocks and putting the container on your head, ha!
WEIGHT:
DIAPERS: Size 5 Parasol Diapers
CLOTHING SIZE: 12-18 months, 18 months
NICKNAMES: Baby Finn, Finny Ninnster, Shark Finn, Finnster, The Finnster, Finny
Leyton VS Finn At 18 Months
I thought it would be fun to showcase a little side by side of Leyton and Finn at the same age! It's crazy how similar yet different their facial features are, expressions, hair, size. You can click HERE to see Leyton's 18 Month Old Update!
More Posts Like This:
SHOP Finn's 18 Month Old Milestones Post HERE:

PIN Finn's 18 Month Old Milestones Post For Later: