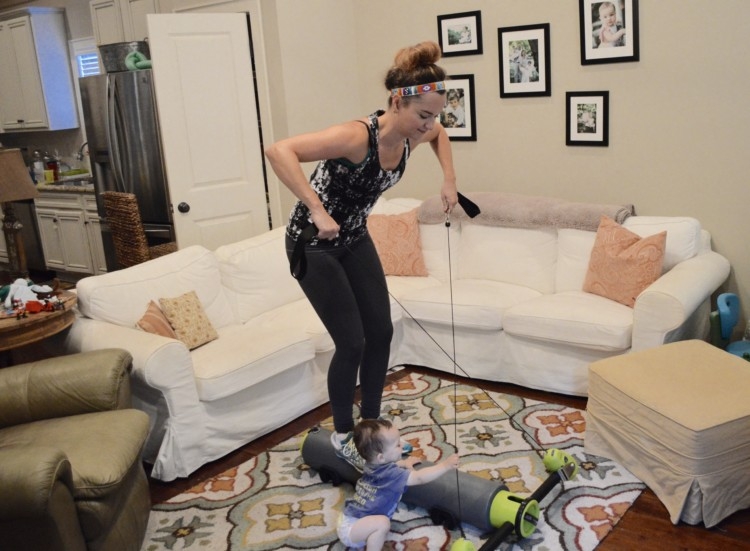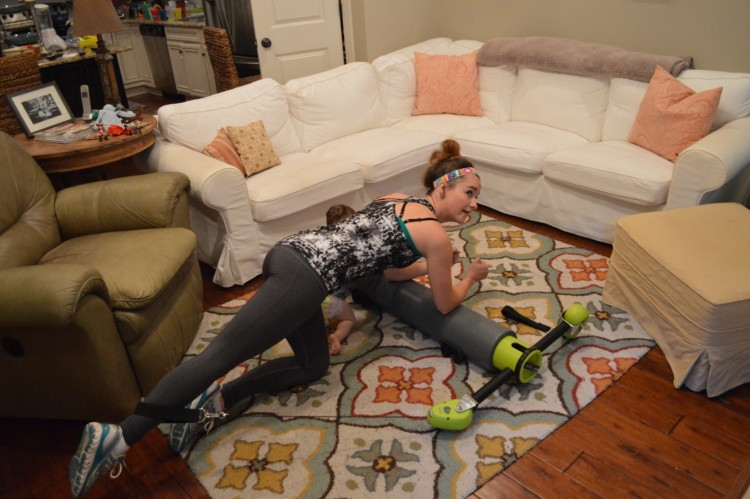 Disclosure: Thanks to Balanced Body and Mom It Forward Blogger Network for sponsoring this post. Please remember all opinions are 100% my own. (affiliate links included)
I'm sure I don't have to tell you that it's really easy to find excuses not to work out. You're too busy, you have young kids, your job is stressful, you don't feel well, and the list goes on and on. However, I'm going to try to help  you find ways to get in your workouts because even if you don't want to, it will make you feel SO much better!
Being active has helped me personally to have a fit pregnancy, to heal more quickly after having baby, to work off stress, to have better overall health and to just feel good about myself. Truly, after I work out, my mind set, my stress level and my confidence sky rockets. It's amazing what endorphins can do for you!
The hubs and I have lived a very busy lifestyle. We have worked multiple jobs, he has worked busy season as an accountant, gone back to school to become a nurse practitioner, juggled work and school at the same time, we've had a baby, moved, and are involved in our church, neighborhood, and many other activities. We could find excuses if we wanted to, but at the end of the day, I think this makes me somewhat of an expert on staying active with a busy schedule.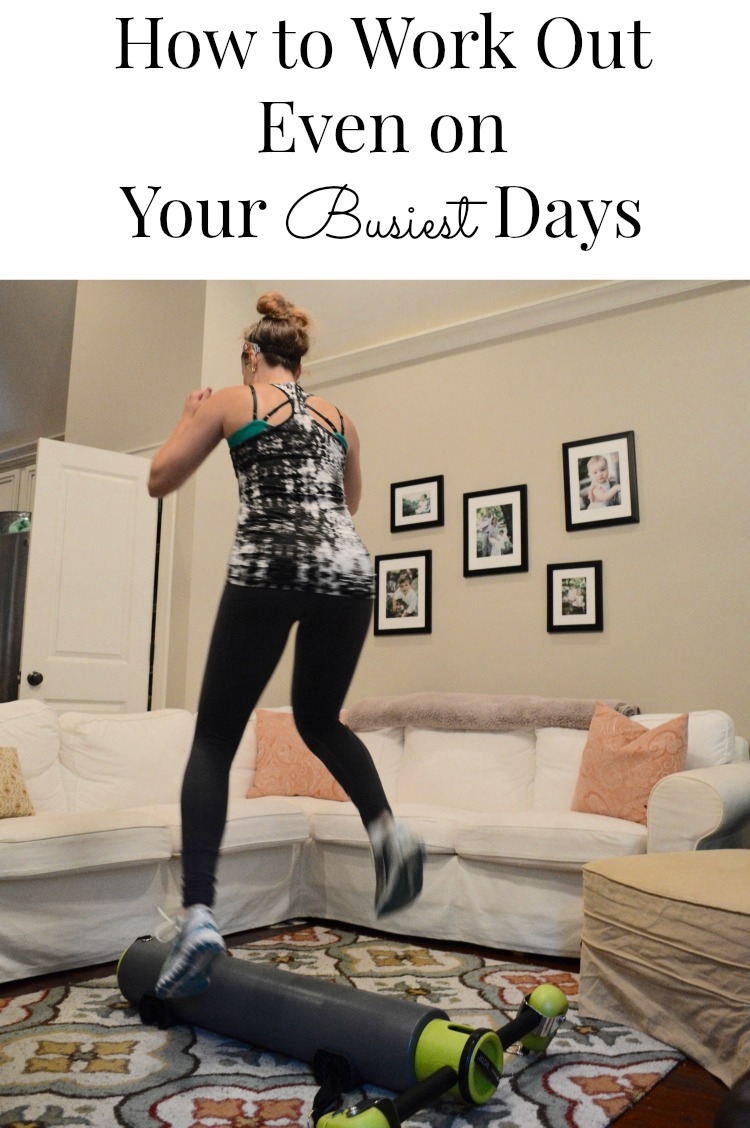 How to Workout Even on Your Busiest Days:
Schedule your workouts. I look at the class schedule at Pure Barre and with my personal trainer (HomeFit) at the beginning of each week to put my workouts in my calendar. It helps to plan to be there. Not to mention, when HomeFit shows up at your door, it's hard to say No, you just drove here for no reason.
Get up early. I am NOT a morning person so I don't do this often, however if I can't fit it in any other time I have been known to get up before work and hit up a 6 am class.
Go during your "break." For some of you that will mean a lunch time workout, for some of you it will mean using your baby's nap time. At my old job, we only had a 30 minute lunch, so I would bring my shoes and a change of clothes and throw them on as fast as I could and go run/walk around the office building and surrounding blocks for 20 minutes if it was my only opportunity.
Something is better than nothing. Some nights I'm too tired to really get it in so I'll make a compromise with myself that I just have to do 20 pushups, 20 sit ups and a 90 second plank. However, usually once I start moving, I feel more motivated and want to continue. Plus, Leyton thinks I'm playing with him so I get motivated to stay in it to be a better mommy for him and a better wife for the hubs by taking care of momma.
Grab a friend! Having a workout accountability partner is huge. Just a few weeks ago, I randomly Facebook messaged a girl that lives a few houses down from me and asked if she wanted to walk the next day, and guess what? She did! I strapped Leyton in the stroller and off we went! Don't be afraid to ask. The other person may be glad you did!
Get some cute workout gear! I'm not going to lie, when I get to put on my sassy-backed beyond yoga sports bra & my owl be sweatin' headband, I feel a little more motivated to get my rear in gear. Plus, then I can justify those cute purchases later when I want more, ha!
For many of us, at home workouts are what we end up doing because the time isn't there and that's great! You have to do what works for you. Here's some of my favorite at home workouts to try: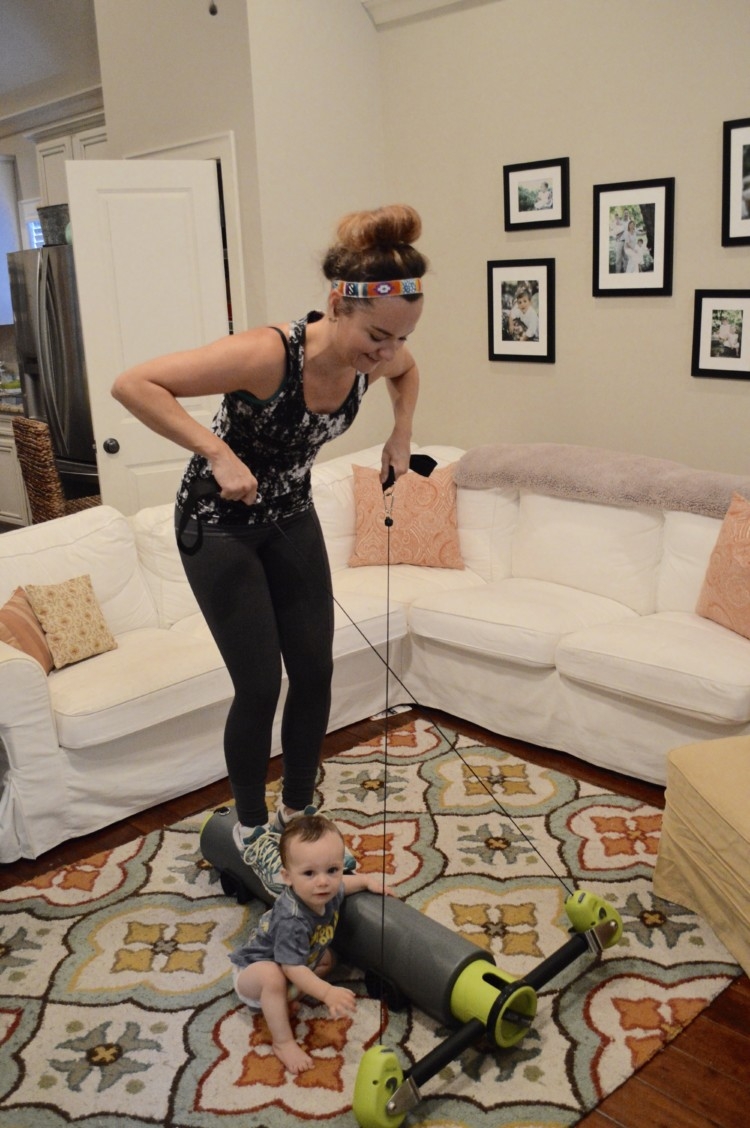 MOTR: It is a complete home gym in a 43" cylinder that won't break the bank or take up much space. It's the home gym system I'm using in the pictures in this post. You can improve your strength, balance, agility, sports conditioning and cardio. MOTR provides a quick, complete workout in almost any room in the house. I love how budget-friendly MOTR is for busy moms like me, who want to squeeze in a quick workout but don't want to go the gym. Since all the components are stored in the core of the MOTR roller, it takes up very little room and can easily be tucked away in a closet.
MOTR comes with a DVD with two workouts, and flash cards that let you mix and match exercises depending on what you'd like to work on that day. You can target:
Core Integration
Balance
Agility Training
Upper Body
Lower Body
In fact, I'm giving away a MOTR by Balance Body at the end of this post, so make sure you ENTER TO WIN!
I also use lots of Youtube videos like Tone It Up & Fitness Blender's channels, my Pinterest fitness board, and getting inspiration from some of the Instagram fitness people I follow. There are SO many ways to get active even if you're busy, so don't give up babes!
I have teamed up with MOTR by Balanced Body to giveaway one of their home gyms complete with the workout cards and DVD. To enter to win, just follow me via email and comment below with the email you used to join my email list as well as one healthy thing you are doing for YOU today!
Heather Brown helps busy mamas of young littles who are caught in the hustle to find encouragement in their journey to true health, from the inside out, starting with the heart. Read her journey of learning to live a life well-loved
HERE!