Keep scrolling for the best water bottles for moms below!
Good hydration is a serious must. Especially with the coming warm temperatures, it can be easy to get dehydrated without even realizing it. One way I've mentioned time and time again, is to keep water with you at all times! Staying hydrated is essential for flushing toxins from your body, keeping your skin looking amazing, and just overall improving the function of your body.
Because it's so important, it can feel a bit overwhelming, right? But don't worry, y'all! I've got your back! 😉 Below, you'll find my PRINTABLE water tracker. This will help you keep track of how much water you're taking in daily and it's a fun way to visualize it. It's totally FREE, so print yourself out a few copies to keep on-hand.
Grab My Free Water Tracker Printable Below!
UPDATE: Since writing this post, I have come to love the Stanley 40oz Quencher. It is great because it fits into my cup holder so it is perfect for on the go and all my busy mamas. It keeps my water cold and my coffee hot for so long! I loved it so much that I decided to get the boys their own Stanley water bottles! They take it to school daily and to soccer practice at night. These water bottles are so perfect for them because it keeps their water cold all day and at night for soccer! Click HERE to shop our favorite Stanley items!
Why You Need An Awesome Water Bottle?
Something that helps keep me motivated to drink water, is having a bottle or cup (or jug LOL!) that I really love. When I have something that I love, I'm more likely to keep it with me. When I keep it with me, I'm more likely to actually use it. Seems simple but it's been a gamer-changer!
*BONUS HACK: If you're needing to keep your water exciting, try adding in a "flavor packet", if you will. I LOVE the GO Energy Packs from Modere. They have a really yummy Fruit Punch flavor that I love, and it's a nice way to change things up from time to time! GO is a CLEAN energy drink that y'all will love as much as I do. Use my code HEATHER for $10 off!
I'm sharing all my best water bottles for moms today, but I want to know what YOUR favorite water bottles are for staying hydrated? Let me know in the comments below or shoot me a DM on Instagram!
Keep Your Water Cool!
While you might have your mind on all things back to school, to-do lists, and getting ready to set your alarm clock earlier soon, I'm here to remind you that just because summer is winding down does NOT mean the fun has to stop! This super cute and functional cooler from Lifewit is perfect for all of your picnics, beach days, hiking trips, and more! And when summer does wind down, the cooler is great for transporting dishes and drinks when traveling for the holidays!
The Best Water Bottles For Busy Moms On The Go:
#1 // Hydroflask 24 oz
#2 // Reduce Everyday // This is my 3rd favorite water jug. I love how large it is for days when I am out and about a lot but the reason it doesn't rank higher is because it won't fit in a cupholder. Keep scrolling to find my #1 and #2 faves!
#3 // Owala 32oz // My personal #1 favorite water bottle for the gym! Insulated stainless-steel water bottle with a FreeSip spout and push-button lid with lock. It's also Leyton's favorite new water bottle for soccer!
#4 // BrüMate Gold Leopard // I use it for coffee first and then swap to water at the gym!
#5 // Ozark Trail // A Yeti knockoff from Walmart if you don't love the price tag of a Yeti!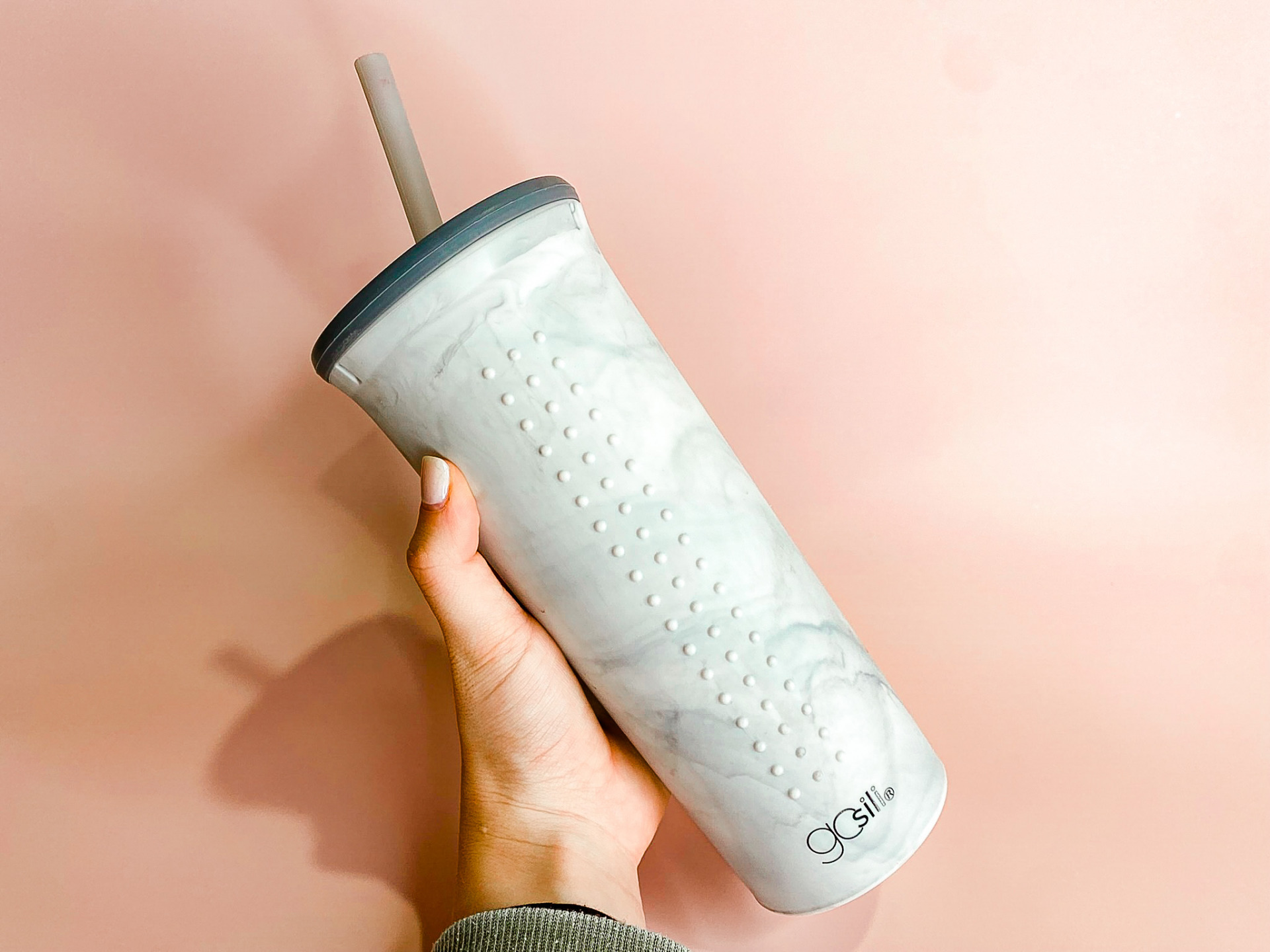 #6 // GoSili Carrera // I love these for me and the kids! I first heard about them in 30A and we love that they don't get that condensation sweat on the outside!
#7 // BrüMate Marble 25oz ReHydration
#8 // BrüMate Leopard 32oz // This water cup is actually my 2nd favorite of all-time because it fits in my cupholder in the car, has a straw, and handle!
#9 // Tervis 24 oz
#10 // GrowlerWerks 24 oz // Great for camping, making your own seltzer or carbonated flavored water!
#12 // HydroJug
#13 // Aqulea
#14 // Tervis Etta Vee 24oz
#15 // Bzyoo // With this beautiful design and clear hour markings, this water tracker bottle reminds you to keep hydrated throughout the day!
#16 // Albor // Comes with 4 interchangeable 100% leak-proof lids that fit your every need! With triple insulated stainless steel vacuum technology this bottle gives you an additional 4 hours of hot or cold insulation over competitors!
Want The Best Water Bottles For Kids?
CLICK HERE to shop our favorites:
ZULU Torque // Munchkin Miracle // CamelBak Dino // CamelBak Shark // Munchkin Stainless Steel
CHECK OUT MORE HYDRATION POSTS HERE:
SHOP All My Favorite Water Bottles Here:
PIN The Water Bottle Post For Later!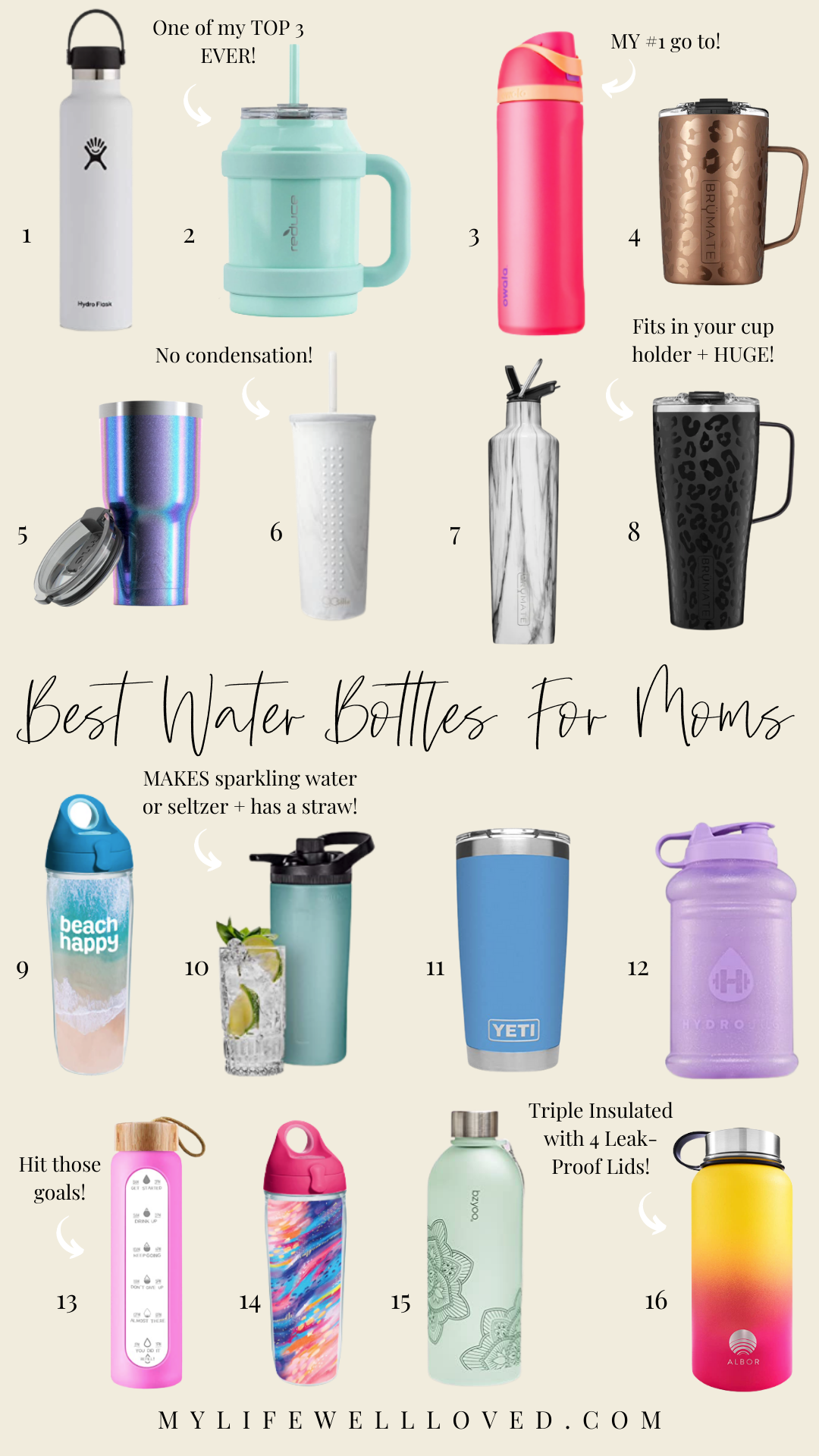 Heather Brown helps busy mamas of young littles who are caught in the hustle to find encouragement in their journey to true health, from the inside out, starting with the heart. Read her journey of learning to live a life well-loved
HERE!