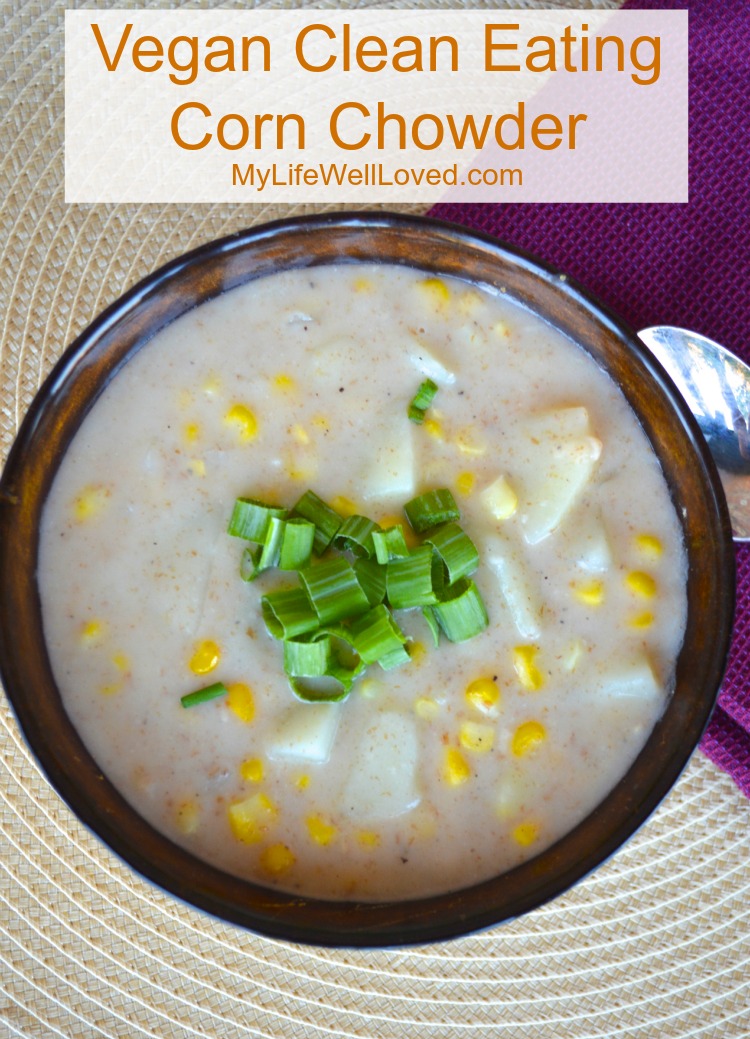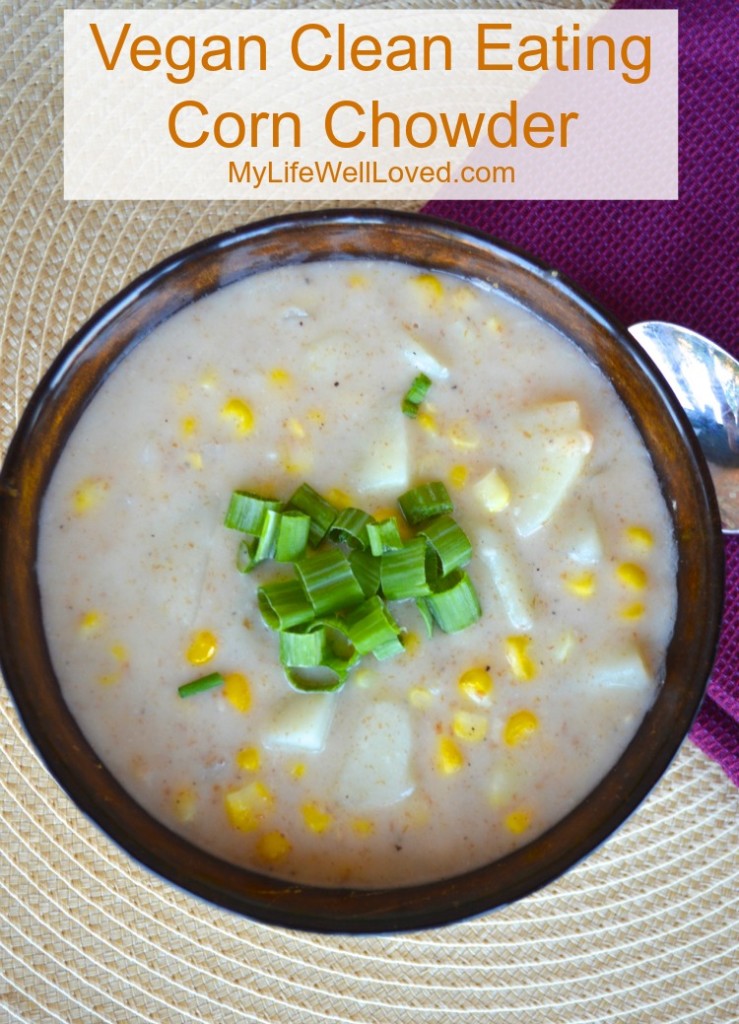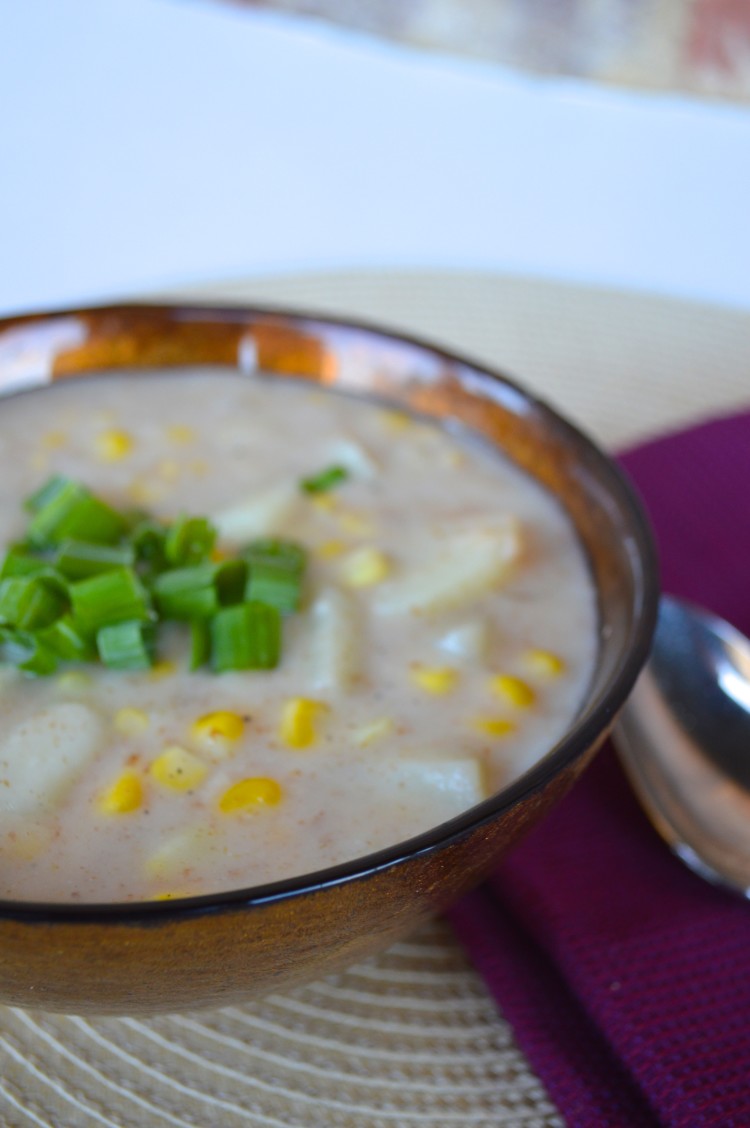 Lately, I've been craving a good corn chowder. I haven't had it in a long time and it just felt right. However, you know where I'm going before I even start…I wanted to make it healthier and clean eating friendly!
We are well into football season and that means pretty much Thursday through Monday in our house, there's football on. Fantasy football has the hubs more into each game and while I love watching Auburn play, it seems a bit much now to have football during so much of the week. It almost seems less special to me; is that weird?
As we all know, football goes hand in hand with great food. This can not only add lots of calories on, but it can also break the bank if you let it. As I've mentioned in my meal planning posts before, if you can incorporate a meatless meal once a week it can significantly cut down on your grocery bill. So, for this recipe I omitted the cheese, bacon, and half and half that might normally be in this recipe to make it vegan and lighter. I also used whole wheat flour to thicken it up a bit instead of all-purpose flour to make it clean eating friendly.
I worked on this recipe today with my mom while our little man took a nap. She was pretty skeptical about the recipe since it didn't use chicken broth or bacon for flavor but even she was impressed with how well it turned out! One little trick we used to up the ante on the flavor was adding nutmeg. I've learned that just a dash or two can marry the flavors together to make it a little more vibrant tasting. The hubs and I enjoyed this for dinner last night and even had seconds, so good!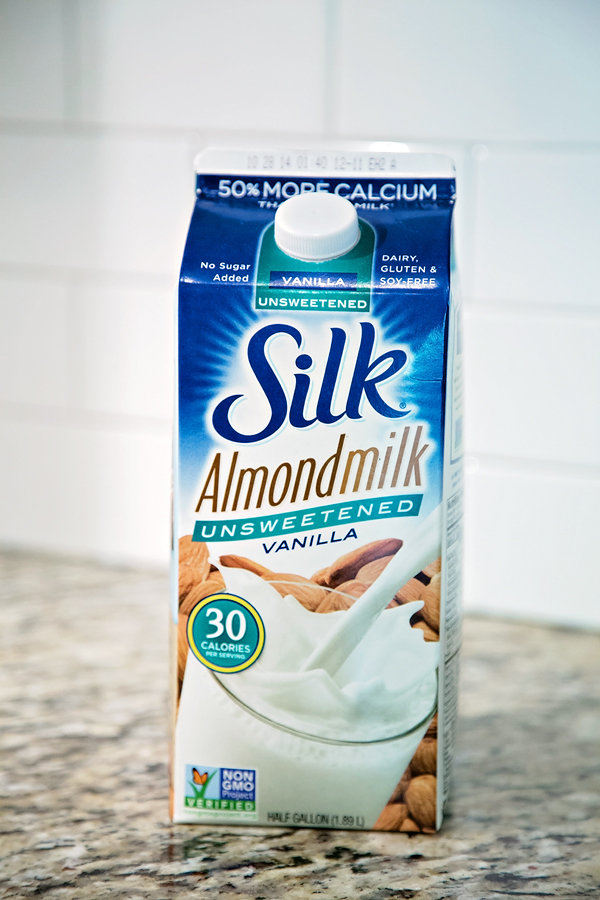 If you want to try out sidelining meat for your next game day recipe, you can head over to the Silk website to get recipes and enter to win cool prizes! I enjoy using almond milk to reduce calories especially in my coffee (the vanilla unsweetened picture above) each day. If you haven't tried it out yet, I dare you to give it a try and maybe even incorporate it in your #MeatlessMondayNight football game food.
What's your favorite lighter or healthier game day food?
Vegan Clean Eating Corn Chowder:
Vegan Clean Eating Corn Chowder
Ingredients
4 Tablespoons (vegan) butter
1 onion, diced
8 Tablespoons whole wheat flour
32 oz reduced sodium vegetable broth
2 potatoes, peeled and diced
2 frozen bags of corn
2 cups Silk almond milk
Pinch or 2 of nutmeg
¼ teaspoon garlic powder
Salt and pepper to taste
Instructions
In a large stockpot, melt butter and add onions sautéing until clear.
Add in whole wheat flour and stir constantly for about 5 minutes.
Add ½ cup vegetable broth and stir until blended and smooth and then add remaining vegetable stock and stir.
Add potatoes, corn, almond milk, nutmeg, garlic powder and salt and pepper.
Heat until near boiling and then simmer for around 15 minutes or until potatoes are done.
Macros:
Carbs: 15g
Fat: 12g
Protein: 3g
This conversation is sponsored by Silk. The opinions and text are all mine.