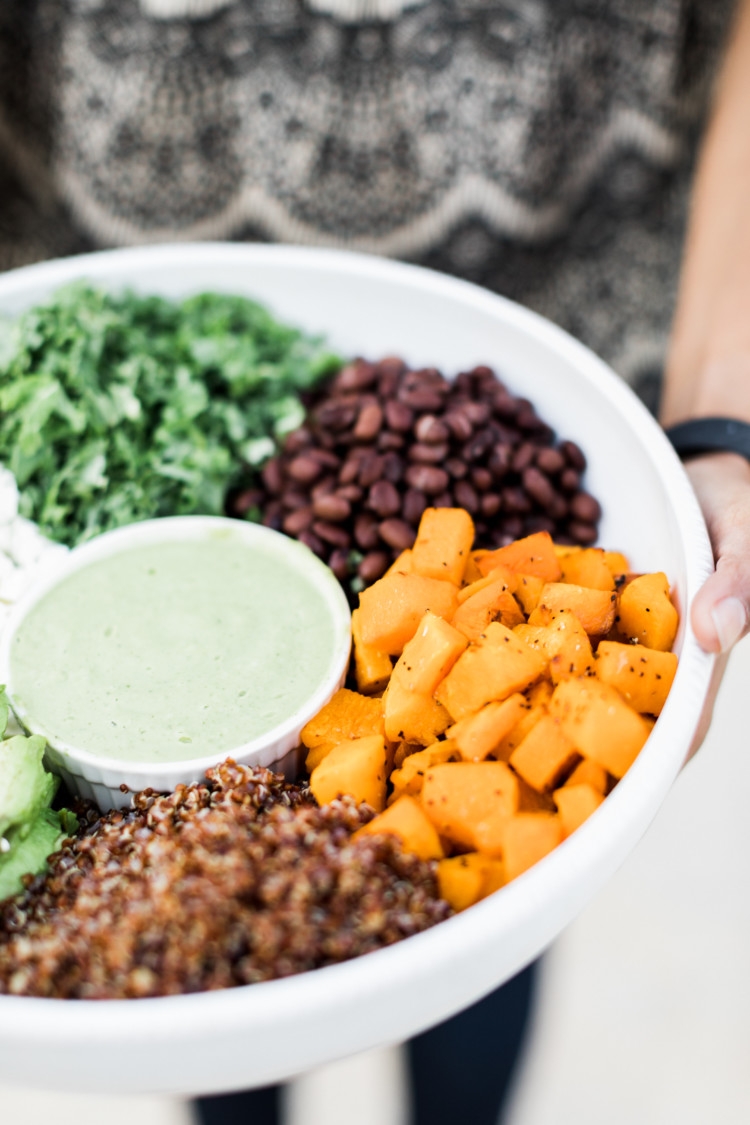 I'm excited to welcome Vasu to share a delicious healthy recipe with you today. We ate this amazing superfood salad at our Galentine's Day moms night in party a few weeks ago and it was so good and healthy I asked Vasu to come share the recipe with us today. So, read on to meet Vasu and make sure to make this delicious superfood salad soon…you won't be disappointed!
My name is Vasu and I'm a Wife, Mom, and Registered Dietitian! I currently work for Chick-fil-A Wellness where I meet with people one on one to help them achieve their personal wellness goals. In between being a mom and working, I'm a food and nutrition blogger at The Nutritious Bite. Food is my love language. I use the blog to share with you the food that we enjoy in our kitchen – food that nourishes both the body and soul!
I was a little hesitant to call this salad a superfood salad because the word "superfood" has been thrown out excessively over the last few years as a marketing tool. But when I looked at the ingredients for this salad, more than half of them are nutritional powerhouses and have incredible health benefits for our bodies so really "superfood" was the best way I could describe it!

Let's take a look at some of the health benefits of the ingredients in this salad:
Avocado

– I could write an entire post on the benefits of avocado and I truly believe that half an avocado a day can keep the doctor away. It is filled with healthy fats which help to protect your body against heart disease, is loaded with fiber which helps you to stay full, and contains fat soluble and water soluble vitamins which allow your body to function properly.

Black Beans

– Great source of fiber and protein. The B vitamins in black beans allow your body to efficiently transform food into energy – the perfect pick me up your body needs!

Kale

– Another great source of fiber and has more antioxidants that most any other fruit or vegetable. Plus, the folate in dark, leafy greens helps to sharpen your brain power!

Butternut Squash

– With 350% of the recommended daily allowance of Vitamin A and at least 50% of your body's needs for Vitamin C, butternut squash helps improve your eyesight, protects your skin from aging, and boosts your immune function.

Greek yogurt

– Filled with protein and probiotics. Probiotics are important to help boost immunity and can improve your body's gut health. Your gut is sometime referred to as your body's second brain and therefore good gut health = good mental health.

Quinoa

– The only grain that contains all 9 essential amino acids which makes it a great source of protein. It is also a healthy source of carbohydrates which is your brain's preferred source of fuel!
With protein, fiber, healthy fats, and plenty of vitamins & minerals, this salad will surely satisfy your body's needs. While this salad boosts a stellar nutritional profile, the best part of it is the taste. I could literally eat the cilantro avocado dressing by the spoonful. This salad is so satisfying and flavorful and would make a perfect side dish, a light lunch, or a great meal with some grilled chicken or steak. Make a batch of it on Sunday as part of your weekly meal prep and give yourself something to look forward to during the work week!
Superfood Salad with Cilantro Avocado Dressing
Superfood Salad with Cilantro Avocado Dressing
Ingredients
Salad
24 oz cubed/cut butternut squash (about 6 cups)
Non-stick cooking spray
1 Tbsp olive oil
1½ cups red quinoa, rinsed
3 cups low sodium chicken broth
2 cans low sodium black beans
8 oz block of feta cheese
1 head of kale
4 avocados
Salt and pepper, to taste
Dressing:
1 avocado
½ cup full fat Greek yogurt
2 cups cilantro leaves
1 small clove of garlic
Juice of 1 lime
3 Tbsp rice wine vinegar
¼ cup water
½ tsp salt
¼ tsp crushed red pepper
Pinch of sugar
Instructions
For the salad:
Preheat oven to 400 degrees F.
Spray baking sheet with non-stick cooking spray. Arrange squash on baking sheet. Drizzle with olive oil. Sprinkle with salt & pepper.
Roast for 25 minutes, until squash is tender.
While butternut squash is cooking, add quinoa and chicken broth to a medium saucepan. Bring to a boil and then reduce heat to low and cover the saucepan. Simmer quinoa for 15-20 minutes until all the liquid has been absorbed. Fluff the quinoa gently with a fork.While the quinoa is simmering or once it's done cooking, rinse and drain the black beans, crumble the feta, finely chop the kale, and slice the avocados.
For the dressing:
Blend all ingredients together until smooth. Add more water, if needed, for a thinner consistency.
Once all ingredients and dressing have been prepped, plate according to your preference. I like to keep all the ingredients separate initially and then will mix everything together right before serving.
Have you ever made a superfood salad? If not, now's the time to jump on board! I can't get over how good this one is.
Heather Brown helps busy mamas of young littles who are caught in the hustle to find encouragement in their journey to true health, from the inside out, starting with the heart. Read her journey of learning to live a life well-loved
HERE!