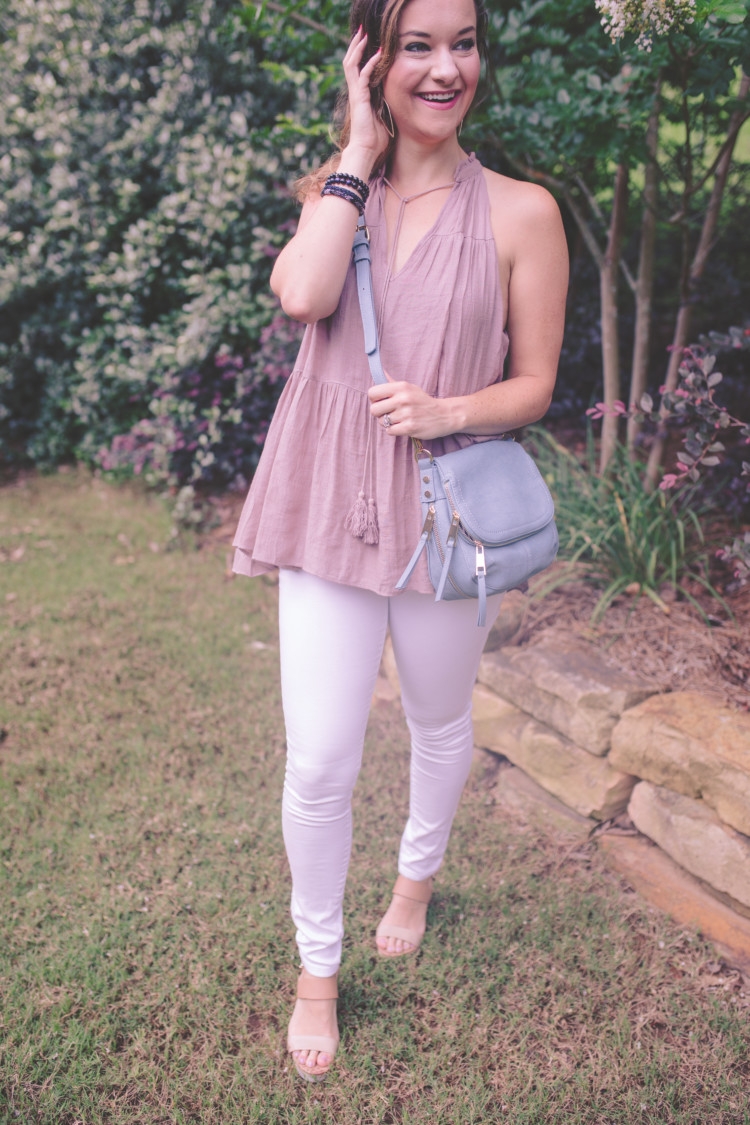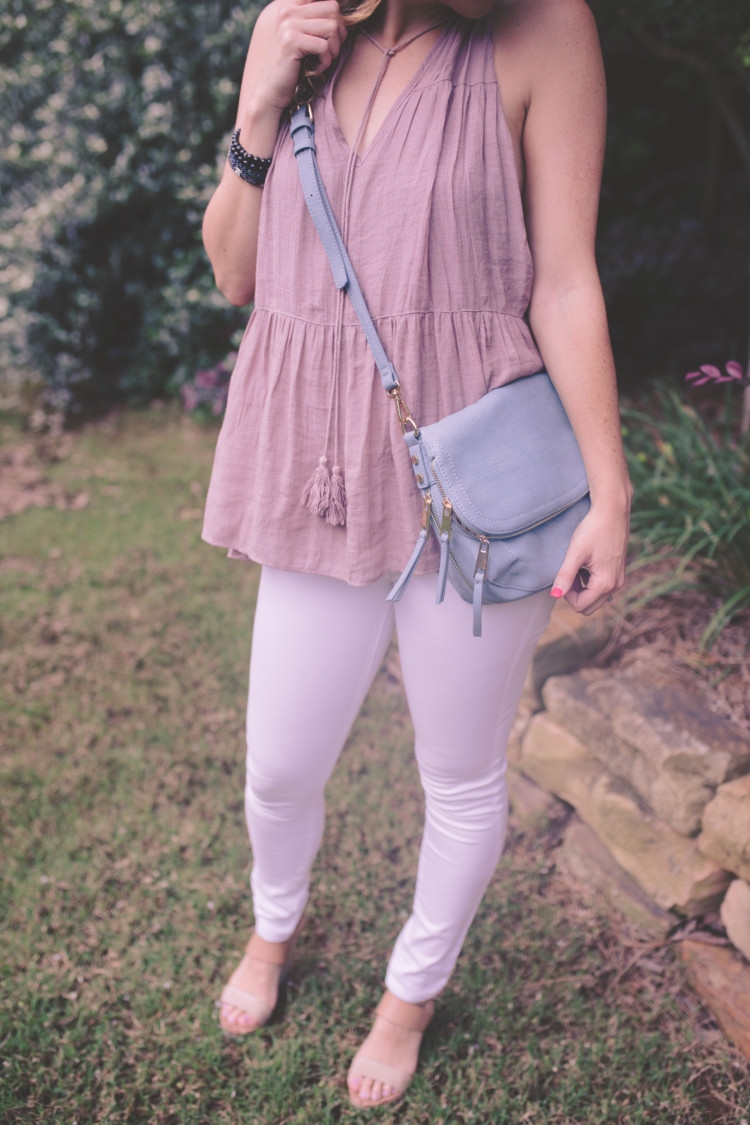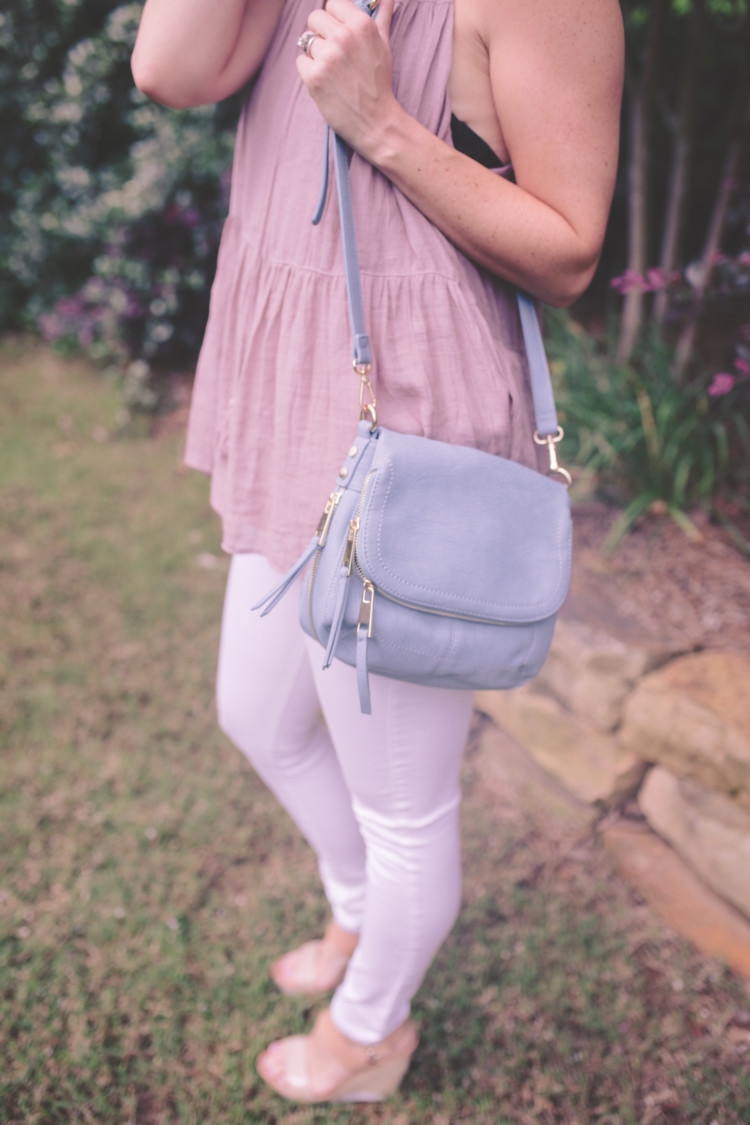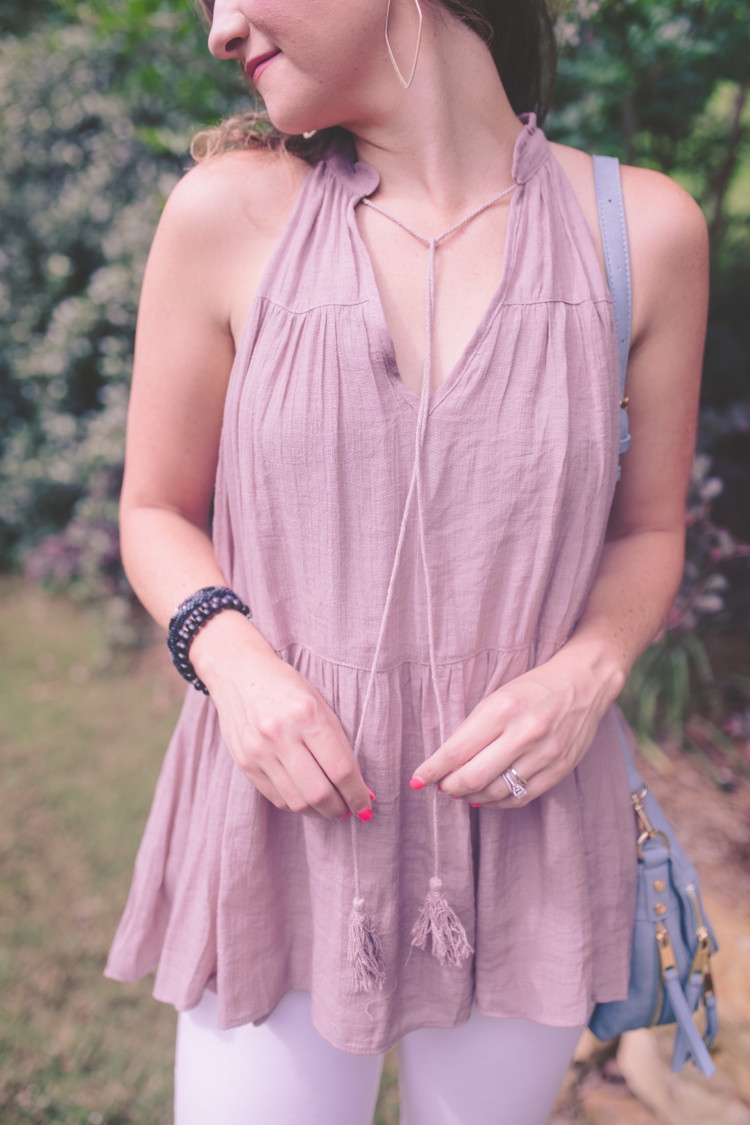 This post has been sponsored by Pure Silk. All thoughts and opinions are my own.
Top / White Denim / Jean Shorts from below pics // Purse // Shoes // Sunglasses from below pic
You guys, this summer is definitely here and blazing in all her glory! Today I wanted to share 5 items I really enjoy to make our summer the best it can be. We love entertaining people in our home, cooking out, and getting to the pool as much as possible.
We usually get down to Tampa at least once, sometimes twice to go see his family and then are at the lake once and otherwise are soaking up pool time. If you live in the South, you know that if you are going to be outside, you pretty much have to be in a body of water to not sweat to death.
Even though the water isn't refreshing or cool typically because it feels like bathwater, at least your body is submerged and not pouring sweat that you can feel as much, ha! Talk about southern charm, right?!
5 Items We Love for the Perfect Summer Day:



Pure Silk: The next two items are things that make me feel confident when we hit the outdoors to soak up the sun. I love using a little luxury in the everyday items like the new Pure Silk

premium disposable razors

and Pure Silk shave cream. The shave cream scents are light and won't compete with any lotion or perfume you put on afterwards. These products make my legs feel silky smooth and who doesn't feel better when their legs are smooth and shaved? #Momlife doesn't always let this happen, am I right?!

SPF/Sunless Tanner: I love a good sunless tanner, especially if it has SPF in it too. I need a product that multi-tasks! Sunless tanner always makes me feel better about not having to wear much makeup plus I'm really focused on trying to protect my skin now. Sadly, in high school and college, I spent too much time worried about a tan so now I'm covered in freckles, moles and wrinkles. Now if we're going to be outside for a longer time, I try to wear a hat, and something that covers my shoulders.

Sunglasses: Again going back to protecting my body in the sun, I wear sunglasses more often now as well. Not only do they hide any tired under-eye mom wrinkles or no-makeup face, but they also are so fun with all the different tints and reflective options now. I've now gotten a pair to keep in my car, in the stroller and in my purse so that hopefully no matter where I go or what I'm doing this summer, I'm prepared.
Simple Drinks/Foods: One thing I love about the summer is switching back to really simple and refreshing foods and drinks. Eric loves to come up with different drinks utilizing fresh basil, blueberries or mint and we enjoy sitting out on the back patio sipping those.We also heavily use our grill in the summer for light, refreshing meals. Don't overcomplicate things in the summer. It's meant to be flexible. Simply grab a meat and make 2 veggies on the side to keep your meals lighter and healthier as well so you can really rock that swimsuit!


Music: One of our first big splurges in our new home was getting a SONOS system. We love having soft background music when we have company over in the summer and we almost always take our JBL speaker with us when we head to the lake, pool, or beach to enjoy some tunes for the day. There's something about music that just sets the tone for the day and we love that!
What are your summer must haves? I'd love to hear in the comments below!

Heather Brown helps busy mamas of young littles who are caught in the hustle to find encouragement in their journey to true health, from the inside out, starting with the heart. Read her journey of learning to live a life well-loved
HERE!