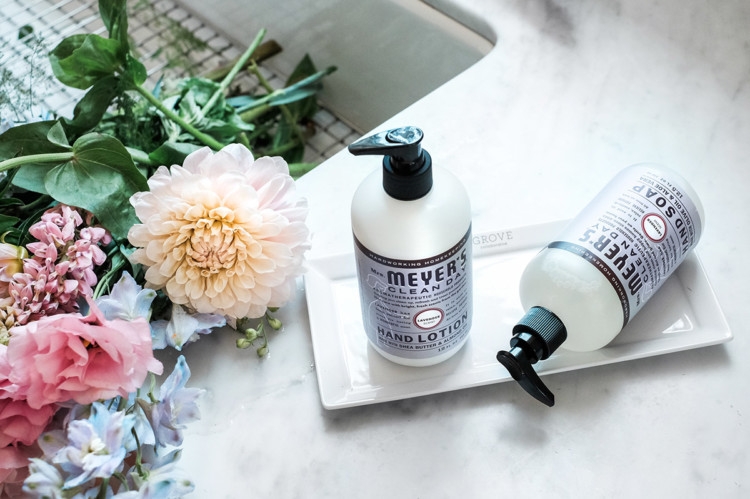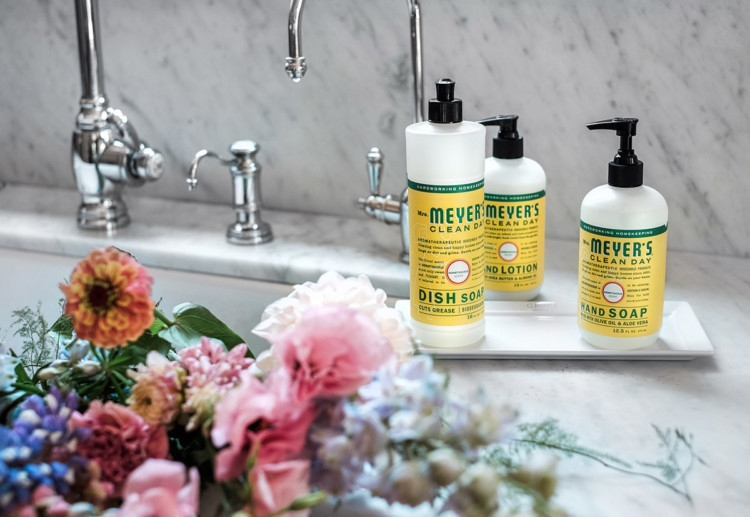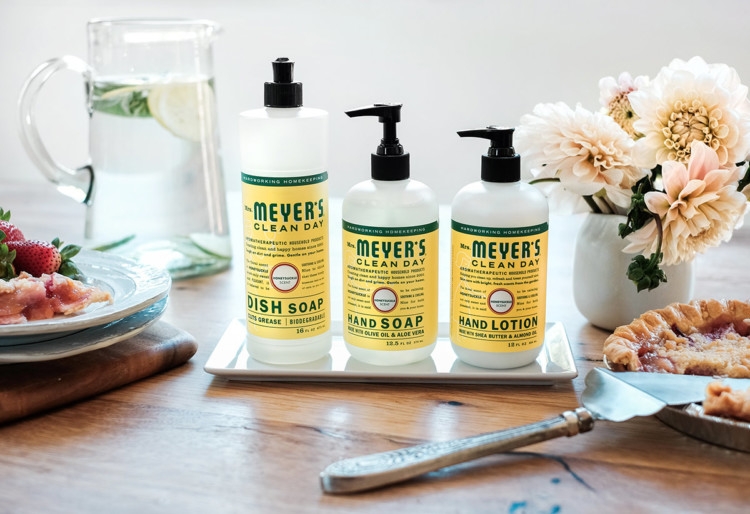 Even though it's summer, July is one of our busiest months. Between our family vacation to Washington D.C., Pure Barre trainings, a Nashville trip and get-togethers, it seems like we're always on the go.
We also love to host groups of people in our home, whether it's a dinner party with our friends or family or hosting our small group in our home each week.
Of course, I want my home to feel stylish and inviting and with a toddler, that's not always easy! Y'all know I don't feel like cleaning for days just so my house feels presentable for guests. I did a whole post on how we try our best to keep our home clean with a toddler if you want to check it out. 
That's where this Stylish Hosting Kit from Grove Collaborative comes in. Grab your FREE set of Mrs. Meyer's hand soap + dish soap + hand lotion + Grove Collaborative sink tray. Then come back here for my favorite tips to set a stylish scene for your summer guests.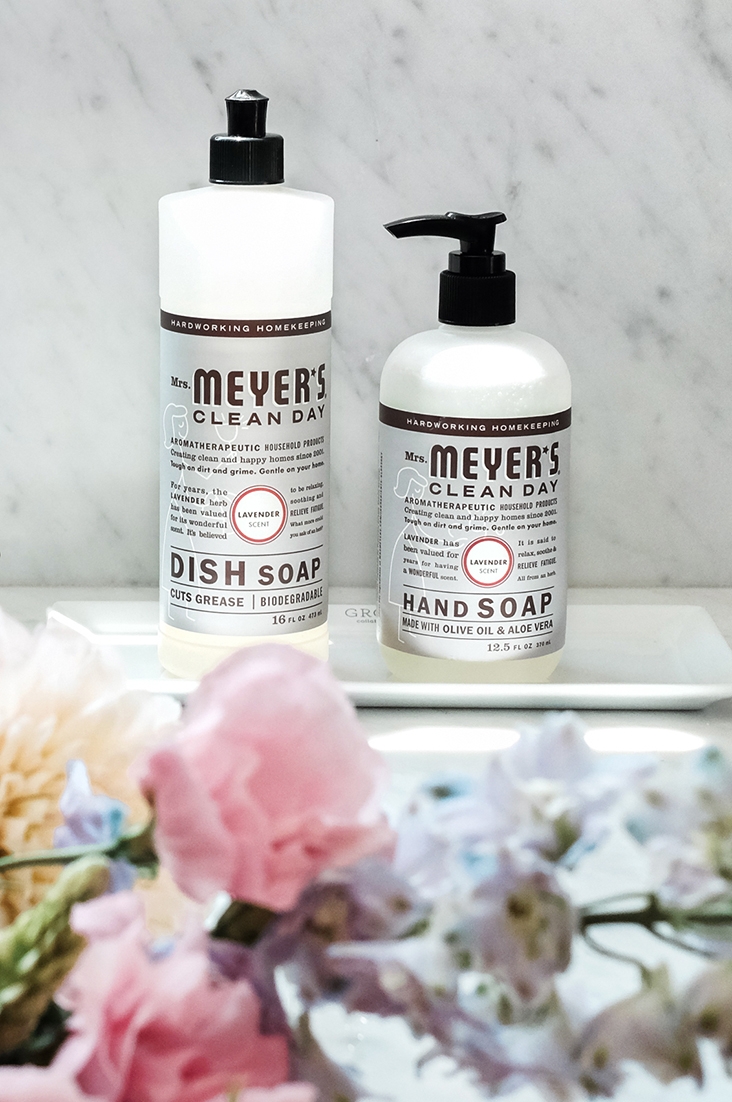 Summer Hostessing Tips:
Greet your guests with an inviting scent. Lighting a few candles is my favorite way to make our home smell welcoming.

Your guests will be hungry when they arrive — this is true whether you're entertaining your neighbors or a group of moms and kids for a play date! Set out self-serve snacks like hummus and veggies, chips and salsa, and cut-up fruit to serve with my Easy Vanilla Almond Fruit Dip.
A guest bathroom should be clean and convenient, but it can also be cute! This glossy white ceramic sink tray from Grove Collaborative is perfectly sized to contain your hand soap and lotion.

Speaking of soap, a luxurious hand wash is such a treat for guests. You can choose from Mrs. Meyer's basil (my favorite!), geranium, honeysuckle, lavender, or lemon verbena scents, plus matching lotion. I have the basil scent in our kitchen right now!

You can see some more of my summer hostessing tips in my healthier take on a homemade ice cream and cookies party video!
Party pro tip: Stock up on all your summer hosting needs like paper towels, toilet paper, and cleaning supplies with Grove Collaborative. Since Grove ships everything to your doorstep on your schedule, you'll never have to make a last-minute dash to the grocery store for napkins when guests are on their way! I showed you guys my shipment that came in this morning on my Instagram story!
Set the mood with a great soundtrack. You can curate your own playlist, or look online for a fun summer mix.

You've cleaned, prepped the food, and picked a playlist — now don't forget the lighting. The right lighting can transform your space (and camouflage any areas you didn't have time to clean!).

Flowers make everything feel fancy! Fresh cut blooms can be pricey, so cut a few stems from your garden and arrange them in a pretty vase instead. Or stock up on flowers from Aldi's or Trader Joe's.


Guests will be here any minute, and the sink is full of dishes! Soak pots and pans with a squirt of Mrs. Meyer's dish soap while you finish tidying up, then all you need is a quick scrub to get them clean.

When you're done with the dishes, corral your hand soap, dish soap, and sponge on the sink tray for a pretty display.

Now that everyone has arrived, it's starting to feel a little

too

cozy. Keep guests from having a heat stroke by opening windows and strategically placing fans to circulate the cool night air.
Don't forget, this offer from Grove Collaborative ends Sunday, July 16 so grab your free Stylish Hosting Set now with your first order of $20! You'll also be signed up for the free 60 day VIP trial. For 60 days, save even more with free shipping, free gifts, price matching, exclusive sales and personal service.
You'll get the entire Stylish Summer Hostessing Set for free:
Mrs. Meyer's Hand Soap

Mrs. Meyer's Dish Soap

Mrs. Meyer's Hand Lotion

Grove Collaborative Sink Tray

Free Shipping & 60 Day VIP Trial
If you signed up for Grove and already love it, you can get 25% off this tray by clicking this link. What are your best summer hostessing tips?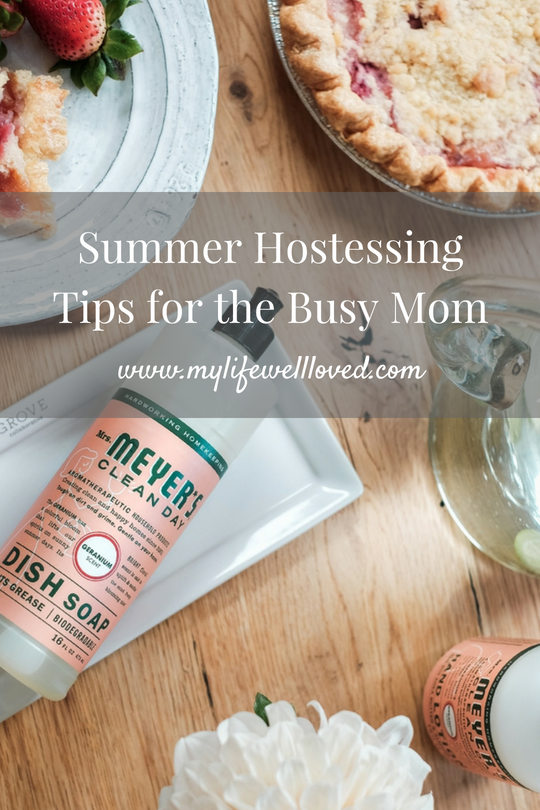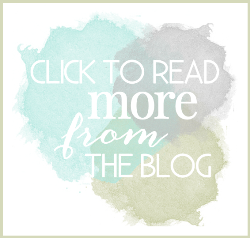 Free Pantry Staples List
Get the FREE Clean Eating Pantry Staples Printable List plus healthy living lifestyle tips from MyLifeWellLoved.com!