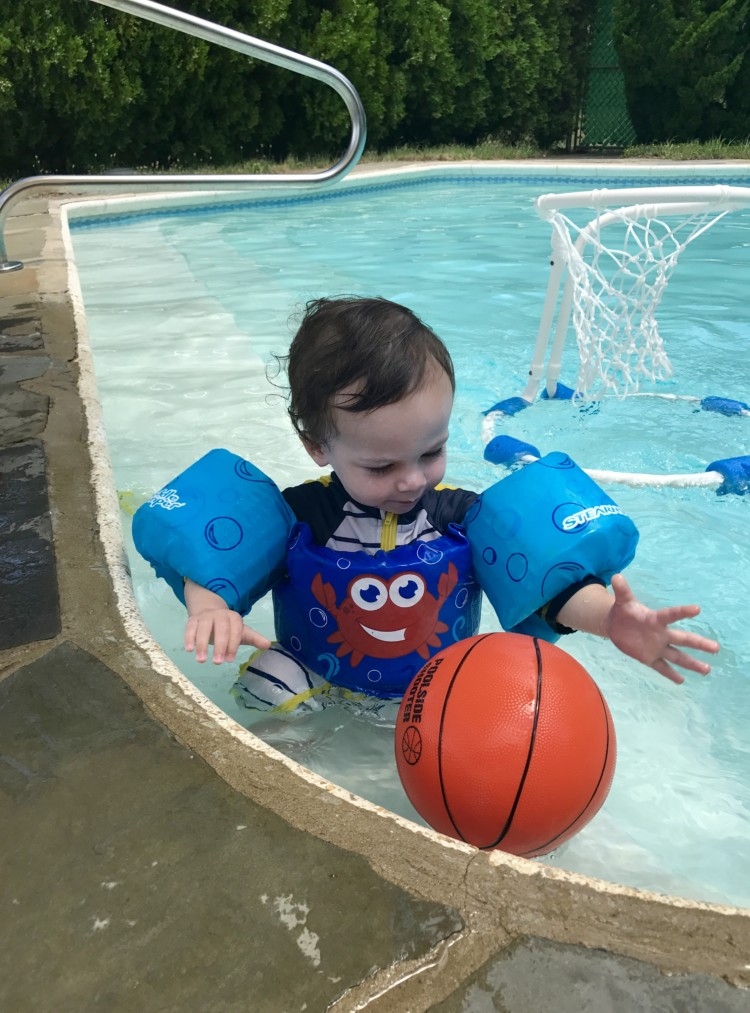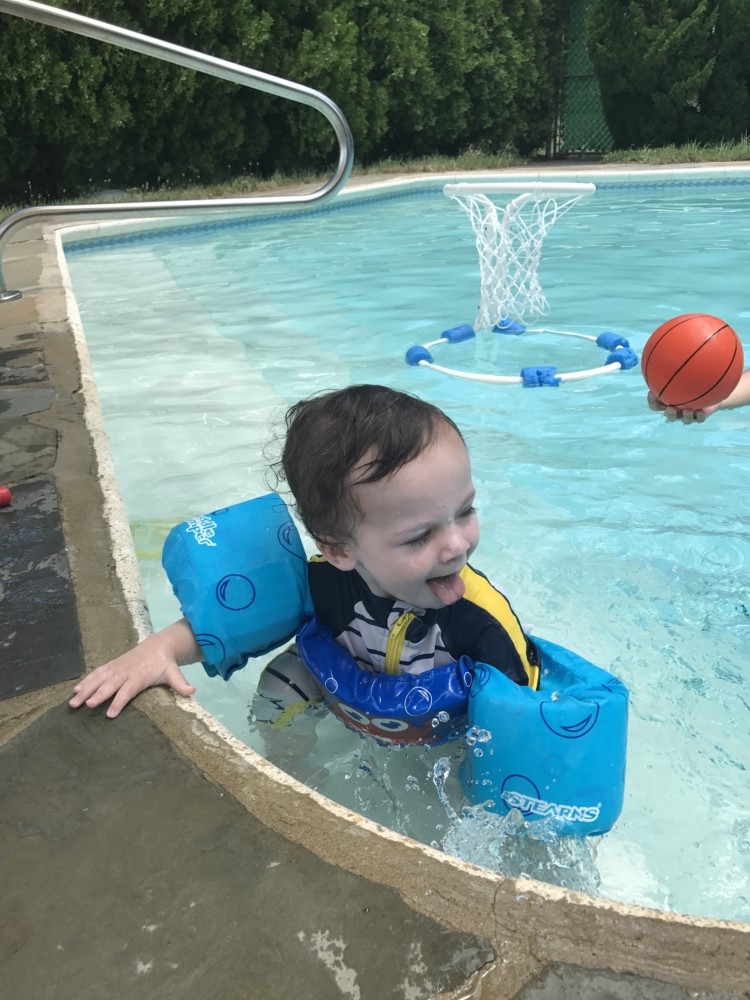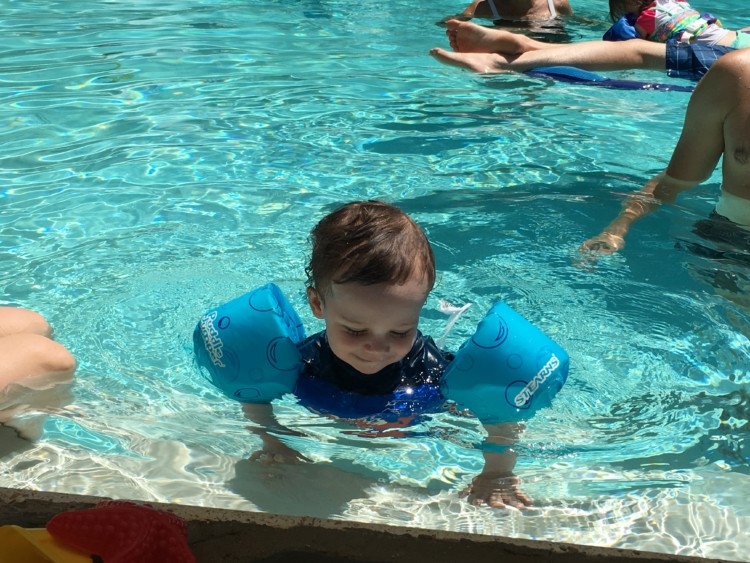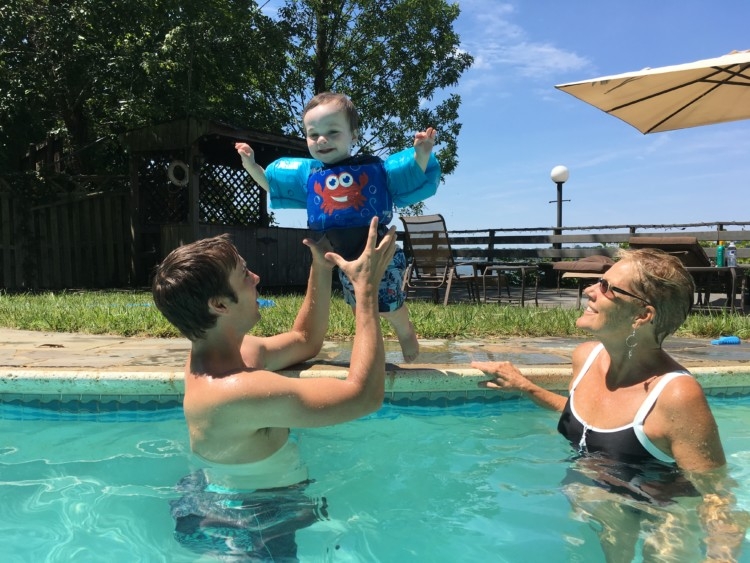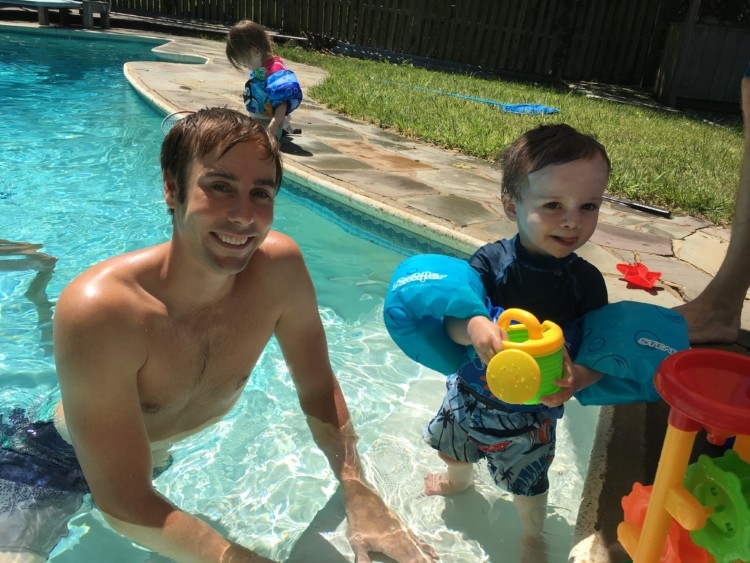 Shop Leyton's SWIMZIP bathing suits. Currently 35% off with code Remember35.
While I was in Washington D.C. traveling for the 4th and visiting with my in-laws, we spent a lot of time in the pool. I did a few Instagram stories of Leyton playing with us in the pool and I've had several of you message me asking about pool safety tips for toddlers, what we do with Leyton and asking about sun safety and such.
In the past I've done these posts on Sun Safety, What to Look for if Your Baby Overheats , and today I'll be covering a bit about how you can practice pool safety with your little one. This is a very important topic to me because when my little sister was about 3 and I was 8, we had a pool safety scare.
I was up on the diving board with my friend, looked down into the pool before I jumped and noticed my little sister had wandered too deep into the water without her swimmies on and was UNDER water. I yelled out to my mom who of course almost had a heart attack and grabbed her up out of the water. It was so scary but thank the Lord she was ok. Do you know the 8 warning signs of drowning?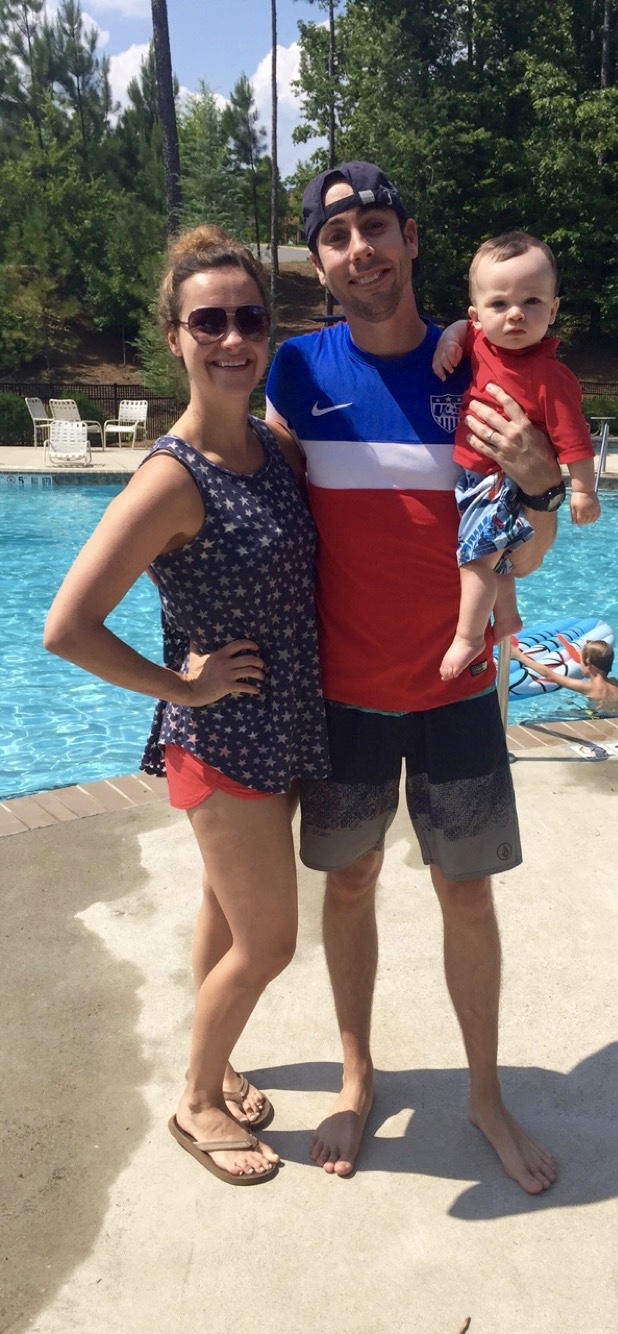 Pool Safety Tips for Toddlers
Use a puddle jumper or flotation device. Last year we used a shaded baby float for Leyton or he was in our arms if we were at the pool. This year if we are in the pool area, Leyton knows he has to have on his puddle jumper if he wants to get into the water. At first he hated it and would cry when we tried to put it on him, but after a few screaming sessions, now he know that it means he gets to swim so he's happy to have us put it on him! We never let Leyton be more than arms' distance away from us when he is in his puddle jumper and keep a constant eye on him. Please remember these are just the tips we use to keep Leyton safe but we are not experts. You can read more from other experts here. 
Designate an adult who is in charge of watching your toddler

. Just because your child has on a floatation device doesn't mean that they are all good. Especially when your kids are on the smaller end of the spectrum, the puddle jumper may not hold their mouth or nose above water and Leyton sometimes thinks it's fun to try to drink the water. Womp womp. Eric and I would always check in with each other about who was watching Leyton at first. Eric may start watching him and then he'll say something to me like, "Hey babe, I'm gonna grab a drink. You got him?" This constant communication helps us know who's "in charge" at that moment.

Don't forget to keep your toddler hydrated! Even though you are in the pool, your body and your toddler's body still sweats. Make sure you bring a sippy cup of water or keep an extra one in your pool bag to refill at the water fountain at your pool. Also KNOW the signs of infant overheating, you can read more details from this readers' scary experience here. 
Sunscreen

: We all know sunscreen is a must, but honestly between running into friends at the pool, playing with your baby and feeling the refreshing water it can be easy to forget to reapply. Some of you know Leyton had eczema as a baby, which he seems to have somewhat grown out of as he's gotten older. He'll sometimes still have dry skin but it's not nearly as bad as it was. You can try Mustela sunstick or Babytime for your baby if they have eczema to see if that is better for their skin. If you have any other must try eczema friendly sunscreens to recommend for little ones, make sure to leave a comment for other mommas to try!

Covered Skin

: As I've mentioned in my sun safety post, we adore the brand 

Swimzip

 for Leyton. They have long rashguards that cover his legs and arms with sun protection built in so all we have to do is use sunscreen on his head, neck, feet and hands.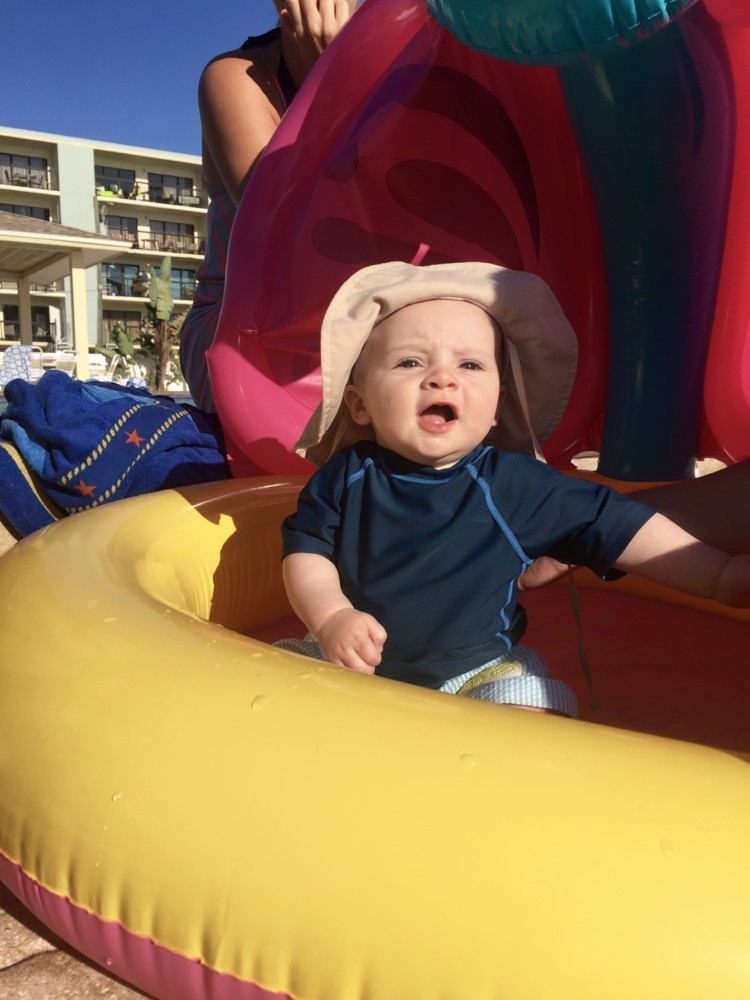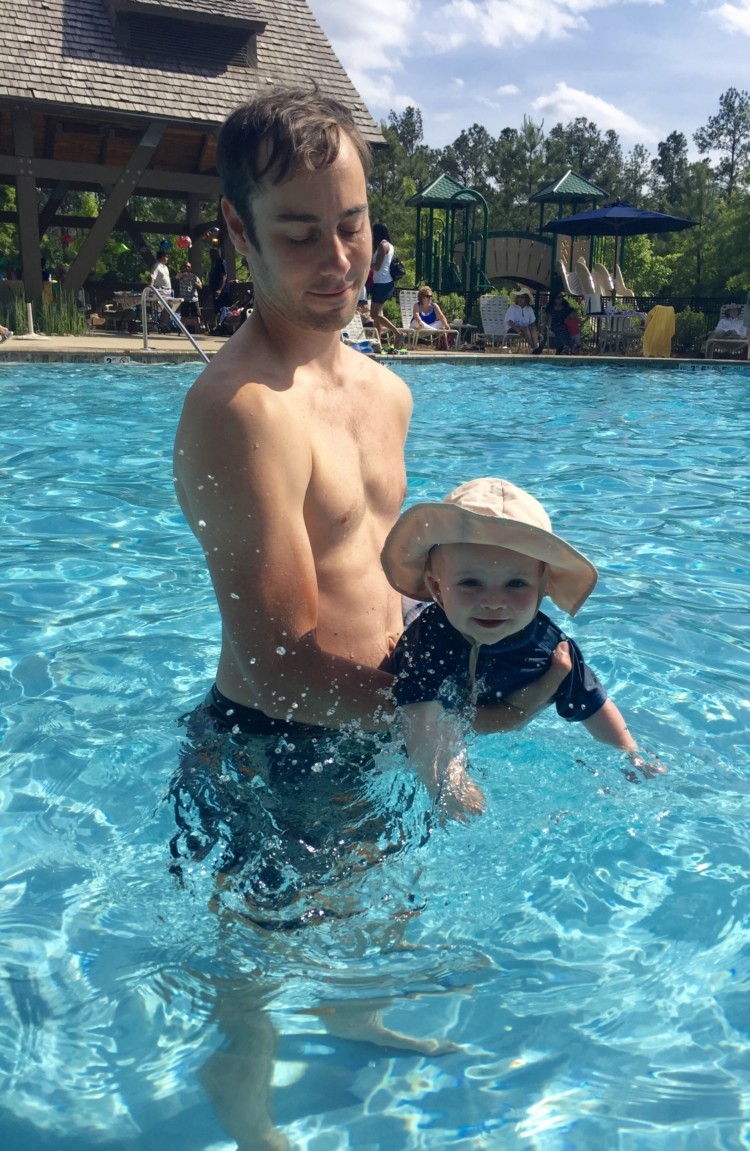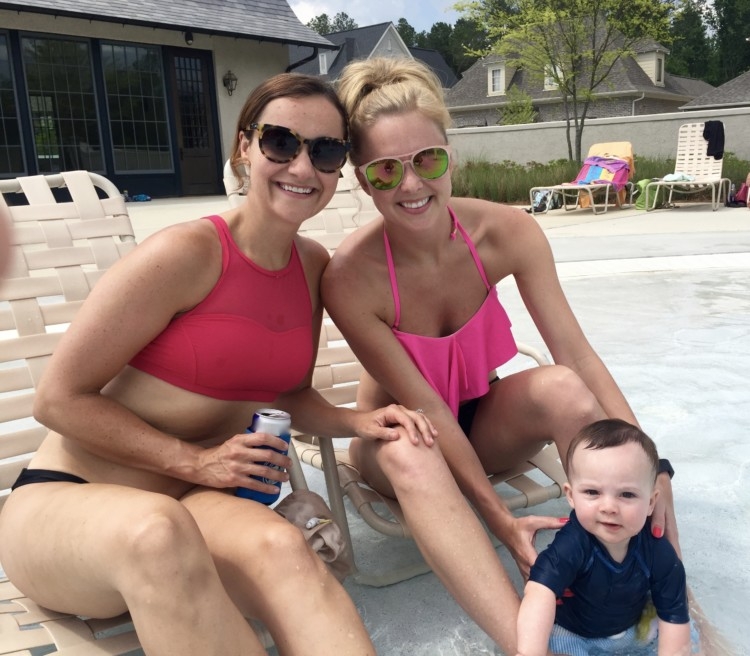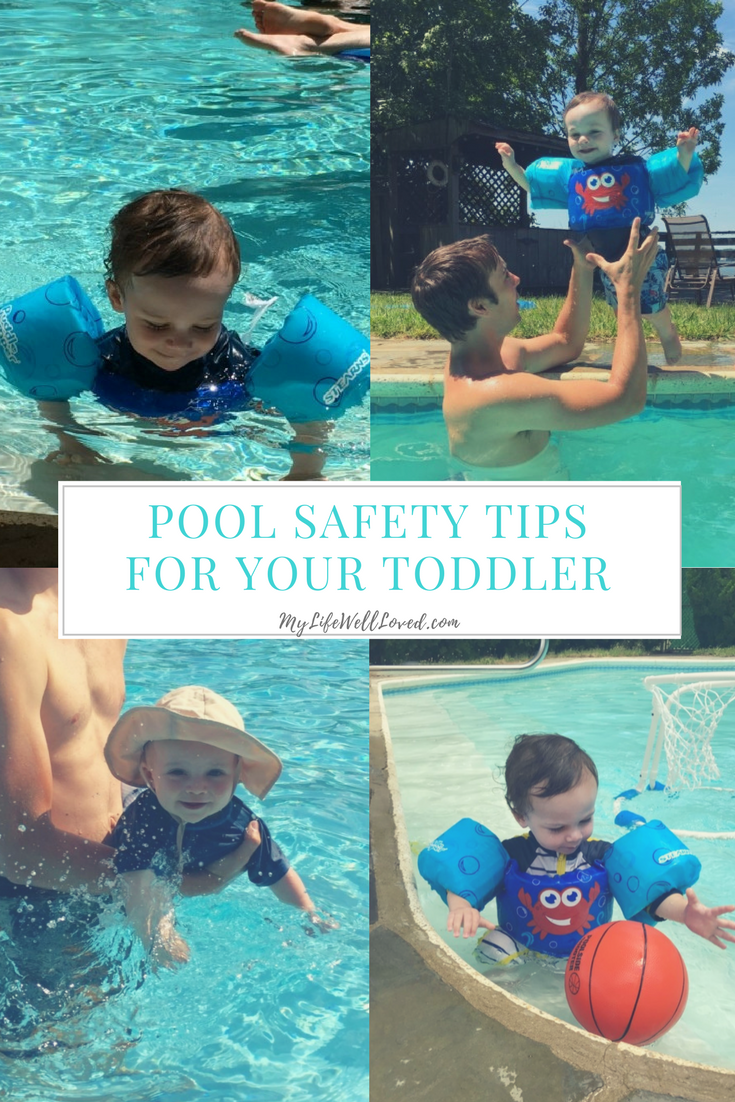 Thank you to Allstate for partnering with me on this post. You can see more of their swim safety tips on their blog here with a complete kids' checklist!
What pool safety tips for toddlers do you have? What sunscreens, and floating devices do you love for your little ones? I'd love for you to share with me in the comments below.
This post was written as part of the Allstate Influencer Program and sponsored by Allstate. All opinions are mine. As the nation's largest publicly held personal lines insurer, Allstate is dedicated not only to protecting what matters most–but to guiding people to live the Good Life, every day.
Heather Brown helps busy mamas of young littles who are caught in the hustle to find encouragement in their journey to true health, from the inside out, starting with the heart. Read her journey of learning to live a life well-loved
HERE!