Shop The Nordstrom Anniversary Sale Best Sellers Below!
Y'all know that above all, I really want you to shop the Nordstrom Anniversary Sale in a wise way with a game plan. I've been covering this sale for 6 years now, and every year I learn more about how I can best serve you and hopefully provide value to you as you navigate this sale.
Over the years, I have learned to stay in my lane. My lane is not high fashion – if that's what you're looking for, there are a million bloggers to go to for that. When I went though the sale, I tried to think of what we are probably reaching for on a day-to-day basis: from working out, to quickly running our kids to school, to throwing a blazer on for a Zoom meetings, to getting dolled up for date night.
SHOP My Outfit On Sale HERE:
Know that I am coming at this sale not from a fashion blogger standpoint, but rather a practical standpoint. If you are wanting to shop on a budget for NEW fall and winter staples, this is the cream of the crop of what I think is worth it! I was extremely selective in what I chose for this post and I hand-selected 25 items for you based off what you've asked me for, and from knowing our day-to-day lifestyles. I have narrowed it down tremendously because there are thousands of items on sale right now! Hopefully this will help you get stocked up for fall and winter and help you save money on new items from Nike, Spanx, Sweaty Betty, and everything in between!
Without further ado, here is my mega Nordstrom Anniversary Sale best sellers post! Make sure you check out my other #NSALE posts with my picks on shoes and athleisure!
Make sure you are signed up for my email list to get all of the insider scoop sent straight to your inbox! If email isn't your thing, sign up for my BFF text list and I will text you the deals!
My Top 25 Nordstrom Anniversary Sale Best Sellers
#1 Spanx Faux Leather Leggings // Y'all, these leggings need no introduction from me. Spanx Leggings are always in your top sellers for the entire year, every year! Y'all go bananas when these go on sale! I personally own about 4 pairs of them in moto, camo, black, plus some of the workout ones! Do NOT sleep on the Spanx Leggings, friends!! They are truly worth it to me. Just in case they do sell out, click here to visit the Spanx website! I also have a FULL blog post with almost 50 different ways to style them – click here to read it!
#2 Ugg Slippers // For those of you who have told me you get your parents or in-laws a great pair of slippers every year for Christmas, these are a classic staple! They would also make a great gift for a mom-to-be! Some of you buy these year after year. If you don't want to splurge on the Ugg version, you can find a dupe on Amazon. Or if you want a more cutesy option for a high schooler/college student, I love these fun colored ones!
#3 On Clouds // Eric has had 3 pairs of these now and he adores them so much that he gifted them to me last year! I have been LOVING them ever since. The ones I have are not the top tier On Clouds but I am thinking I will snag the top tier version during the sale as they are supposed to be similar to my Adidas. I've never seen the On Clouds on sale like this before! These will be a major hot seller and will probably sell out fast!! 🔥
#4 True And Co Bra // I literally slept in this bra on a plane for 16 hours on the way to Bora Bora – it is THAT comfy! I'm linking lots of other True And Co Bras below!
#5 Nordstrom Plush Throw Blanket // We have owned this blanket for two years and it shows zero wear or tear. I love it and actually need to grab it in some other colors because it's THAT good.
#6 Barefoot Dreams Cardigan // This cardigan needs no introduction! I have rounded up all of the best Barefoot Dreams products that are on sale below. They are super soft and a great gift idea for moms, mother-in-laws, new moms-to-be, and even yourself, mama!
#7 Natori Feathers Bra // This bra is honestly worth paying full price for because it's that great but luckily, for you, it's included in the sale! This is one of Nordstrom's highest rated bras because while it is pretty, it is also comfy! It is amazing quality and has great support too.
#8 Kut From The Kloth Jeans // I have had these jeans for years! It's a very quality denim at an affordable price – especially during this sale! If you need a good pair of denim, this is great time to stock up. Also, don't miss this stretchy waistband Wit and Wisdom denim offers that is included in the sale. They were my favorite jeans for postpartum!
#9 Layering Long Sleeve | Short Sleeve // These would be really good staple pieces to layer with scarves, vests, and sweaters in the fall! These tops are known for being super comfy and are definitely on my wishlist!
#10 Puff Sleeve Blouse // These shirts caught my eye because they are a great transitional top for us southern girls who can't wear bulky sweaters in the fall when it is still 90+ degrees! It's a cute blouse to throw on for church or a date night!
#11 The North Face Coat // Whenever I have an upcoming ski trip or need a new winter jacket, the Nordstrom sale is the time to stock up on North Face that you rarely see on sale! There are LOTS of kids and other North Face options below for you to shop!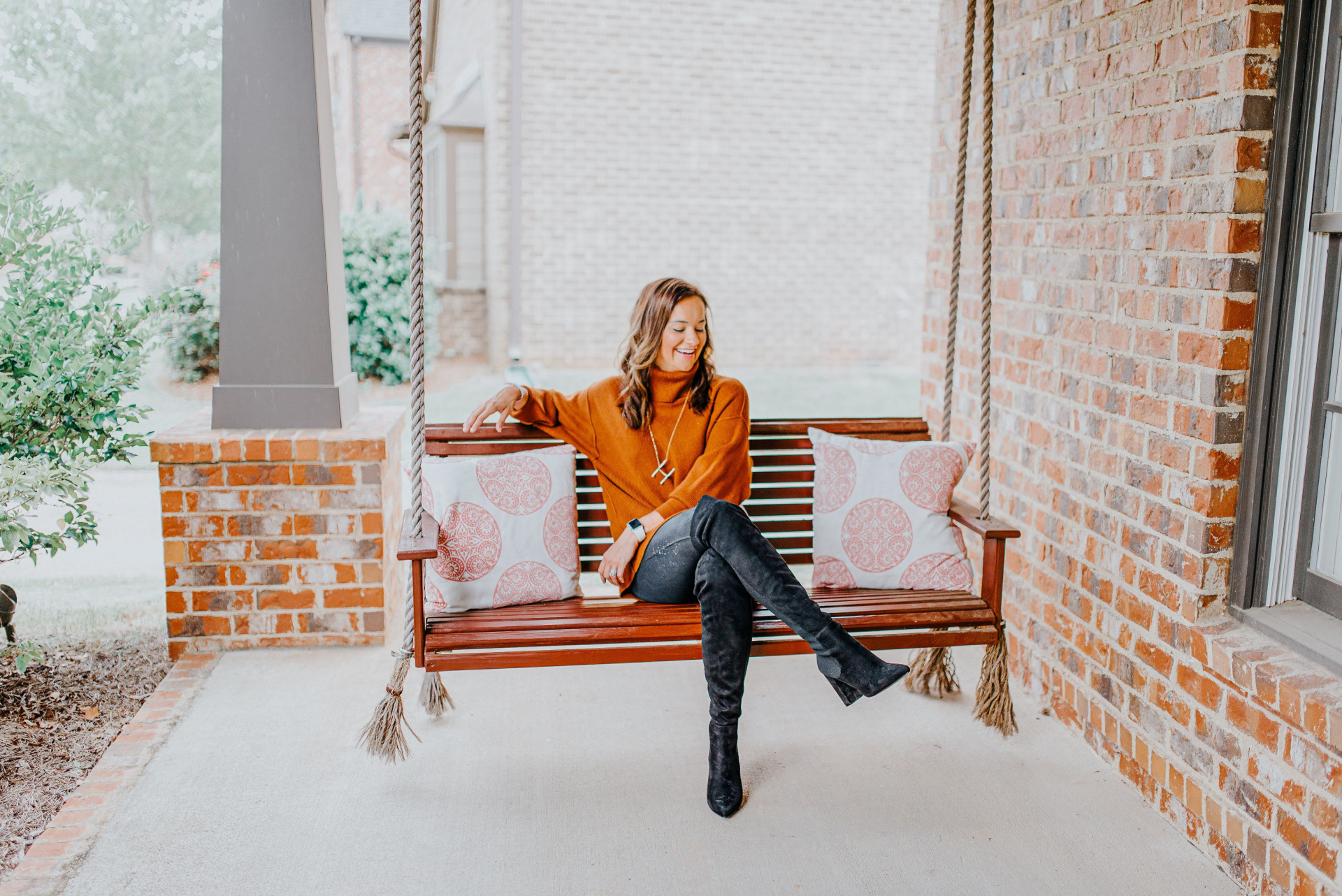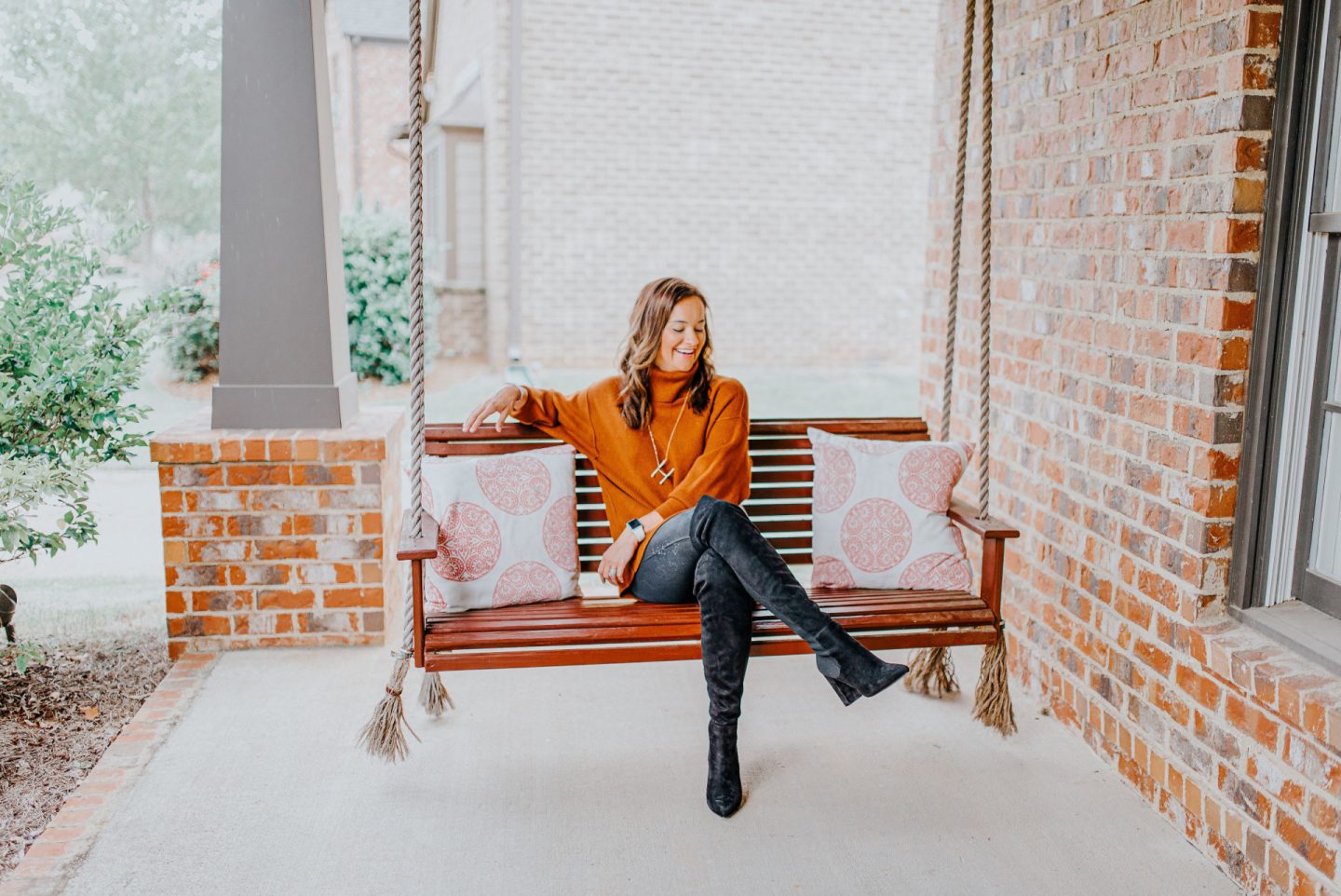 #12 Tall Boots // Hear me say this now: if you need new boots or booties, get them NOW. This is the time to buy while they are on sale! They are brand new styles, beginning of the fall season, ride or die staples that will carry you through fall and winter! I really like the brown over the knee pair and think the price point is affordable. I will link up some other styles that caught my eye below!
#13 Zella Leggings // I would be remiss if I did not mention the Zella athletic line to y'all. They offer really great quality pieces at a fraction of the price. I have purchased Zella biker shorts, leggings, sports bras, and tanks and have never been disappointed! Also, if you are pregnant, make SURE you snag their maternity leggings! I have more Zella items that I love linked below!
#14 Blazer // Everybody needs a great blazer in their closet! You can throw this over a workout tank and instantly look more put together for your afternoon Zoom calls.
#15 Barbour Jacket // A barbour jacket on sale is hard to come by. This is a classic warm jacket that I couldn't leave off this list. I will include more of my favorite cold weather layering pieces included in the sale below!
#16 Hunter Boots // Hunter Boots: If it's your thing, it's your thing. I know some of you love to match your kids in these so I included the kids and adults version below!
#17 Tall Black Boots // I LOVE these! I'm tempted to pull the trigger on these bad boys but I already have two pairs of black tall boots… oops! These are a major closet staple for me in the fall!
#18 Uppababy // I have raved about our love for the Uppababy travel system. I used this for Leyton, who is now 5, and Finn, who is now 2. We love the heck out of this stroller. We've used it every time we've flown. I can't recommend it more! I'll link some of the carseats down below, too!
#19 Basic Tee // If I ever need a basic tee, I grab it during this sale! It's easy to throw on while traveling or layer under jackets. This one is under $12 and comes in tons of colors!
#20 Necklace // This is the trending necklace this season! I see this thing everywhere. I will link this one + the dupe! It would make a GREAT gift for the holidays!
#21 Dyson Vacuum // I rarely see the newer versions the Dyson vacuums on sale! If you have been wanting one, NOW is the time to get it!
#22 Supergoop // The ever-so-popular Supergoop sunscreen. that we all know and love has an exclusive set on sale during the Nordstrom sale which means free shipping + free returns!
#23 Jo Malone // I ordered this two years ago and still love it. I can easily stick it in my purse when I'm on the go and want to freshen up! This is a higher end brand that rarely goes on sale so if you are wanting their candles or their perfume, now is the time to grab them!
#24 Tula Set // Y'all know know how I feel about that pink "wake up" under-eye stick! I use it for highlighter and to swipe under my eyes after flights. It's cooling, refreshing, and I highly recommend grabbing it on SALE.
#25 Hydroflask // The sip spout Hydroflask is included in the sale if you want to grab it now for back to school season (AKA back to the gym season 😂) coming up!
Shop The Nordstrom Anniversary Sale Best Sellers:
Check Out More Nordstrom Posts Here

:
Pin The Nordstrom Anniversary Sale Best Sellers For Later!