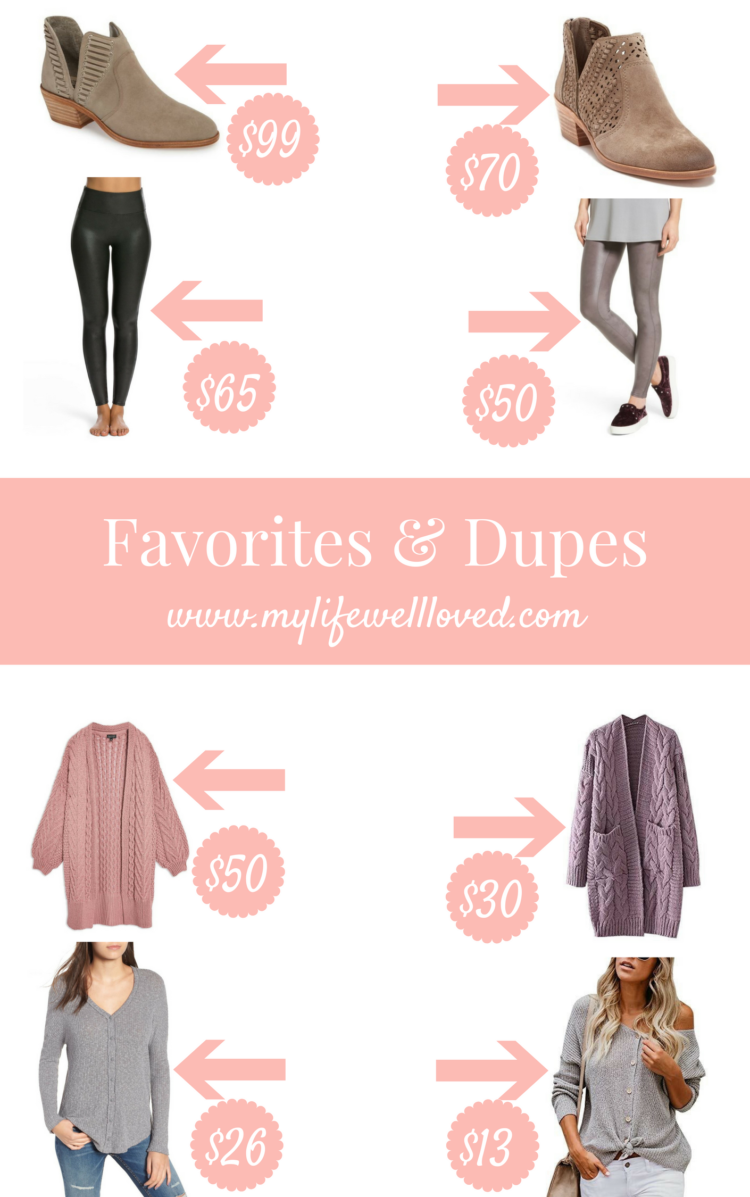 Shop the Nordstrom Anniversary Sale DUPES Graphic + See more below:
Nordstrom Sale Booties // Dupe Booties // Nordstrom Sale Spanx Leggings // Dupe Leggings // Nordstrom Sale Cardigan // Dupe Cardigan // Nordstrom Sale Henley // Dupe Henley
Nordstrom Anniversary Sale DUPES
Happy Sunday! The Nordstrom Anniversary Sale definitely has some great sales! I am sure most of you are already tired of hearing about the sale and it has just begun! But hang with me! I love a good bargain and that is just what I have done. Imagine DEAL OF THE DAY times ten! I have rounded up the best dupes of some of the MOST popular items in the Nordstrom Anniversary Sale. Now granted, there are some cases where quality is better and the designer version is just worth the $$$, but sometimes the dupe is more worthwhile. I am sure you would agree – why pay $80 when you can pay for something that is nearly identical for way LESS?! Am I right?!  So if you are ready to SHOP the Nordstrom Anniversary Sale but you don't want to wait for public access or if you just want to save a dollar or two, shop these dupes below and save YOUR $$$!
***To shop the Nordstrom Sale & Dupe items, click the images below or the description links!
Vince Camuto Pevista Bootie $79.90 // Vince Camuto Prasata Bootie $69.97 (all colors available)
ALO Ultimate High Waist Mesh Inset Legging $122.00 // High Rise Mesh Panel Compression $25.00
Beyond Yoga Drape Cardigan $132.00 // Cable & Gauge Shawl Cardigan $24.97
Spanx Faux Leather Leggings $98.00 // Faux Leather Legging $15.00 // You can also currently get the SPANX Faux Leather Leggings on sale in certain colors/sizes for $73.50 at Amazon!
Thread & Supply Wubby $49.90 // Boxercraft Adult Super Soft 1/4 Zip Sherpa Pullover $20.00 (all colors available)
Zella Harlow Wrap Hoodie $79.00 // Open Front Jersey Hoodie $29.00
UGG Dakota Bow Slippers $79.90 // LAMO Aussie Women's Moccasin Slippers $45.00
Topshop Long Open Front Cardigan $45.00 // Chunky Twist Knitted Open Front Patch Pocket Long Cardigan Oversized $29.99
'Felicia' Wedge Bootie by Linea Paolo $119.99 // Journee Collection Clara Wedge Sneaker $59.99 – Use code HELLO2019 for %20 off
Free People Kai Henley Tee $68.00 // Womens Waffle Knit Tunic Blouse Tie Knot Henley $20.00
Lucky Perrma Bootie $69.90 // Wendy Cut out Bootie $34.99
Socialite Waffle Knit Duster Cardigan $42.00 // Open Front Thermal Sweater $25.00
BP. Ribbed Knit 20.98 // Womens Cardigans Casual Lightweight Cardigan Sweater with Buttons $12.98
Caslon Seam Tunic $59.00//Alexander + David Oversized Pullover $27.95
Lucky Brand Yabba Wedge Bootie $89.90//Lucky Brand Yenta Wedge Bootie $49.99
Are you shopping the Nordstrom Anniversary Sale? Have you found any look-alike items that are less than the NSale items? Share any good deals you have found!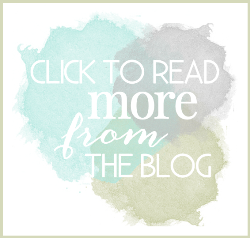 Free Pantry Staples List
Get the FREE Clean Eating Pantry Staples Printable List plus healthy living lifestyle tips from MyLifeWellLoved.com!