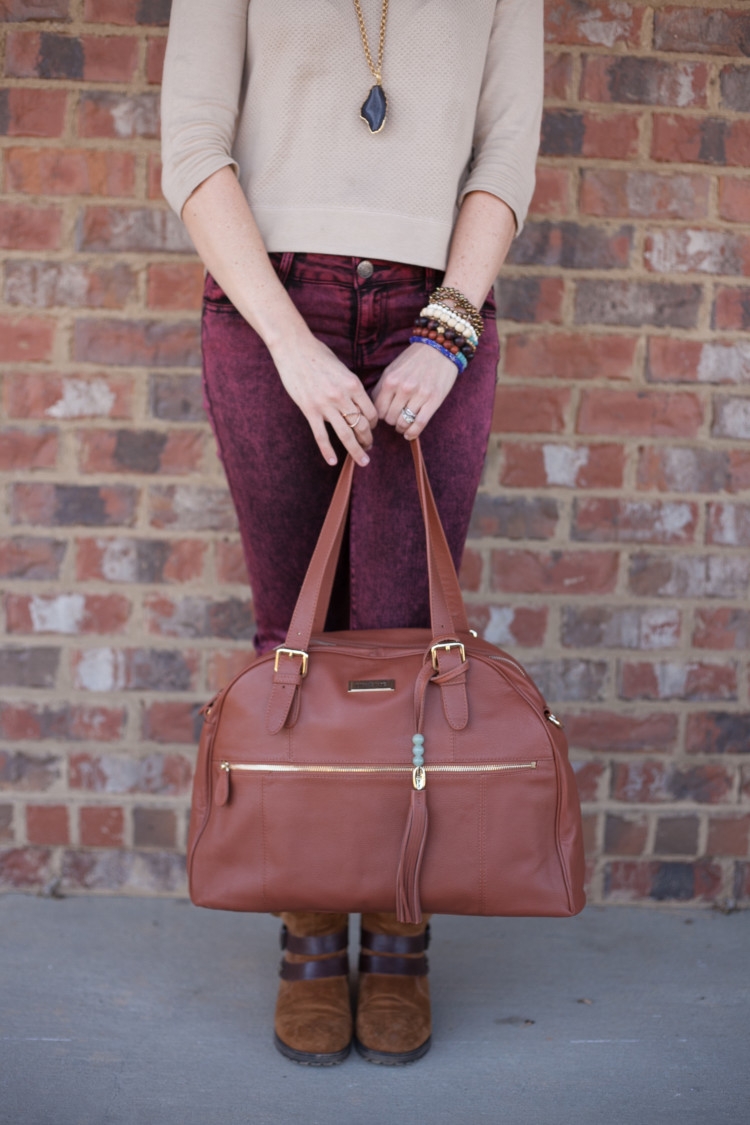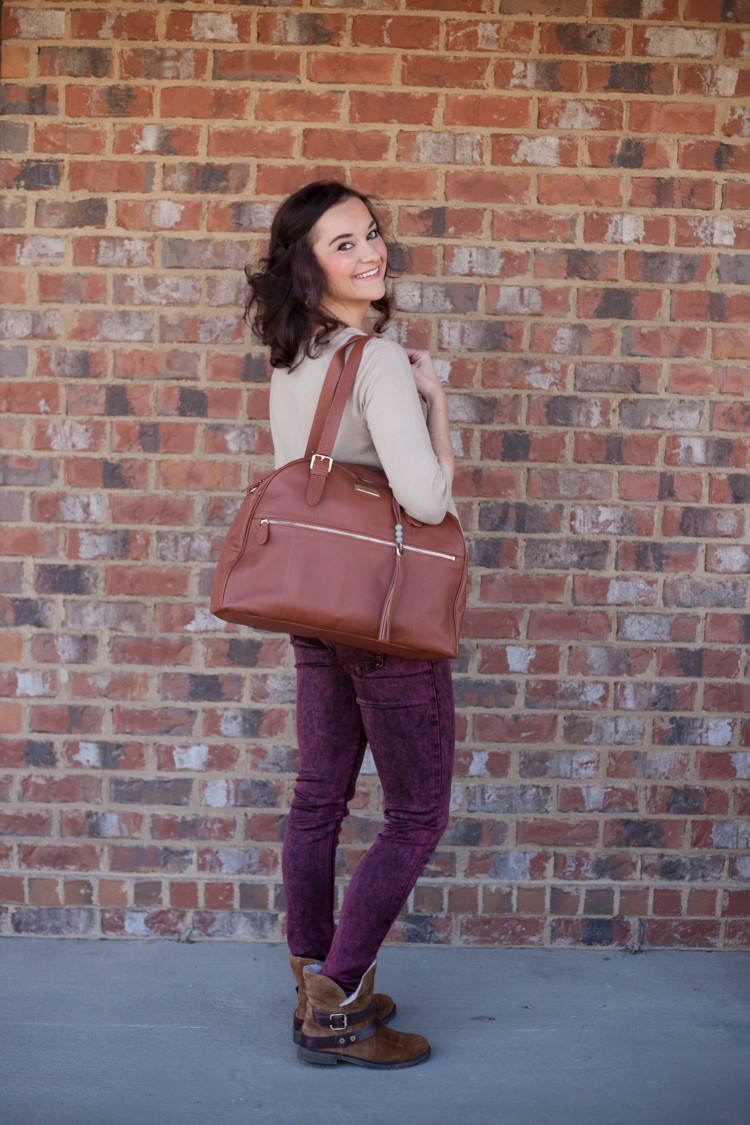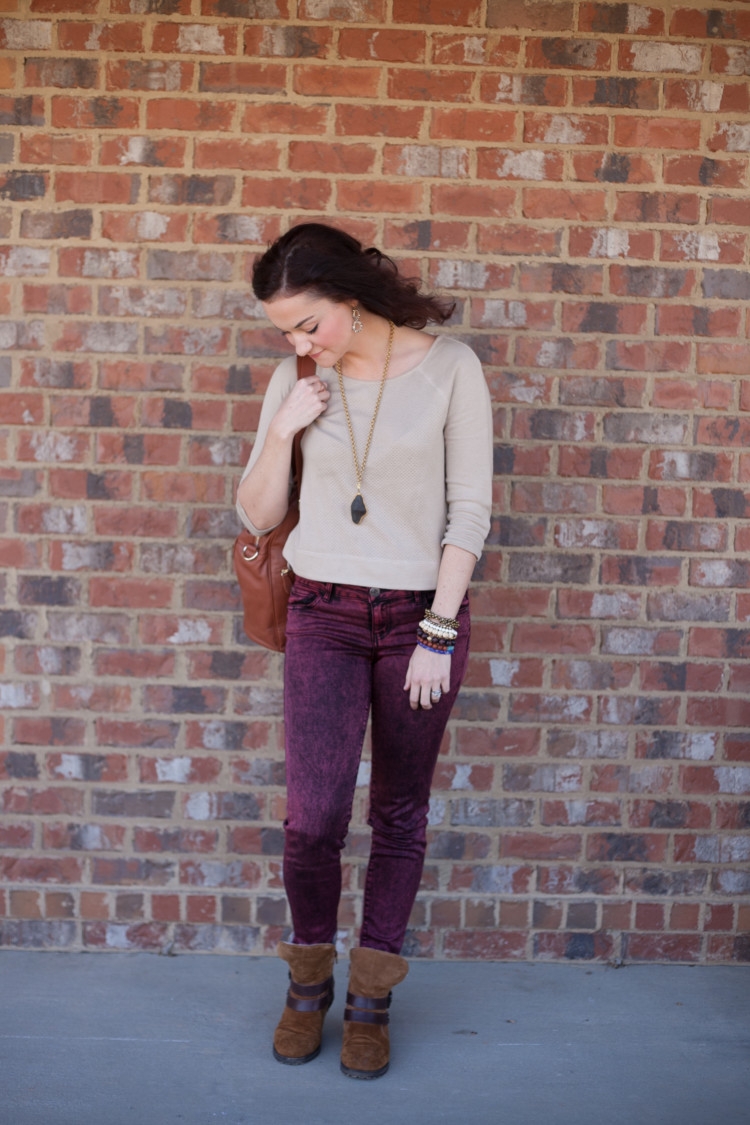 Happy Halloween, you guys! We are literally setting record highs for hot weather in Birmingham this year in October.  It's hard to believe it's fall when you can still lay out by the pool! But, the good news is it's supposed to finally get down into the 50's at night by the end of the week. So, maybe we can all finally break out our sweaters and boots at least for dinner one night. 😉
In the fall and winter this is my mom on the go fall look. I got these crimson pants that are stretchy and oh, so comfortable on a whim online and man, I'm glad I did! I found them for a steal and have worn them way more than I ever thought I would. My one word of caution is to wash them first by themselves and wash before you wear. They did bleed onto some of my suede booties. Anyone have any tips to help me get it out??
I pair these jeans up with lots of neutrals including this tan TIBI sweater I got off of a Facebook trading group. Y'all know I love finding a steal on a quality brand! Since the jeans say a lot on their own, I paired it with lots of neutrals from the sweater to my shoes to my Lily Jade diaper bag!
In case you've never heard of Lily Jade, they make incredible leather diaper bags and this style is so popular that it's sold out right now. BUT, they promise they are getting it back in November. They've even redesigned it recently so that you can wear it as a messenger bag or backpack too! It has a separate red organizational spill-proof section that you can easily take out if baby's not with you to make it a purse as well. I'm a big fan and have been using it since Leyton was about 4 months old.
Photos: Casey Marie Photography
Shop the Look: Cropped Sweater: TIBI // Jeans: Celebrity Pink // Shoes: Naturalizer // Diaper Bag/Purse: Lily Jade // Necklace: Clare Mills // Bracelets: Assorted // Earrings: SOCA
And since it is Halloween, I've thrown in a few last minute Halloween ideas below and via the links!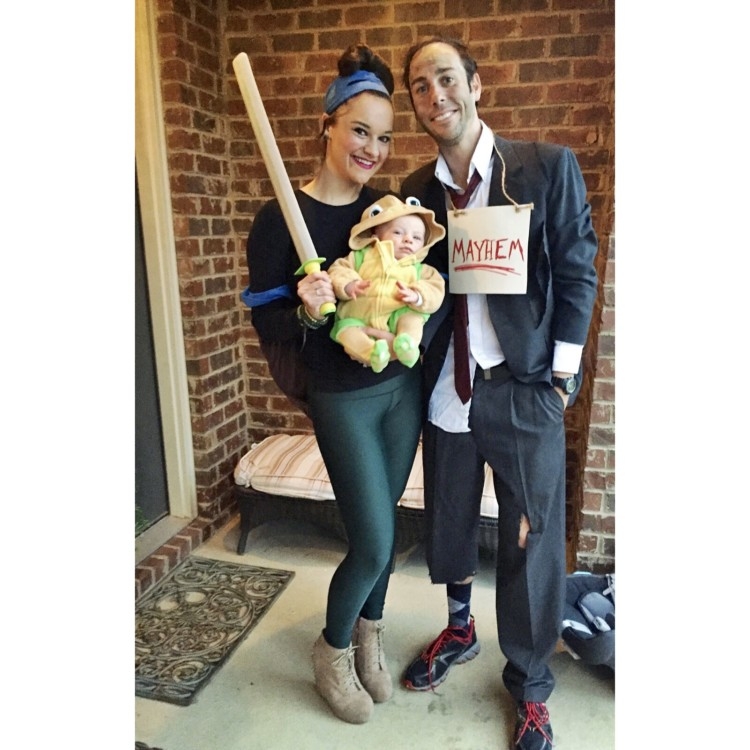 Last year we were a baby turtle (Leyton was only 2 months old!), I was a Teenage Mutant Ninja Turtle and Eric was Mayhem from Allstate Insurance. I've got more DIY Halloween Costume Ideas from Rosie the Riveter to Where's Wenda if you're a last minute planner like me!
This year, Leyton will be a little doctor in scrubs and I'll be his nurse while Eric will be the NP. We had a murder mystery party I posted about on Instagram & Snapchat (@mylifewellloved) that you may have seen on Friday night that was so much fun!
Our neighborhood takes Halloween pretty seriously, so on Saturday night we drove through the neighborhood looking at all the decor and then tomorrow night we'll pass out candy for a bit before heading to a neighbors house to hang out. It has been such a fun Halloween weekend and we hope yours has been the same.
What are you or your kids dressing up as for Halloween?
Heather Brown helps busy mamas of young littles who are caught in the hustle to find encouragement in their journey to true health, from the inside out, starting with the heart. Read her journey of learning to live a life well-loved
HERE!