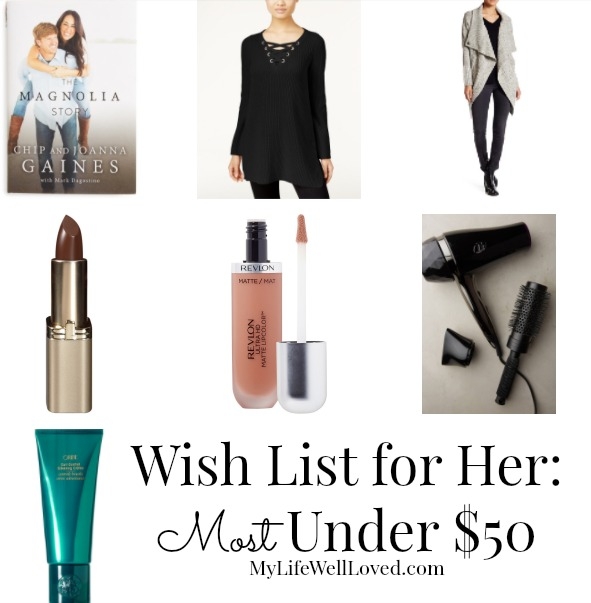 I can't believe it's my birthday month! And, yes, I'm totally one of those people who love to celebrate all month long. You aren't really surprised are you? 😉 It's also my blogiversary month so that means I'm celebrating 3 years of MyLifeWellLoved.com!
My family always asks me to make a birthday wish list so I figured I'd share it here on the blog so some of you can scope it out and see if you may just want to email it over to your husband as a hint for Christmas! Eric and I typically do experience gifts like a trip, concert, or a nice dinner out and then just get each other a little something to open on our birthdays. Honestly, I think there are many more good things I've thought of over the past few months off and on that I can't recall right now so PLEASE HELP! What do you love or have on your wish list? Please let me know in the comments below.
Don't worry though, between now and Christmas I'm sure I will scout out tons more gift ideas for you, so stay tuned! You can shop my birthday wish list…(most picks UNDER $50) by clicking the photos below or the links underneath. (affiliate links)
Birthday Wish List:
Dry Bar Blow Dryer, Dyson Hair Dryer or T3 Hair Dryer: I don't know that I could ever bring myself to spend this kind of money on a hair dryer myself but if it was a gift… And any recommendations for efficient, quick, light, blow dryers to break up my tight curls without becoming a frizz ball? Which one of these or other blow dryers are your favorites?
The Magnolia Story: America's favorite couple…intrigued to hear more about their story and their faith.
Lace Up Top: I really like this lace up top and it's so on trend this fall and winter.
Cardigan: This cardigan is a steal at that price and I like the structure!
Kat Von D Tattoo Eyeliner: People say this one doesn't budge. I'd like to test that out for myself. I don't know if it's because I work out most days, my skin is oily or my eyes water too much but my eyeliner almost always runs!
Nude Lip Color: I've heard good things about L'Oréal Colour Riche Lipcolour in Fairest Nude, and Revlon Ultra HD Matte in Seduction.
Oribe Curl Control Silkening Cream: Honestly if it smells as good and I like it as much as my Oribe dry texturizing shampoo, then YES! Bring it on. Thinking maybe I should try a sample first?
Gift Cards: I never turn down gift cards for date night and coffee shops where I like to have meetings or Target or Home Goods for that matter!
A Magic Fairy to Decorate my House: Seriously, can someone please go scour At Home, Home Goods, Target and all the other home stores every day until they perfectly complete my house for me? HA! It's so hard between work, blogging, being a mommy, wife, friend, church events, and keeping up with Leyton's naps to scour the aisles and sites for the perfect items for my home.
What's on your Christmas or birthday wish list this year?
Heather Brown helps busy mamas of young littles who are caught in the hustle to find encouragement in their journey to true health, from the inside out, starting with the heart. Read her journey of learning to live a life well-loved
HERE!