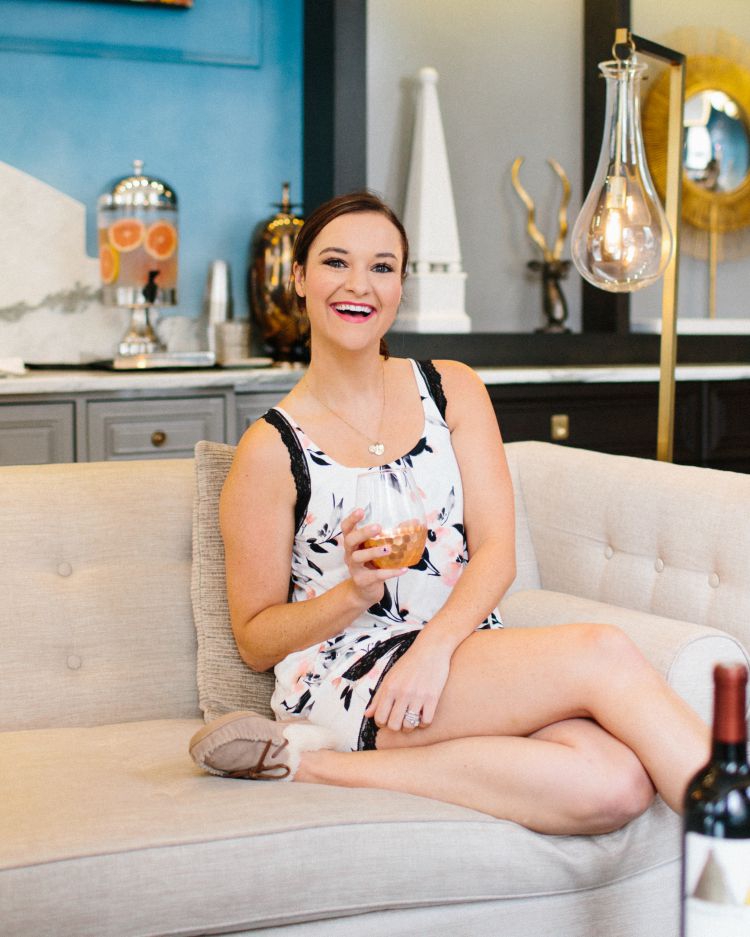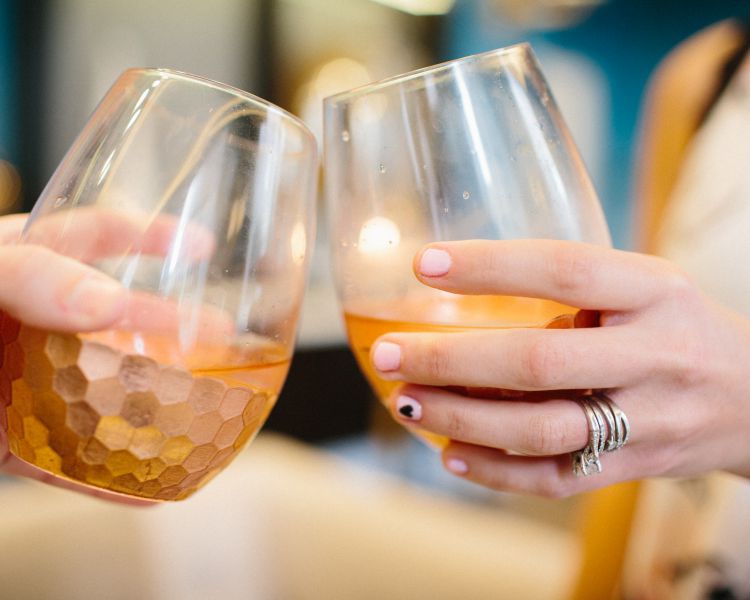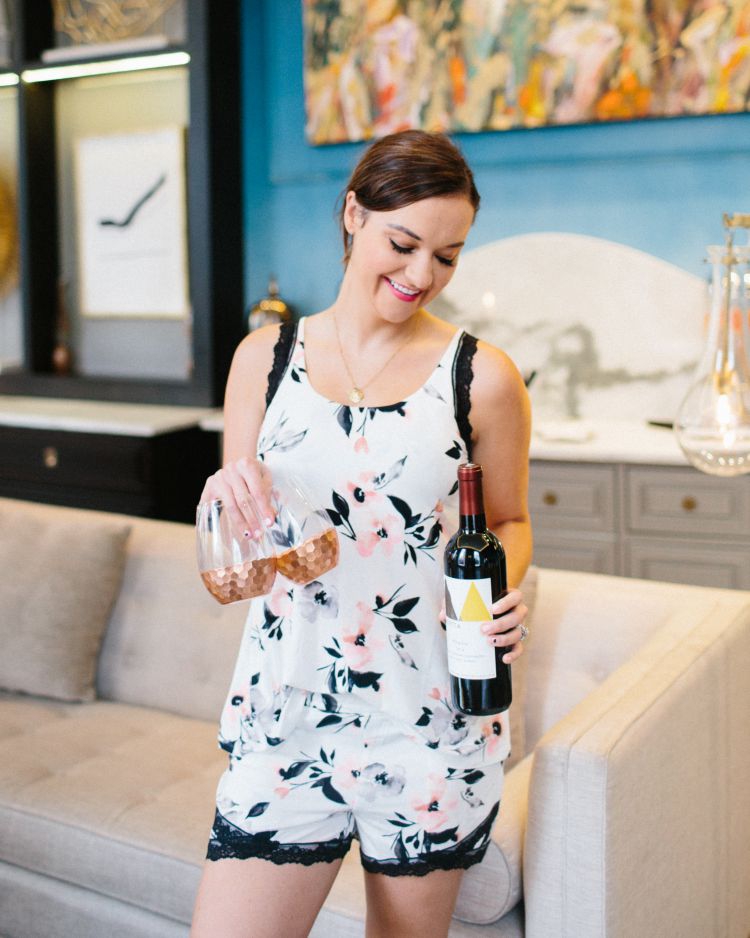 Shop the Galentine's / Importance of Female Friendships Photos – Pajamas // Slippers // Wine Glasses
Photos: Rachel and Noah Photography
This post is in partnership with Soma. 
I cannot tell you how much fun I had reading your responses you sent in for how to make time to invest in friendships and what your favorite "girls night" activities are. So many of you mentioned checking in with a simple text on a weekly or daily basis, mailing "thinking of you" cards, sending a little pick-me-up, or asking how you can pray for them. Reading these responses reminded me of how amazing the women in this community truly are – y'all are loving your friends well and amidst being busy and tired, you are reaching out, checking in on them, and being present in their lives. I feel so encouraged and equally convicted. There are always areas of improvement and your responses have compelled me to think inwardly about each friend in my life and what I am contributing to our friendship and how I am investing in their lives.
On the other hand, there were some responses expressing the struggle for finding quality friendships. Whether you have tried investing and received nothing in return or have been hurt by friends in your life, I want you to know that I see you and I hurt for you. I am blessed to be living in a city where I grew up and went to college and have friendships easily accessible. Yet, the struggle can still be there to find others in the same season of life to walk with you through it. I cannot imagine moving to an unfamiliar city and having to start all over. If this is you, I wrote a post last year about my 7 tips for finding new mom friends. Please know I am here for you and that there is an Ultimate Friend who will never disappoint and will always be a source of comfort, security, encouragement, and a listening ear.
***Be sure to scroll through to the bottom of this post to see some of the tips and ideas you guys sent as well as Valentine's Day gift ideas to add to your wishlist or to gift a friend!
Planning your Galentine's Night In: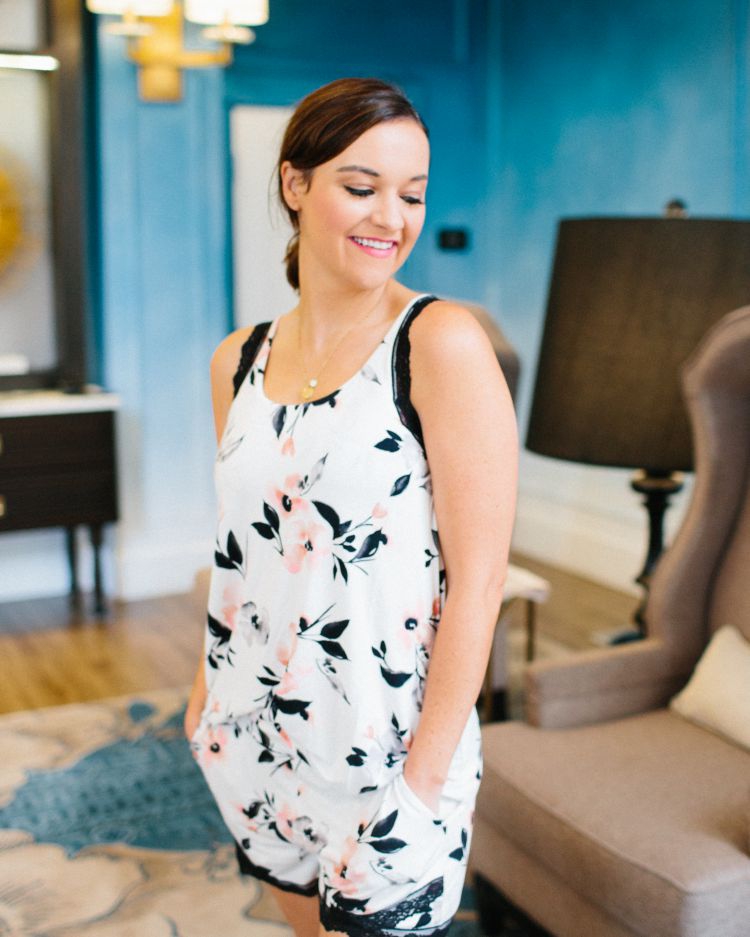 By a landslide, the most popular answer for your go-to girls night was pajamas and wine. I knew y'all were my kind of people all along!! There is something so simple about being able to get in pajamas and be comfy, while also enjoying good wine and good company without the distraction of kids, spouses, and work. I can agree that this is one of my favorite ways to hang out with my girlfriends.
If you are planning a Galentine's get-together for Valentine's Day, I think the easiest and BEST gift idea to surprise your girlfriends with are these Soma Pajamas! I went with the short set this time and I love them just as much as my long pajama sets I have from Soma. I am excited to have these for the hot nights in Birmingham throughout the spring and summer. If you are wanting more Valentine's-themed pajamas, they have so many to choose from HERE! You have all heard me rave about Soma Pajamas and I really do think they are the best gift for anyone on your list, especially a girlfriend on Valentine's Day! I also recently received the Soma Vanishing Edge Panties. They were the #1 most recommended panty option to wear with leggings! After trying them out for myself, I can attest to the magic!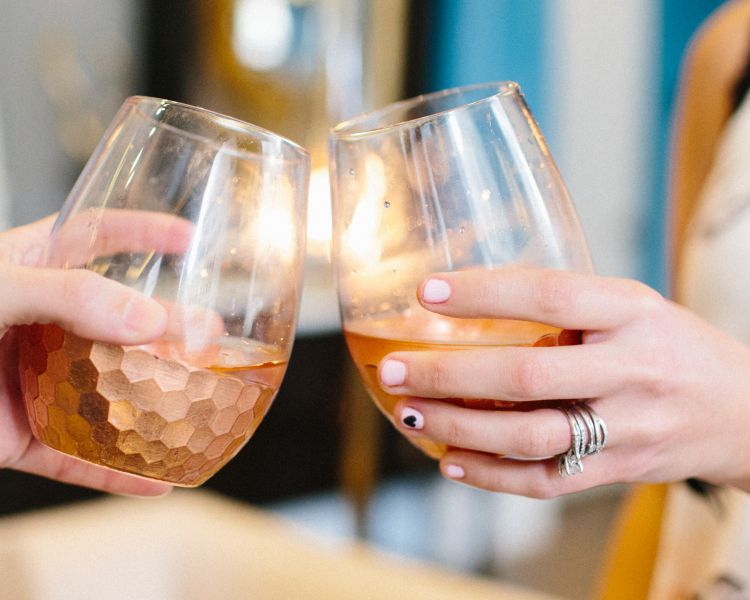 For your Galentine's get together, you can easily keep things simple by grabbing your favorite wine, the MLWL favorite Trader Joe's Goat Wine, or ask everyone to bring their favorite bottle. If you are looking for fun and festive wine glasses, my gold hammered stemless glasses are HERE on Amazon with free Prime Shipping! If you are thinking about food to pair with your wine, my recommendation is to keep it simple! A simple charcuterie board would be perfect, appetizers, or go for the sugar with a dessert table! Ultimately, the goal here is to just be together and enjoy each other's company!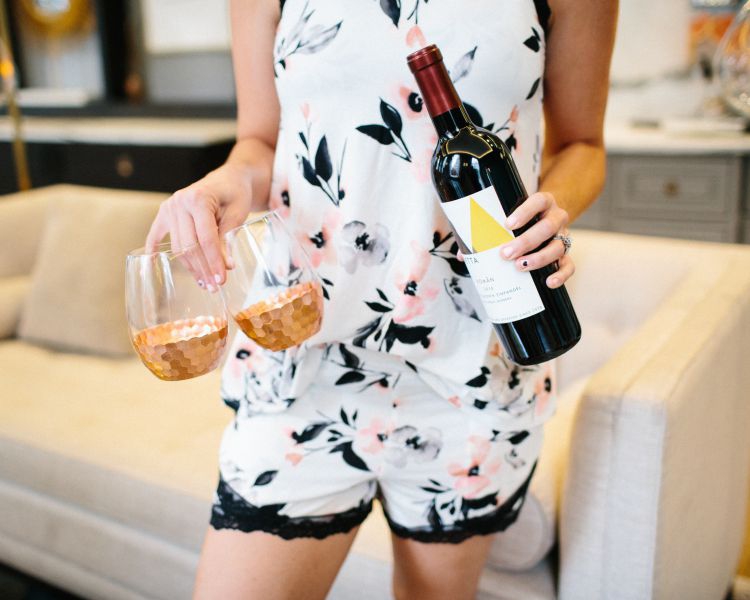 If you want to level up your girls' night, my neighborhood friends love to all bring our favorite scrub, nail polish, face mask, etc and all hang out in the bathroom for the second half of the night (after we've polished off the snacks of course, ha!) doing the things for ourselves that we as moms struggle to find time to do. We'll run an epsom salt bath and all sit around the tub edge, putting our feet in and even grab something to exfoliate our feet while we each rock different masks, de-puffing eye strips or teeth whiteners. It's really fun to try everyone's favorite masks and such to test out a variety of products.
Importance of Female Friendships: How to Make Time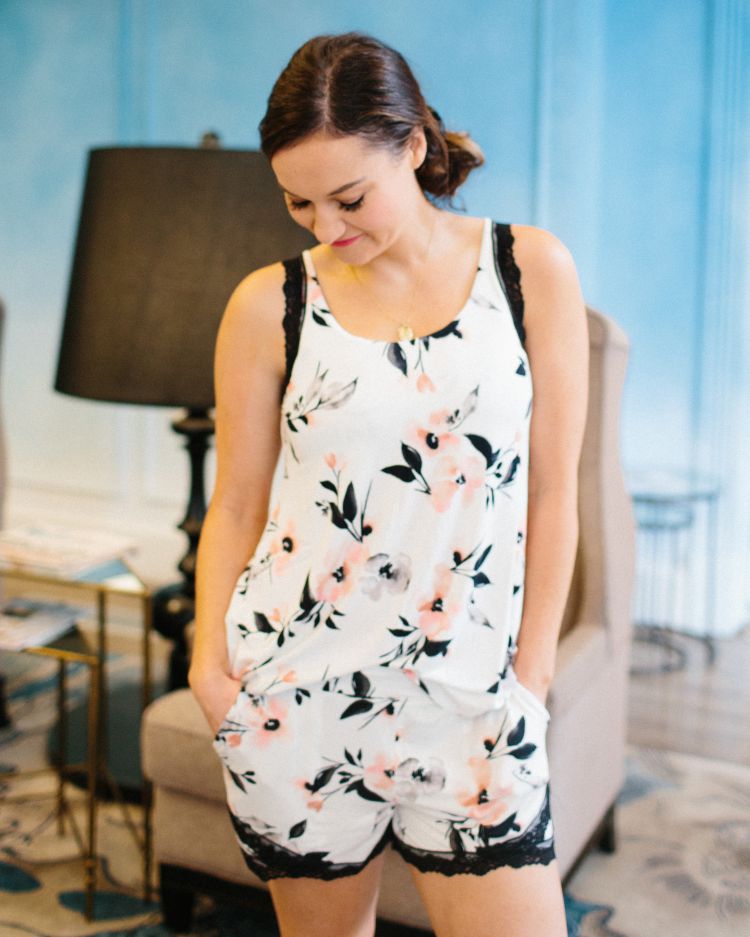 I loved all your advice on how you make the time to invest in your friendships! One of my favorite responses that speaks an abundance of truth to me is this:
"Most importantly, I pray and ask God who I'm supposed to invest in for every season so I have clarity and don't feel guilty that I can't invest in everyone. Momming is a lot and keeping up with friends is a sacrifice so I always want to make sure I'm choosing who God has for my life and my family because otherwise I'll burn out and isolate myself." – @_christina.jones
Schedule it. Period. – @kdoornbos
Lunch or coffee dates when possible. Little "thinking of you cards", friend gifts and texts. – @kjeansonne108
Find friends who accept, not expect. Little messages when you're thinking of them. – @ginginswim

This is so good! Life happens and sometimes it can be hard having a friend who expects too much from you. It almost becomes more draining than fulfilling. Having a healthy boundary and finding a friend who understands your busy lifestyle and prior commitments while still pursuing your friendship and time together is so important!

A lot of texting. Lunch/mani/pedi. And I just did a BFF spa day and hotel stay. – @thisaveragemom
Small groups, Mom/baby dates, Marco Polo app – @courtneypetkovich
Make it a goal of having at least one kid free event per month. – @anastasiaj0723
Check in. Set some time aside to do it. – @mrs_gorrity
Use a calendar whether it's a phone call once a week or an a occasional lunch/coffee date. -@itsmrsruiznow
Surprise pick me ups. Little gifts in the mail, e-gift cards, remind them you're there. – @jadelwagner
Small group once a week. 8 of my best friends and girls weekend/staycation 1-2x a year. – @jordankbowling
Food. Cook it,

 

share, eat, or if they're sick bring tissues and ginger ale. – @sierraertle
Quality over quantity. Make date nights with girlfriends a priority too. – @juliecaldiera

Quality over quantity. Such good truth!

Send an occasional message letting them know I love them. Call every couple weeks. – @dlizziebeth
Just be present when you do have time. – @klyon2713

I love this one. Because it is hard to make time, being "all in" when you do get time together is crucial!

Texting, fellowshipping while our kids are playing, bible study at church. CFA. – @susieq_hughes
I invite friends and their kids to do what we would already be doing. Lunch, park, walk. @_christina.jones

Yes! Integrate friendships into your everyday life! It doesn't always have to be time set aside from your kids, even though that is sometimes ideal!

Send birthday cards, play dates, pray for each other, encourage each other. – @mrstoombs89
Make it a point to always say yes to connection without kids. – @_christina.jones
Plan something at least once a month, even if it's in pjs. -@saratlawrence
Take advantage of my time nursing and send texts to reach out and check in. – @kelleygamble

This is a good one! Sometimes I just want to "check out" during that nursing time but it is such a great opportunity to send texts to friends. 

Plan family trips together so us mommas can hang out as well as the hubs and littles. – @glorinamor
Well since my babies are still small I can't talk to them in the car so I'm always calling friends. – @daniellesdarlings
Cardio with friends; find ways to do things I need to do. – @hayleybgarth
I schedule phone/play dates. I think about my friends and what I can do to connect. – @jenderosse
Make it simple and short sometimes. Just drinks. Coffee dates. – @rhodymomof2
This sounds so stupid but my friends and I have a snapchat thread we talk on almost daily. – @mamablessedbygrace

NOT STUPID! Girl, whatever works for you and your friends is amazing! I love this!

Including friends in my to-dos. For example if I need to workout so I'll invite friends to join. – @kaitbanderson
Make it a priority. I have a group of gals I meet with every Monday. – @alainaepruitt

Love how consistent your get togethers are! I bet you look forward to this time each week!
Importance of Female Friendships: Girls Night Ideas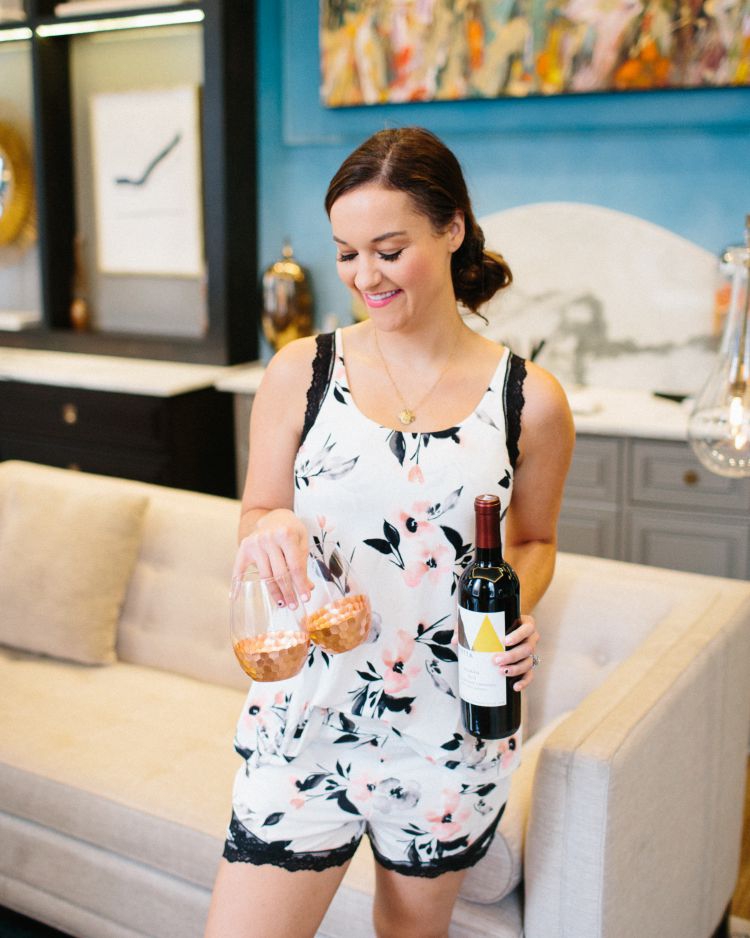 As I mentioned above, pjs + wine was the top girls night! Another very popular response was Mexican food and margaritas – a favorite girls night of mine too! There were several ideas I hadn't thought of including games I've never heard of before, classes to take with friends, and even a cute fondue idea. Y'all are always so creative! One thing that had me literally laughing out loud, was how many of you said "sleep" or "napping". I am dying thinking about how many momma friends I have that would love to come over to quiet house and just take a nap! I hope you enjoy reading these ideas and find them helpful for your future girls night!
Get together and talk, eat or go bowling. – @steph_mcelmurray1
A workout. Walk in the park. Helping one another with a 2 person task. – @kdoornbos

I love this one! Many of you know I invite friends to come on walks with my friends or meet us at the park with our kiddos. Such a great way to maximize time!

Wine. Cheese. Puzzle. – @leashipeashi
Mexican and margs. – @kjeansonne108
Cocktails. Dinner. Spa. – @sarahherring13
Bunco! – @amberchandara

I LOVE getting together with my girlfriends and having a Bunco night! 

Go for drinks or a pj and wine night. – @jensirko
Ladies worship night. – @courtneypetkovich

I love this idea! If this is something your church hosts, it would be a great way to "escape" from the monotony of everyday life but also be with your girlfriends!

Happy hour or yummy tasting menu at a restaurant. – @anatasiaj0723
Shopping and food! – @lauraemilyjep
We've been really into the sur la table cooking classes lately. – @pjk196
Anywhere – away from kids and hubs! – @jenlynnelson
Mom walks and baby gym class were how I connected and I still have those friends 20 years later!! – @olybells
Game night. Usual fav is Rummikub. – @amyboggs6
Food. No babies = no sharing. – @a_bertriley
Pajamas, wine, my besties, music, dance parties. – @yourhotmessmama
Bake + bible study. – @cebrittain
Not always possible but a trivia night at a local bar/restaurant. – @mrsnuckles
Bachelor viewing party on Mondays and dinner or pedis. – @a_rachunok

Love the consistency of this with Bachelor Mondays! Such a fun way to incorporate friendships into every week!

Go out to eat, get together and watch tv/order takeout, cookie kits and decorate cookies. – @tjhsweatt45
Sleep. – @susieq_hughes

Dying laughing thinking about how so many of my mommy friends would love to just come over and nap HAHA! 

Movie and dinner or concert. – @mrstoombs89
Out to eat and losing track of time. Catching up. Or just hanging out at the house for dessert. – @mmiee1113
New fav – craft night. – @rhodymomof2
Sleep…or manis/pedis. – @kaitbanderson
Out to dinner, talk and eat with no interruptions and no clean up! – @carly_wilkes
We have a fondue group, 7 ppl, each brings different dipper/wine. – @emdoeshomes

Such a fabulous idea! I love this idea and might have to steal it for my next girls night!

Pajama night watching the Bachelor, wine, painting class, or out dancing. – @ktchap21
PJ's and movie. – @thrivinginmotherhood
Comedy club. – @mssam0305
Galentine's Day Wishlist:

Pin the Importance of Female Friendships Post for Later!