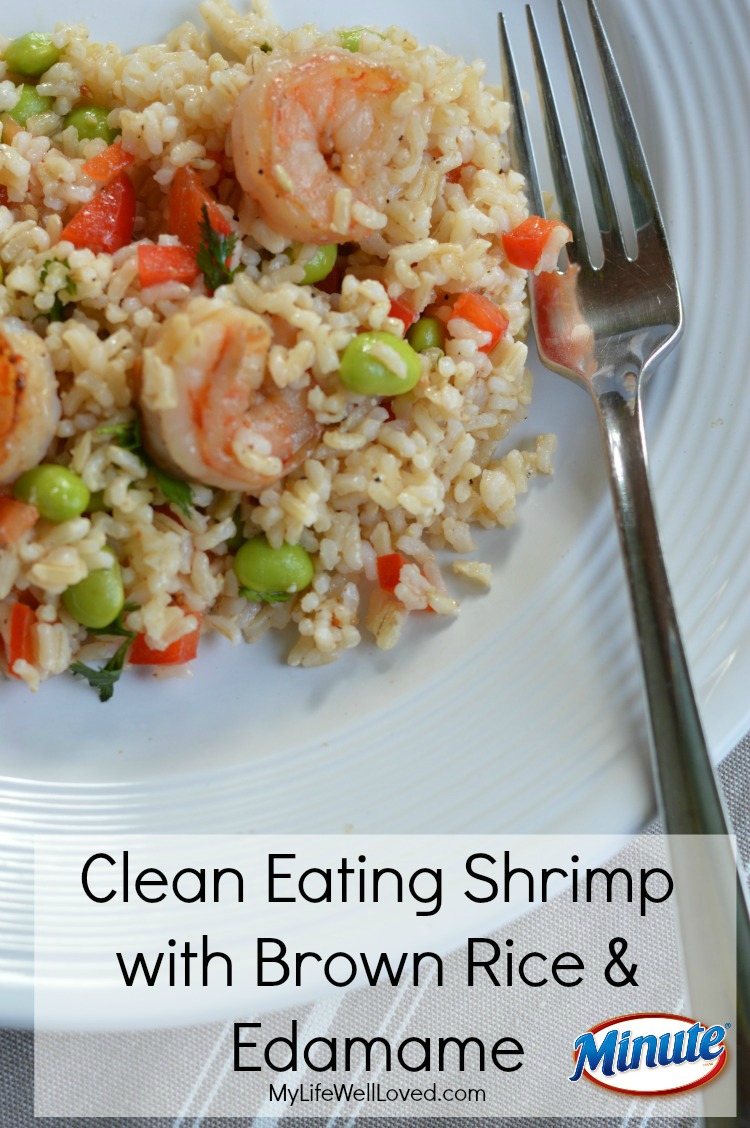 After our Ireland travels and eating bread and potatoes with every meal, I was ready for something fresh and light to have on hand this week! This Clean Eating Shrimp and Edamame Brown Rice is exactly what I needed! I've removed bread and sweets from my meal plan this week in order to reset my cravings and get back on the right track. While the potatoes in every way shape and form you can imagine (fries, baked potato, smashed potatoes, sweet potato fries, mashed potatoes and the list goes on…) was delightful, I am over it for now. 😉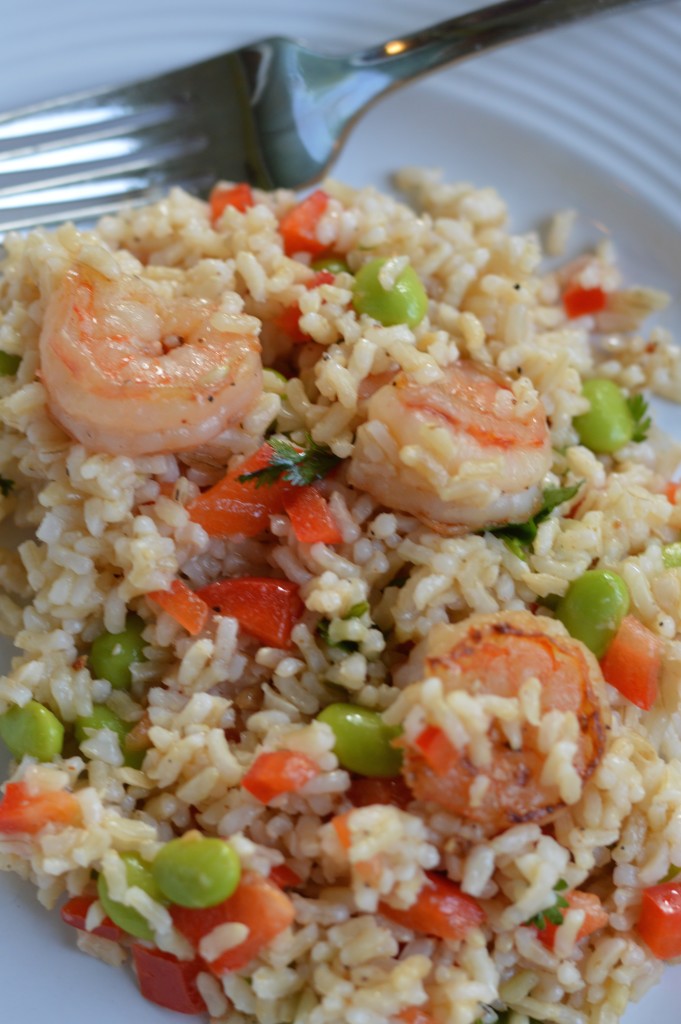 Since spring and summer evoke feelings of wanting lighter, quicker meals, I created this recipe with Eric to give us a frugal and refreshing meal for our post-Ireland return to normal eating. I'm hoping you'll find it just as delightful! This is a great recipe to enjoy after enjoying the longer summer sunshine days. We used Minute® Rice to help us achieve an easy to prepare meal. The great thing about Minute® Rice is it's a pantry staple in our home so we already had it on hand. When mealtime seems like a hassle, Minute® Rice is a go-to ingredient we love to help us get dinner on the table quickly and efficiently.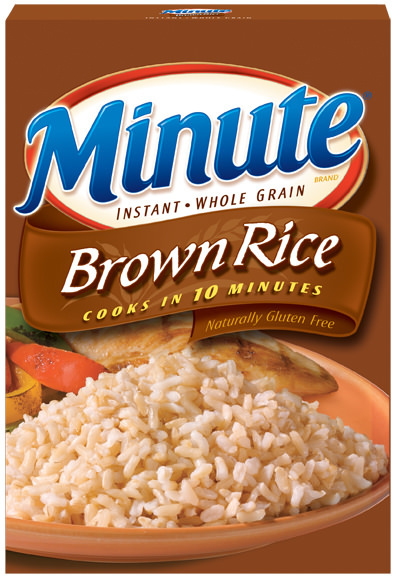 We cooked this meal on Monday night so that we could utilize it for dinner after I got home from Pure Barre and also for lunch other days during the week. I enjoyed it served chilled and warm, while Eric preferred it chilled. We noticed it was even better the next day after all the flavors had time to settle in.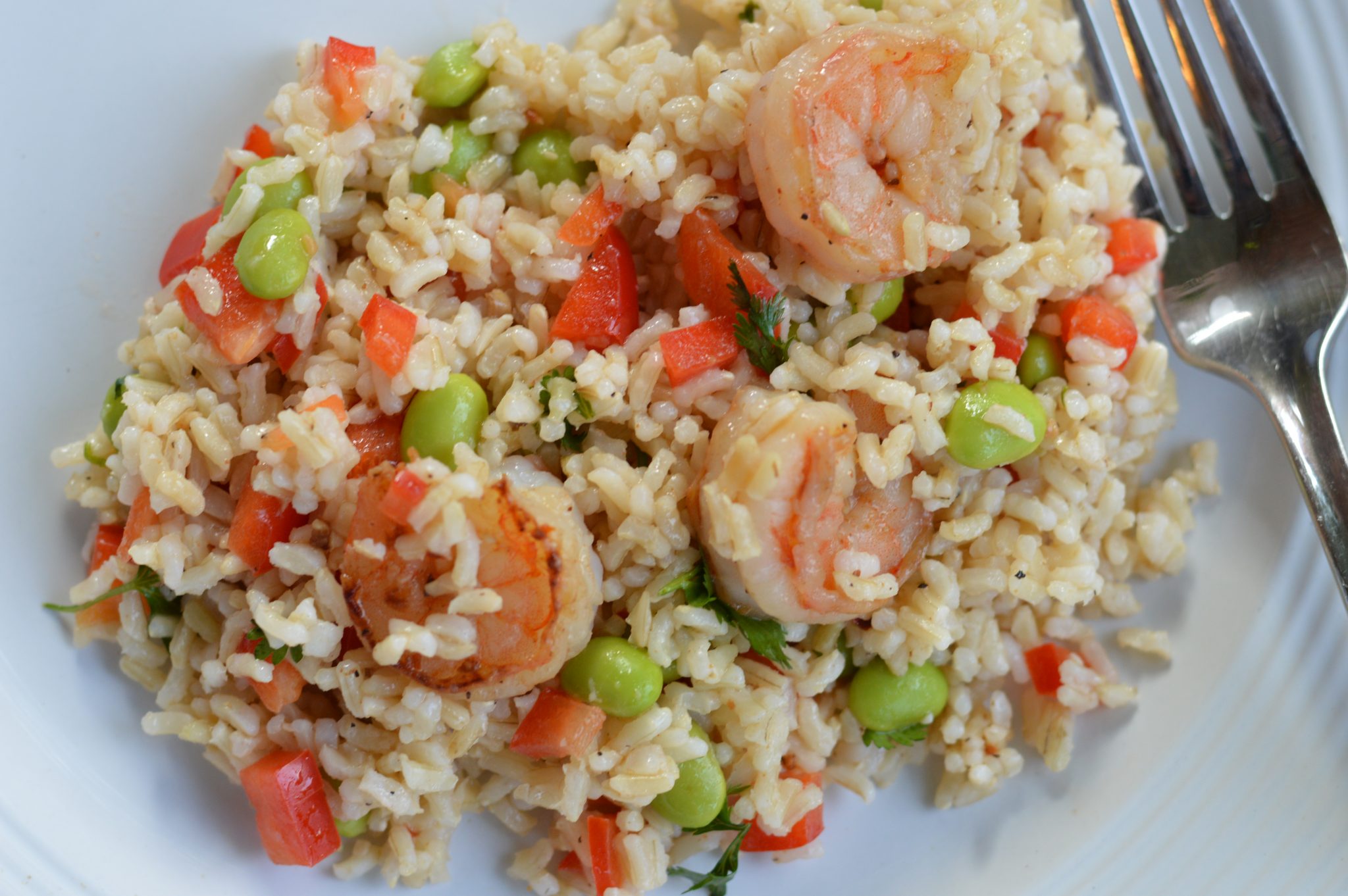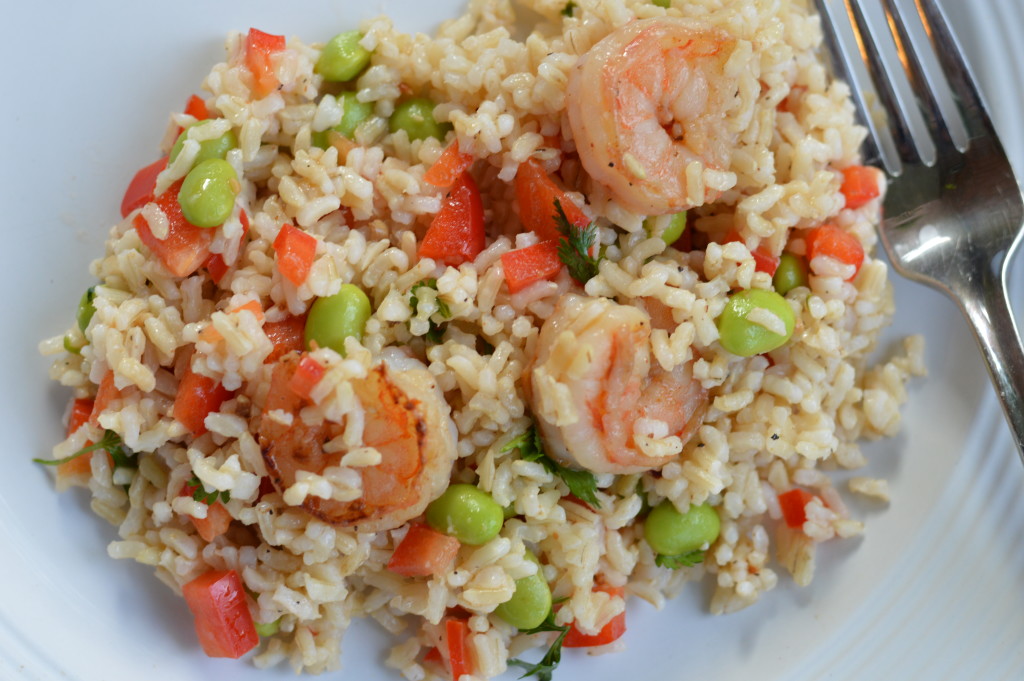 I loved the fresh taste of the spices, honey, edamame and cilantro all perfectly blended in seamless summer taste bud harmony! The red pepper gave it some nice color and texture to boot. We picked up frozen shrimp that was marked down but initially we planned on fresh shrimp so it's up to you and your preferences but you could also substitute in chicken easily as well!

Clean Eating Shrimp and Edamame Brown Rice
Ingredients
2 cups cooked brown Minute rice
1 red pepper
½ cup shelled edamame
6 oz raw shrimp
about a teaspoon of minced garlic, divided
⅛ teaspoon red pepper flakes
¼ teaspoon sea salt, divided
1 teaspoon lemon juice
1 teaspoon chopped cilantro
olive oil
½ teaspoon honey
⅛ teaspoon black pepper
Instructions
In a bowl, combine 2 cups cooked brown rice with 1 chopped red bell pepper and ½ cup shelled edamame.
Set aside.
In a small bowl, toss 6 oz shrimp with ⅛ t minced garlic, ⅛ t red pepper flakes, and ⅛ t sea salt.
In a small skillet, heat olive oil over medium heat. Add shrimp and saute until cooked through.
Add shrimp to brown rice mixture.
Whisk together 1 t lemon juice, 1 t chopped cilantro, 1 t olive oil, ½ t honey, ½ t minced garlic, ⅛ t salt, and ⅛ t black pepper.
Toss with shrimp and rice.
I'm very thankful to Minute® Rice for sponsoring this post. Make sure you enter to win a KitchenAid mixer via the rafflecopter below and check out
Minute® Rice
 next time you need a quick, healthy meal time solution.