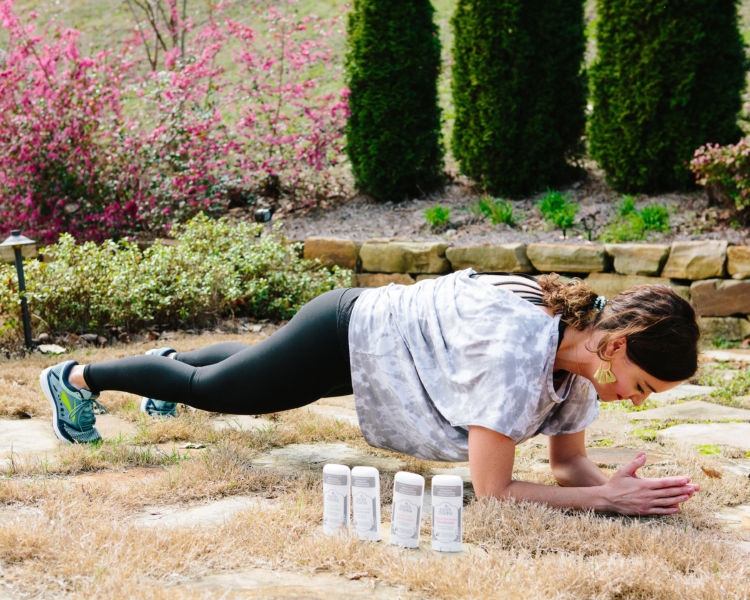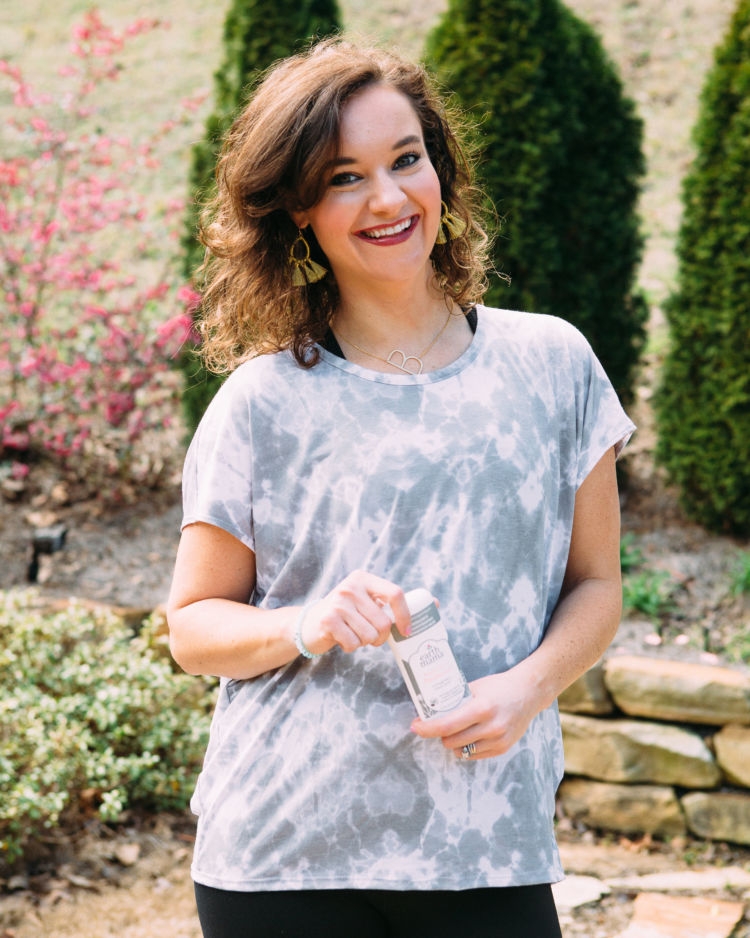 SHOP THE BEST NATURAL DEODORANTS POST: Natural Deodorant // Mask to Detox Armpits // Onzie Gray and White Dropback Shirt //  Leggings // Shoes // Necklace // Earrings
Thank you to Earth Mama for partnering with me on this post. 
Photos: Iron City Photo
---
I have tried to use all-natural deodorant before and failed. I just didn't think it could work for me because I felt like every time I used it, I stunk. And in case you haven't noticed, people don't like it when you walk around stinking. 😉
I had always heard that it was better to use natural deodorant due to cancer concerns amongst other things, but thought that my body for whatever reason just wouldn't let me use it. To read more about why using a natural deodorant is best, go HERE to see the full breakdown.
As a Pure Barre teacher, fitness enthusiast (don't forget to finish your plank challenge with me this week!), and sometimes stressed out mama (we all know stress sweat is the WORST kind), I can't afford for my deodorant not to work. So, when I found out recently that the reason natural deodorant may not have worked for me in the past was because I had not detoxed my armpits first, I was intrigued.
There are two basic methods I've heard of to detox your armpits. Below I've laid them out for you, and I of course tested out the simpler method of the two!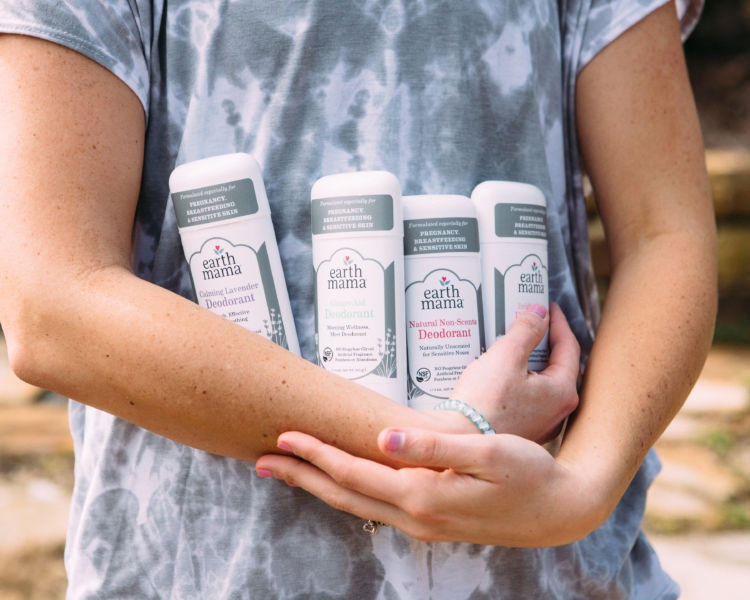 Shop the ONZIE dropback shirt
How to Detoxify Your Armpits Before Switching to the Best Natural Deodorant:
Use ONLY natural deodorant! I know this is hard because inevitably you'll be at the gym and want to throw on whatever they have, but you have to resist. This allows your body to adjust to only using natural deodorants. It varies from person to person how long this may take to work but I feel like after about 2 weeks unless I did a REALLY sweaty workout, my deodorant held up as well as my old kinds.
Detox with a Clay Mask: This is the more intense and immediate detox process. I've heard great results from it, so I think since I've been wanting to try this clay mask (that's on Amazon for under $10), on my face anyway this may be the time to buy it!
You can buy this clay mask for under $10 to detox your arm pits. 
If you follow me on Instagram stories, you've seen my journey along the way as I started using natural deodorant and when I started the whole detox process and then hearing your feedback on the best natural deodorant. I'm here to tell you that you guys have a LOT of opinions on this. My Instagram inbox was flooded with brands to try, ideas about what had bothered you in the past, etc.
One thing that I learned was that a lot of you have tried to find the best natural deodorant as well and have found your holy grail deodorant, which I'm so glad for you about! Several of you would RAVE about a product and then 3 messages later someone else would talk about how that same brand made them break out. Some of you found out that you are allergic to baking soda which is in a lot of natural deodorants. So, I definitely think that you need to try lots of these deodorants to find the best natural deodorant for YOUR body.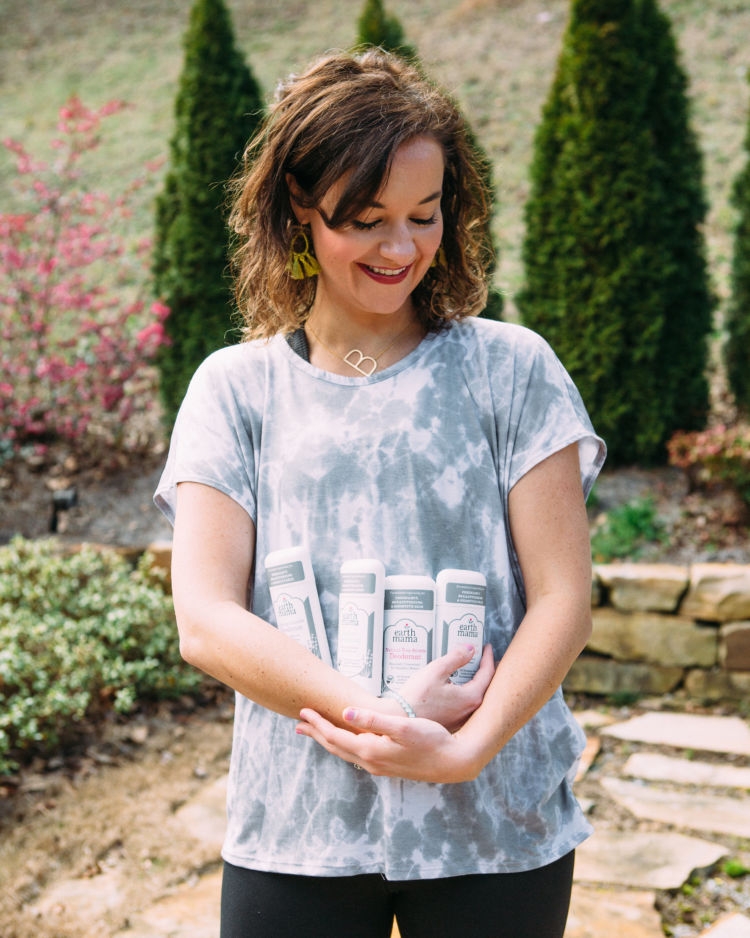 I have tried several over the years and my current favorite is earth mama's organic, natural deodorant. Don't get me wrong, part of the reason I fell in love was because of this ADORABLE little mini deodorant set. Not only is it super cute because they're travel sized deodorants, but these mini natural deodorants are super practical because I can keep one at my desk, one in my car, one at Pure Barre and one in my purse.
That way no matter where I go or what I'm doing I have a natural deodorant to reapply instead of using another one that isn't natural and will set me back into my stink zone. Earth Mama deodorants are the first deodorants formulated for pregnancy, breastfeeding and sensitive skin so I was super excited when they reached out to let me try theirs.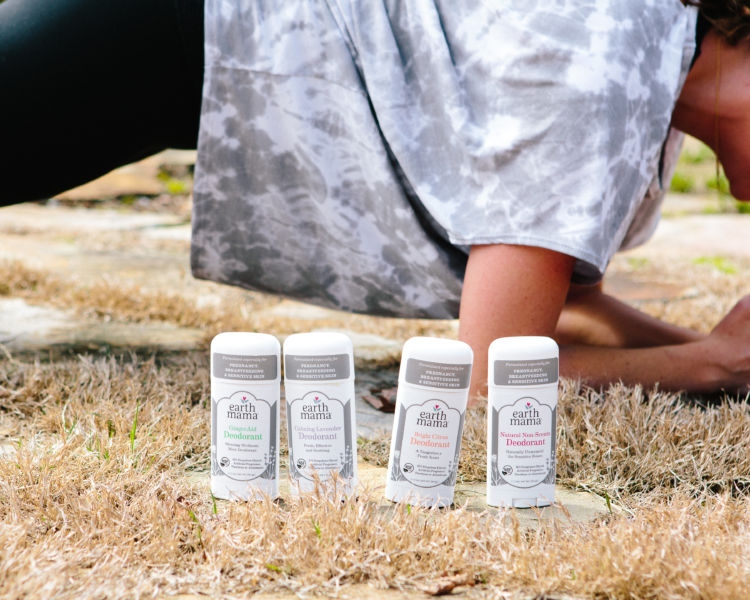 Their scents include Ginger-Aid, Calming Lavender, Bright Citrus and Naturally non-scented. These deodorants are naturally scented with organic essential oils and do not contain propylene glycol, parabens, aluminum, or any form of fragrance (artificial, natural, or botanical), an ingredient which can hide thousands of potentially harmful chemicals.
My favorites are the calming lavender and the bright citrus. I'd love to hear your experience with natural deodorants below in a comment. Let me know your best natural deodorant story and how you found it and what worked for you!
PS ATTENTION FIRST TRIMESTER MAMAS: Earth

 

Mama

 is currently seeking a few 

expressive, social media savvy 

mamas

 in their first trimester

 who are looking for organic, natural and safe products to use throughout their pregnancy.  

Earth

 

Mama

 would love to support each and every one of these new mother's pregnancy by providing a year's supply of every 

Earth 

Mama

 product, as well as welcome goodies for the new baby and breastfeeding journey.

 

More details and specific directions can be found here: 

http://

earthmama

.link/EarthMamas-BumpSquad

.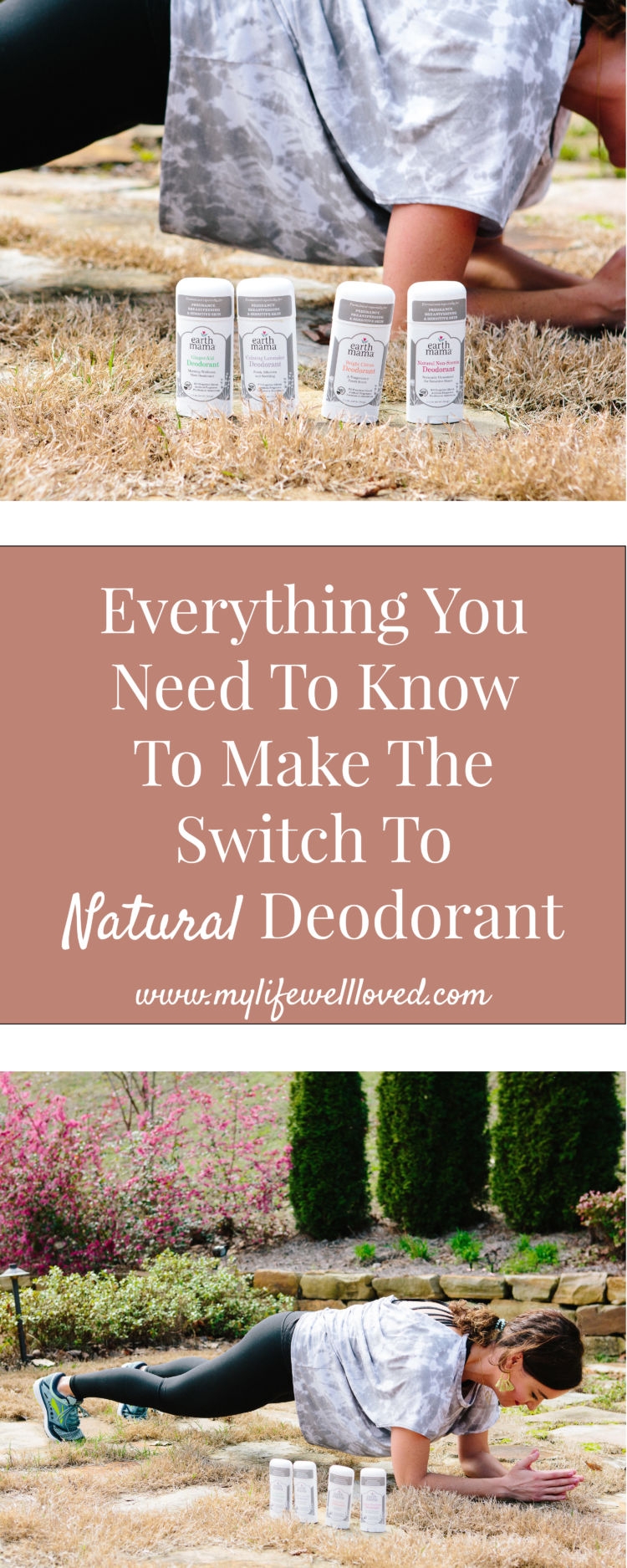 Heather Brown helps busy mamas of young littles who are caught in the hustle to find encouragement in their journey to true health, from the inside out, starting with the heart. Read her journey of learning to live a life well-loved
HERE!