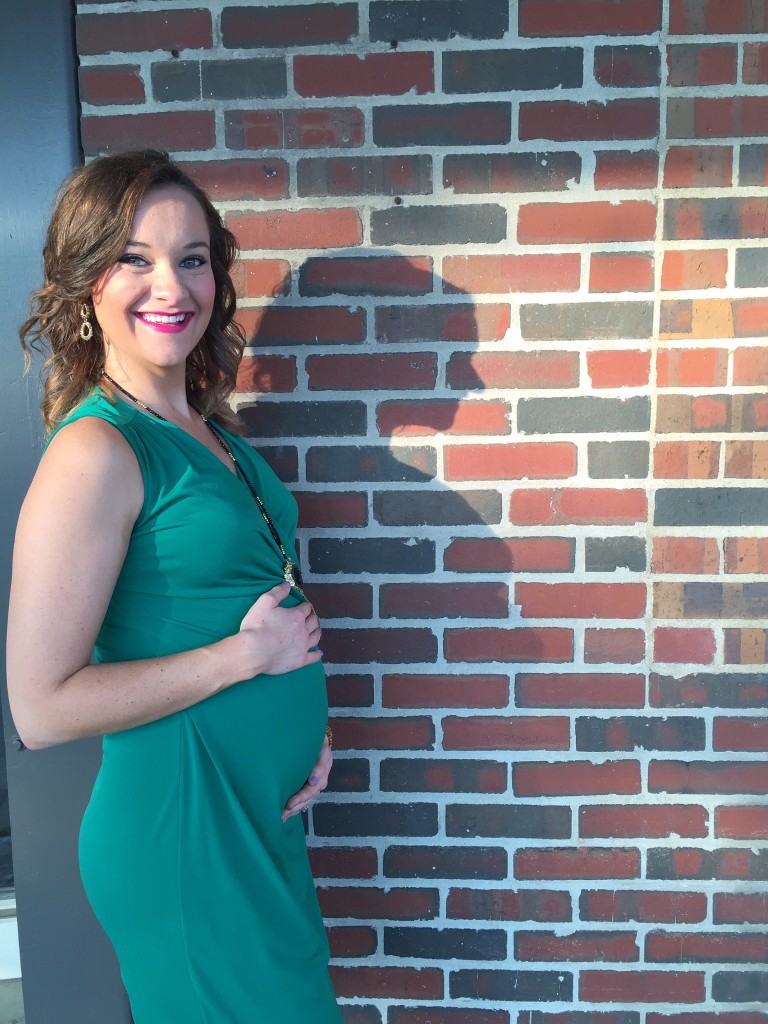 How far along? Whew, friends! It took me a while to catch up from Ireland and jet lag on blogging. Due to that, I missed several weeks in my pregnancy series. In case you missed my last update, here's my 20 week report.
Weight gain: Now that I've hit 15 pounds, this is the last time I'll probably update on my weight report. 😉
Maternity clothes? I'm still wearing a mix of maternity clothes and regular clothes. Shirts are staring to feel a little stretched out if they are not maternity, and a little short. Yikes. This dress is from The Swanky Stork and you may recognize it from my post on wearing heels without pain last week.
Stretch marks? No.
Other Body Changes: I had to invest in a new basic bra while we were in Ireland. My back is starting to hurt in the exact same spot I am on the front now. I see more massages in my future…I also am getting weird numbness on my tailbone sometimes when I sit. My doctor assures me this is all "normal."
Sleep: Good. I wake up in the night on my back and can't help but have the hazy panicked feeling that I should be on my side, but I've also heard that this is normal and not something to be too worried about.
Best moment this week:  Good quality time catching up with friends and family after being out of town. Walked with a friend on a local trail, went to dinner with two couple friends, had a productive and fun day and date night with the hubs and enjoyed Birmingham Fashion Week with some blogging buddies.
Miss Anything? A flat tummy for bathing suit season. Went to the pool for the first time today while pregnant. That was a little humbling.
Movement: Feeling lots of movement multiple times throughout the day now. Eric has only felt it once and it was very faint to him.
Food cravings: Nothing stands out from this week.
Anything making you queasy or sick: No

Gender: boy
Symptoms: Just the back pain
Belly Button in or out? In, but it feels like it could be a reality that it could pop out now eventually, eek.

Wedding rings on or off? On

Mood: Hopeful…for home searching! Trusting God that He already knows where we will live and how our careers will shake out during this heavily changing time.
Baby is the size of: As long as an ear of corn and probably a little over a pound and a half now.

Looking forward to: Getting settled and being able to nest.
Heather Brown helps busy mamas of young littles who are caught in the hustle to find encouragement in their journey to true health, from the inside out, starting with the heart. Read her journey of learning to live a life well-loved
HERE!