Seven days down, twenty-three to go on Whole 30. Numerous friends, family members, and fabulous Instagram followers have been asking me all kinds of questions about how Whole 30 is going, so here's the real deal folks. I'm breaking down the good, the bad and the ugly of week 1 on Whole 30.
Every person who has done Whole 30 before is going to crush me for doing Whole 30 this way, but it's just the reality so I'm going to shoot you straight. I started Whole 30 knowing I would cheat 3 days. We had a company dinner one night & I'm going to the lake this weekend with some dear friends. Since I knew this going into Whole 30, I planned to do a Whole 33.
Yes, I'm aware that's not how it works but as someone who usually eats clean anyway, the main purpose of me doing this is to break my body of sugar addiction and to reset my system to crave the good stuff again. I've been lax this summer and am ready to jump back into the oh so wonderful deep end of clean eating. (Now, that all true Whole 30's want to crucify me at the stake, I'll continue…) HA!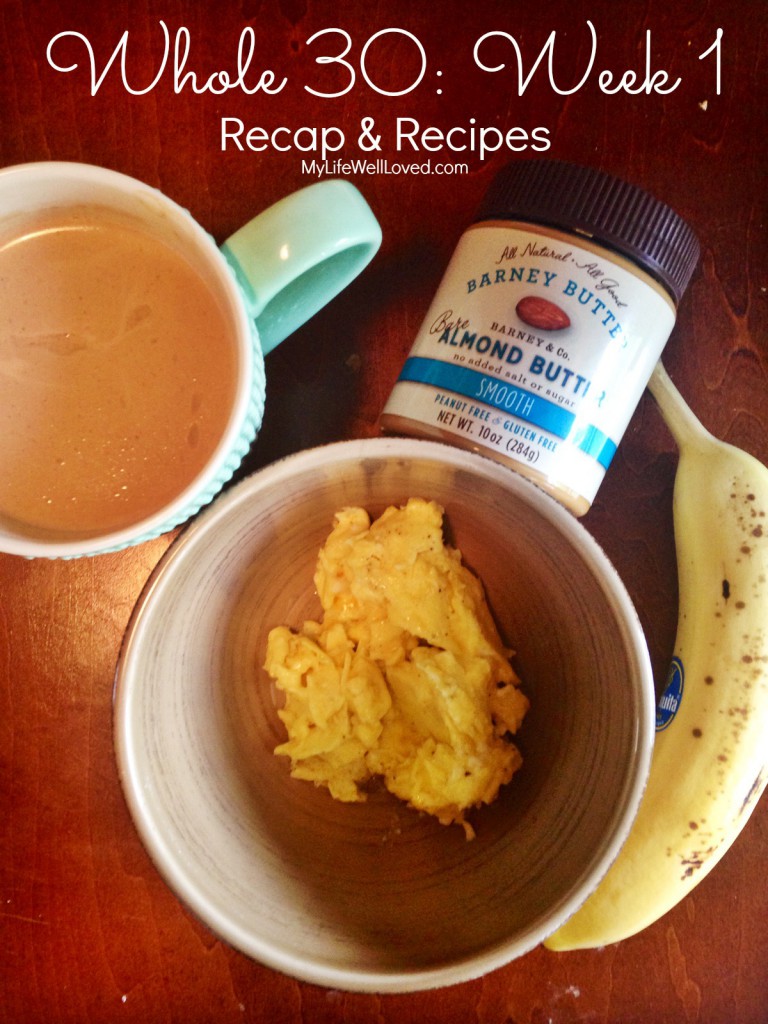 Day 1:
Breakfast: Almond Butter & Banana with Coconut Milk (from the can), Cinnamon and Coffee whipped in a Ninja to get frothy and delicious (I've had this everyday so far)
Pre-workout snack: Blueberries
Lunch: Shredded Rotisserie Chicken over Salad with Cucumbers, Tomatoes, Blueberries, & Zoe's salad dressing
Dinner: Black Peppered Lemon Tilapia with Roasted Brussels
Day 1 was a struggle. I was hungry and cranky to the point where I felt lightheaded. I got some feedback via other Whole 30 people on Instagram that I shouldn't be hungry on Whole 30 and to eat more. I promptly went home and prepped a ton of boiled eggs, veggies and fruits to take to work the next day to help satiate me.
Day 2:
Breakfast: (Same thing every day)
Lunch: Hard boiled eggs on a Cobb Salad with Zoe's Salad Dressing
Pre-workout snack: Almonds
Post workout snack: Hard Boiled Egg
Dinner: Pan-Grilled Steak with a Baked Sweet Potato topped with Ghee, Cinnamon & Nutmeg and Salad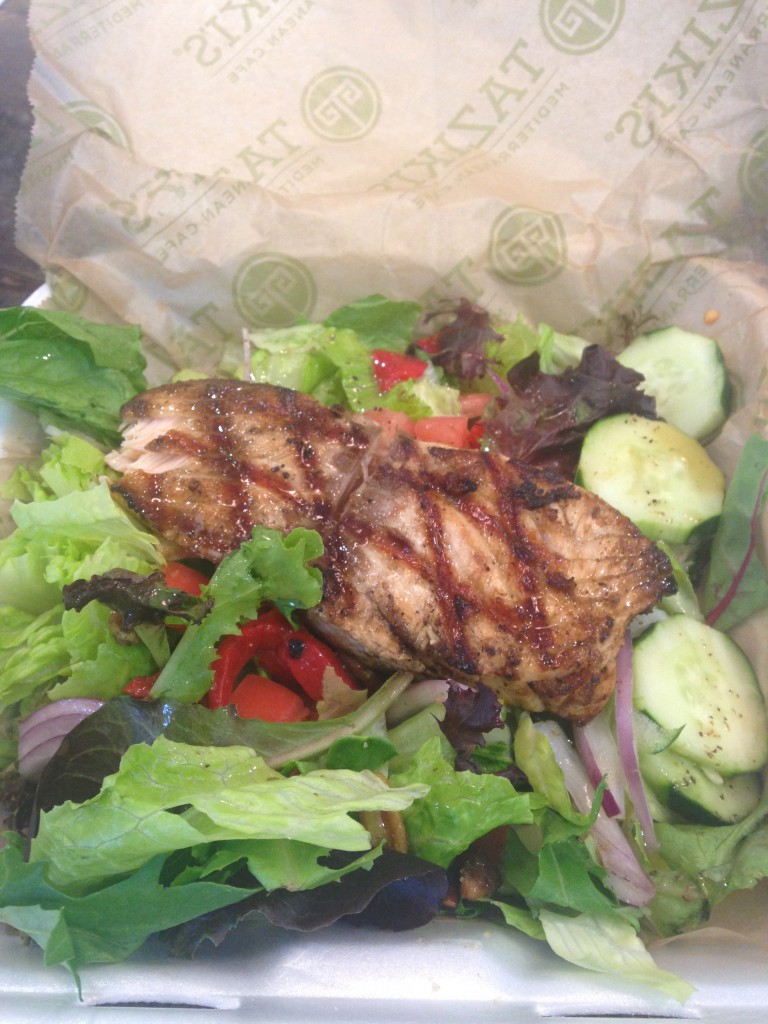 Day 3:
Breakfast: (Same thing every day)
Lunch: Taziki's Mediterranean Salad (subbed salad dressing for Zoe's, no chick peas, no cheese, add avocado, tilapia & olives)
Pre-workout snack: Blueberries
Dinner: CHEAT DAY: Company Dinner at El Barrio: Salmon with a side salad and here comes the cheat…. Watermelon Margarita & Cheese Dip with Chips!
Day 4:
Breakfast: (Same thing every day)
Lunch: Urban Cookhouse Berry Good Salad with no feta, no TO DIE FOR roll,  Zoe's dressing, & added shrimp
Dinner: Leftover Tilapia with a sweet potato & green beans
Day 5:
Breakfast: (Same thing every day)
Lunch: Mixed Greens with pepperoncini, cucumbers, and hard boiled eggs
Pre-workout snack: Almonds
Dinner: Monkfish with Roasted Greek Potatoes & Roasted Asparagus
Day 6:
Breakfast: (Same thing every day)
Post-workout snack: Pineapple, carrots, and melon
Lunch: Salad
Dinner: Baked Chicken Wings with Mixed Spices & Blueberries, Raspberries, & Strawberries
Day 7:
Breakfast: (Same thing every day)
Lunch: Urban Cookhouse Berry Good Salad with no feta, no TO DIE FOR roll,  Olive Oil & Vinegar dressing, & added steak
Dinner: Stuffed Baked Potato with Chicken, Salsa, Scallions and Butter
I would also like to give myself credit for turning down Church Street Coffee's Breakup Cookies (one of my favorite treats in Birmingham!) at a baby shower, beer and homemade salsa and chips at a friends house for SEC football kickoff, and Jim 'n Nick's cheese biscuits. Those are all some of my VERY favorite foods and being around all those yummies for a holiday weekend was incredibly difficult. If I can turn those things down and feel in control though, I know I'm on the right track!
See what I ate on Week 2!
Fill me in…what questions do you have? If you've done Whole 30 before, what was your favorite Whole 30 meal?
Heather Brown helps busy mamas of young littles who are caught in the hustle to find encouragement in their journey to true health, from the inside out, starting with the heart. Read her journey of learning to live a life well-loved
HERE!