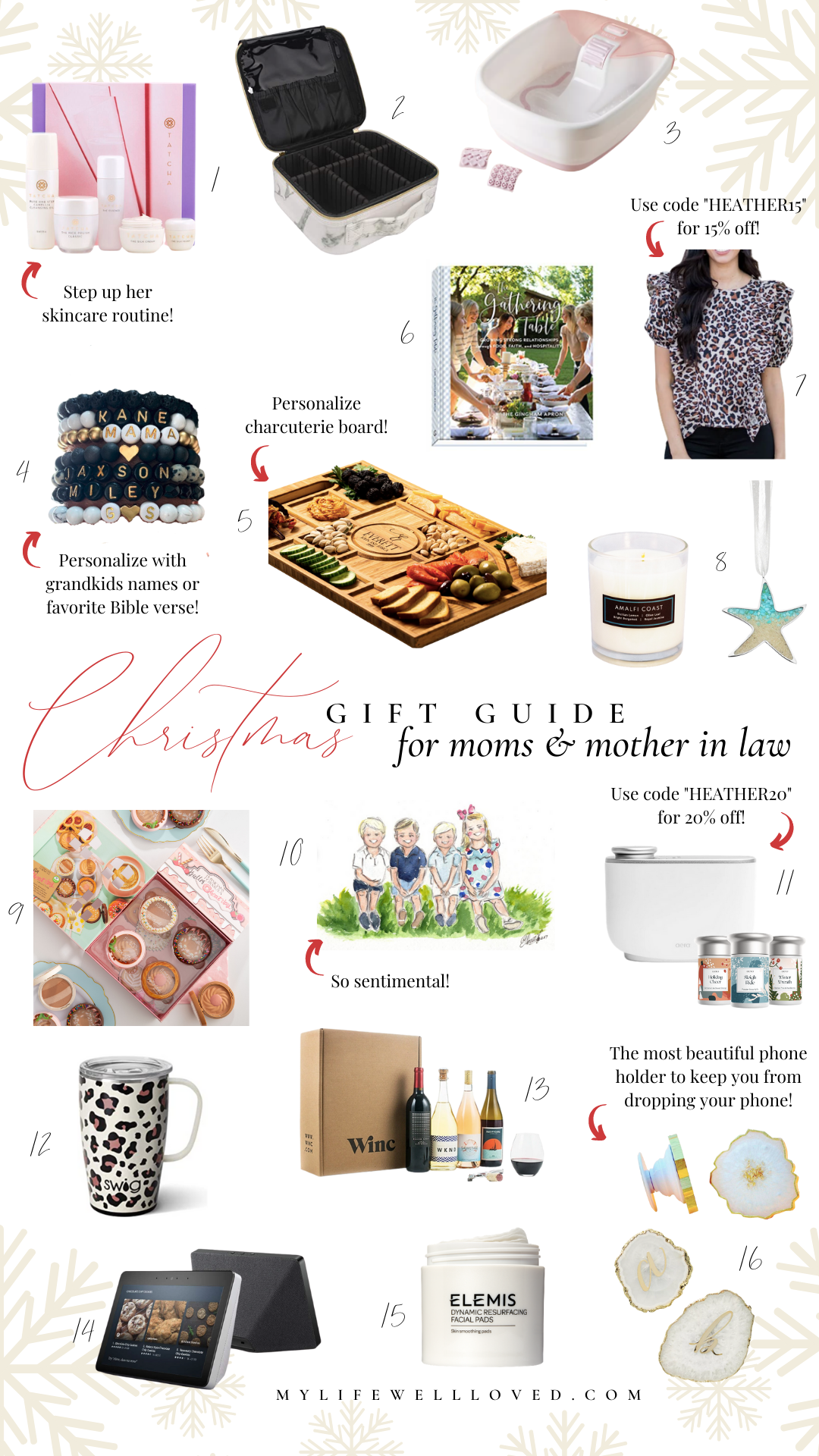 Keep scrolling for unique Christmas gifts for mom below!
1. Luxury Tatcha Skincare Set // This complete skincare set has everything she needs to get her new year started off with a great skincare routine!
2. Marble Travel Makeup Case // I never travel without mine!
3. Foot Spa
4. Personalized Bracelets // Add the name of grandchildren for a sentimental touch!
5. Charcuterie Board // You can have this beautiful board personalized with a last name!
6. The Gathering Place Book // This beautiful book isThis beautiful book is filled with recipes and hospitality tips! Pair this with my Busy Mom's Meal Planning Ebook for a super cute and practical gift! Click HERE and use code FALL30 to save 30%!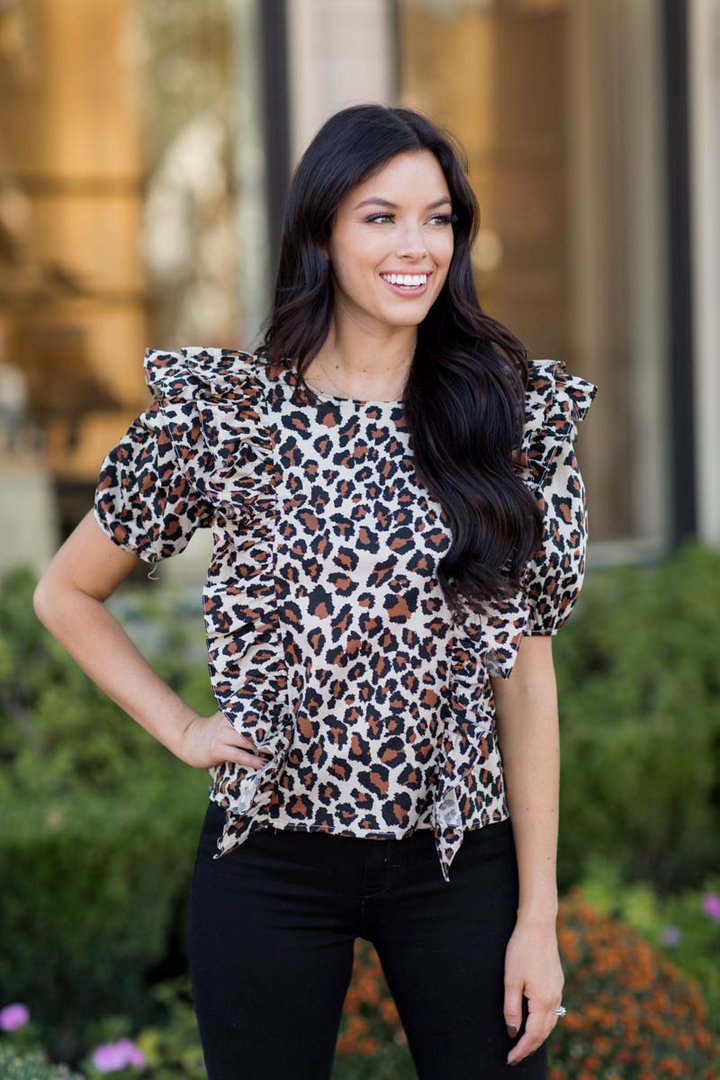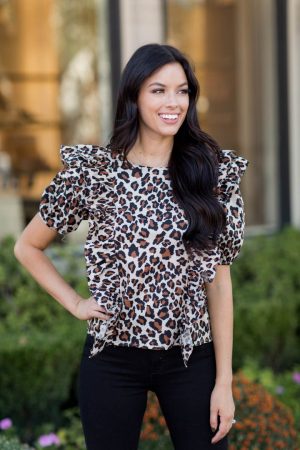 7. Shop Avara Top // This lightweight top is so versatile. It can be worn through multiple seasons, either on it's own or paired with a denim jacket or cardigan. If your mom or mother-in-law loves a touch of leopard (just like I do), then she will love this top and reach for it constantly! The front ruffle detail is flattering, and this top can easily be front tucked into her favorite pair of pants. Or dress it up and pair it with a skirt and boots for fall! There are so many ways to style this piece! Use code HEATHER15 for 15% off!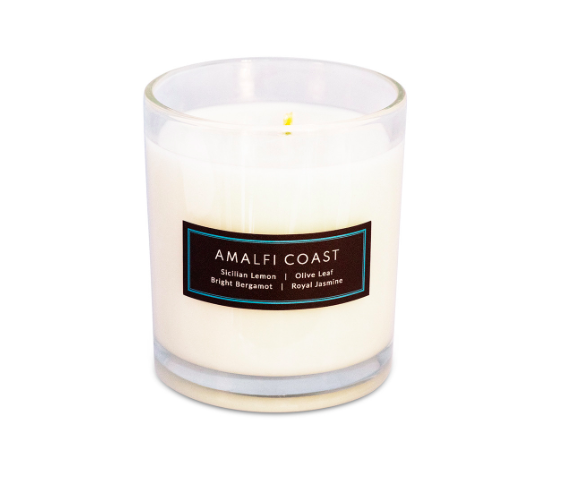 8. Dune Jewelry & Co. Experiential Candle + Starfish Ornament // I just snagged this candle and ornament for myself, and I immediately knew they would be a great addition to my mom & mother-in-law gift guide. This Amalfi Coast candle has notes of Sicilian Lemon, Olive Leaf, Bright Bergamot, and Royal Jasmine. These candles are hand-poured in California and are created using Dune's proprietary soy wax blend. The Dune Jewelry Starfish Ornament-Turquoise Gradient is such a unique and special gift to give this year! Dune takes tangible pieces of a moment, a memory, or a destination and infuses them into artisan-crafted fine jewelry & gifts that will last a lifetime! This piece comes with Dune's signature Gradient Technique featuring crushed natural Turquoise and your choice of sand or earth elements from their Sandbank of over 5,000 iconic locations from around the globe. I had mind filled with sand from a trip we took earlier this year. These beautiful ornaments are also made in the United States, which is another reason I love this brand so much! You can even have your ornament engraved on the back! Use code MYLIFEWELLLOVED15 for 15% off!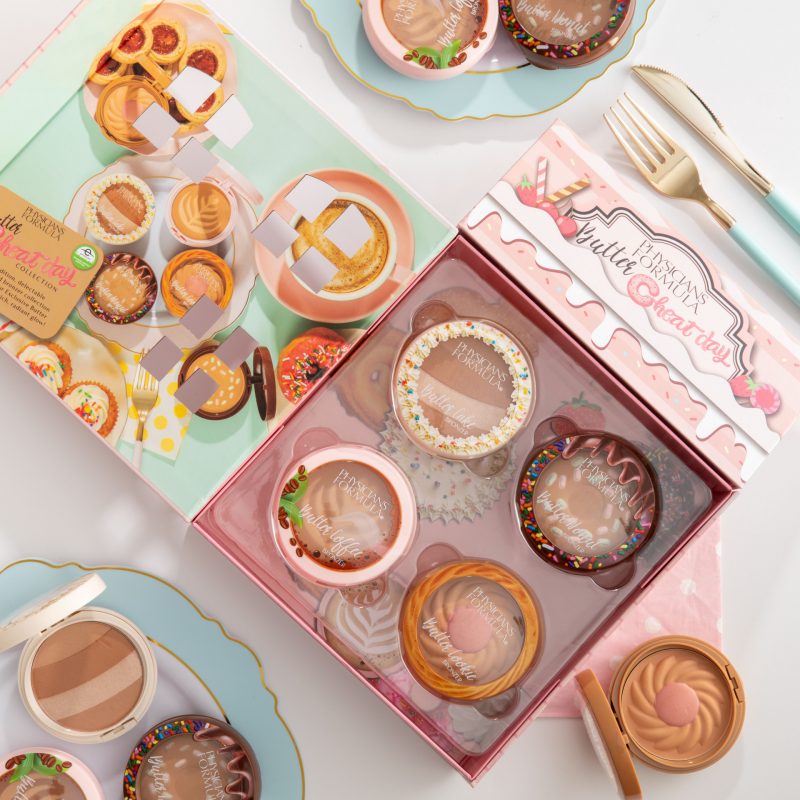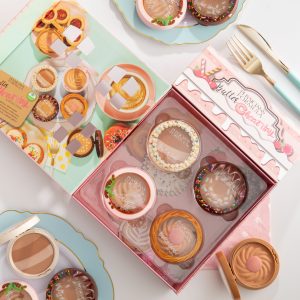 9. Physician's Formula Butter Cheat Day Full Collection // This complete butter bronzer collection comes with 4 cult classic butter bronzers, wrapped in a beautiful box! You will receive the butter coffee, butter cake, butter donut, and butter cookie bronzers! Each bronzer has their own special pigmentation. AND they smell amazing. These bronzers are such high quality, and give a beautiful bronze to any skin tone! They're also formulated with Murumuru Butter, Cupuacu Butter, and Tucuma Butter which allows them to glide smoothly onto the skin! They feel so luxurious and at a great price point.
10. Personalized Watercolor Portrait // This would be a beautiful addition to any home!
11. Aera Diffuser + Oil // I always have my Aera going in our house! Use code HEATHER20 for 20% off.
12. Leopard Tumbler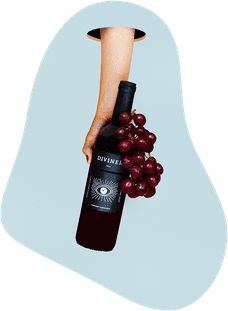 13. Winc // If your mother or mother-in-law is a wine lover, look no further! This is the perfect gift for her! Winc is a wine subscription service. They deliver wines you will love, to your door, at an affordable price! Doesn't that sound amazing? Once your mom or mother-in-law gets her first Winc delivery, she can rate the wines she received; ensuring her next delivery is even more personalized to her palette! There are over 100 wines to try, and no membership fees. Plus, the offer a 100% happiness guarantee! This would be such a fun gift to give!
14. Amazon Echo Show // A fun way to keep in touch!
15. Elemis Resurfacing Pads // These remove every bit of makeup, grime, and leftover gunk from your skin!
16. Geode Popsocket
Every single year I am flooded with questions about what to buy for your mother and mother-in-law! This shopping category is definitely a challenging one. Not to worry, I've included tried and true gift ideas to make sure your mother-in-law feels appreciated and loved!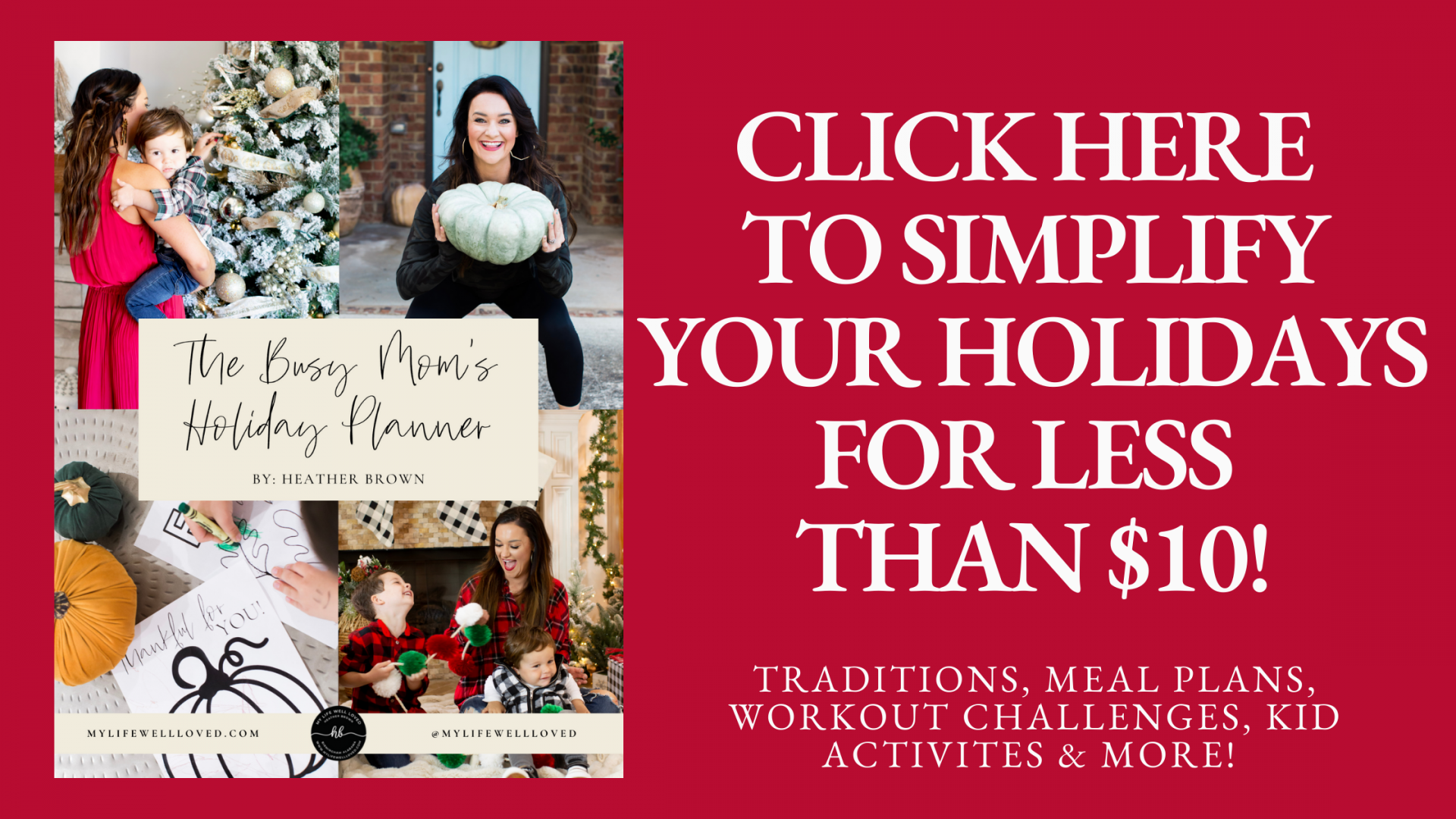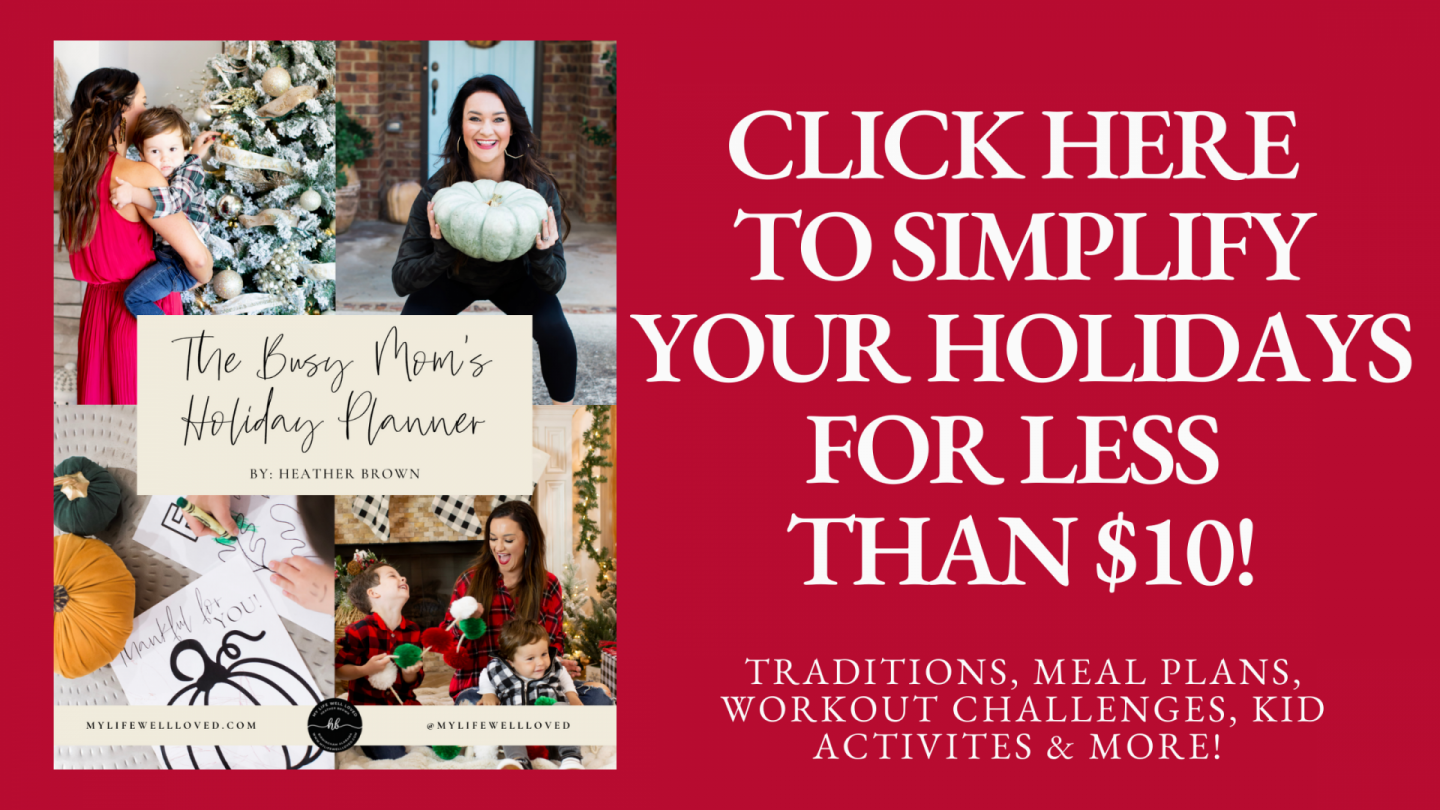 Shop The Unique Christmas Gifts For Mom Post Here:

Pin The Post Here: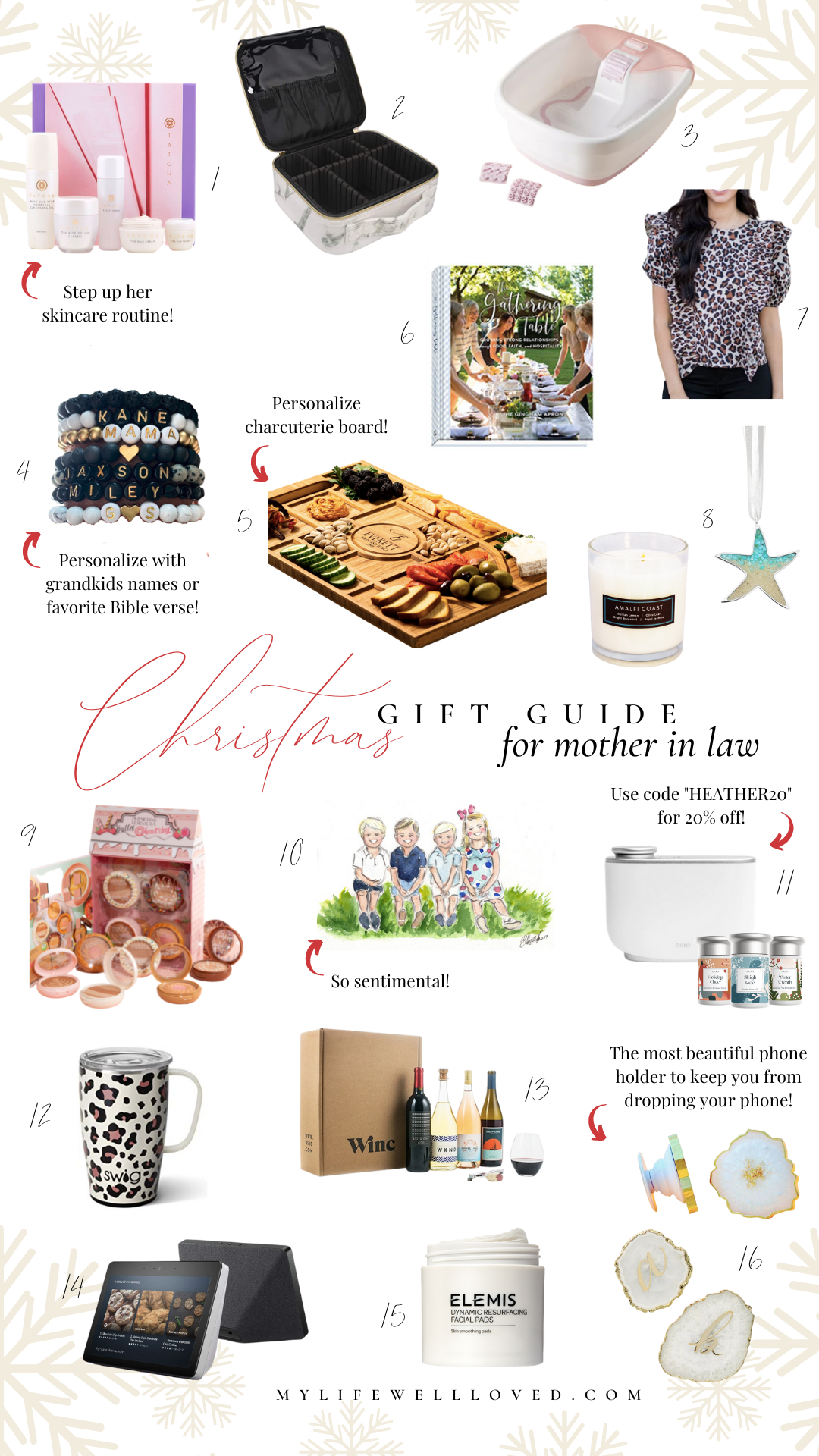 Thank you to Dune Jewelry, Physician's Formula, Shop Avara and Winc for partnering with me on the mother and mother-in-law gift guide.