ANYTIME I'M TRAVELING, I ALWAYS FIND MYSELF GRABBING FOR THE SAME FEW ITEMS! I KNOW MANY OF YOU ARE PLANNING UPCOMING TRIPS AS MORE TRAVEL RESTRICTIONS ARE LIFTED SO I HOPE THESE ESSENTIALS HELP AS YOU DECIDE WHAT IS WORTH THE HYPE WHEN TRAVELING. KEEP SCROLLING DOWN FOR ALL MY TOP PICKS!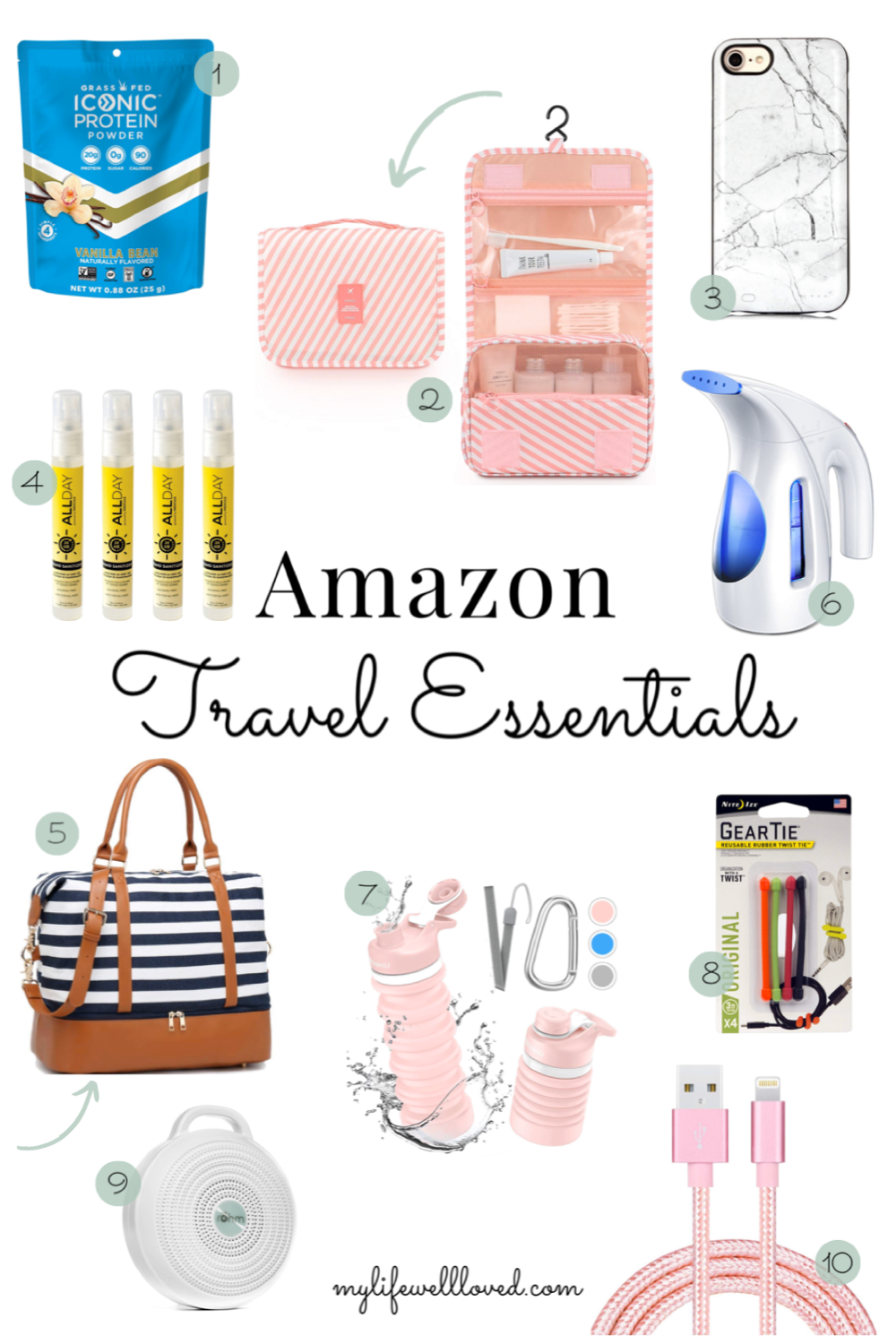 Shop My Amazon Travel Essentials HERE:

To be fully transparent, packing cubes just aren't my thing! 😉 You should see my suitcase at times… BUT staying healthy, hydrated, and semi-organized is a priority! I've included links to the products below I love having on hand during trips. These products are my tried and true lifesavers, they keep me on track when I'm away from home, which helps me immensely when my trip is over and I'm readjusting to normal life.
Did I miss any packing essentials? If so, let me know! I hope this helps you get ready for your next adventure! xo
My Favorite Travel Essentials From Amazon:
1 // Protein Powder
Sugar-free, low carb shake! If you've been following me on Instagram Stories for more than 2 days then you've heard me talk about this protein! I love it most because it fits my macros for FWTFL.
2 // Toiletry-Cosmetic Travel Bag
Hangs easy and large capacity. Holds all. the. things!
3 // Casely Charging Case
Built-in external battery pack phone case. Never have a dead battery! This has been a game-changer for me when I'm out and about and working from my phone all day!
Safe and effective. I keep these in my car, purse, diaper bag… pretty much everywhere! You can read more about why I love having these on hand in THIS POST about preventing sickness with little ones! Love that this hand sanitizer is a spray! Gel hand sanitizers can be messy and always seem to slip right off my kids' hands! Also would make a great teacher gift as we are gearing up for the holidays! BE SURE TO USE PROMO CODE 2256749 FOR $10 OFF YOUR FIRST ORDER!
5 // Canvas Carry On Duffel Bag
Separate add on compartment for shoes, toiletry bag, etc. Holds your laptop and serves as a carry on for most airlines. Plus it can attach to your luggage handle for easy movement around the airport.
6 // Steamer
Portable and easy to travel with. This is so much easier to use than iron in my opinion!
Stay hydrated wherever you go! As you know, I make drinking 8+ cups of water every day a priority – but making sure that happens when traveling and when I'm out of my daily routine can be a struggle! I love that you can expand this bottle for extra space or collapse it when you're traveling.
8 // Gear Tie
Keep your cords organized and free of knots! A lifesaver when you're on the go.
9 // Travel White Noise Sound Machine
A must-have if traveling with children! We use this all the time with Baby Finn. Compact sleep therapy for adults and babies!
10 // Long Charging Cord
This charging cord is long enough to reach the outlet even when you're in bed – I love having a long cord with me at hotels when the plugs can be in random places. Fast charging and fast syncing.
11 // Travel Makeup Case
12 // Owala Water Bottle
Traveling with kids can be busy! So this water bottle allows you to open and drink with one hand!
13 // Makeup Eraser
No need to pack makeup remover or wipes to remove your makeup. Take your makeup off with just water!
14 // Lap Top Case
15 // Colleen Rothschild CBD Oil
Calm your skin in harsh environments like wind in colder temps or sun.
16 // Modere GO
These energy packets are so handy to have on the go. They give you a natural boost of energy with no crash! BE SURE TO USE PROMO CODE 2256749 FOR $10 OFF YOUR FIRST ORDER!
17 // Air Pods
18 // Gimme Beauty
There is always a time you need to pull your hair up and get it out of your face! These hair ties don't slip or snag! Use code HEATHER25 for 25% off!
19 // Care Of Vitamins
Care Of Vitamins is offering 50% off your first order with code HEATHERB50.
20 // Verb Energy Bars
21 // Luggage
22 // Modere Trim Single Packs
Love having these to take on the go! I can throw it in my bag and take it when I need it!
23 // Oxy-Powder
I am taking this to help me stay regular while traveling! Use code HEATHER for 15% off!
24 // Native Deodorant
Use code LIFEWELLOVED for 20% off!
SHOP These Amazon Travel Essentials HERE:
PIN The Post For Later!
Heather Brown helps busy mamas of young littles who are caught in the hustle to find encouragement in their journey to true health, from the inside out, starting with the heart. Read her journey of learning to live a life well-loved
HERE!