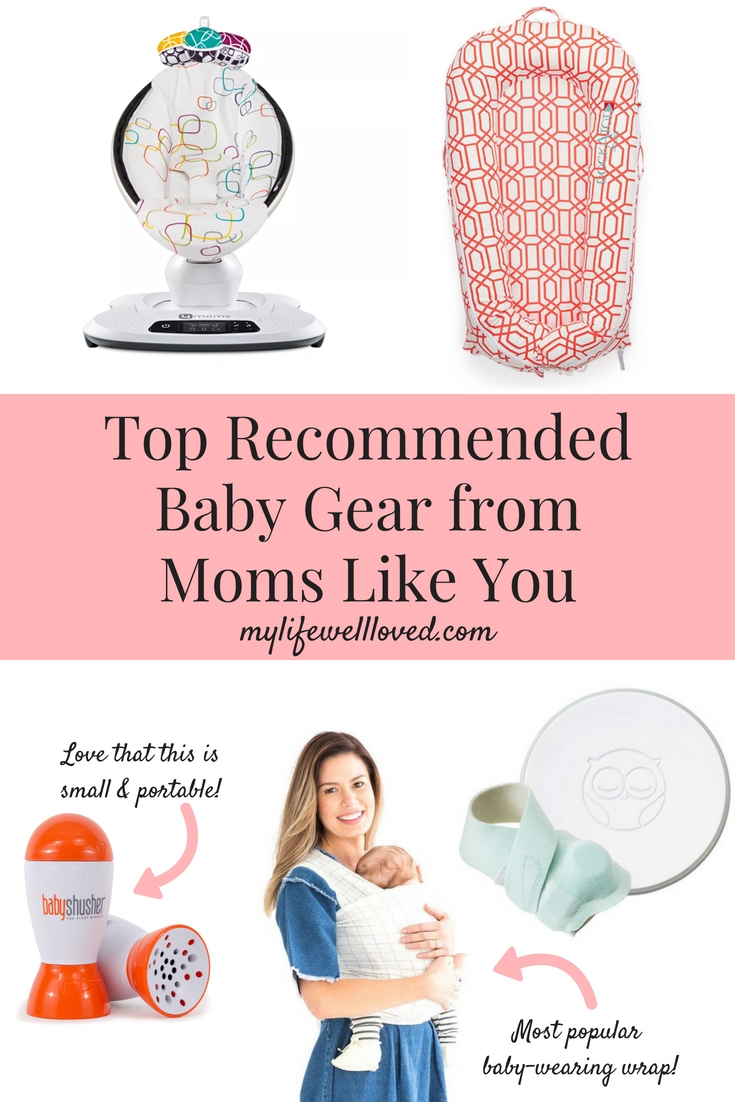 Shop the Registry Must Haves: MamaRoo // Dock a Tot // Baby Shusher // Baby Wrap // Owlet Sock
I am so blown away by this community and the impact you guys have on me and on each other! It is such a blessing to be able to ask for registry must haves or ideas on Instagram and y'all are always there to quickly help and respond. Every day I am so inspired and so THANKFUL for your support for the My Life Well Loved community. We truly are all in this together.
Despite this list, I somehow just realized when Eric asked me what second sound machine we were going to use for baby #2 that IN THE MONTH of our baby's due date, we don't have that and I haven't even thought about it. That is a CRUCIAL item for us friends. Leyton still loves his DOHM one but I wanted to try out this Conair one from Amazon with rave reviews at a fraction of the price so I'll let you know how it goes. I had to add this in here in case anyone else happened to forget it. HA!
A few weeks ago I asked for YOUR baby registry must have items and so many of you wrote me giving me your recommendations. I can't thank y'all enough for sharing your favorite products and how they helped make your life easier with a newborn! If you haven't read my Baby Registry Must-Have Post I wrote when Leyton was born, be sure to check it out for more in-depth explanations of ALL our favorite products. ALSO – stay tuned as I will be sharing MY registry must have items for baby #2 including what I wish I had with Leyton, what we are replacing, and what we are reusing!
Out of ALL the messages with baby registry recommendations I received, the top three registry must-have items were the, Dock a Tot and the Baby Shusher! So many of you sent in recommendations for these items and the reviews online are amazing!!
We did not have a Dock a Tot with Leyton but people rave about it and the Snuggle Me Organic! I'm hoping to try both out and let you know which one we like best!
I actually had never heard of the Baby Shusher but it looks like an amazing product. I love that it is portable and can easily be moved from room to room, great for travel, etc. Y'all sold me on that one!
The MamaRoo is so highly rated among mamas! Y'all highly recommend this and I wish I had used it with my boys!
I couldn't agree more with your top 3 recommendations! There were so many other items y'all raved about so I have included all of the highly recommended items below, including notes of what moms said about them!
Thank you again for sharing your favorite products! I can't wait to share MY must-have registry list with you in a couple weeks!
Shop Favorite Double Strollers From MLWL Readers:

Shop The Registry Must Haves Post:

What are your registry must have items? Leave a comment below! And as always, thank you again for supporting me whenever I have questions or concerns for just about anything!!
Be sure to pin the Registry Must Haves post for later!

Heather Brown helps busy mamas of young littles who are caught in the hustle to find encouragement in their journey to true health, from the inside out, starting with the heart. Read her journey of learning to live a life well-loved
HERE!