New York City = Some of the best food in the world! I totally believe this to be true after visiting multiple countries and cities. Don't get my wrong, I love Birmingham and we are SO LUCKY with all the amazing restaurants here but the sheer AMOUNT of amazing restaurants in NYC is overwhelmingly AMAZING. Take for instance, The Halal Guys. It's a little street vendor shop that looks like nothing and yet there is a line wrapped half way down the block every time you walk by from early morning to late night…and trust me I know because the location we went to was within eye shot of our hotel for the first half of our trip. The gyro I had below was as big as my face, and I'm NOT complaining!
Eric got the mixed lamb and chicken over rice plate and I got the mixed gyro so we could split them both. The lamb had such a strong seasoned flavor that it made up for the chicken's blandness. The highlighter orange rice and the white sauce were strangely delicious and I would totally eat it again if I could weekly, without gaining a pound!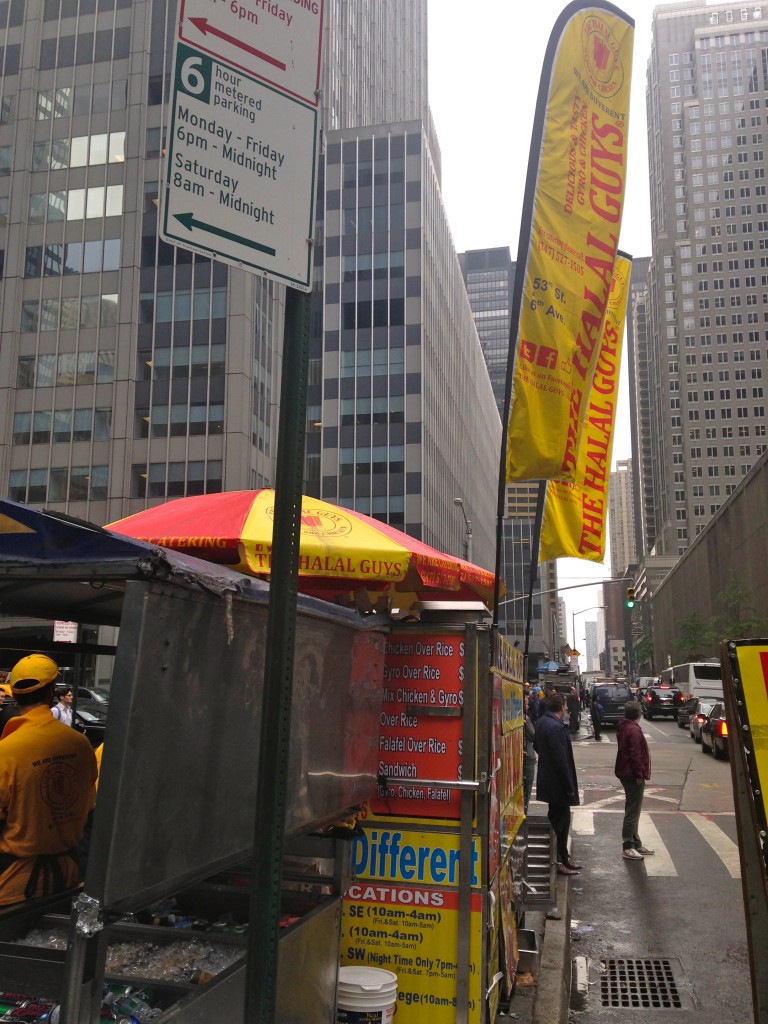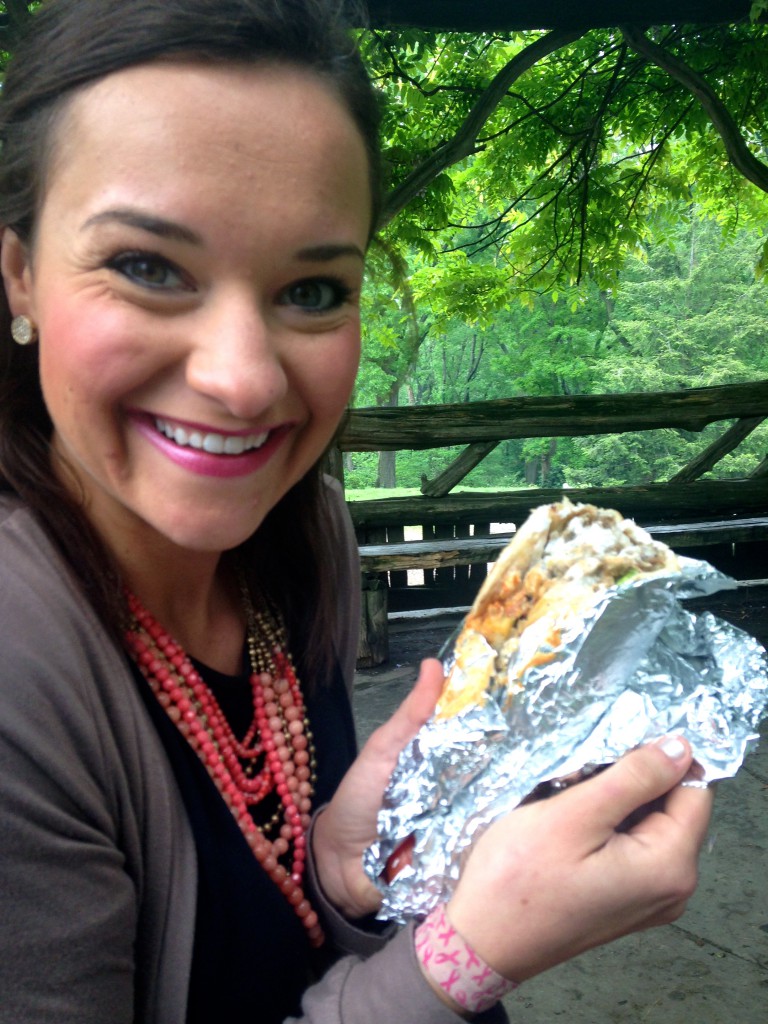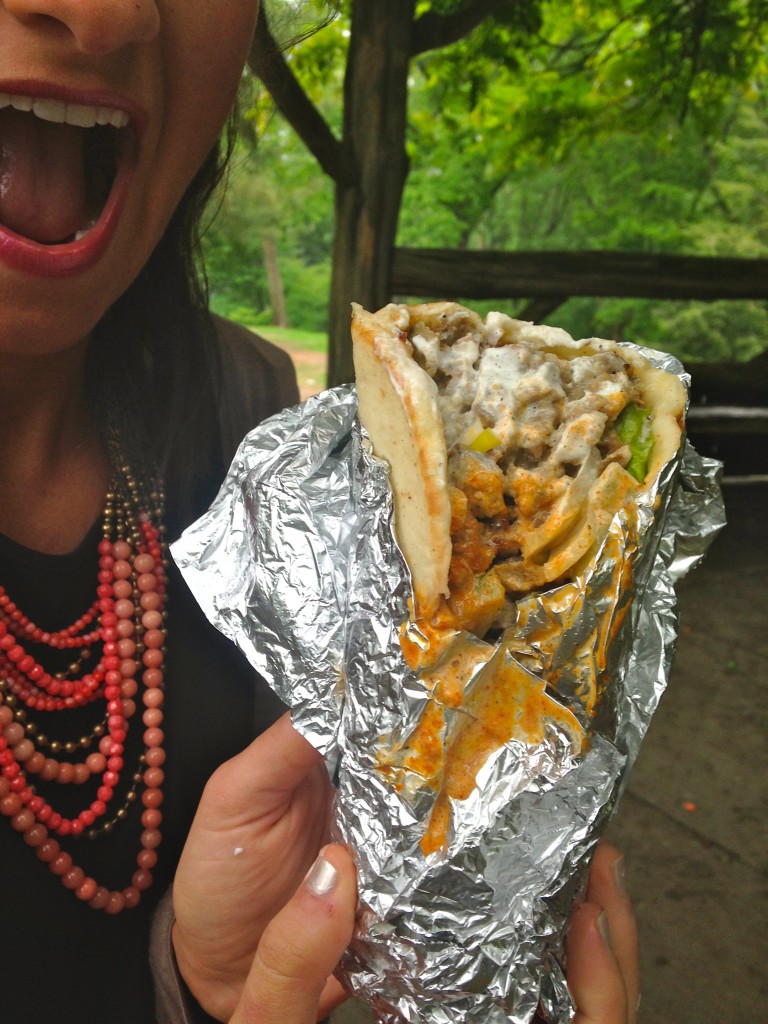 Next up on our NYC food journey? Pepolino's! This restaurant was so cute nestled back from the street and had a little outdoor eating area as well as an upstairs. It was recommended to us from a local friend, Tabby, who spends a good amount of her time in NYC. She raved and raved about their homemade ravioli and WOW, let me tell you that it did not disappoint! It was moist, warm, and bursting with cheeses. The sauce was light and just the perfect compliment. Unfortunately, the lighting wasn't great so even though I took pictures they don't do it justice. The hubs and I each got a glass of wine as well as splurged on splitting a piece of their famous cheesecake.
I don't even like cheesecake (unless it's from Cheesecake Factory covered with the taste of chocolate), but I was in awe of the cheesecake dancing on my tastebuds. If you go to Pepolino's you MUST try it. MUST!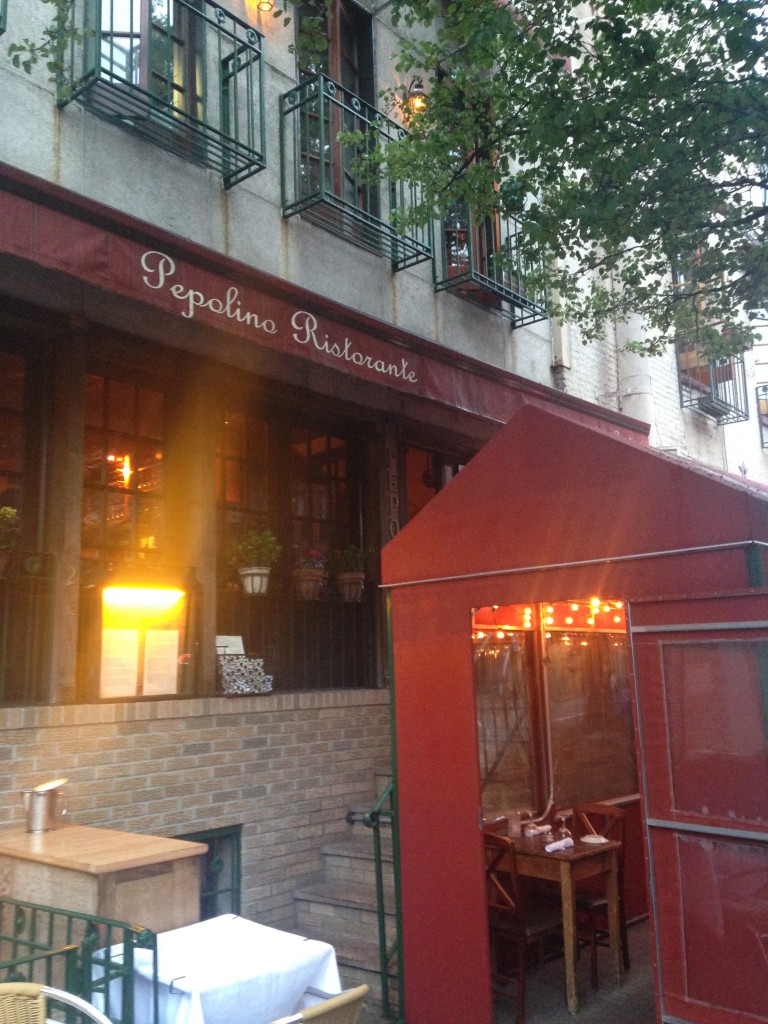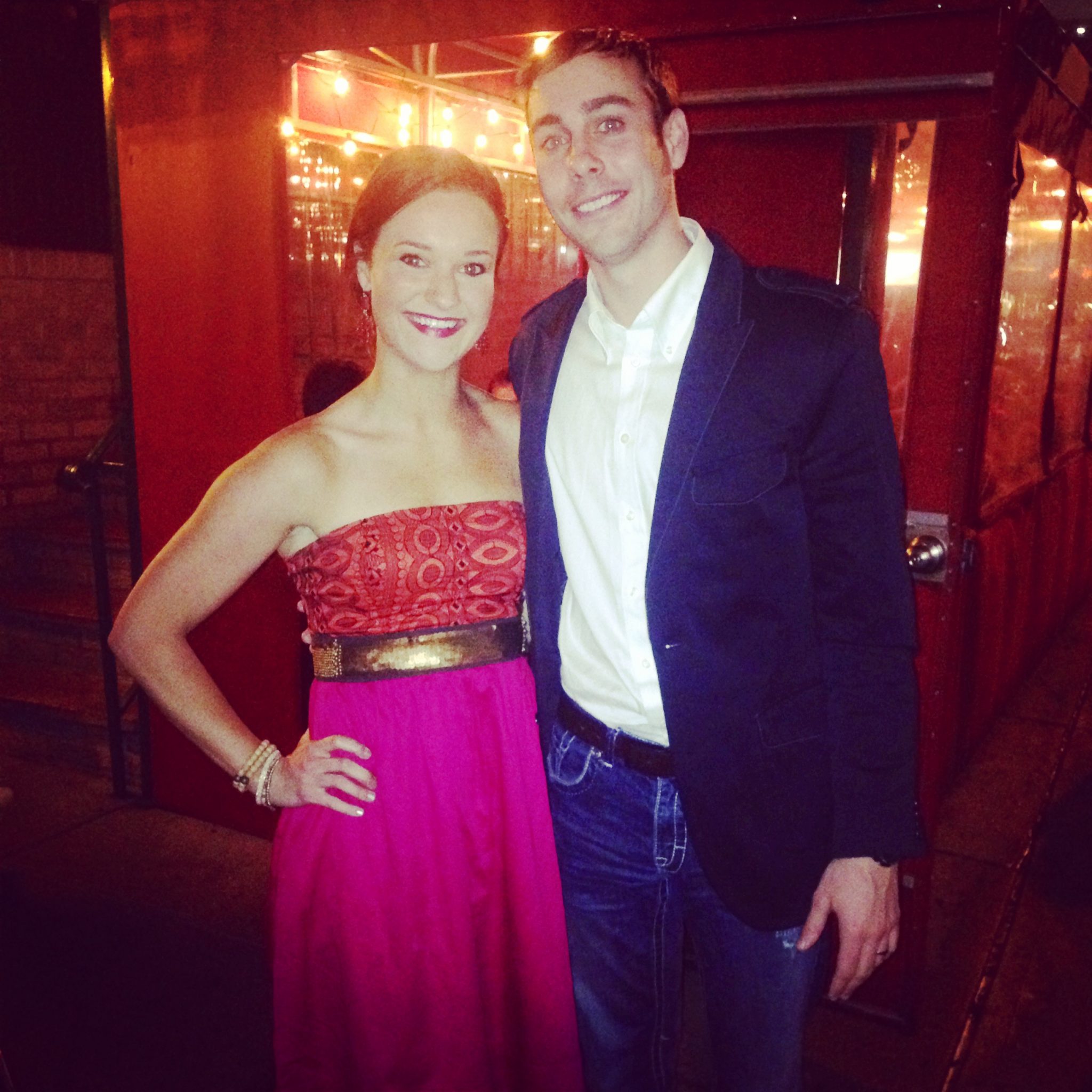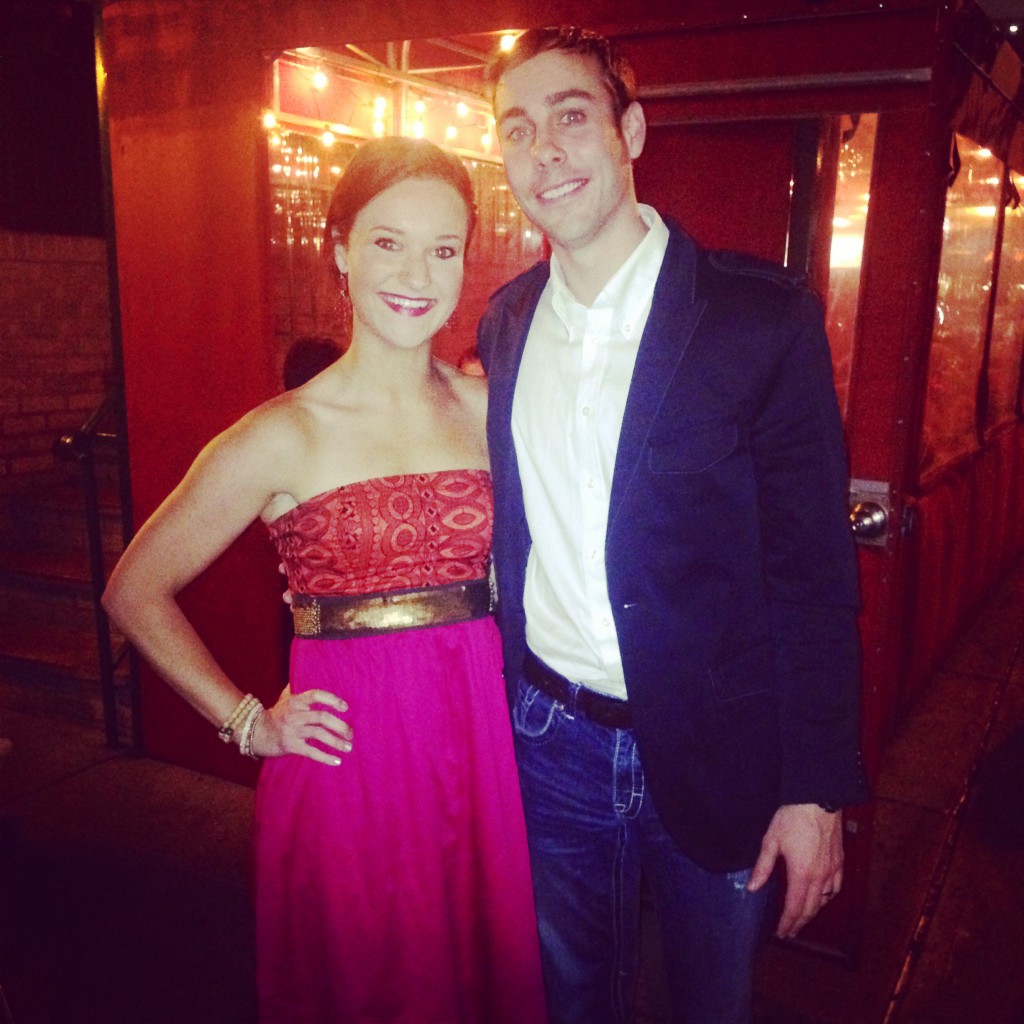 We followed up the evening at Pepolino's in a quintessential NYC Speakeasy called Bathtub Gin with one of Eric's high school friends, Ray. Ray showed us what it's like to live in a real-life Gossip Girl party. Literally, I've never felt more big city in my life than on this trip at BathTub Gin and at the wedding to end all weddings. We walked into what appeared to be a tiny coffee shop, skipping the long line (again, thanks, Ray!), were escorted behind a concealed door and ushered to 1 of 8 or less tiny tables while fun and music swirled all around us so loudly that we could barely hear. The drinks were fan-freaking-tastic and we were greeted by the manager and in general treated like we were Leighton & Blake themselves. #GGLOVE (Gossip Girl for those of you who aren't tracking.)
We also had an AMAZING, one of a kind dinner at Smith & Wollensky in their original steakhouse. (If it doesn't ring a bell, The Devil Wears Prada had a scene filmed there!) I called ahead to tell them we were celebrating Eric's birthday early and about him being in his last year of his accelerated masters program to become a nurse practitioner. To honor this, as soon as we were seated, they brought us chilled champagne! We, of course, ate two fabulous steaks which we agreed were the best we've ever had in our lives. I got the cajun rub and thought it was amazing! Event though they are known for their steak sauce, I couldn't imagine covering up even a bit of the flavor so I nixed it after getting the necessary one bite to say I'd tried it. They also brought us not one, but 2 desserts and our waiter was so perfect! It wasn't stuffy because he made an effort to make it fun and we really enjoyed a nice evening there. I would highly recommend it if you want to celebrate an event.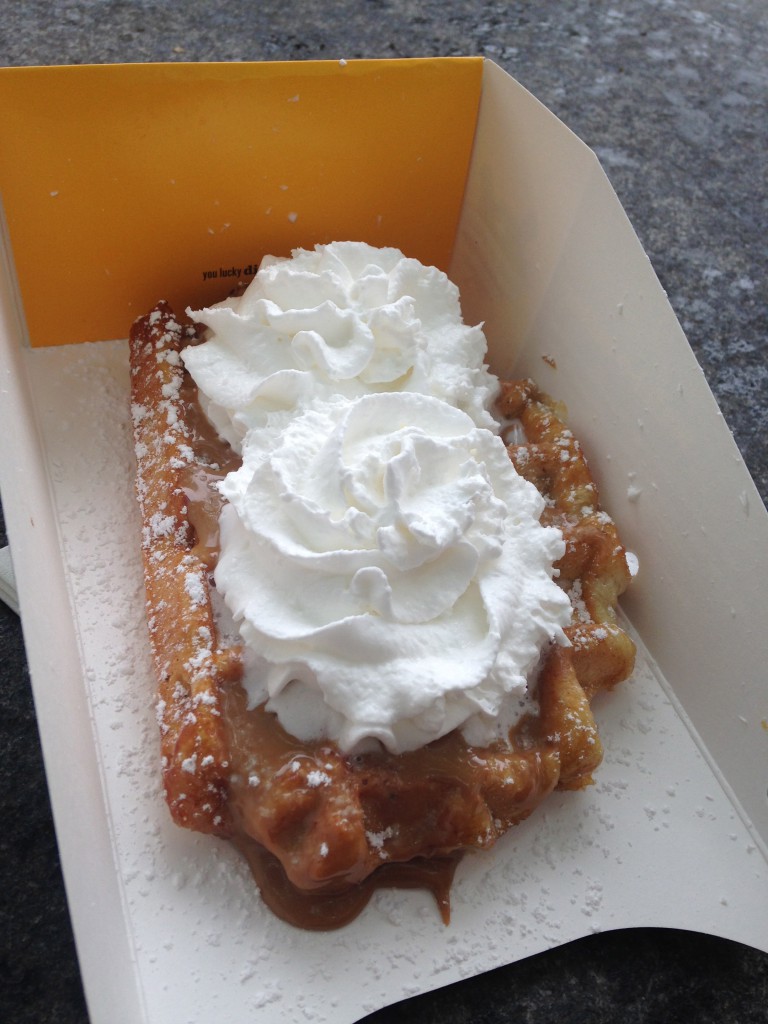 And, now…back to the street food! If there was one street food I'd tell you you must try in NYC, it would have to be the Wafels & Dinges cart! They have all kinds of amazing hot waffles topped with things like ice cream, Nutella, strawberries, whip cream, belgian chocolate, nuts, powdered sugar, and more. We went for the melted Speculoos cookie butter, whipped cream and confectioner's sugar toppings and OMG. It was heaven in my mouth! Highly, highly encourage you to try this one!
The last food place I'll spotlight was so grand and different and delicious, I've decided it needs its own post….so stay tuned NEXT week for a must do brunch spot for NYC!
*See the BEAUTIFUL wedding we were in NYC for.
Heather Brown helps busy mamas of young littles who are caught in the hustle to find encouragement in their journey to true health, from the inside out, starting with the heart. Read her journey of learning to live a life well-loved
HERE!