SHOP The How To Love Your Body: The Importance Of Self Care Post HERE: Free People Sweater-TTS Small // Black Denim // Leopard Golden Goose Dupes // NYX Butter Gloss Creme Brulee // NYX Suede Cream Lipstick – Soft Spoken // No Show Socks // Weekender Tote // Pantene Nutrients Blends Collection

This is a sponsored post written by me on behalf of Pantene. All opinions are 100% mine.
We've all heard the term "self-care" but what does that really mean? Is it taking a bath? Spending time with friends, driving to the store to wander around the dollar spot alone? Or even setting aside time for yourself during the day to get your sweat on? Or maybe it's simply about slowing down and doing whatever speaks to what your soul needs at that moment! 
Let's be honest – finding time in the day to practice self-care isn't always a guarantee. However, one thing we can always practice is a healthy mindset. That's why I want to share my tips with you on how to love your body, because it is worth love!
My Tips For How To Love Your Body + Practice Self-Care:
A lot of times people over complicate self-care. Self-care is simply doing something for you that makes you happy! What does your mind or body need? A healthy meal? Silence? A workout? A night at home? A shower without kids interrupting? Time with friends?
For me, I align self-care with exercising! I love working out and I love how I feel when I work out. Therefore, I prioritize it so I can fit it in as many times each week as possible. I love to hit up

Burn Bootcamp

 or head over to

Pure Barre

 or even try out a new workout when I travel that we don't have here in Bham! I typically exercise for 30-60 minutes and that time allows me to de-stress, breathe, and have time away from my kids to make me a better mom when we reunite.
I know many ladies and mamas feel better when they get up every morning and style their hair and do their makeup. This makes them feel like

themselves

! The reality is you can't do ALL. THE. THINGS. and do them well. So sometimes that means I let go of doing my hair and makeup if it means I can make it to the gym because that's my sanity for the day. My biggest tip for self-care is deciphering

what

you need to do to prioritize and serve yourself best! 
Other ways I prioritize self-care is through girls' night! It is so good for my mind and heart to laugh, love, and be out of our house relating to other power-house women. Eric and I have a good understanding that I want him to prioritize playing golf or having guys' night once a month or so and he wants the same for me.
I also love lighting a

candle

and reading a

book

but to be quite honest, I hardly ever get a chance to do that anymore. I know one day when

MLWL

and young babies aren't as busy, I'll find time for this again!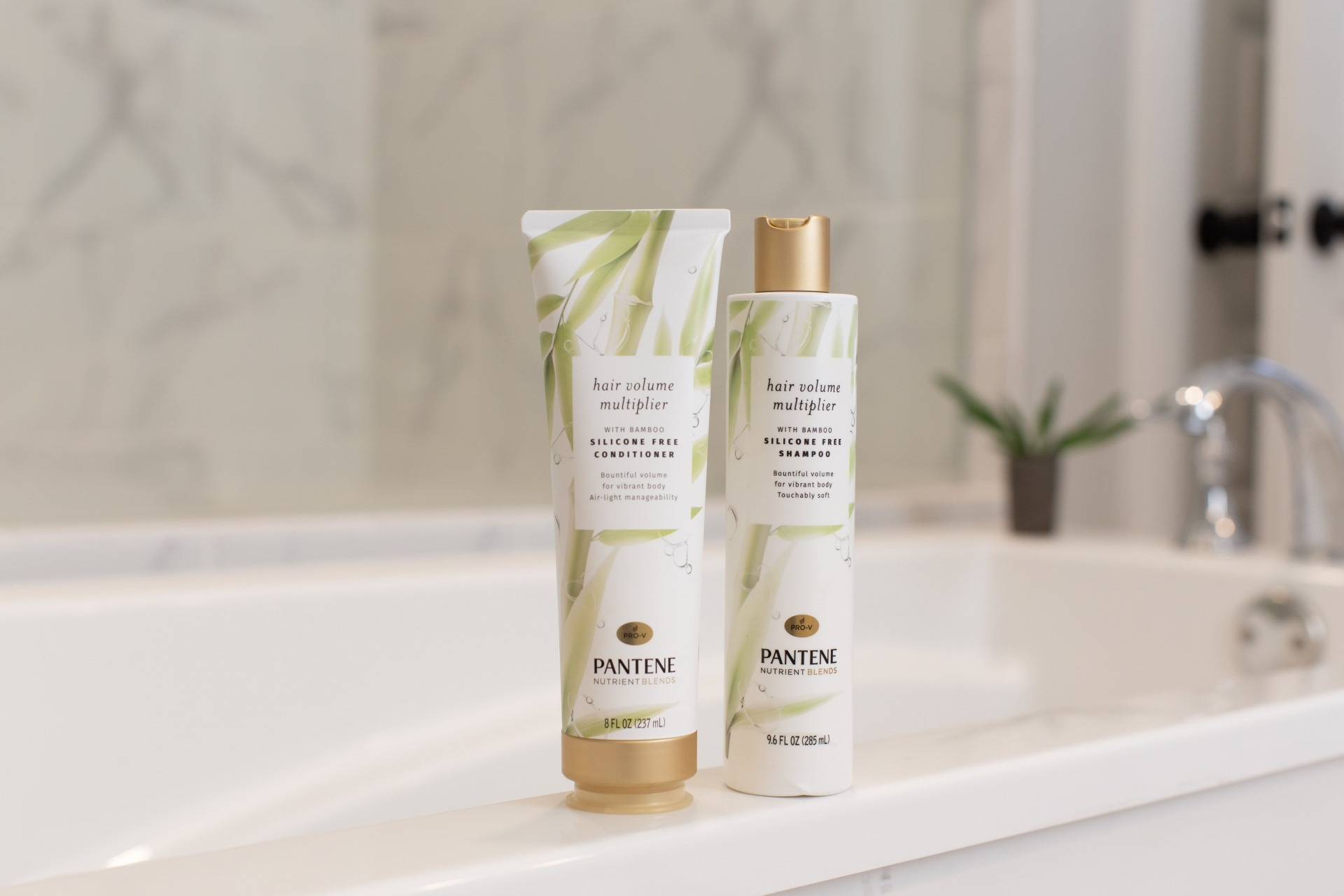 One thing I've found since working out at

Burn Bootcamp,

 is that I am forced to shower more. Even little luxuries of showering and taking my time to apply self-tanner, shave, and enjoy the smell of my shampoo while listening to

worship music

 has become a more frequent self-care routine for me lately. I don't always get to wash my hair as much as I want to (haha, mom life) so I want to make sure I'm giving my hair the best nutrients I can and using quality products like my

Pantene Nutrient Blends

Shampoo and Conditioner.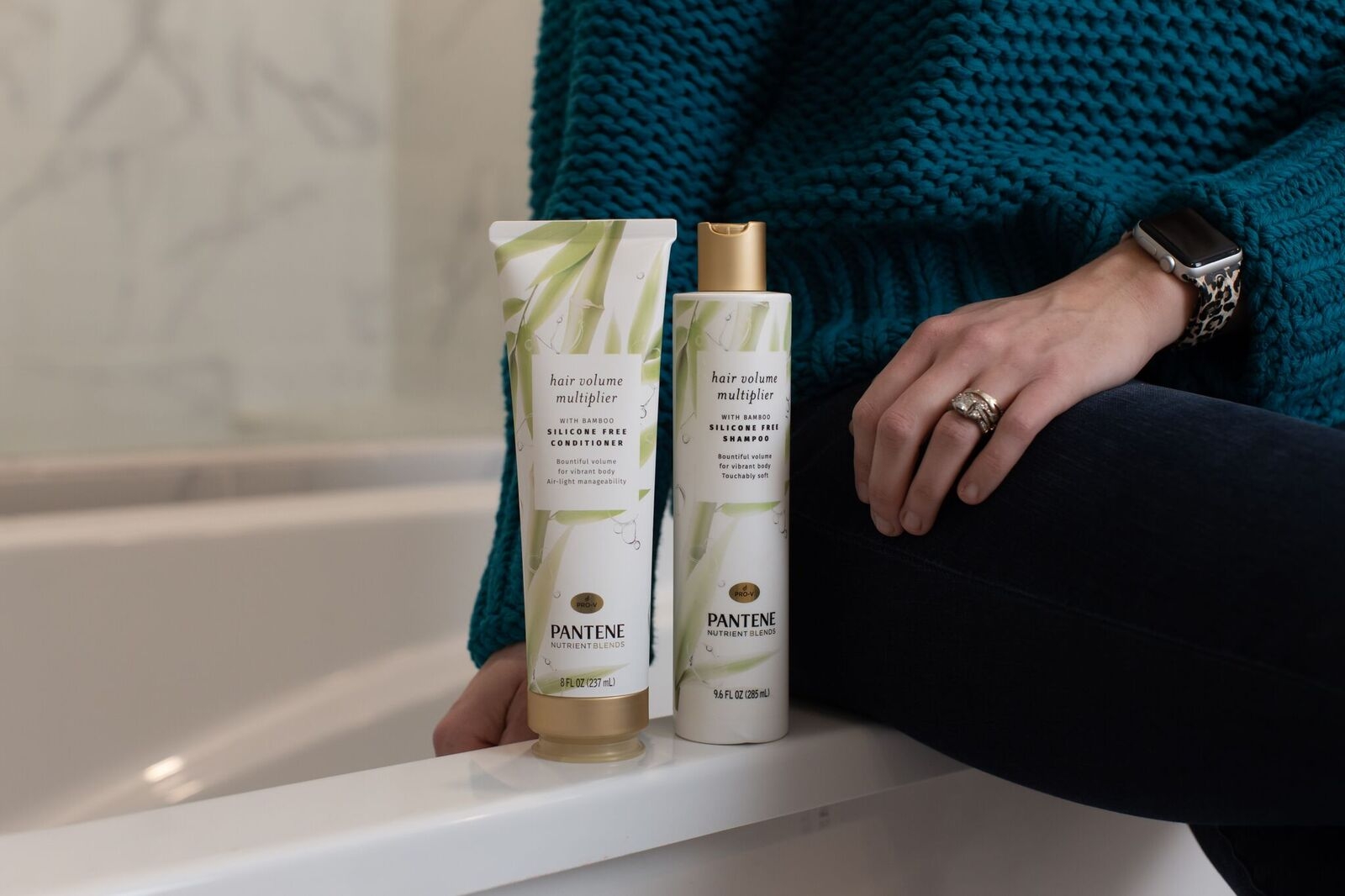 What I'm Loving Right Now:
The new Pantene Nutrient Blends Shampoo and Conditioner features nutrient-rich ingredient blends from cultures far and wide. The products are free of silicones, parabens, dyes and mineral oil. 
I'm currently using the Hair Volume Multiplier with Bamboo Shampoo and Conditioner. The Bamboo Shampoo not only smells amazing and leaves your hair feeling so soft, but also removes dirt and oils while returning hair to natural fullness. The Bamboo Conditioner is the perfect pair by nourishing and strengthening hair against damage while also protecting natural fullness. 
Bamboo is often known for its supportive and strengthening properties and is rich in Vitamin B It's also rich in silica, which improves elasticity and shine. 
If you are looking for new hair care products to add to your routine, click HERE to shop!
SHOP The Self Care Photos HERE:

PIN The Self Care Post For Later: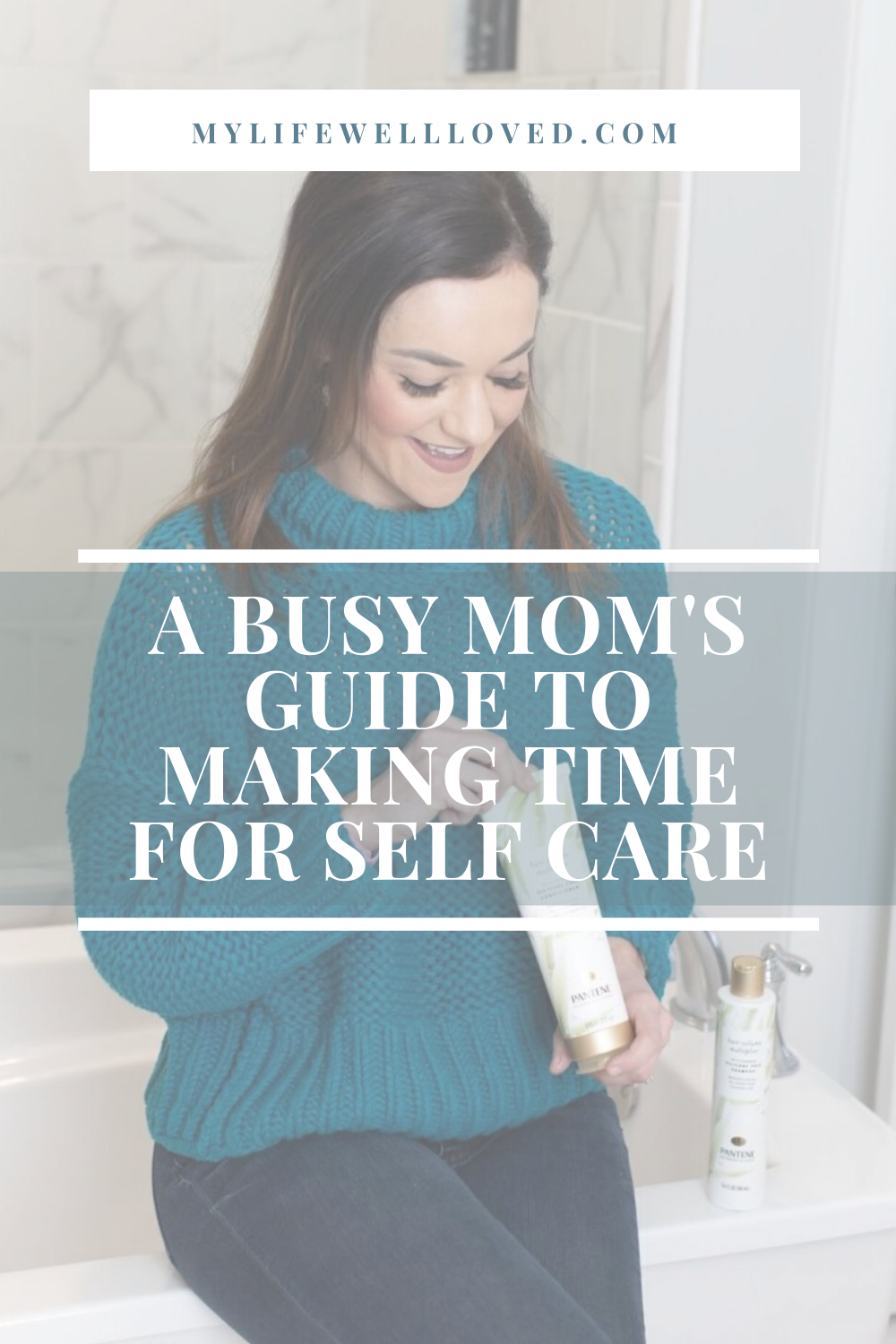 Heather Brown helps busy mamas of young littles who are caught in the hustle to find encouragement in their journey to true health, from the inside out, starting with the heart. Read her journey of learning to live a life well-loved
HERE!