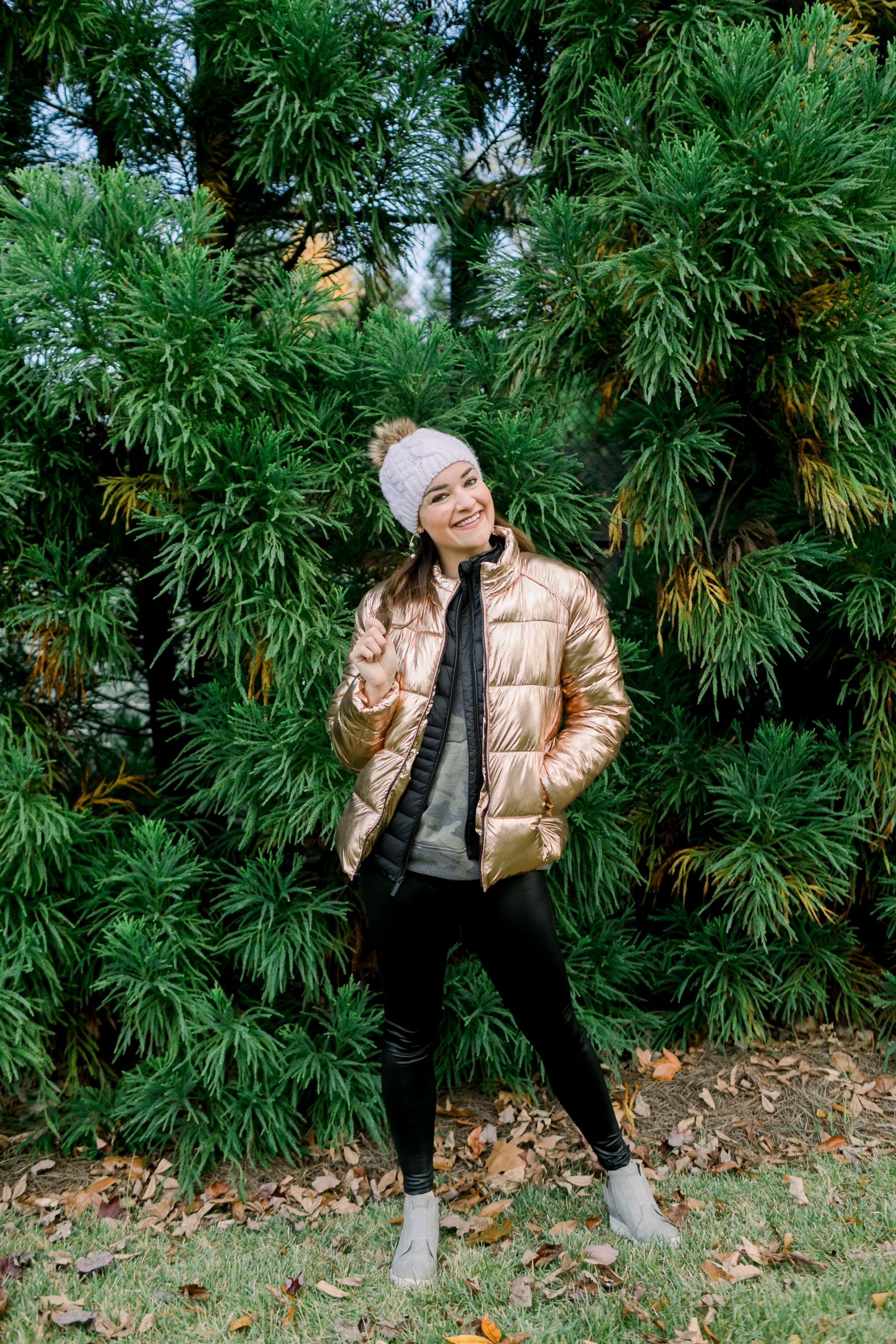 SHOP THE HOW TO LOVE YOUR BODY PHOTOS HERE: Metallic Marc NY Puffer Jacket // Target Liquid Spanx Faux Leather Legging Dupes // Clara Wedge Sneakers // Monogrammed Black Quilted Vest // Monogrammed Camo Long Sleeve Tee // Pom Pom Beanie // Kendra Scott Hoop Earrings // Amazon No Show Socks // My Under $10 Go To Lip Combo- NYX BUtter Gloss in the shade Creme Brulee and NYX Cream Lipstick in the shade Suede //FREE DAILY AFFIRMATION PRINTABLE //
Photos by Mary Kate Steele
It's time to kick off our 2020 LOVE YOUR LOVE YOUR BODY Challenge! While it is fun to focus on love, hearts, and all things cute and pink in February, I've tried to find a deeper meaning in this festive holiday! A meaning that merges our big health + wellness goals from January with appreciating our bodies and what they are accomplishing as we work towards those goals.
I am aiming to focus on loving my self and my body, just as I am. A big catalyst for me in accepting and loving my body postpartum was through this same challenge I did last year at 6 months postpartum after having Finn.
Seeing your body change during and after pregnancy can be difficult and sometimes emotional. This LOVE YOUR BODY Challenge is a chance for us to take a step back and appreciate all that our bodies have done and show love to the body God has given us! We are His workmanship (Ephesians 2:10) and our body is a temple of God (1 Corinthians 6:19), we need to be viewing ourselves in that light!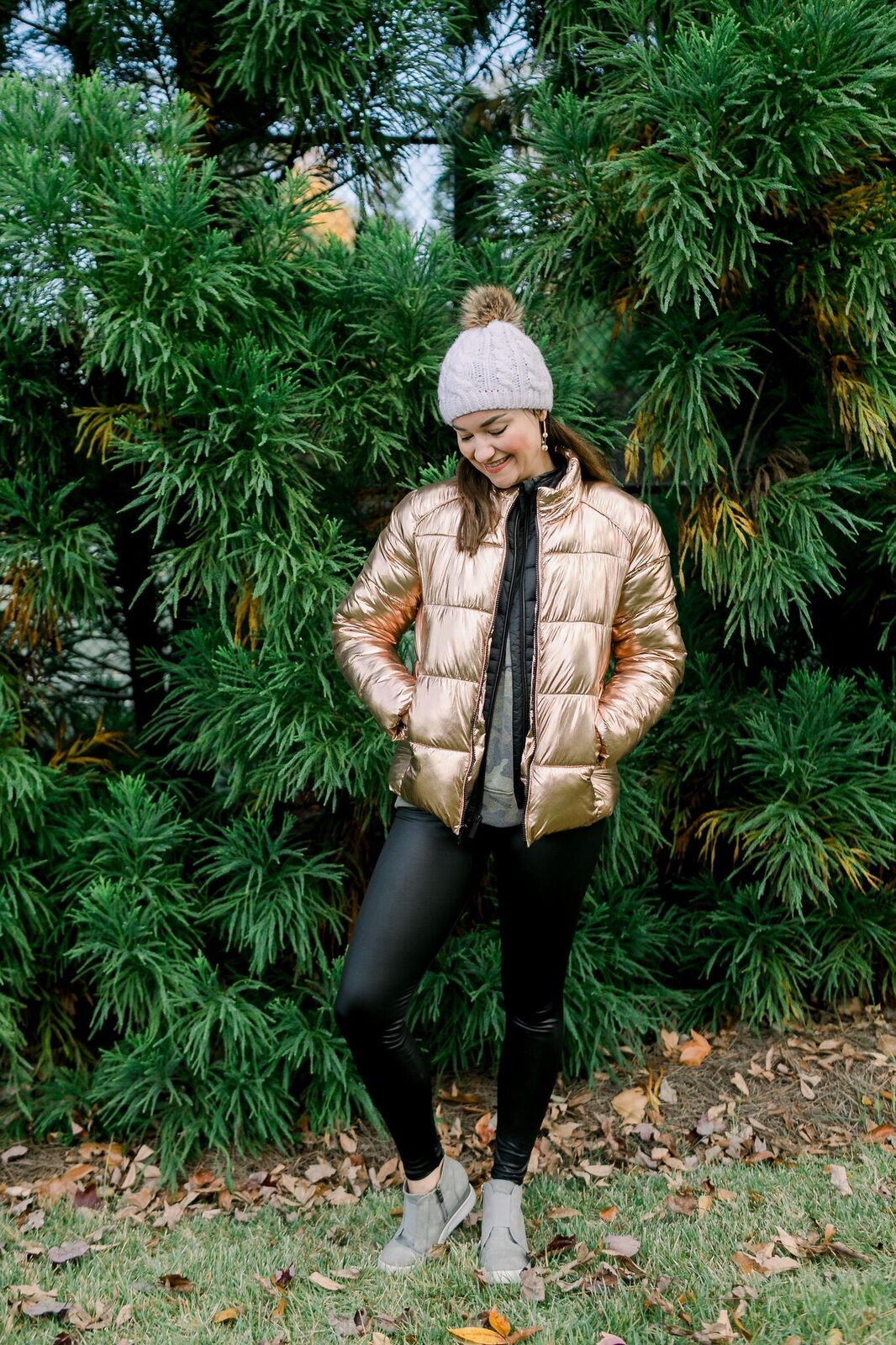 What Stopped Me In My Tracks:
I saw a quote on Becca Tilley's Instagram page recently that really stopped me in my tracks and helped me adjust my mindset. It read:
"I had a moment the other day that really changed my perspective on how I view my physical appearance. I was thinking no one has ever impacted me by being beautiful or having a perfect body. It might get my initial attention or even be inspiring, but it's never been the reason I remembered them. I'm impacted by people for their kindness, their loyalty, their patience, their generosity, their vulnerability, etc. I've never said 'she changed my life because she was pretty and skinny'. We spend so much time worrying about the thing that means the least to people."
…WOW! Does that resonate with you as much as it does with me? Working on being healthy (eating right, exercising, talking vitamins, etc.) is good. Negative self talk is not.
LOVE YOUR BODY Daily Affirmation Printable: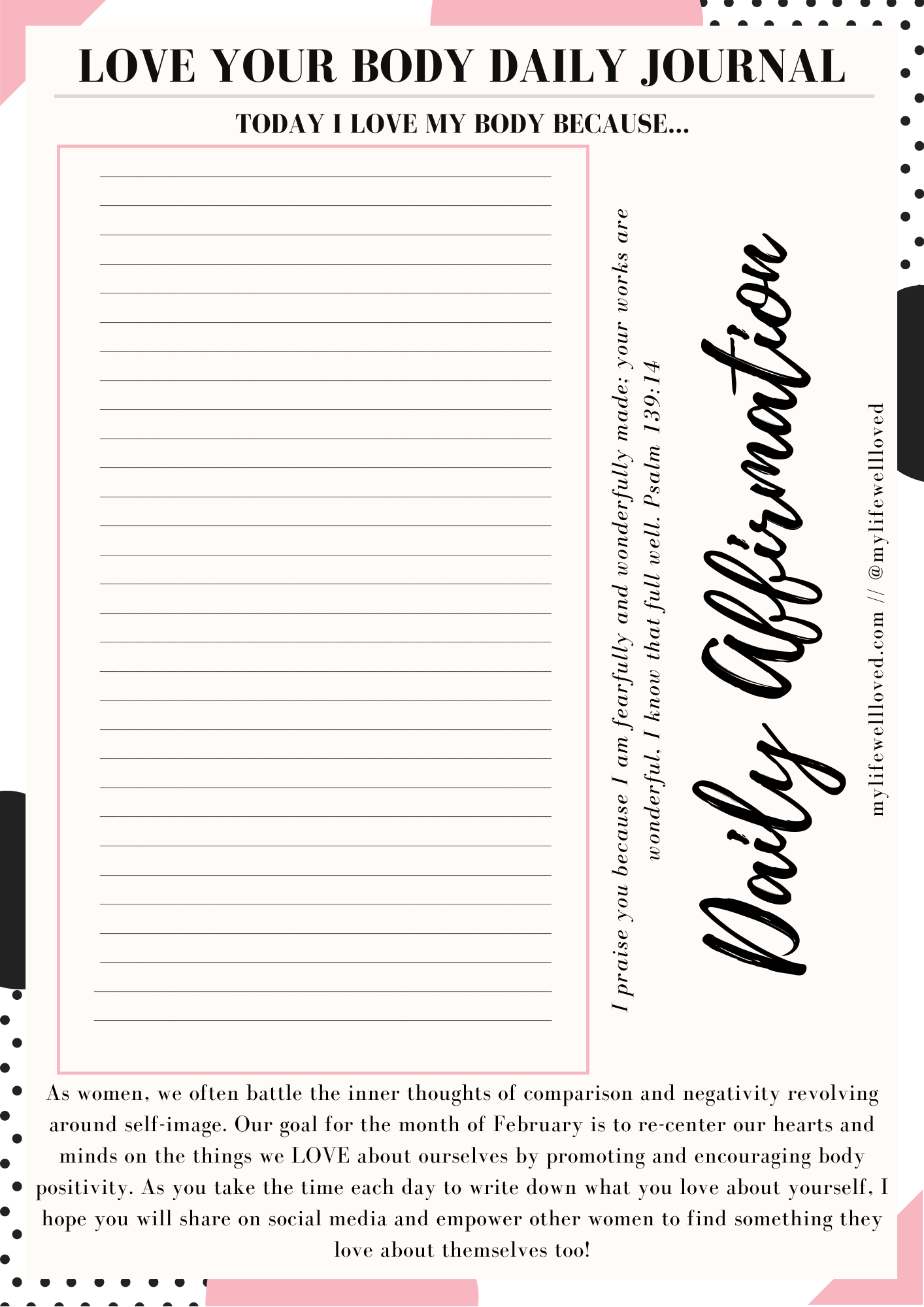 CLICK HERE TO DOWNLOAD THE PRINTABLE!
This challenge will be 4 weeks and will be all about how to LOVE YOUR BODY. Each week we will focus on a different way to flesh that out. Don't accept the lies the enemy is telling you! Any negative thoughts coming into your mind are not life giving and are NOT coming from the Lord. I want us to work on combatting those thoughts together! One way I think we can do so is with the daily affirmation printable I have included above!
I challenge you to click the link HERE, print it out, and find one thing you love about yourself to write down each day. Are you joining me?
SHOP The Post HERE:

PIN The Post For Later!