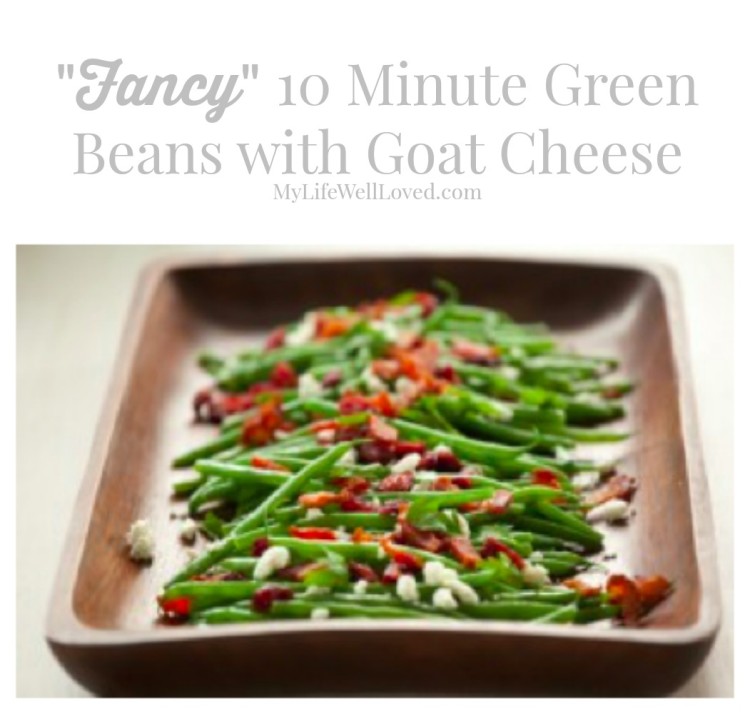 As I'm getting further into my no added sugar, no grains challenge I'm starting to really enjoy healthy eating again! And I sure do love finding ways to treat my palate to a decadent, rich taste without sacrificing my health. Enter Green Beans with Goat Cheese and Bacon!
I pulled this recipe from my old blog's archive this week to make and I'm so glad I did! Jessica, my old blog partner introduced this recipe to me and even put it on our old blog (Saving Money, Living Life) so you may remember it if you've been a long time reader.
This is an easy recipe that my husband and I love, and an easy way to dress up green beans in under 5 minutes. The goat cheese is especially good when added to the beans while they are still hot- it softens and starts to melt a little. You can also use red wine vinegar if you don't have sherry vinegar. My mom makes it with the bacon while I usually opt for using almonds instead for a lighter alternative. Enjoy!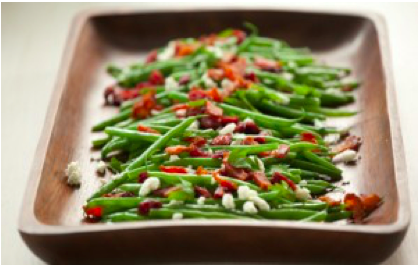 10 Minute Fancy Green Beans with Goat Cheese
Prep time:
Cook time:
Total time:
Ingredients
1½ lb. green beans, washed and trimmed
2 tablespoons extra-virgin olive oil
1 tablespoon sherry vinegar
½ teaspoon sea salt
Ground black pepper to taste
⅔ cup dried cranberries
1 (4-ounce) log goat cheese, crumbled
Optional: ¼ cup almonds and/or cooked bacon (crumbled)
Instructions
Bring a large pot of salted water to a boil.
Add green beans and cook until just tender, 3 to 4 minutes.
Drain well and transfer to a large bowl.
Toss with oil, vinegar, salt and pepper and transfer to a large platter.
Scatter cranberries, goat cheese and almonds over the top and serve warm.
And PS don't you just love a wooden serving platter? I just got some new wooden looking bamboo salad tossing tongs and am wanting to add more wooden serving pieces to my collection. Here's a few I found and like below!