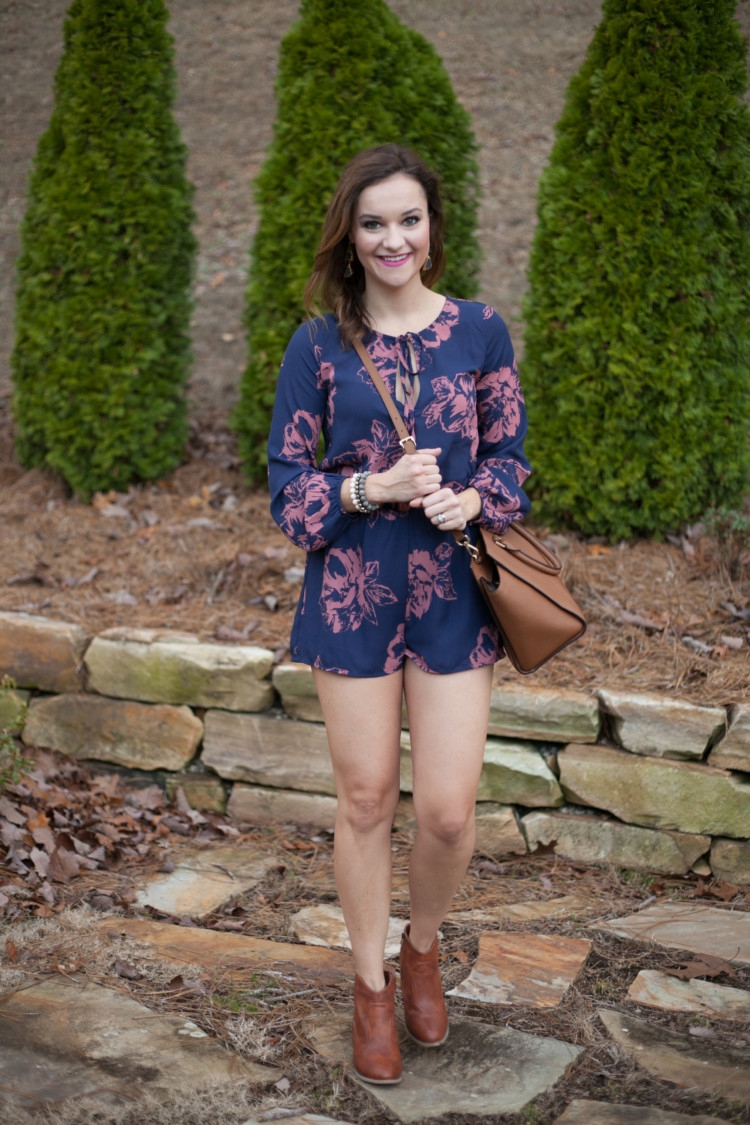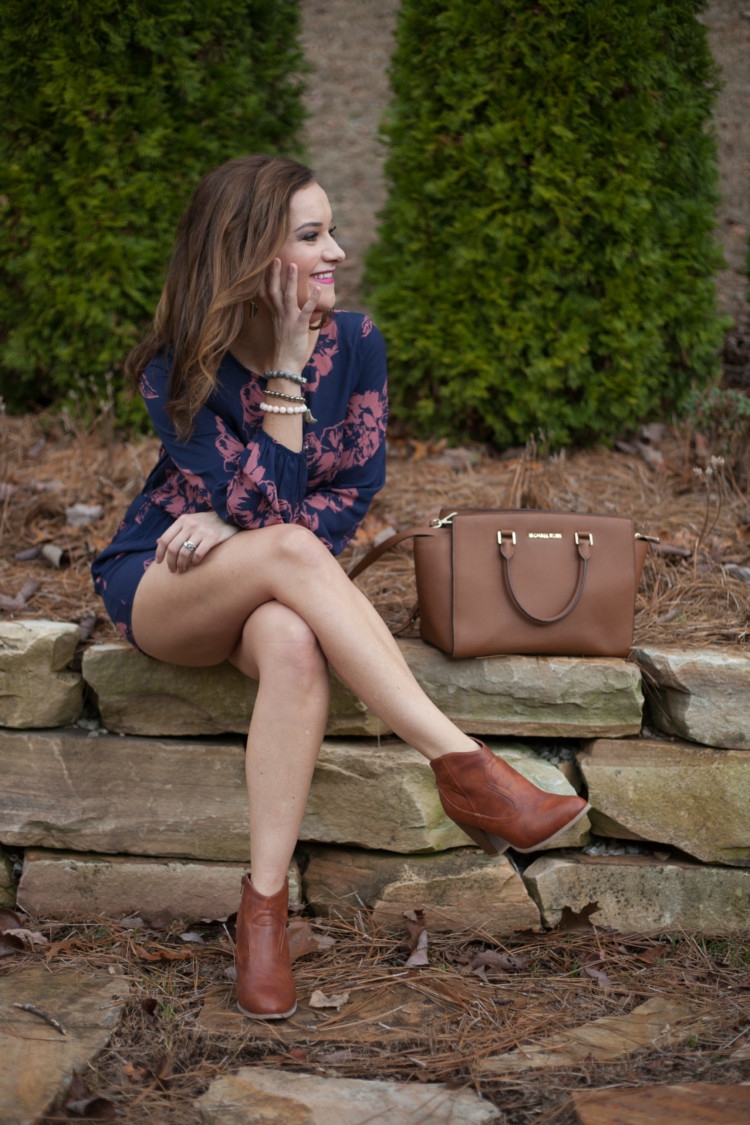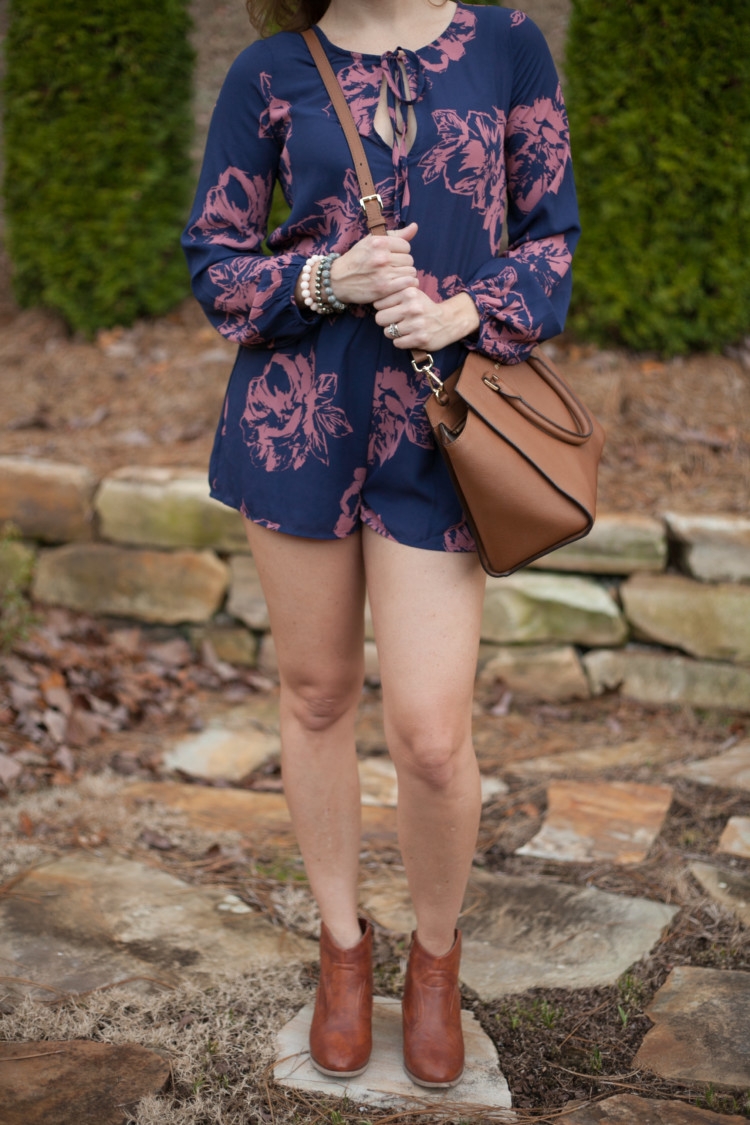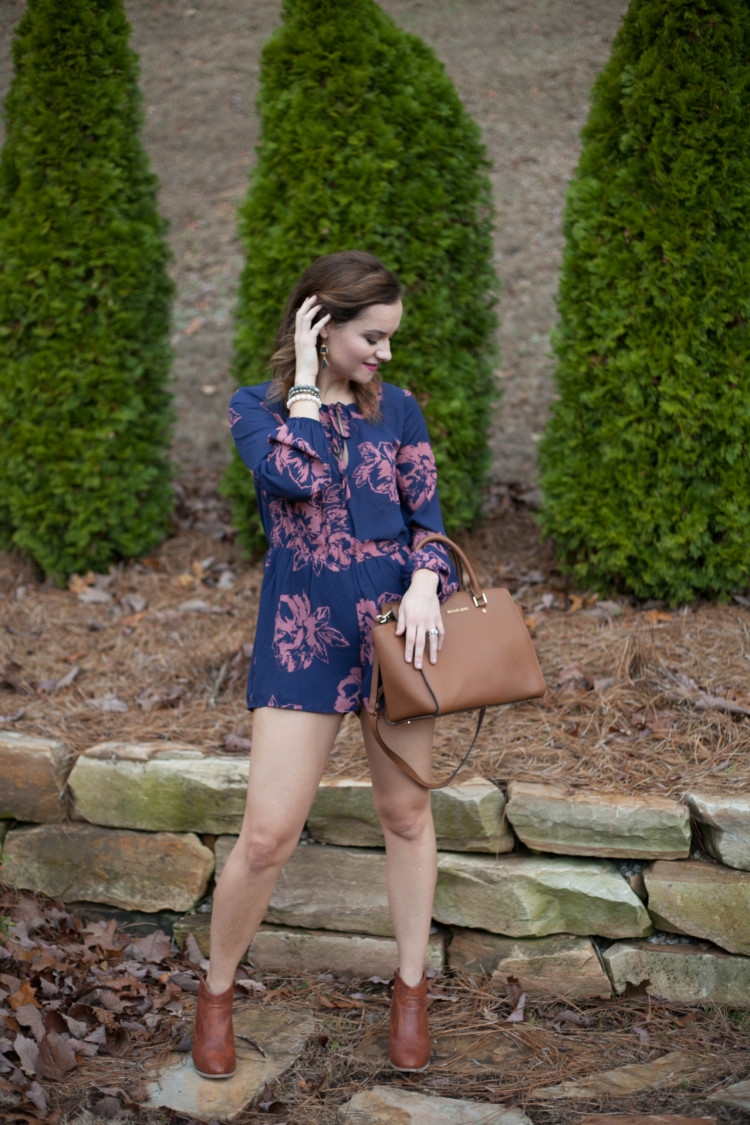 Peace out, cold weather and dead leaves on the ground! I'm excited to welcome spring, flowers (and a floral romper), and warm weather! I'm not as excited about welcoming all the pollen and thus my allergy attack turned sinus infection…but that's a story for another day. To celebrate spring, the first outfit I shot for the warmer weather back in January was this adorable floral romper.
I love this floral romper because it's a perfect transition piece to spring. I paired it with some booties to help keep me a little warmer and give it a little kick of edge with the leather. The long sleeves make it not too chilly as we dip down in the 50's still at night and I love that it's floral but not too much flower power. Ha!
Lately, I've been listening to the sermon series How's your soul? from Judah Smith. My sister-in-law recommended it to me and I'm so glad that I've started listening to it. It's a good reminder that instead of just passing through our days without intentional living or conversations, it's time to start inquiring deeper to know others around us better. In our day and age, it's so easy to just say how's it going? And get the "fine" or "good" answer but seriously, how's your soul? Now that question cuts right to the heart.
I'd highly recommend giving this sermon series a listen while you're cleaning your house or driving to work or otherwise going about your day. It'll be music to your ears, but also to your soul. God created us to connect with people…He literally designed us for relationships. That's why we have to have a personal relationship with God through Jesus Christ to know Him. What a gift! I hope you always feel free to email me (mylifewellloved@gmail.com) and tell me how your soul is doing and if there's anything I can pray for you about.
At the end of the day, it's fun to talk about cute clothes and baby tips and tricks but what I really want for this community is to uplift your soul. To make a small difference in your life. To help you not feel alone in the diapers and flurry of kids' activities, momma. We are in this together. So, start off today by asking yourself, "How's my soul?" and then let that ripple out to those you know and love.
PS Don't forget to enter to win the $800 value anti-aging Nerium products!
Shop the Floral Romper Post:
Romper // Booties // Bag // Earrings // Bracelets // How's Your Soul? Book // See the Makeup Tutorial for this Look
Today I'm also linking up with Larissa at Living in Color Blog & Stylin' in St. Louis.
HOW TO LINK-UP:
1. We kindly ask that you follow the two hosts: Larissa from Living in Color on Bloglovin', Jacqueline from Stylin' In St. Louis via Bloglovin', and me…the guest host 🙂 My Life Well Loved on Bloglovin'. (The first 3 links in the link-up.)
2. Please link back to Larissa and Jacqueline's blog on the post you linked to, stating that you joined in on the fun over at Spotlight Weekly.
3. Enjoy reading other blogs and make new blogger friends!
LINK-UP CODE:

Heather Brown helps busy mamas of young littles who are caught in the hustle to find encouragement in their journey to true health, from the inside out, starting with the heart. Read her journey of learning to live a life well-loved
HERE!