With summer right around the corner, that means the end of the school year is near! Can you even believe it? 2020 and 2021 have thrown quite a few curveballs for our sweet teachers. They have pivoted and sacrificed in many ways for their students – OUR kiddos! As we wrap the school year and celebrate Teacher Appreciation Week, I wanted bring you a list of a few of my favorite end of school year teacher gift ideas! And let's be honest, NO teacher is going to turn down a gift card either! You can scoop up a host of them on Amazon or Walmart.com!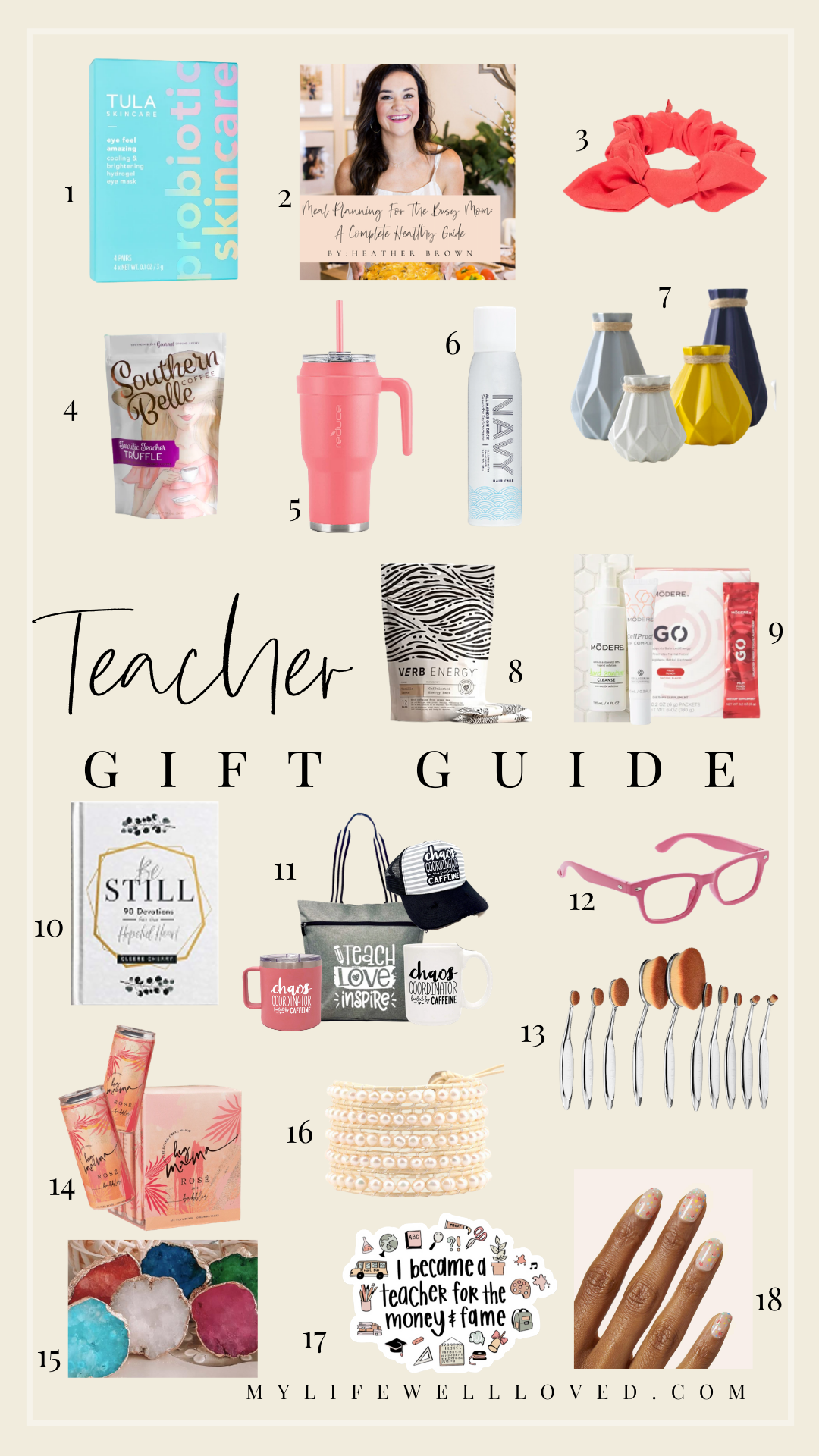 SHOP The End Of School Year Teacher Gift Ideas HERE:
1. Tula Eye Patches // Use code WELLLOVED for 15% off! // Reinvigorate tired eyes with this cooling hydrogel under-eye mask. Probiotic extracts & hyaluronic acid deeply hydrate & promote skin smoothness, niacinamide & blueberry help brighten the appearance of dull skin & quinoa seed plus green coffee caffeine help reduce the look of puffiness. You're left with refreshed & brightener-looking under-eyes & that 'eye feel amazing' confidence.
2. Meal Planning For The Busy Mom Ebook // Who can't use help in the kitchen? ESPECIALLY teachers with a family! Let me help take a load off your child's teacher's plate this summer and the start of her next school year. I have written 100 pages filled with worksheets, recipes, and practical tips to help EVERYONE get a meal planning rhythm that works for them! If you are looking to gift my downloadable ebook to a teacher or even a friend, you can enter their email at the end to deliver electronically. This is the perfect gift if you are a last minute shopper like me!
3. Lululemon Scrunchie // Put a bow on it! These scrunchies are great to keep hair out of your eyes while also being a cute accessory!
4. Southern Belle Coffee // Use code FREESHIP2 for free shipping on 2 or more bags! // Chocolate truffles for terrific teachers! Let's keep those educators caffeinated y'all. They need it! My FAVORITE coffee creamer is also 15% off with code: MYLIFEWELLLOVED. I linked the NutPods variety pack here!
Southern Belle Coffee roasters Kimberly and Michael Slack, have created an iconic coffee brand with Louisiana roots. It starts with a blend of gourmet coffees, freshly roasted every day at their roasting company, which has been operating in Louisiana for more than 120 years. They don't stock coffee and instead roast to order so your coffee is the freshest possible! They have the most FUN flavors including:
Belle of the Ball – a blend of caramel, pecan and rum
Jamaican Momma Crazy – combines kahlúa, caramel and vanilla
Laissez Les Bon Temps Brûlée – a creme brûlée lovers dream come true
Each flavor is a Southern expression, beautifully packaged in Southern Belle Coffee's pretty-in-pink bags, which can be purchased in select, women-owned boutiques throughout the South, or online and shipped to all fifty states. Southern Belle Coffee is inspired by the women who love to drink, give, and receive Southern Belle Coffee. They're smart, stylish, and—whether they're from the South or not—they always get the job done with strength, humor and good, old-fashioned charm.
5. Reduce Water Mug // Use code MLWL for 20% off the Reduce website! // If you've seen me toting my blue giant mug around on stories, it's one of my favorites from Reduce! Use my code by shopping their site HERE or you can shop on Amazon without my code HERE!
6. Navy Hair Care Dry Shampoo // Use code MLWL for 30% off! // Make those hair wash days even longer apart! This is my go-to dry shampoo and a teacher survival must-have!
7. Apollo Box Ceramic Vases // Use code APOLLOHEATHER to get 20% off! // Available in several bright, neutral colors, these Colorful Ceramic Vases will look dreamy on your teacher's office desk. Sit a few next to each other, with flowers, and create a gorgeous centerpiece.
8. Verb Energy Bars // $12 for 16 bars + free shipping! (Originally $25!) // Only 90 calories and small enough to stash in your pocket for energy on-the-go! Perfect for a teacher's afternoon pick me up!
9. Hand Sanitizer | Lip Serum | Go Energy // New customers save an additional $10 when you use code 2256749! // I love all 3 of these products as teacher gift ideas! The hand sanitizer is a spray, safe & effective! The lip serum is a topical collagen treatment for your lips! That means it plumps your lips as it hydrates them. It's like fillers without the needles! Purchase this 5 count and receive a FREE spa headband + a FREE 3 pack of Body Bars! These energy packets are so handy to have on the go. They give you a natural boost of energy with no crash!
10. Be Still Devotions // Use code LIFEWELLLOVED for 15% off the Cleerely Stated Website! // Cleere's newest devotional, Be Still, has 90 devotionals focused on helping us refocus and remember that stillness is a necessary ingredient for being effective and peaceful amidst the craziness of our days. Sitting with Jesus and being reminded of His perspective of our lives and situations is always the game-changer. Each entry includes a Scripture passage, heartfelt prayer, and calming message. Click HERE to shop with my discount code or click HERE to shop on Amazon without my code!
11. Brooke & Jess Designs Chao Tumbler | Teacher Tote | Chao Hat | Coffee Mug // Use code CHAOSHAT for 40% off the hat! // I am in love with these fun gift ideas for the teachers in your life! Perfect for when you want to show them how much they are appreciated! Brooke & Jess are 2 sisters who sell fun and unique gifts and they are on a mission to celebrate AWESOME people who do (what may seem like) small things that make a big differences! AKA our amazing teachers – our every day heroes! Brooke & Jess make the most fun and unique gifts designed with teachers in mind!
12. Peeper Blue Light Blocking Glasses // All of us babes are on our screens more than we'd like to be! That's why I love Peepers blue light blocking glasses – and if you need some reader strength, they've got those too!
13. Artis Makeup Brushes // Use code HEATHER25 for 25% off! // A 10-piece brush set for applying and seamlessly blending liquid, cream, and powder makeup formulas on the face and body.
14. Hey Mama Wines // Use code HEATB10 for 10% off! // Y'all know I am obsessed with my Hey Mama Wines! Low carb and so delicious. You get flavors of watermelon and strawberry with an aroma of strawberry, honeysuckle, honeydew melon. YUM!
15. Geode Pop Socket // So on trend and SO pretty for your phone!
16. Victoria Emerson Pearl Wrap Bracelet // If y'all only knew how many times I have gifted Victoria Emerson bracelets to the women in my life! I truly think they make the best gifts and I love wearing them too! They instantly elevate any outfit!
17. Sway Girls // Use code LOYALTY for 20% discount! // The stickers are made from a durable vinyl laminate that resists scratching, heat, water, and sunlight. These are perfect to stick everywhere!
18. ManiMe // Use code MYLIFEWELLLOVED for 20% off your first order! // With ManiMe, you can order your favorite designs from top nail artists to be delivered straight to your door! They custom fit your stick-on gel to the exact shape and size of your nails. It's an EASY application that only takes minutes. They are also "10-free" which means they are free of the top ten most toxic chemicals usually in nail products!
If you are looking for more gift ideas, check out my other recent gift guide I published with over 30 amazing gift options for women! Do you have a good teacher gift idea that I need to add to my list? Leave me a comment below so I can include it!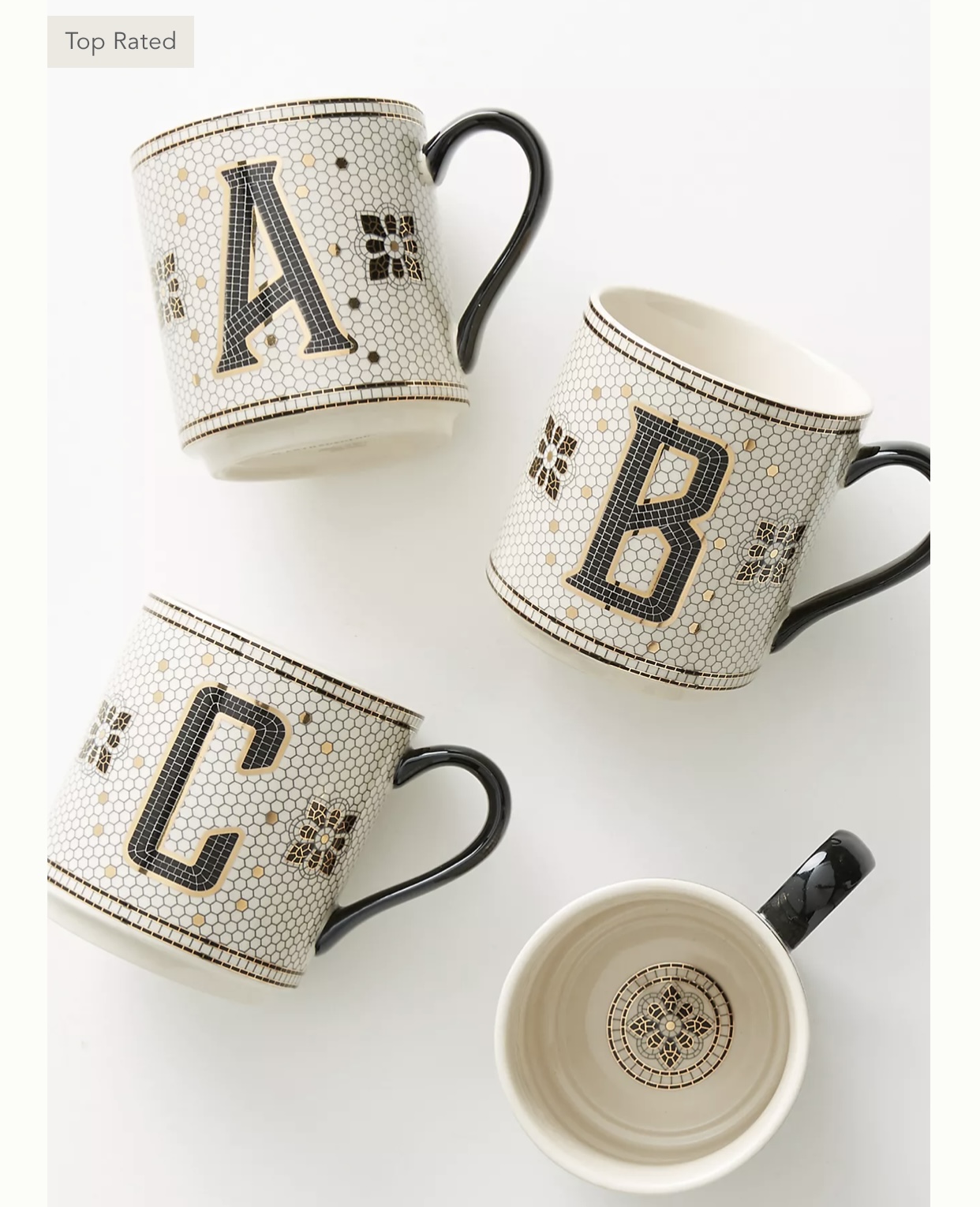 Click the image above to SHOP or click HERE!
Thank you to Apollo Box, Brooke & Jess Designs, Southern Belle Coffee and Sway Girls for partnering with me on today's blog post!
SHOP More End Of School Year Teacher Gift Ideas HERE:

PIN The Teacher Gift Ideas For Later!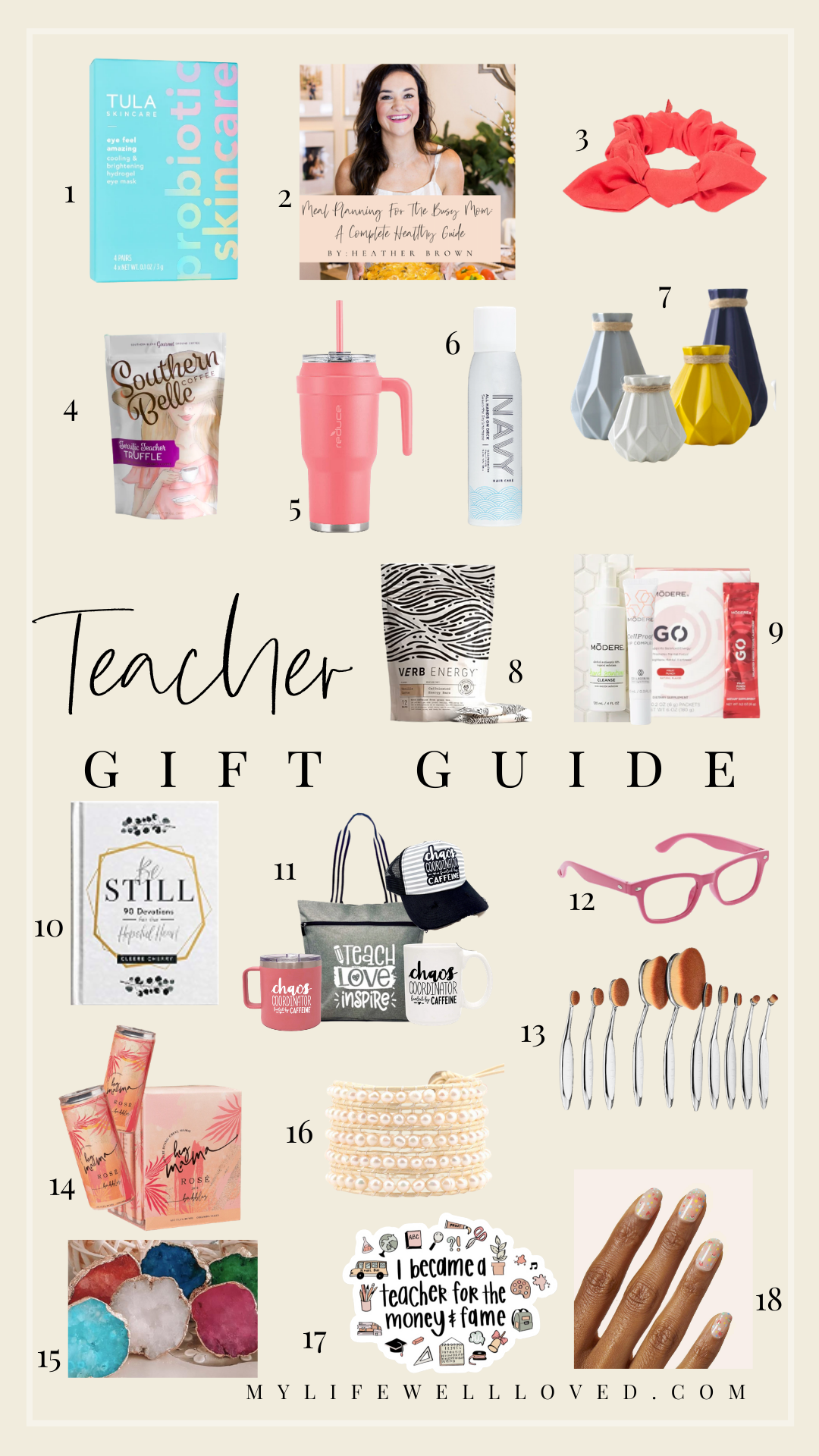 Heather Brown helps busy mamas of young littles who are caught in the hustle to find encouragement in their journey to true health, from the inside out, starting with the heart. Read her journey of learning to live a life well-loved
HERE!