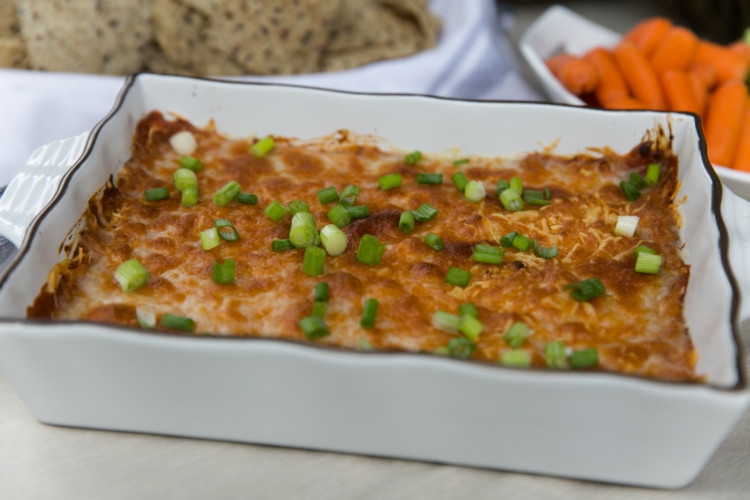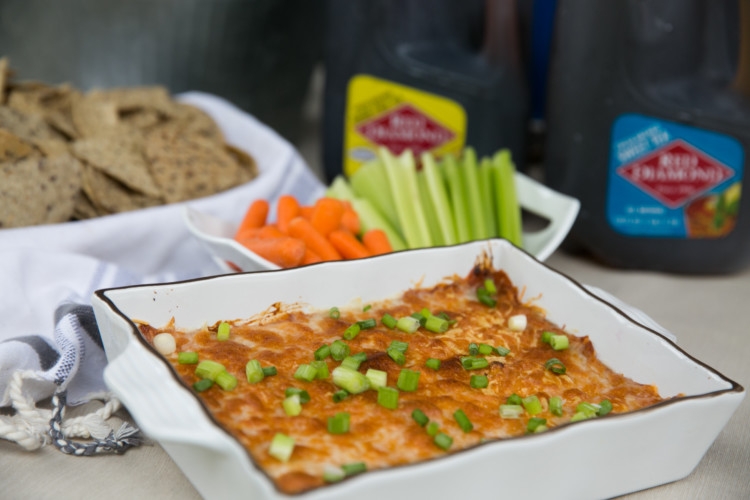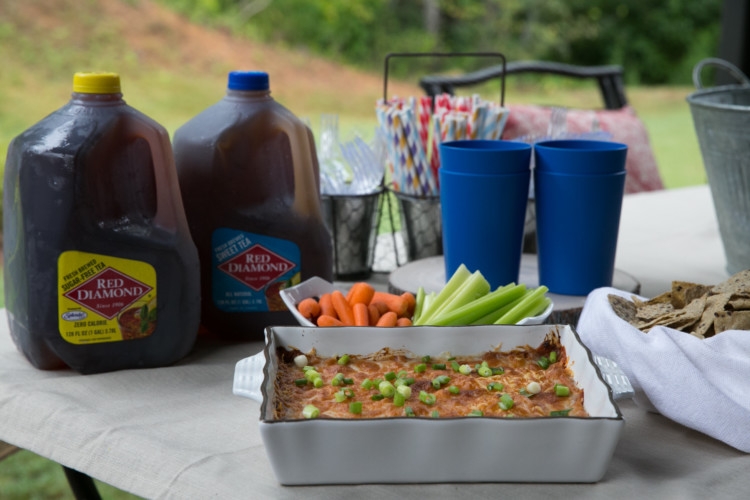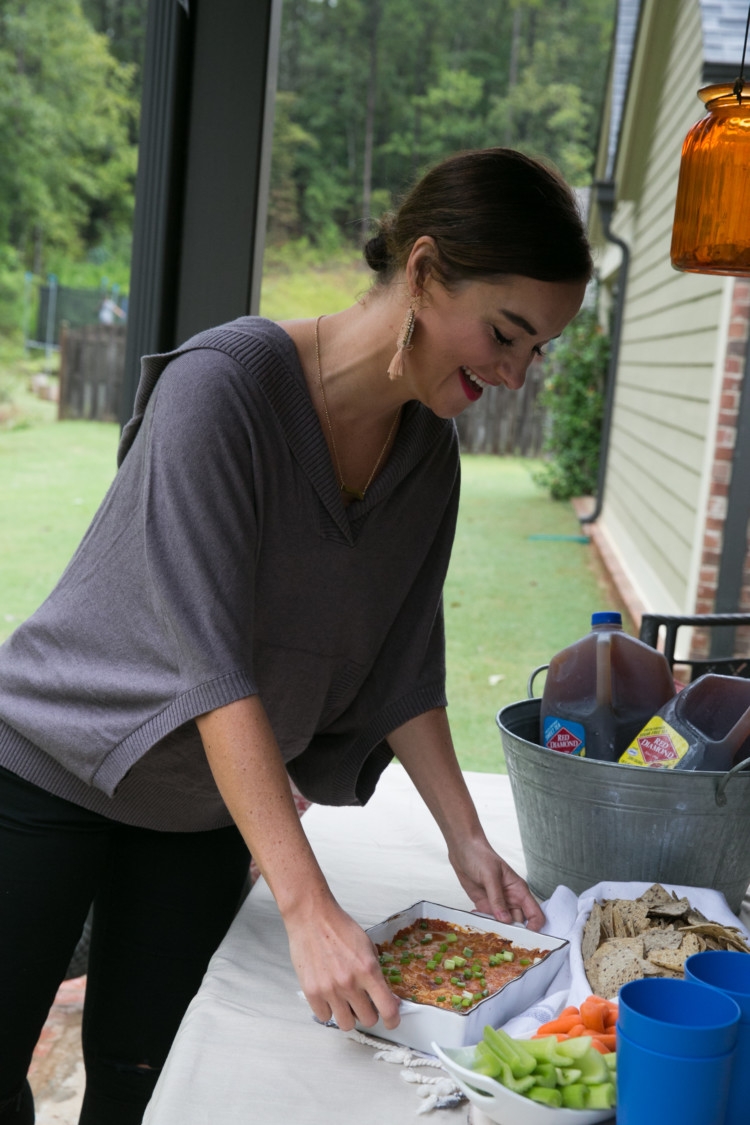 Cape Hooded Sweater-use code GHLW15 for 15% off // Pants // Earrings // Cups // Baking Dish (Similar) // Turkish Towel
Thank you to Red Diamond Tea for partnering with me on this post. Thank you for supporting the brands that support MLWL. 
Perfect isn't easy you guys. In fact, I think I'm a daily testament to that, ha! I'm far from perfect and if you know me in real life, you see that frequently. What can I say? I'm a naturally gifted klutz. My hubs is constantly trying to point out uneven concrete, pots that are about to spill out at my feet from our kitchen cabinets, and a host of other things that most humans notice with a glance…but not this girl! I don't calculate the risks with each passing situation…I'm too busy thinking about the next thing on my to-do list. Is that good or bad? I'm not quite sure!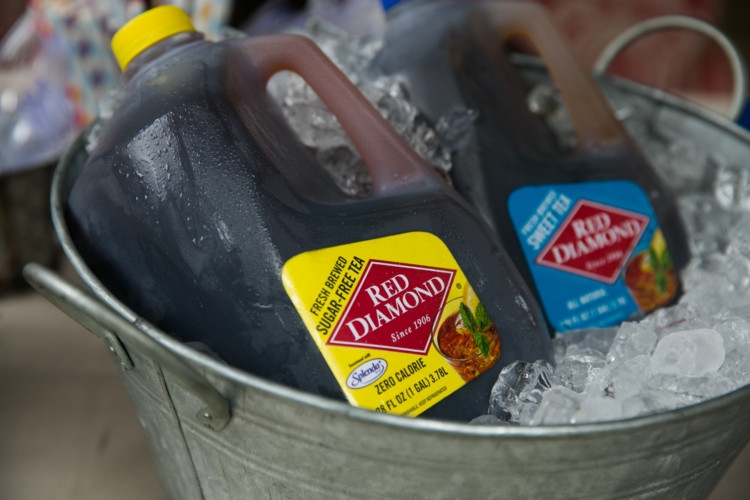 I teamed up with Red Diamond because luckily they've perfected the tea game for my tailgates and such so I don't have to. As you may know, I try to avoid sodas unless I'm on vacation. My drinks of choice include coffee, wine, water, sparkling water, and when I want a change up, unsweet tea.
Growing up in the deep south, we had sweet tea with every meal. It's basically a right of passage. When I first started going up north for my husband's family get together's I had to keep being reminded that I couldn't order sweet tea at restaurants…whoops! They don't know what they're missing out on up there.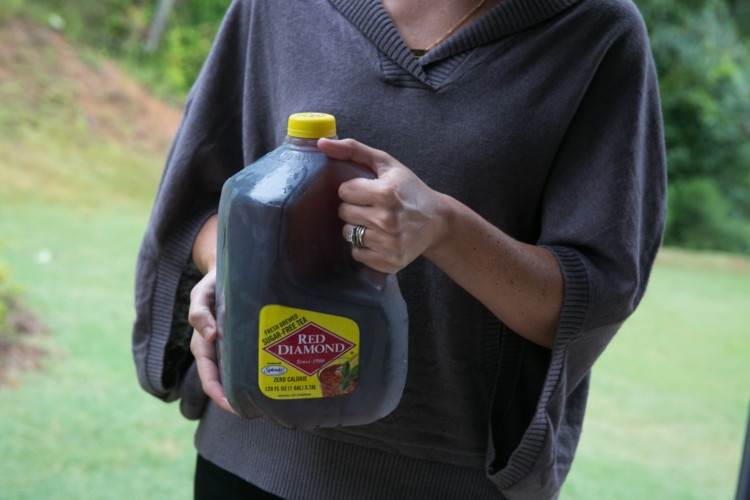 Although I typically drink unsweet tea to keep my sugar intake under control, my family won't hear of it! So, when they come over, we always have sweet tea on hand because in their minds, no meal is complete without it. If you don't live in the South, I know this may sound like a completely foreign concept. I chose Red Diamond because they use actual tea leaves, no fake powders or concentrate.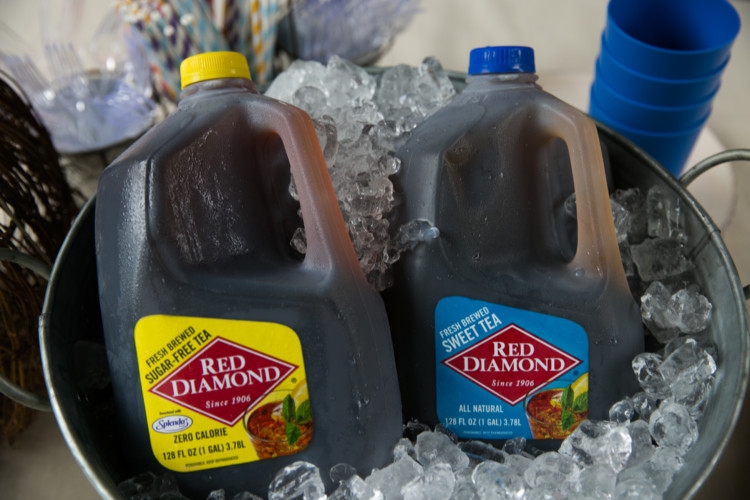 When I asked you guys what you want more of, I heard lots of requests for healthy recipes. Since football season is here, I wanted to whip up something that you could have for your tailgates and football viewing parties. I adore the simplicity and yum factor of BBQ Chicken Dip, so I thought, why not try to find a way to make it healthier?
Typically this BBQ Chicken Dip calls for cream cheese so I set out to find a good substitute. I stumbled upon the recommendation of cottage cheese. I HATE cottage cheese so I was very wary of this option, but good old Google recommended using it in a food processor to make it creamy. Since my main fight to pick with this food is the texture, I thought I should at least give it a whirl.
Y'all, it was actually DELICIOUS in this BBQ chicken dip. We've been making this recipe for years now thanks to my good friend, Katie, so when Eric and my photographer were both on board with how good it was too, I knew I was onto something! I hope you'll whip up this Healthier BBQ Chicken Dip for your next get together whether it be for a big game or a Halloween party. It's sure to be gobbled up quick!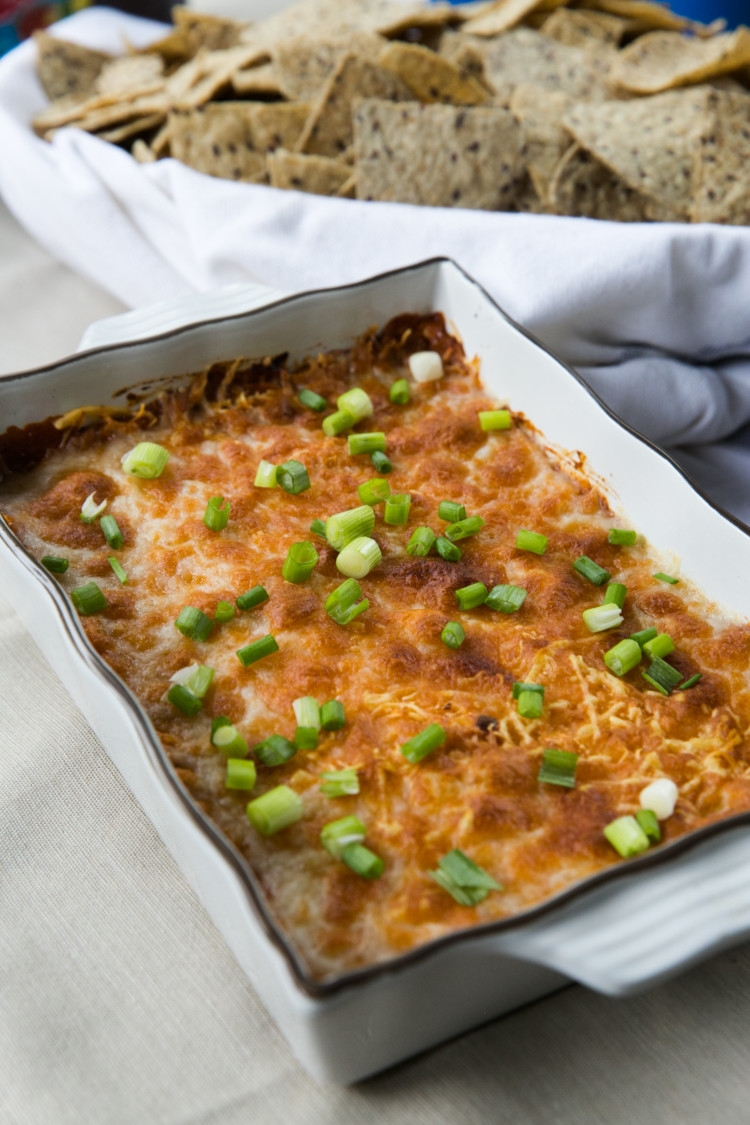 Don't forget that a lot of times the sneaky calories come from what you are dipping with too. You can opt for baked chips, paleo chips, or even veggies like carrots or celery to dip in this BBQ Chicken Dip to cut back on the calories. If you are hosting a party this season, I highly recommend the following menu items:
Whole30 Approved White Chicken Chili
Yummy Healthy Alabama Caviar Bean Dip
Pumpkin Peanut Butter Cookie Sandwiches
Healthy & Delicious BBQ Chicken Dip Appetizer:
Lightened Up Barbecue Chicken Dip
Ingredients
8 oz cottage cheese
12 oz cooked chicken, chopped
¾ cup BBQ sauce
1½ cups cheddar cheese, shredded
Green Onions, Chopped
Instructions
Preheat oven to 350.
Use food processor to blend cottage cheese until smooth.
In a mixing bowl, combine cottage cheese, chicken, BBQ sauce, 1 cup cheddar cheese.
Scrape into an 8x8 baking dish.
Top with cheese and chopped green onions.
Bake for 25 minutes or until bubbly.
Macros:
Carbs: 12g
Fat: 8g
Protein: 14g
Shop the BBQ Chicken Dip Post Look: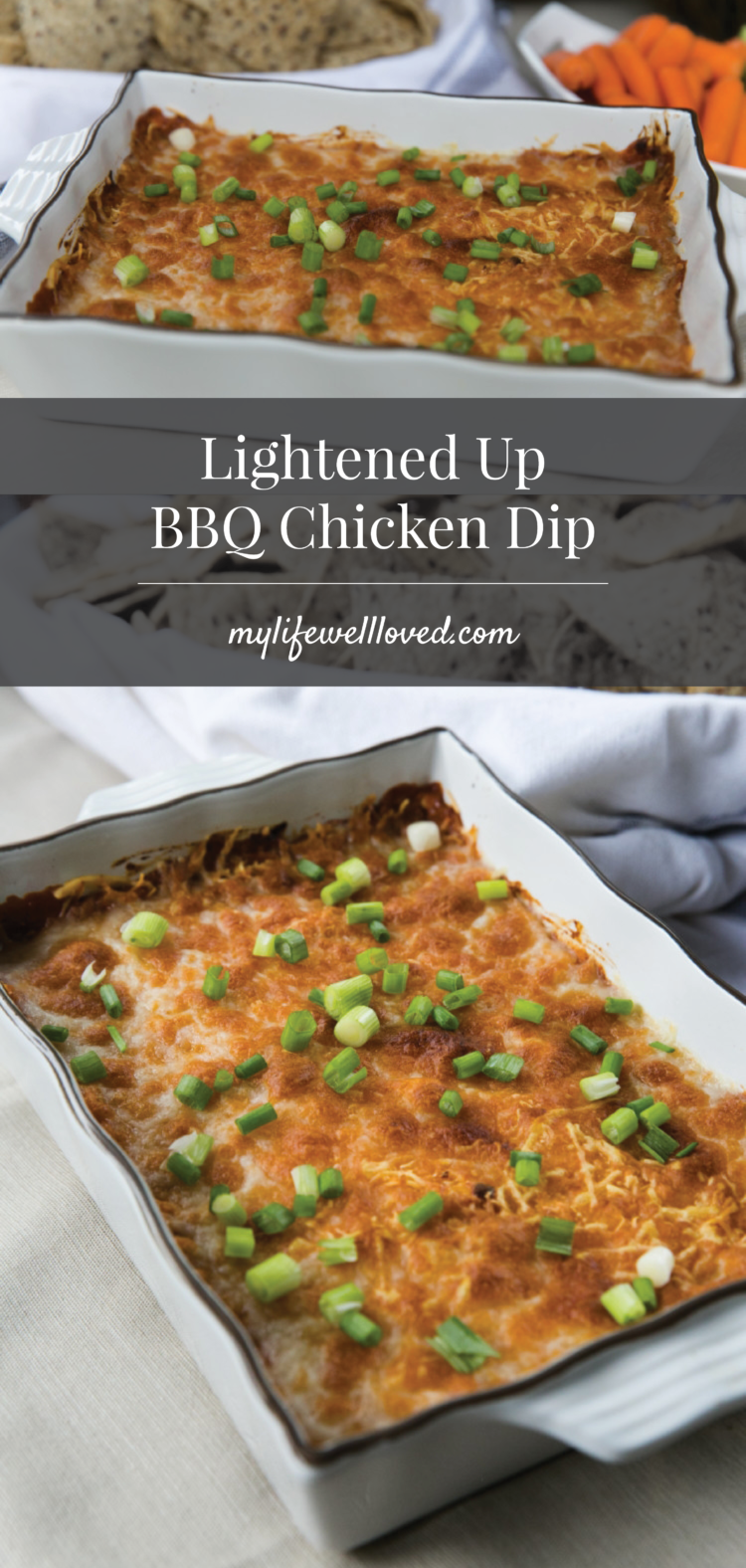 Heather Brown helps busy mamas of young littles who are caught in the hustle to find encouragement in their journey to true health, from the inside out, starting with the heart. Read her journey of learning to live a life well-loved
HERE!