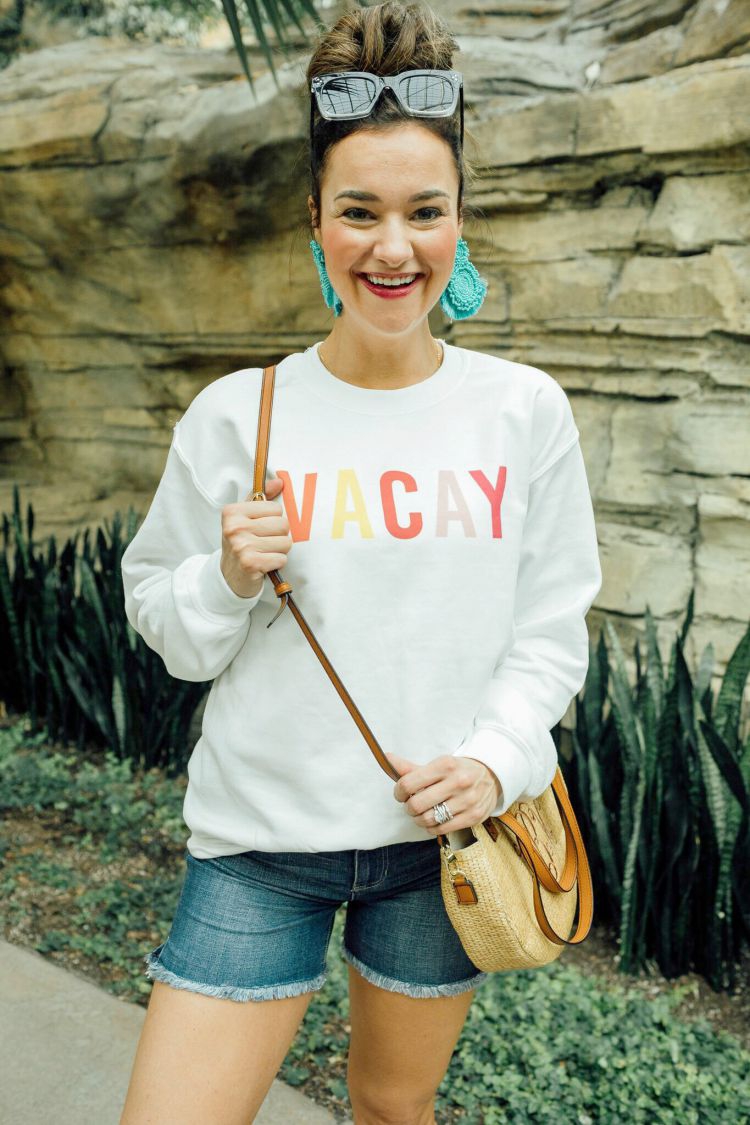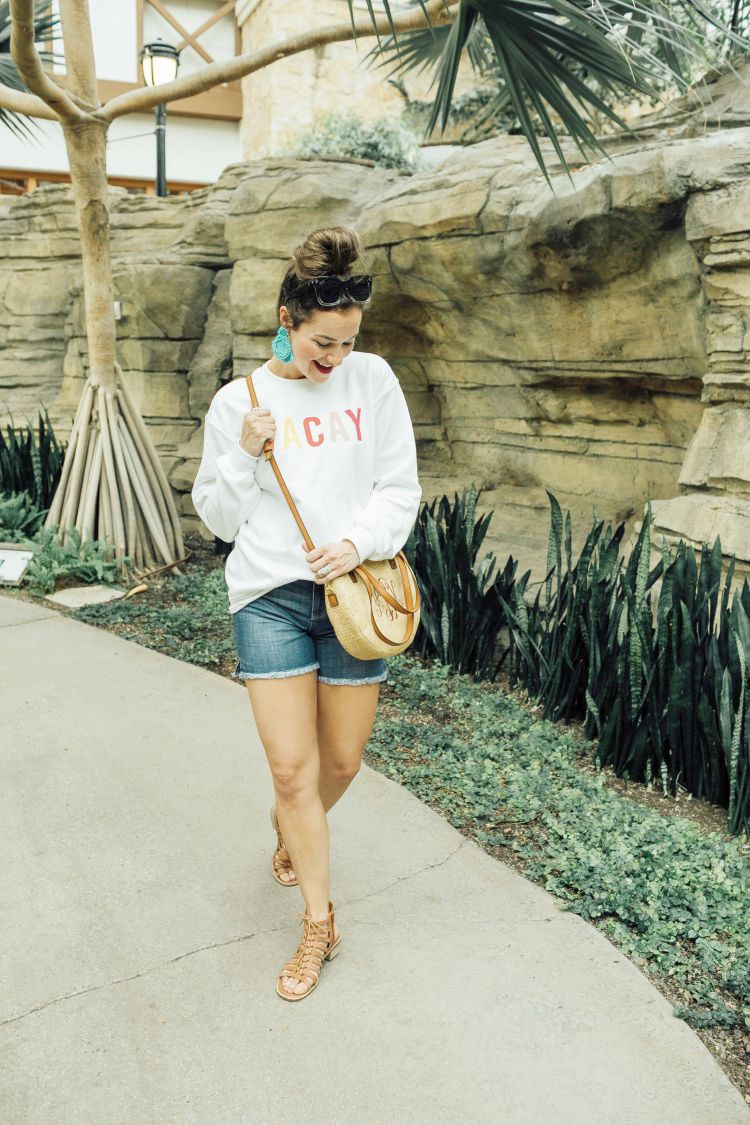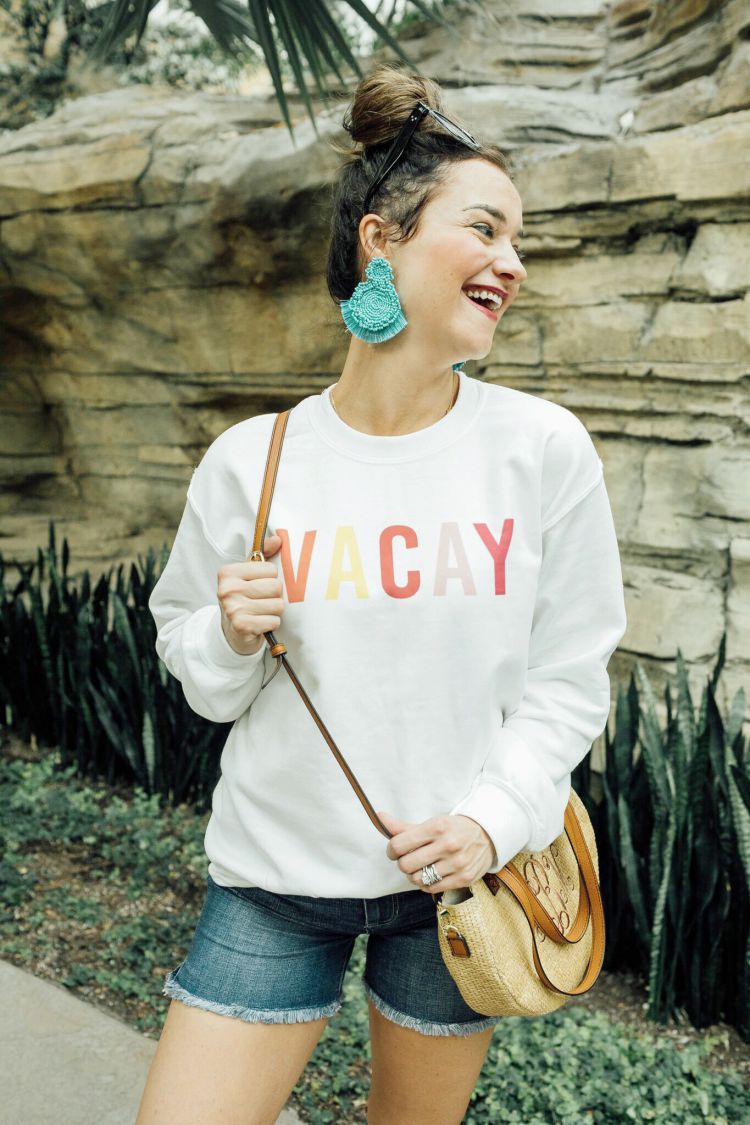 SHOP THIS DALLAS LOOK:
VACAY Sweatshirt // Denim Shorts // Sandals // Straw Tote Bag // Earrings // Sunnies
Dallas, you are so much FUN! This trip started as a trip to the beach that Laura and I were planning since we had so much fun together last year on 30A with our kids, but then I decided that going with a 3 year old AND 7 month old without Eric might be a bit much. So, we started brainstorming other places to go within driving distance for both of us. We started talking to the Gaylord Opryland about us coming to Nashville but they were already booked for the weekend, so they mentioned that we may want to check out the Gaylord Texan.
Once they mentioned that, everything just seemed to fall into place. Funny how God has a way of making that happen! 😉 The Gaylord Texan is in Grapevine which is just outside of Dallas where Alissa, my Creative Assistant & Project Manager lives! We had talked about wanting to meet up anyway to recap Q1 on MLWL and work on planning out Q2 & Q3 for the MLWL community. It was a really productive work trip that also incorporated tons of fun and obviously lots of food, ha!
Alissa and I got super nerdy and dug into analytics, answers y'all have given us in polls/story questions, and have been super into strategic planning our best content and goals for the rest of 2019 which is both energizing and tiring at the same time, ha! Laura and I got to shoot a lot of content together as well as enjoy girl time and content planning for upcoming series that are headed your way soon. I can't wait for y'all to see it all unfold!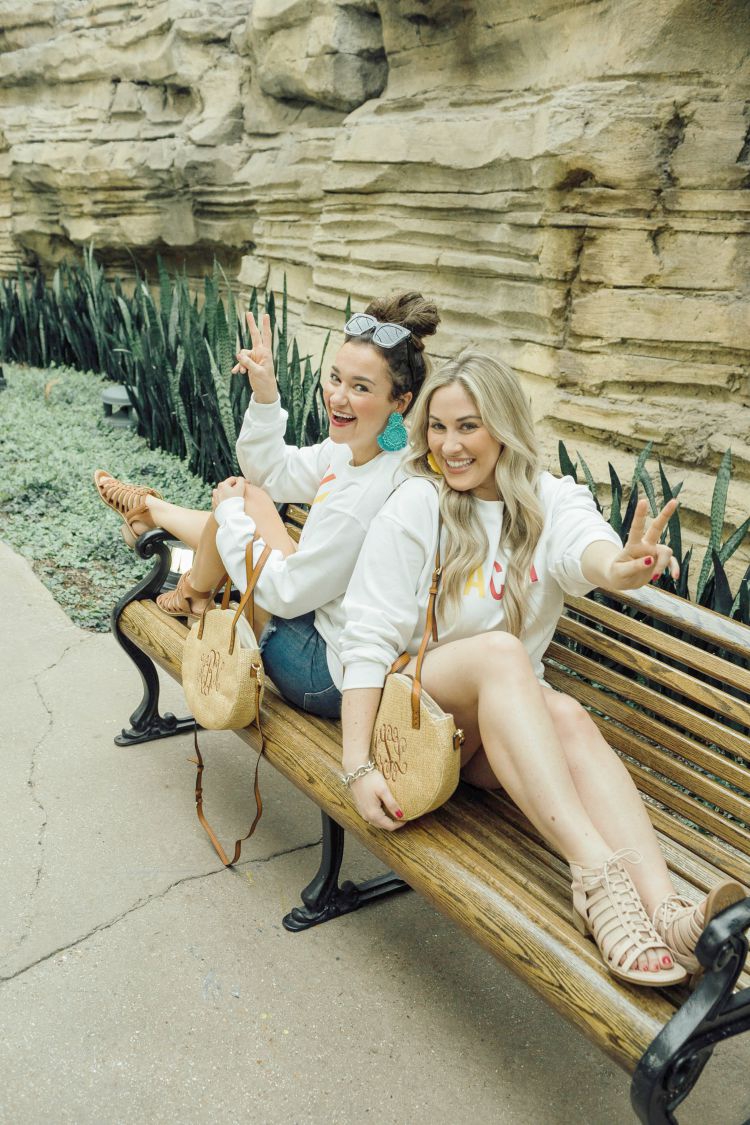 Dallas Travel Guide: Where to Stay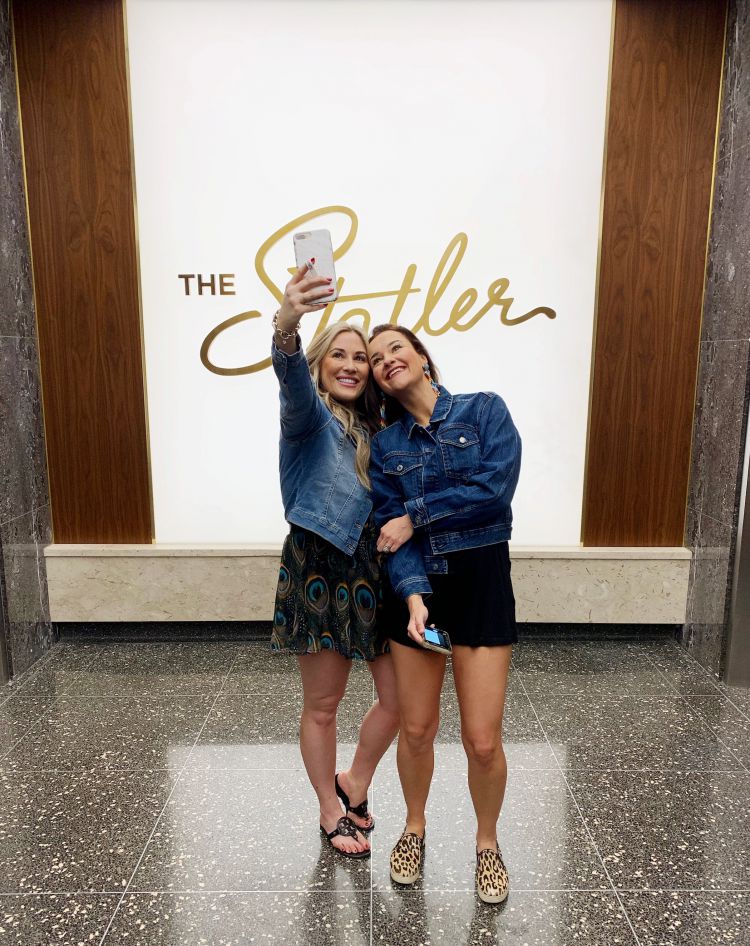 If you are looking for a place to stay in the beauty of downtown Dallas, The Statler will not disappoint! With 6 bars and/or restaurants, I wish I would have had time to experience all there is to offer here. Our room was so nice and I especially loved the Nespresso machine for making coffee Saturday morning 😉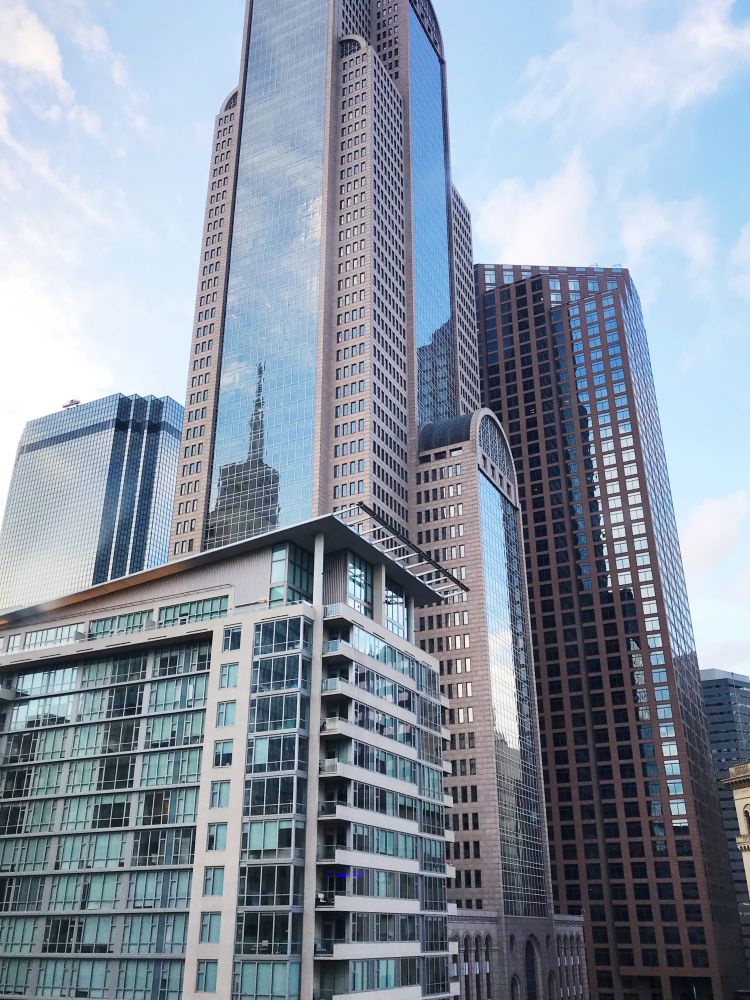 The views from our room were incredible (pictured above) but they couldn't top the views from the rooftop bar and pool area (pictured below)!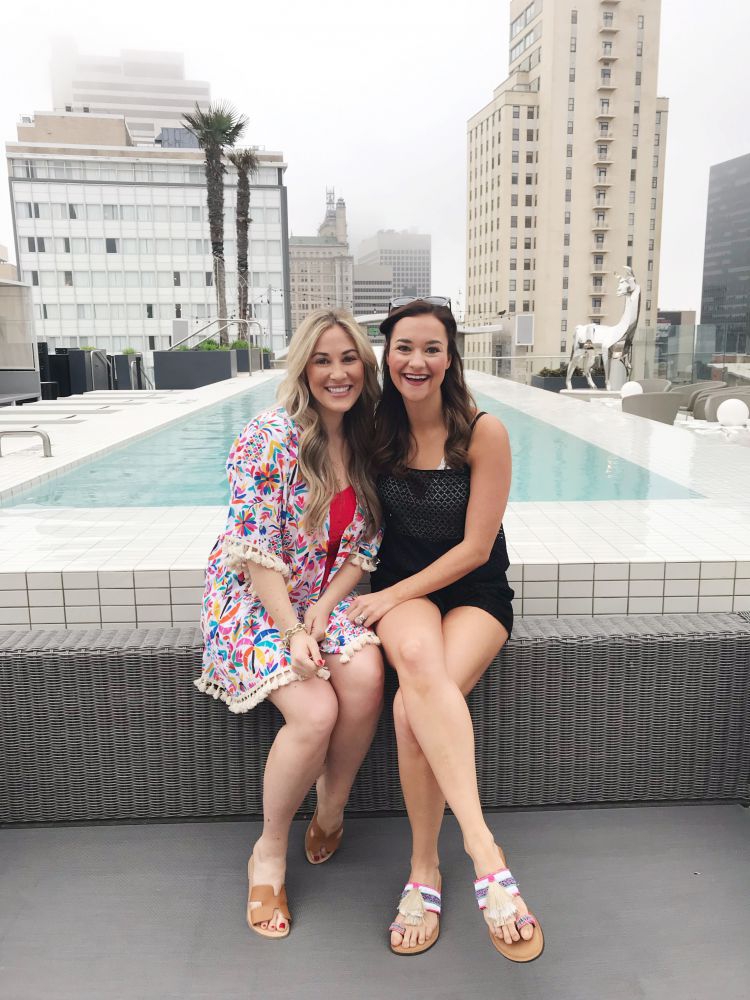 SHOP OUR DALLAS LOOKS:
Swimsuit Cover-Up // Sandals // Sunglasses // Swimsuit // Laura's Swimsuit // Laura's Swimsuit Cover-Up // Laura's Sandals
We lucked out with the perfect spot for our photoshoot on this amazing rooftop at the hotel! As you can tell, in true Texas fashion, we got to experience heavy fog, rain, warm weather with sunshine, and cooler temps with thunderstorms all within 48 hours! Thankfully we were able to get in all our swimsuit photos before the heavy rain started!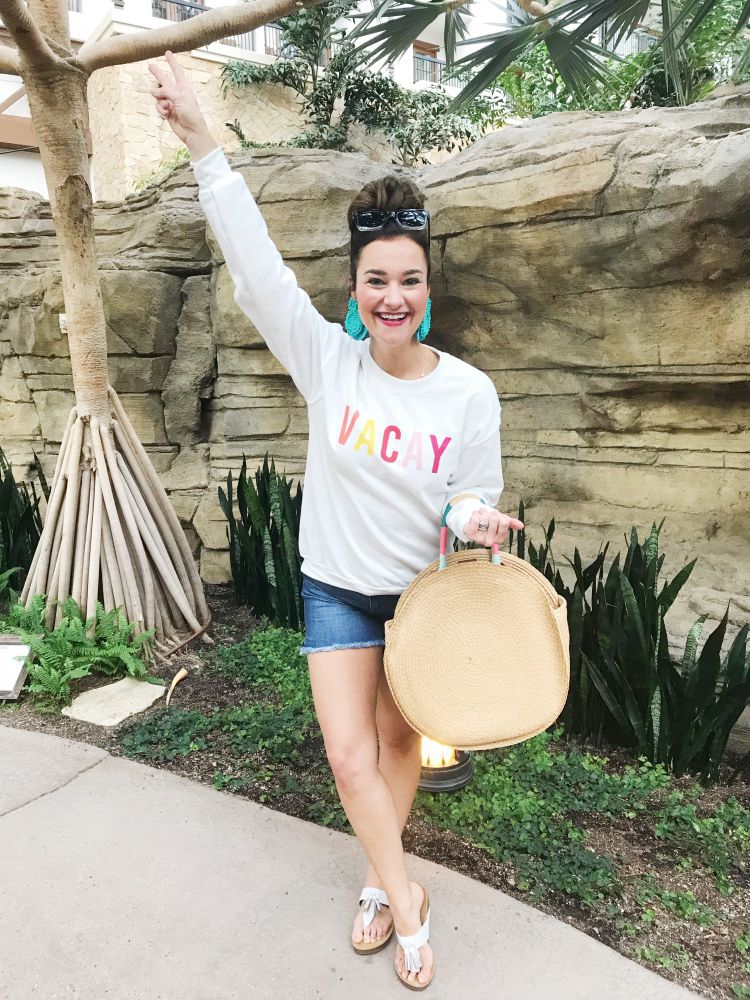 The Gaylord Texan is truly a phenomenal experience! We stayed in a family suite which included 2 queen size beds and a pull out sofa. You could easily fit 6 guests in this room, which is the perfect size for family trip or girls weekend! Guest services was extremely accommodative with helping me store and freeze my breastmilk during travel.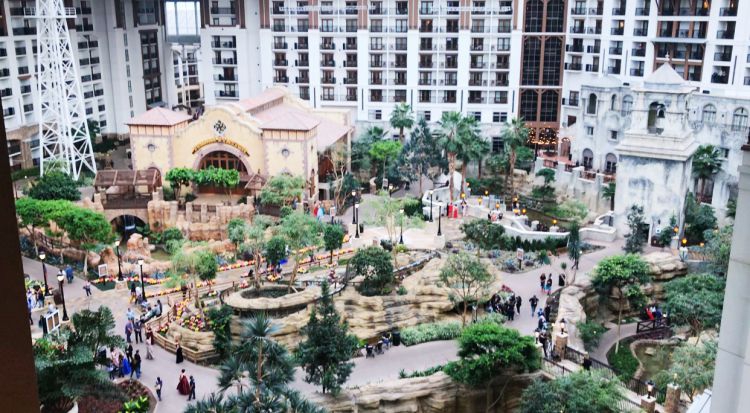 This was the incredible view from our balcony of the atrium. Like The Statler, I wish I had more time to explore all the different shops, restaurants, bars, etc.! So many fun things, too little time! Hoping I can come back soon with the boys and experience it all again!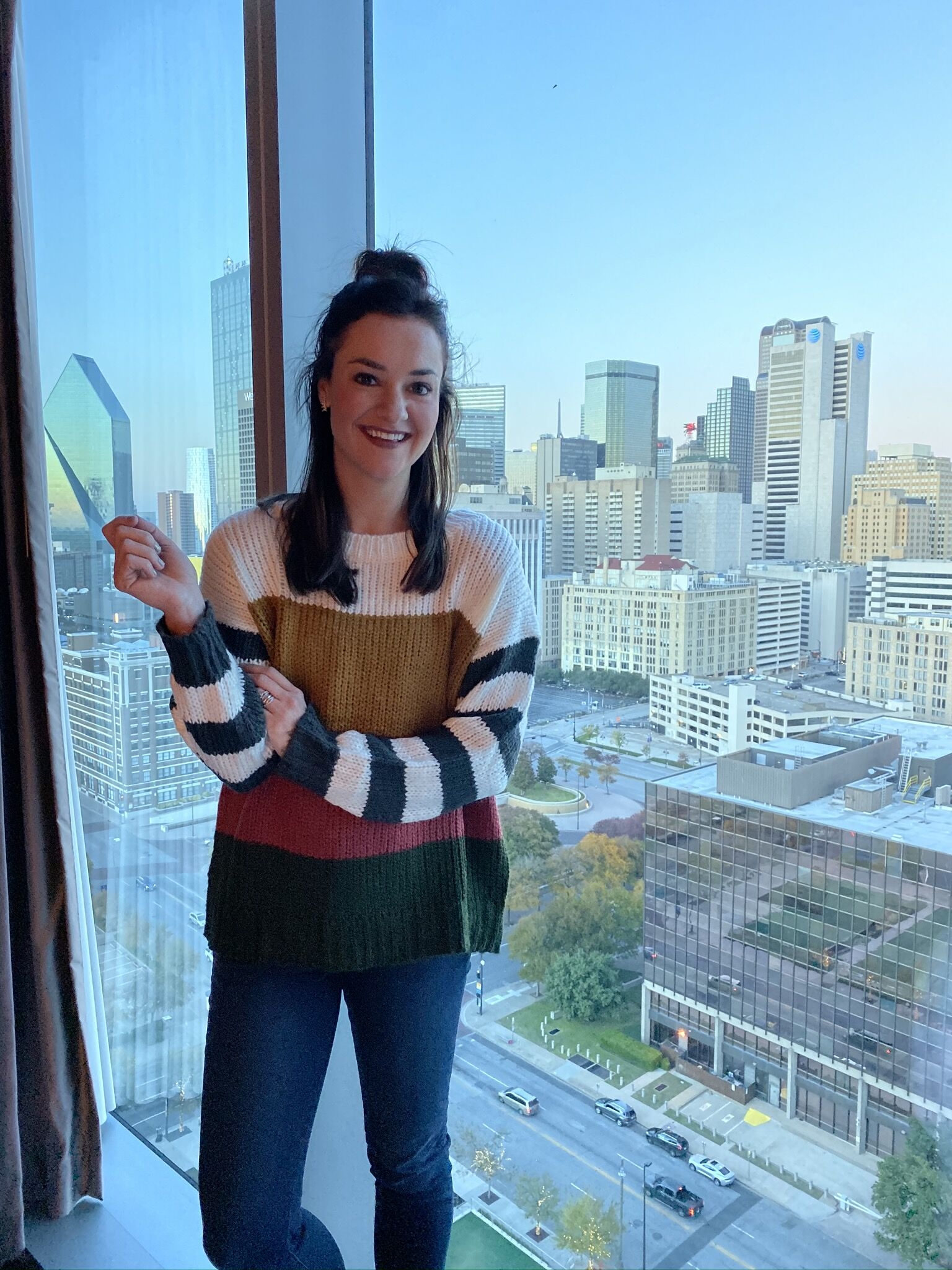 Dallas Travel Guide: Where to Eat
Alissa and I stopped here first thing after my flight landed to enjoy a lunch together and have a 4+ hour meeting!! Thankfully, the team at Modern Market was so kind to constantly check in on us during our time and made sure we had all the lemonades, teas, coffee, and cookies we needed! Everything at this restaurant is fresh, clean ingredients, and the atmosphere is fun and hip!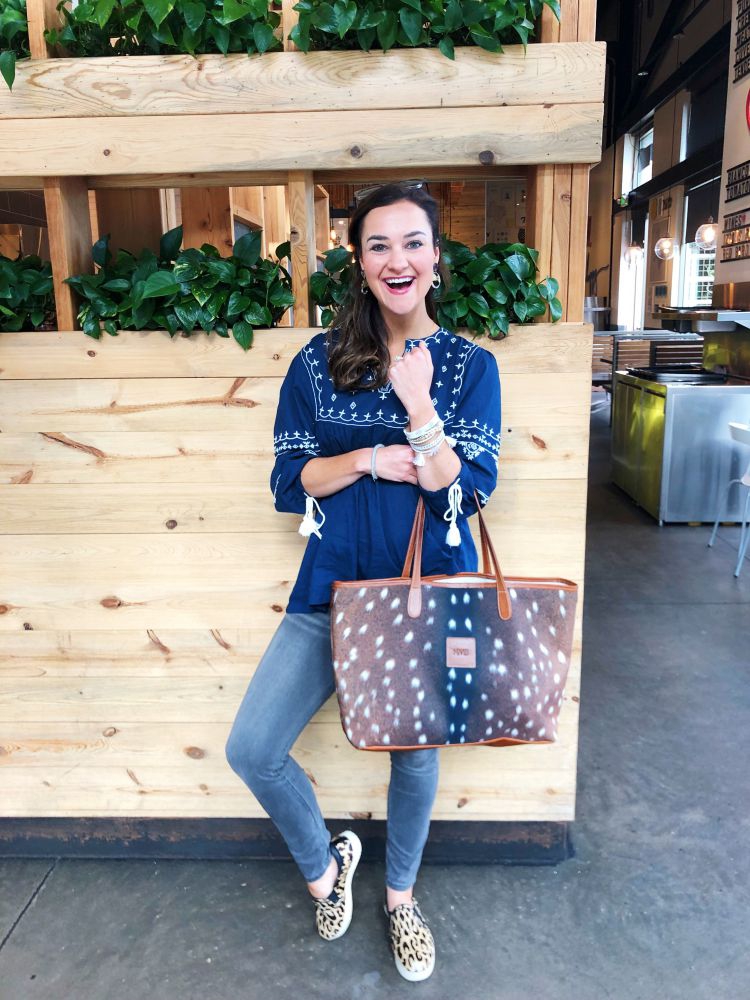 SHOP THIS DALLAS LOOK:
Boho Blouse // Grey Jeggings // Leopard Sneakers on Amazon! // Tote Bag // Bracelets // Earrings
Inside Modern Market Eatery in Preston Hollow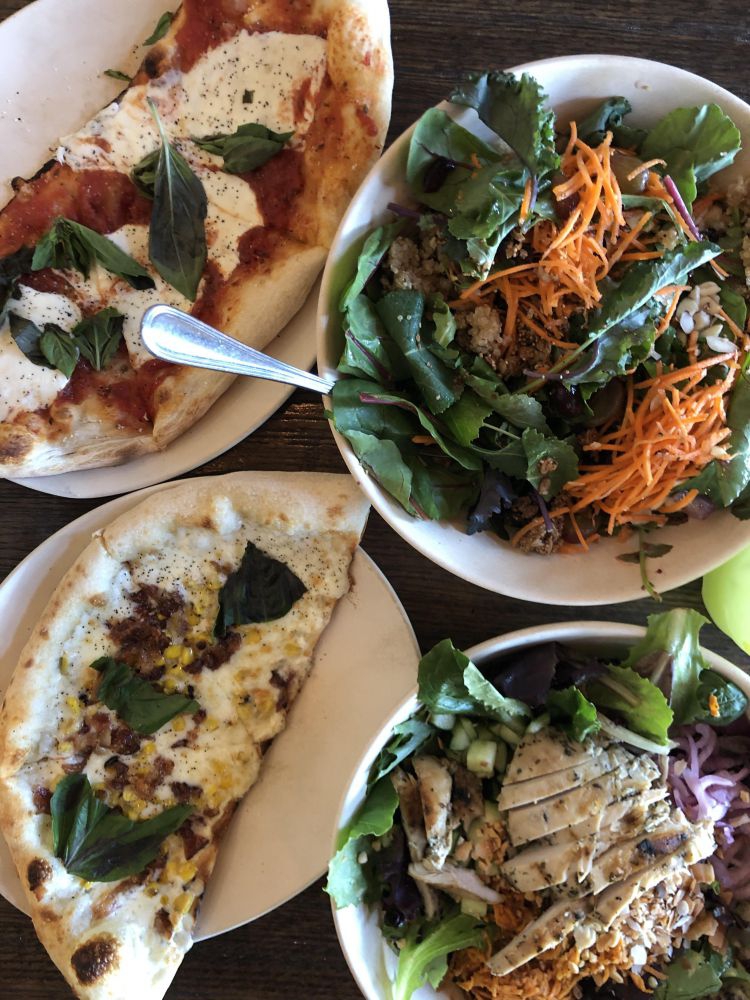 We each ordered a salad to share and half a pizza to also share! Doesn't it look so delicious?!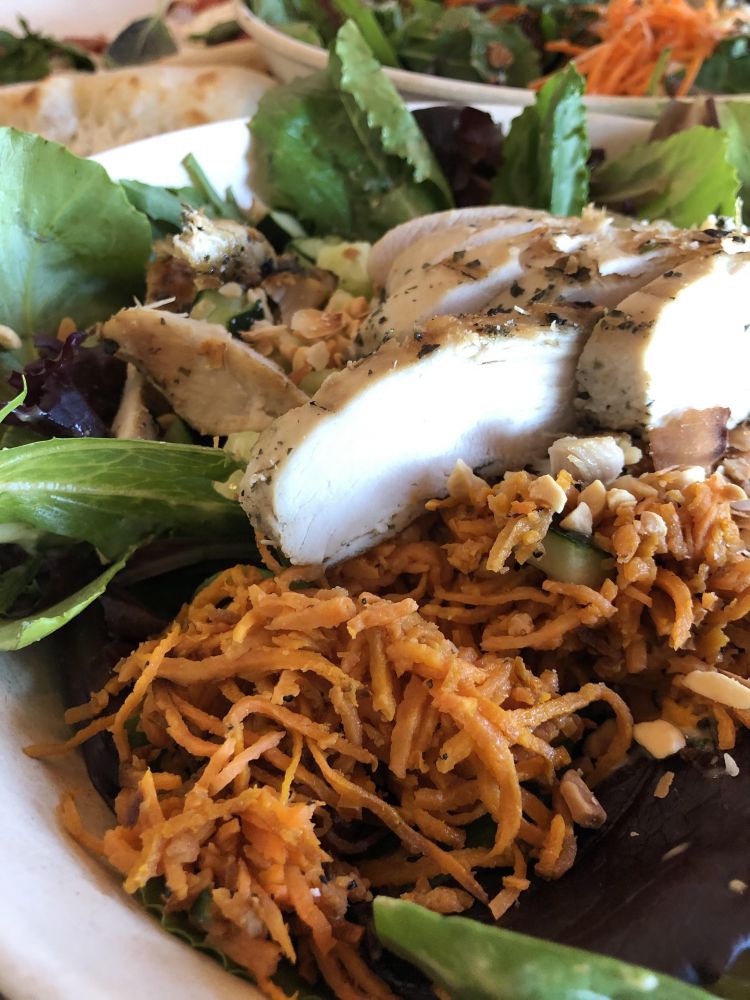 We tried the SUPERduperFOOD Salad and Thai Coconut Salad. I had never heard of a Thai Coconut SALAD and couldn't pass on trying it out! Definitely didn't disappoint!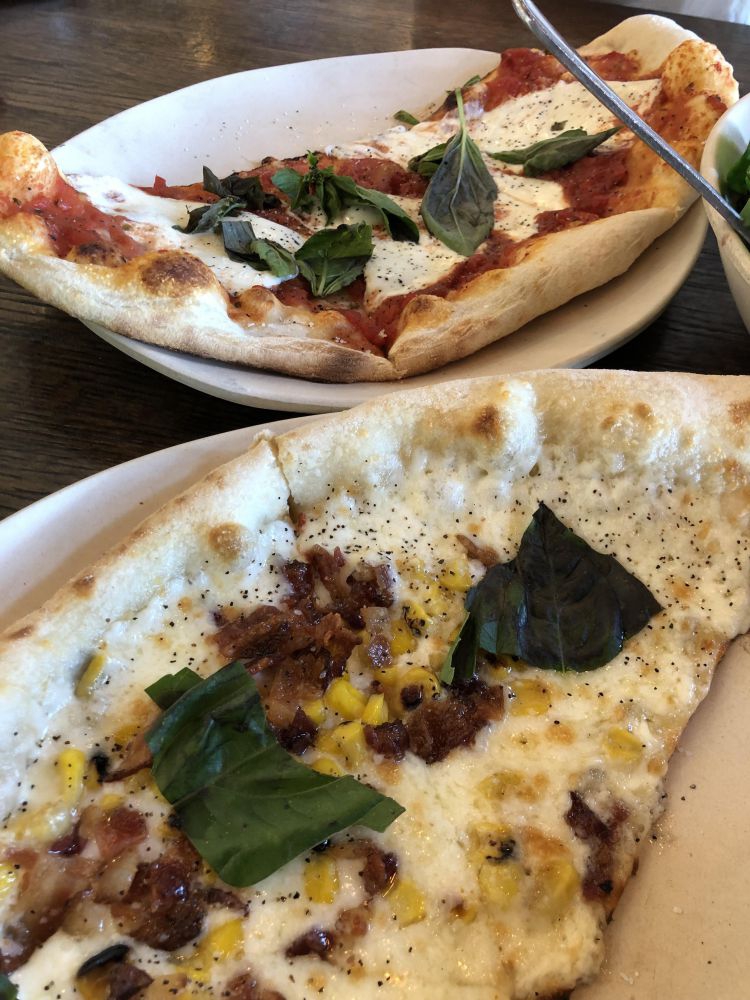 For pizza, we had the Bacon Corn (holy YUM) and Margherita.
This restaurant is located inside The Statler Hotel. We had a late reservation since Laura's flight didn't get in until 8:30pm! We were so hungry by the time we got to this restaurant, we wanted ALL. THE. THINGS. Thankfully, we got to try several different appetizers, sides, and large dishes! You can read my short review of each dish we tried below 🙂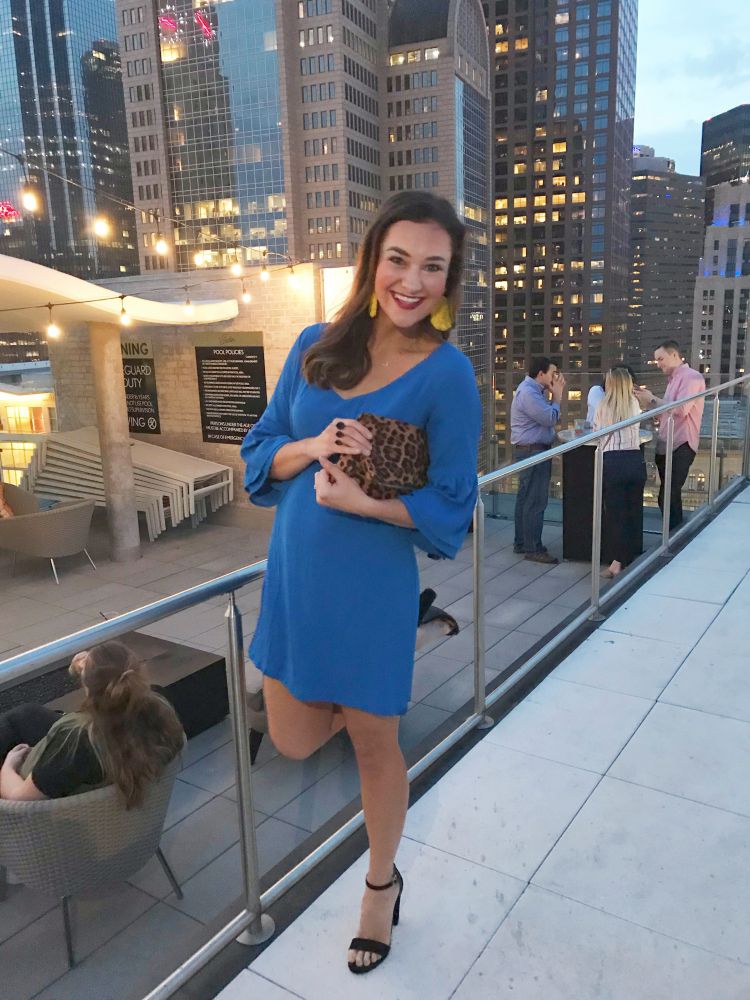 SHOP THIS DALLAS LOOK:
Blue Amazon Dress // Black Amazon Heels // Leopard Clutch // Earrings // Ring
On the rooftop of The Statler Hotel before dinner!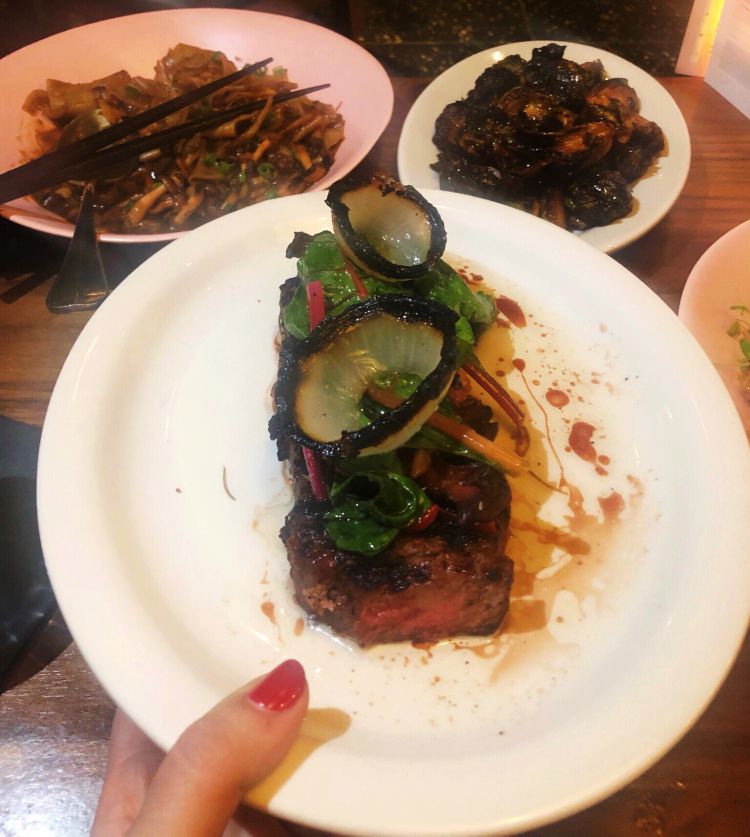 This Wagyu Steak was phenomenal! Laura actually ordered the steak but let me steal a few bites! Also pictured in the right corner are the brussel sprouts which were crispy just like I like them!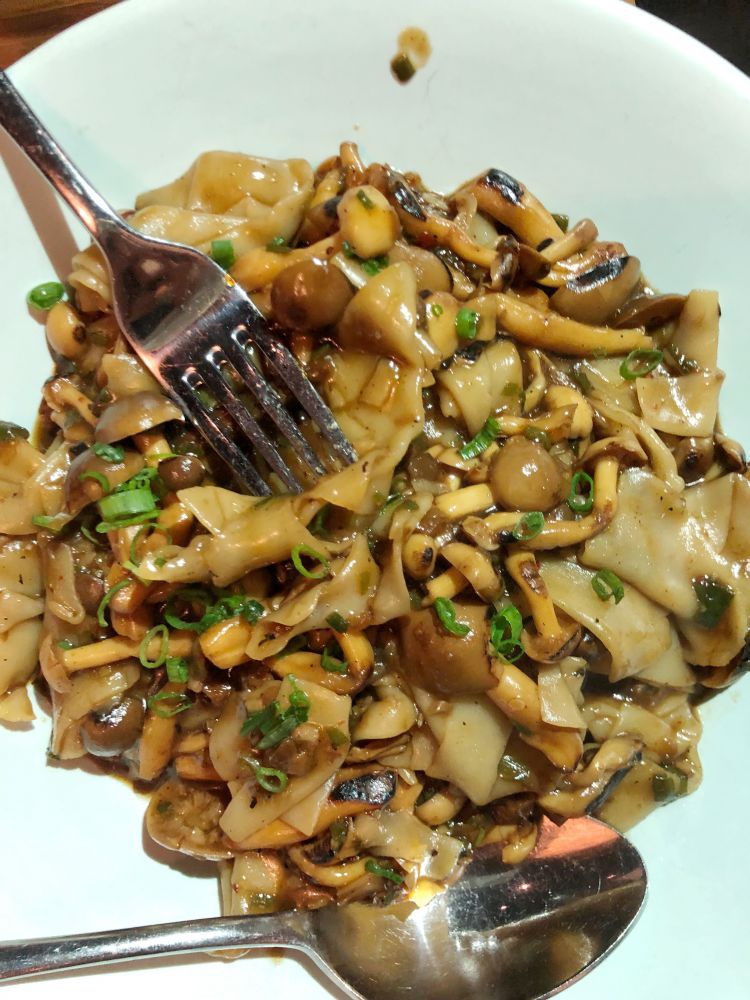 This is the Wok Fried Noodles – one of the restaurant's most popular dishes!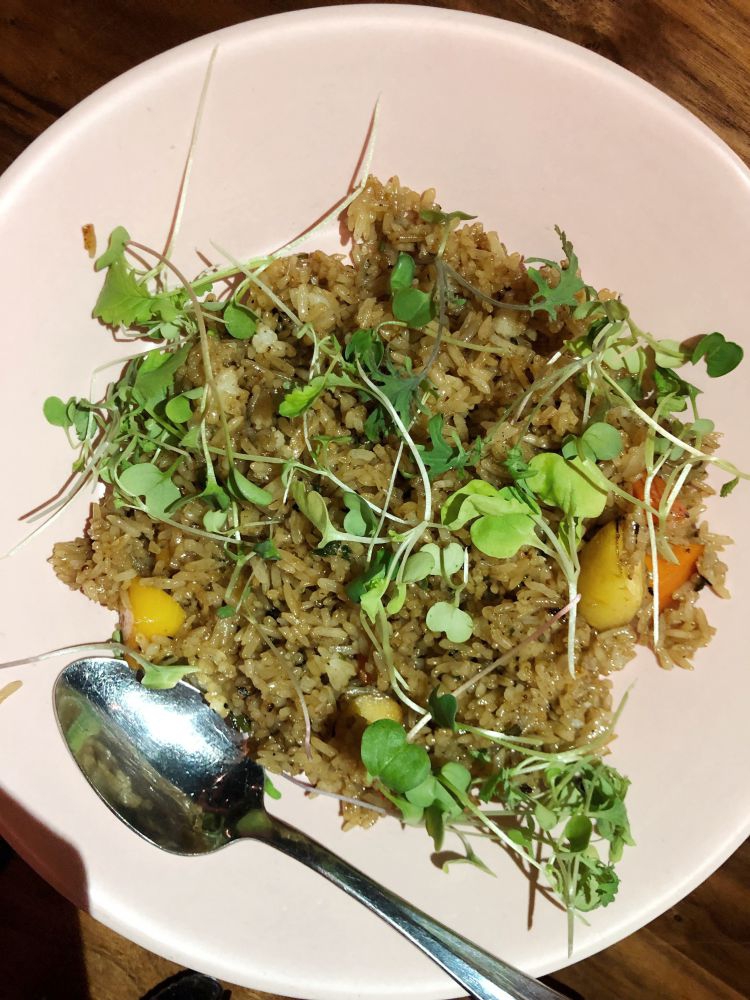 We also ordered a vegetable fried rice to share. So delicious!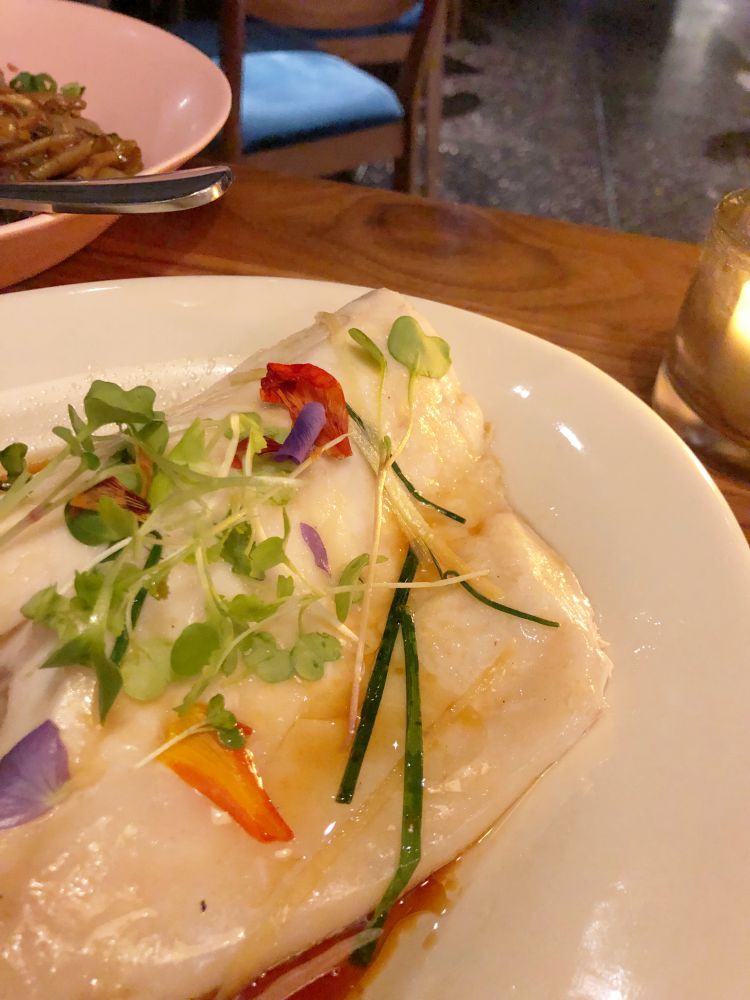 The Sizzled Steamed Sea Bass – quite possibly the best sea bass dish I have ever had!
Other dishes we tried at Fine China Dallas:
Crispy Veggie Spring Rolls – delicious!
Chicken Lettuce Wraps – also delicious!
Spicy Chicken Wings – I like spicy but WHOA. These were super spicy. I couldn't finish 1 chicken wing but if you love hot & spicy, then these are a must try!
Beef Tartare – so tasty!
The experience of visiting this restaurant was well worth trekking through torrential rain for! This quaint, French inspired restaurant is all about their delicious soufflés and it was the perfect brunch spot for Saturday morning! Our sweet waitress, Tanya, took such good care of us! I especially loved how personal Rise made the experience with the scrabble pieces, like pictured below!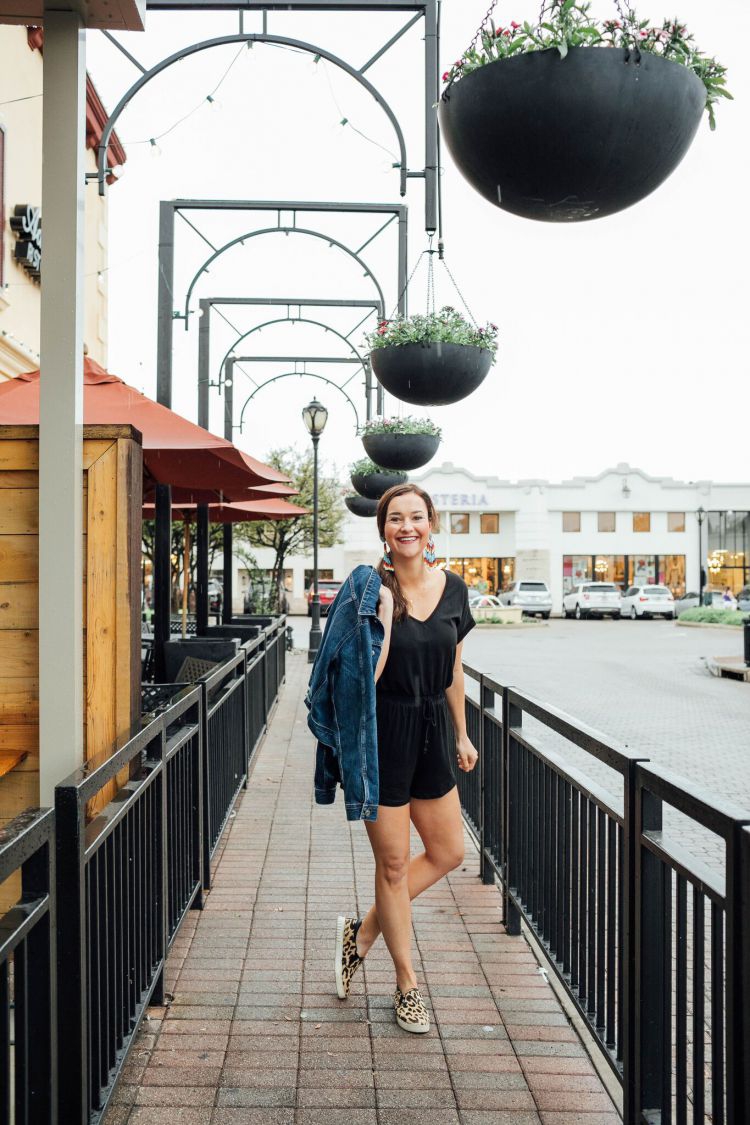 SHOP THIS DALLAS LOOK:
Black Romper // Leopard Sneakers // Denim Jacket // Beaded Earrings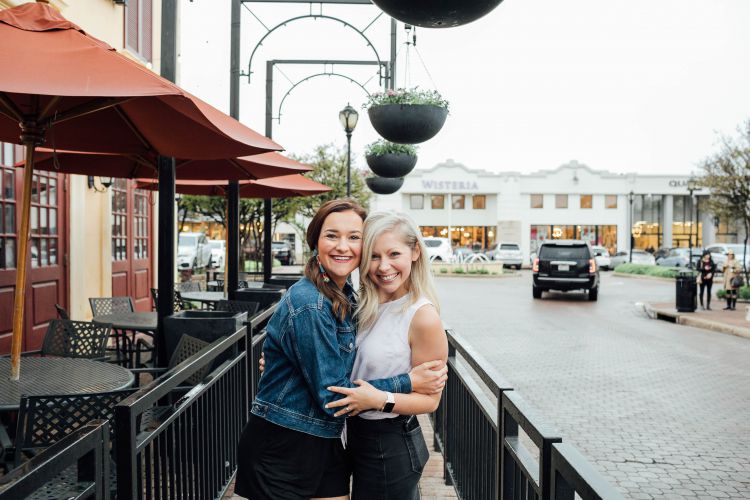 Alissa's Skirt // Alissa's Top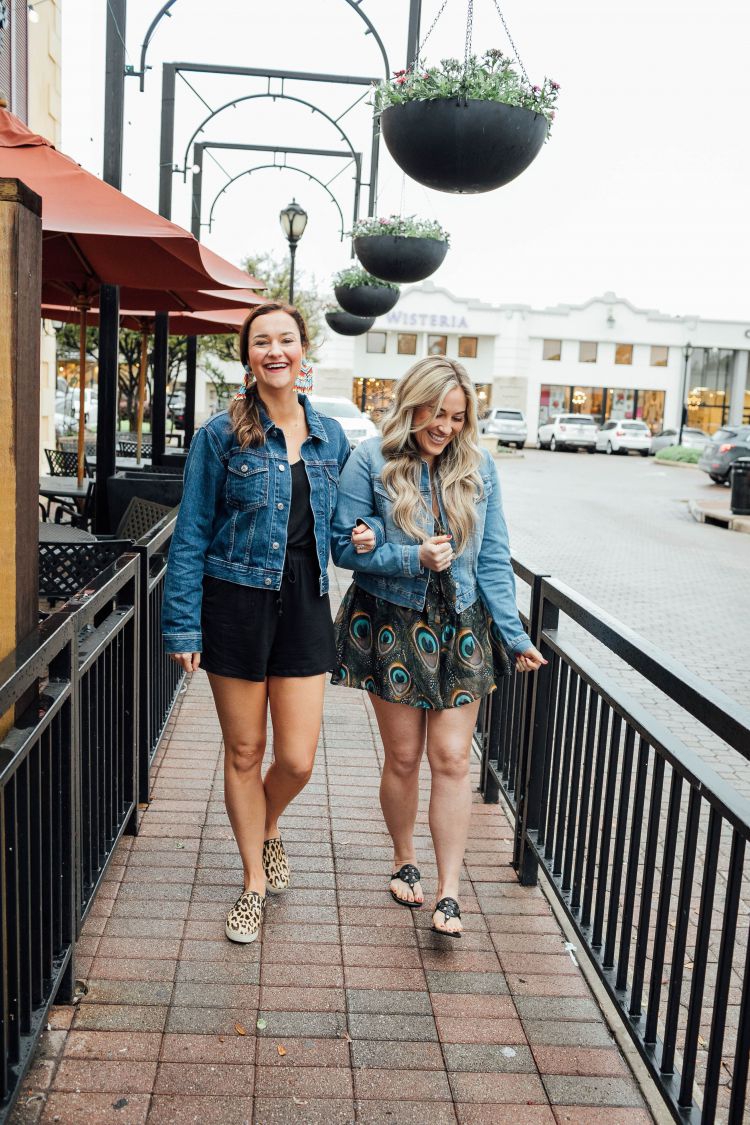 Laura's Romper // Laura's Denim Jacket // Laura's Sandals
Outside Rise Soufflé in Inwood Village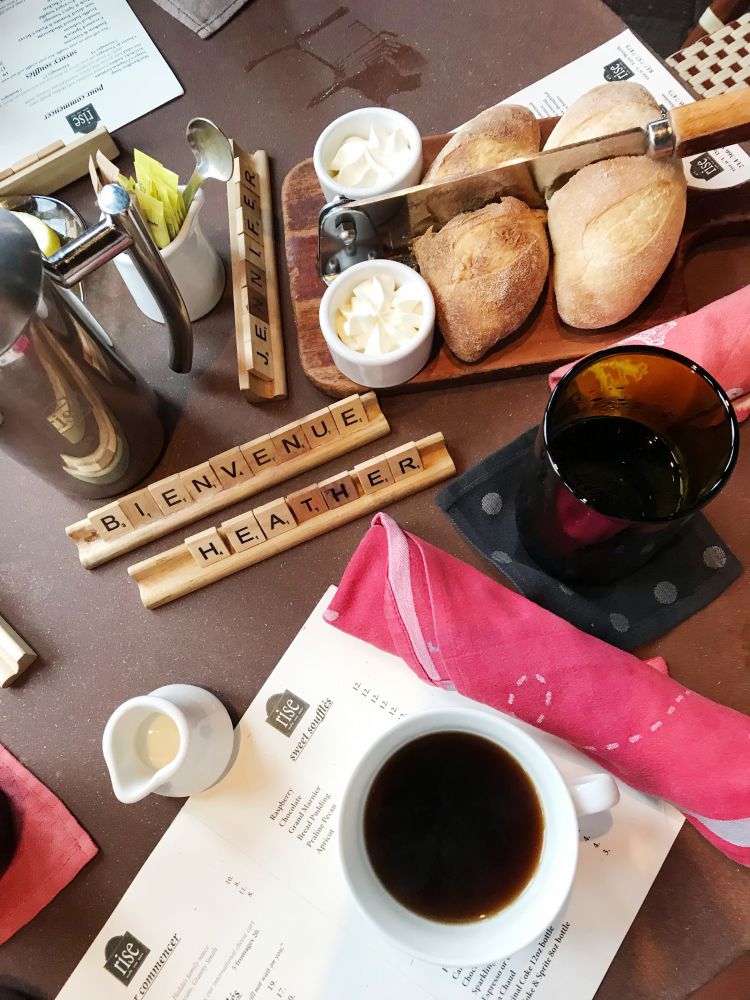 We started our brunch with this cute table setup! There were scrabble tiles at each chair with all our names and of course, coffee!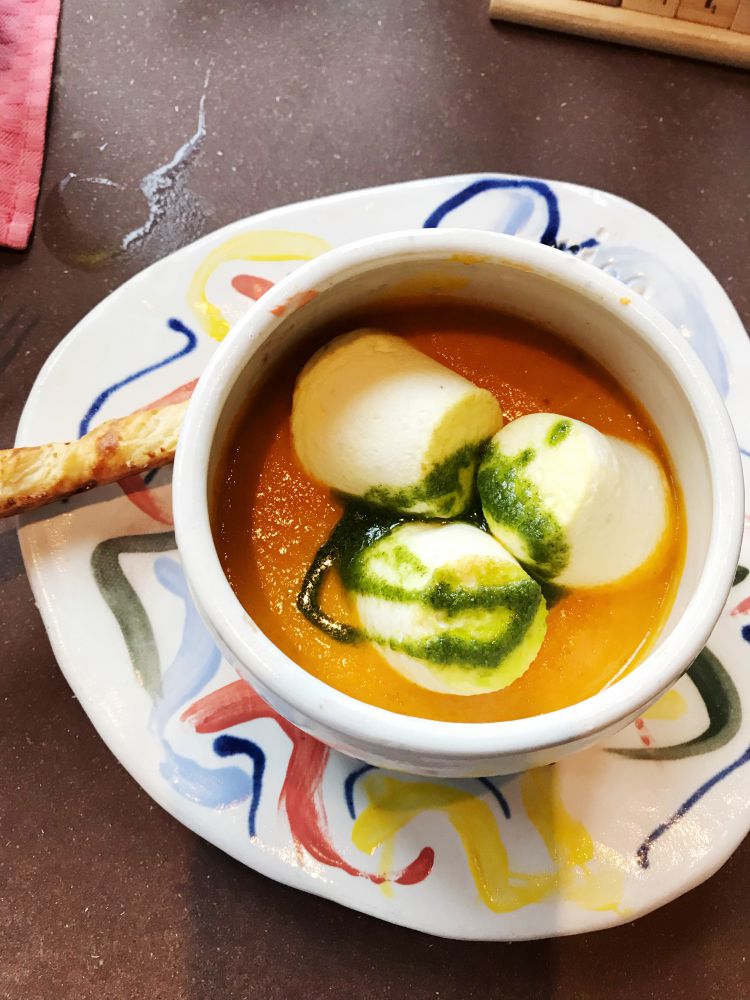 We had to try their emphasis Marshmallow Soup which is a spin on tomato basil soup with marshmallow style goat cheese in the center! It was DELICIOUS!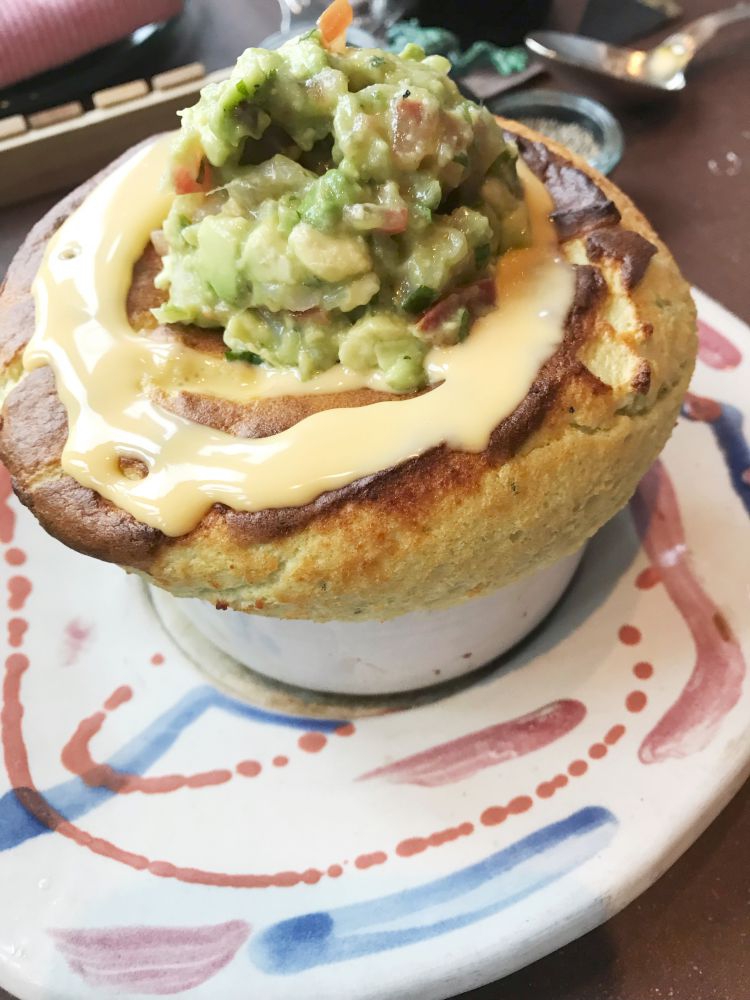 For our savory soufflés, we chose the Creamed Spinach and Avocado Special, as pictured above! Both delicious but this avocado one was my favorite!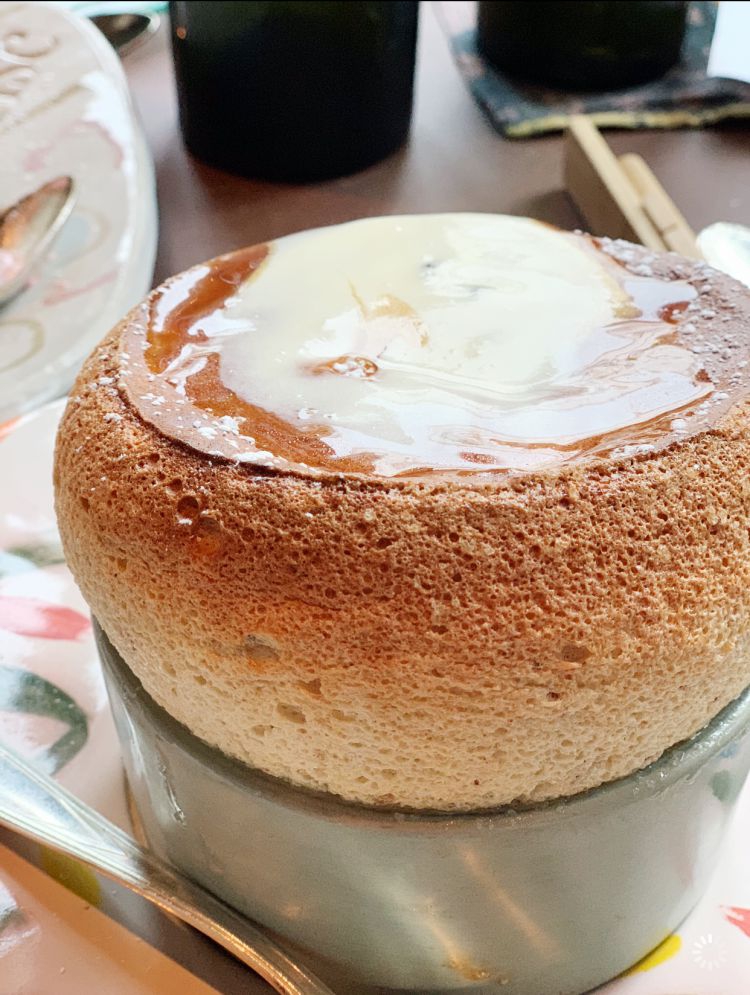 Bread Pudding Soufflé – out of this world!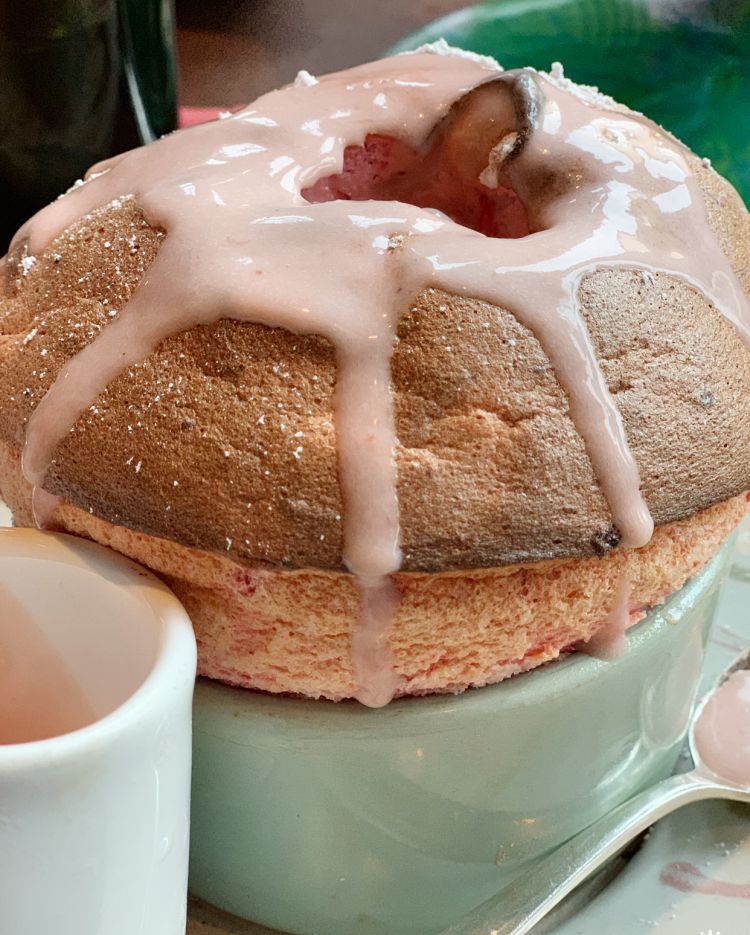 The Strawberry Soufflé – so delicious!
Saturday evening we stopped for dinner in downtown Grapevine at Mac's On Main. Rena Frost, the owner and chef, welcomed us into her fine dining experience with open arms. It was a joy getting to meet her and experience some of her fabulous dishes!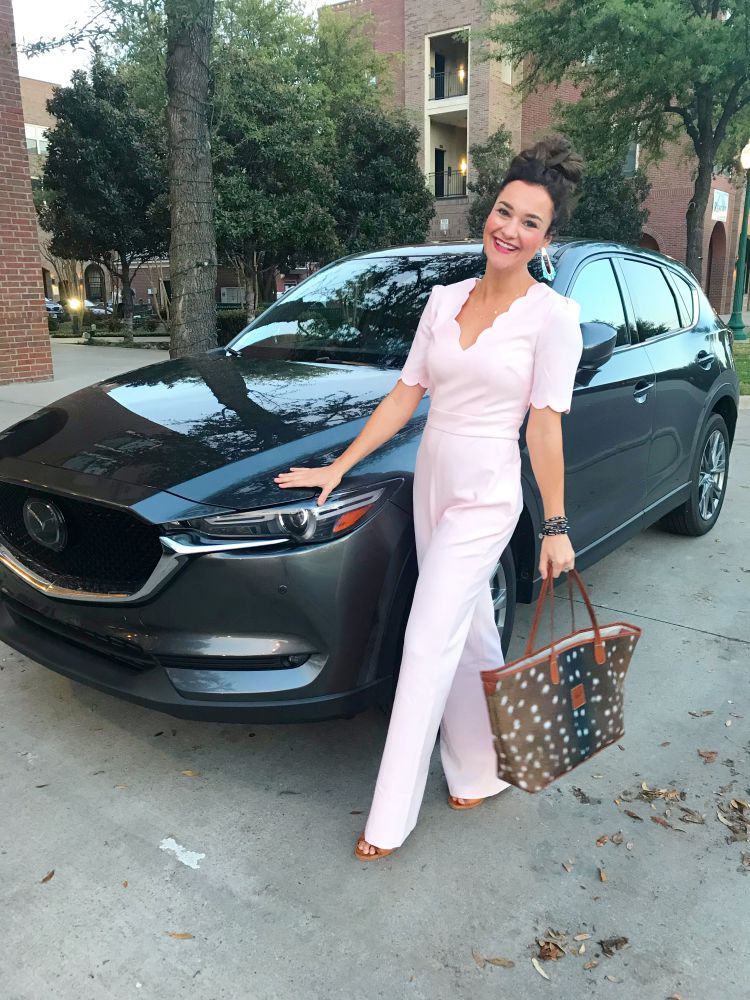 SHOP THIS DALLAS LOOK:
Pink Jumpsuit // Earrings // Bracelet // Tote Bag
Outside of Mac's On Main before dinner!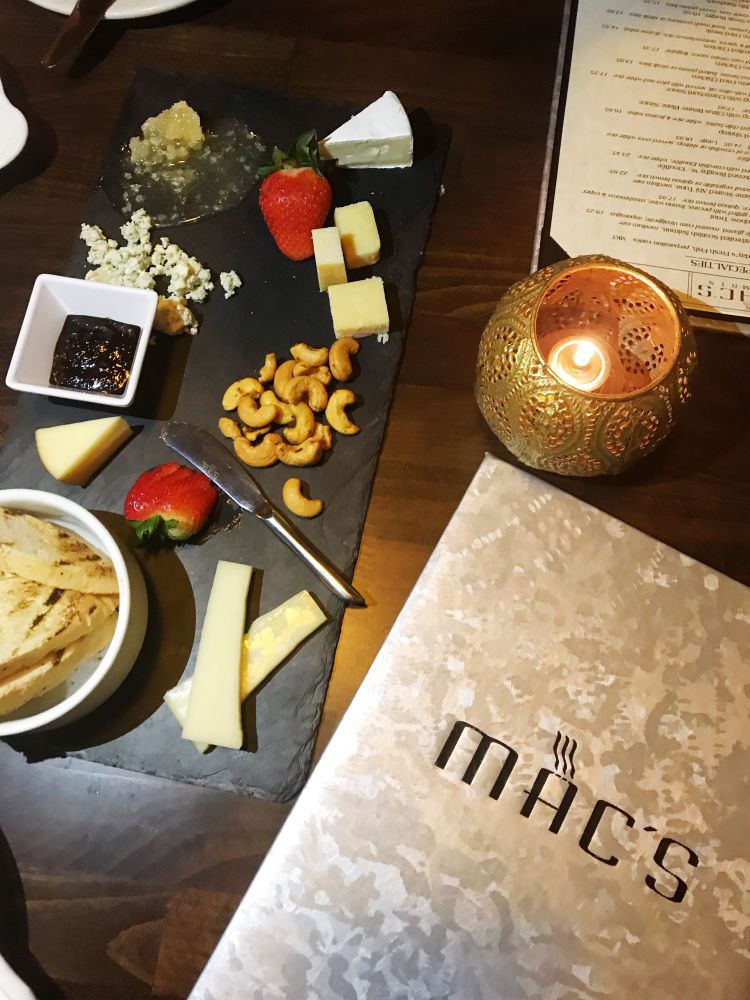 Our amazing cheese board with Valerie's Thyme seasoned cashews.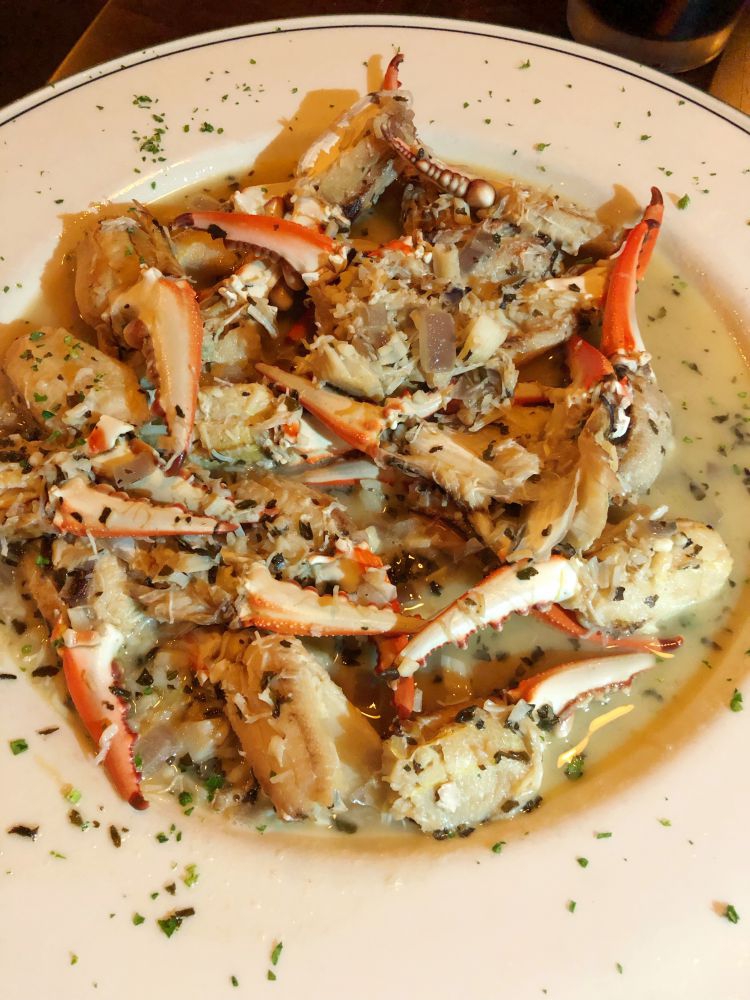 The highlight of dinner, in my opinion, were these Blue Crabfingers! So so delicious!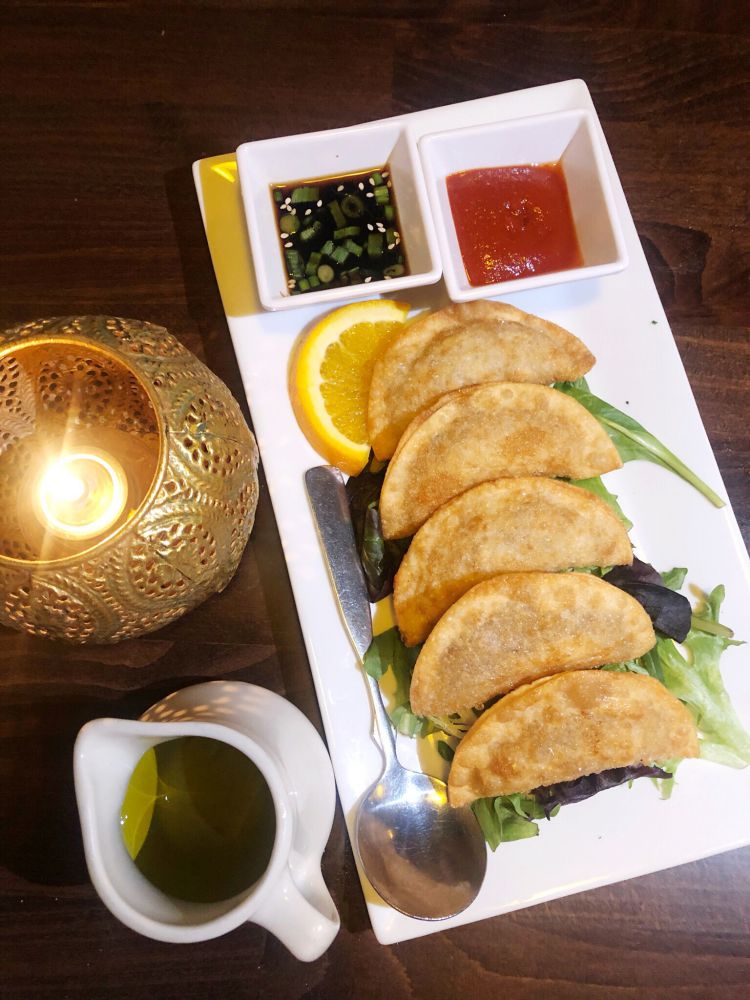 The Korean Mandu was delicious as well! Crispy pockets with loads of flavor! I love that this dish speaks to the heritage of the owners, Rena and her brother!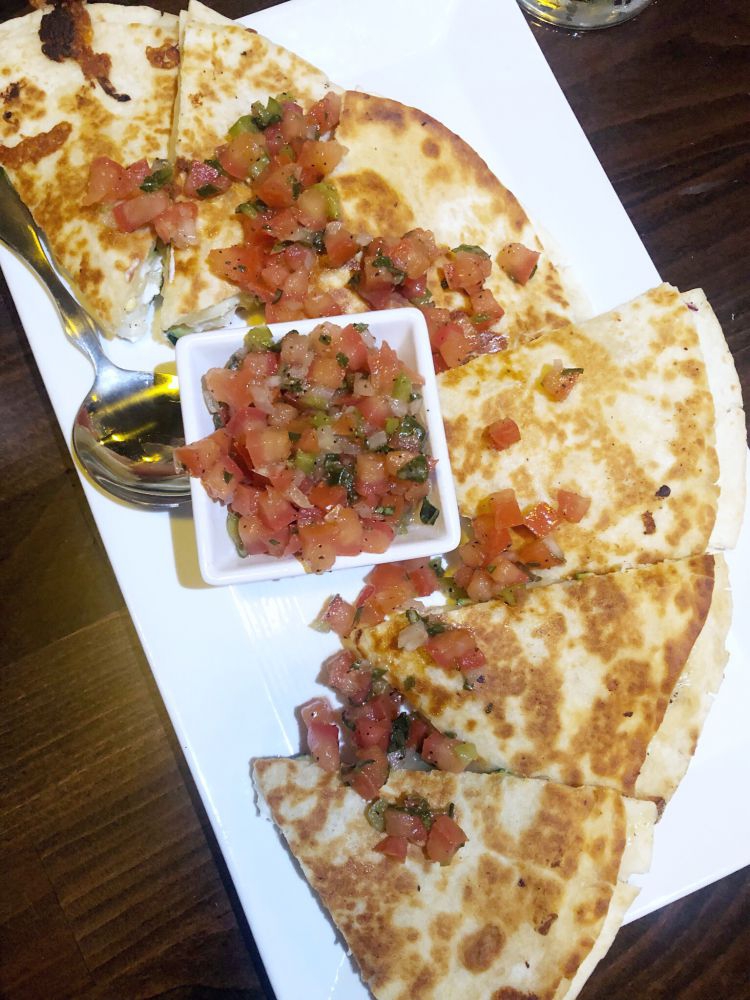 Goat Cheese Quesadillas – One word… WOW!
Other dishes we tried at Mac's On Main:
House Salad Unlimited – that's right, an unlimited salad!
Wagyu Steak Burger with Sweet Potato Fries
Filet Mignon – I had the filet and it was very tasty! However, Alissa ordered the Cilantro Chicken and I think I preferred it more!
Cilantro Chicken – really flavorful and delicious on the bed of noodles! I would order this next time!
Mac's Signature Prime Rib – Laura ordered the prime rib and noted it was delicious as well!
Bread Winners is a must-see spot located all across DFW for brunch! They also serve breakfast, lunch, and dinner too if you happen to find yourself near a location for a meal. I loved the outdoor space at the Trophy Club location and wish it hadn't been raining to fully enjoy the patio! They also had a sparkle bar setup for brunch which was a make-your-own-mimosa feature! So neat!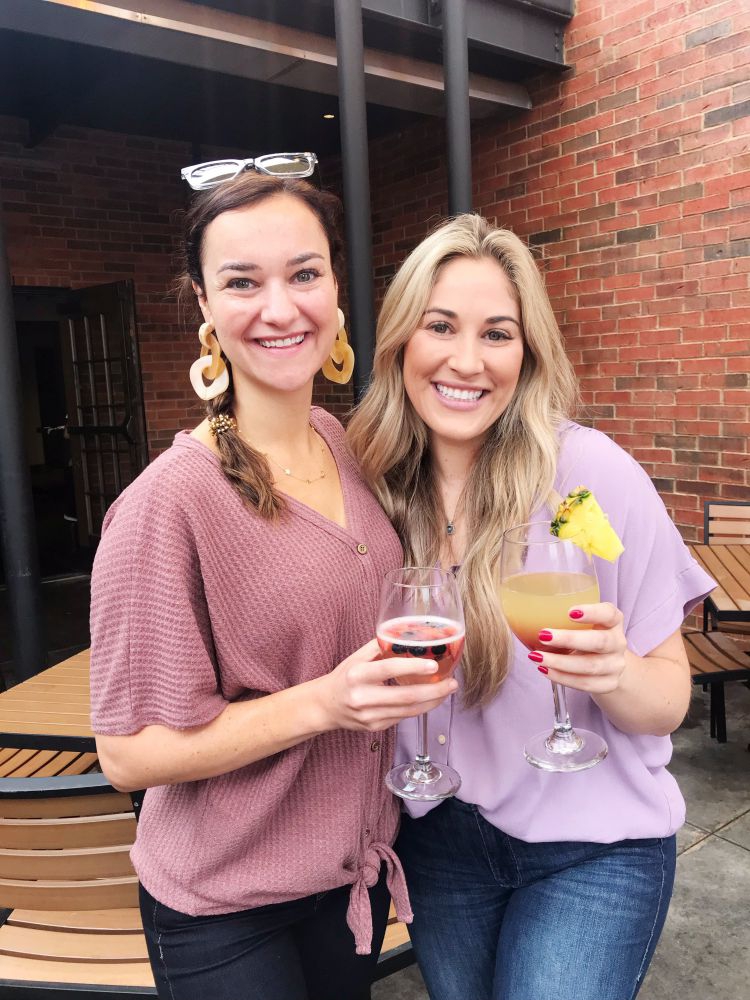 SHOP OUR DALLAS LOOKS:
Breastfeeding Friendly Top // Jeans // Earrings // Sunnies // Laura's Top // Laura's Jeans
On the outdoor patio at Bread Winners Cafe Trophy Club!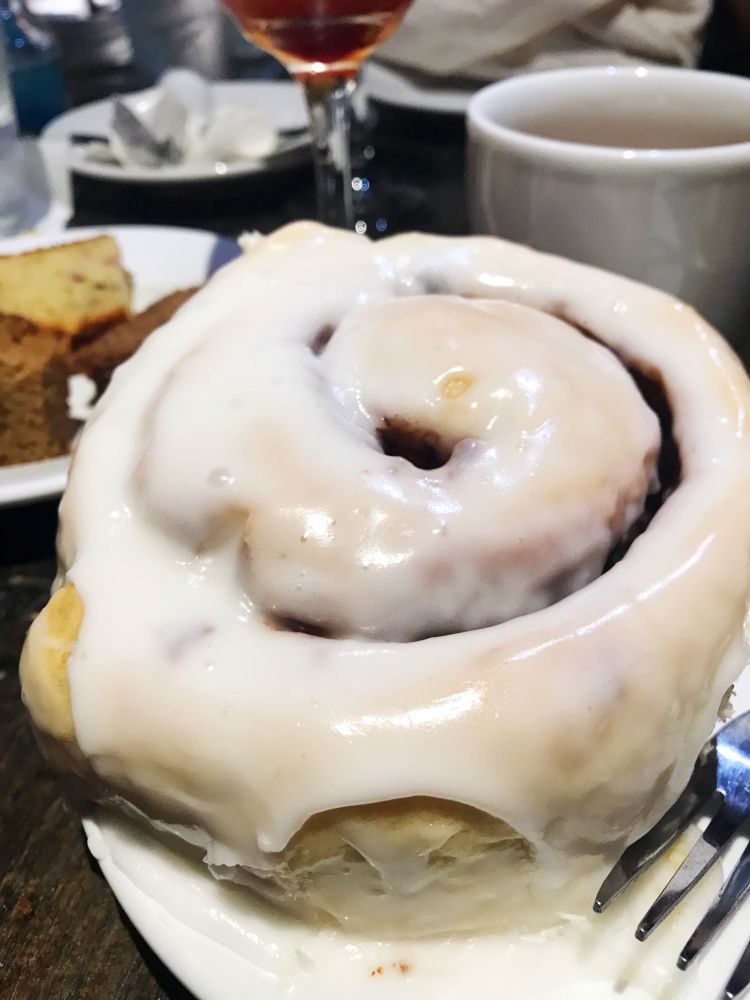 This melt-in-your-mouth cinnamon roll was the highlight of brunch!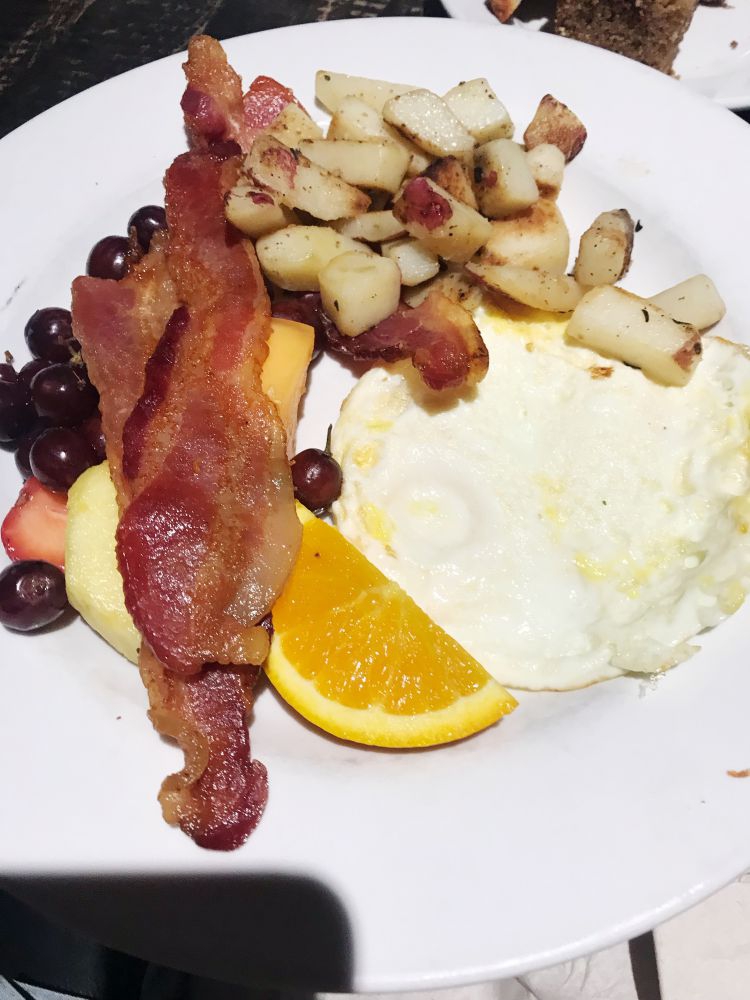 The Basic Breakfast plate was delicious!
Other dishes we tried at Bread Winners Cafe:
Vegetarian Scramble (no artichoke, add avocado) – simple but delicious!
McKinney Avenue Scramble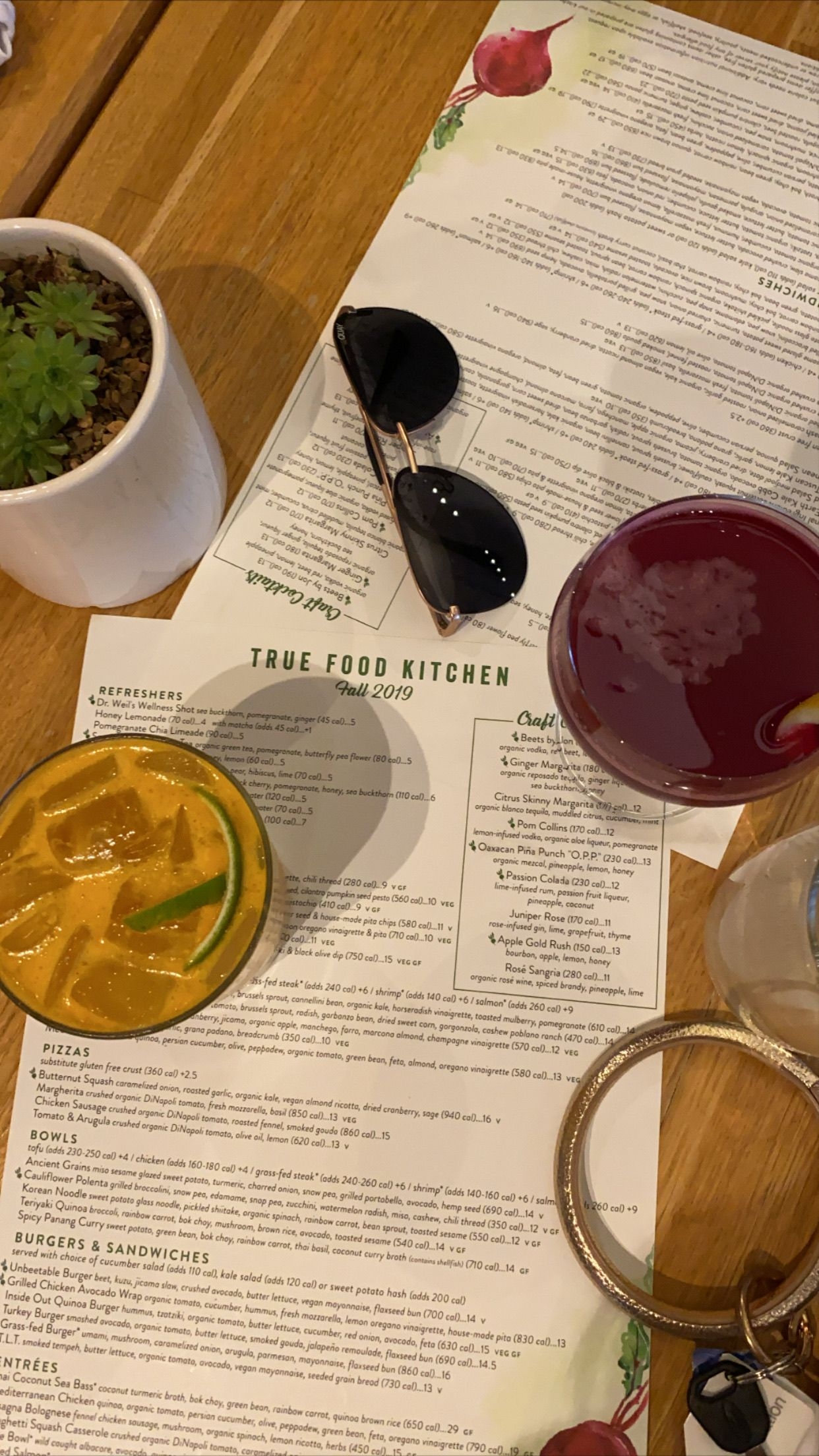 Great food, lots of healthy options, and a great atmosphere!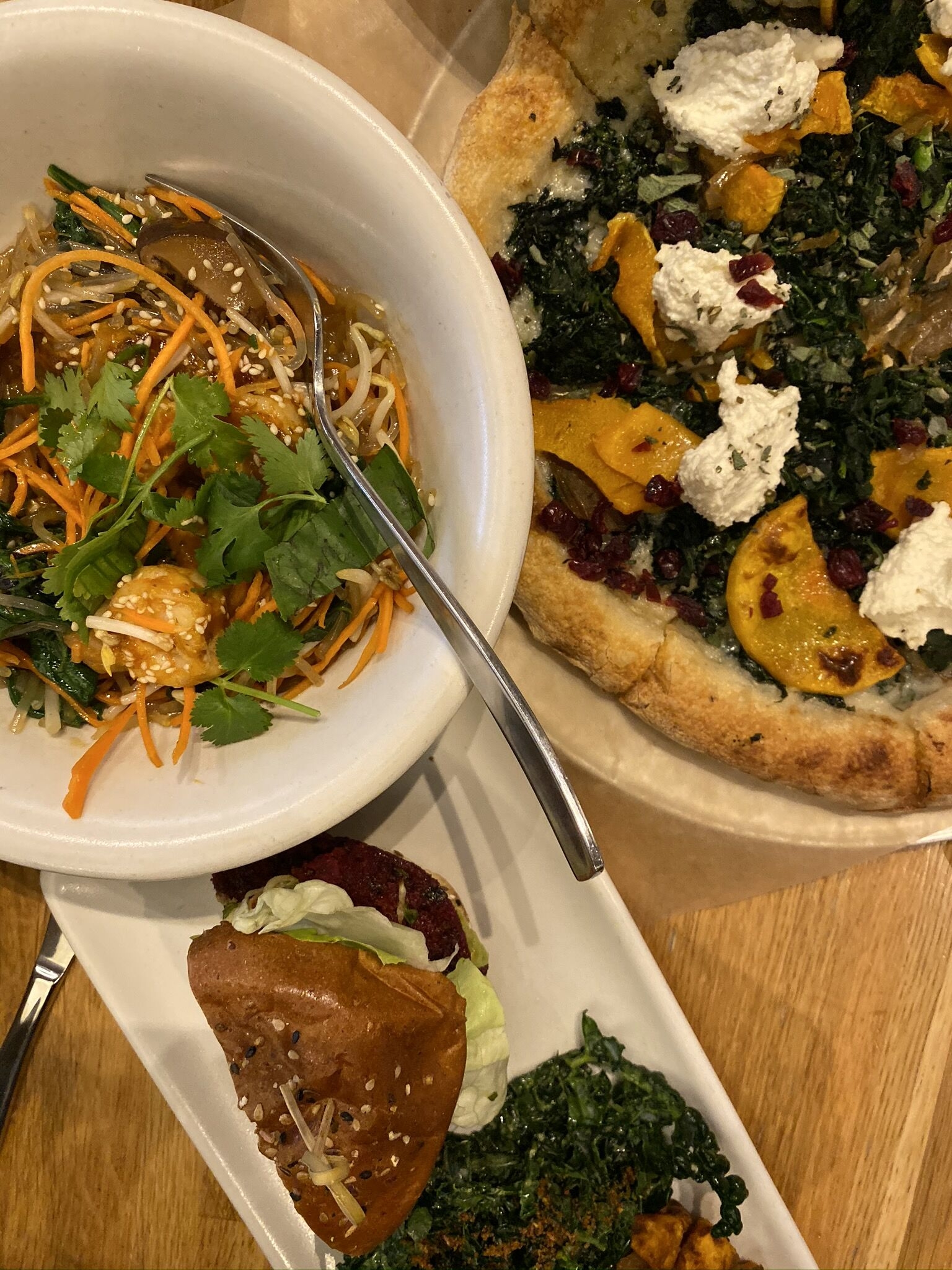 The best Vietnamese inspired food with an amazing rooftop bar.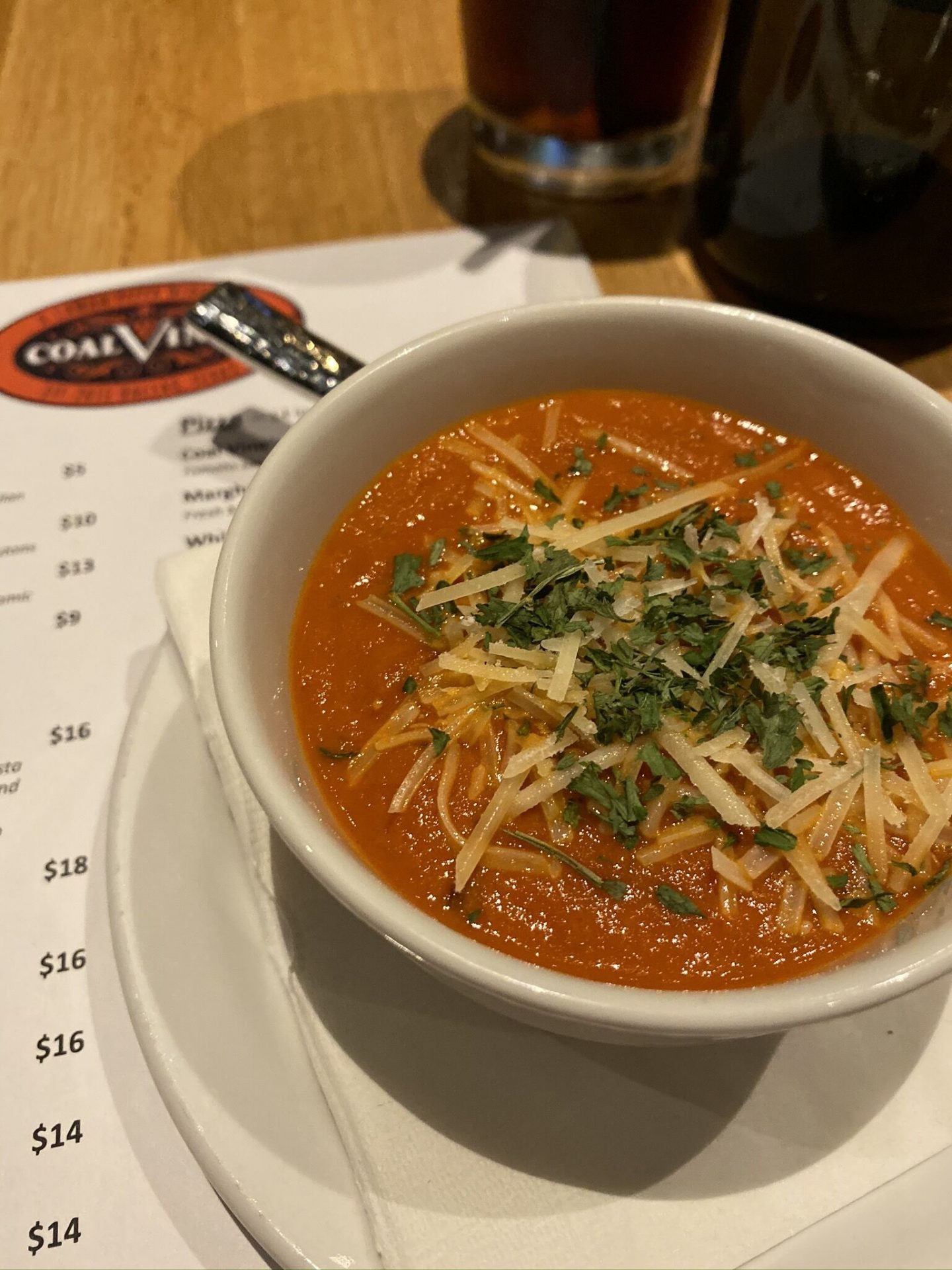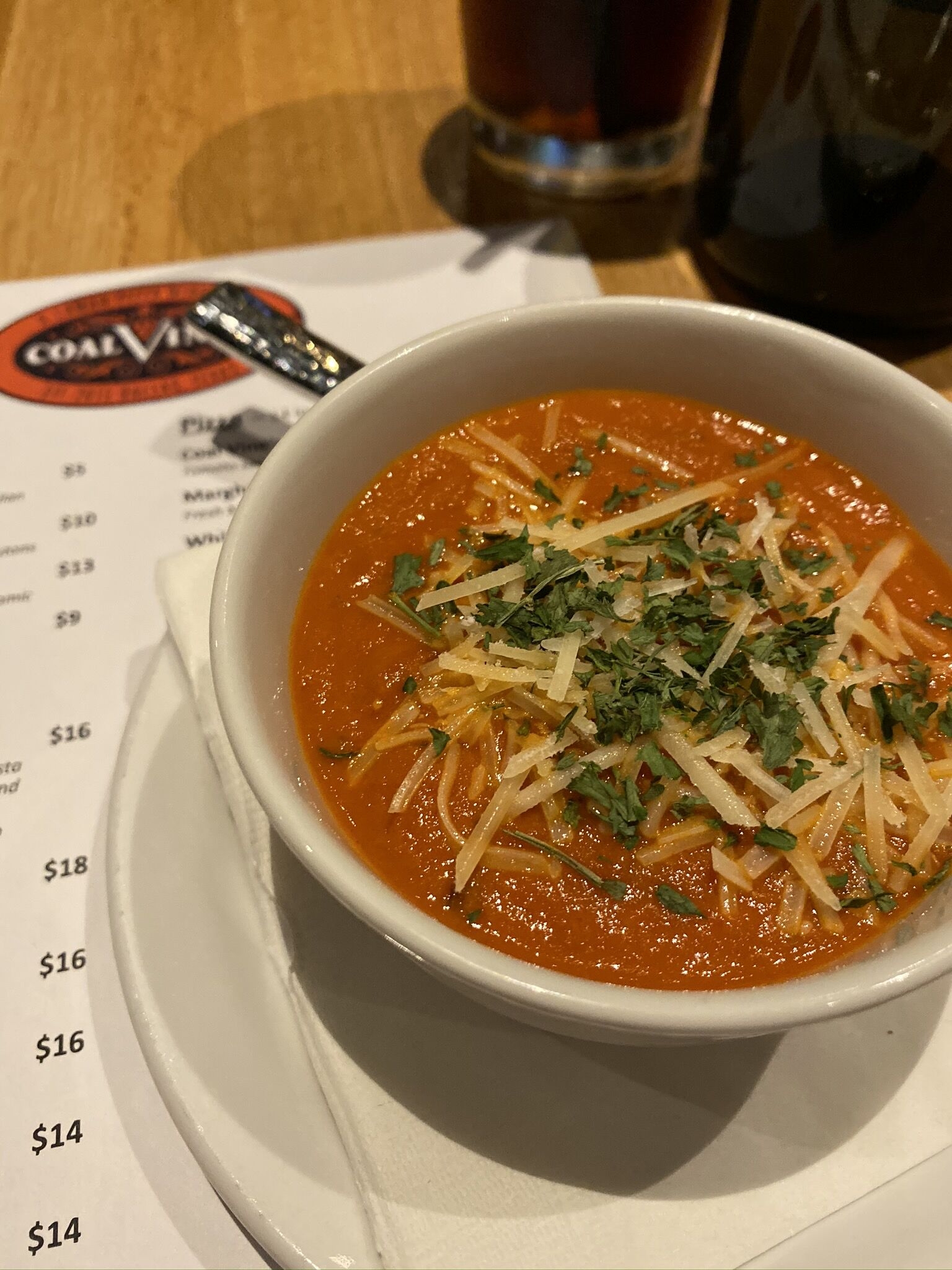 Delicious food that was oh so satisfying.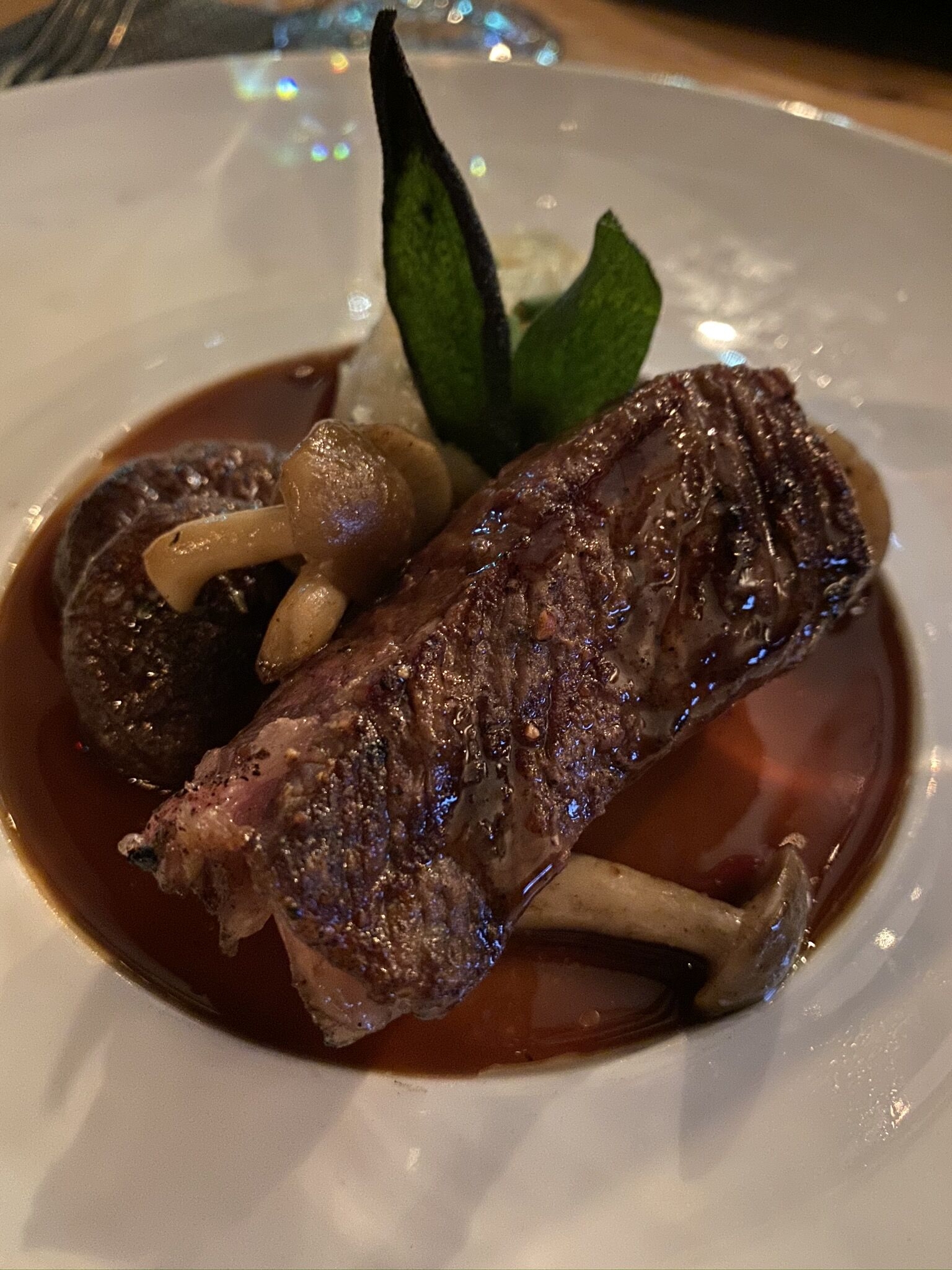 In the mood for a delicious steak? This will not disappoint.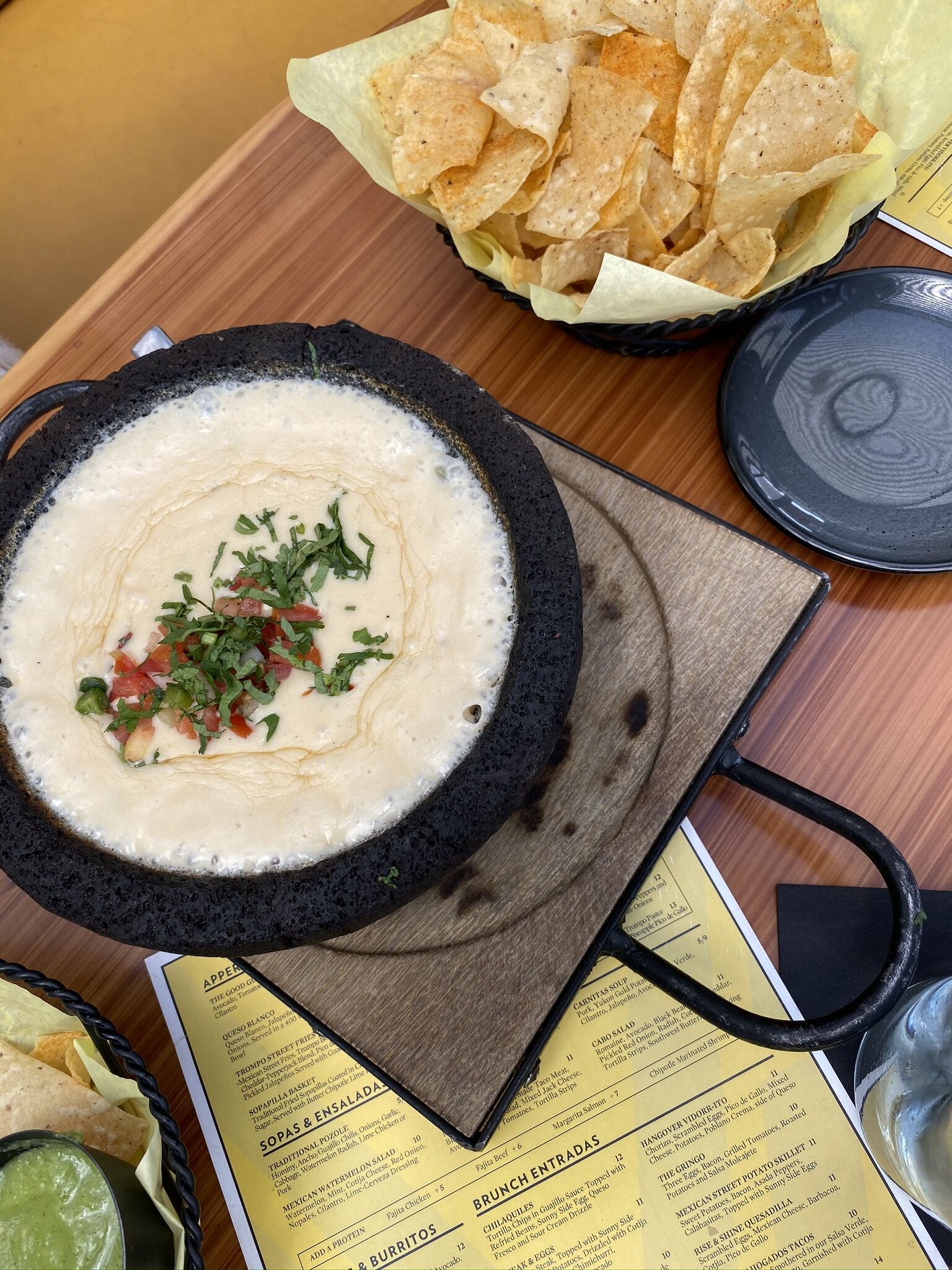 I was dying to have some queso blanco on this trip and WOW, it was delicous!
Dallas Travel Guide: What to Do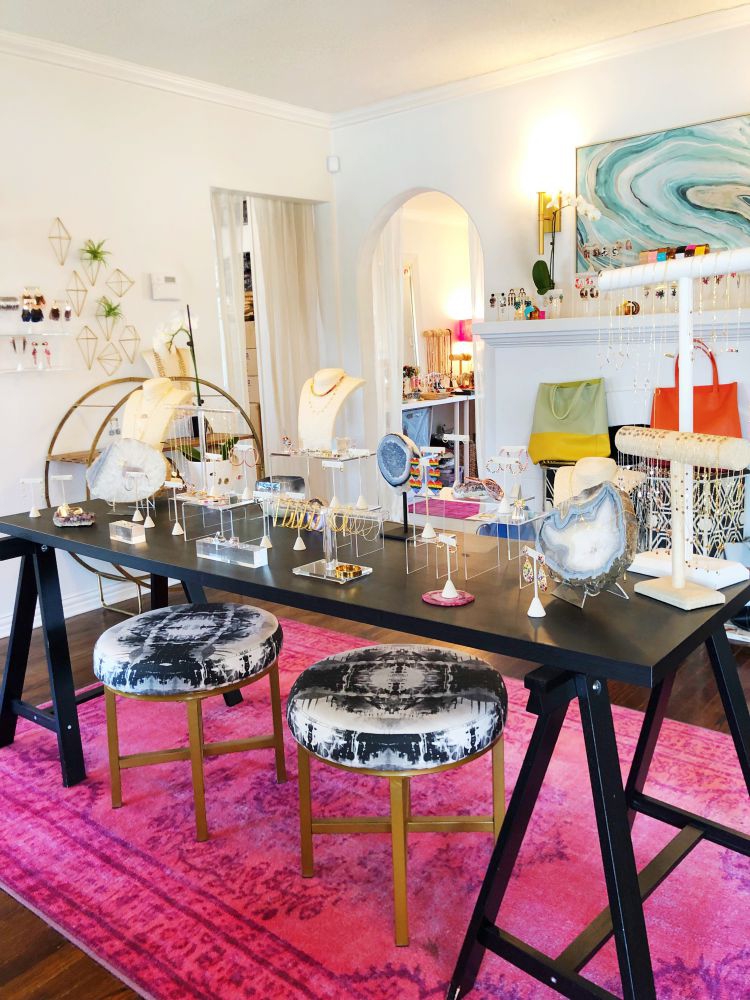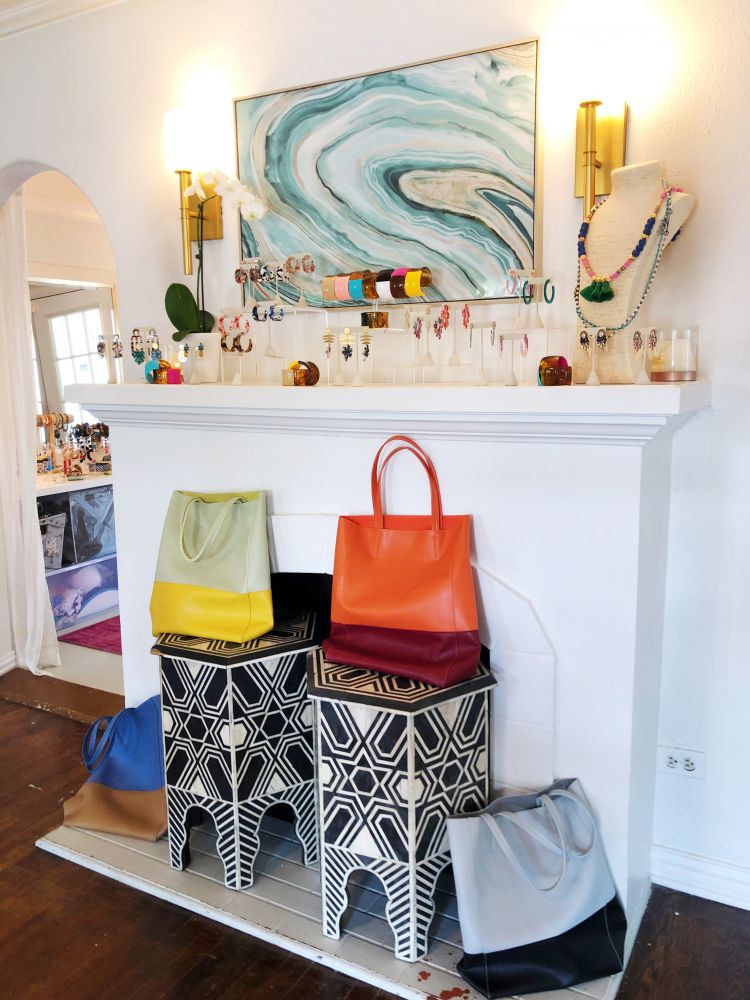 After arriving in Dallas, I made my way over to one of the CUTEST boutiques – Accessory Concierge! I know y'all have heard me rave about them before but seeing their darling little shop and meeting the owner made me love them ever more. They were so kind to allow me to pick out a few items to share with you! You can shop my new AC earrings + necklace in the widget below!

SHOP THIS DALLAS LOOK:
Top // White Denim // Sandals // Earrings
Quite possibly my favorite part of the entire trip was our wine tasting at Messina Hoff Winery in downtown Grapevine! The staff there was super friendly and the wine, of course, was delish! I was amazed at how affordable the tasting was and feel like it would make the perfect outing for a bachelor party, girls trip, or date night with the hubs!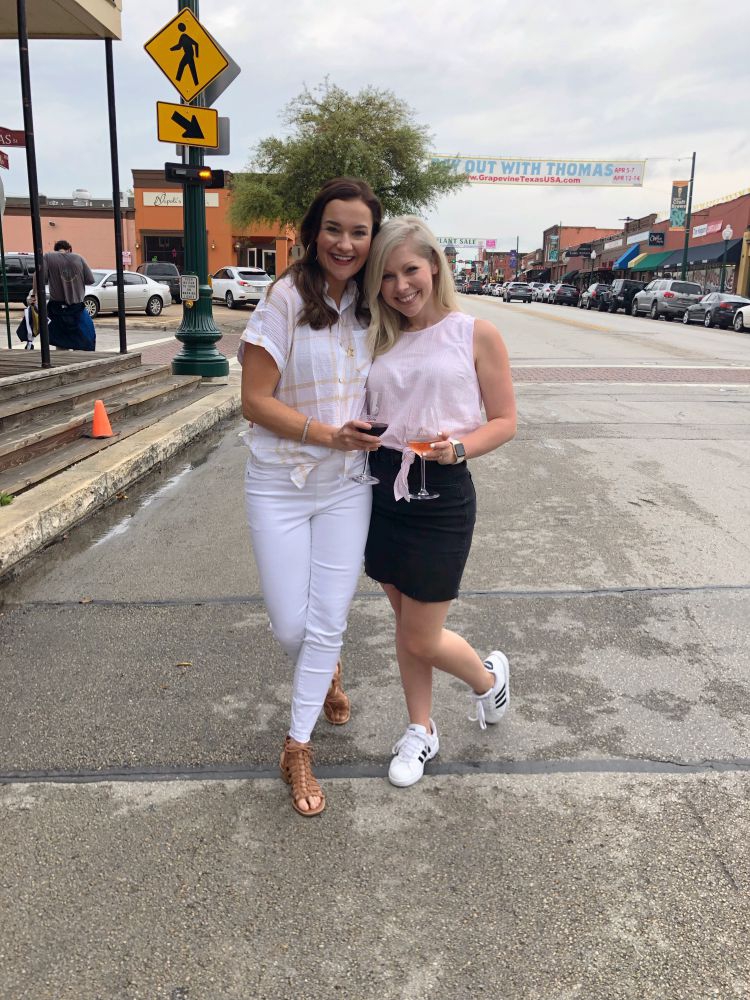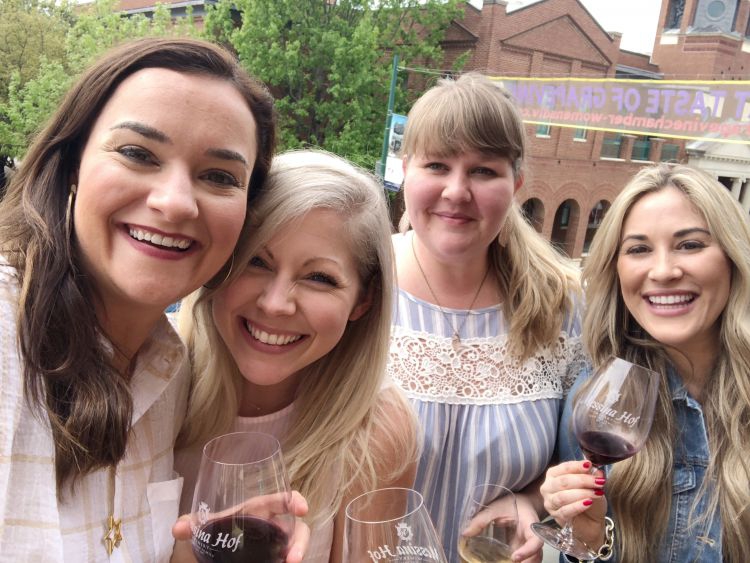 The cutest area of downtown Grapevine!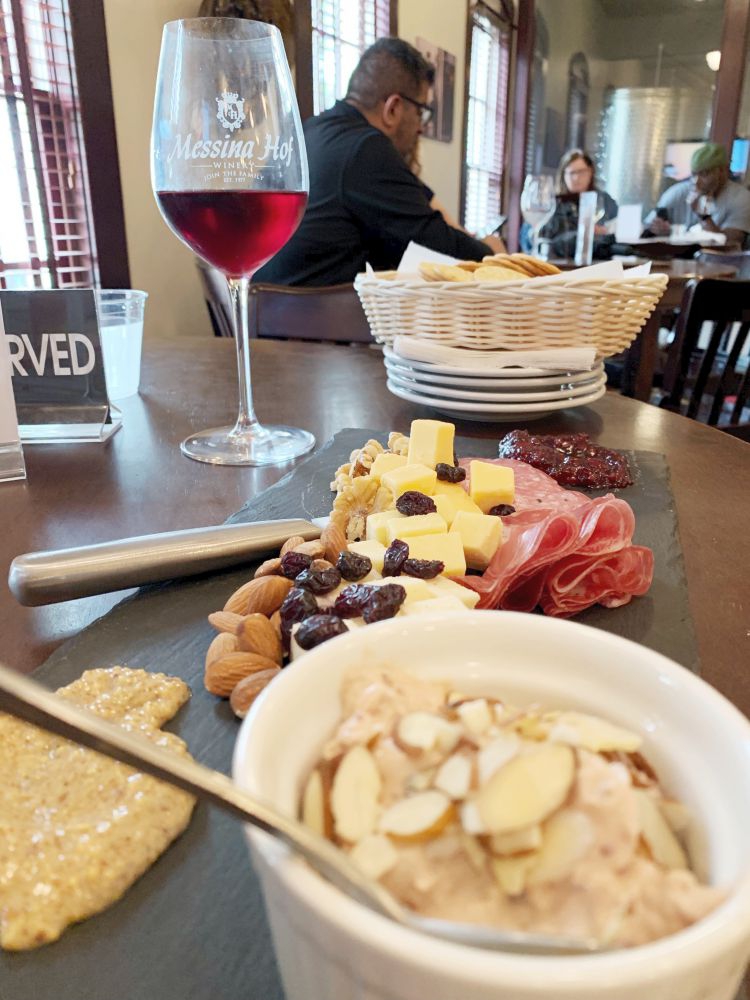 We started with the charcuterie board paired with wine… amazing! They sell their own jams in house and they are to die for!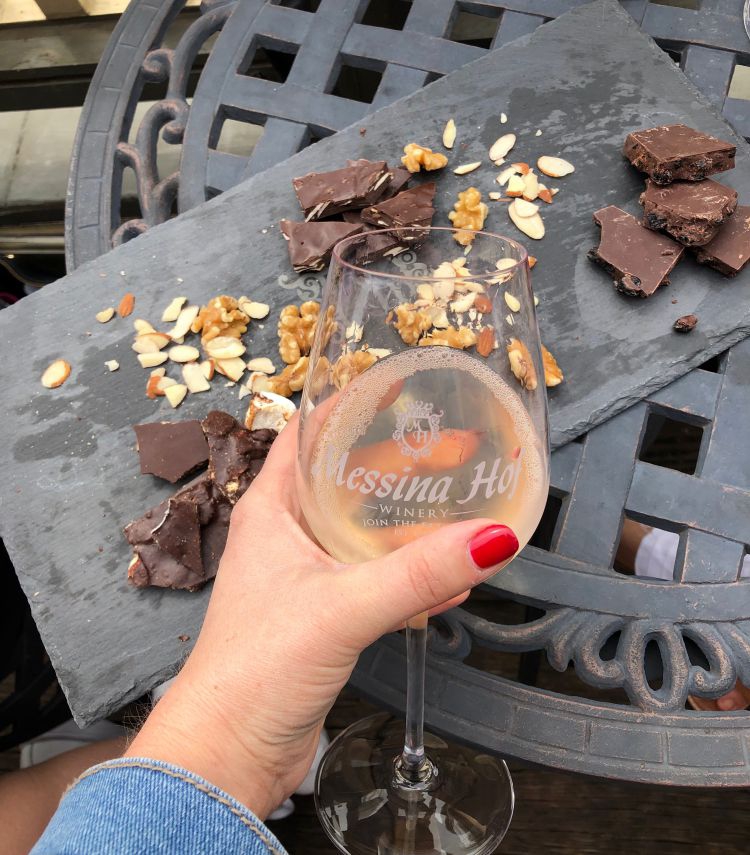 Then we moved to the chocolate board paired with wine… even BETTER! There was a s'mores chocolate bar that I just couldn't get enough of!
Does it get much better than wine and a massage?! We began winding down our trip with a visit to Hand & Stone for 50 minute massages! This was the perfect end to a fun and busy weekend exploring Dallas. Larry, the owner, was so kind to arrange our appointments to ensure we were able to fit it into our itinerary. If you find yourself in the Grapevine/Southlake area, definitely add visiting Hand & Stone to the top of your list!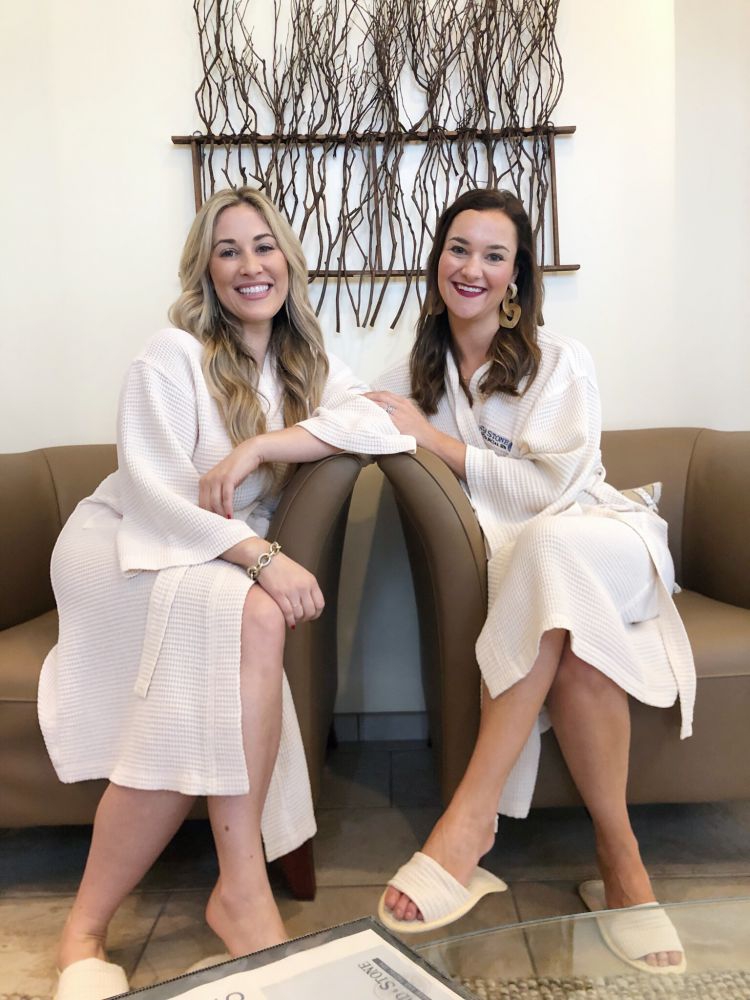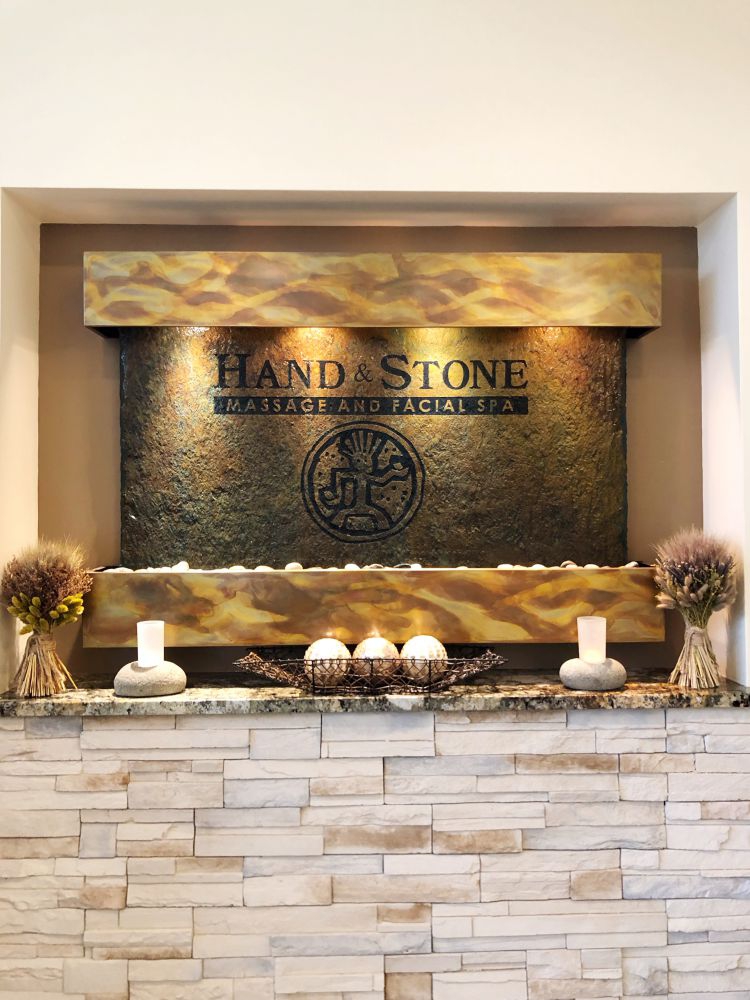 After finding out early Sunday morning that my noon flight was rescheduled to an evening flight, my afternoon became available for all sorts of fun activities! Laura and I headed to The Galleria Dallas to shop at Nordstrom since neither of us have one nearby in Memphis or Birmingham!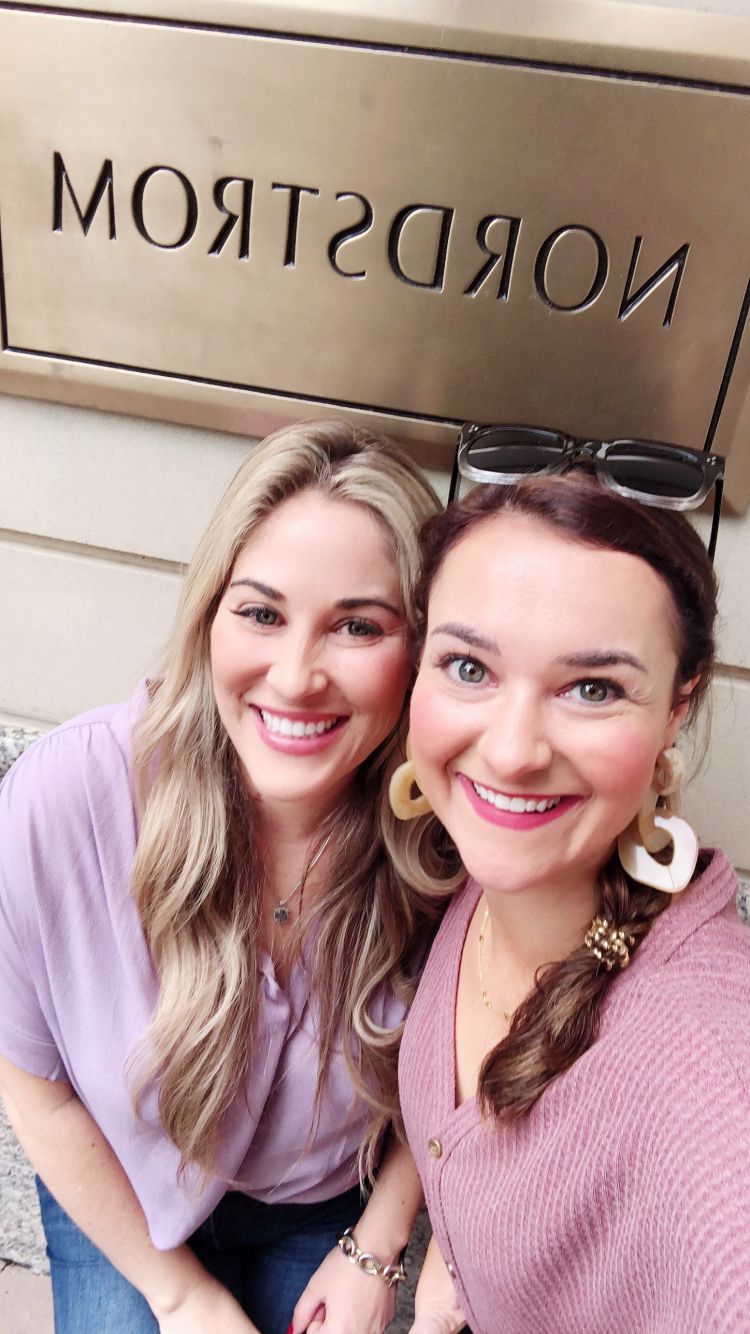 SHOP OUR DALLAS LOOKS:
Breastfeeding Friendly Top // Earrings // Sunnies // Laura's Top // Laura's Jeans
We decided it would be fun to do a try-on so stay tuned to see that on Instagram Stories soon but you can get a preview by shopping the looks below!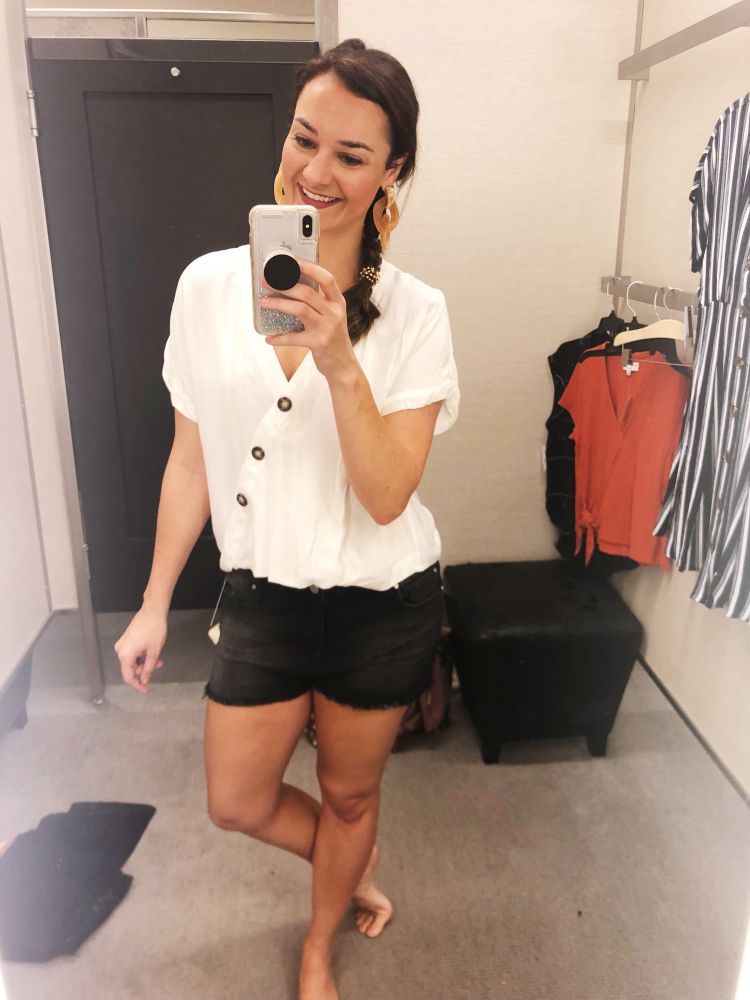 Top // Bralette // Black Denim Shorts // Earrings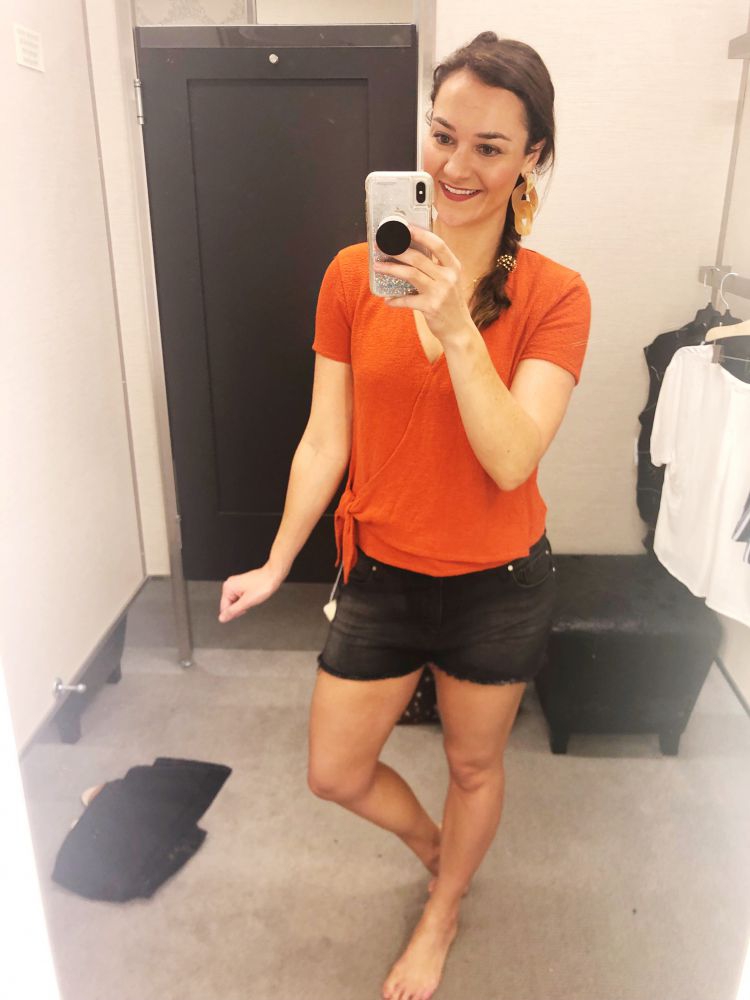 Top // Black Denim Shorts // Earrings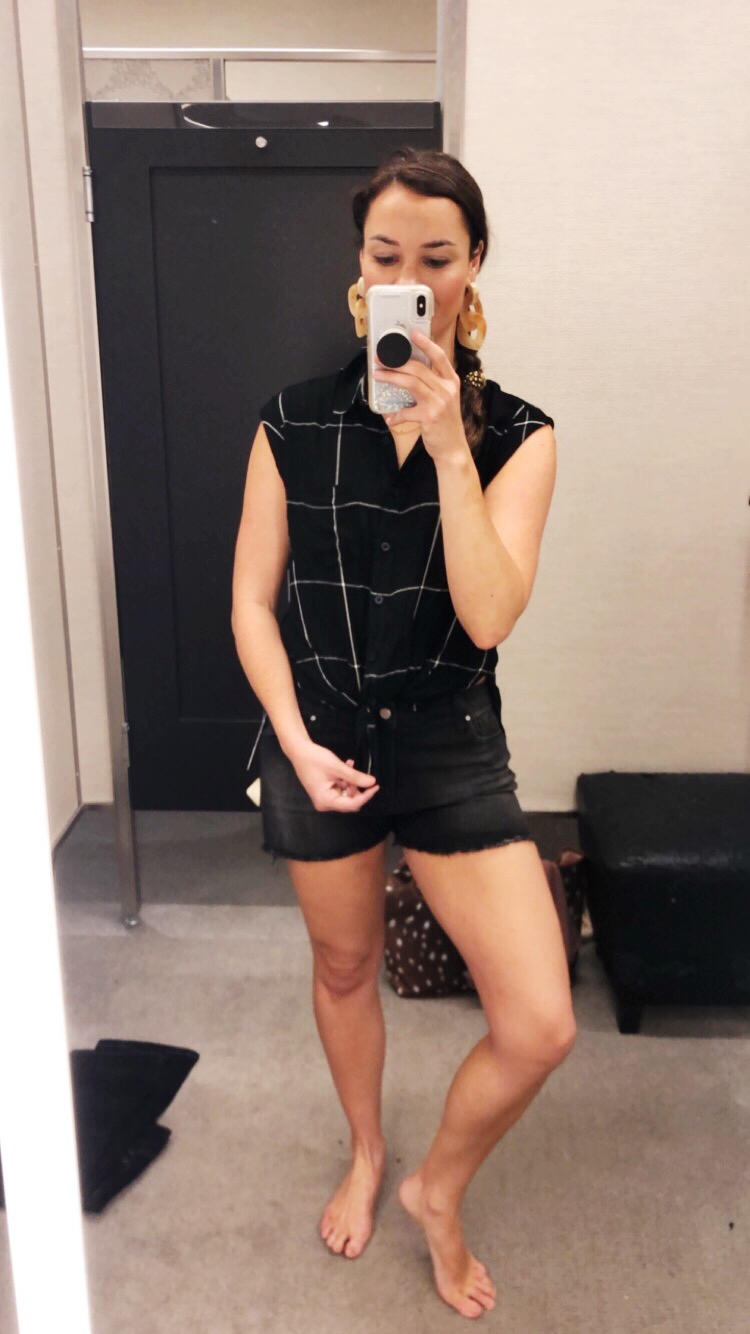 Top // Black Denim Shorts // Earrings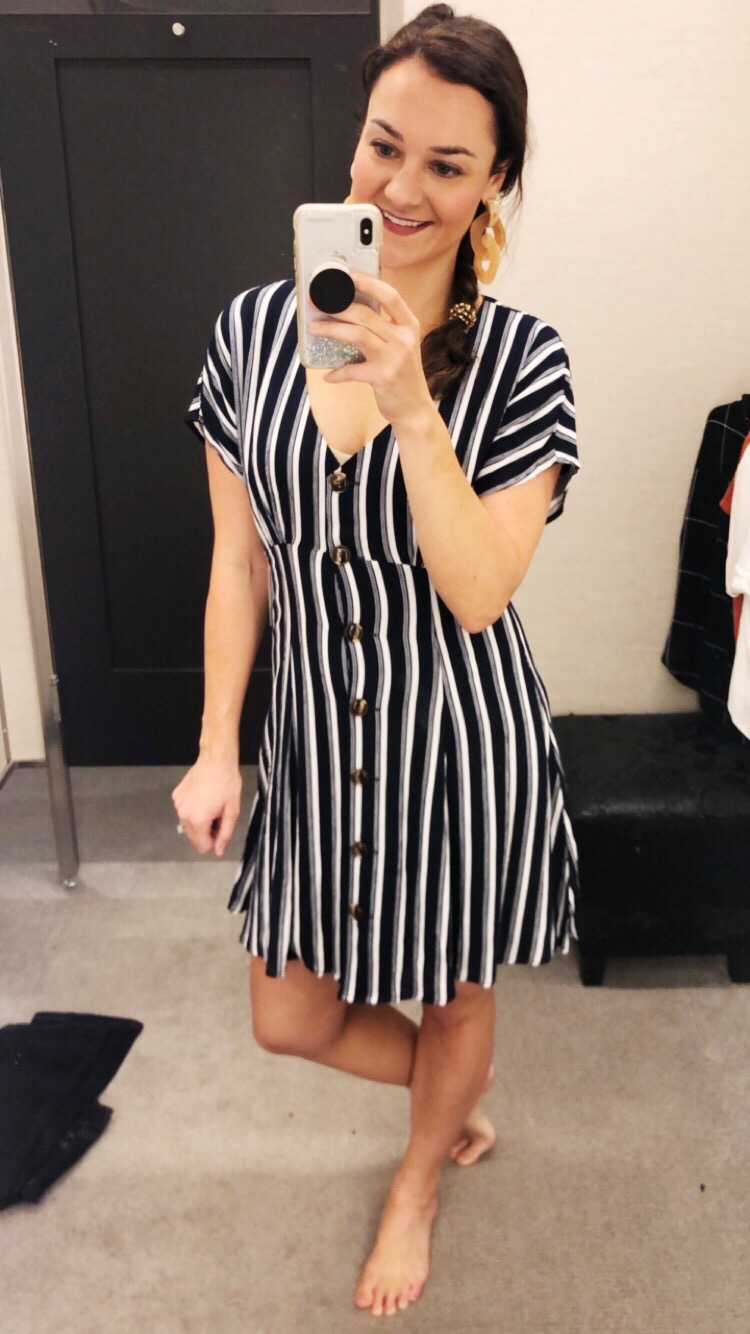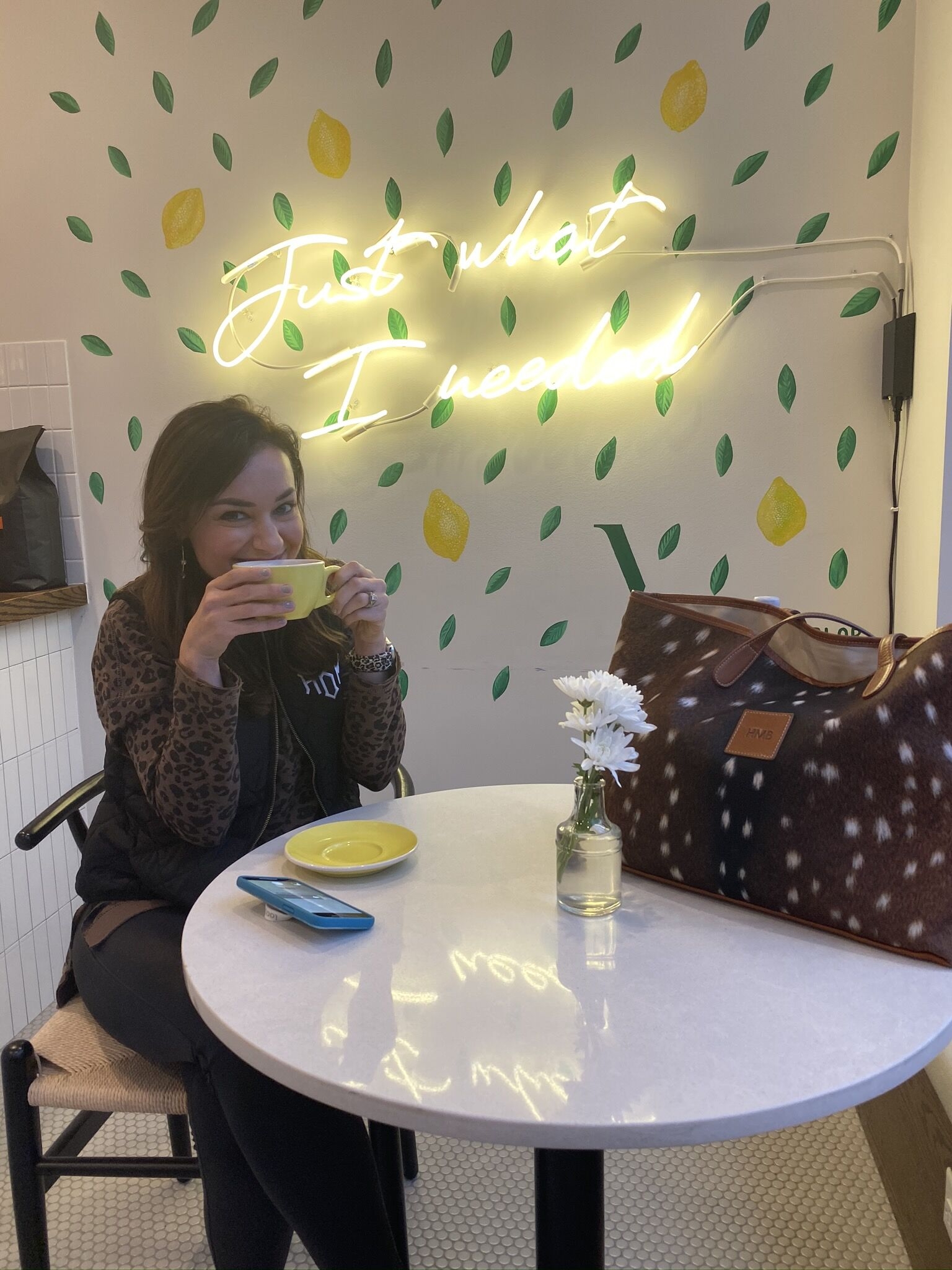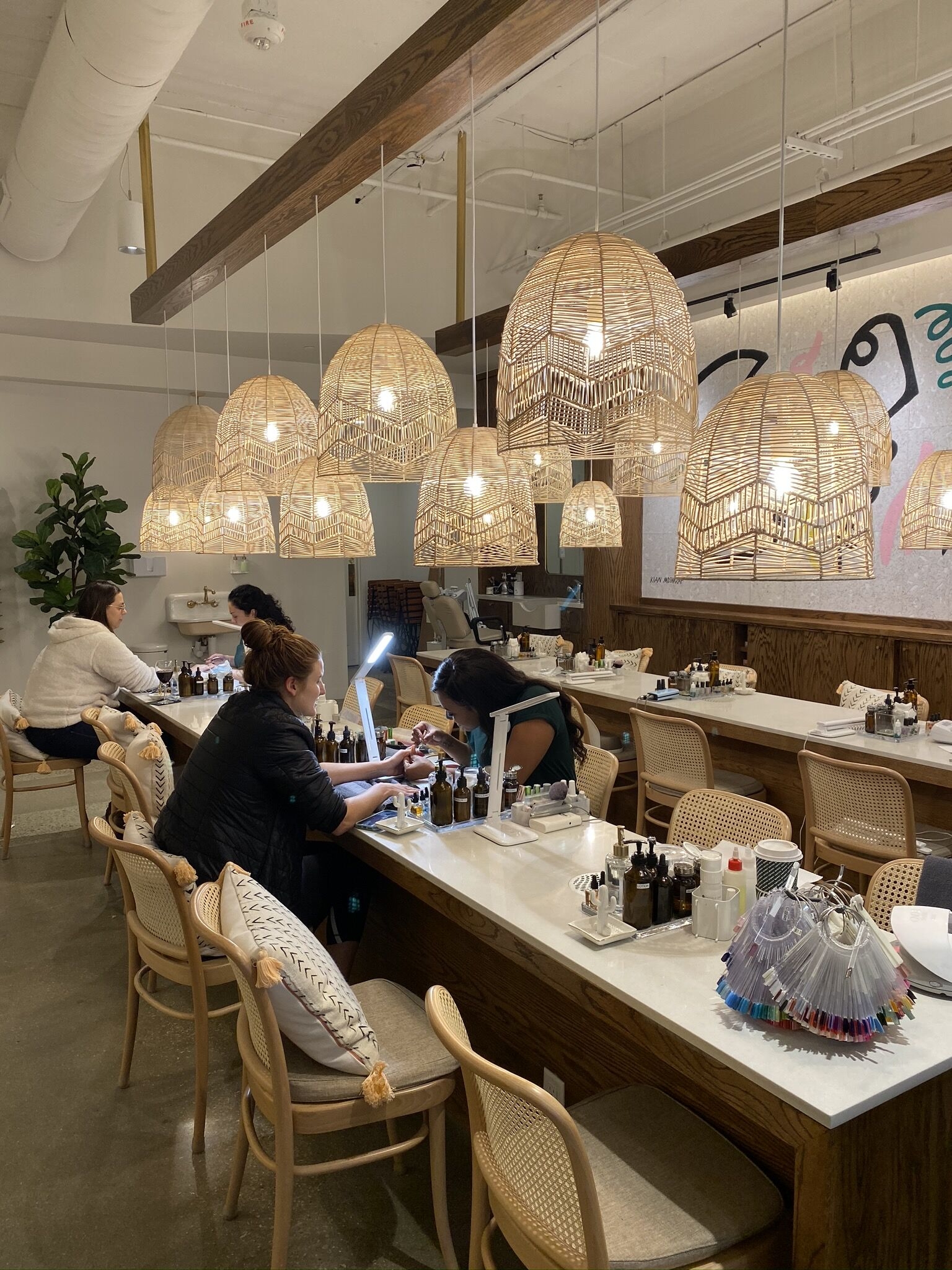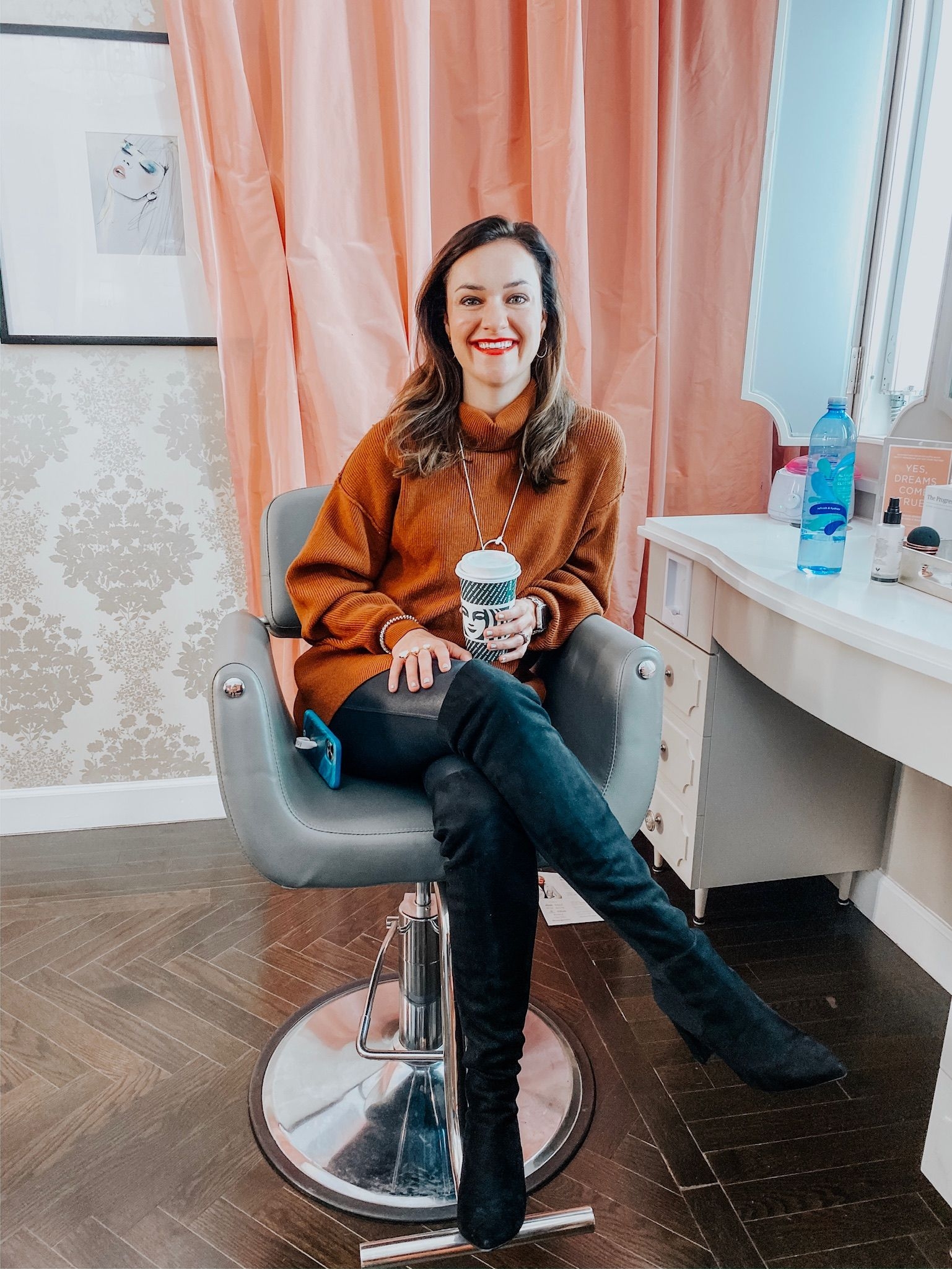 What is your favorite place to stay, eat, or thing to do in Dallas? I would love to hear in the comments below so I can add it to my list for next time!!
Shop All the Outfits Featured in this Dallas Travel Guide:

Shop My Breastfeeding Friendly Nordstrom Try On HERE:

PIN The Ultimate Dallas Travel Guide For Later!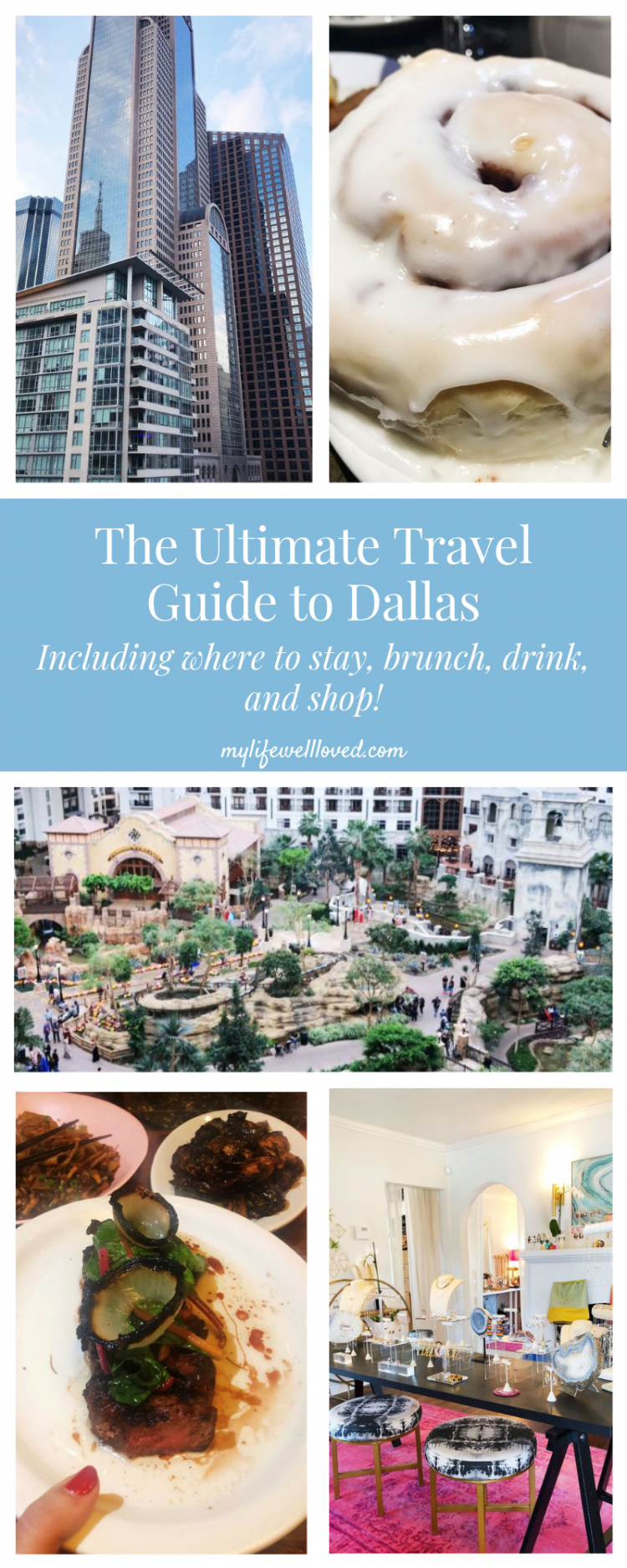 Heather Brown helps busy mamas of young littles who are caught in the hustle to find encouragement in their journey to true health, from the inside out, starting with the heart. Read her journey of learning to live a life well-loved
HERE!