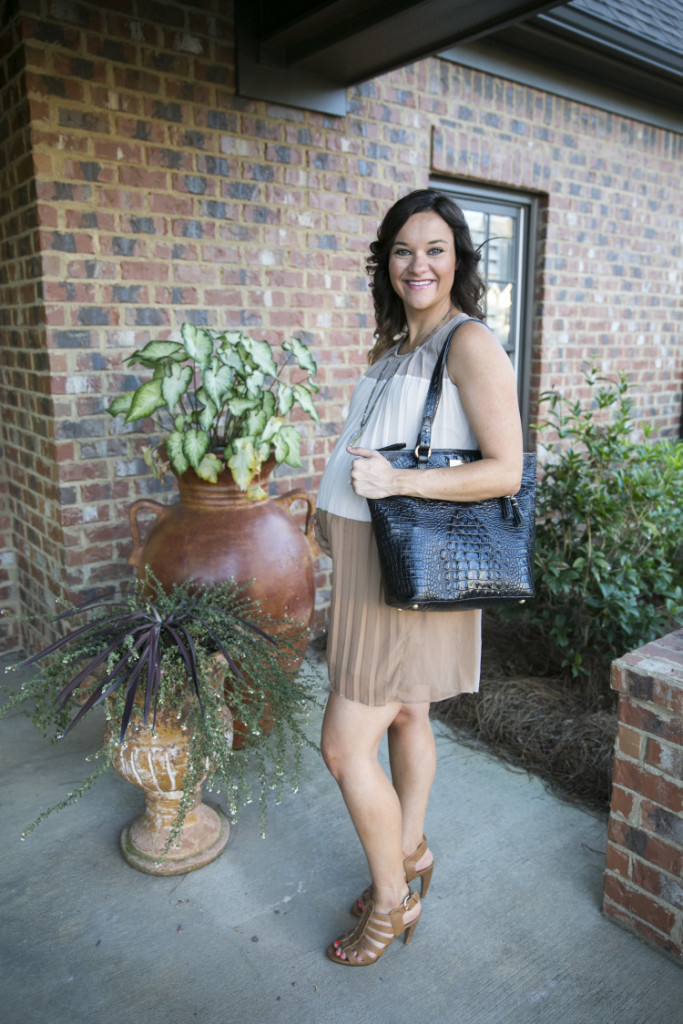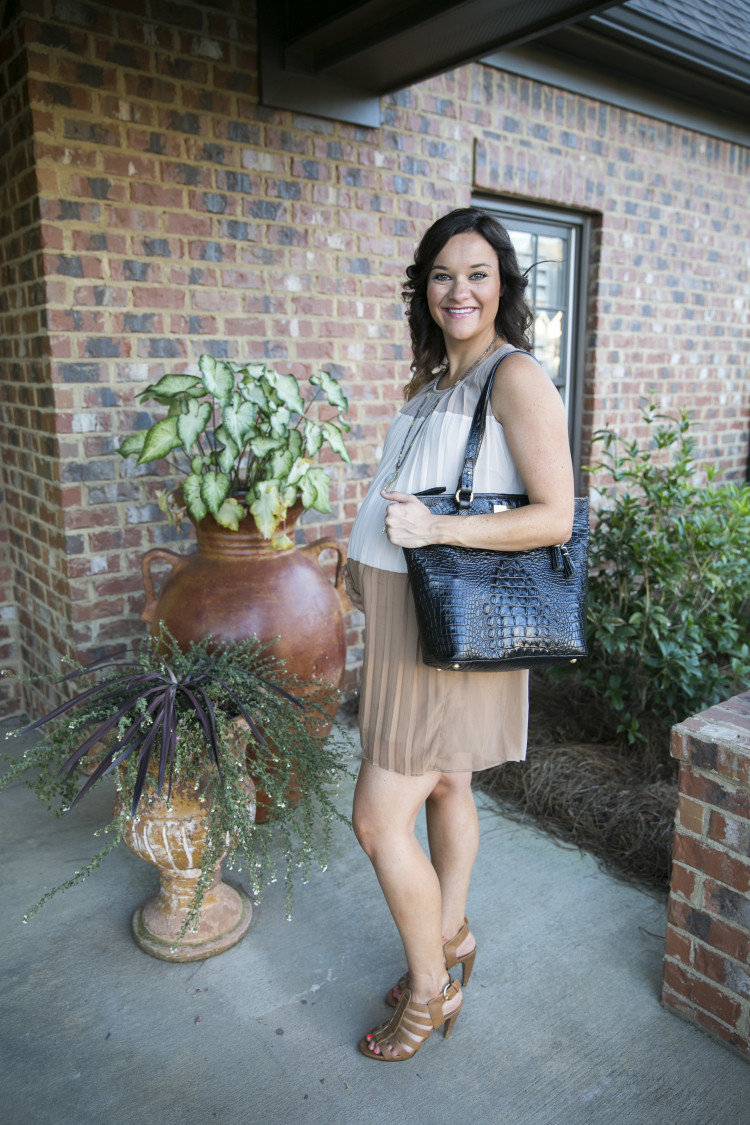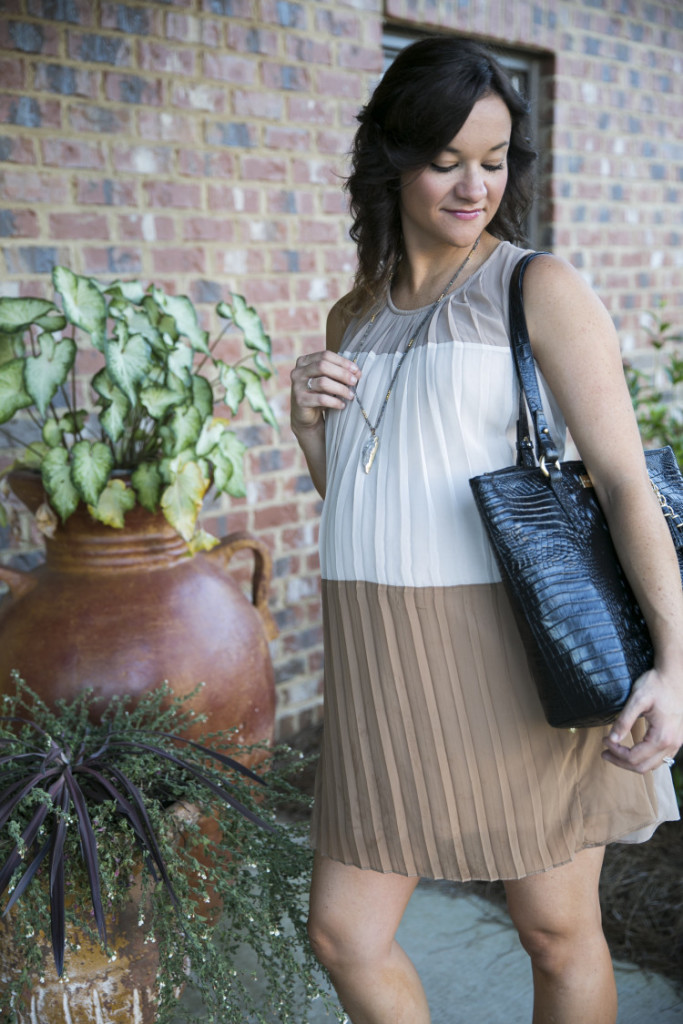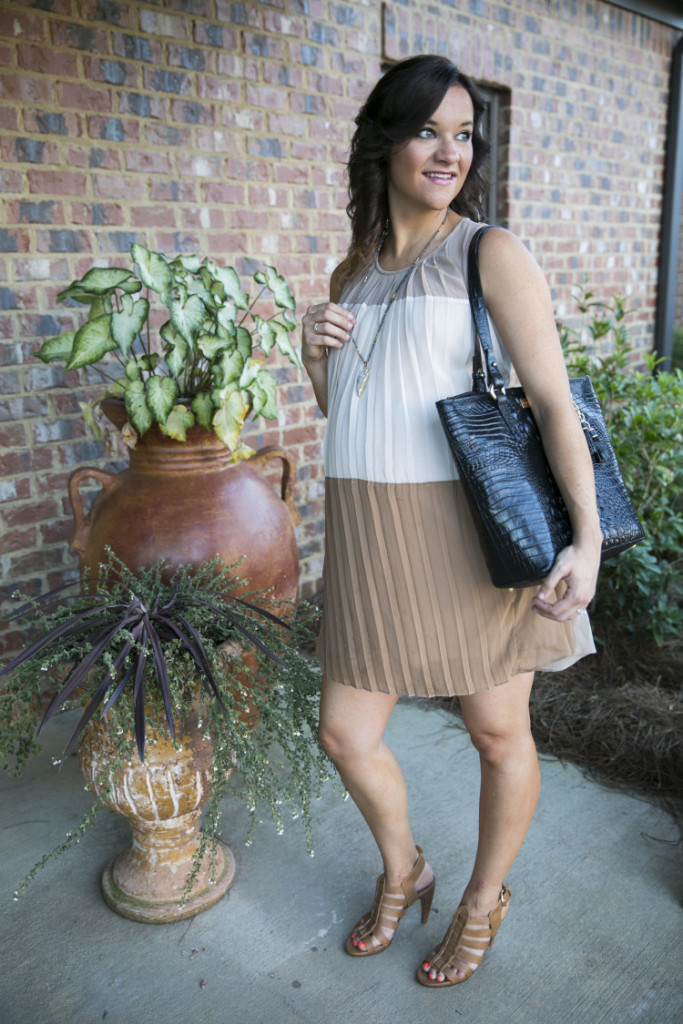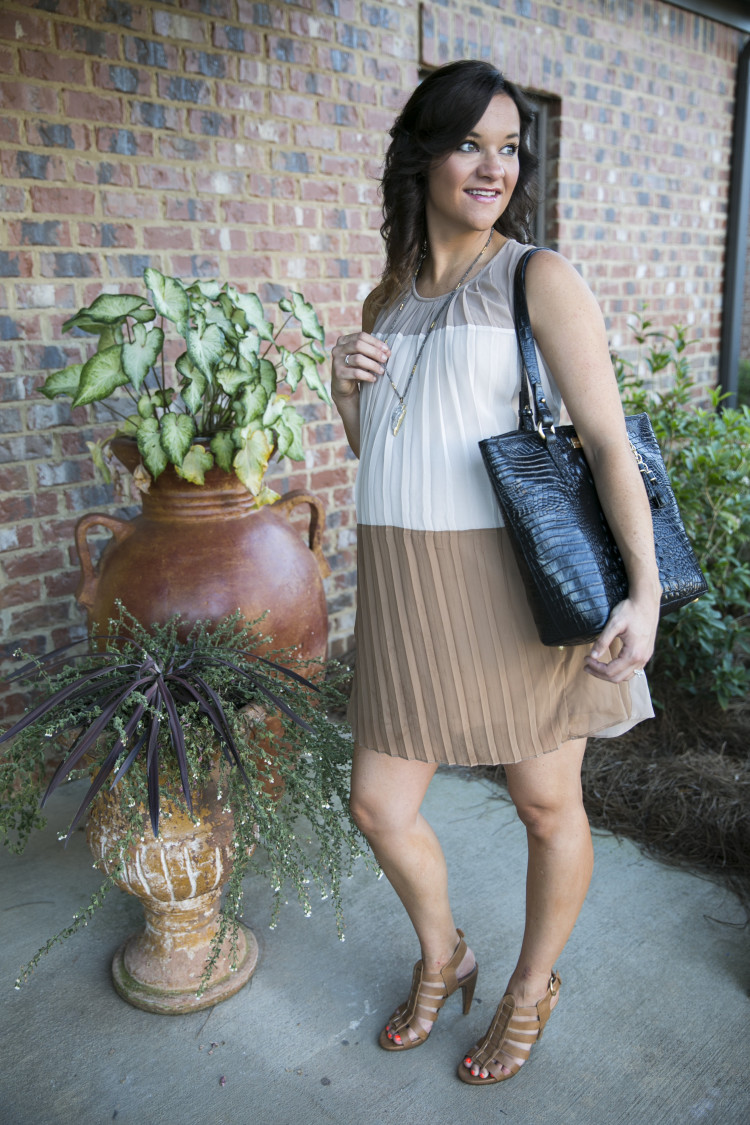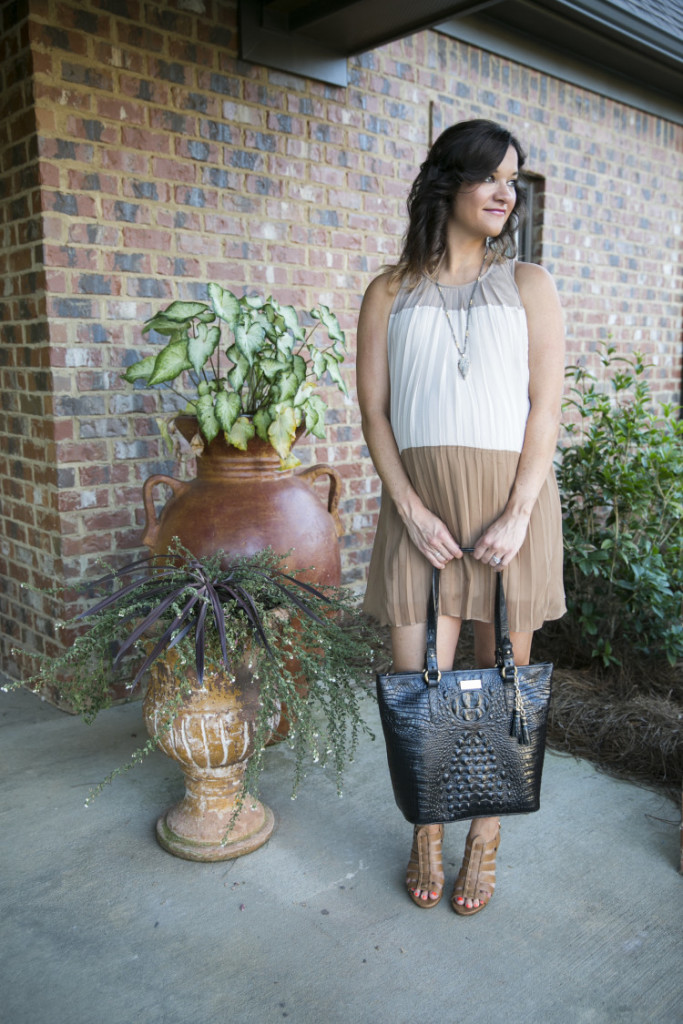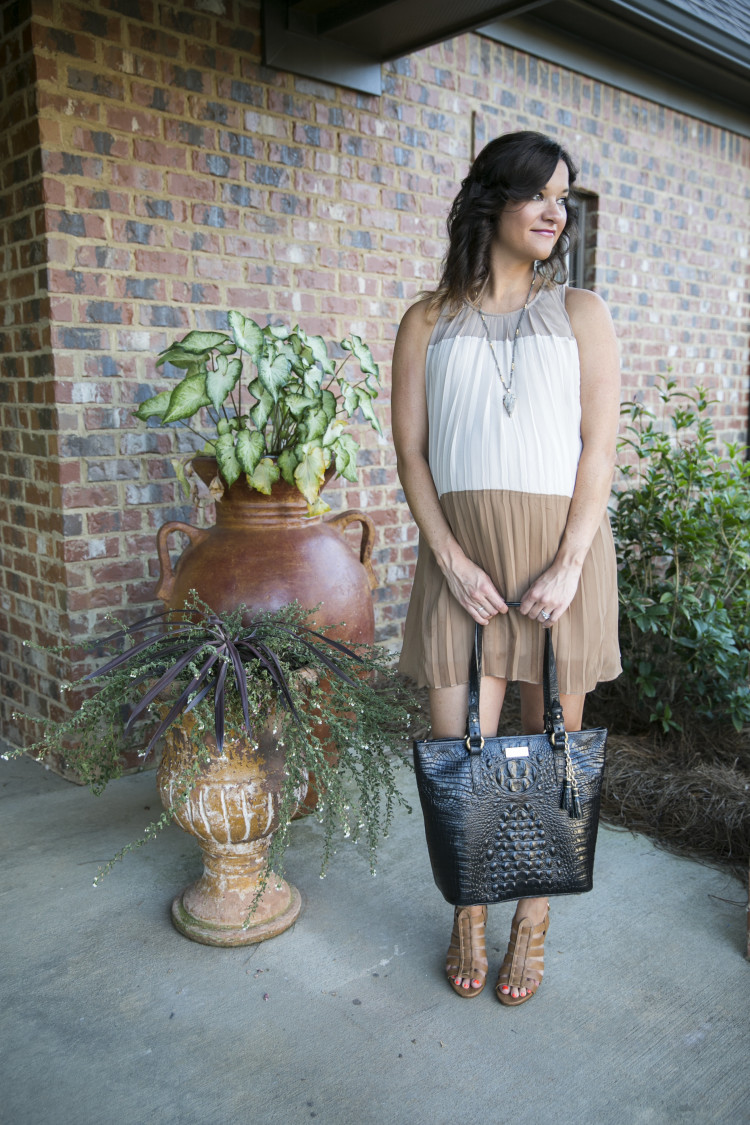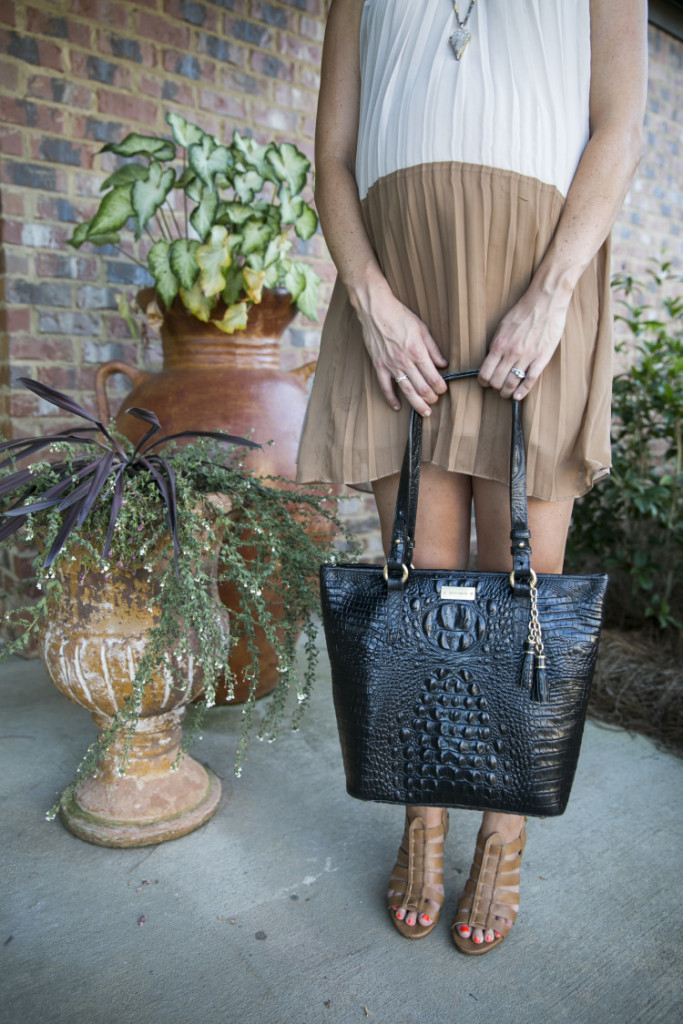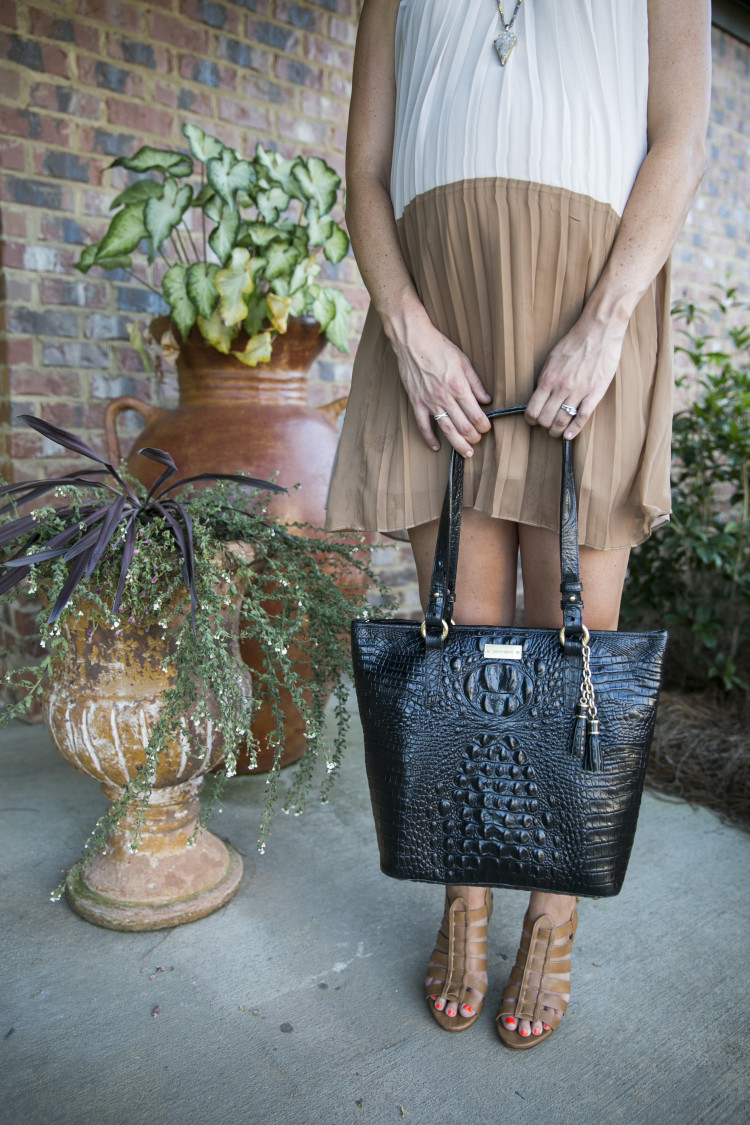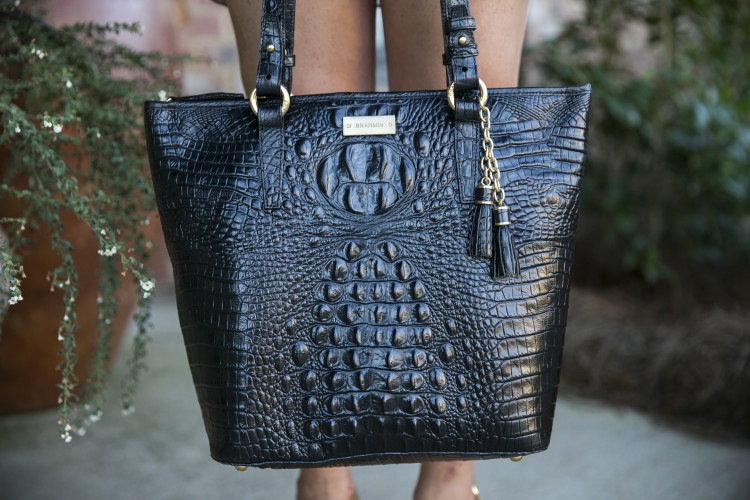 Well, you'd think that with all the pumpkins, PSL's and the first day of fall having come and gone that it would be a little cooler, but it still feels mighty warm this week in Birmingham! I'm still rocking shorts so it feels appropriate to share this bump style post in a cool dress.
This is my next to last Style the Bump post! It was such a whirlwind that last few weeks that even though I had these shots to post, I never got around to it. My hope is that this maternity fashion series helps inspire moms to still dress cute with your bump. Now, if I can just get myself inspired to dress up after the bump. I'm not going to lie to you, I've spent a good amount of time in my nursing camis and shorts.
As a kid, I used to hear the word pleats and shudder, but as it turns out, they're great for hiding things and making the bump look cuter in this dress! I've since come to love this small detail in outfits that gives it a bit of an extra flair.
This is one of the few non-maternity dresses I found functional to carry me the whole way through pregnancy. If you are currently pregnant, make sure that you keep out some of your dresses that have a trapeze shape or feel nice and loose. I had about 3 dresses (2 of which were maxi dresses) that worked for me all the way through pregnancy that were non-maternity and I loved having those extra options.
These shots are making me nostalgic for carrying my Brahmin purse. She's my trusty sidekick usually, but since baby I pretty much just tote the diaper bag and toss my necessities in it. Speaking of the diaper bag, I know a lot of you are just here for a cute baby picture (as you should be) or the Leyton update, so here it is!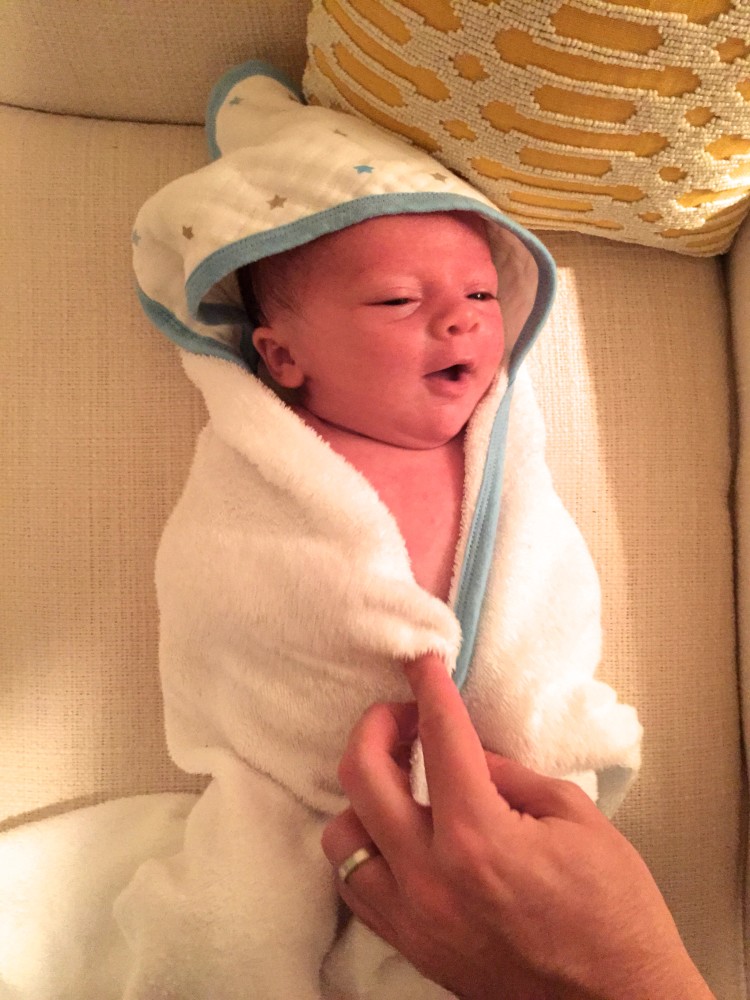 Baby Update:
How old is Leyton? 5 weeks. And how stinking cute is that little face he's making above? He LOVES the bath.
Newest Development: Starting to make more little baby noises. Making eye contact more frequently. Growing so fast!
How am I adjusting: Got the all clear today at my doctor's appointment at St. Vincent's to start working out! And only a few more weeks till I can get back to Pure Barre.
Breast feeding is NO joke y'all. But it is helping the pregnancy weight melt off and it's become less painful after the first few weeks, thank goodness.
I'm worried about our sweet little guy's baby eczema and cold but it doesn't seem to bother our happy baby. So grateful for that. Prayers appreciated!
Shop the Look: Dress: Altar'd State (similar) || Necklace: Kate Morris Jewelry (similar) || Purse: Brahmin || Shoes: Target (Similar) || Hair Color and Style: Liz at Saxx Hair Design (205) 870-7778
Thanks to Jett Walker Photography for these style shots!
Heather Brown helps busy mamas of young littles who are caught in the hustle to find encouragement in their journey to true health, from the inside out, starting with the heart. Read her journey of learning to live a life well-loved
HERE!