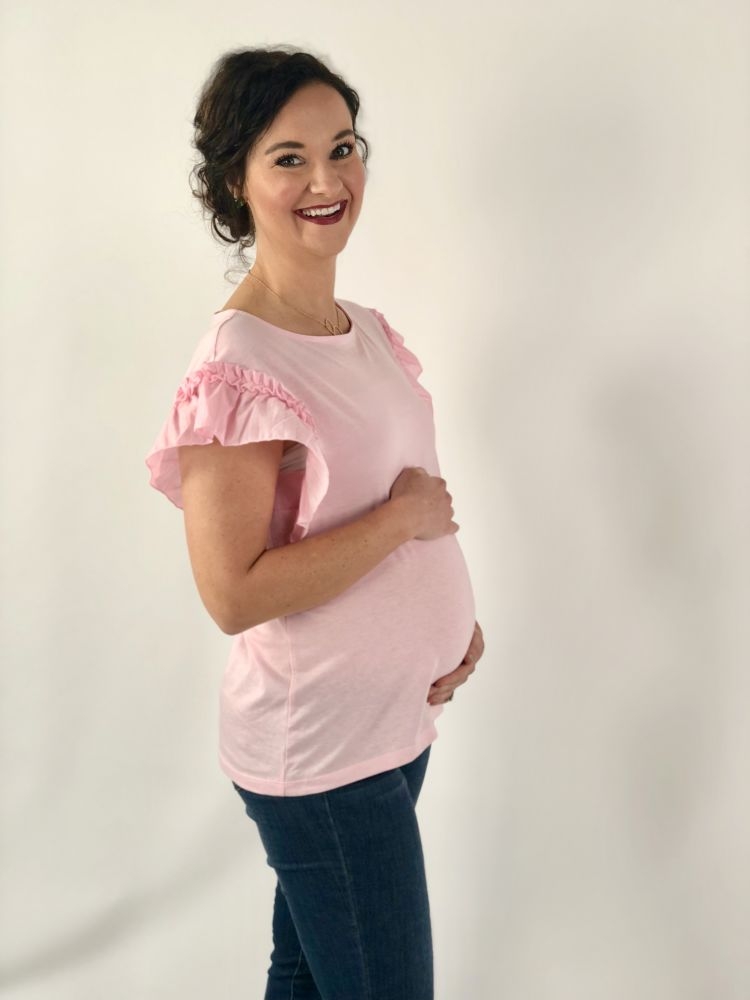 Pink Ruffle Sleeve Shirt // Jeans // Necklace (affiliate links included)
Oh my gosh, I'm 20 weeks pregnant…half way to baby time!!!! How in the world is this flying by so fast? I checked in with you girls to ask if you have any questions for me around pregnancy today to do a quick Q&A, and I got so many great responses that I decided to make it a whole separate post, so that will be included in Monday's new arms challenge blog post.
In the meanwhile, I thought it would be fun to share the top sellers that you guys got in March today because several of you asked what I've been buying lately to accommodate the bump. As I've shared in prior bump dates, THESE are my favorite new summer purchase…I'm wearing my white denim shorts every chance I get! You guys also saw that I just got in my new Free People top that I found on sale last week and several of you bought too!
I also love the pink ruffle top I got at Target (size up for a bump!) and I've gotten a few things from Pink Blush but other than that I'm rocking stuff that is slightly oversized or from my last pregnancy. And then you'll notice the trend below because you guys are typically buying what I'm currently sharing — that otherwise I'm buying accessories or shoes that make me feel good since I don't want to invest in a bunch of maternity clothes.
One of the top sellers is my new Nike muted robin's egg blue shoes. I really love them and a big bonus for me is that it has a velcro strap across the top so they don't come untied when I'm running or walking in the neighborhood. I sized up 1/2 size and have worn them every day since I got them!
I noticed some of the most clicked on and purchased items in March were swimsuits because of my maternity and non-maternity swimsuit roundup. If you missed that, you can check it out for reference or pin for later!
Click here to shop my March Top Ten Sellers That You Guys Got:

Twenty Weeks Pregnant Bumpdate:
How far along? Half way there…twenty weeks pregnant!
Total weight gain: I'm not sure because I haven't checked, nor do I want to, lol! I'm definitely at the point in showing pregnancy that even strangers know right away that I'm preggers.
Maternity clothes? I have to wear maternity pants/shorts or if I buy new tops, I size up to accommodate the bump typically. Lots of my dresses and workout clothes still work so that's nice.
Stretch marks? No, but I'm starting to notice some extra fat in my lower back and thinking I need to start really layering my belly oil there. Yikes.
Sleep: The only night I haven't slept well was the night before my Southern Living video shoot, but I think that was because I was running through my notes in my head and overthinking it, ha! Otherwise, I sleep well except for when I have to turn over and my belly feels heavy and awkward to move.
Best moment this week: I got to go to Southern Living on Wednesday and film makeup, hair and other tutorials that I can't wait to share with you all soon! Eeeek! Totally a surreal moment. The picture at the top of this post was taken in the recording studio.
Miss anything? This may sound silly, but I miss being able to feel as stylish sometimes. Because my clothing options are limited, I'm having a harder time putting together outfits that feel "fun." Very small problems for sure…
Movement: Yes! It feels like baby boy is having a party in there every night now. When I rest on the couch or lay down in bed, I feel things moving in shaking in there a lot.
Food cravings: I DEVOURED my banana pudding from Easter. It's so odd because even though my belly feels full, I still get the cravings or urge to eat but I feel uncomfortable so I don't eat. Not even sure how to really explain it, but it's a constant battle between stomach and head.
Anything making you queasy or sick? no
Gender: boy!
Labor signs: no
Symptoms: Lots of movement from baby boy, some of the stretching/growing pains, and the battle between stomach and head as mentioned above under food cravings.
Belly Button in or out? in
Wedding rings on or off? on
Mood: Upbeat now, but BOY oh BOY was I whipped when we hosted family and friends this week from last Wednesday to this Tuesday. Pregnant mama doesn't have nearly as much energy as normal for hostessing. #Strugglebus
Baby is the size of: banana
Looking forward to: Eric and I are having a date night at the Sara Evans concert this weekend to benefit Unlikely Heroes charity that rescues & restores child victims from slavery worldwide. Always love a good date night with my man!
Heather Brown helps busy mamas of young littles who are caught in the hustle to find encouragement in their journey to true health, from the inside out, starting with the heart. Read her journey of learning to live a life well-loved
HERE!