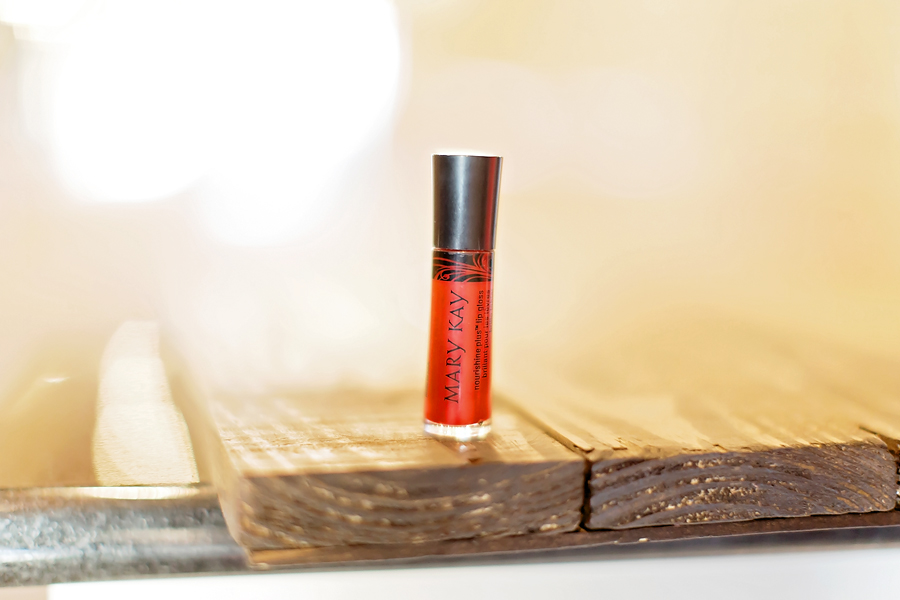 The ever-elusive perfect red. It's a thing, friends, but I'm here to help you figure it out! I never really wore a red lip until the past year or so. I didn't know how to go about finding the right color and was too afraid of making a grave mistake. I had heard from several friends that they loved their Mary Kay red lip gloss and it seemed to be universally flattering on many of them so I gave it a whirl myself.
The first time I wore this red, I did it at home to get used to it. I'd catch myself when I walked by a mirror having to get used to it at first, but then it grew on me, because it certainly is striking! i don't wear it everyday, but it's a fun option when I want to go a little bolder. I'd say I usually wear it around 1-2 times a week.
I love this gloss as well because it's not too sticky. It goes on smooth and lasts a good long while. So, if you're looking for a fabulous red, check out this Mary Kay nourishine plus lip gloss in Rock 'n' Red. When I'm feeling extra bold and want an extremely long wear, I'll layer it over my Mary Kay lipstick which feels so soft and nourishing, I swear it feels like a rich chapstick going on. The color I chose for the lipstick is Sizzling Red…and just like it sounds, it's sassy! You can order this lip color from my Mary Kay representative and new PB buddy, Hilary, via her website or reach out to her about finding the perfect shade of red for you HERE!
This column is part of our monthly Beauty Bits installment. Make sure you check out my Pure Barre friends style briefs, The Style Gathering, and my scoop to see what their favorite beauty items are this month!
Photos via Magen Davis Photography
Heather Brown helps busy mamas of young littles who are caught in the hustle to find encouragement in their journey to true health, from the inside out, starting with the heart. Read her journey of learning to live a life well-loved
HERE!