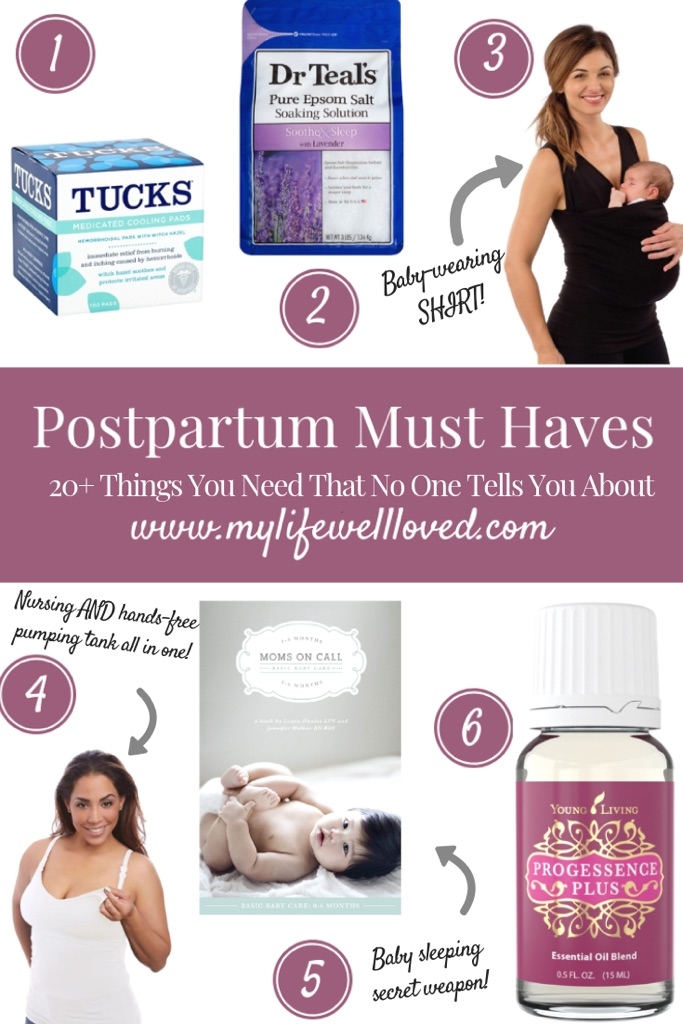 Tuck's Cooling Pads // 2. Dr. Teal's Epsom Salts // 3. Lalabu Baby-wearing shirt // 4. Belibea Nursing & Pumping Tank – use code MLWL for 20% off + free ship // 5. Moms On Call // 6. Progessence Plus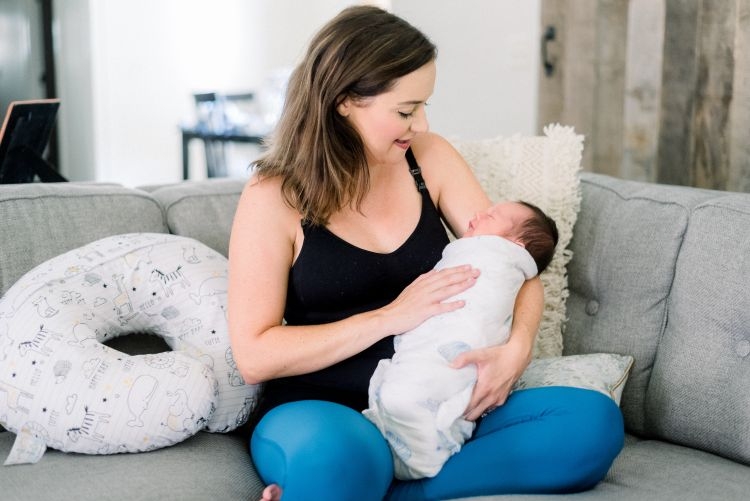 Shop the Postpartum Must Haves Post Photos: Bao Bei Leggings // BeliBea Cami // Boppy Pillow // Swaddle
Photos by Eric and Jamie Photo
Thank you to BeliBea for partnering with me on this post!
Whew, I have brainstormed LONG & HARD on this postpartum must haves post for you girls and yet, I still feel like I'll think of even more things later on to include. If you notice I've missed anything below, please let me know so I can add them in!
I'll be doing a whole separate post as y'all have requested with what to wear home from the hospital and to wear at home postpartum, so don't worry, that's still coming. In case you don't see something answered below I have included everything y'all have asked about on IG stories for me and baby postpartum on THIS PAGE which you can find linked under my FAMILY tab at the top of the blog for easy reference.
As many of you know, after Leyton's birth I struggled with baby blues and it was really scary to me. This time I've done a few things differently that I think have helped me with dealing with those hormones. 1. I was more prepared for what to expect. 2. Several friends recommended taking Magnesium and Progessence Plus. 3. I could walk several times a week without having to eliminate exercise completely for several weeks.
This time I have used Progessence Plus to help with keeping my hormones under control. Now whether this time has been so much better because of it or a variety of factors listed above, I'm not 100% sure but I am SO grateful to be doing MUCH better this round and I don't miss applying this to my arms and neck morning and night.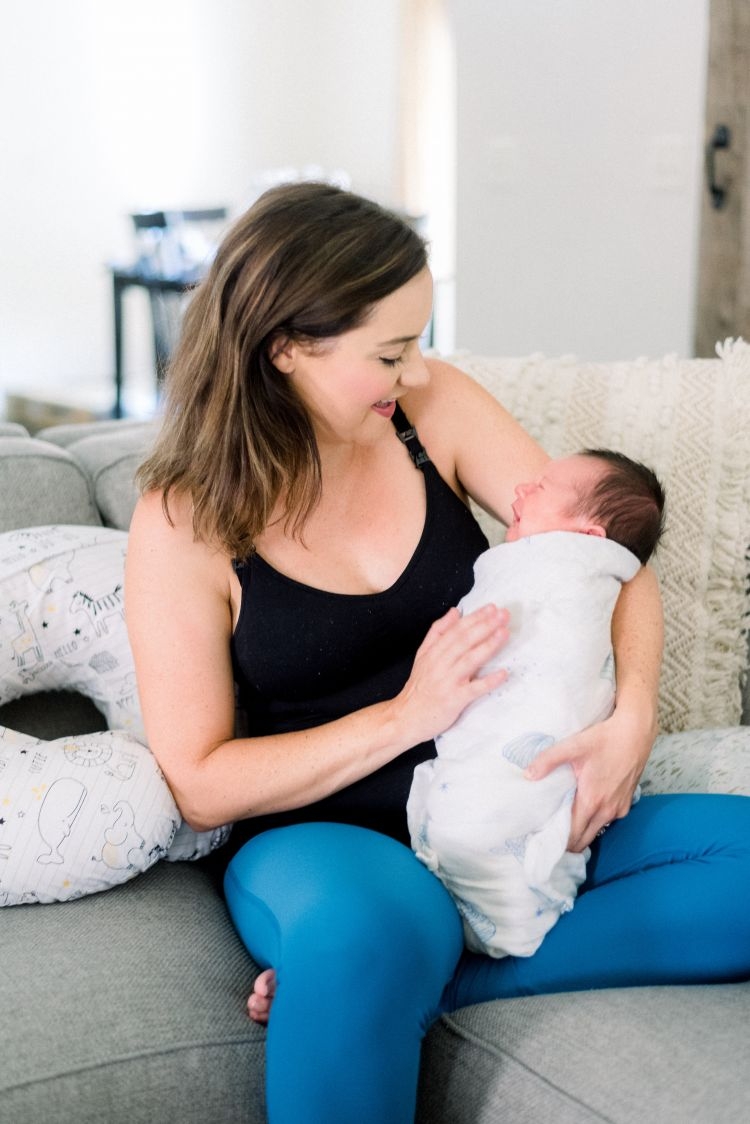 It's an all-natural hormone balance and skin serum, the USP-grade progesterone comes from wild yam extract, so it's totally all-natural. Great for women over 30, anyone experiencing hormonal imbalance due to postpartum or menopause… or just life (hello!). It's also great for your skin, and a drop in your moisturizer will work wonders. Make sure you DO NOT use Progessence Plus while you are still pregnant though!
Some of you recommended the Discreet underwear because they are so much more comfortable than wearing the big bulky hospital pads and I couldn't agree more…these were great to have on hand!
My BeliBea nursing tanks and nursing bras have been a luxurious addition to my postpartum days. They are both comfortable and I love that the tank can be worn out and about with a cute cardigan layered to make me feel a little more put together. The first time I wore them on stories I had messages flooding in asking where they are from. I love the simple design at the top that adds a little interest and I'm obsessed that you can use them as a nursing bra OR as a hands-free pumping tank or bra. I'd never seen this before! The dual functionality really makes these tanks and bras the best! I love that I am able to wear ONE tank or bra and it work for everything – nursing baby and pumping!
BeliBea has actually offered y'all 20% OFF everything on their site with the code MLWL + free shipping!!! Run and grab all of these postpartum necessities! Shop  HERE!
You can shop some of my postpartum must haves below and please don't hesitate to share your ideas in the comments as well or something you found particularly helpful! If any of the other items below leave you wondering why you need them, don't hesitate to ask me!
Shop Postpartum Must Haves:
BeliBea Cami (Use code MLWL for 20% OFF + free shipping!)
BeliBea Nursing Bra (Use code MLWL for 20% OFF + free shipping!)
Finn's Swaddles
Earth Mama's Nipple Butter
SNACKS! – Dots Pretzels, Trader Joe's Trail Mix, Trader Joe's Peanut Butter Cups, RX Bars, or whatever your favorites are!
Lansinoh Lanolin Nipple Cream – This is the kind I had recommended to me by the hospital! You'll also notice the silver nipple covers which you can put in your bra with breast milk in them to help any cracking heal faster. Nipple shields can be helpful while breastfeeding if you do crack to help you get through the pain.
Hospital Mixture for cracked nipples/preventing yeast – This mixture was recommended to me by the lactation consultants at the hospital. You can purchase cortisone ointment, miconazole 7 and poly bacitracin all over the counter and mix equal parts in a little container to apply several times per day to help provide relief.
What postpartum must haves did I forget about? Let me know in the comments below so others can benefit!
Pin the Postpartum Must Haves Post for Later!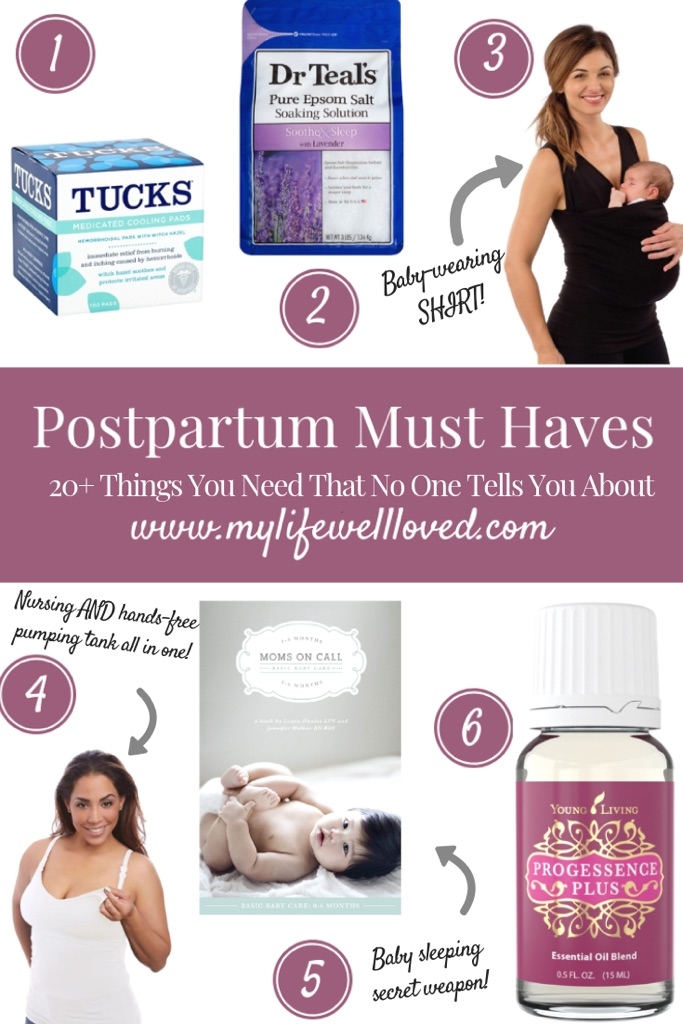 Tuck's Cooling Pads // 2. Dr. Teal's Epsom Salts // 3. Lalabu Baby-wearing shirt // 4. Belibea Nursing & Pumping Tank – use code MLWL for 20% off + free ship // 5. Moms On Call // 6. Progessence Plus
Heather Brown helps busy mamas of young littles who are caught in the hustle to find encouragement in their journey to true health, from the inside out, starting with the heart. Read her journey of learning to live a life well-loved
HERE!