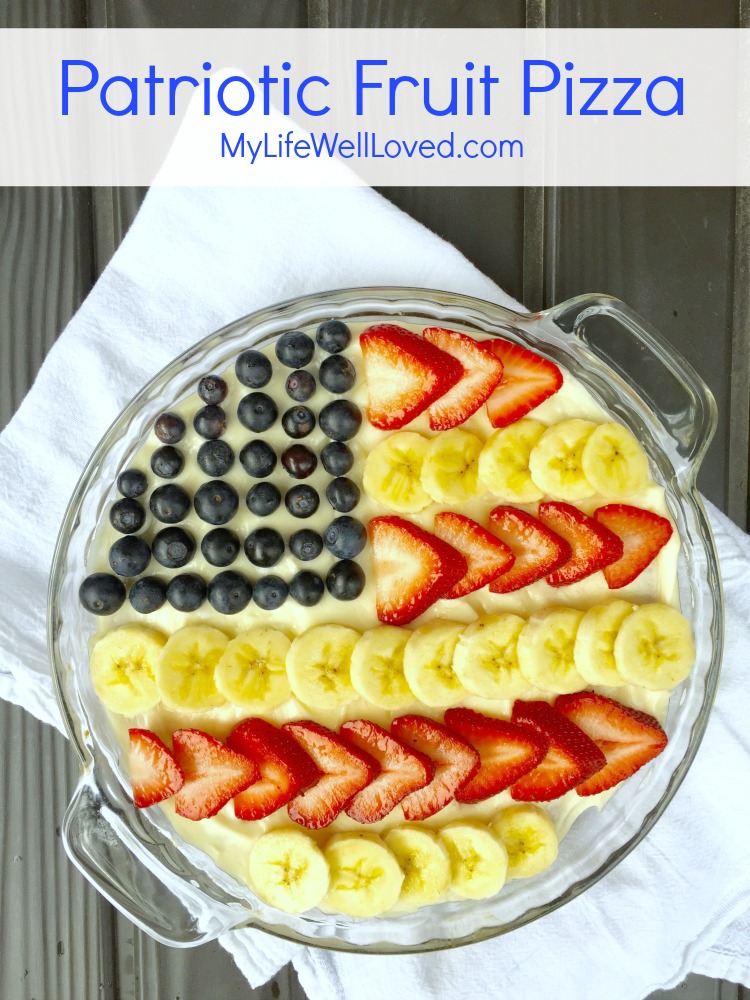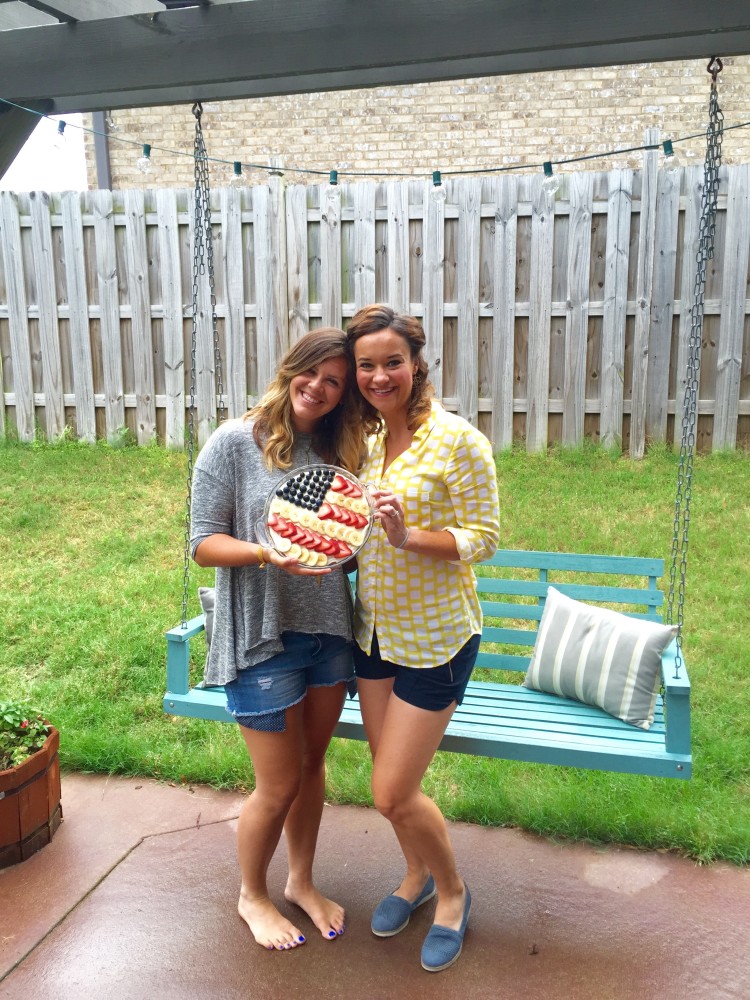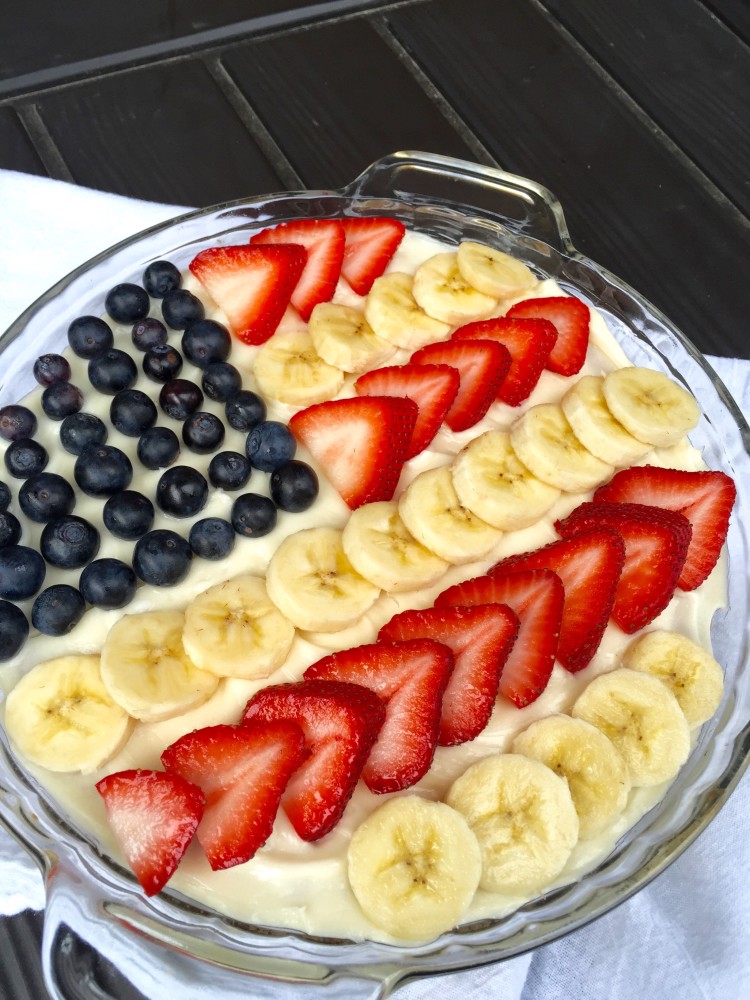 Fruit + Berries + Cookie + Icing = Sugary Perfection. For Memorial Day this year, we got together with our friends Joel and Claire to cookout and Claire whipped up this great looking fruit pizza. With the 4th coming up, I knew I had to share this patriotic fruit pizza with you guys so you can taste it for yourselves! I've now spent 3 Independence Day's with the Davises enjoying fireworks and hanging out. It's become somewhat of a tradition. All I can hope is that Claire making this fruit pizza again!
Claire got the inspiration for this recipe from Sally's Baking Addiction and knowing the preggo didn't love cream cheese and likes things a little bit healthier, switched up the recipe a tad. Instead of traditional white flour, she substituted whole wheat flour and instead of a whole block of cream cheese, she used 3/4 of a block. Then, instead of doing all different kinds of fruits, she used red, white, and blue fruits in a flag pattern to make this patriotic fruit pizza total holiday perfection!

Patriotic Fruit Pizza
Ingredients
SUGAR COOKIE CRUST
½ cup (115g) unsalted butter, softened to room temperature*
¾ cup (150g) granulated sugar
1 large egg, at room temperature*
1 teaspoon vanilla extract
1 and ½ cups (190g) spoon & leveled whole wheat flour
¼ teaspoon salt
1 teaspoon baking powder
½ teaspoon baking soda
1 and ½ teaspoons cornstarch
TOPPING
¾ of an 8 oz (224g) cream cheese, softened to room temperature
¼ cup (60g) unsalted butter, softened to room temperature
2 cups (240g) confectioners' sugar
1-2 Tablespoons (15-30ml) cream or milk
1 teaspoon vanilla extract
fresh fruit: blueberries and sliced bananas and strawberries
Instructions
Make the crust: In a large bowl using a hand-held mixer or stand mixer fitted with a paddle attachment, cream the softened butter for about 1 minute on medium speed. Get it nice and smooth, then add the sugar on medium speed until fluffy and light in color. Beat in egg and vanilla. Scrape down the sides as needed.
In a medium bowl, whisk together the flour, salt, baking powder, baking soda, and cornstarch. With the mixer running on low speed, slowly add the dry ingredients to the wet ingredients in 3 different parts. Once completely combined, cover the dough tightly and chill in the refrigerator for 30 minutes and up to 1 day. Without chilling, your cookie dough may spread over the sides of the pan.
Preheat oven to 350F degrees. Spray a 12-inch pizza pan with cooking spray. Remove chilled cookie dough from the refrigerator and press onto the pizza pan in an even flat circle. Bake for 18-20 minutes or until the edges are very lightly browned. Overbaking will lend a hard crust. Allow crust to cool completely before decorating. I put the crust in the refrigerator after 10 minutes of cooling at room temperature - this sped up the process.
Use this time (as the crust cools) to chop the fruit.
Make the frosting: In a medium bowl using a handheld or stand mixer fitted with a paddle attachment, beat the cream cheese and butter together on medium speed until smooth, about 2 minutes. Add the confectioners' sugar and 1 Tbsp cream. Beat for 2 minutes. Add the vanilla and 1 more Tbsp cream if needed to thin out. Beat for 1 minute. Spread in a thick layer over the cooled sugar cookie crust. Decorate with fruit as pictured or get creative.
Cut into slices and serve. Fruit pizza may be made 1 day in advance, covered tightly, and stored in the refrigerator before serving. Leftovers keep well in the refrigerator for up to 3 days.
After the holiday, I got this message that I had to come back and share with you all: "I fixed the Patriotic Fruit Pizza for my family and it was an absolute hit!!! My husband making me fix another one because he didn't get enough!" Now, if that's not enough to make you want to bake this, I don't know what is!
Do you have a patriotic recipe your family always makes? I'd love to hear about it or what you think about this recipe in the comments below!
Heather Brown helps busy mamas of young littles who are caught in the hustle to find encouragement in their journey to true health, from the inside out, starting with the heart. Read her journey of learning to live a life well-loved
HERE!