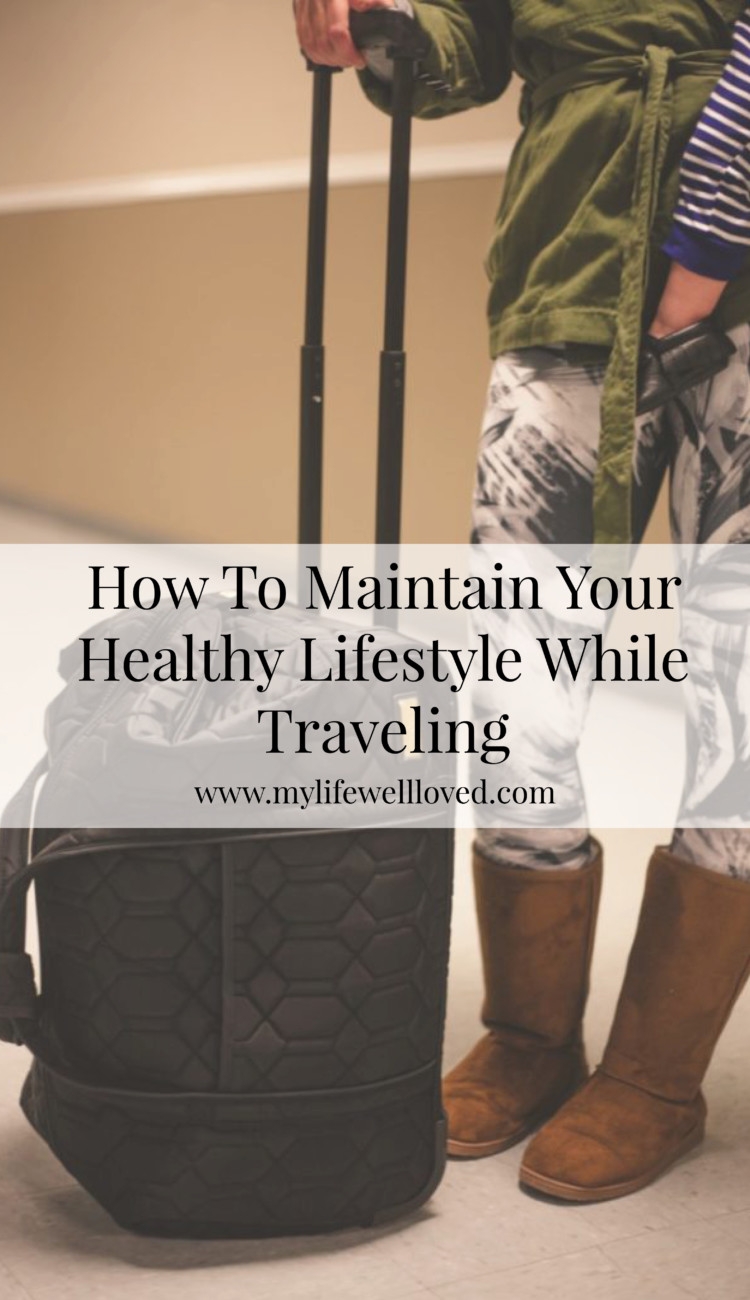 With so many of us traveling for the holidays, I thought it would be fun to talk about how to still live your healthy lifestyle while road tripping and traveling. While a large part of what we do is balance, we also splurge on vacation and travel as well. I partnered with Allstate to provide some tips to help you avoid feeling icky while traveling.
To get started, I typically try to eat extra healthy before I go on a trip because that way if I do put on a few extra pounds, hopefully I lose what I'll gain back. ? For instance, when we went to an all-inclusive in Cancun recently, I knew I'd be eating my heart out so I had to do some prep work ahead of time for my own sanity. HA! You can see what I typically eat before going out of town here.
How to Maintain Your Healthy Lifestyle While Traveling:
PACK SOME HEALTHY SNACKS
Eric and I always pack things like RX bars, nuts, freeze dried fruits, a banana, apple, etc. to keep us reaching for the good stuff instead of the processed and sugary items in the airport. It's also a great idea to pack the items in your car if you're taking a road trip. They will help you avoid the temptations during a gas station stop.
BRING A WATER BOTTLE WITH YOU
Since your body is primarily composed of water, it is so important to drink plenty to feel your best! Drinking lots of water also helps you avoid feeling hungry when you're not. Many times, if you think you are hungry, you can try having a glass of water and you realize that pang you felt in your stomach was for H2O instead of food.
If you are flying, pack an empty water bottle and then once you get through security, fill it up to stay hydrated and full!
SPLURGE ON THE BIG MEAL!
That's right, I said it…you've got to live a little while you're on vacation, right?! But that doesn't mean every meal and snack in between must be a bad health decision too. I try to eat a salad (Wendy's are great!) or something light for lunch when I'm on vacation so at dinner I can go all out.
PACK HAND SANITIZER
With a 2 year old in tow, touching everything, hand sanitizer or sanitizing wipes are a must! Whenever we stop to fill up our car with gas, get food, go to the bathroom, etc., hand sanitizer to the rescue!
TAKE OUT THE STRESS IN TRAVEL
Traveling has several factors that can make it stressful, so we try to use all available tools to make it as least stressful as possible. We all know how bad stress is for us! Eric and I love using the Waze app when we are taking a road trip because Waze uses crowd sourcing to know what traffic/wrecks/cops etc. are around. Other passengers in other cars use it like a social media driven GPS system to keep you alerted of everything going on around you. It's now even more useful because the new Good Hands Rescue® service from Allstate is available in it. Whether you have a flat tire, run out of gas, or break down, with the push of an icon in the app, you can get help! You can use it whether you have Allstate or not and it's pay per use so you don't have to pay a membership fee. It's a pretty sweet tool to know about when traveling!
This post was written as part of the Allstate Influencer Program and sponsored by Allstate. All opinions are mine. As the nation's largest publicly held personal lines insurer, Allstate is dedicated not only to protecting what matters most–but to guiding people to live the Good Life, every day.
Heather Brown helps busy mamas of young littles who are caught in the hustle to find encouragement in their journey to true health, from the inside out, starting with the heart. Read her journey of learning to live a life well-loved
HERE!