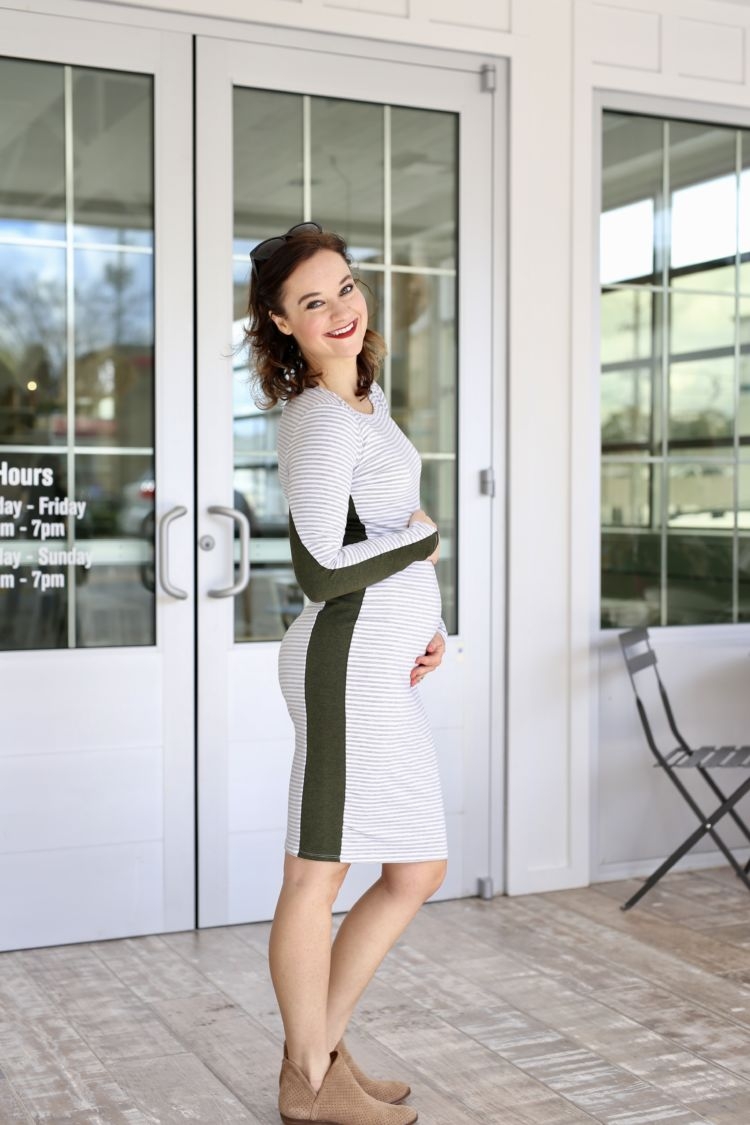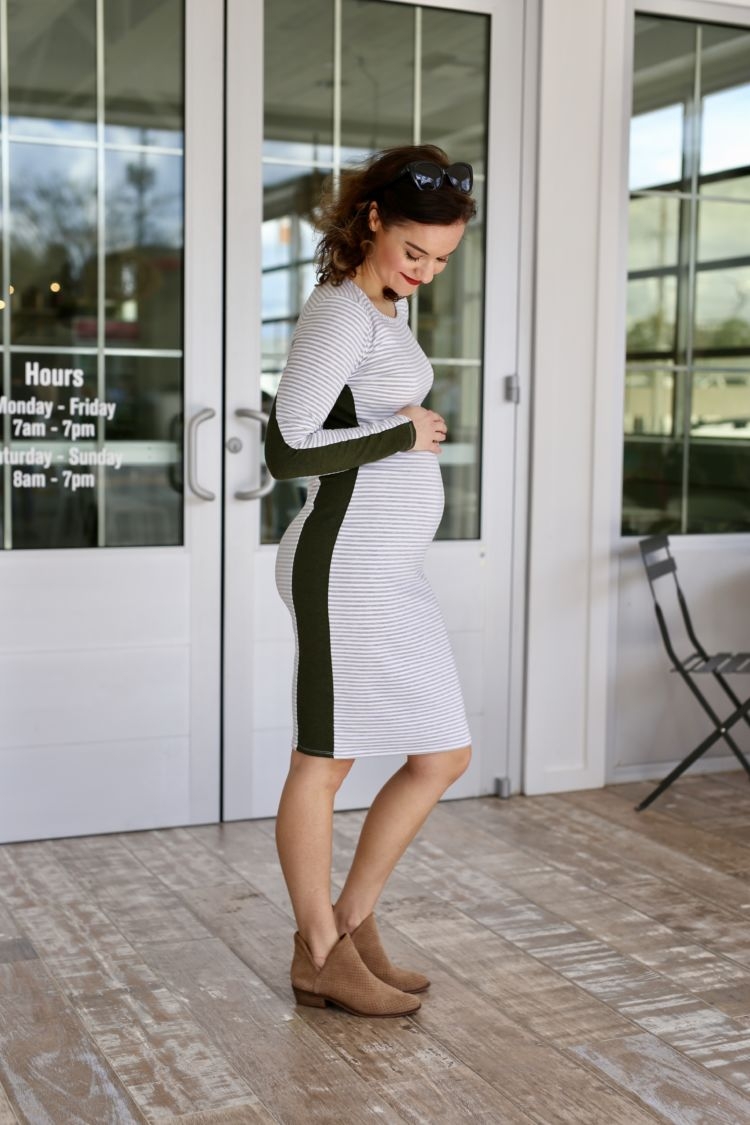 Dress  – use code SPRINGUP for 40% off (c/o) // Booties // Sunglasses // Vest
Thank you to Earth Mama for partnering with me on this post.
First trimester is always a DOOZY. Any way you slice it. It's just hard! Although I feel so fortunate to not get bad morning sickness they way a lot of my friends do (including you guys), I really struggle on the hit by a bus tired feeling.
It's a whole new ballgame being this tired with a toddler. Naps don't come as easy as they did the first go-round. When I announced my pregnancy, one of you reached out and asked for ideas for what to make as a Congrats basket for one of your friends that got pregnant. I thought that was SUCH a cute idea and it got me thinking about what I would put in a basket like that and what I've wanted or needed the most during first trimester.
Then I heard from Christine D. this genius idea, "I made a gift basket for each trimester for my best friend. They had been trying for a while. So I had actually given her husband the first trimester one to hide at his office to give her when they got a positive test. Then I mailed the ones for 2nd and 3rd trimester. It can be hard to love on your friends from afar, but that was one trick I used." How awesome is that?! I loved it!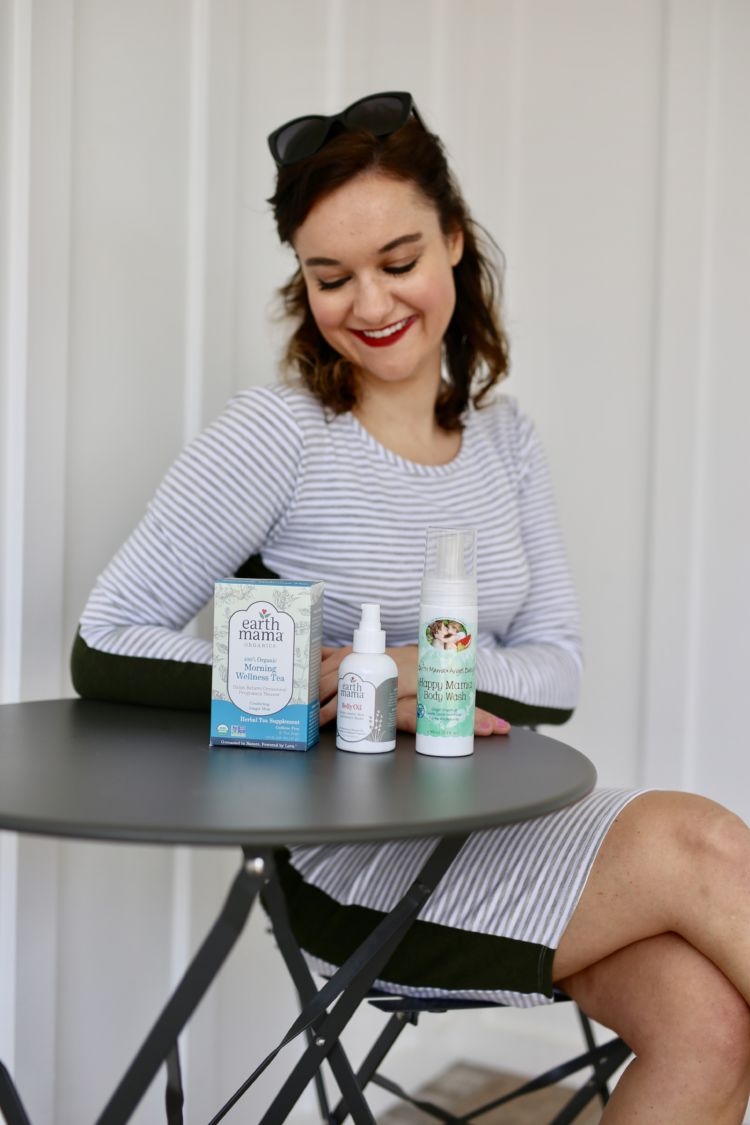 I also asked you guys for suggestions on first trimester must haves and here's some of the answers I got:
Orange juice – I heard this one a lot!
La Croix or Gingerale- Water made me nauseous and the ginger helped soothe my stomach.
Peppermint oil – helps with headaches and sniff to help settle stomach – Kaci
Preggie pops – helps settle your stomach
Lemonade and Apple Juice – I heard quite a few juices listed
Cold and crunchy salads – Emily F.
All the carbs!!!
Ginger chews from Trader Joe's, Diclegis, La Croix water, bananas, stretchy pants -Sarah from Sew SarahR.
Gift card to their favorite restaurant they can still stomach if you know what those restaurants are.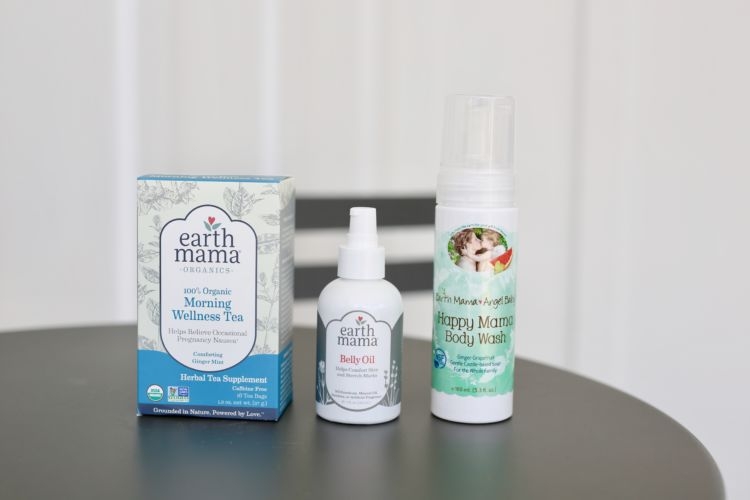 Here's some of the things I've been using and loving for my first trimester:
FAVORITE FIRST TRIMESTER MUST HAVES
Crackers – I totally agree with the "all the carbs!" message I got earlier about first trimester must haves. First thing in the morning I would have to eat Penguins (where my Aldi lovers at?) or Cheez-it's or some kind of cracker to settle my stomach. The thought of eggs made my stomach turn.
Belly Oil – If you've been around here for long, you know belly oil is my ride or die during pregnancy. I slather it on every night before bed time and not just on my belly, all around my thighs and butt and anything else that might stretch during these 9 months. I'm super excited that Earth Mama already sent me theirs since my second go round at pregnancy popped out much sooner than the first!
Beautycounter – I shared with you on Instagram Stories that I switched to using a lot of Beautycounter products during my first trimester to be extra cautious. They have nothing unnatural and have been formulated to be safe for pregnant and breastfeeding moms. I especially love the toner pads (which I cut in half to make them last longer) and the serum. You can join my friend Anna's Facebook group for more updates or go directly to her site. Mention MLWL for a discount if you buy before the end of March!
Neutral Scents – I was talking with one of my pregnant friends about how she can't stand anything strongly scented so she's using all unscented items. When I found out that Earth Mama had a shower gel for moms with ginger and lavender to help calm your sensitive tummy and smells, I thought it would be a really thoughtful item to put in a gift basket for a preggo friend!
Journal – I use the blog as my journal to look back on special memories and feelings I don't want to forget during pregnancy and Leyton's early years thus far. I think a journal is just the ticket for someone who doesn't blog. It helps them process through everything they want to pray for their baby, have a place to plan for nursery or dream about the future. Not to mention it's really neat to look back on your symptoms, when baby first moved, etc that may become hazy details at best as your busy new life as a new mom progresses.
Morning Wellness Tea – Tea has become my new go to. Whether it has to do with the fact that I'm not having wine to unwind at the end of the day or whether it's just something my body tells me it wants, I get heavy into tea when I'm pregnant. Make sure you look for one that doesn't have lemongrass or caffeine in it. Earth Mama makes this ginger morning wellness tea to help with nausea but I frequently enjoy it in the evening.
Prenatal Vitamins – Obviously! But make sure if you are making a gift basket for someone that she doesn't already have them. She probably does!
Comfy Clothes – I find that sports bras, nursing bras, sleeping bras, bralettes etc are nice to have at this point for comfort! Of course, comfy sweat pants or stretchy pants are a huge bonus too!
Water Bottle – Women need to drink a TON more water when they're pregnant. I always have a water bottle by my side!
What did I leave off the first trimester must haves list? I'd love to hear in the comments below!
Click here to Shop the First Trimester Must Haves Post:

Heather Brown helps busy mamas of young littles who are caught in the hustle to find encouragement in their journey to true health, from the inside out, starting with the heart. Read her journey of learning to live a life well-loved
HERE!