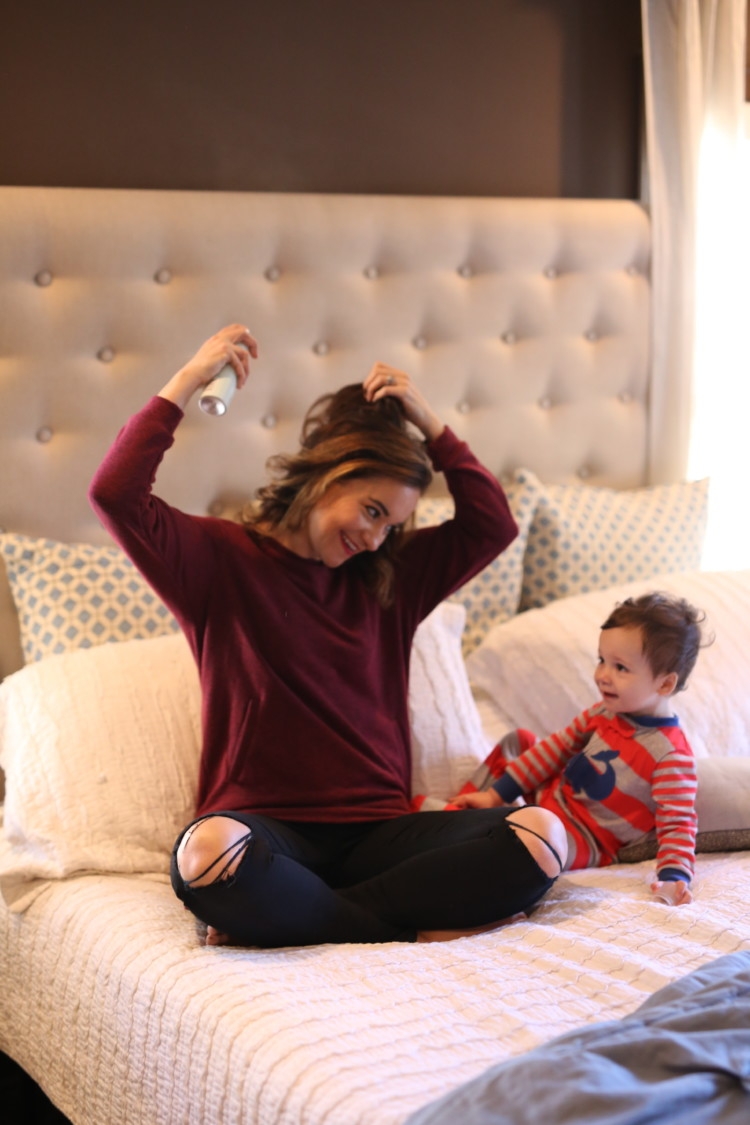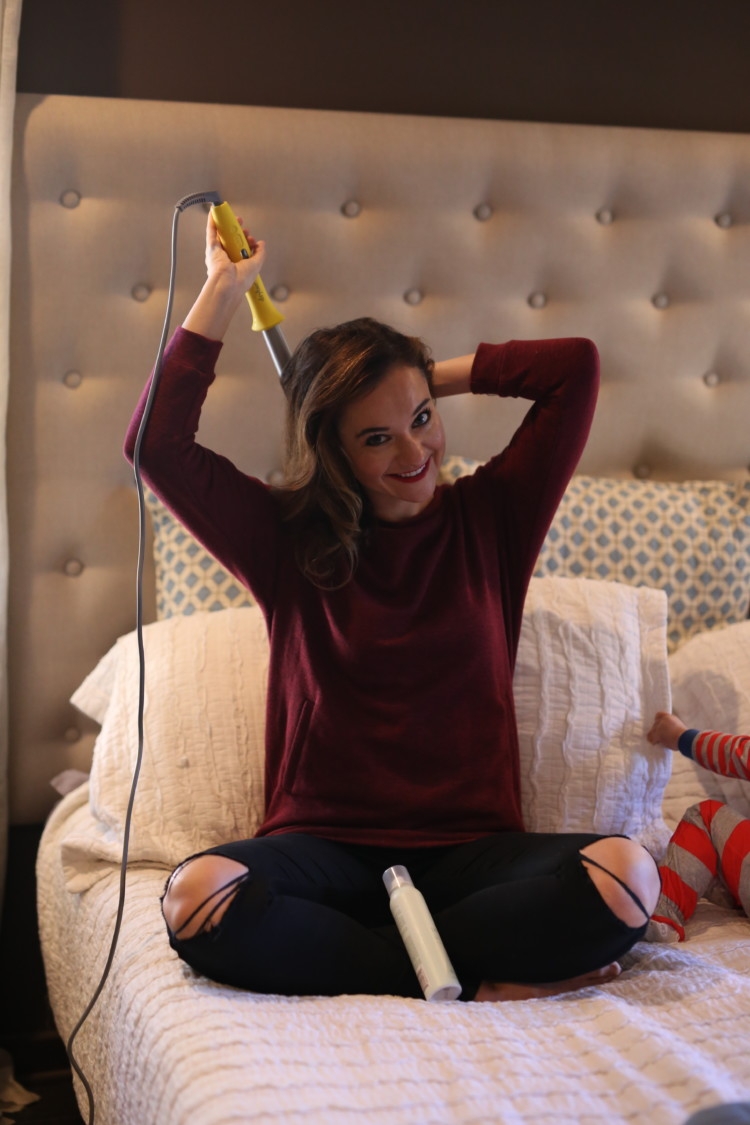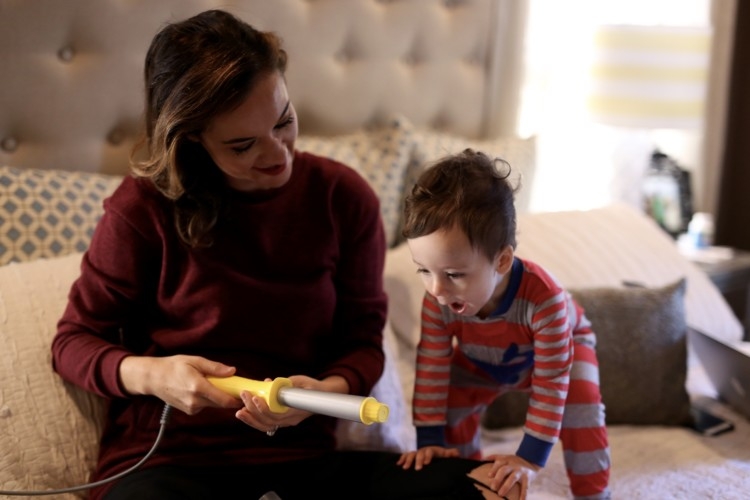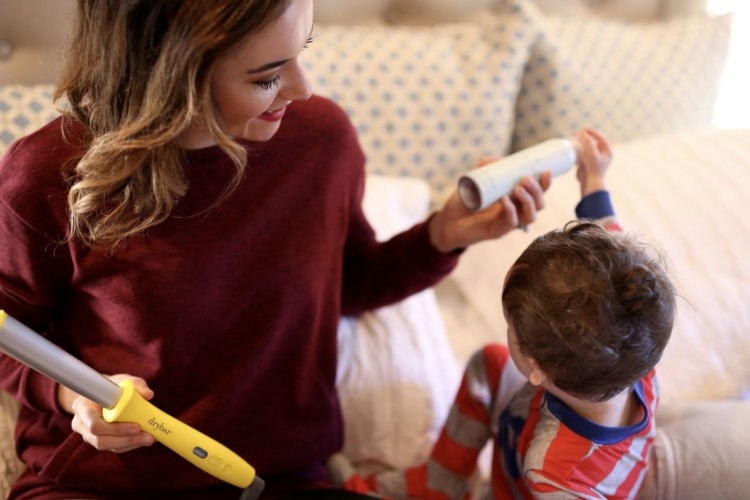 Top // Pants // Leyton's Onesie (similar) // Headboard // Bedspread (similar) // Blue Comforter // Lamps (similar) // Drybar Curling Wand // Drybar Dry Shampoo
Apparently, you guys don't like to wash your hair. HA! When we first started talking about dry shampoo several months ago,I had no idea what a hot topic it would be! It makes sense, we're all busy moms who need to squeeze every last second out of our last shower, because ain't nobody got time for washing and styling their hair every day.
I typically wash my hair 3 times a week max. I can almost see my husband cringing when he reads that sentence. Ahhhh, the dirty — yes, literally dirty– little secrets are coming out here on the blog for everyone and their mama to read. 😉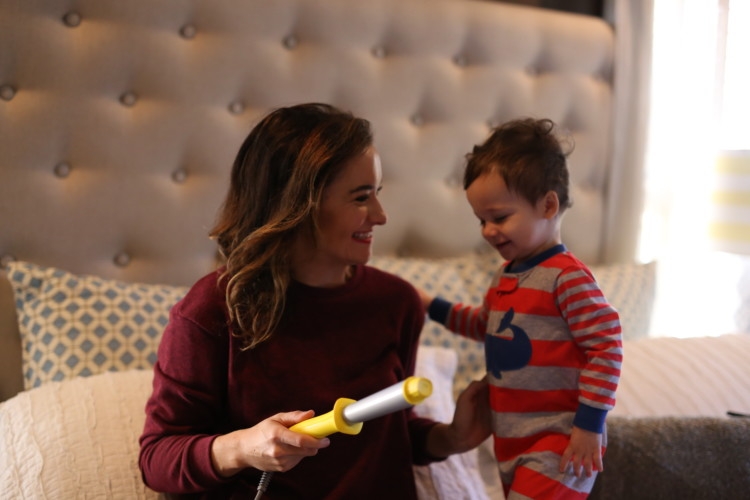 Dry shampoo isn't just a hair product for me, it's become a way of life. I have tried no less than 10 dry shampoos in the last several months. It's hard with dark hair to find ones that you love because the white residue can be so visible in dark hair to start.
A lot of people recommended Batiste for dark hair, but then several of you said it's really messy and can end up getting on your ears, under your fingernails and in your bathroom making everything it touches look dirty. So, if you aren't clumsy like me, then that may be a good fit for you!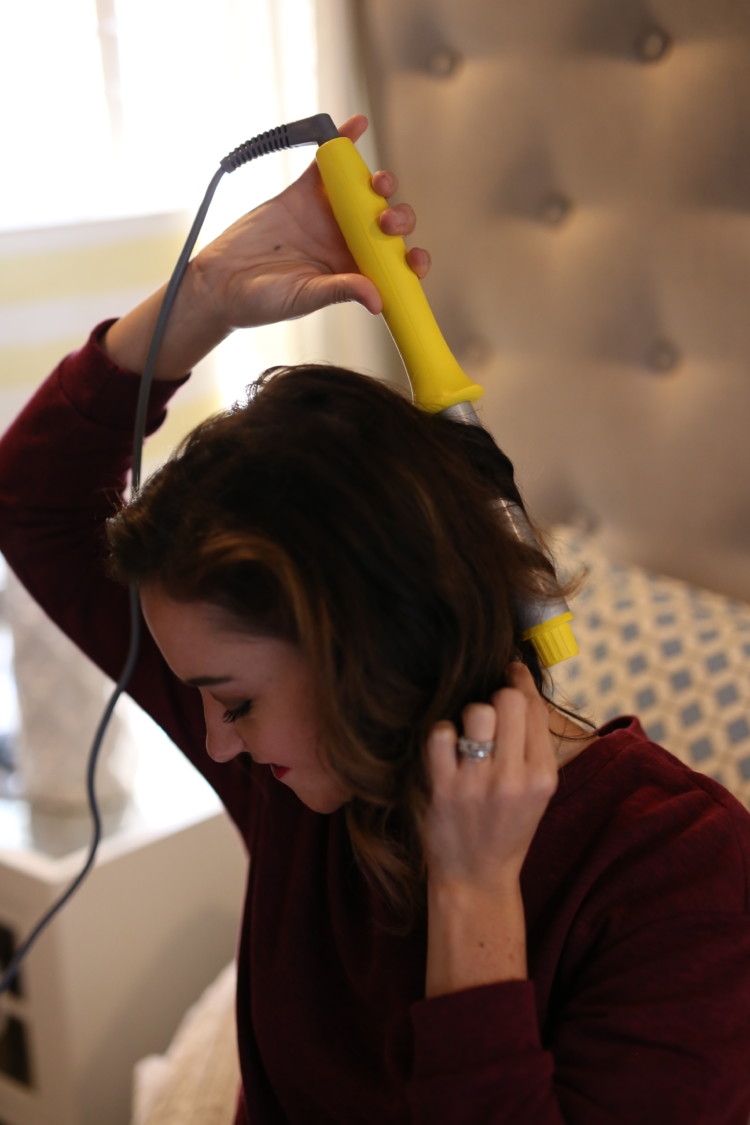 I tried Not Your Mother's dry shampoo and didn't love it. It is highly recommended but to me, it just wasn't the BEST. One of my favorite drug store brands is the Dove. Some of you specifically said that you prefer the volumizing one, so even though I haven't tried that one, I have kept coming back to the Dove volumizing dry shampoo again and again for a cheap drugstore buy.
After trying so many dry shampoos, I would say the ones that stick out to me the most that are drug store prices are Batiste & Dove.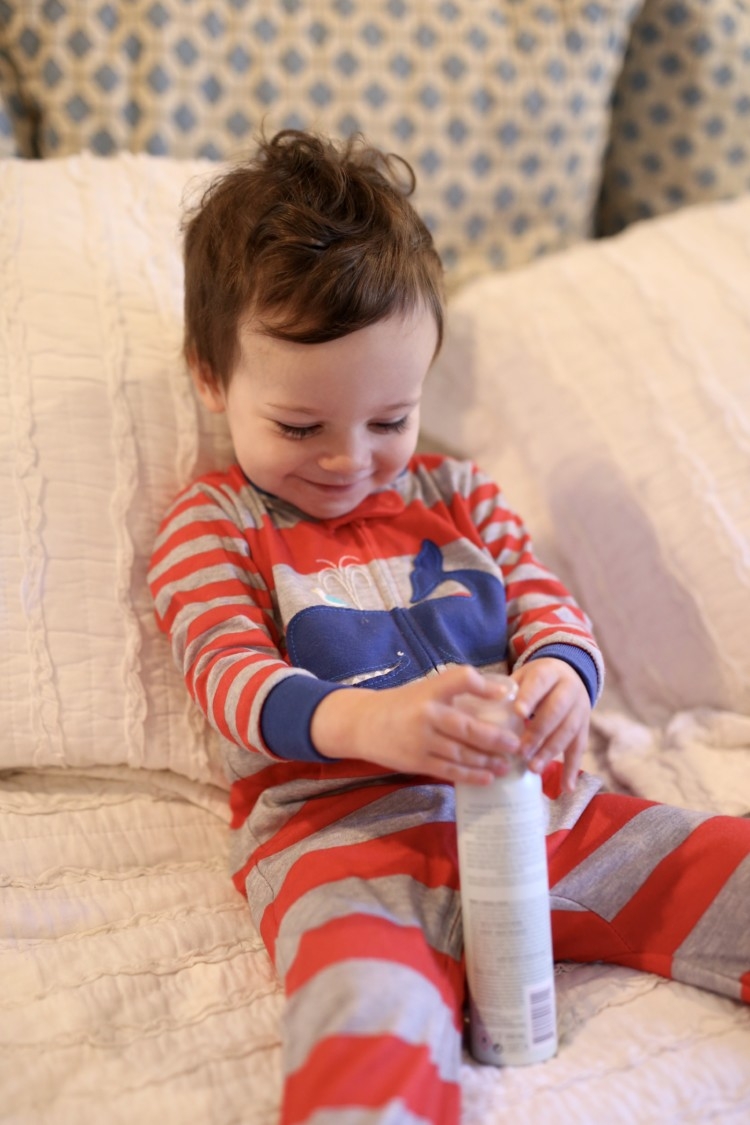 Speaking of frugal dry shampoo brands, I thought this comment from one of you was worth noting as well:
"I have tried four to five different brands but the only one I have liked is Hask. They have four different dry shampoos but I have only tried the clarifying charcoal one and really like it. The brand can be found at Target, but I can only find the dry shampoo at Ulta. It's only $8."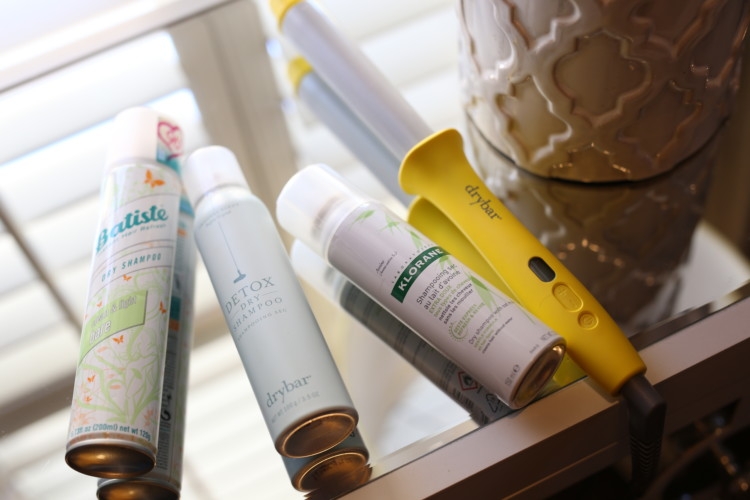 Drybar Curling Wand // Batiste Dry Shampoo // Drybar Dry Shampoo // Klorane Dry Shampoo
Over the past month, I've been trying some of the pricier brands including Klorane- which I found half off- and Dry Bar. Both were great- but for the elevated price, I would expect them to be. I love the smell of the Dry Bar more than any other I've tried and feel like it actually did clean my hair.
Since dry shampoo is such a hot button topic and I'm a Pure Barre teacher, fitness fanatic and momma on the go who doesn't love to shower all the time, I thought I'd really dig in to find some dry shampoo tips and do some research to help you get the max out of your dry shampoo as well.
I asked my hair dresser, Haley from Haley's Hair Boutique, to share some of her best dry shampoo tips and then I wanted to add in everything that works for me so, here we GO!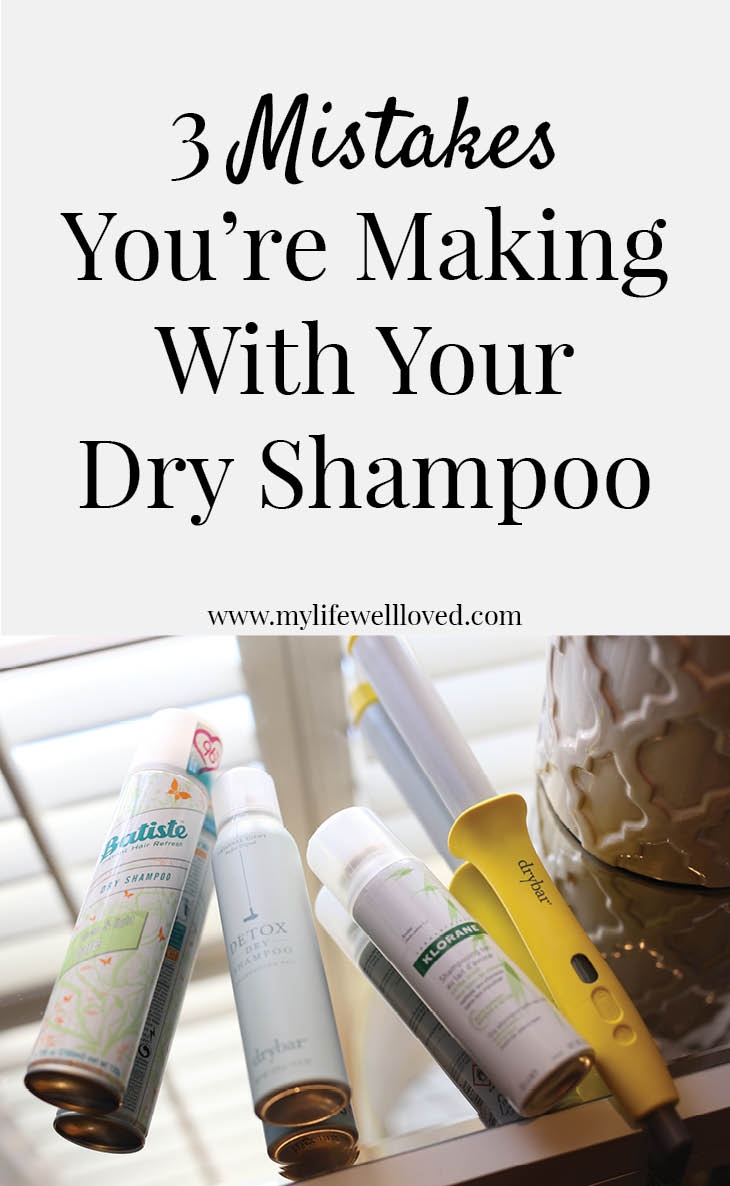 Dry Shampoo Tips
3 Mistakes You're Making with Your Dry Shampoo:
Don't spray too close to the scalp. Hold your dry shampoo back about 6 inches+ away from your scalp.
Don't use too much dry shampoo. It can leave your scalp greasy.
Don't be afraid to apply right after you shower. I typically shower at night, so I will style my hair (sometimes 😉 ) and then use dry shampoo that night so that there isn't any visible white left in my hair by the time I wake up the next morning.
My hairdresser, Haley, who is fanatical about using products that are organic/all natural and one of the sweetest, most beautiful people I know inside and out is offering my readers 10% off if you come in and mention finding her from My Life Well Loved.
As I've been sharing recently, I am teaming up with my friend Lauren from LC-Steele for this dry shampoo tips post AND we're offering a HUGE giveaway with Drybar tonight on our Instagram accounts! Not only are we giving away the curling wand pictured, but we are also giving away a YEARS' supply of their dry shampoo! Make sure you head over at 8 pm CST tonight to our Instagram accounts to enter to win. Go ahead and follow me via email while you're on my blog for a bonus entry. You can do this on the top gray bar.
Lauren is also sharing her FAVORITE hair products over on her blog and with her beautiful mane, I'm SURE you'll want to go check out her post.
SHOP The Dry Shampoo Tips Post:

Heather Brown helps busy mamas of young littles who are caught in the hustle to find encouragement in their journey to true health, from the inside out, starting with the heart. Read her journey of learning to live a life well-loved
HERE!