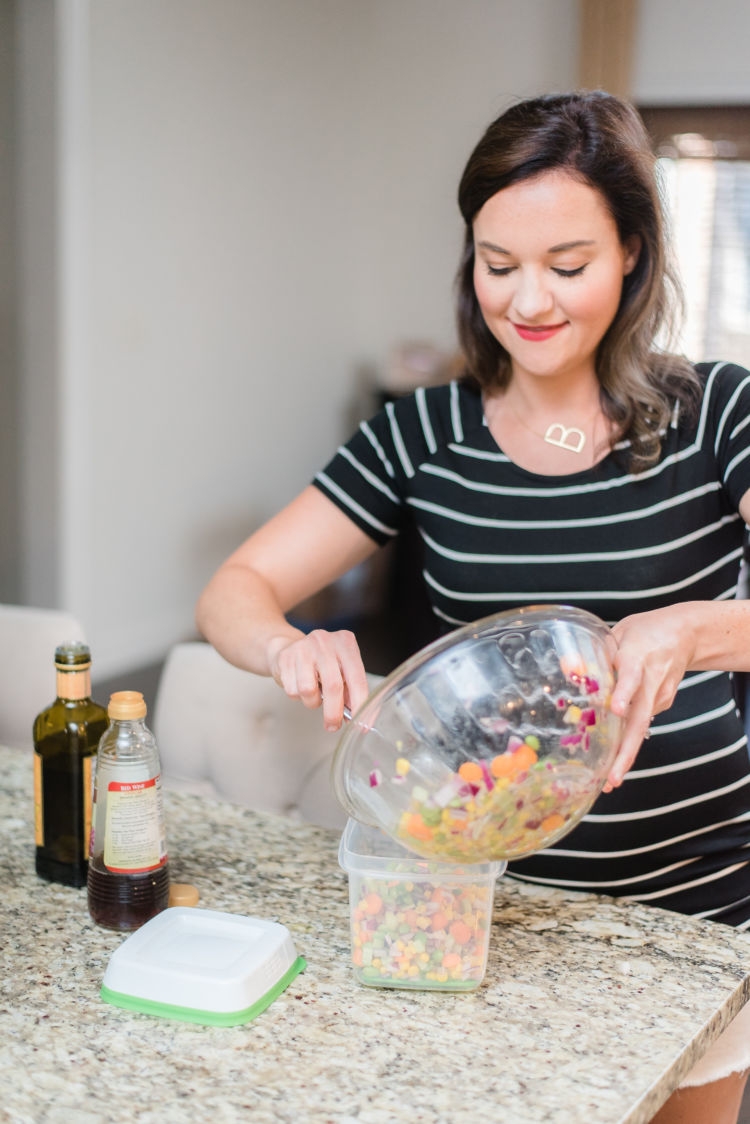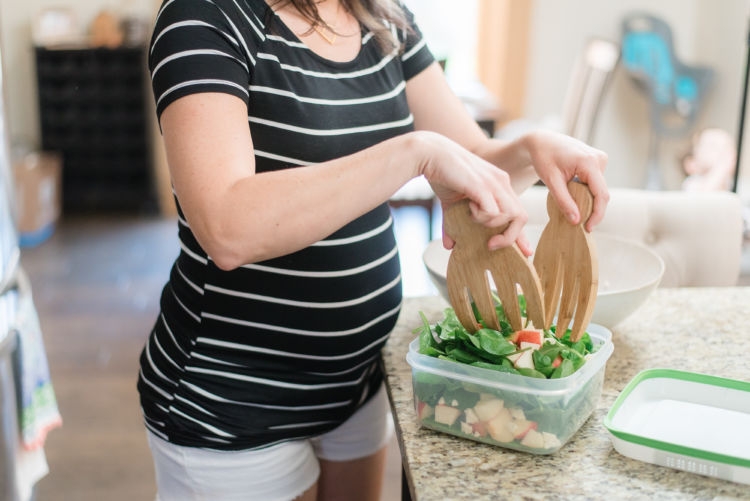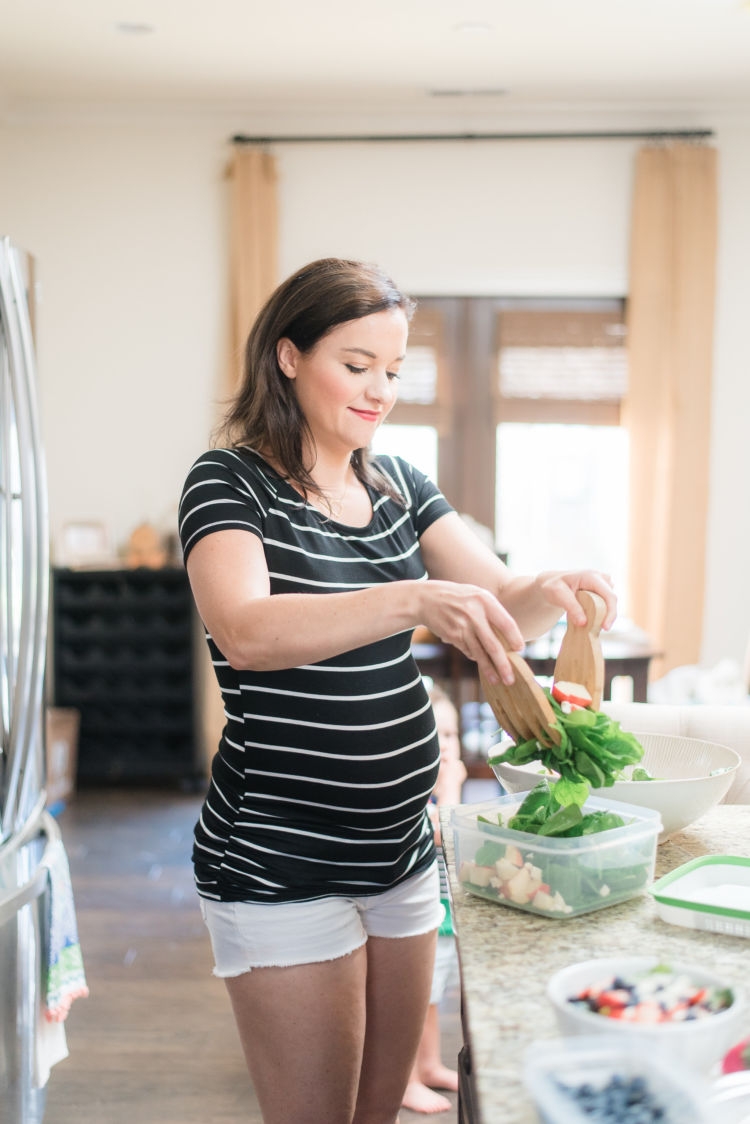 Shop the Best Salad Recipes Post: Striped Top (Similar UNDER $10!) // My Favorite White Maternity Shorts // Initial Necklace //
FreshWorks Containers // Salad Server Bamboo Hand Tongs
Photos: Eric and Jamie Photo
I am excited to kick off another healthy lifestyle series this month with Jessica at Happily Hughes and Caroline at Olive You Whole! For the next 4 weeks, we will be focusing on easy and doable recipes to add to your healthy meal plan. We will be sharing what we're eating on stories + of course our water intake to help keep you accountable to make healthy choices this month too. Make sure you tag us when you make our recipes or show us when you're eating healthy with us!
We are leaving this challenge open-ended because we just want everyone to eat healthy according to what life phase you are in right now! For instance, since I'm breast feeding I have to get extra calories but I'll be trying to cut back on sugar and up my veggie intake since the past 6 weeks since Finn's birth I've just been eating whatever I wanted. I'm just out of the ROUTINE of eating healthy, so it's time to re-establish those healthy habits!
Back at the start of summer, I asked you to share all of your favorite salad recipes with me so I could balance out my pregnancy treats throughout the summer! Y'all certainly did not disappoint with responses because I received SO MANY amazing salad recipes! As we jump into fall and are continuing to figure out the back-to-school rhythm with our kids, I figured there is no better time to share all your yummy salad ideas! If you missed the 5 salad recipes I shared, be sure to check out the post here or click the images below to get the recipes! To browse through all my recipes, you can go here!
My 5 Favorite Salad Recipes: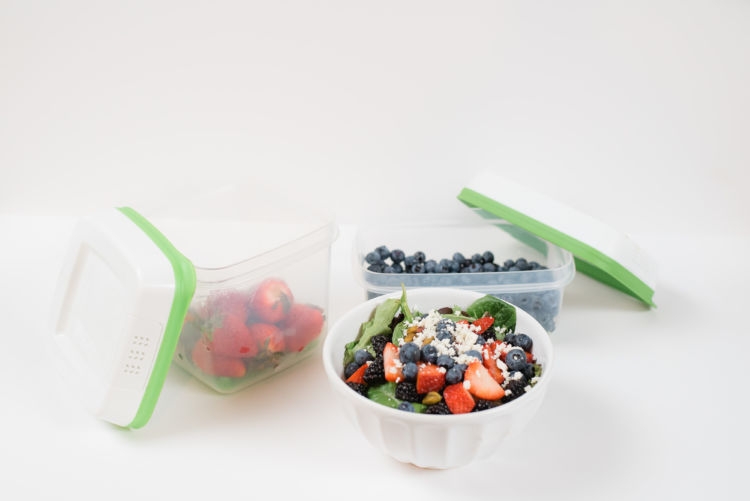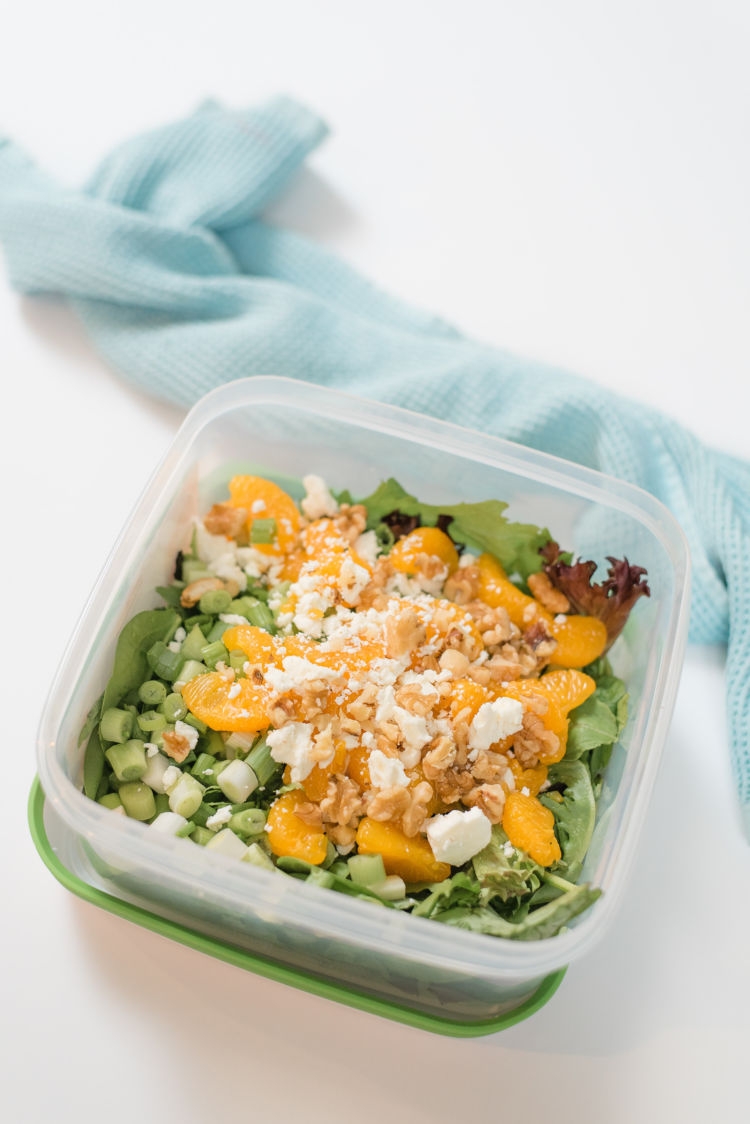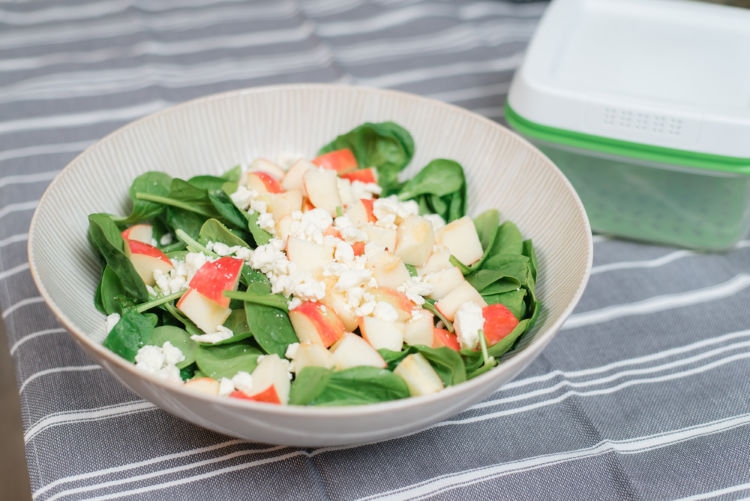 Apple and Spinach Salad Recipe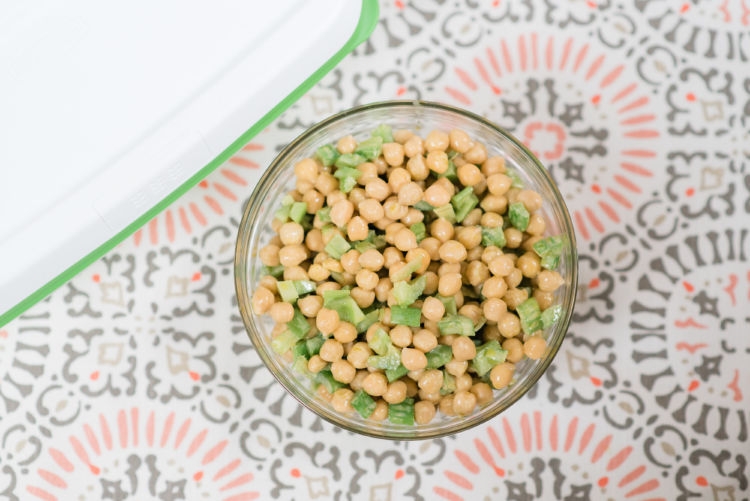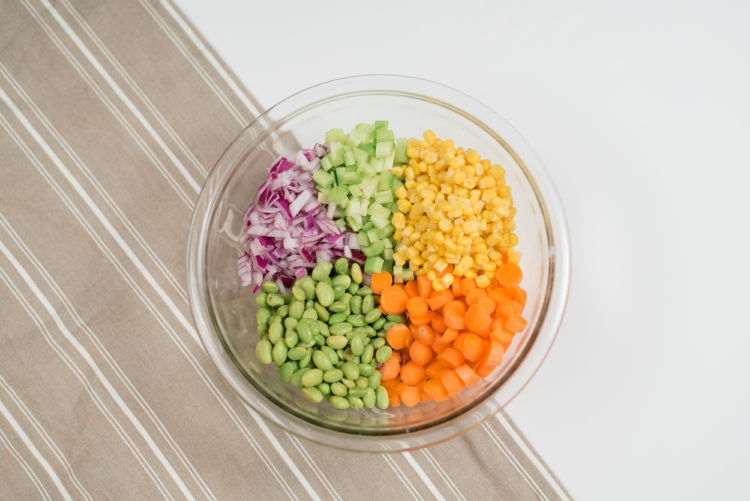 I hope the salads y'all shared will add some variety to your lunch or dinner in the weeks ahead!
Best Salad Recipes Shared by YOU!
Mediterranean Hummus Salad with Quinoa, Arugula, Cherry Tomatoes, and Feta. Link to the recipe here! – @mcantrell3
Spinach, Spiralized Zucchini, Watermelon, Feta, Grilled Shrimp or Chicken, Balsamic Vinegar Dressing – @kmiddleton531
Summer Salad with Chicken, Raspberries, Mango, and Champagne Dressing. Link to the recipe here! – @elementsofellis
Spinach, Cilantro, Fresh Mozzarella, Tomatoes, and Avocado, with Balsamic Vinaigrette – @xoklovee
BBQ Chicken Salad: Grilled Chicken Basted with BBQ Sauce, Corn, Black Beans, Mixed Greens, Avocado, and Fiesta/Salsa Ranch – @crazylilrocka
Fresh Corn, Diced Tomatoes, Diced Red Onion, Diced Celery, Steamed Edamame, Diced Carrots, Drizzled with Olive Oil, Red Wine Vinegar, Salt, and Pepper. Add Grilled Chicken for extra protein! – @trufflesandtwill
Homemade Healthy Ceasar Dressing: 1 Large or 2 Small Garlic Cloves Minced, 1/3 Cup Fresh Lemon Juice, Zest of 1 Lemon, 1/3 Cup of Extra Virgin Olive Oil, 3/4 Cup 2% Greek Yogurt, Red Pepper Flakes, Pinch of Himalayan Pink Salt, Pepper, 1 Cup Freshly Grated Parmesan, 1 tsp. Worcestershire Sauce. Add all ingredients in a shakable container and shake like crazy! Add over kale and massage in. – @trufflesandtwill
Romaine Lettuce, Green Onion, Cilantro, Snow Peas, Red Bell Pepper, Shredded Carrots, Grilled Chicken (Other additions: Wonton Strips, Sliced Almonds, Mandarin Oranges). Throw it all together with a homemade Asian vinaigrette. – @kaitlinabarber
Homemade Asian Vinaigrette: 1/4 Cup Rice Vinegar, 2 Tbsp Sesame Oil, 1 Tbsp Soy Sauce, 1 Tbsp Maple Syrup, 1 Tbsp Sesame Seeds, Minced Garlic and/or Ginger – @kaitlinabarber
Baby Spinach, Blackberries (Cut in half), Candied Walnuts, Goat Cheese Crumbles, Raspberry Vinaigrette – @allisonkdodd
Kale Salad with Meyer Lemon Vinaigrette. Link to recipe here! – @emhkirk
Skinnytaste Asparagus, Bacon, and Egg Salad – @mcelrathst
Southwestern Quinoa Salad. Link to recipe here! – @maryellen.warner
Romaine Lettuce, Crushed Doritos, Cheddar Cheese, Catalina Dressing, Ranch Style Beans (Drained). Mix all together for deliciousness! – @laurenjohnsey
Spinach, Apples, Feta Cheese, Poppyseed Dressing – @chambraymason
Any Mix of Salad, Mini Pepperonis, Chicken, and Feta. Add in whatever dressing you like – ranch or OPA dill and feta dressing! – @kaylafulkerson
Salad Mix, Chicken, Ranch, and Dill Pickle Relish – @kaylafulkerson
4 Cups Shredded Cabbage, 1 1/2 Cups Thinly Sliced Radishes, 1/2 Cup Diagonally Cut Green Onions, 3 Tbsp Olive Oil, 2 Tbsp Fresh Lemon Juice, 1/3 Cup Chopped Fresh Mint, 1/2 Tsp Salt, 1/4 Tsp Ground Black Pepper – @finch4life
Quinoa Veggie Salad: Cook 1 Cup of Quinoa in 2 Cups of Chicken or Veggie Broth, 1 Diced Red Pepper, 4 Scallions, 1 Mango, 1/2 Cup Cilantro, and 1 Can Black Beans. Separately Mix Together: 4 Tbsp Red Wine Vinegar, 3 Tbsp EVOO, Juice from 1 Lime, 1/4 Tsp Salt, 1/8 Tsp Pepper. Combine dressing mixture, veggies, and quinoa. Chill for at least a few hours. Best served the next day! Keeps great for couple of days and keeps getting yummier! – @finch4life
Can't go wrong with a taco salad, especially for dinner! We love to make seasoned ground beef or turkey and add in bell peppers, onion, mixed greens, and top with guacamole!
Keeping it really simple – I love buying the kale pre-made salad at Trader Joe's that has cranberries and shaved brussel sprouts! It is so yummy! Sometimes I use the dressing provided and sometimes I mix it up with another favorite dressing option! – @alissaawalker
What is your best summer salad recipe? Leave it in the comments below and I'll be sure to add it in!
Shop the Best Salad Recipes Post:
Pin the Best Salad Recipe Post for Later!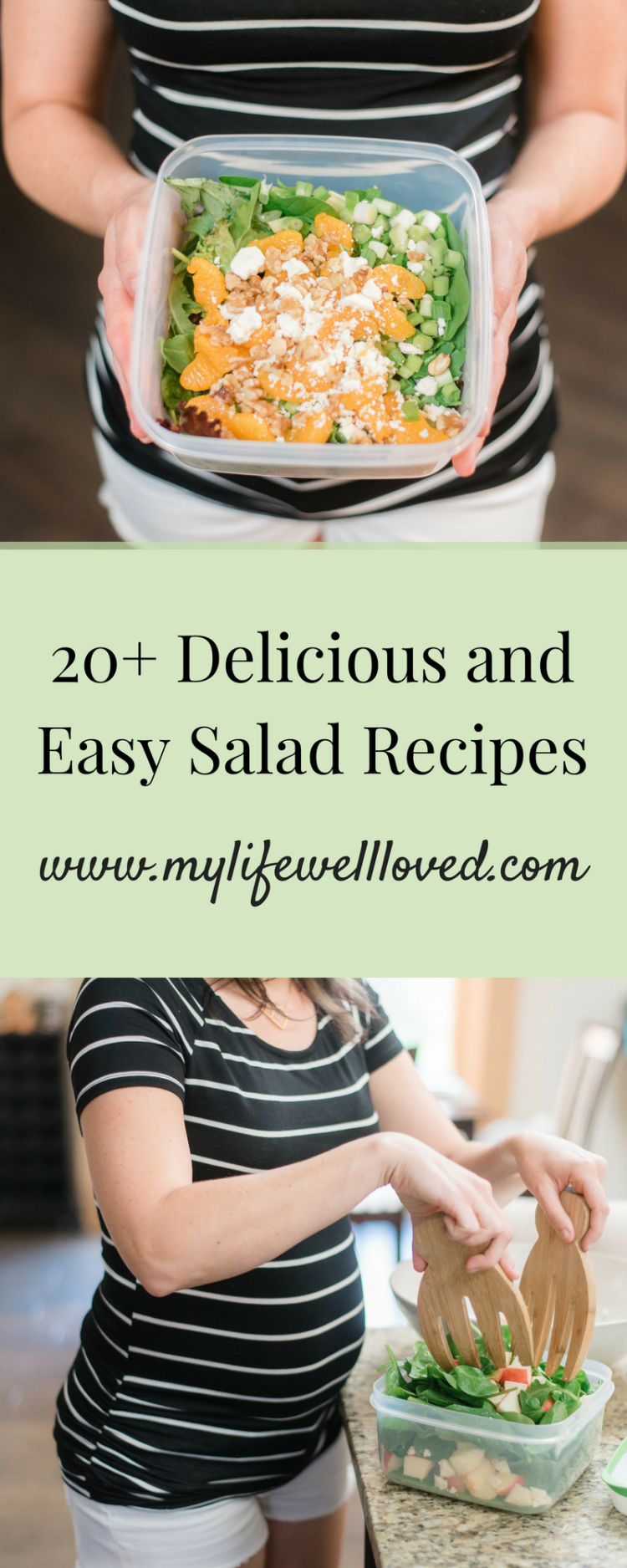 Heather Brown helps busy mamas of young littles who are caught in the hustle to find encouragement in their journey to true health, from the inside out, starting with the heart. Read her journey of learning to live a life well-loved
HERE!