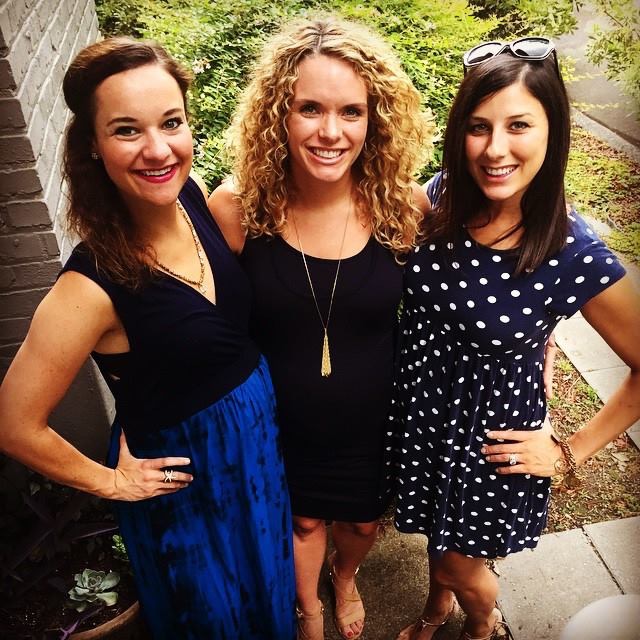 How far along? 29 weeks pregnant and the baby is a little over 15 inches long from head to heel. In case you missed my last update, here's my 28 week update.
Maternity clothes? Maternity clothes pretty much exclusively.
Stretch marks? No.
Other Body Changes: Starting to see a faint line wanting to form on my stomach. I think it's linea nigra, but since I got burned at the beach last week and am peeling on my belly, I'm not 100% sure that's what it is yet. I also am starting to feel uncomfortable…bump is large and in charge.
Sleep: Good except for leg cramps that want to come early each morning and usually one trip to the bathroom in the middle of the night.
Best moment this week:  Wonderful date night on the patio at Ross Bridge club house with the hubs. I just love our time together!
Food cravings:
 Nothing really this week until we hit up
Saw's Soul Kitchen
and I had to have the Carolina Hot Dog and fried okra which you may have seen on my
Instagram
!
Anything making you queasy or sick: No.

Gender: boy…Leyton Samuel. 
Symptoms: Feeling big. Lots of kicks and signs of life in my belly. 🙂 My stomach feels so tight and stretched. I can't believe it has to stretch out like this for 10 more weeks! I learned from a friend at Pure Barre last week that what I though was just my stomach feeling numb or really tense and weird when I was working out is actually Braxton's Hicks so those have started!
Belly Button in or out? In, but getting scarily close to flat.

Wedding rings on or off? On 
Mood: Holy COW! We went to a parenting class this week at St. Vincent's and it's getting real. More to come on this class later on this week!
Baby is the size of: a butternut squash! I mean, that's pretty big! 2.5 lbs.

Looking forward to: Unexpected beach trip! The hubs has a business trip down in Destin and I am pumped to tag along.
Heather Brown helps busy mamas of young littles who are caught in the hustle to find encouragement in their journey to true health, from the inside out, starting with the heart. Read her journey of learning to live a life well-loved
HERE!