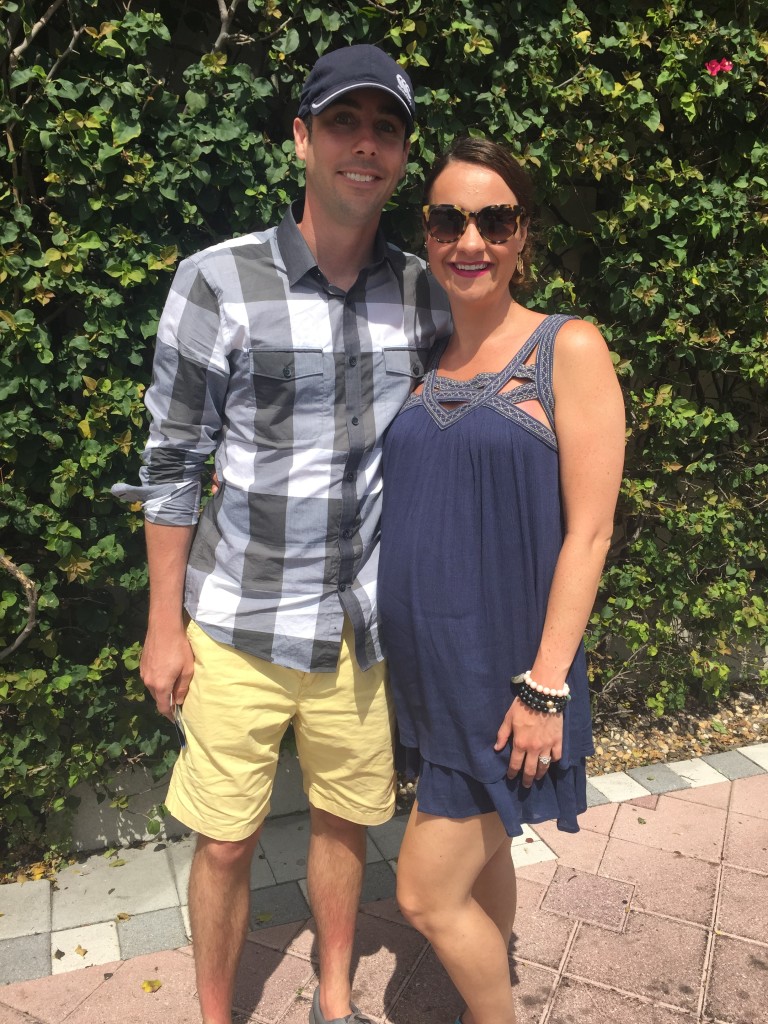 How far along? 28 weeks pregnant. I'm slightly freaked out to think that in less than 10 weekends, Leyton could potentially be here. I've learned that you are considered full term at 37 weeks. In case you missed my last update, here's my 27 week update.
Maternity clothes? Maternity clothes pretty much exclusively except for a really cute kimono I just bought in the junior's section on clearance for $15 at Dillard's while we were in Tampa!
Stretch marks? No.
Other Body Changes: I mentioned to the doctor last week that I've started getting occasional sharp pains that if I breathe too deeply come shooting in in parts of my belly. It's kind of shocking and then it goes away. He told me that it's pretty normal for "little people like me" (yes, I think he's a saint for making that comment right now) as my abs get pushed out and start pressing my rib cage out. Apparently, those pains will become more frequent as I get larger. Eek.
Sleep: Good except for the allergy attack I got in Tampa. Something must be blooming down there that doesn't agree with me. I'm waking up coughing right now and going to the bathroom once a night is now becoming a thing…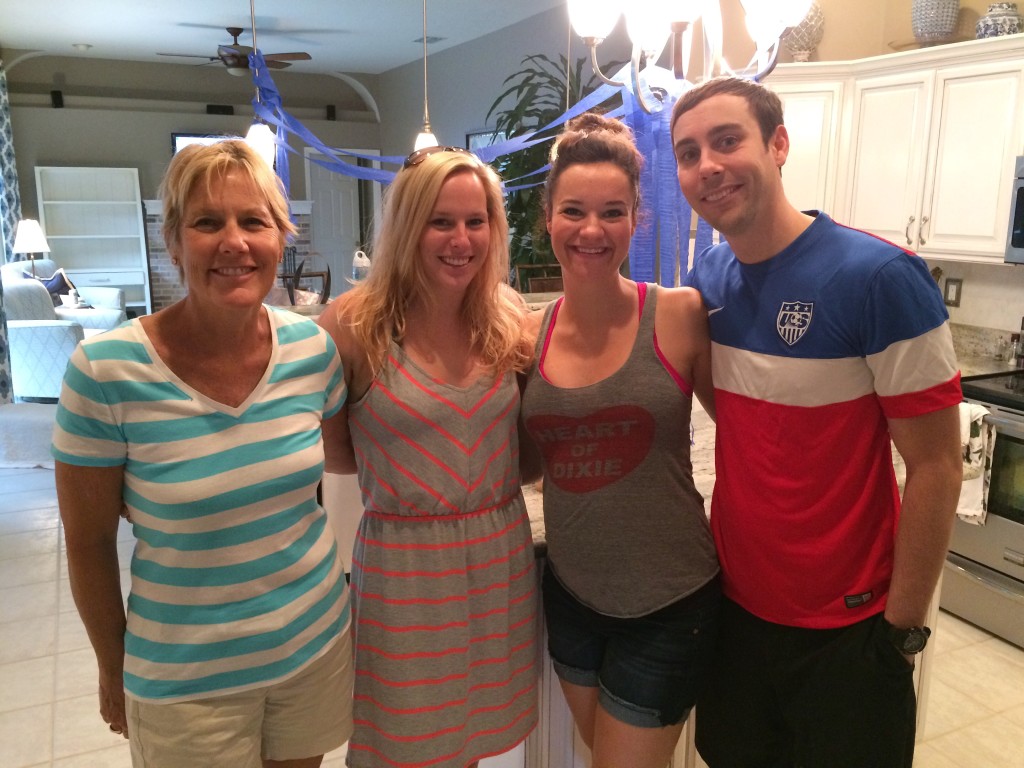 Best moment this week:  So many! We went down to Tampa to enjoy some time with Eric's family. When we arrived, Eric's parents had decorated their house with blue streamers, blue cupcakes and gifts, so fun!
My sister-in-law and I hit up SUCH a fun spin class at Soho Cycling Studio that was super fun and motivating. Maurice taught and it just felt like a dance party the whole time until you were done and realized how much you were sweating. We also enjoyed a dinner cruise with Eric's parents and some fabulous beach time.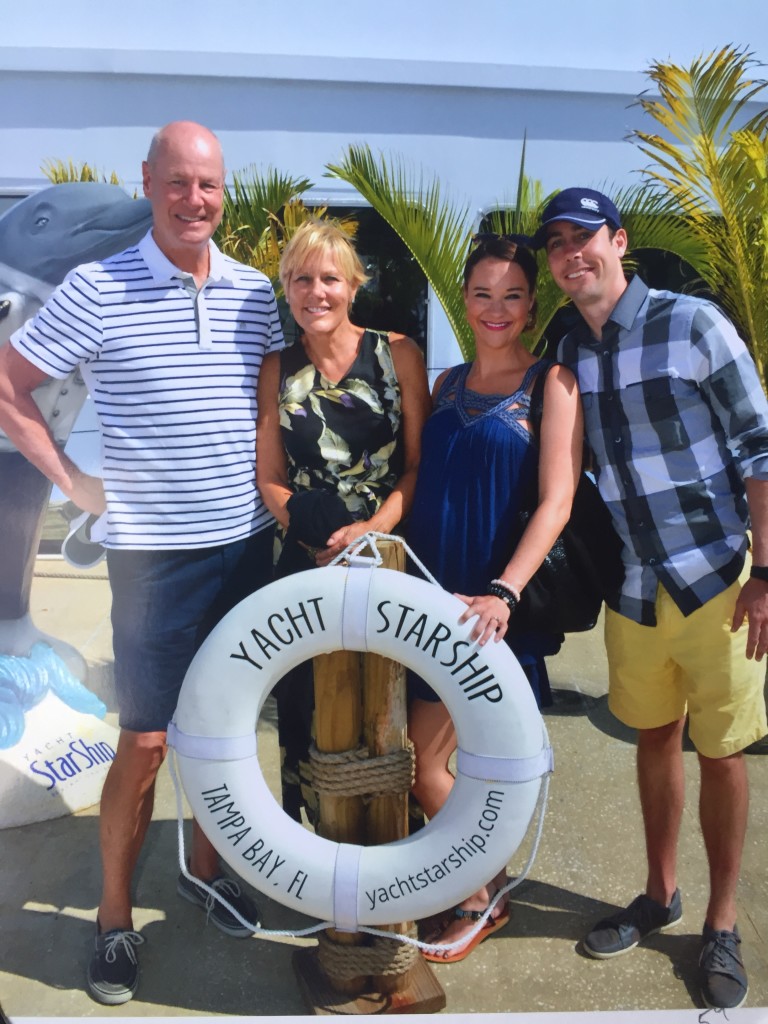 Miss Anything? Nope
Movement: Still lots of movement.
Food cravings: My in-law's satisfied the blueberry donut craving while I was there for breakfast one morning. It's really tough to beat with coffee!
Anything making you queasy or sick: I took my gestational diabetes test this week at the doctor. I've learned that it doesn't matter how healthy you eat or live…some people just get gestational diabetes regardless. The red thick sugary drink was so gross and did make me pretty queasy. When I came back after an hour to have my blood sugar taken, she was concerned because my system was "regulating too efficiently." My blood sugar had dropped down to 74 and she asked how I was feeling. I told her that I felt a little lightheaded and she immediately gave me some orange juice and had me go sit down for 10 more minutes before she'd let me go because she was afraid I'd pass out. As soon as I got the OK to leave, I promptly went and got some breakfast with protein to help with the whole situation. So thankful I don't have gestational diabetes and that that gross drink is behind me!

Gender: boy…Leyton Samuel. 
Symptoms: Feeling bigger by the day. Bending down getting tougher.
Belly Button in or out? In, but getting pretty close to flat.

Wedding rings on or off? On 
Baby is the size of: an eggplant! I mean, that's pretty big! 2.5 lbs.

Looking forward to: Excited for the hubs to start his new job.
Heather Brown helps busy mamas of young littles who are caught in the hustle to find encouragement in their journey to true health, from the inside out, starting with the heart. Read her journey of learning to live a life well-loved
HERE!