How was your Thanksgiving? Mine was really wonderful and I just feel so lucky to be glad about a major holiday whether I'm with my family or my in-laws. My Thanksgiving included a road trip, a delicious Thanksgiving apple pie, games, and an outstanding Iron Bowl finale! This Thanksgiving we went to Fort Wayne, Indiana to enjoy some time with the hubs' family. It was a little crazy because Eric worked the night shift and then when he got off at 7 am promptly came home, loaded up all of our stuff, and then slept in the car on and off the whole way there. That means this girl drove like this…for 9 hours.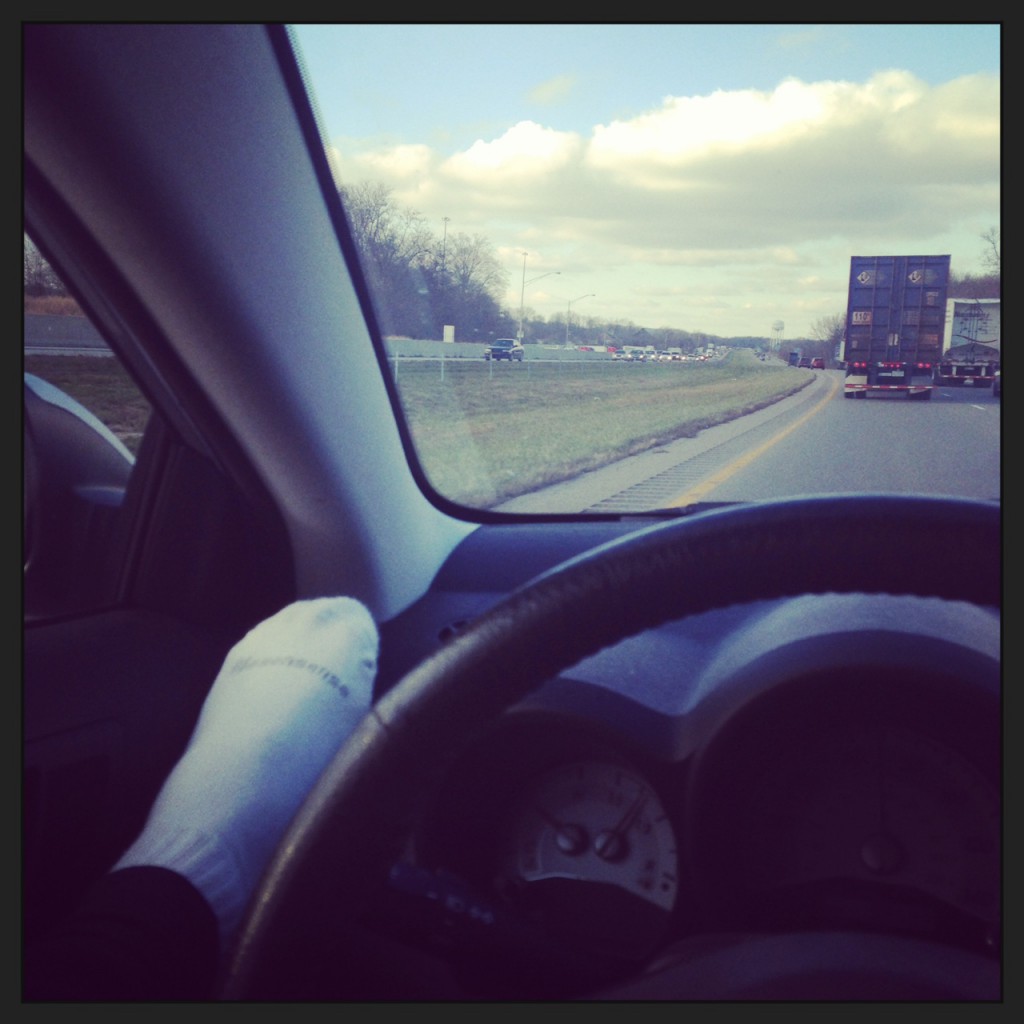 That's right…I like to get comfy. Shoes off, feet up. My feet go back and forth between the dashboard and the seat when I drive–good thing I'm flexible I guess? 😉 I counted no less than 15 cops from Birmingham, Alabama to Indiana. Oh yes, they were out in full force! Luckily I did not get a ticket on this road trip, whew!
I don't think i've mentioned before on my blog that the hubs is pretty unique in more ways than one, but one of the coolest fun facts about him? He's a triplet! (And, no they are not identical before you ask.) He has 1 sister, Janelle, who went to Samford University with us and 1 brother who lives in D.C. now.  I think of Kyle and Janelle as my brother and sister and just love spending time with them. Janelle is one of my best friends and was actually my neighbor at our apartment during our senior year of college.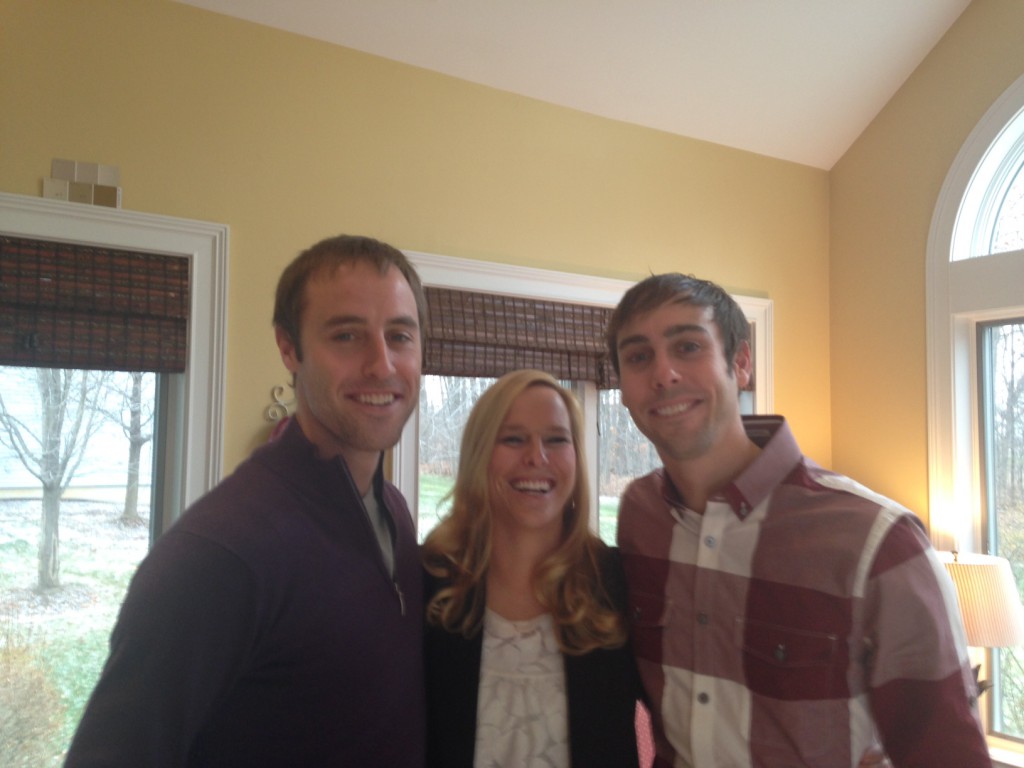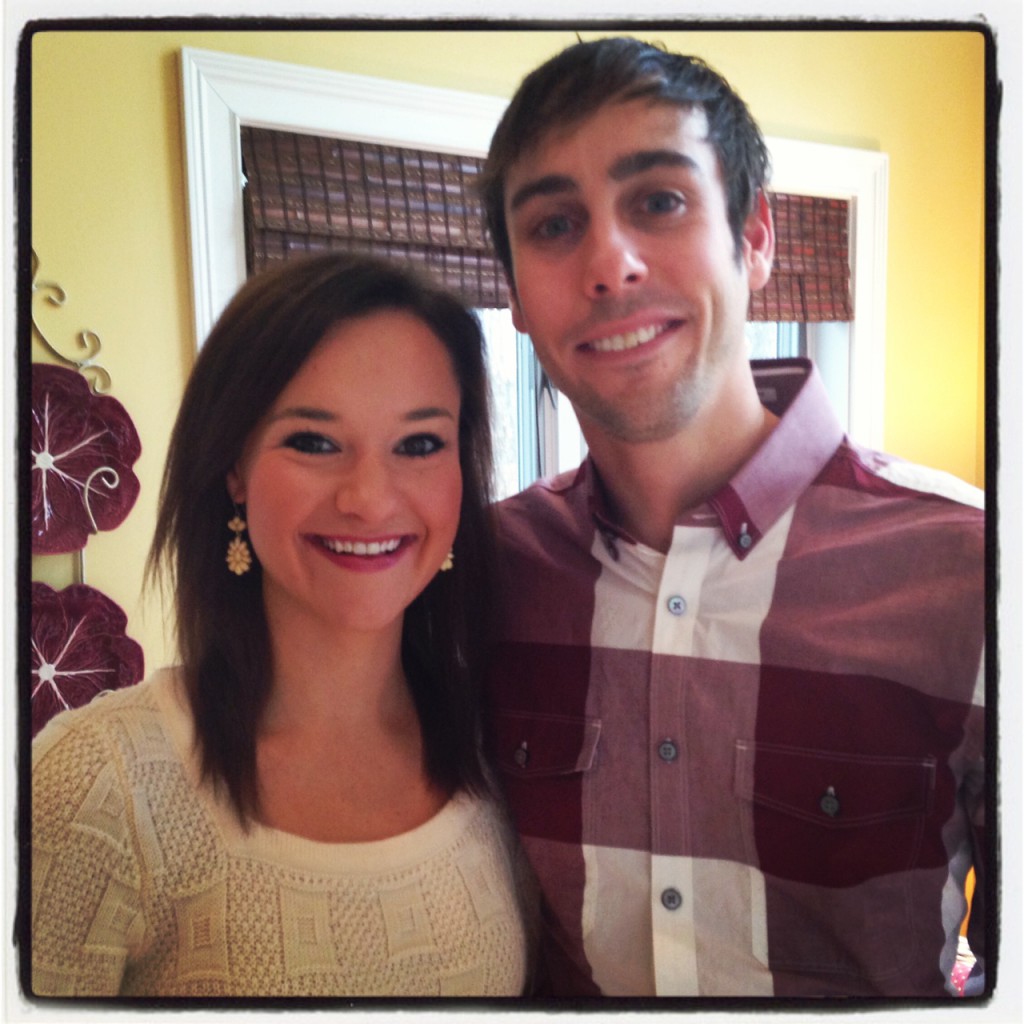 We had a blast enjoying time with their parents and grandparents and of course overindulged in a robust assortment of holiday foods including Cinnamon Drizzled Caramel Corn, Mashed Potato Casserole, Turkey, and my personal favorite: Thanksgiving Apple Pie! Do you want to know one of the best apple pies you can buy? Be prepared for shock. Costco makes a mean Thanksgiving apple pie! It was huge and delicious. We heated it up for about 10 seconds in the microwave and topped it with ice cream, of course. It was so delicious that I couldn't resist seconds. Talk about a cheat day!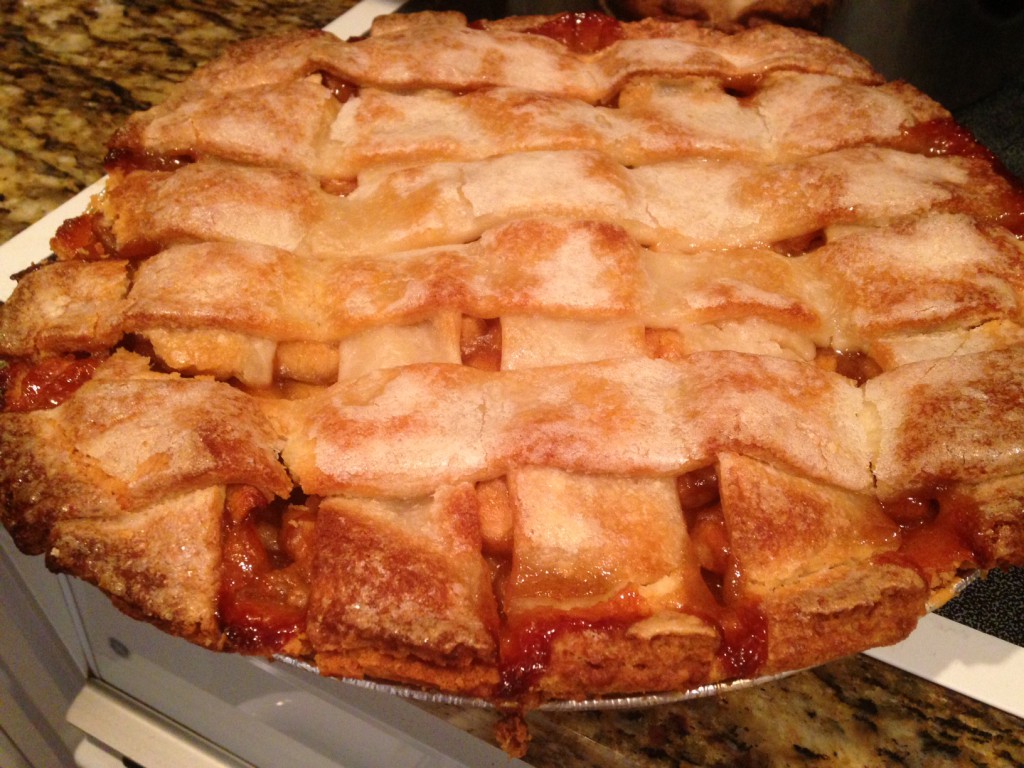 Get a load of that delicious crusty pie. Next time you're in a pinch for a quick and easy dessert to grab and take to a party, here's your winner! We literally debated going back to grab another one, ha! Of course with all this over-indulgence came the feeling of fullness and not in a comfortable way. I'm glad to say that thanks to Janelle, I got out and ran 3 miles (the most I've run in several weeks–ok maybe months), walked with the family, and also went to a rockin' zumba class.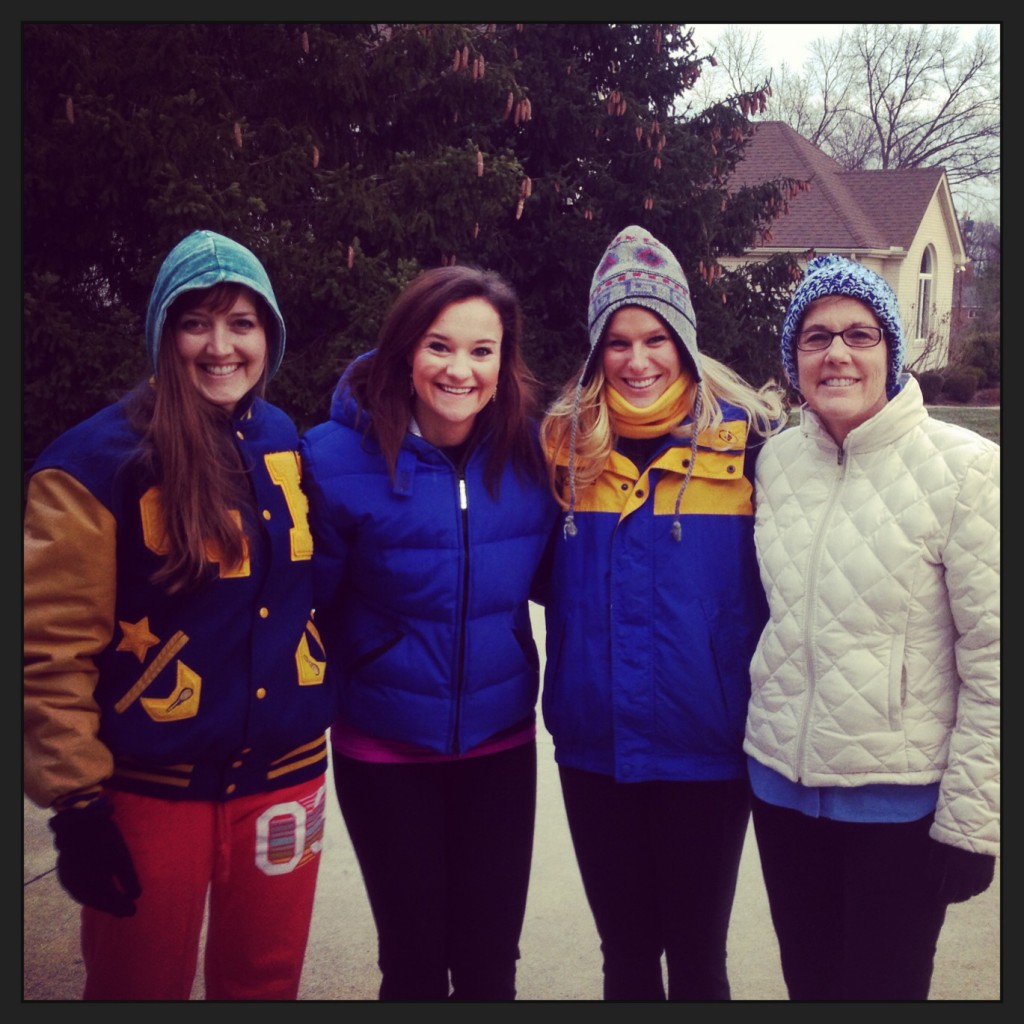 This zumba class was no run of the mill exercise class. It's the first zumba class I've ever been to where I had to drop and do mountain climbers and squats…truly a challenge and I loved every sweaty minute of it! Speaking of sweat, I did not work up a sweat on this cold weather walk we took in the picture above…it was WAY too cold. You'll see Kyle's fiancé, Aron, Janelle, and Sue (Eric's mom) and I are all bundled up as if we're going to the Antarctic! Always good to get out and get your blood pumping though (and get some relief from my expanding waistline!). Ha!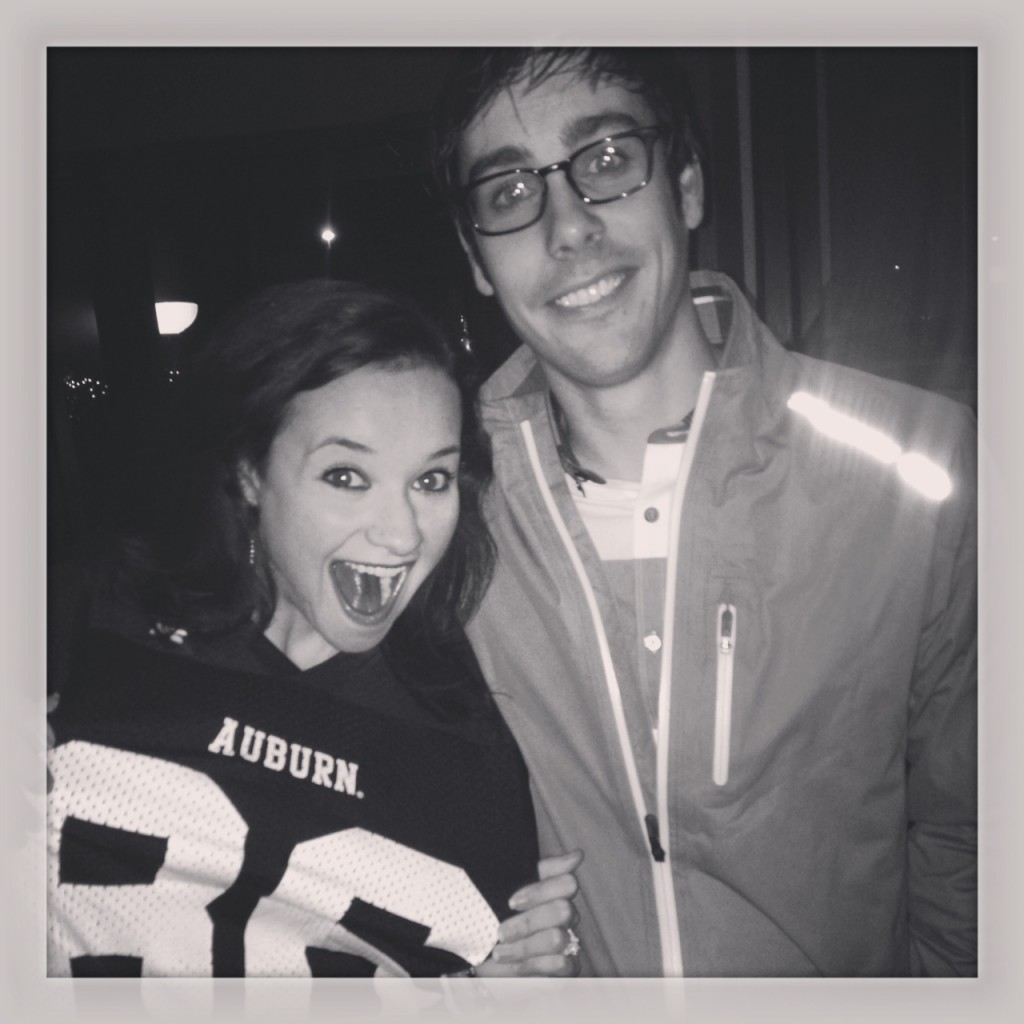 Perhaps one of the most unexpected and exciting times over the long Thanksgiving weekend was the big Auburn win in the Iron Bowl though! My in-laws were patient with my bleeding orange and blue and bumped back our dinner reservations to allow us to watch the game. And, boy, were we all glad they did! We were on cloud 9 and of course all of us were on our feet and screaming at the end of the game. What an incredible win! War Eagle is really all you can say about that!
What about you? How was your Thanksgiving? And have you tried the Costco Thanksgiving Apple Pie?!
Heather Brown helps busy mamas of young littles who are caught in the hustle to find encouragement in their journey to true health, from the inside out, starting with the heart. Read her journey of learning to live a life well-loved
HERE!