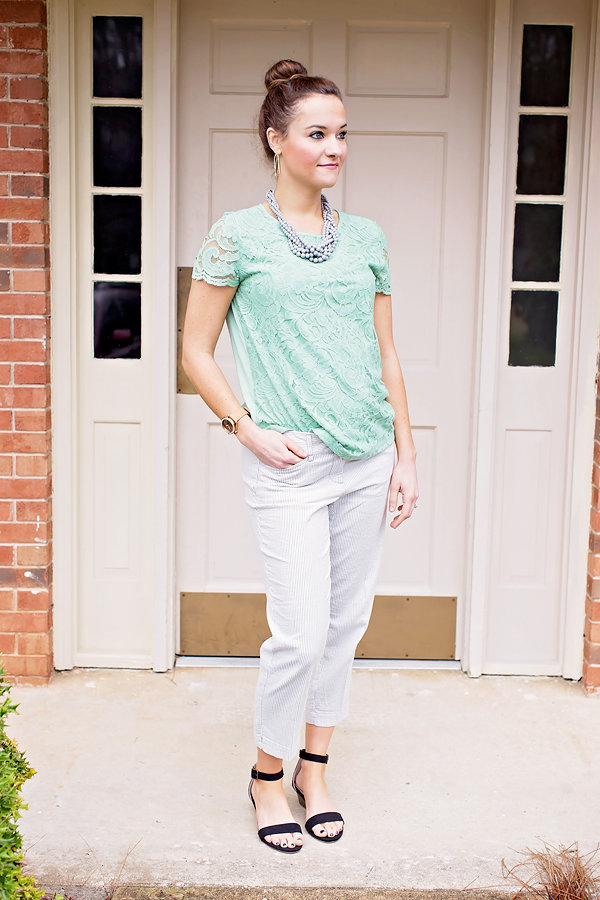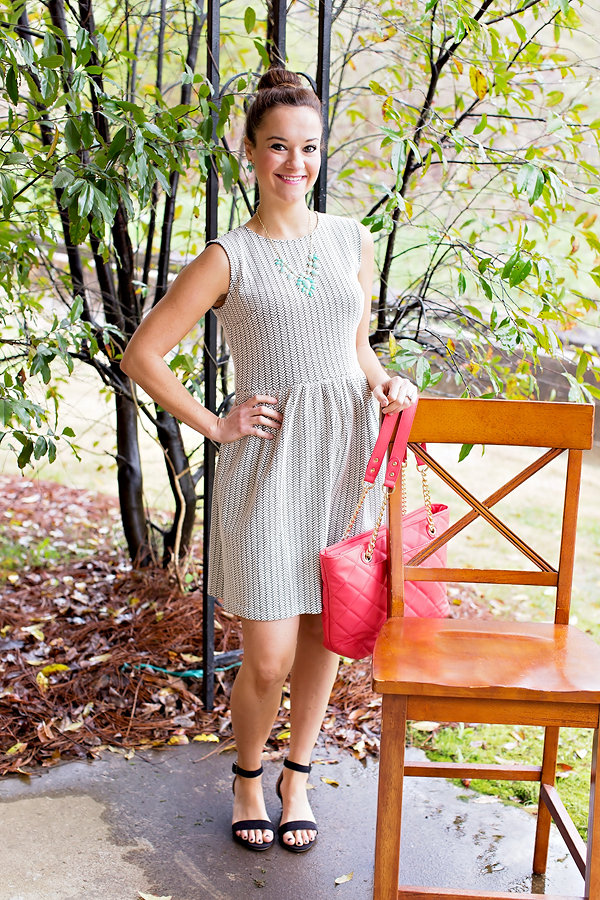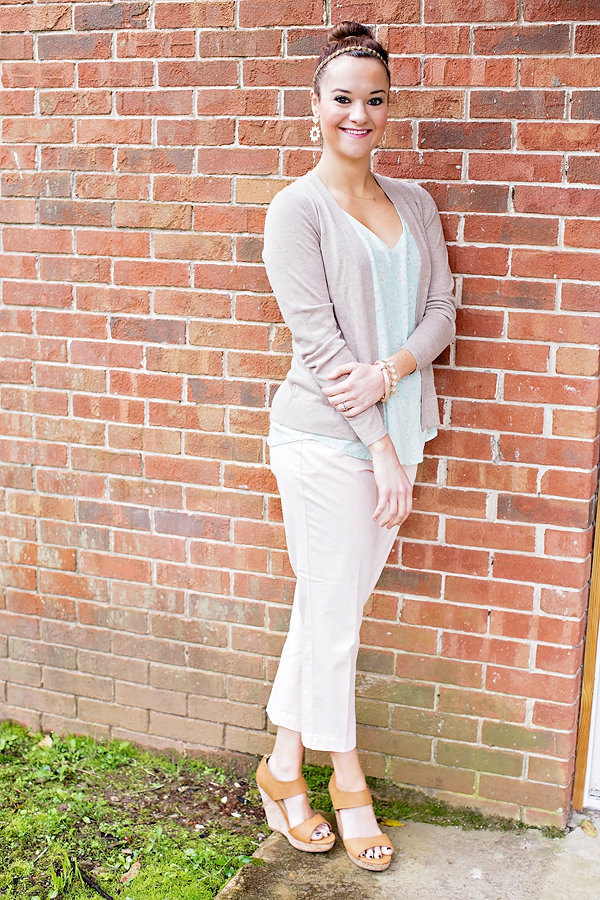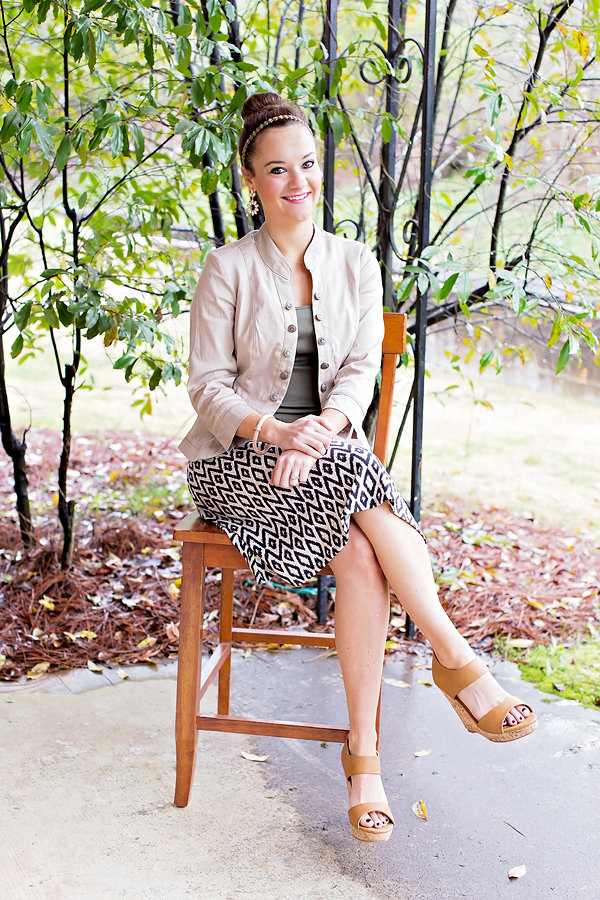 Ask anyone in my office who is most likely to have messed with the thermostat, and they'll tell you it's me. I am hot natured and always have been. I can't stand being too warm, and work wear during the summer quickly becomes my nemesis. I've partnered with the The Outlet Shops of Grand River to show you some of my best summer work wear tips to stay cool, calm, and collected despite the rising temperatures. And trust me, this summer will be the hardest one yet to stay cool. Carrying a baby in the summer maybe wasn't the best planning on my part. Ha!
Above you can see some of the outfits I've selected. Throughout the spring and summer, I'll show you more outfit details in each styled look to help you achieve a cool summer work wear look. My office is pretty casual, so I'm fortunate that I don't have to wear a suit or close-toed shoes. I hope you can take some of the basics of these styling tips and make them applicable to your wardrobe & work necessities.
Summer Office Wear Ideas:
1. Statement pieces: I love pairing a plain work appropriate cool shirt with a big colorful bag, or a statement necklace. Buy 2-3 pieces that will give you the most bang for your buck! I went to Charming Charlie's and scored all the awesome jewelry  & the bright bag you see in these photos plus those tan wedges.
2. Shoes, Shoes, Shoes: Find a few pairs of classic summer shoes that will go with everything you own. I loved these tan wedges as I said because they're a great neutral to throw on with any outfit. I also am digging these Old Navy Outlet black strappy sandals with just enough of a wedge to give you some height without being too much. Get a great pair of flats, a wedge, and a heel that won't kill your feet. Comfort is key during the sweltering summer months in the south!
3. Opt for breathable fabrics: Think lightweight linen, cotton, lace, seersucker… The way to stay cool in the office is by opting for lighter fabrics, not baring more skin. Since spaghetti straps and sleeveless are usually frowned upon, make sure if you wear an item like this you cover up in a light sleeveless or short-sleeved kimono or cardi. Remember, it's still work and there's no need for bra straps hanging out. In my office sleeveless is acceptable, so I make the most of it!
4. Summer dresses for the win: I adore dresses year-round because they are easy to style. No mixing and matching, you just throw it on and go. The summer is prime time to wear a dress and enjoy a lighter, breezy feel. Just make sure your dress is around knee-length and if not, slightly above. The more structured or dressy the dress, the more office appropriate it seems which is where you may be able to get away with a few inches above the knee (i.e. this beauty I'm wearing from LOFT Outlet).
5. Be Inventive: Long capris are A-ok for me to wear in my creative job. I love The Loft blue and white pinstripe seersucker look. Since I wore capris in a couple of these looks though, I dressed it up with lace, a statement piece or dressier shoes to make them more work-wear appropriate.
6. Avoid Darks: Dark charcoals, blacks, and brown bags or full outfits will soak up the sun and heat. In Birmingham, it's not unusual to have lots of days in the upper 90's with a humidity and feeling of 110, so when I wear black pants, I want to scream. I loved the last neutrals look I pulled together from dressbarn outlet; I was actually surprised by this look coming from their store and was excited to jazz it up with their funky pattern-play skirt.
7. Have fun! Summer is the time to play. Experiment with florals that are so trendy now, have fun with patterns, rock a mauve lip, and wear your hair in a braid…maybe just not all in the same day! 😉 I opted for a bun because it's my best pull it together in 5 minutes look to get my hair off my neck and still look put together (after not washing my hair in a few days!).
I got all these items from above at the Shops of Grand River and found some amazing deals! What is your favorite outfit for summer work days?
Thanks to Magen Davis Photography for all these shots. Bless her heart, we were both feeling sick the day we shot these!

Heather Brown helps busy mamas of young littles who are caught in the hustle to find encouragement in their journey to true health, from the inside out, starting with the heart. Read her journey of learning to live a life well-loved
HERE!