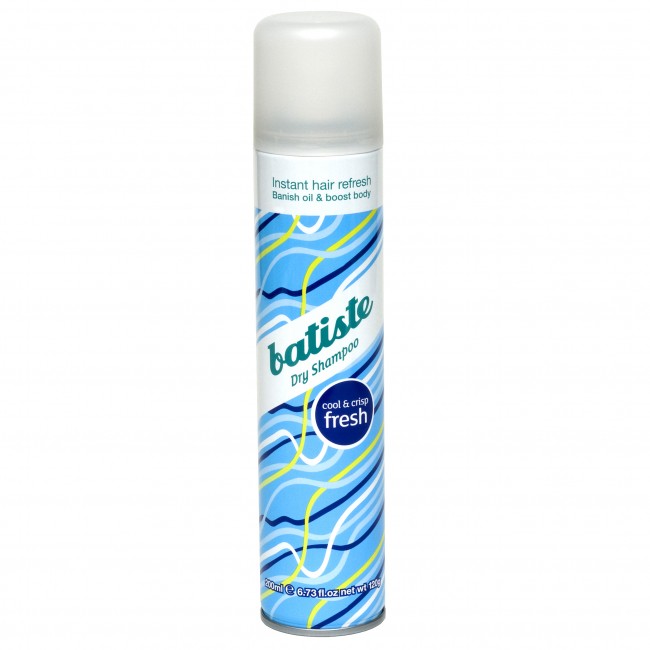 If you have not discovered the absolute miracle product of hair care yet, hold onto your horses, this baby is a game changer. If you already use this product, you know what I'm talking about…it's dry shampoo, of course! As a lady on the go, ain't nobody got time for washing hair every day. Even if your hair is fine or gets greasy quickly, I guarantee you can make it at least a day in between washings if you use dry shampoo.
I've experimented with quite a few dry shampoo's lately and batiste has been my favorite thus far. Not only is the batiste cool & crisp fresh effective, but it smells really good too. In fact, when I used it for the first time I hopped in the car with my husband for a road trip and said, "What is that smell? It's so good and I feel like it's me but I didn't put on any perfume." A few seconds later it hit me I had just applied this dry shampoo and I've been sold ever since.
batiste can take you from Pure Barre to date night in no time flat and who doesn't want that?!  I've heard some people say they apply dry shampoo the night before to make sure their hair feels squeaky clean in the morning, so give that a whirl if you want to try something different! I usually apply it after a workout to freshen my look or first thing in the morning when I'm getting ready.
You can pick batiste dry shampoo up on Amazon or in your local CVS. They even make a dry shampoo for brunettes that is a darker color if you need it so that your hair won't show any white marks. I find that batiste gives my 2nd and 3rd day hair some lift, texture, and it soaks up any oiliness that may be trying to peek through.
Are you a beauty product lover too? Then you'll definitely want to check out my Beauty Bits co-hosts Style Briefs, The Style Gathering, & my scoop (who even included a giveaway!) to see what fabulous beauty items the other beauty mavens love. After The Style Gathering's last post I'm more bound and determined than ever that I MUST get some Latisse!
P.S. I launched an Instagram giveaway for a pair of designer denim from Fabrik Homewood so make sure you go follow me there to enter to win!
Heather Brown helps busy mamas of young littles who are caught in the hustle to find encouragement in their journey to true health, from the inside out, starting with the heart. Read her journey of learning to live a life well-loved
HERE!