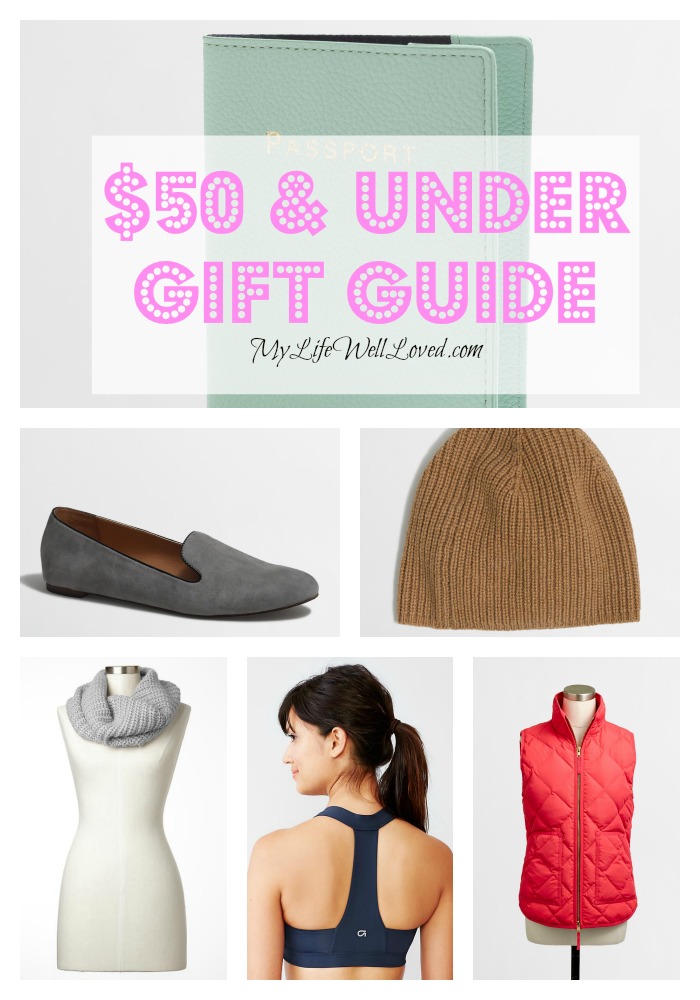 As promised, I've got another gift guide for you! And this one is all items that are $50 and under for a special lady in your life. These are for the divas on a budget who still want to make sure their friends and family members feel special.
I have been browsing hot and heavy through the Shops of Grand River to see what options they have available for affordable gifts and here's what I found for you to enjoy!
Here's my favorite finds for the $50 and under gift guide:
*J. Crew Factory Quilted Puffer Vest: For $49.50, this baby is a steal. Regularly $100+. I have the khacki version of this winter staple and love it!
*Gap T Back Sports Bra: At $39.95, this sports bra has a little more sass in the back and comes in a host of fun colors that gives your workout obsessed friend one more option to choose from for layering with her workout tank.
*J. Crew Factory Classic Chambray Shirt: At only $34, this wardrobe classic is here to stay. Make sure you get a comfortable one because you'll probably want to do all your day to day tasks in this little number, topped by that awesome vest!
*J. Crew Factory Layered Stone Petals Necklace: This pop of color draws the eye up and towards it so it takes any outfit from ho-hum to HEY-OH! ($24.50)
*Gap Ribbed Cowl Scarf: A great basic to add to any fashionista's wardrobe. ($24.46)
*J. Crew Factory Passport Carrier: For the jet set queen who likes to travel in style. This color is too cute to pass up.
*J. Crew Factory Slouchy Wool Blend Hat: This little number is perfect to add a laid back vibe to any outfit. ($16)
The Shops at Grand River are in Leeds, less than 20 minutes away from Birmingham depending on where you live. They have fabulous stores like J. Crew, LOFT, Coach, Fossil, Nike, Gap, Banana Republic, Charming Charlie's and many more. Head out to find great deals on the brands you love to help you save this Christmas season!
What's your favorite gift under $50 to make someone feel special?