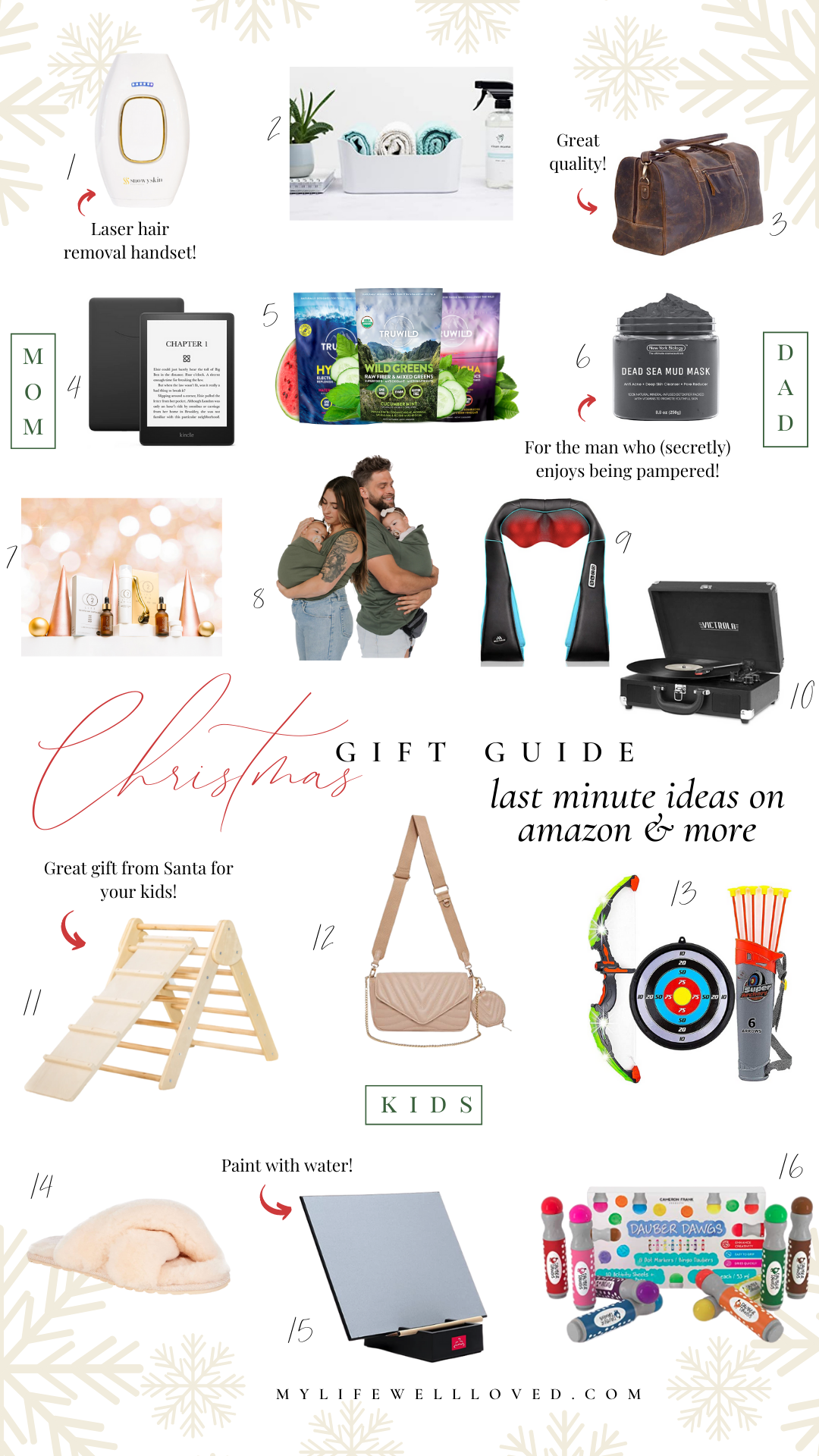 Keep reading to see the top last minute Christmas gifts on Amazon & at other favorite retailers!!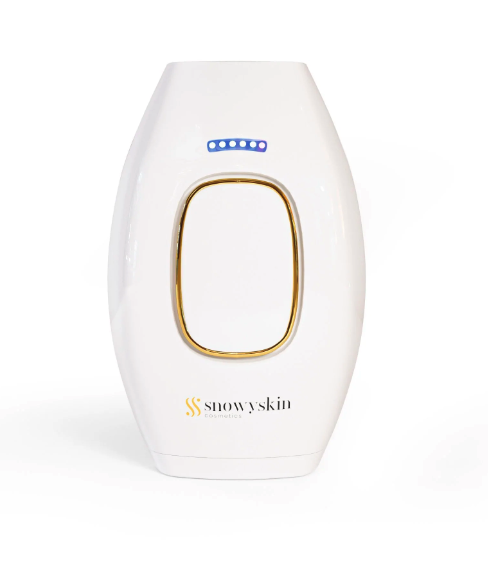 1. Snowy Skin Laser Hair Removal Handset // Still looking for an AWESOME gift idea for someone on your list? I have heard such amazing things about the Snowy Skin Laser Hair Removal Handset. It uses IPL (intense pulsed light) to destroy hair cells and is easy and safe to use for quick hair removal! You use it once a week for 8 weeks and then once every few months for maintenance. If you're looking for silky smooth legs in 2023, now is your chance!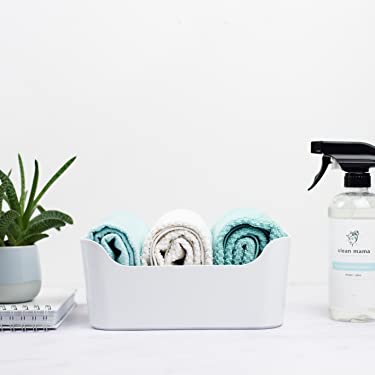 2. Clean Mama // If you've followed along for long you know I ADORE Clean Mama products–and since the products are also available on Amazon, they're perfect for Prime shipping! All Clean Mama products were born out of one mama's desire for truly CLEAN products that were nontoxic, naturally-derived, and plant-based. P.S. There is a wealth of amazing, down-to-earth tips and resources to balance busy life + a clean home on her website as well!
3. Duffel Bag // This leather bag is the perfect size for overnight trips.
4. Kindle // For the person who loves to read!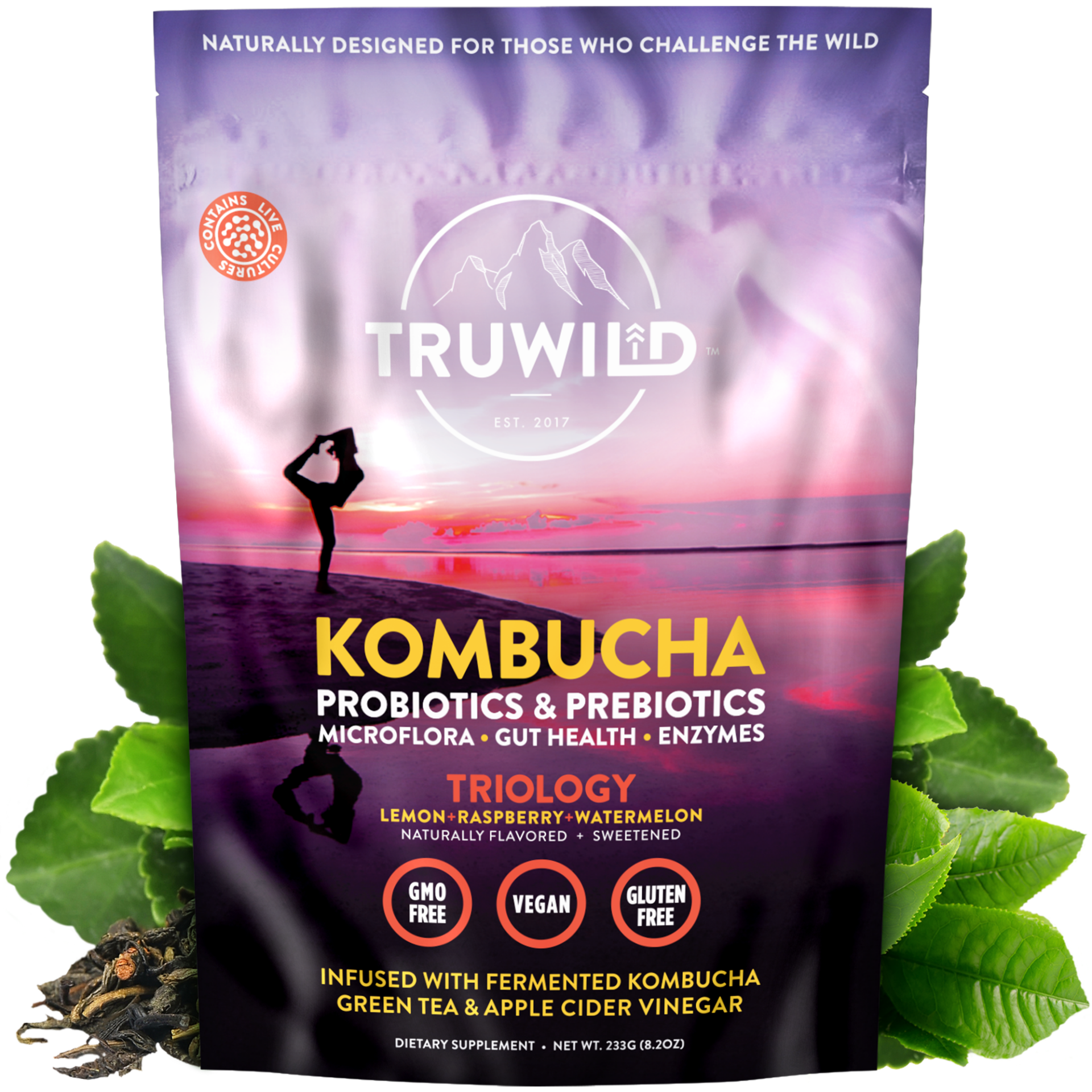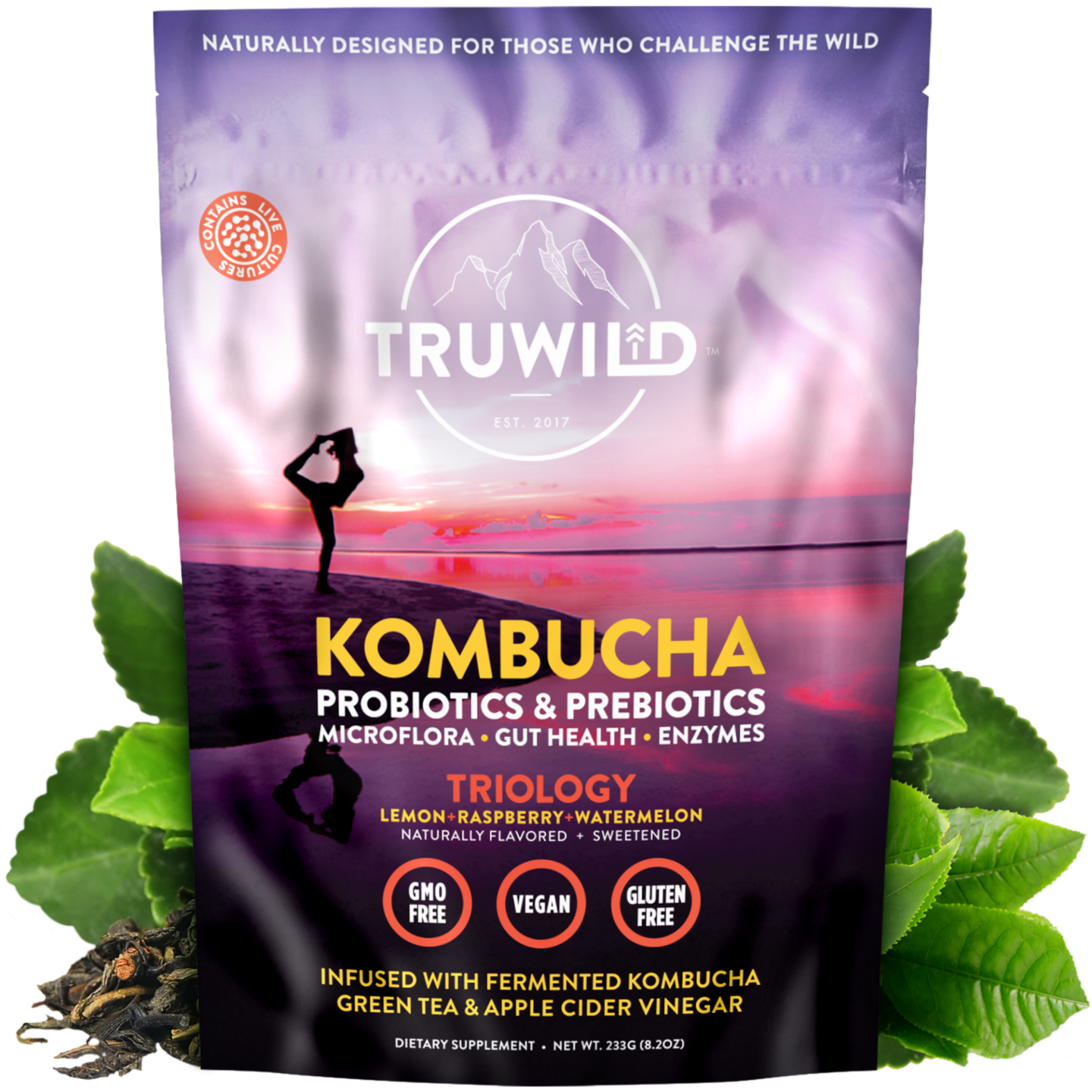 5. TRUWILD Kombucha | Hydrate | Wild Greens // Are you looking for a stocking stuffer or last minute idea for the health nut in your life? OR anyone looking to get healthy in 2023 (maybe it's you)! TRUWILD is a supplement company focused on real, all-natural, whole food ingredients to fuel you for every day adventures. I'm including 3 of their best selling products — HYDRATE which is perfect for anyone looking to up their hydration and replenish electrolytes. Full of ocean minerals & amino acids for rapid rehydration and helping muscle repair and rebuild your muscles naturally. It tastes like watermelon jolly rancher — DELISH! GREENS which is full of 22 superfoods for detoxifying the body and boosting energy naturally. And KOMBUCHA which is full of pre- and probiotics! Shop them on Amazon HERE or head to their website to learn more!
6. Mud Mask // For the man who secretly enjoys being pampered.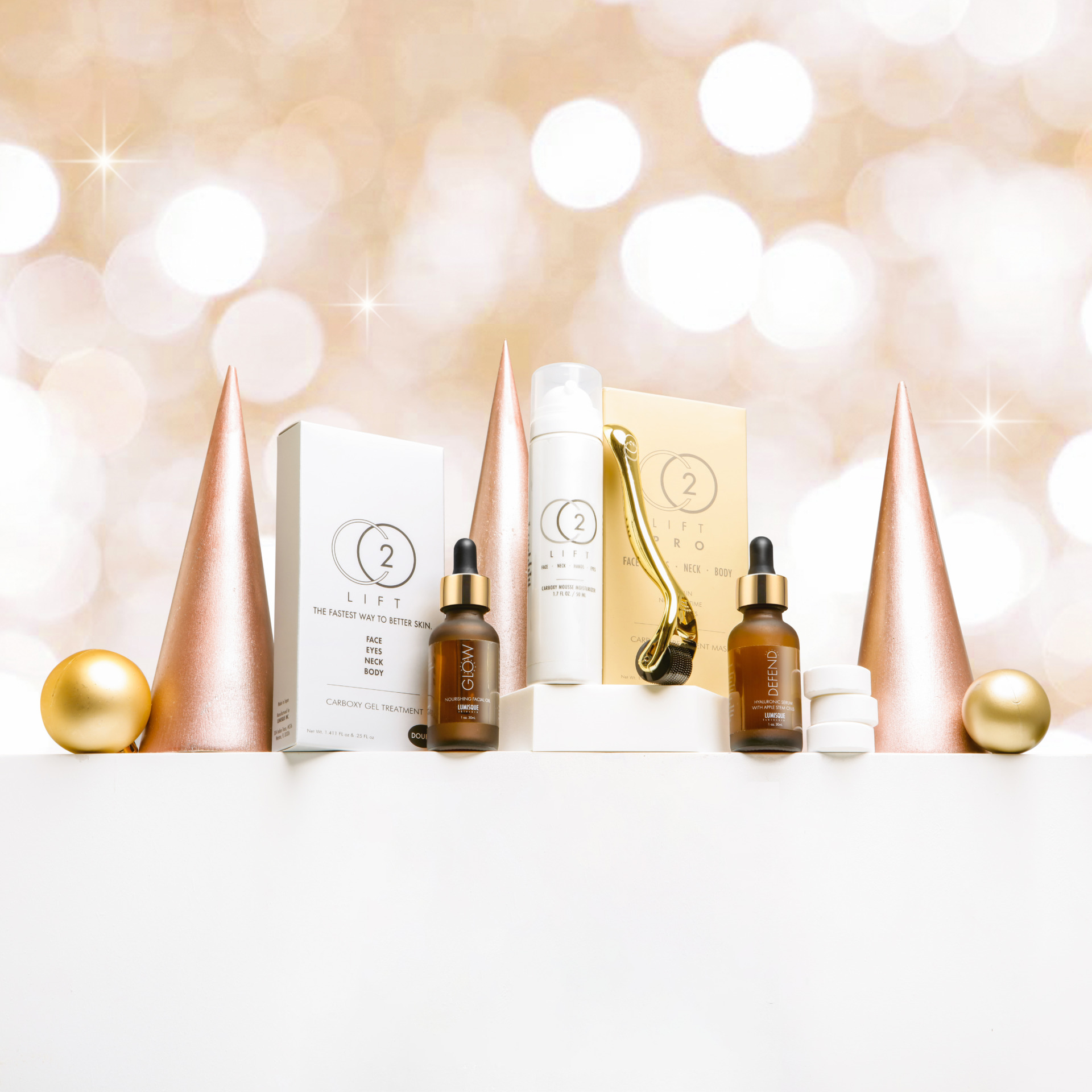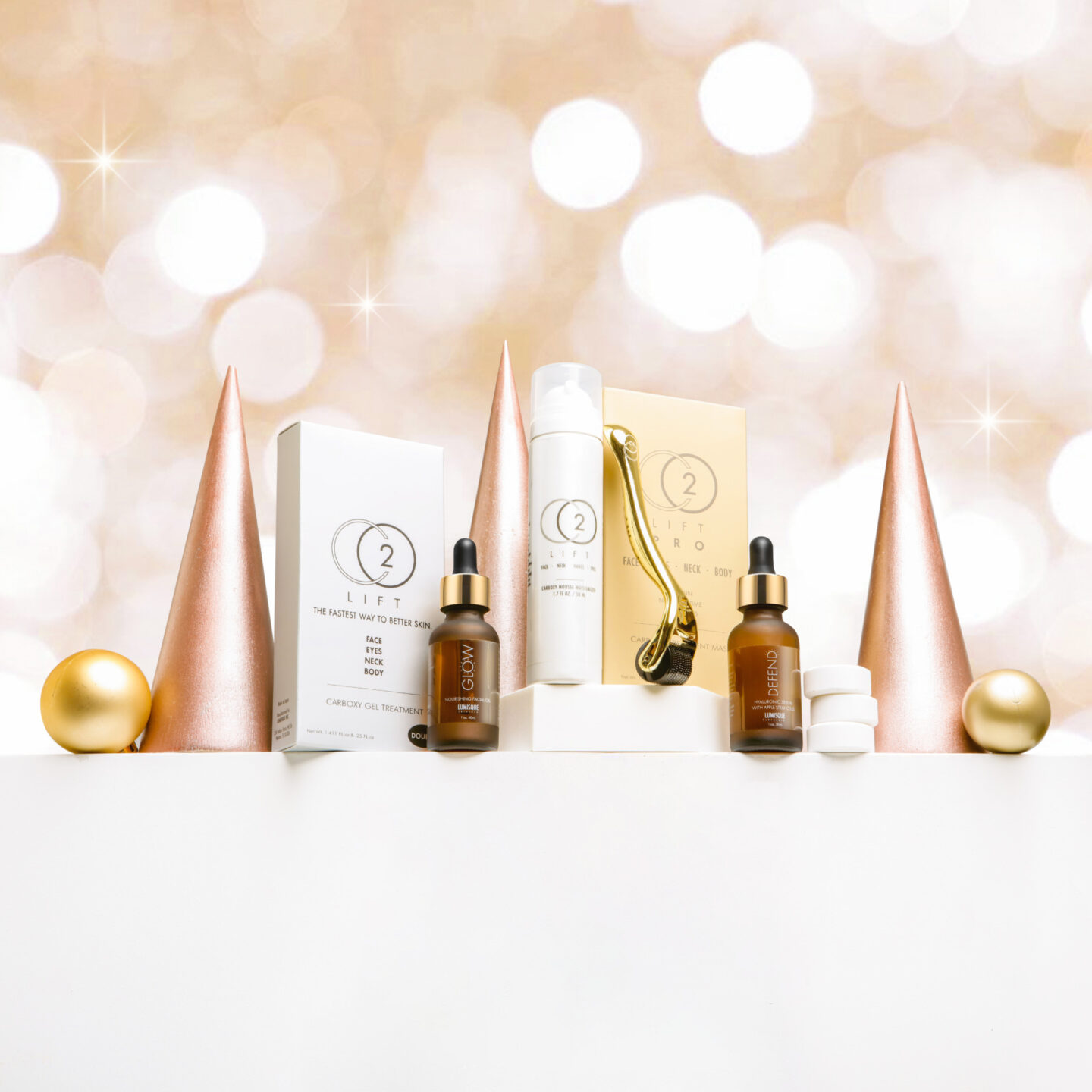 7. CO2LIFT // CO2LIFT is a state-of-the-art, anti-aging treatment that is clinically proven to lift, hydrate, brighten and improve the overall health and appearance of your skin. Use code HOLIDAY25 for 25% off the entire site. I love the holiday collection, especially the Ultimate Skincare Gift Set for a splurge or to spoil someone you love! If you can't decide, they also have gift cards.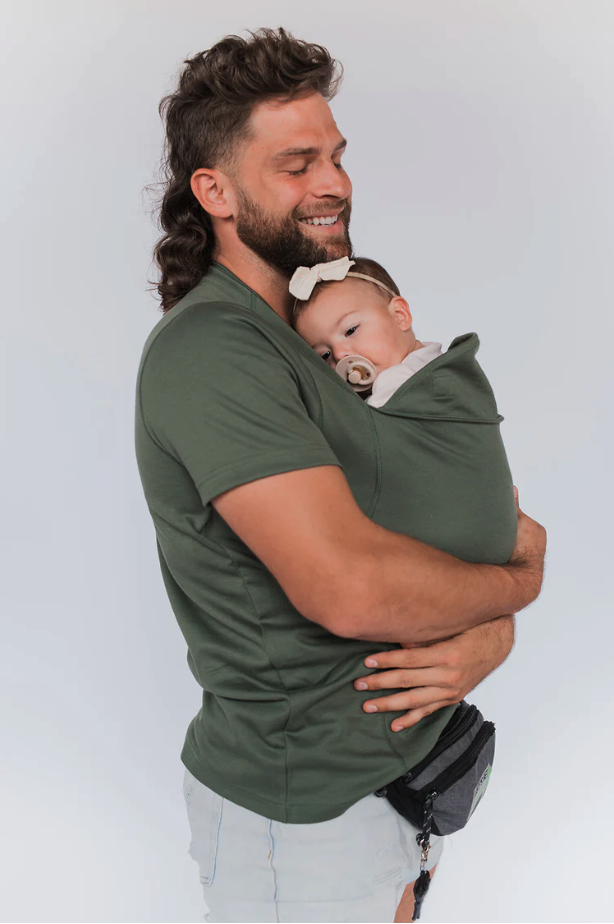 8. Lalabu Dad Shirt | Kerier | Soothe Shirt // Still shopping for dad? Or the new mom with a little one? The Lalabu Dad Shirt is the first babywearing shirt designed exclusively for dads. No complicated wrapping or buckling here, just tuck your sweet baby into the front pouch and give yourself incredible, hands-free support. Dads can enjoy their newborns and take their baby on adventures right from the start. The pouch safely holds your newborn up to 15lbs, the first 3-5mo. OR try out the Kerier which is designed for babies from 4 mo-2yrs of age, from 13- 28lbs.
9. Massager // This is sure to help anyone relax!
10. Blue Tooth Record Player // This can play records or connect to your phone by bluetooth!
11. Tottlr Triange // A great gift for any little one on the go!
12. Bag // I love how versatile crossbody bags are.
13. Bow And Arrow Set // A great gift for any little adventurer in your life.
14. Slippers // These fuzzy slides are available in so many colors.
15. Water Painting Board // Create unique and beautiful paintings using just water!
16. Dot Markers // Perfect for any little who loves to get creative!
We are down to the wire friends, but there is still time to shop! Don't miss these last minute Christmas gifts ideas from Amazon and other favorite retailers! Phew!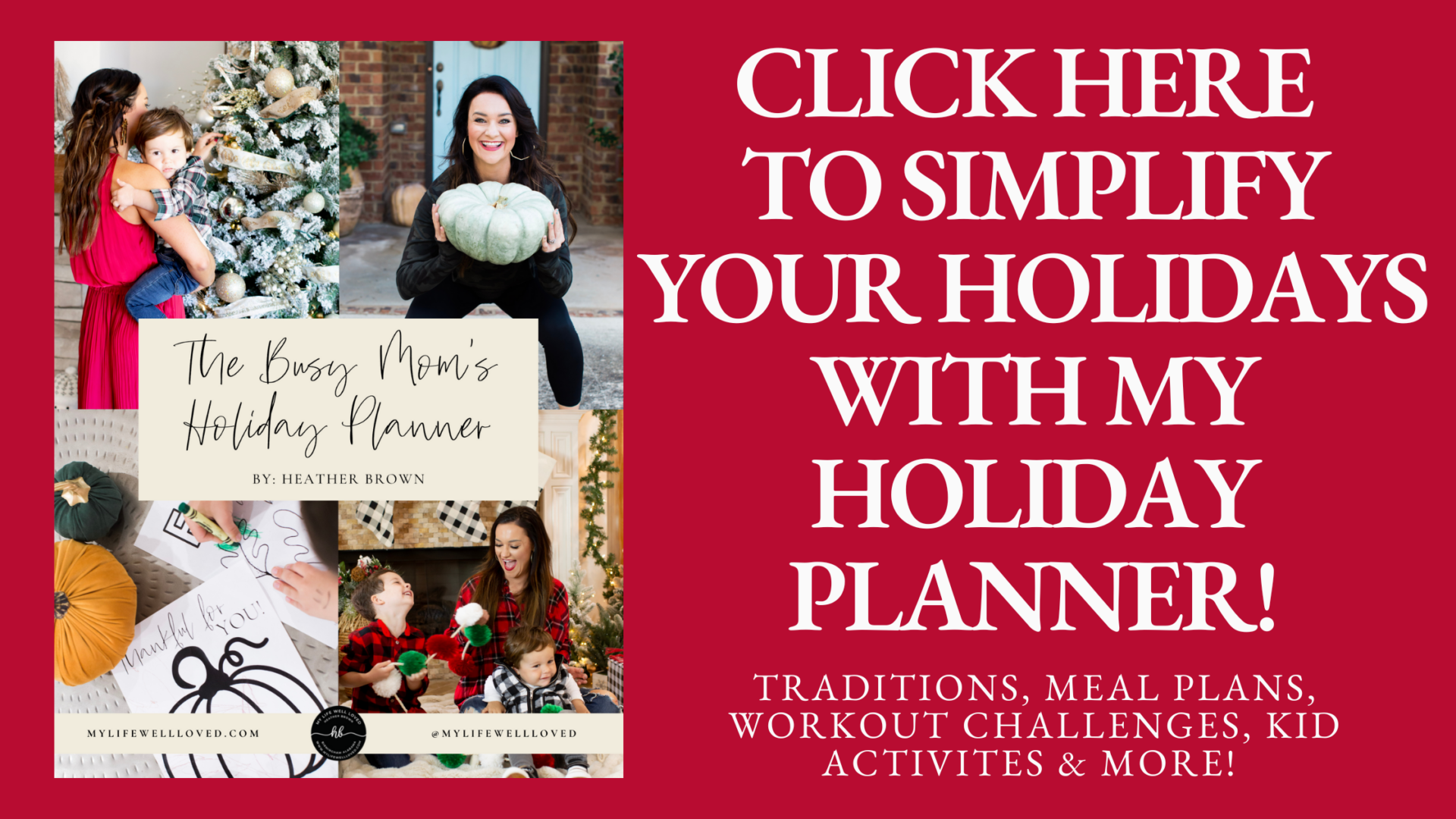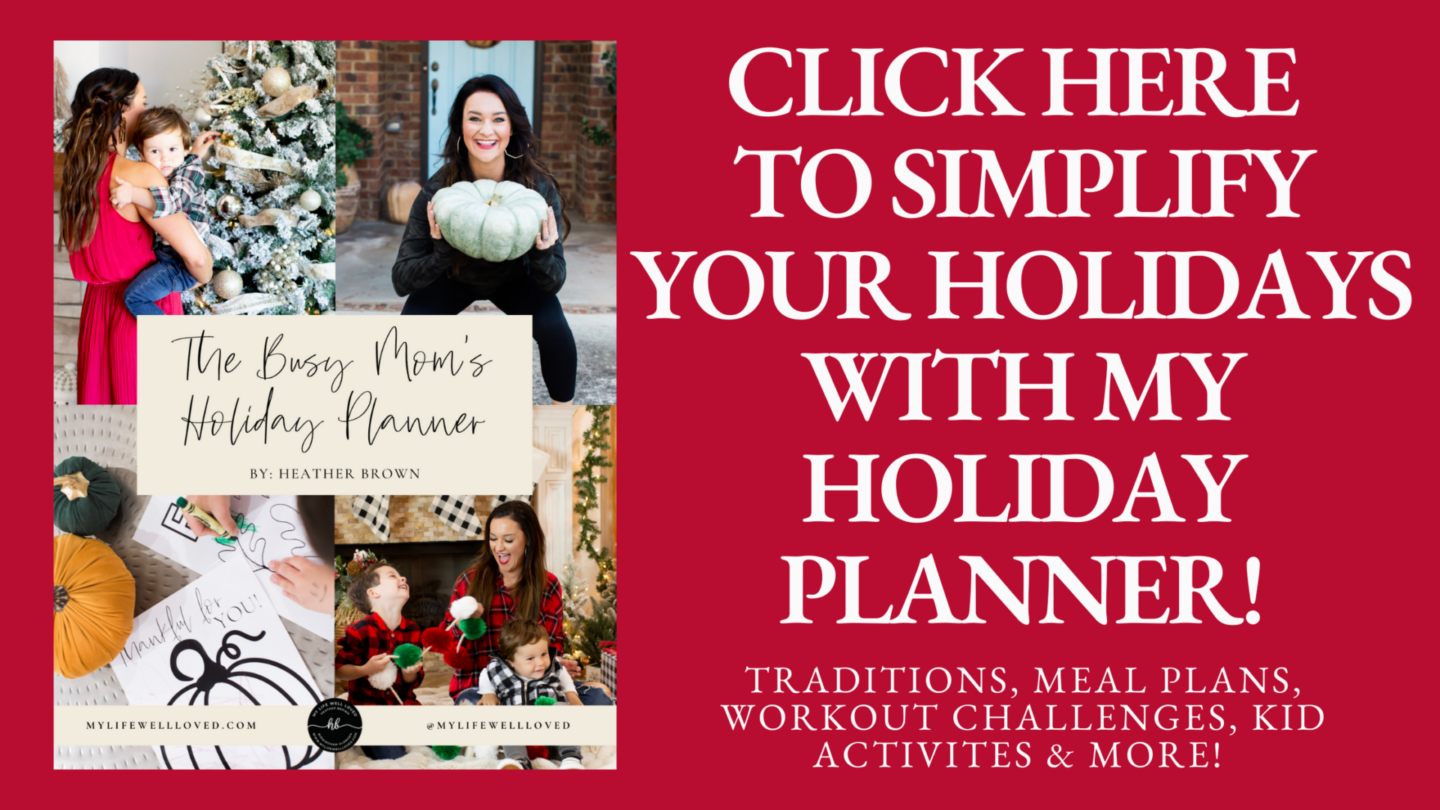 Shop The Last Minute Christmas Gifts Ideas HERE:

Pin The Post HERE: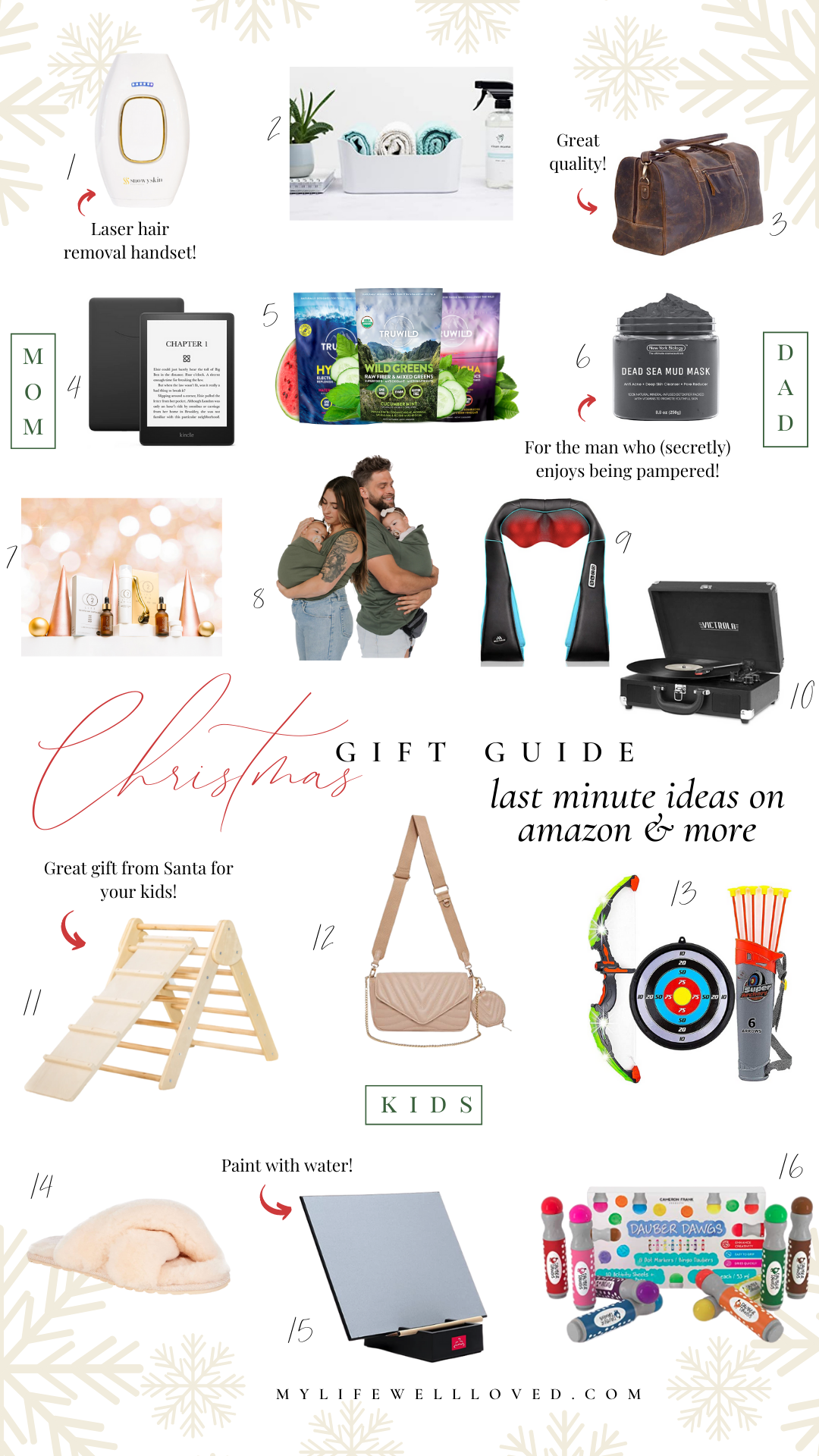 Heather Brown helps busy mamas of young littles who are caught in the hustle to find encouragement in their journey to true health, from the inside out, starting with the heart. Read her journey of learning to live a life well-loved
HERE!