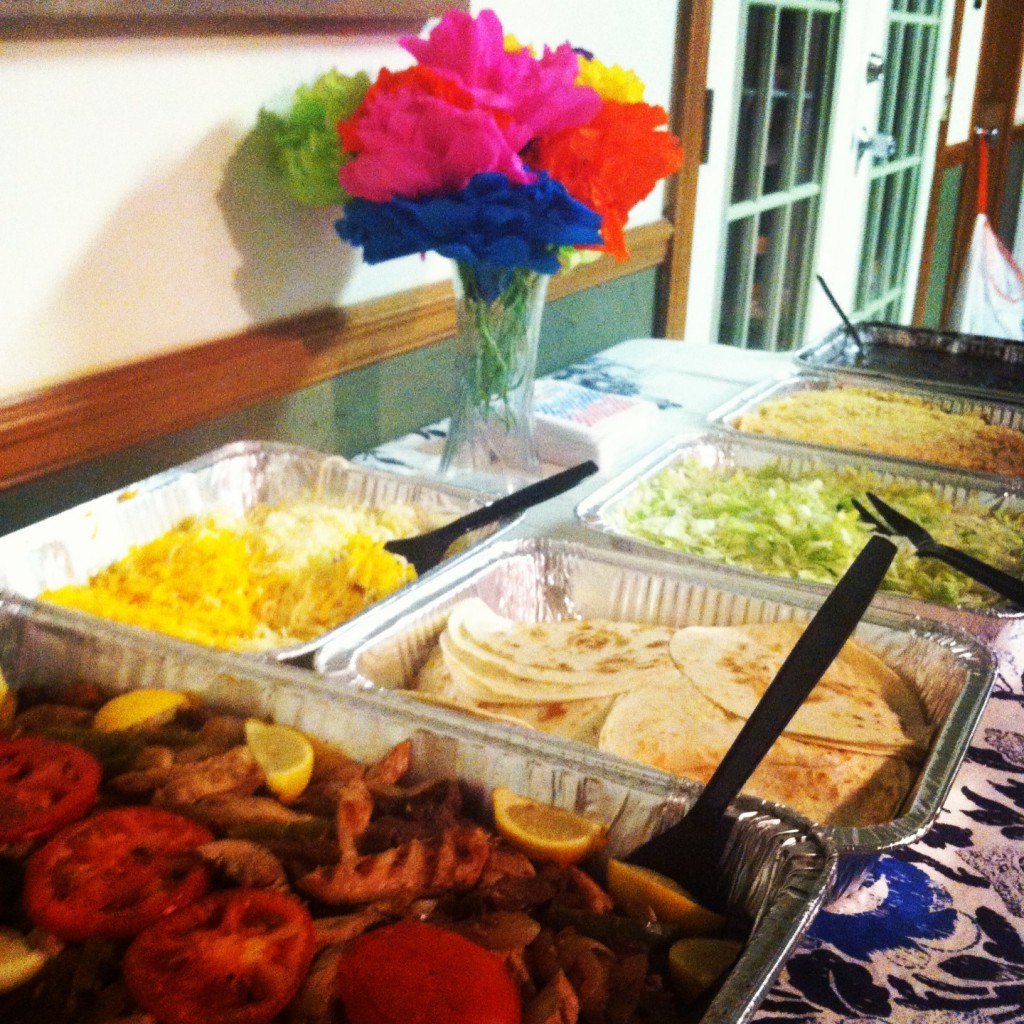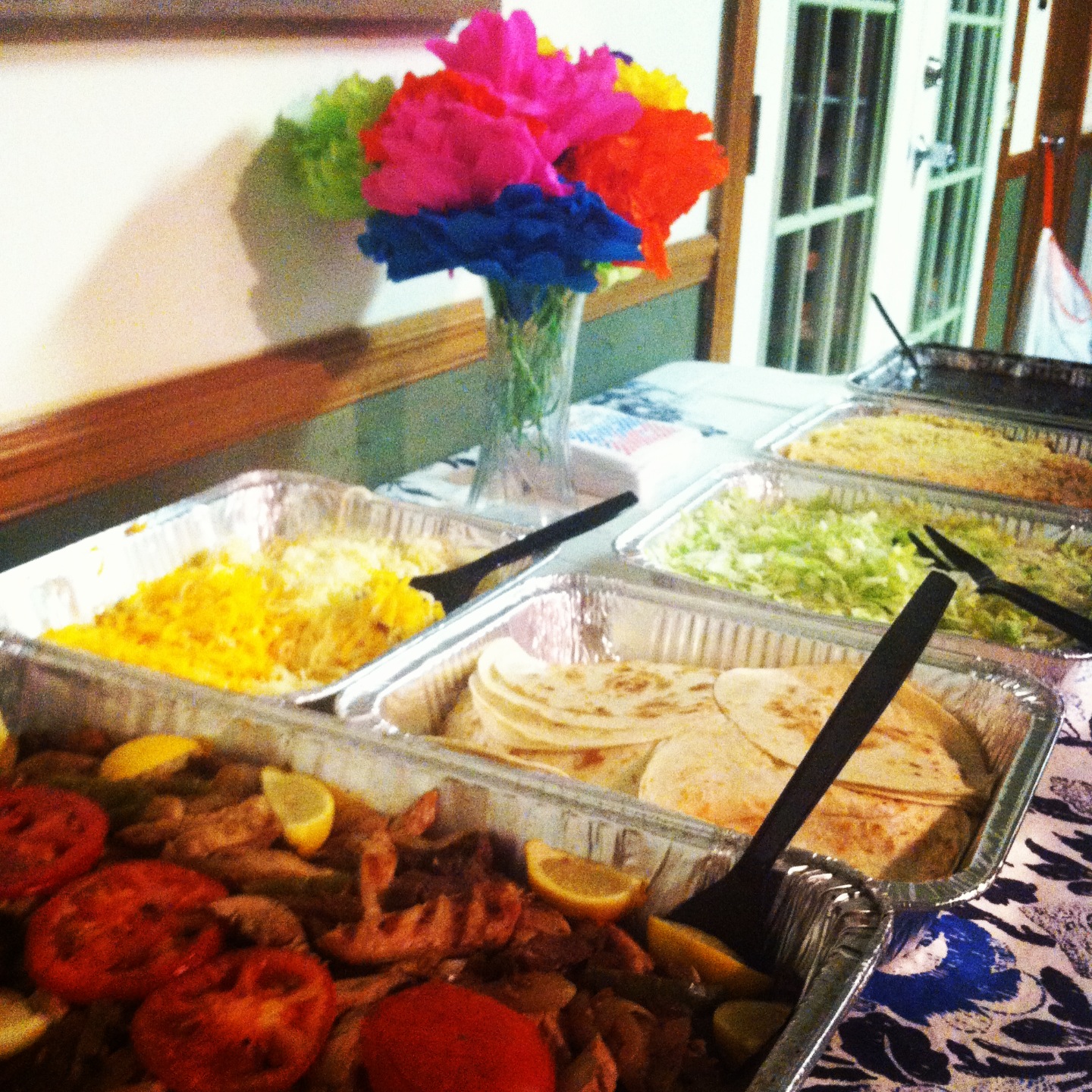 Olé!! We had a fabulous Fiesta Couples Shower for my sister and future brother-in-law, Andrew, last weekend. It was bright and fun and colorful and the guests have been raving about the party and the food since we had it! That's a few days out, people! Pretty good if I do say so myself. I wanted to show you guys an inside look at how everything came together so you can create a festive shower for a couple in your life you love.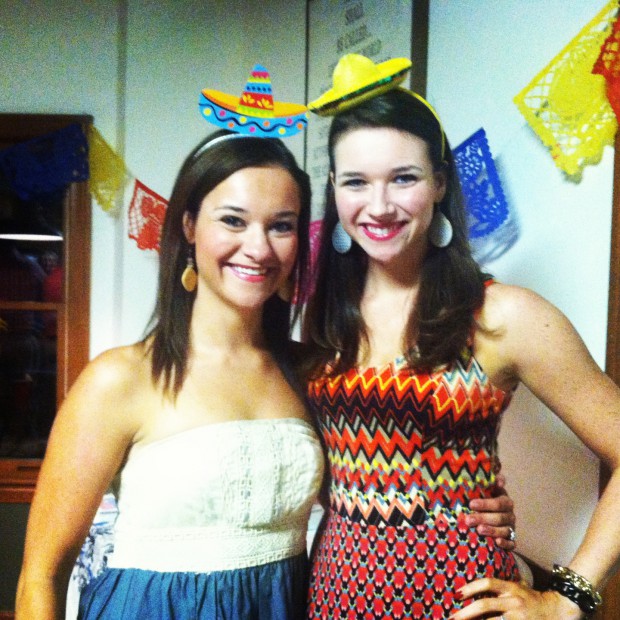 The great thing about this shower is that it feels more laid back with men there as well. Several of them griped about having to go at first. But, with the Mexican beer you'll have in stock, they will loosened up and have a good time as well! Let's get down to the details shall we? First of all, grab some fun and festive Mexican sombreros, party hats, etc to get everyone in the mood!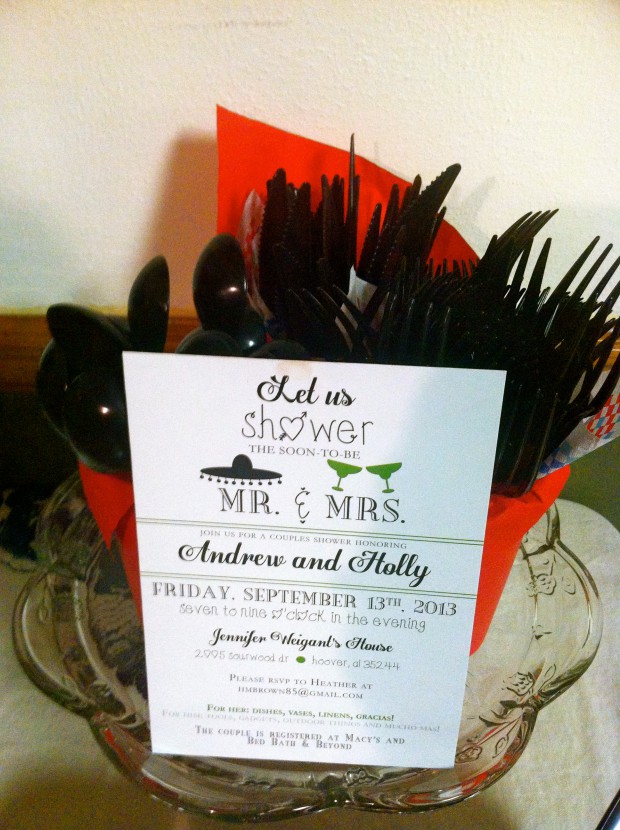 I adored this Mexican shower themed invitation with the sombrero & margarita glasses from Paige's Paper. You've got to check out all of her other cute designs in her Etsy shop! She's a local artist, which I loved to be able to support, based here in Birmingham!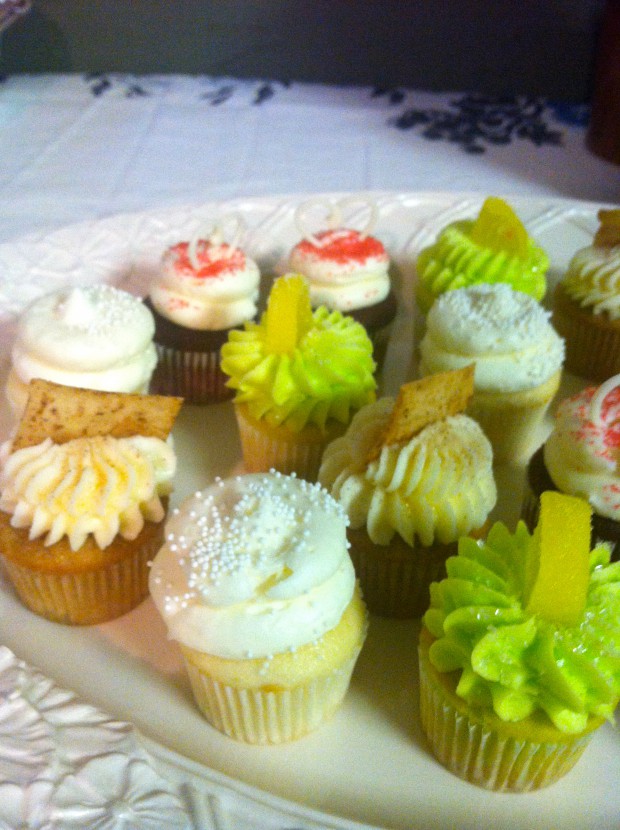 These amazingly delicious Gigi's Cupcakes were perfect for the shower. We even got them according to theme! I had 4 different kinds that were all specific to the couple and the shower. There was wedding cake flavor obviously, Red Velvet (my sister's favorite), Sopapilla & Margarita! I loved that they do mini cupacakes and have so many different flavors for every kind of occasion and taste.
I cannot say enough good things about how friendly the owners of Gigi's are here in Birmingham and Trussville. If you haven't had the pleasure of talking to Pam and her husband yet, stop on in for a treat with southern hospitality at its finest. These are absolutely one of my favorite little indulgences!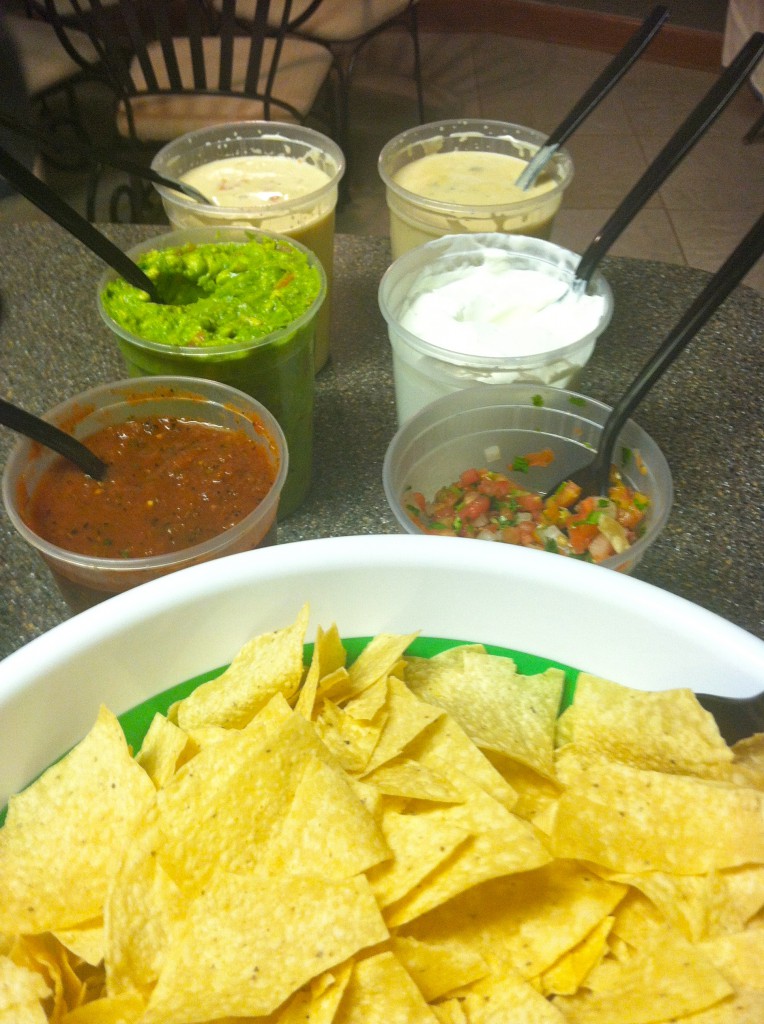 Next, you know you've got to have everyone's favorite….cheese dip! We went all out with cheese dip, salsa, guacamole and more thanks to Cocina Superior. I cannot say enough about how impressed we were with Cocina Superior! They have an awesome catering menu and even deliver to your house. They brought utensils, paper plates, napkins and the whole nine yards. I'm slightly obsessed with their fresh guac, amazing drinks and quality food. If you are in the 'Ham and haven't checked them out at the Brookwood Mall yet, it is a MUST DO! In fact, we are going back to Cocina to celebrate my sister's bachelorette party for dinner soon!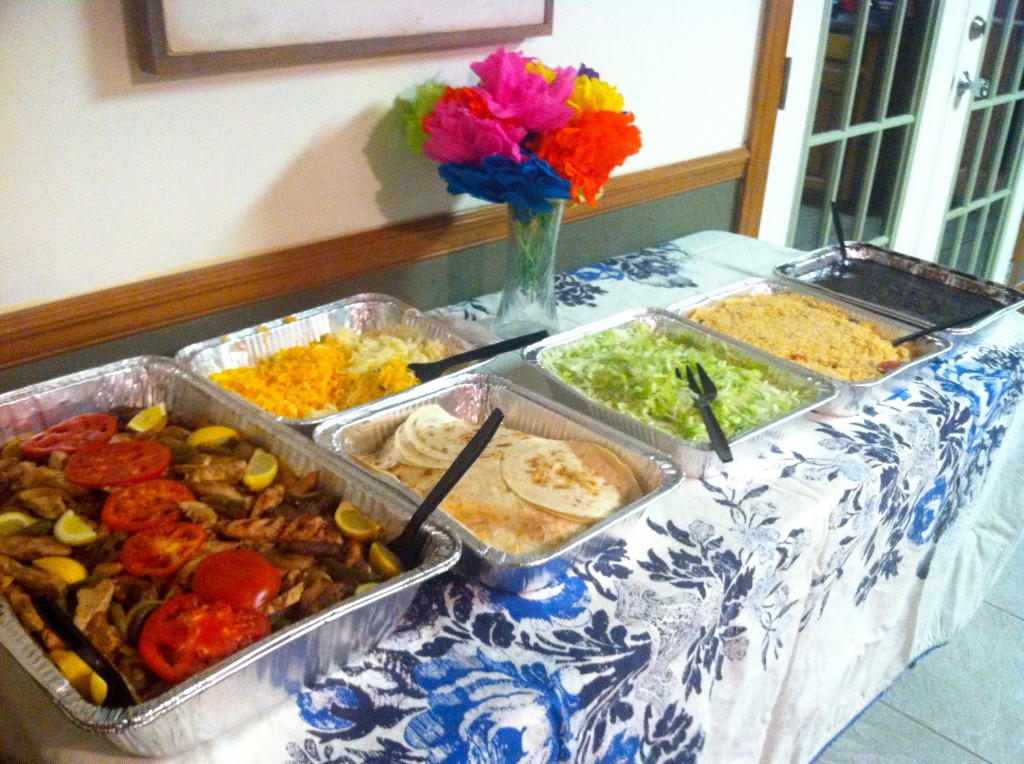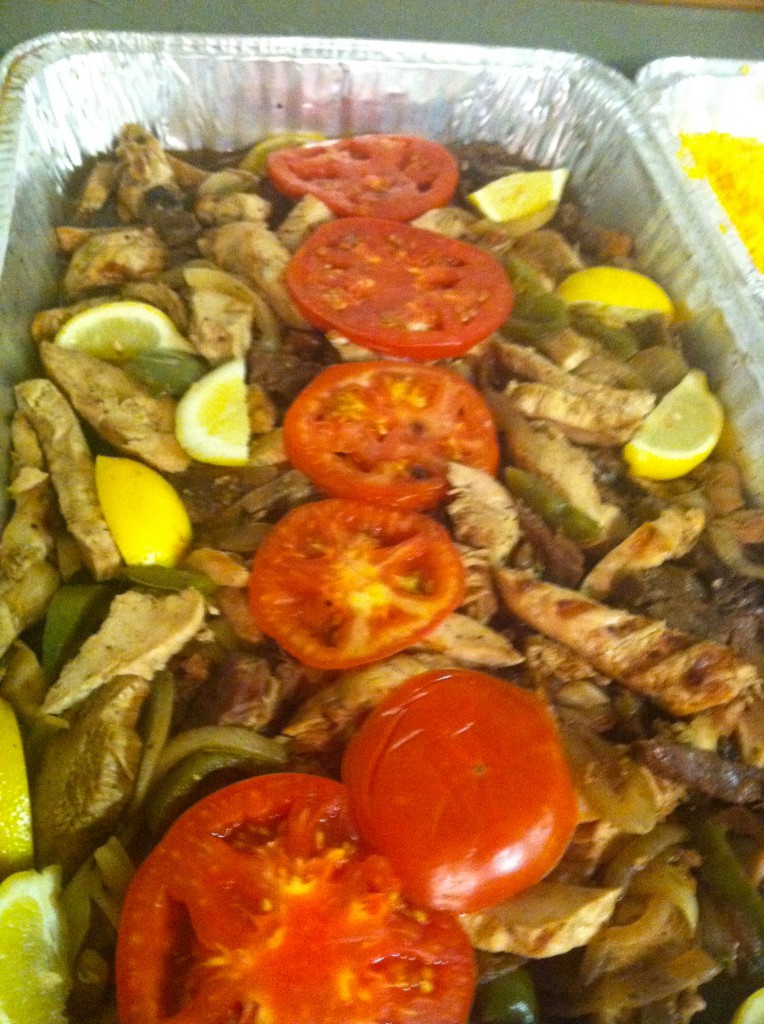 Such an amazing display. We loved the colorful spread of Fajita Fiesta and everyone ADORED the food. In fact, with a little over 20 people there we were surprised with how much food was leftover. It really stretched which was awesome for the leftover queen! (your truly!)
For this shower, all you really need is some good Mexican food, a big batch of margaritas, some Mexican inspired food, delicious themed food, colorful paper flowers and decor and a party goer attitude! We loved the extra touches of having sombreros and pinatas, tiny Mexican hats and more around to make for fun photos. Use your imagination and enjoy your fiesta!
Heather Brown helps busy mamas of young littles who are caught in the hustle to find encouragement in their journey to true health, from the inside out, starting with the heart. Read her journey of learning to live a life well-loved
HERE!