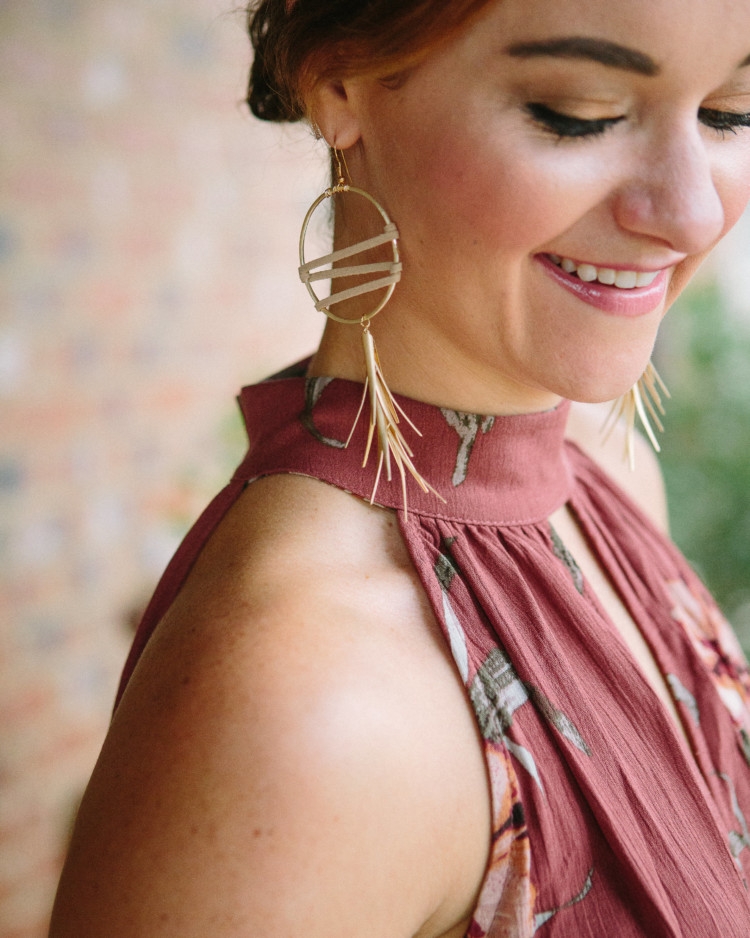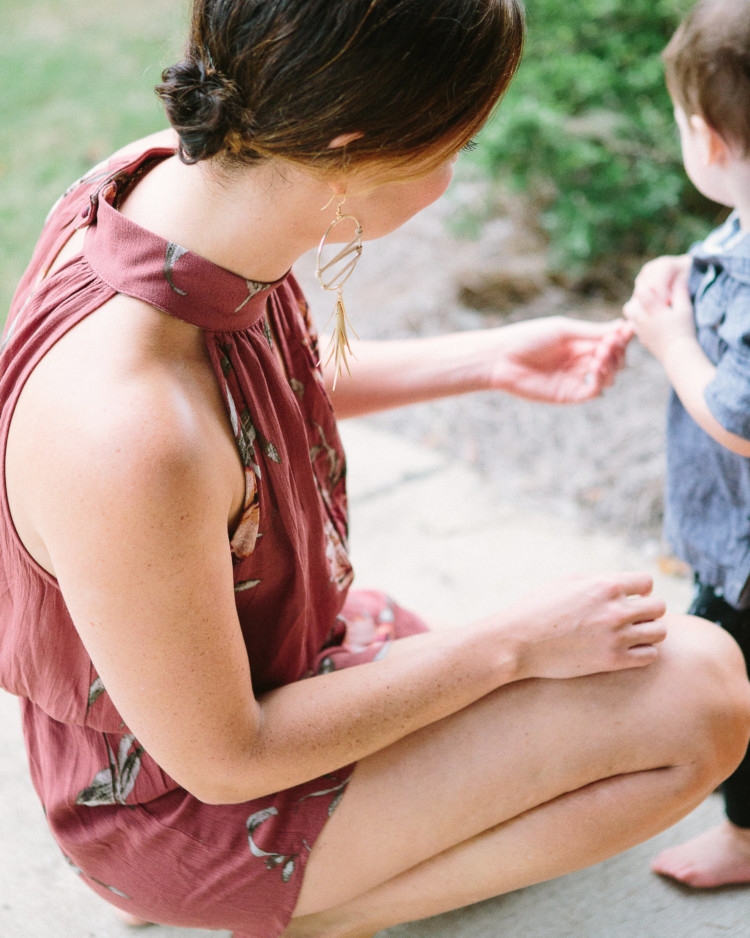 Sponsored by Johnson & Johnson and ShopStyle. All opinions are my own. Photos: Iron City Photo
Romper (similar) // Earrings (Coming Soon!) (similar) // Shoes (similar) // Hair Products
Today is the day! Y'all asked for my easy 5 minute updo but now that you see it, you'll probably be like "Oh, that's all?! It doesn't even deserve it's own tutorial." Ha! I think we all know as a mom of a toddler or any busy lady for that matter, you don't always have the time to do your hair.
In fact, it happens more often to me than I'd like to admit. It's one thing to get up, go to workout and not have to do your hair but sometimes an event gets sprung on you…
And you soon find yourself running with your 5 day old hair, yoga pants, and no-makeup self to the shower with the time to sprint through the water for about 4 minutes flat and call it a shower.
On those kind of days, this little low side bun in my go-to! This is for sure my fake it till you make it hair do. In fact, if you want my extra dirty little secret, sometimes I only wash the front part of my hair in the sink if I don't have time to get in the shower…yikes, I know! That's only in severe scenarios though.
Easy 5 Minute Up Do:
Step 1: On damp hair, apply a small amount of Quenching + Coconut Curls frizz defying curl styling milk in palm, rub hands together then apply evenly to surface of damp hair working through to ends.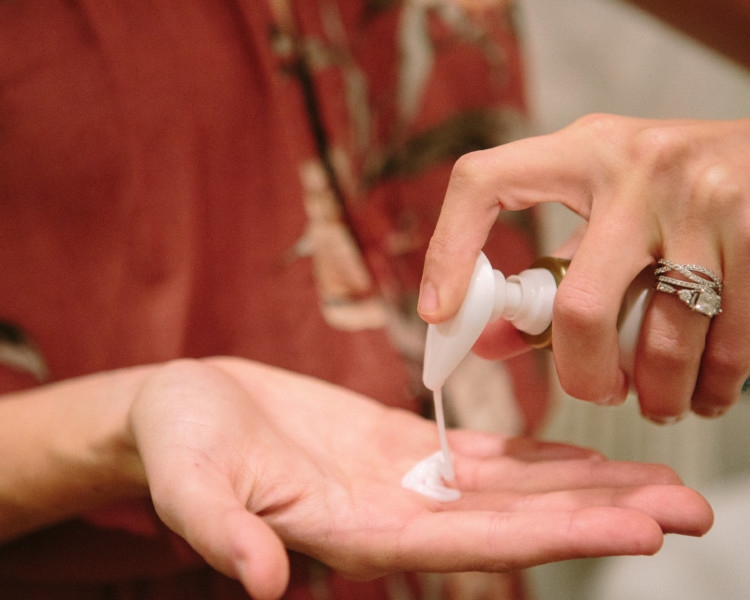 Step 2: OPTIONAL: Blow dry your bangs to smooth them out.
Step 3: Gather hair at nape of neck or off to side (depending  if you want your low bun in the back or to the side, and twist hair into a bun.
Step 4: Take bobby pins and splay out pieces to the side (to make your bun lay out wider instead of going out like a tail straight out, ha!), bobby pinning the bun into place. You can run your hands through it to make it slightly messier.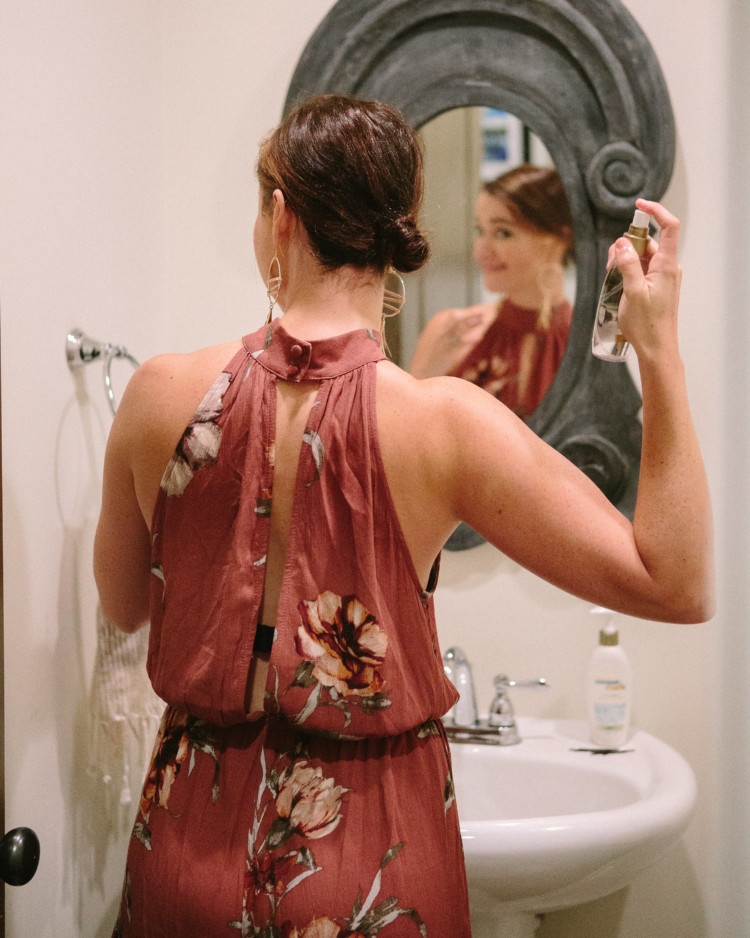 Step 5: Mist Nourishing + Coconut Oil Weightless Hydrating Oil Mist all over finished style for optimal hydration and shine.
See? Wasn't that 5 minute updo SO easy?!
Right now OGX & Aveeno products from RiteAid are BOGO 50% off here, and you can use your Plenti card to earn 800 bonus points with every $20 you spend on Aveeno & OGX hair care products! The program is run through American Express in case you haven't heard of it.
Shoppers can earn points for purchases at participating retailers (i.e. Rite Aid, Macy's, Exxon, Expedia, Hulu). Shoppers can also spend their points on future purchases at participating retailers. 1 point = 1 cent, so their offer of Spend $20 Get 800 Plenti points is equal to $8 in savings on these products!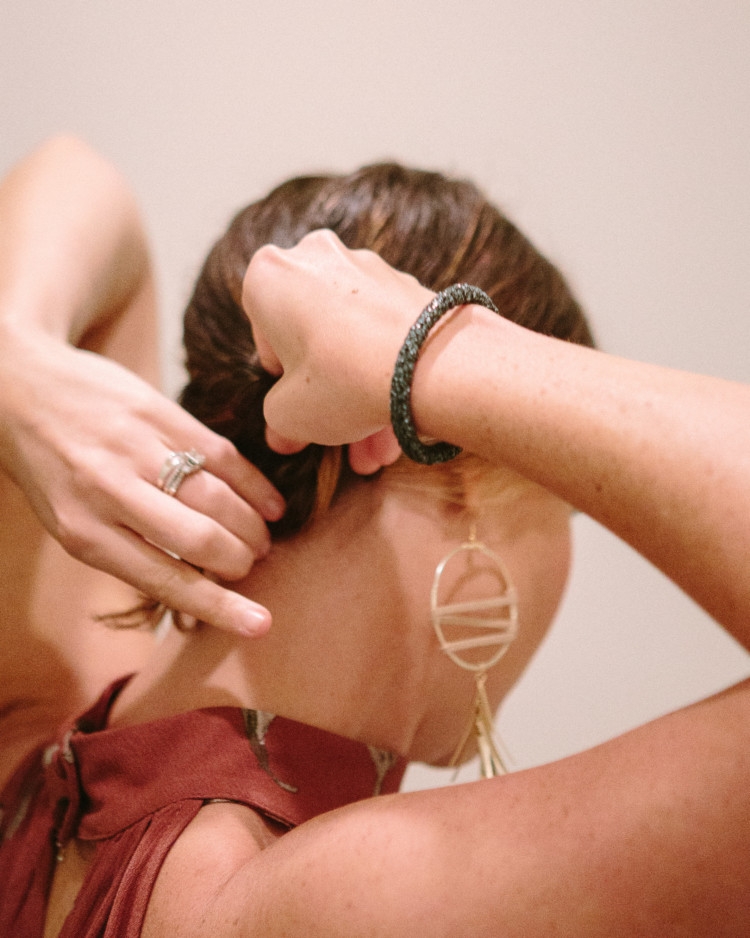 What's your go to quick 5 minute updo?!
Shop the 5 Minute Updo Post:
Heather Brown helps busy mamas of young littles who are caught in the hustle to find encouragement in their journey to true health, from the inside out, starting with the heart. Read her journey of learning to live a life well-loved
HERE!