I have been on an endless hunt for the best self tanners for face and body since high school. For years, I've been hopping around from self tanner to self tanner just buying whatever I could find on sale or whatever I saw in a magazine was the newest and best one to try. But now, I have found my holy grail! These two are the best self tanners I have found hands down. I'm not kidding you when I say that people literally comment on how tan I look when I put these on…wait for it…after 1-2 applications!
With a lot of self-tanners you have to wait weeks to build up a color that's even noticeable. Not with these babies! The Clarins self-tanner was recommended to me by my friend Claire a few years ago. It costs around $30 but it has lasted me for years. You simply pour a little bit on a cotton pad and swipe it over your face and décolleté  after your daily moisturizer and then apply your make up as usual. The color develops pretty quickly and within 30 minutes your beautiful face is glowing. It shows immediately but does take a while to build to stay on for a while after washing your face, etc.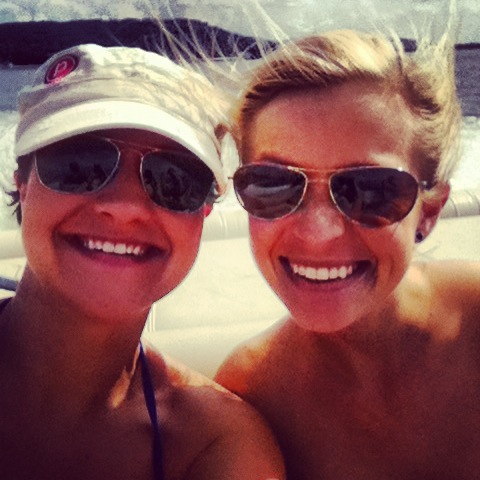 The Banana Boat was recommended to me last summer by a Pure Barre client and I have been using it faithfully ever since. I like it because it's no muss, no fuss. I usually apply it right after the shower about 2 times per week, wait about 5 minutes while I'm putting product on my hair or face and then throw on my clothes. Cuz ain't nobody got time for waiting 20 minutes to get dressed in the morning! It goes on smoothly and doesn't even stink the way most self-tanners do! Color me impressed! Another great thing about this product is that even if you forget to apply it a few times, the color stays even after showers and such. The Banana Boat can be found at Target for around $6 or you can purchase either of the products below from my widget. (I get a small percentage of affiliate sales.)
When we went to Tampa last week, I didn't get to put on a bathing suit once because it was so cloudy and rainy, but after using my Banana Boat, when I came back people kept commenting on the sun I got in Tampa…ha! These two products are now staples in my beauty routine.
What are your favorite self tanners?
Heather Brown helps busy mamas of young littles who are caught in the hustle to find encouragement in their journey to true health, from the inside out, starting with the heart. Read her journey of learning to live a life well-loved
HERE!