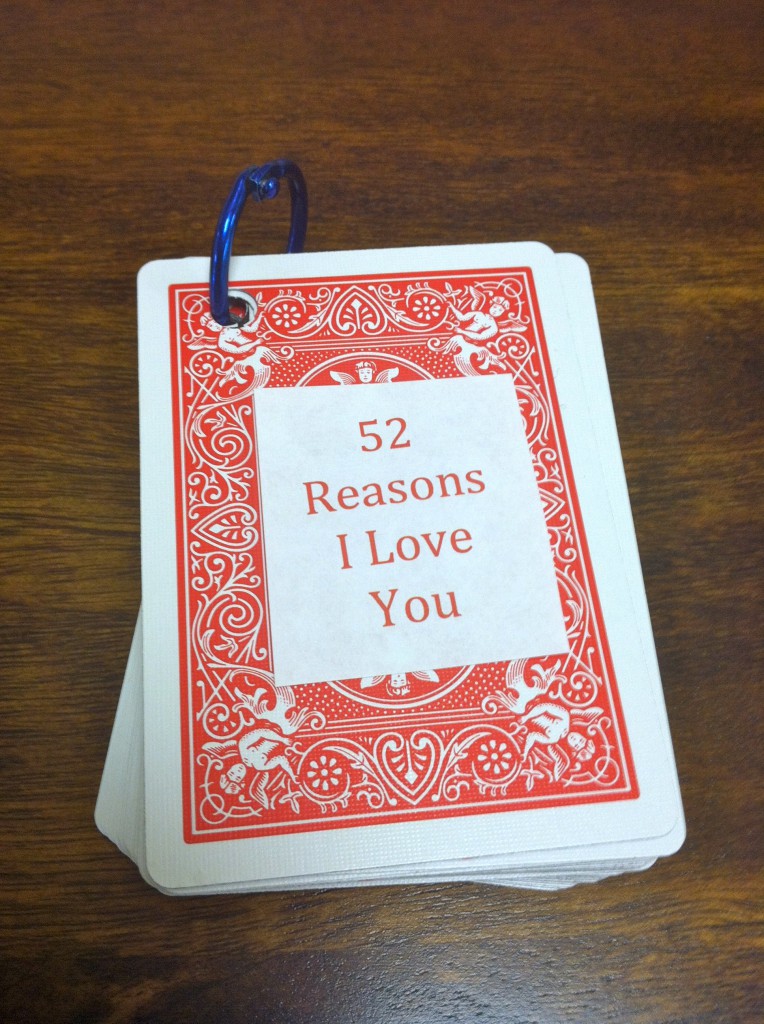 You may have already seen this I Love You DIY project on
Pinterest
, but if you're like me and always wait until the last minute to plan anything, this will be the perfect meaningful gift to give your man this Valentine's Day! It comes together in less than 2 hours and is such a fun gift to give! Especially when you include fun memories, inside jokes, and things that make you laugh! We had a blast talking about this gift and reliving first dates and such over dinner.
I'll include a few more ideas for 52 Ways I Love You below. So, let's start crafting shall we?! You can put as much or as little effort into this as you have time for. You can go all out laminating, getting scrapbook paper to put over the cards or just simply write on top of them like I did.
Here's what you need….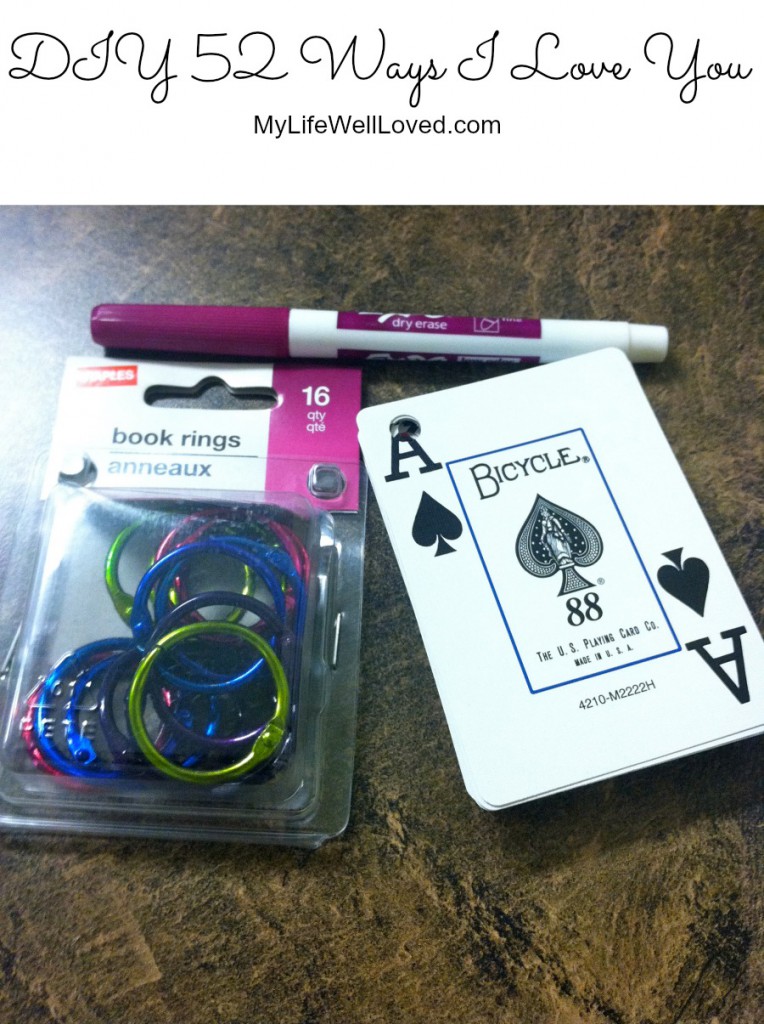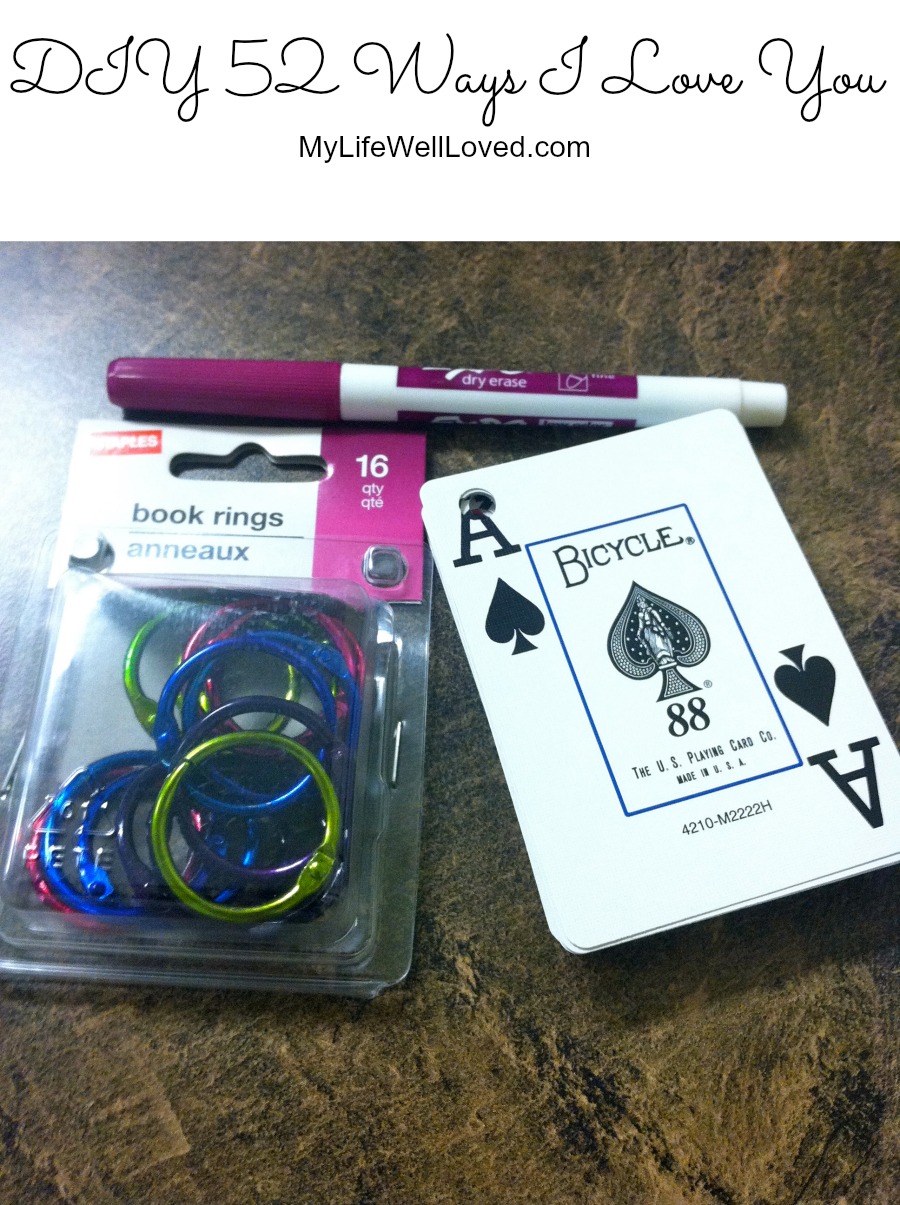 52 Ways I Love You Card Deck:
Supplies:
Deck of Cards
Binder Rings or Lace, String, Ribbon etc
Hole Punch
Marker
Directions:
You can get as creative and artsy as you want to with this using scrap book paper, ribbon or anything else you'd like to embellish it. Type out 52 Reasons I Love You, the date, or anything else you want to put on the front or back of the card deck. Hole punch each card. Write with a marker or type out and print 52 reasons you love your spouse and put it on each card.
Here's some ideas to get you started:
Sending me texts during the day to let me know you're thinking of me.
Going to the play, ballet, shopping/etc with me.
Appreciating me for me.
Putting up with my family.
Cooking for us when we're busy.
Loving our kids.
Letting me choose where we go to dinner.
Planning our vacations.
Taking out the trash without being asked.
Letting me have girl's nights.
Pouring me a glass of wine when you know I need it.
For making me laugh.
For cuddling with me.
Watching The Bachelor with me.
For working out to look HOT for me!
Kissing me every night before bed.
I love our date nights and that you take the time to plan them!
I love that you step up to the plate and lead a small group.
I love that you still notice me when I come in a room.
I love that you make me feel special when we're with others.
Hopefully these ideas will at least get you started or spark some other memories! What other ideas would you add to this list?
Heather Brown helps busy mamas of young littles who are caught in the hustle to find encouragement in their journey to true health, from the inside out, starting with the heart. Read her journey of learning to live a life well-loved
HERE!