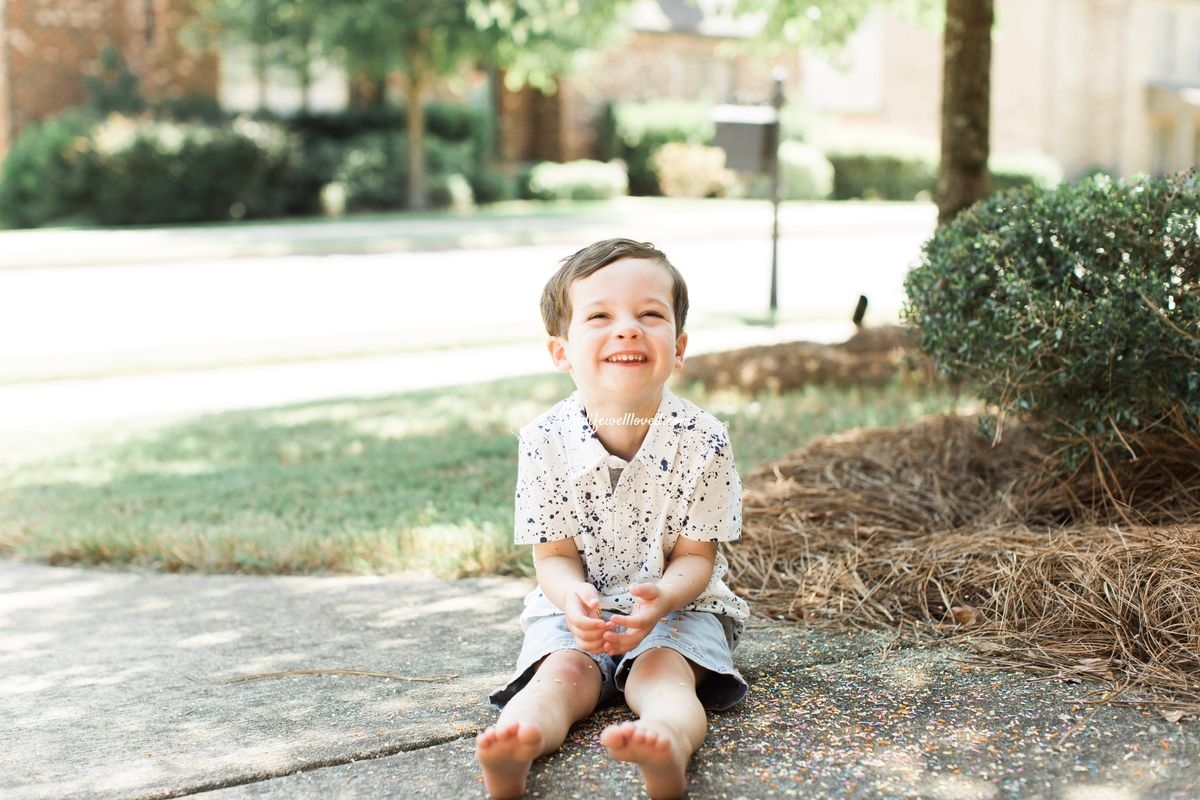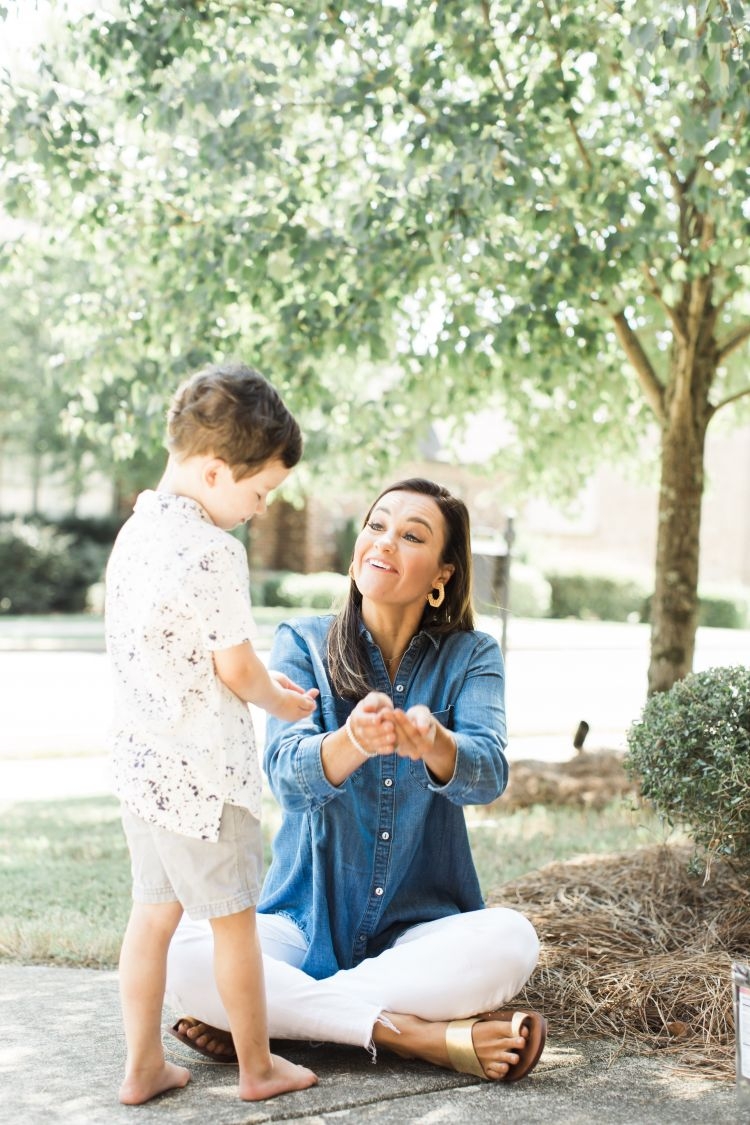 SHOP THE MOM GUILT ENCOURAGEMENT POST HERE: Liverpool Denim Crossback Button-Up // Spanx White Denim // Gold Sandals from Beek // Amazon Rattan Earrings // Leyton's Blue Splatter Paint Rockets of Awesome Shirt // Leyton's Shorts
Photos by Eric and Jamie Photo
I struggle. You struggle. We all struggle with mom guilt. HA! It's not funny BUT I had to lighten up the mood a little bit over here since we are talking about mom guilt today on MLWL. I specifically chose these photos of me teaching Leyton how to throw kindness around like confetti, because sometimes we need to be taught to be kind to OURSELVES as well.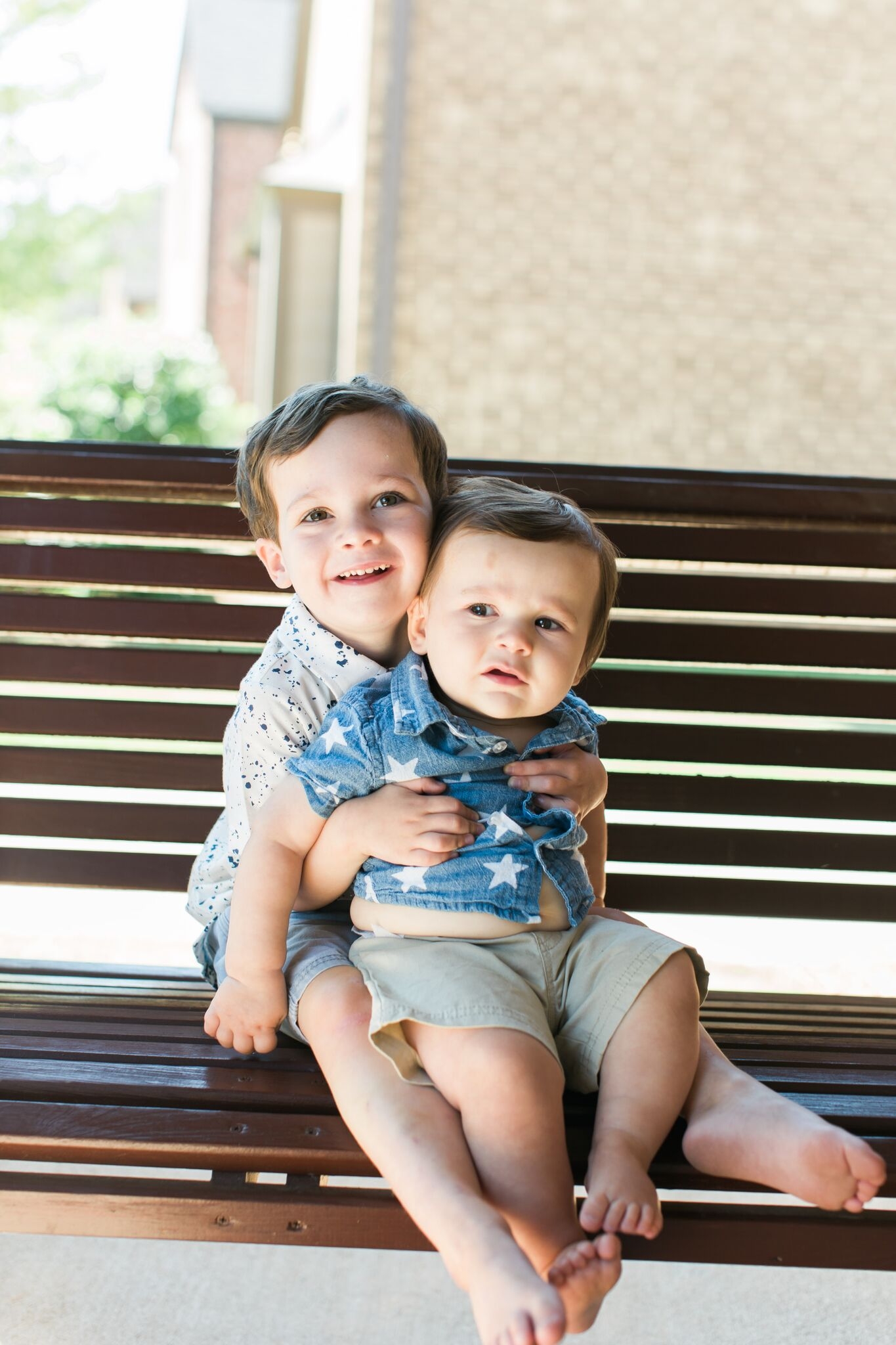 A few weeks ago on Instagram Stories, I shared that I had been surprised by how many women had been reaching out to me with their motherhood struggles. Whether it be a baby not sleeping, a relationship with a spouse, or just finding the energy to keep up with the daily chores – so many people were saying similar things. And the #1 answer by far was mom guilt…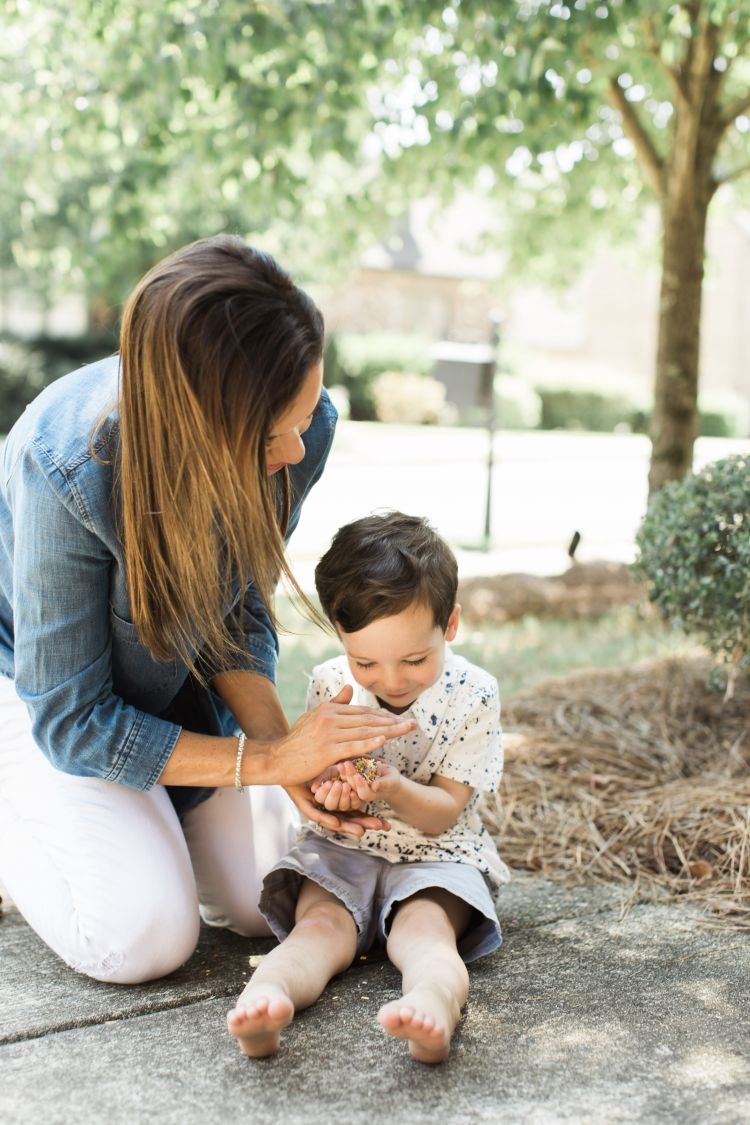 That's when I felt the Lord calling me to find a way to connect y'all to each other. We do have the Life Well Loved Facebook group, which I'd LOVE for you to join and talk with each other in as well. I think it could be SUCH a great space to connect and encourage one another or just ask silly Q's in…whatever you need that day!
When I mentioned the idea of sharing our struggles as mothers with this community and reaching out to each other for encouragement, I received a huge response from y'all with areas of motherhood that are overwhelming to you. So many topics were brought up, reminding me of one key truth: we are all struggling with something, NO ONE is alone in that!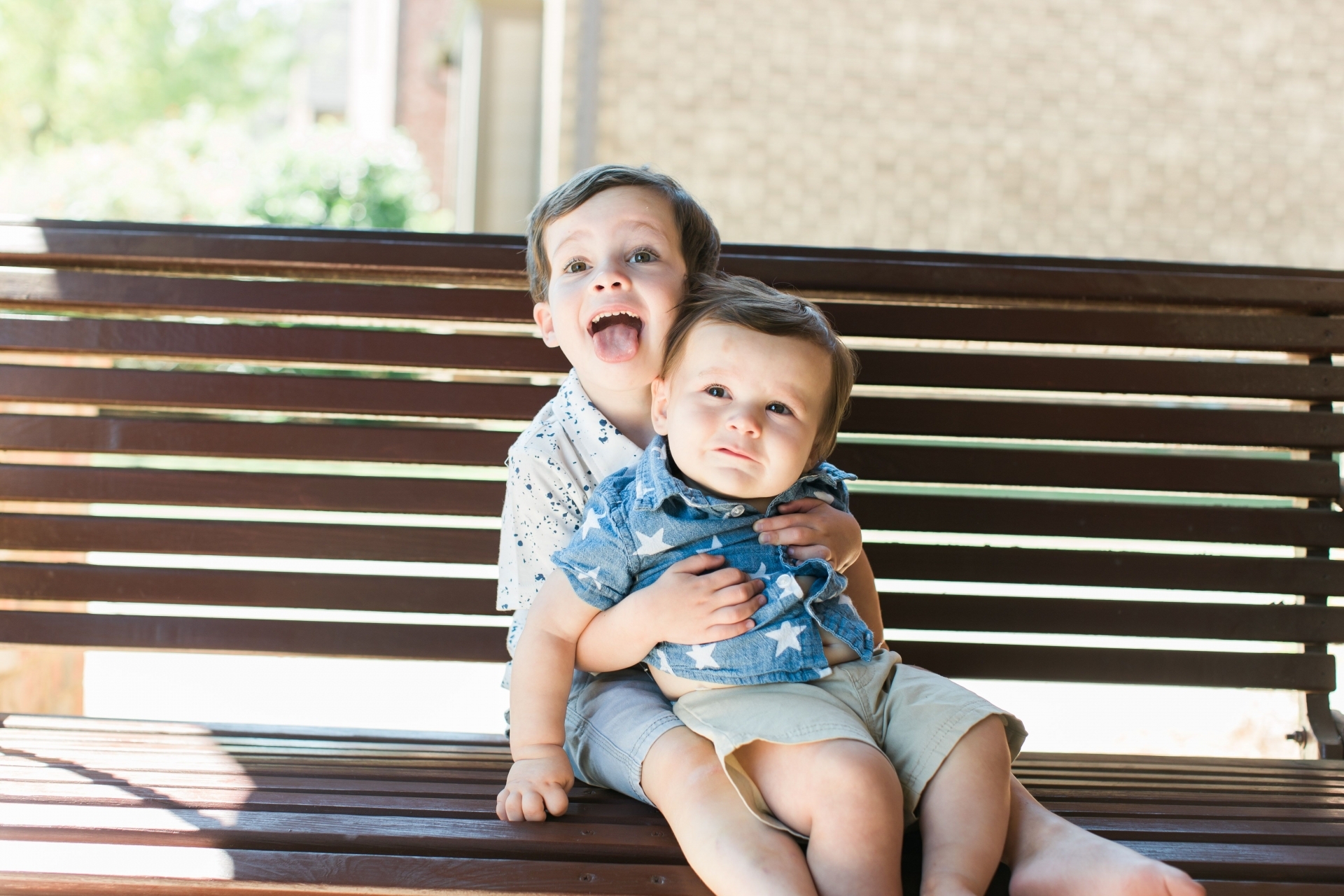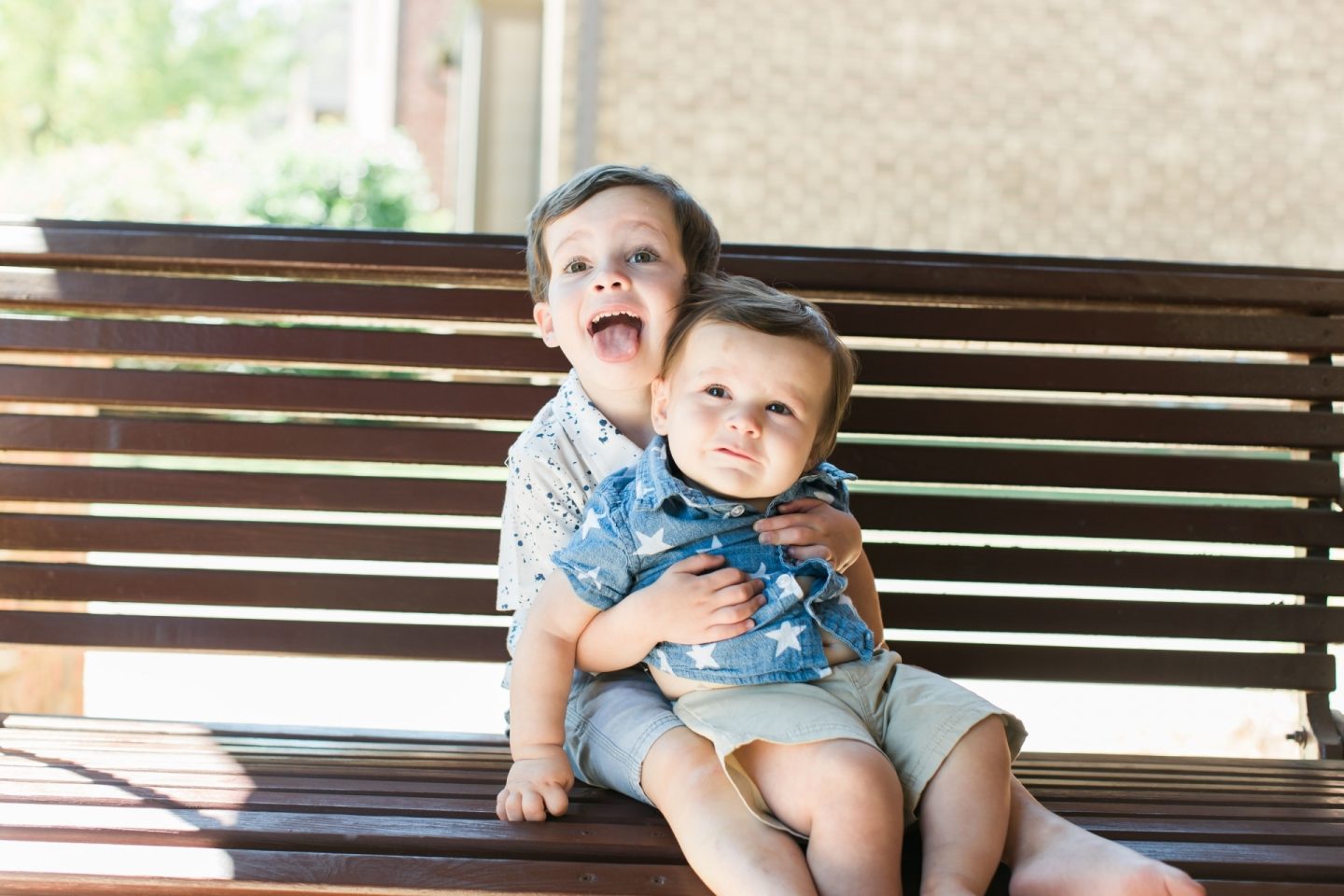 Finn Top // Finn's Shorts // Leyton's Top // Leyton's Shorts
If you're struggling to meet friends in your community, please make sure to check out my post on friendship. I don't want you to feel isolated in your struggles. It's SO very important…even more so that we often realize I think! We were made to crave community and relationship!
Having said that sometimes friendships falter though because of mom guilt. It's really hard to balance marriage/date nights, time with your kids, chasing a dream/career/hobby (whatever it is you would place here), going to church, working out and even just taking a freaking shower (PTL for dry shampoo, can I get an AMEN up in here?!)…let alone squeezing in time with your friends.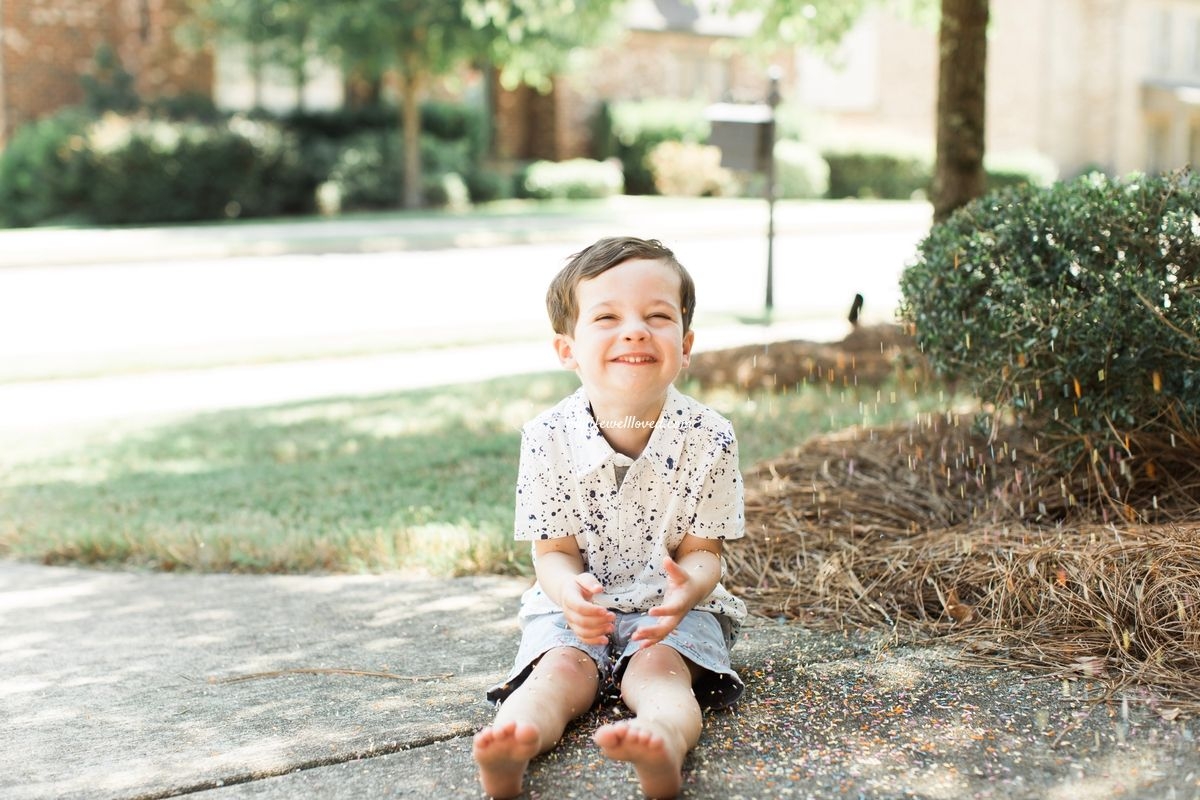 I have struggled with mom guilt a lot recently off and on especially with the addition of Finn into our family. I not only want all the things above but then also crave one on one time with my Finnster to soak up baby cuddles and one on one "tivity" time with Leyton so we keep our close bond. It's SO hard to balance it all.
When I feel like I'm being a great mom on some weeks, it usually translates to about 10 hours of work that just DID NOT HAPPEN that week that is overdue to brands, contracts that need to be negotiated and signed, or even just final approvals sent on graphics, or needing to plan for, schedule and fit in the next shoot between nap times/mother's day out hours and all. the. things!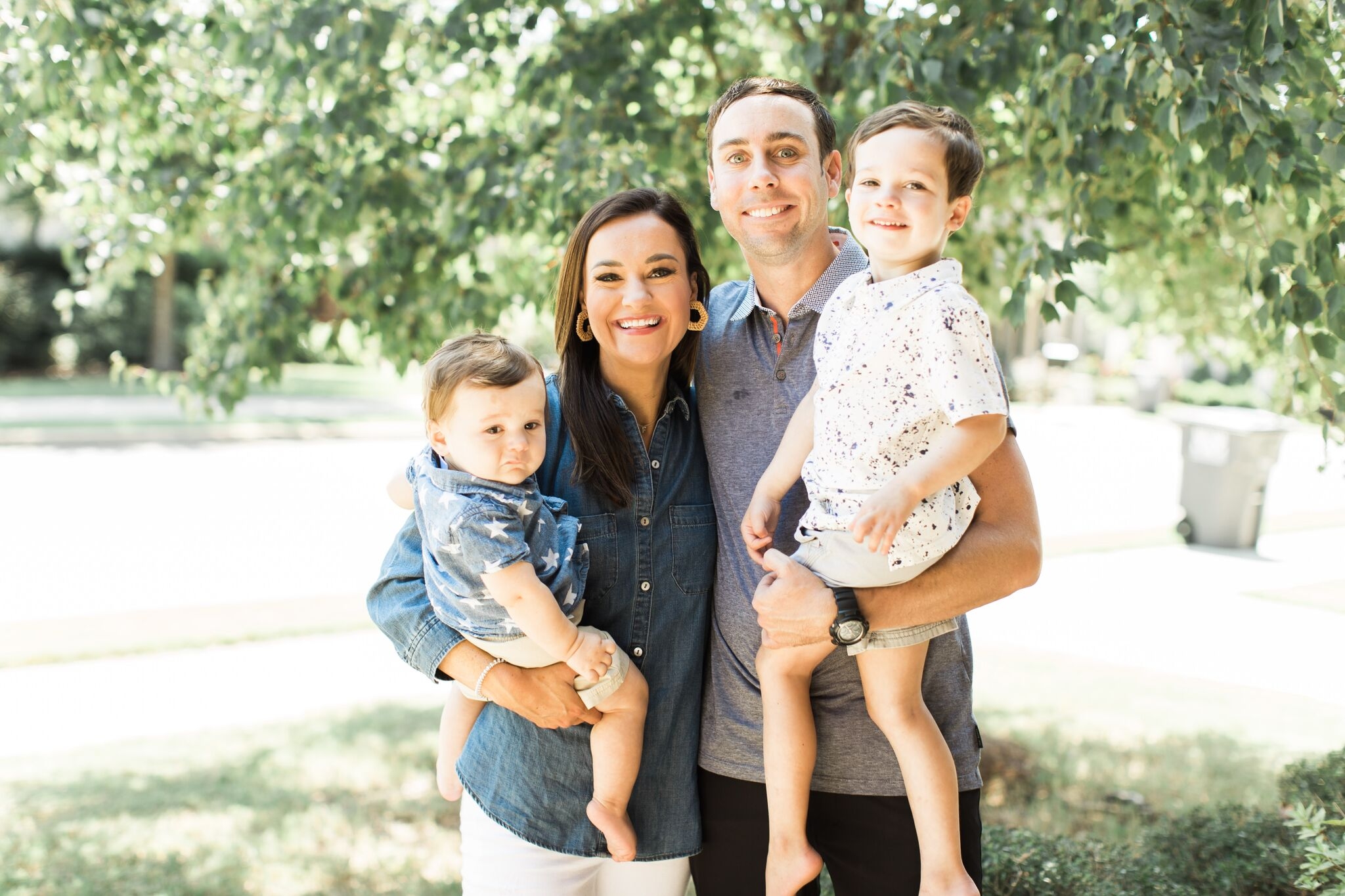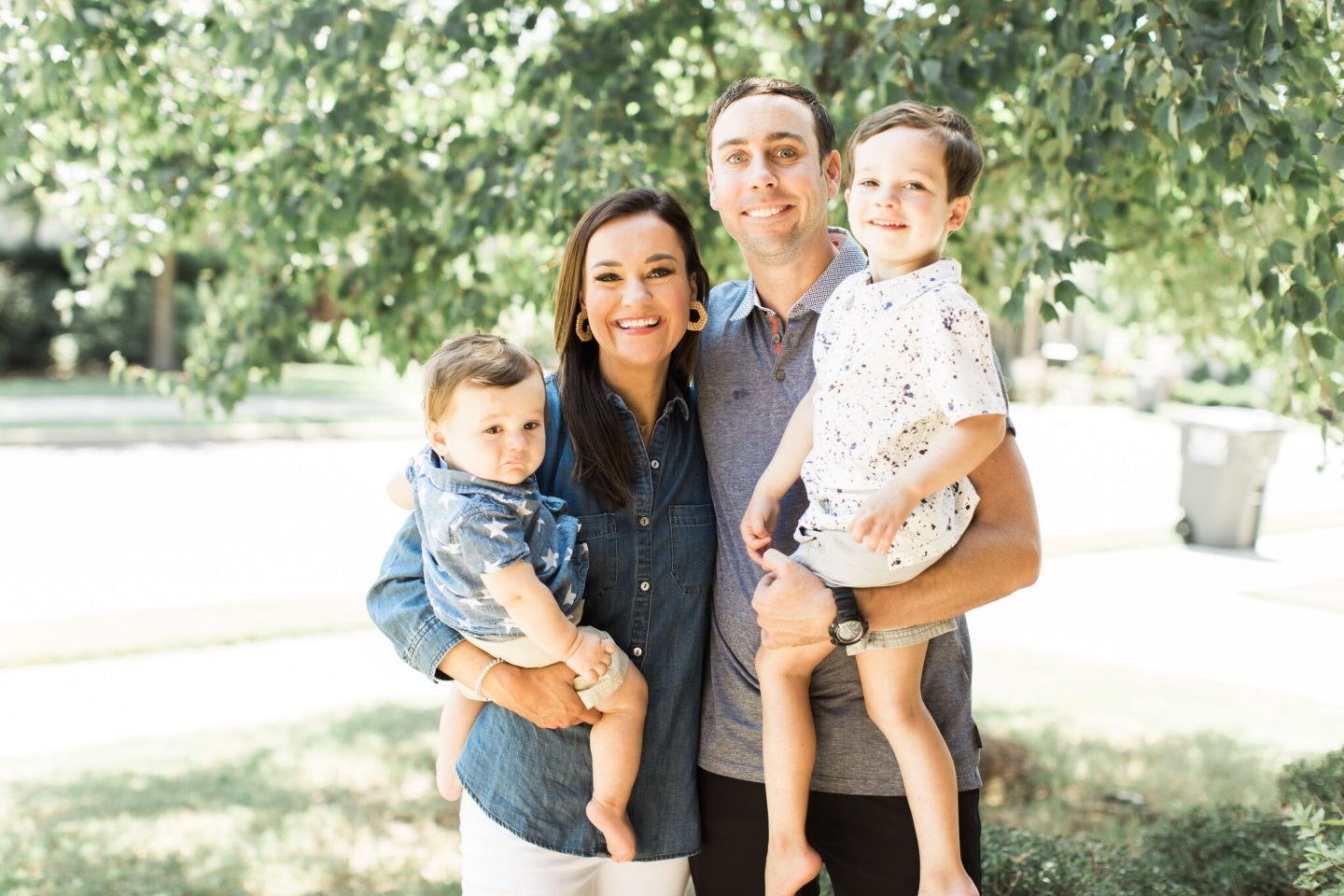 On average, I spend about 72 hours a week working on MLWL in some way shape or form…it is a more than a full-time business that just means I get to set my own hours …which tend to be working mostly between 8:30 pm and sometimes 2 am during Q4 leading up to Black Friday/Cyber Monday and Christmas.
And on the other hand, when I'm on top of MLWL stuff, I have a needy toddler who is asking why I can't stay at home and play or why I'm not tucking him in for nap or just being generally fussy because mommy isn't there 24/7. It's such a push and pull on the mama heart strings.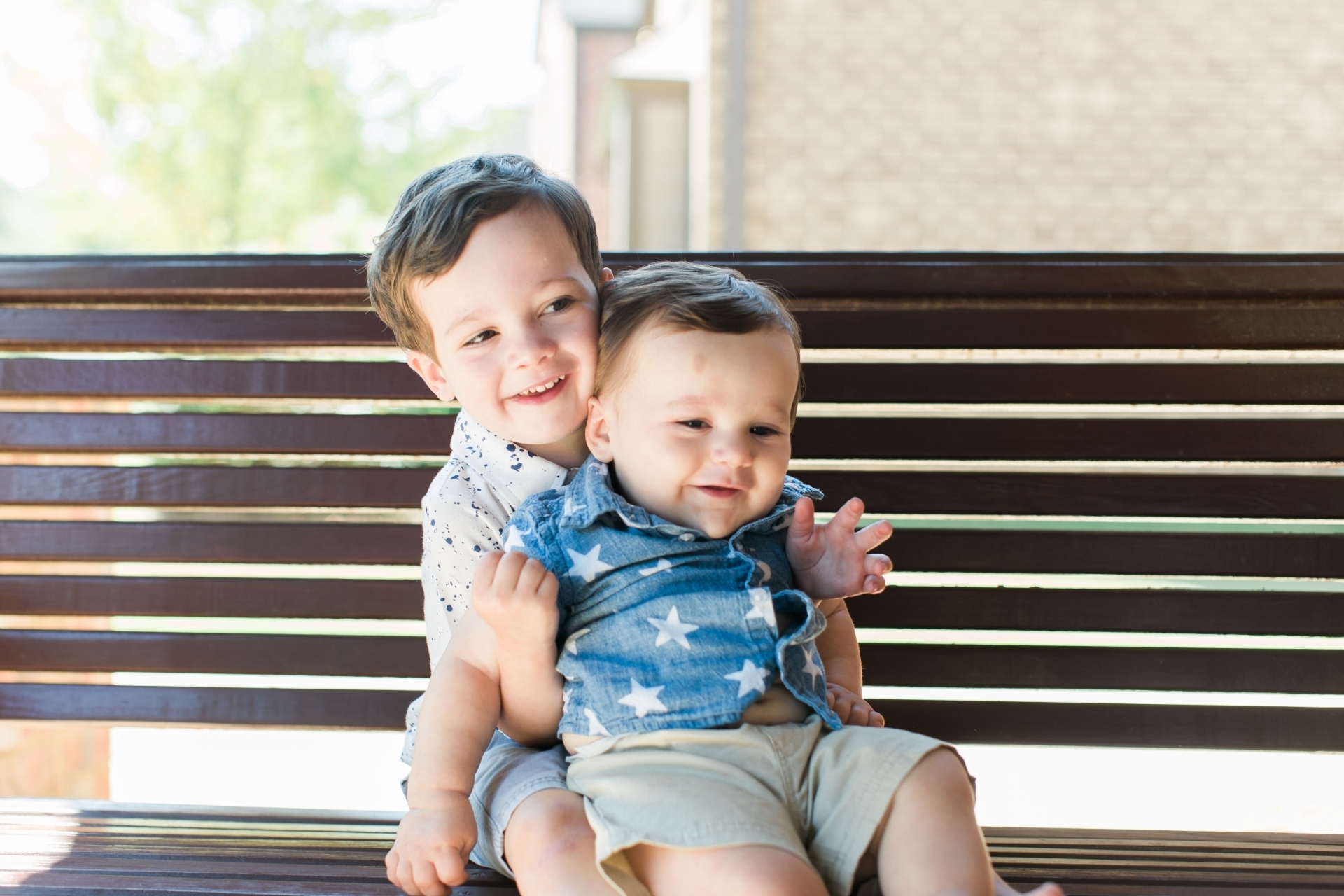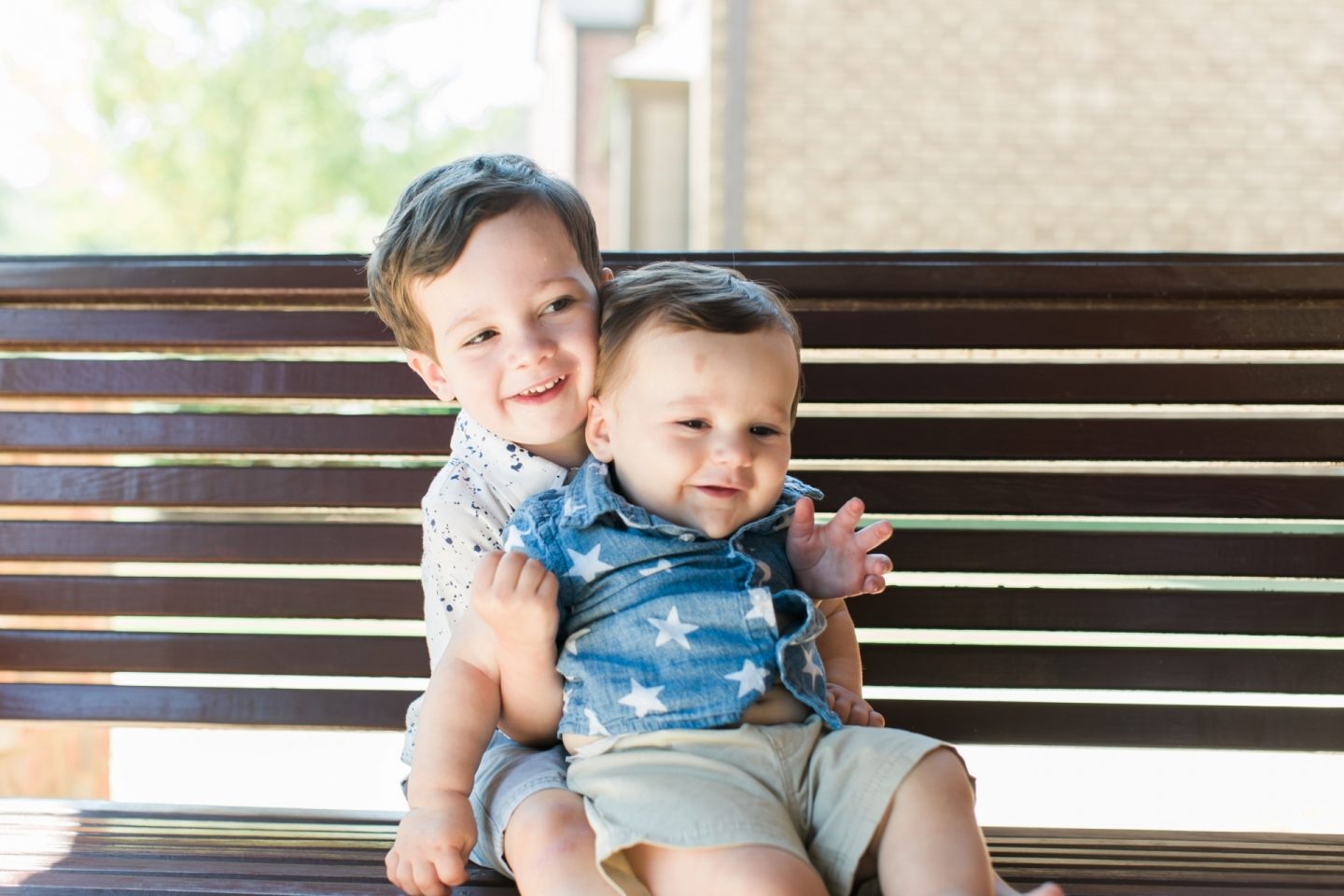 I would elaborate more but I know that most of you, if you're reading this already, know those feelings all too well. I wouldn't trade being my 2 boys mother for the world but I also adore this community we have here on MLWL and the creative and entrepreneurial outlet it gives me. Sometimes though, I know from the outside it can look like it's all glamour and hair and makeup and fun.
It's the best job I've ever had in my life and I truly get lost in the work because I love it so much, but it doesn't mean that it doesn't still have the boring taxes components, motherhood guilt while being locked away to hit a deadline, and it doesn't mean that it's perfect. I'm right there in the thick of all the messy mom guilt with you sister. I see you, and I KNOW how it feels.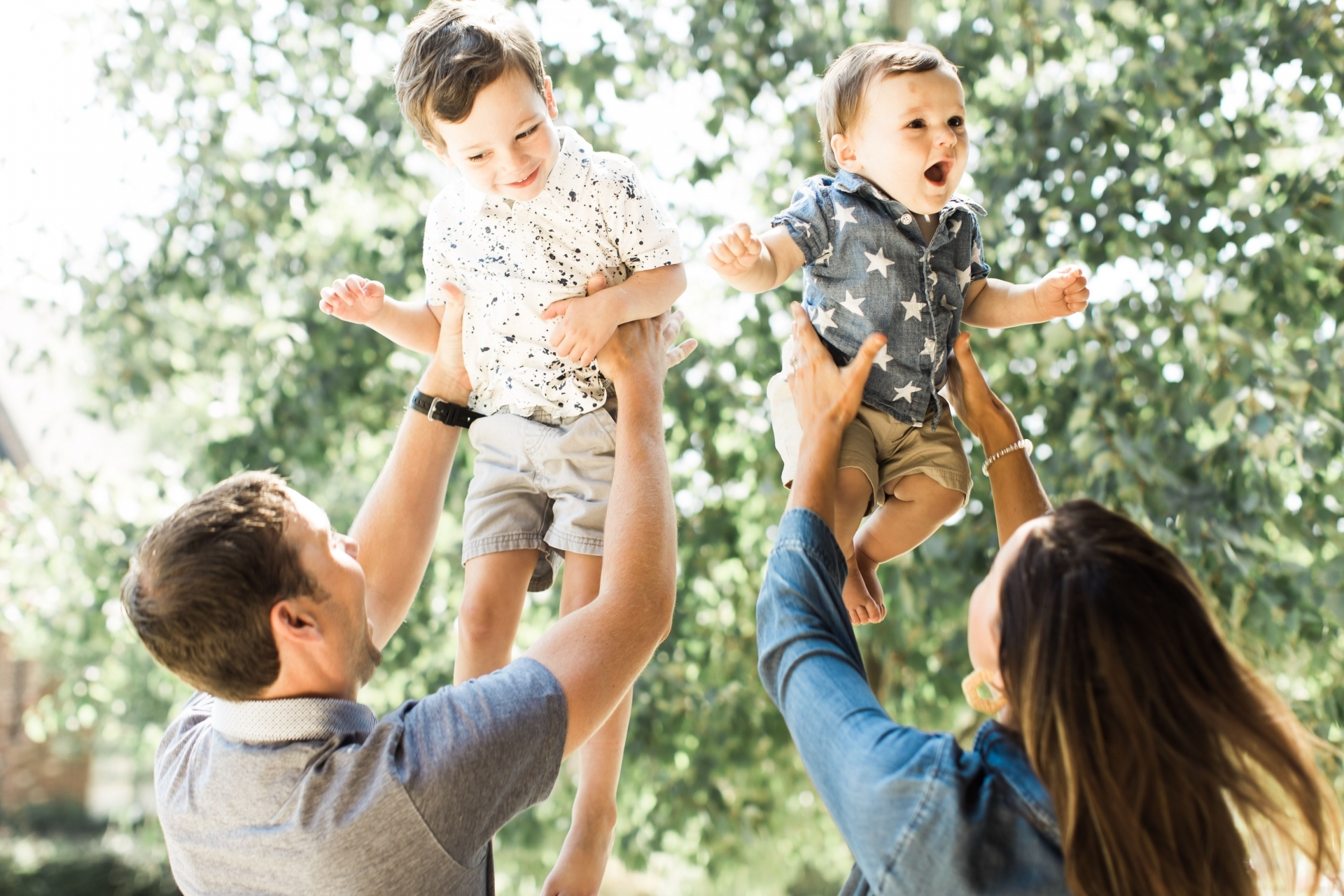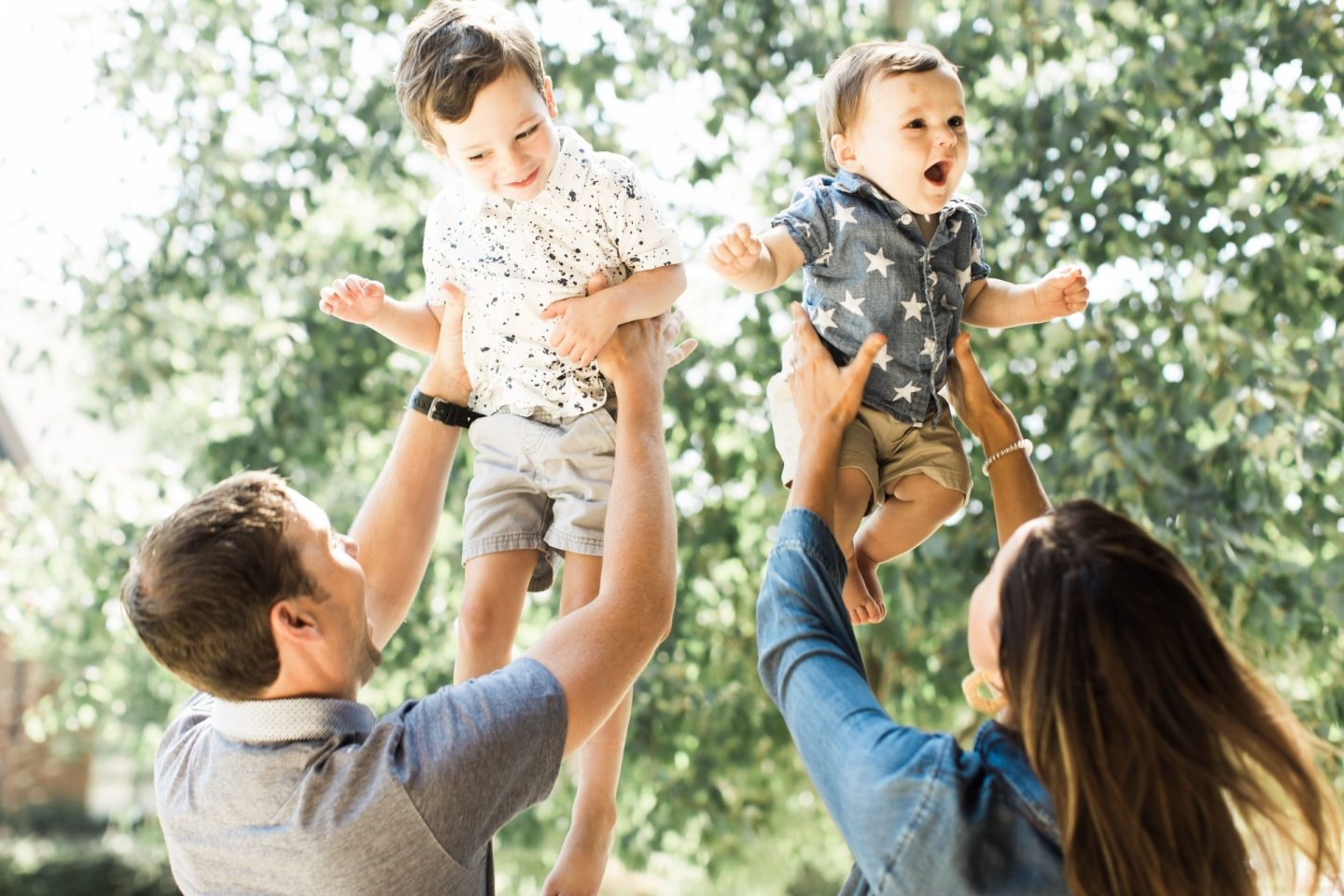 I have been on the verge of tears multiple times over the past few weeks and finally threw up my hands and text Eric pretty point blank this weekend about things I needed to feel better about where I was in starting this week. The text went something like this,
"Babe I'm drowning – finally recorded some videos that are due today and as I'm trying to work on them Finn tried to electrocute himself with my Apple Watch cord and then once I got that under control I start working on them again and I look over and he has literally crushed granola all on our bedroom rug and is sitting there DUMPING his milk. I mean literally watching it upside down just create a PUDDLE under him. So I finally cleaned all that up and put him down after changing his clothes.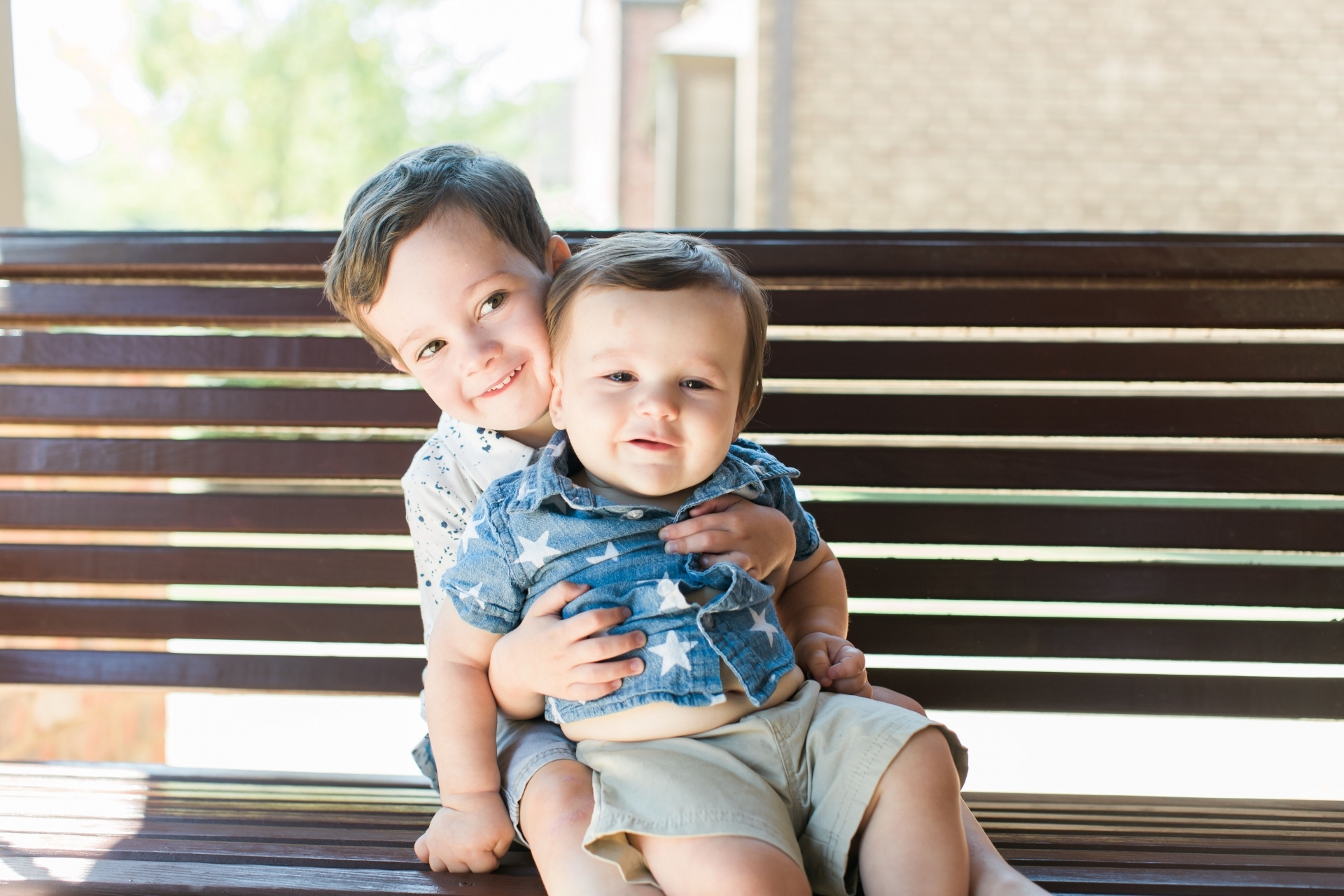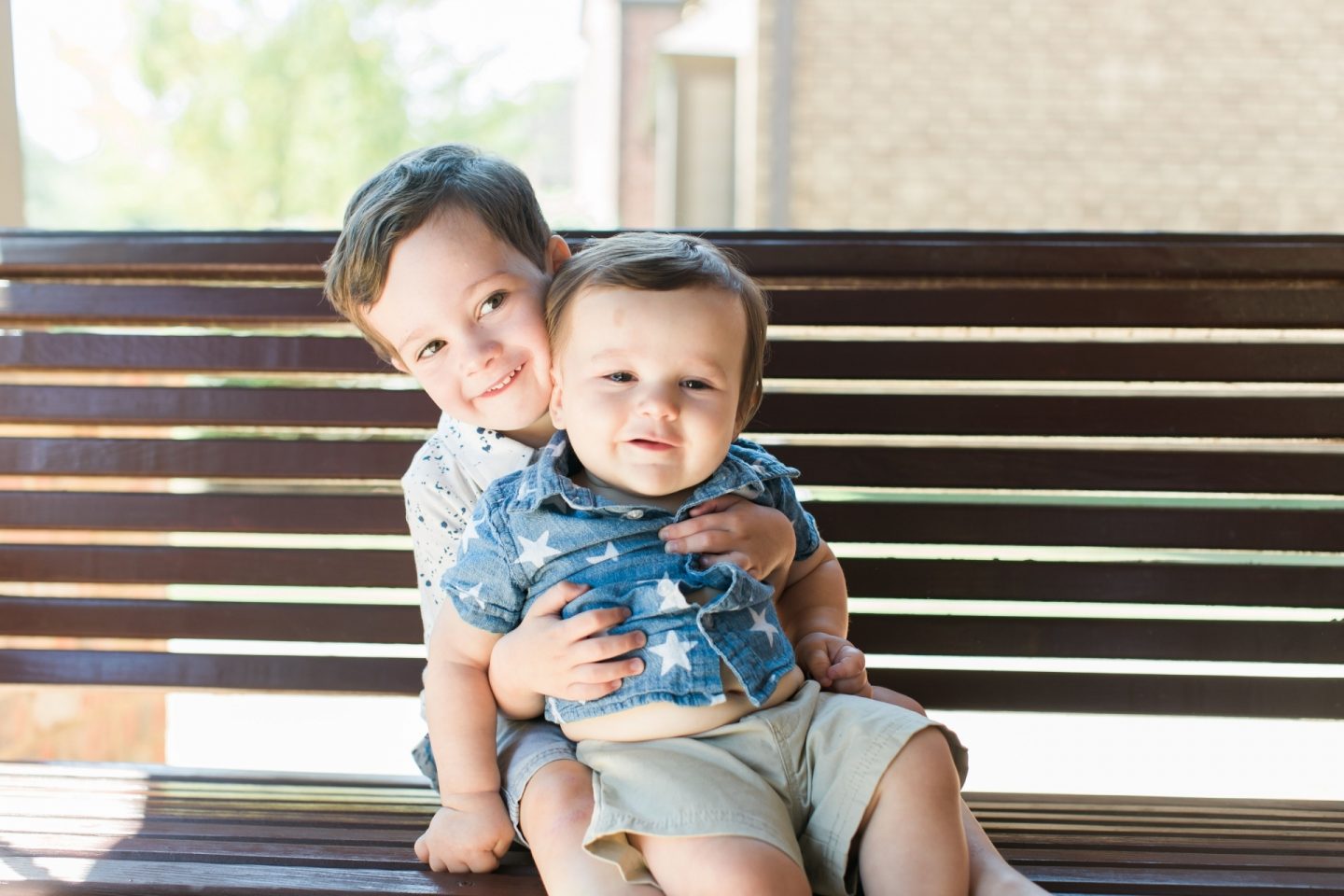 I need the vacuum to be put together when you get home please to vacuum the granola and for you to change the sheets. I'm happy to help I'm just feeling like I don't have any time to get work or house cleaning done and I'm stressed. Thank you! Love you."
And you know what? After I ADMITTED I was drowning and needed the help, it helped me take a deep breath to know I wasn't just going to quietly suffer inside my head and it gave Eric the chance to prepare for what he was walking back into. Do I always do that? No, but today I did and I'm pretty stinking proud of myself for it.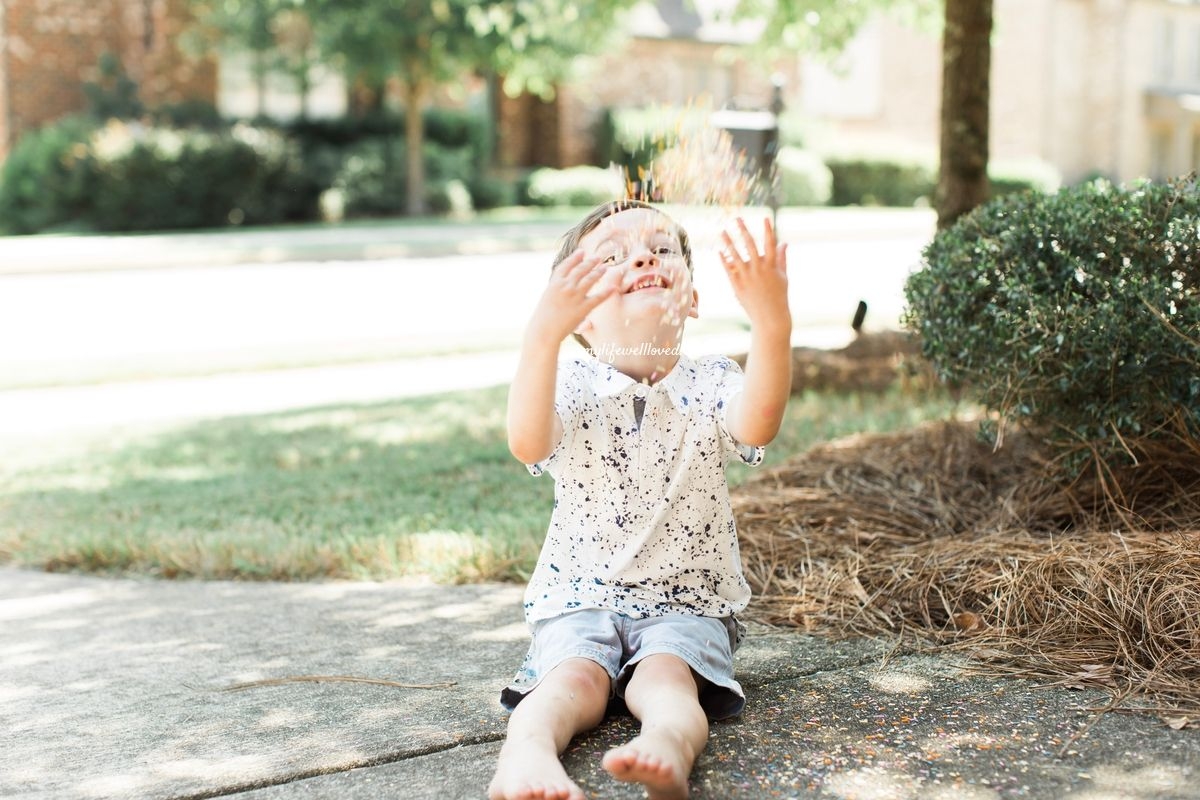 I identified what SOMEONE ELSE could do to help me, asked for the help and that allowed me to take a tiny breath of relief. We are all doing the best we can do. But way too many times as women, we think we are supposed to do it all without any help and then explode on our spouses when they say 1 wrong thing.
This has really led me to quite the tangent, so let's bring this back home, shall we?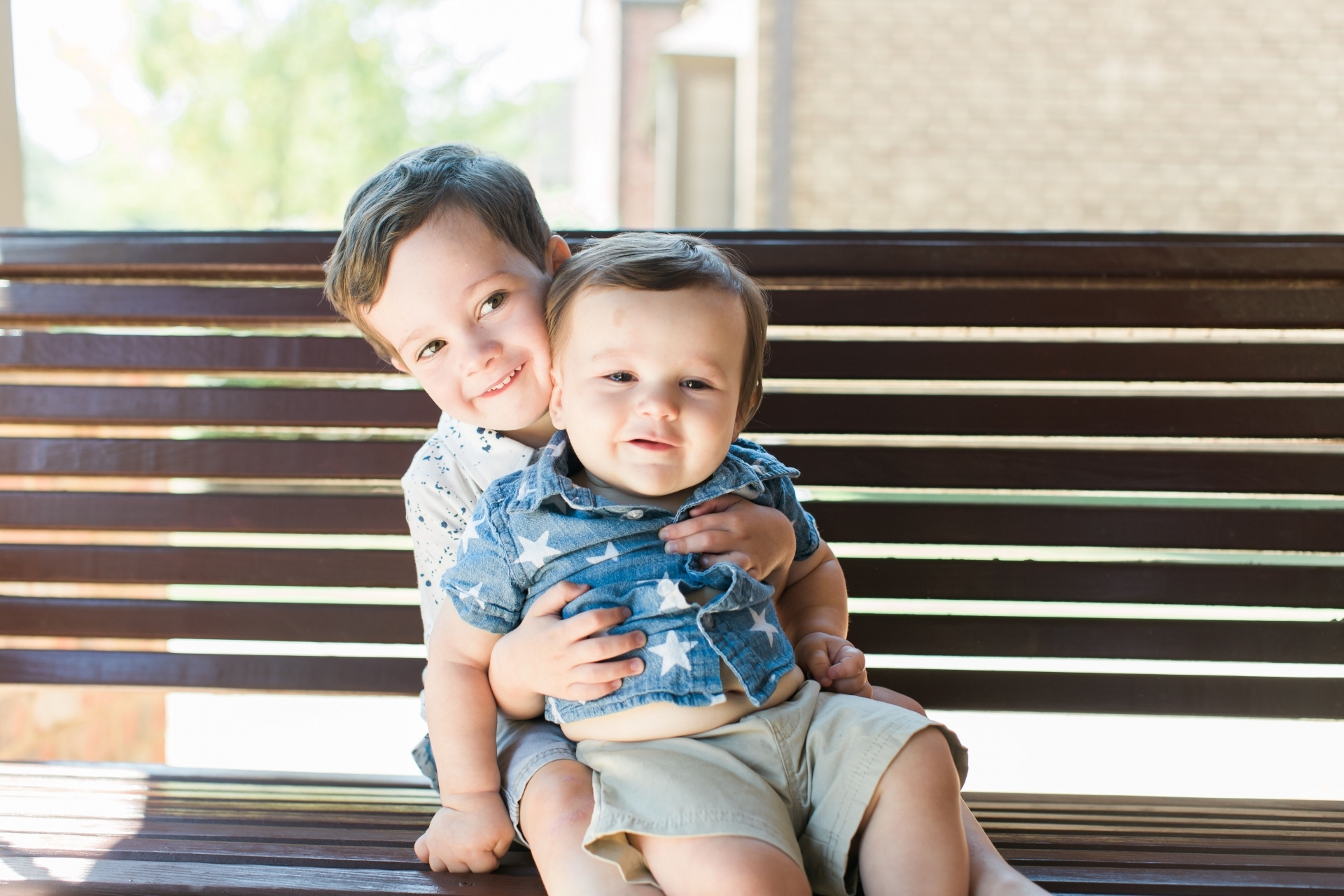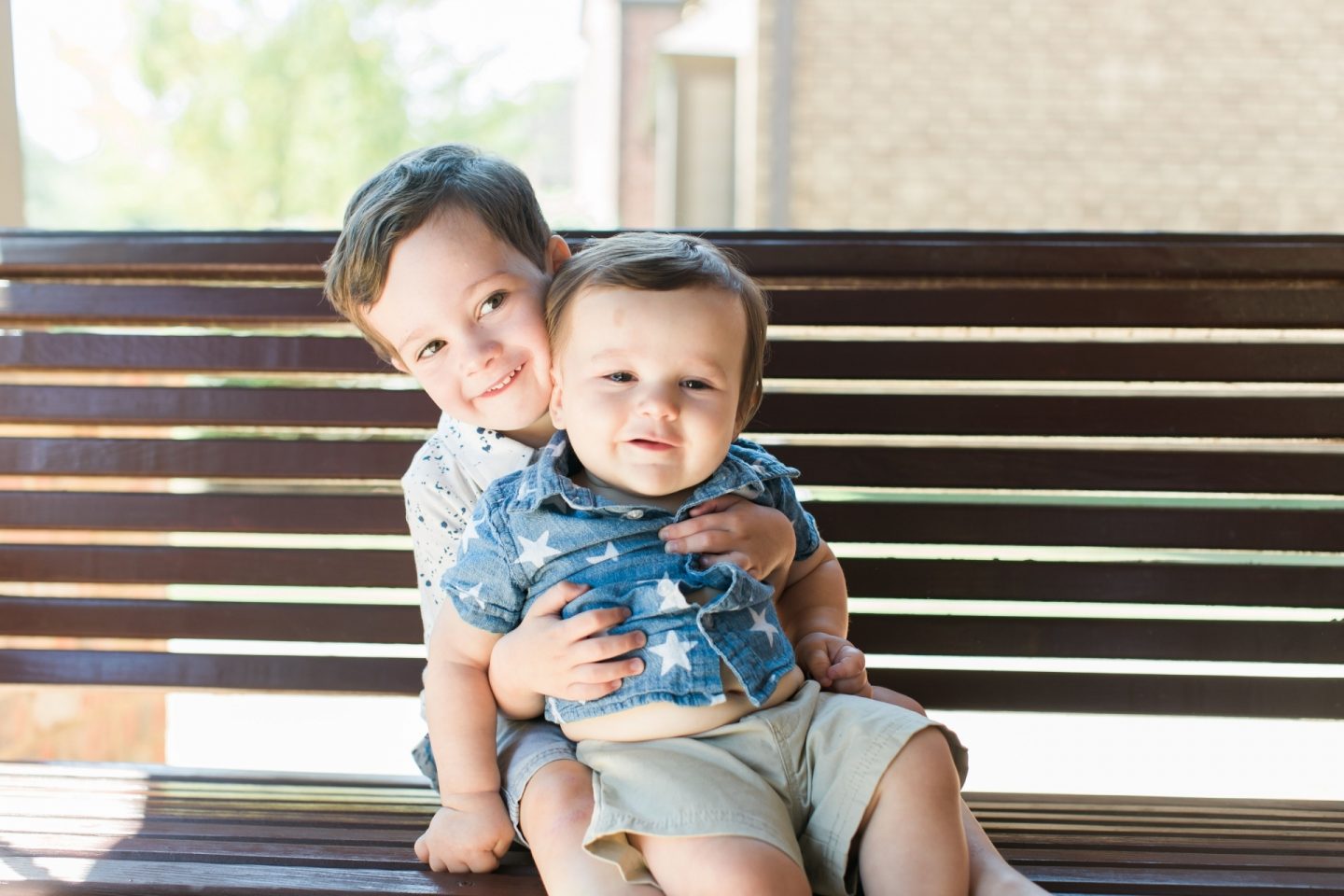 I believe that one of the best things you can do as a mother when you're struggling with mom guilt, is to rely on the truths found in the Bible. Ahhh yes, feels like home. We made it back to where there's some solid answers here. Below I'm sharing some of my favorite verses when I need uplifting and encouragement…
"Do not be anxious about anything, but in every situation, by prayer and petition, with thanksgiving, present your requests to God." Philippians 4:6 
"Whether you turn to the right or to the left, your ears will hear a voice behind you, saying, "This is the way; walk in it." Isaiah 30:21
"For I know the plans I have for you," declares the

Lord

, "plans to prosper you and not to harm you, plans to give you hope and a future." Jeremiah 29:11
"Peace I leave with you; my peace I give you. I do not give to you as the world gives. Do not let your hearts be troubled and do not be afraid." John 14:27
I hope these words of wisdom from other mamas and love from this community encourage your heart as much as they did mine. What are some areas of motherhood that are heavy on your heart lately? I plan to share one topic and your advice per month and if y'all love this as much as I think you will, we'll keep it going!
Your Encouragement For Mamas Struggling With Mom Guilt:
You're doing your best, don't give up.
You and your partner are a team – sit back and be amazed by the little humans you have. They don't need you to be perfect, they need you to be there. 
Make sure to make time for you, because you matter so much!!
Give yourself grace and don't try to do it all at once. Pick one person or big task to set specific time that week.
God made you for these kiddos! You are enough. It's okay to let the mess go & be. 
Communicate with your spouse, it's not weakness to ask for help / delegate.
You were made for this!!
Give yourself grace the chores will wait. Be present not perfect.
Your kids only see you being the best you can be. That's all that matters. 
Take it day by day. Matthew 6:34
Give yourself grace! Breath and know that God is enough to help you through this season!
Give to God. He will give you peace. Even when it seems impossible. God does the impossible for breakfast. 
You're still and will always be a badass and your kiddos love you no matter what!!
This is only a season and seasons change.
Mom guilt means you love your children so see it as natural then give yourself grace.
Only been a mom for 3 months but I'm practicing "putting first things first". My baby and husband come first and I'm learning to let some of the lesser things go (ie learning to live with a messy den and unfolded laundry).
You are doing far better than you think you are.
God picked you for that baby and that baby for you!! You are what he needs.
Kids are full of grace & God is even more gracious, He always fills the gap for us!
You're doing amazing and it's completely fine that you house looks lived in. 
For More On Mom Guilt, Check Out:
SHOP The Mom Guilt Encouragement Post HERE: 

PIN The Mom To Mom Encouragement Post For Later!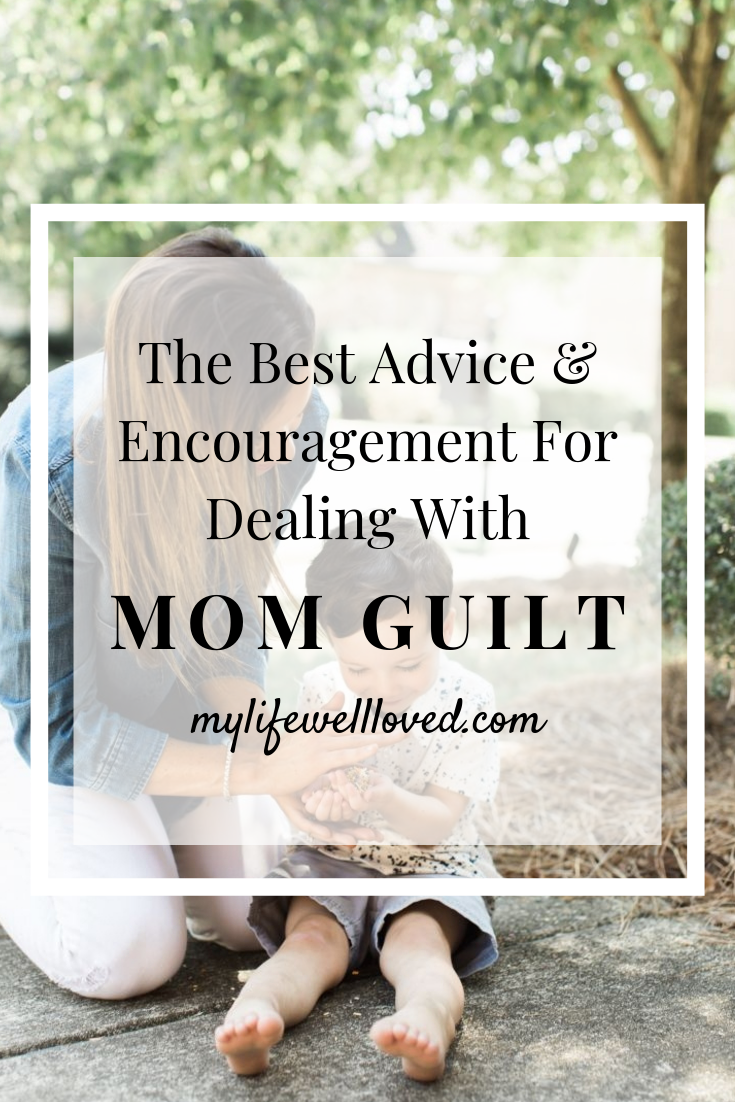 Heather Brown helps busy mamas of young littles who are caught in the hustle to find encouragement in their journey to true health, from the inside out, starting with the heart. Read her journey of learning to live a life well-loved
HERE!